What could be more iconic than horseback riding in Texas?
From city parks to wilderness rides, there's nothing like getting outdoors and enjoying the bond with a beautiful animal.
Whether you're a beginner or an expert, have your own horse or not, there's a place for you to get the real feel of Texas from atop your mighty steed.
As Winston Churchill said, "No hour of life is wasted that is spent in the saddle."
GET A

FREE

TEXAS GUIDEBOOK WITH LOCAL TIPS!
With 71 pages of helpful travel tips and the "best of" Texas lists, this is your ad-free key to your Texas trip.
1. Cypress Trails Ranch, Humble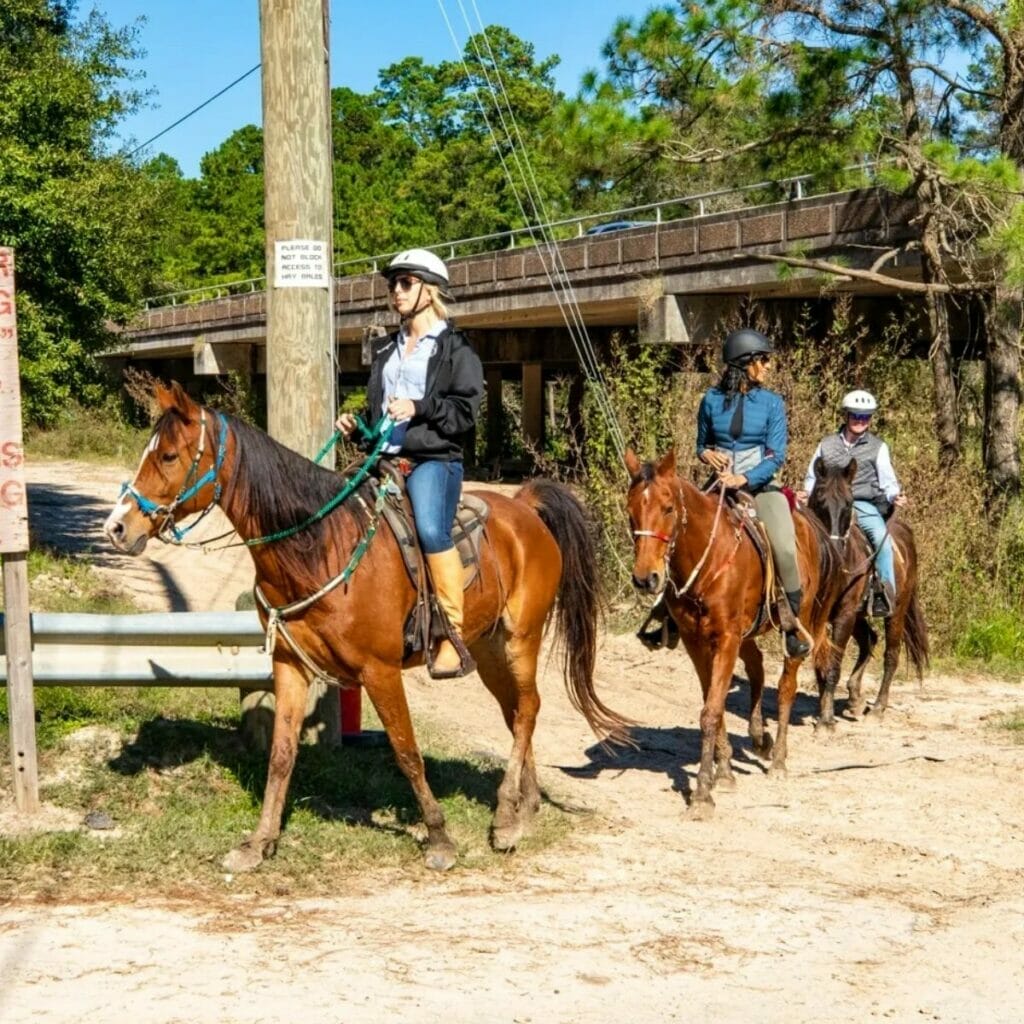 No horseback riding experience?
Don't let that stop you.
Beginners and experienced riders alike will love the choice of trail rides so close to Houston.
There are regular trail rides ranging from 1 to 4 hours at walking pace which can be upgraded to a fast ride for expert riders.
Why not organize a picnic lunch ride up to 7 hours?
Pony rides will make sure your little ones enjoy their day too.
Cypress Trails can even cater your party or event and can arrange your personalized photo shoot for that special event.
What better way to remember your special day than horse riding in Texas at Cypress Trails Ranch?
Here's a genuine range riding experience for the whole family.
Ride the rim of the beautiful and historic Palo Duro Canyon to get a real taste of the old west.
Rides vary from 1 to 3 hours and cater for all skill levels.
Our personal pick is the 2-hour sunset experience – for the best views in the cool of the evening.
You'll really feel like you've stepped back in time if you start your day or finish your evening with a Chuck Wagon Breakfast or Dinner.
Top tip: Why not take a little longer to appreciate the scenery here and stay at nearby Doves Rest Cabins?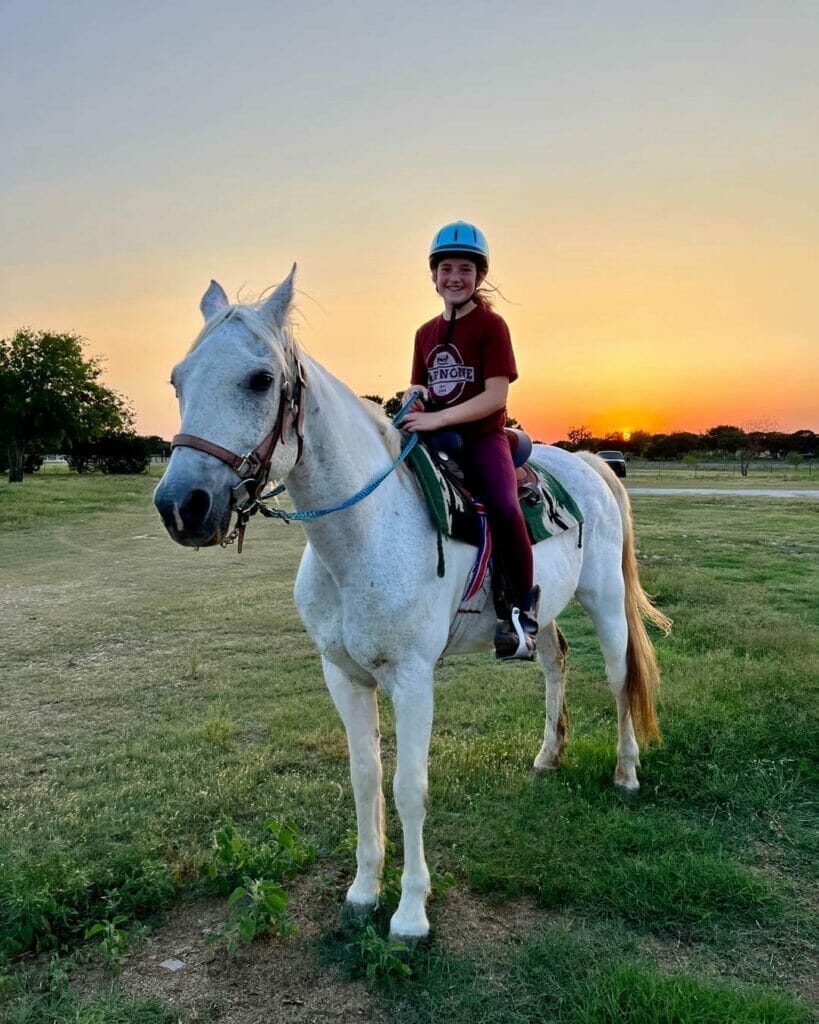 Texas horseback riding isn't just for experienced riders.
For your horse crazy kid – or the grown-up kid fulfilling their horse crazy fantasy!
Easy Does It Farms specialize in horseback riding lessons for beginners, children and families – either in a group or privately
As well as lessons, they also run farm tours, parties and photo sessions and buckaroo sessions to learn about horse safety, handling and grooming.
Before you go: Appointments are required.
Top tip: check the online calendar to see if there are any upcoming camps.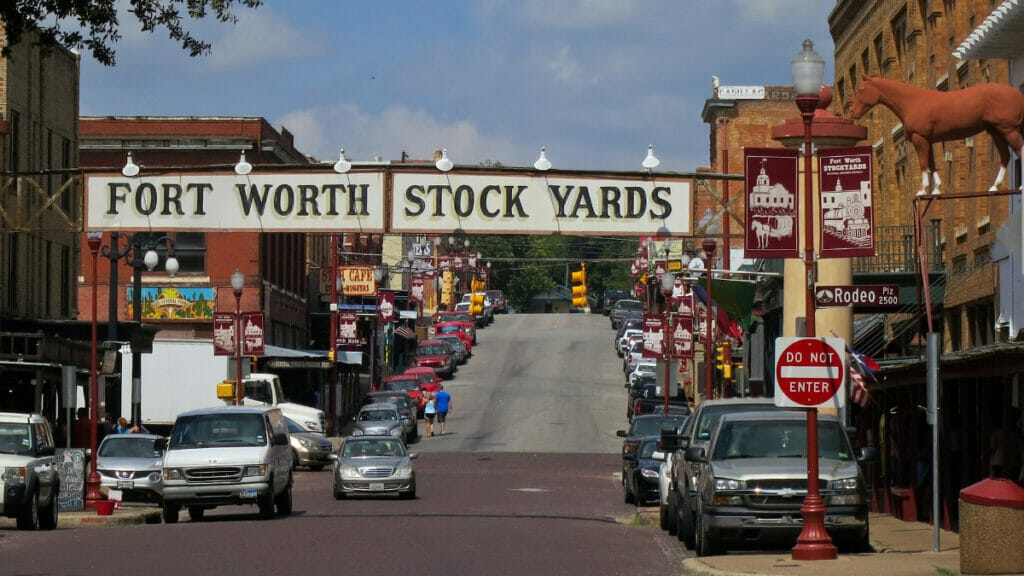 Take a ride down the Old Chisholm Trail.
30 or 60 minute trail rides are open for riders 8 years and older.
Your horse will be matched to your experience – so don't worry if you're a first timer.
For the little 'uns, and those who don't want to ride, there are stagecoach and carriage rides, and a petting zoo.
We found the horses well cared for and the guide was great with everyone, especially the kids.
Close to downtown Austin, yet out in the country.
Trail rides, kids' camps, riding lessons and more.
This is the place for your complete ranch experience.
Why not combine your horseback ride with one or more of the other activities offered at Lone Star Ranch?
Have you ever wanted to try archery or axe throwing? Trap shooting or fishing?
You can combine these with your horseback experience.
They even have a covered arena for all-weather riding.
Where else could you get a country experience so close to the city?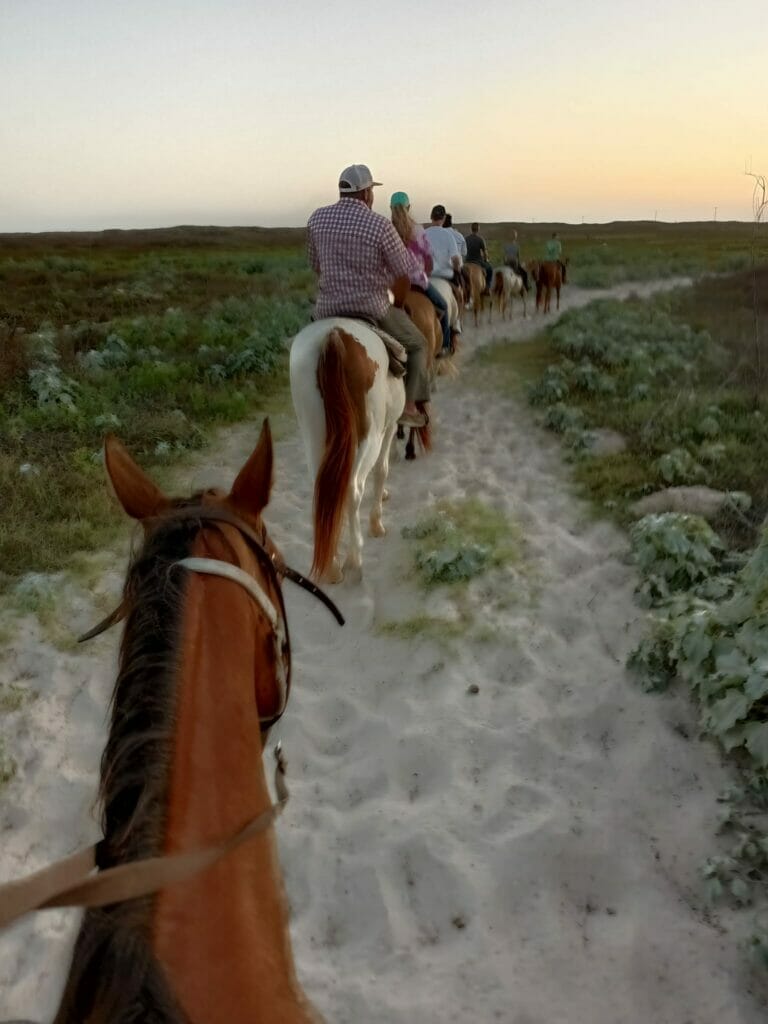 The name says it all!
Doesn't every horse lover want to do an iconic ride along the beach?
Here in Corpus Christi you can make that dream come true with a ride to suit all ages 6 and up and all skill levels.
Why not get a group of friends together for a fun morning or afternoon?
Add a touch of magic. Take the sunset ride.
Don't forget your photos – a lasting memory of your horseback ride on the beach.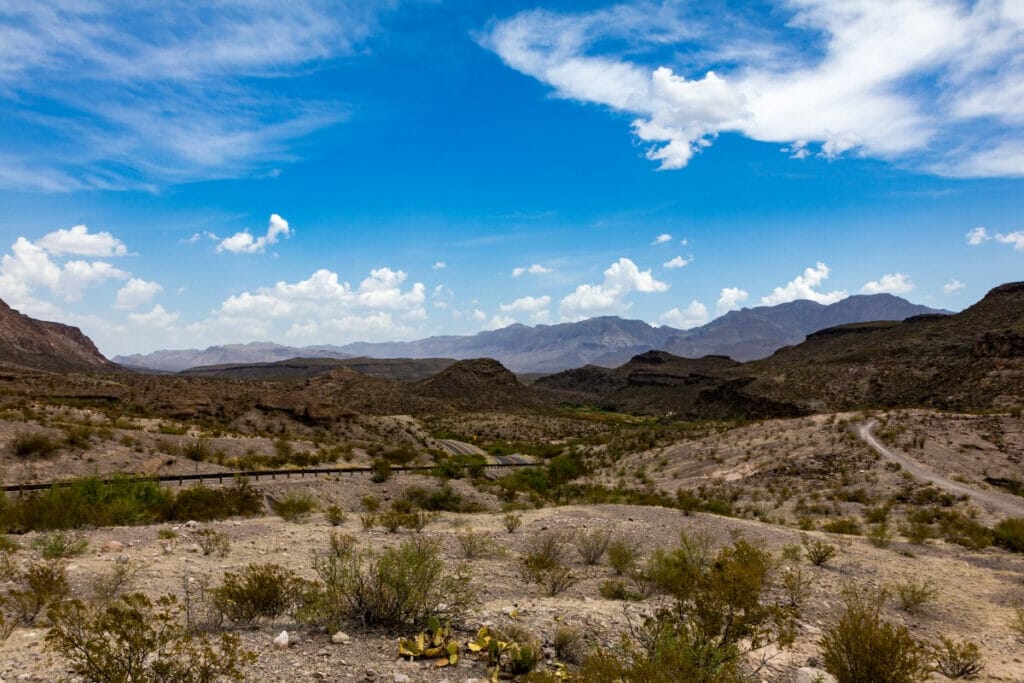 Texas has a huge selection of State Parks where you can ride, and some of them also have horse rentals.
Big Bend Ranch State Park is our pick of these for the best horseback riding in Texas.
More than 230 miles of multi-use trails allows access to such a variety of landscapes – from mountains and canyons to waterfalls and cactus flats.
The other State Parks with horse rentals are Palo Duro Canyon State Park and Hill Country State Natural Area.
Before you go: Check the Texas Parks and Wildlife website for any restrictions, and to find an outfitter where you can rent a horse for the day or arrange a guided tour.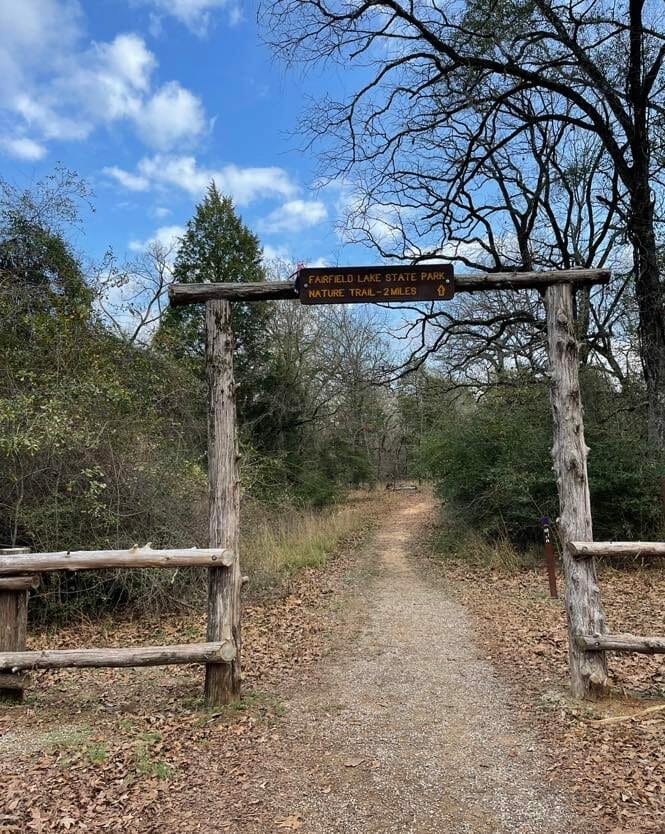 Got your own horse?
Head to one of the many State Parks with day-use facilities.
Fairfield Lake State Park is a great place for a day out for you and your horse.
Dockery trail is a short 5.3 miles but gives you the chance to ride through the forest and up to the overlook to get a bird's eye view of the forest canopy below.
While you're there, you can also enjoy some easy hiking and fishing, and discover some of the area's local history.
Other parks with day-use only are Dinosaur Valley State Park and Guadalupe River State Park.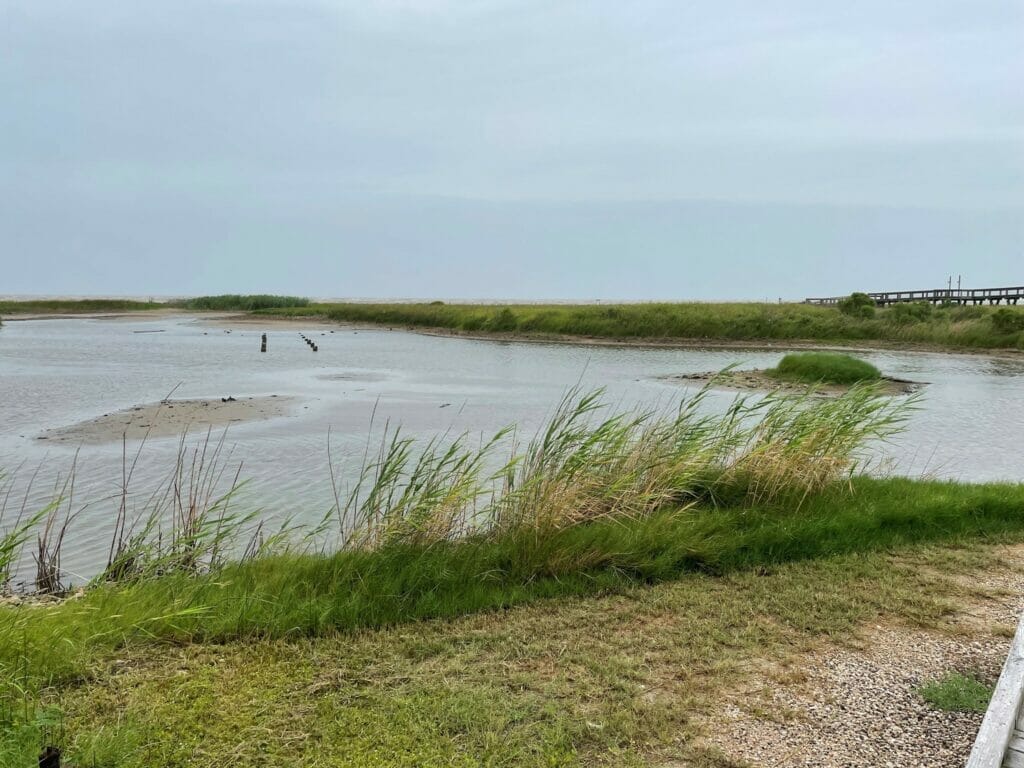 Want to stay longer?
You're spoilt for choice if you're looking for a State Park with overnight facilities, as well as day use.
Primitive camping on the East Beach is available for those bringing their own horses and is non-reservable, so get there early if you plan to stay.
You'll love riding along more than 3 miles of Gulf Coast beach front.
If you're really lucky, you'll have it all to yourself.
There are loads more Texas State Parks with overnight facilities for you and your horse – way too many to list here.
Check out the Texas Parks and Wildlife website to see what they have to offer.
Top tip: you'll need to bring your own portable pen or tether your horse to your trailer, as there are no corral facilities.
Before you go: Check on the tides – the site is closed when there are extreme high tides.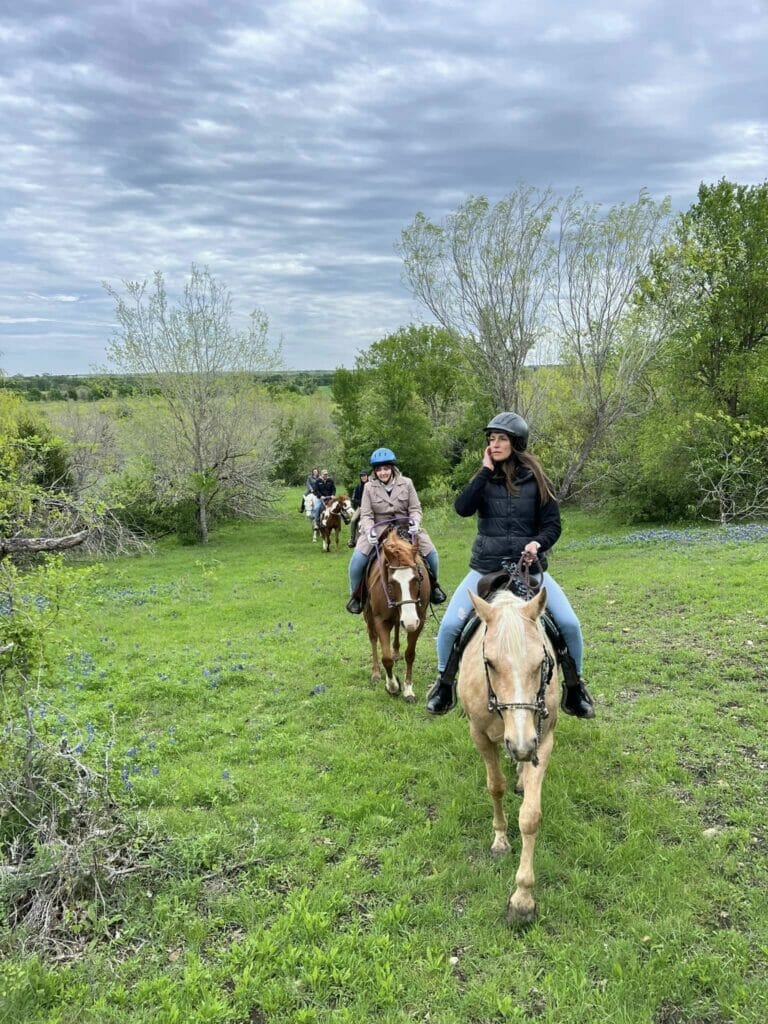 Here's a unique experience just a short drive from Austin.
No matter your skill level, the relaxed rides on offer will suit everyone.
At Maverick, they won't just put you on a horse and lead you along.
They will match your personality to your horse and actually teach you some of the basics to get the most out of your ride.
Top tip: If you feel confident, ask about including a bareback river ride in your program.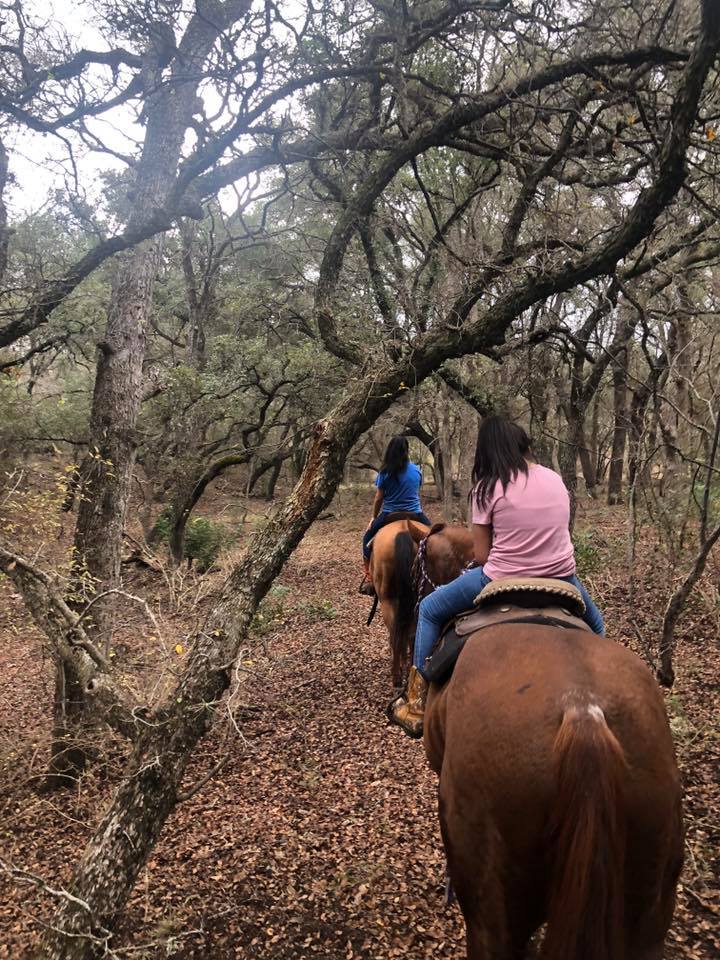 Enjoy a ride in the Texas wilderness.
Whether you want to get out on your own, ride with friends or go with a group, you'll find a trail ride to suit you at Westcreek Trail Rides.
Their experienced guides will teach you everything you need to know for a safe and comfortable ride.
No matter what the season, you'll be able to enjoy the great Texas outdoors as long as the weather is right.
And as a bonus … all the horses here are rescues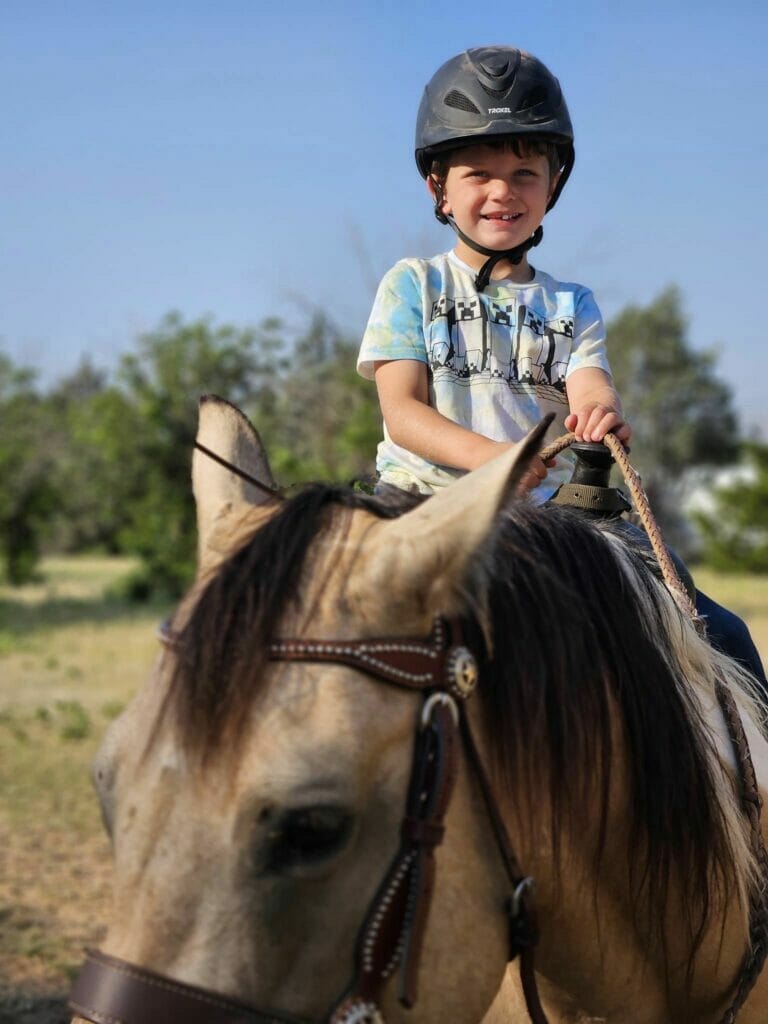 There are so many options here, you'll easily be able to find a ride or event to suit you.
Patient and professional guides will help everyone from beginners up.
Choose a themed ride like an Easter Egg Hunt or Valentines Day couples ride if you're there at the right time of year.
Take a lesson or two, organize an event party or go on a regular trail ride.
There's no chance your kids will be bored during vacation if they go to one of the summer camps held here.
Little Rafter Ranch and Stables even has boarding facilities for your horse if you're lucky enough to have one of your own.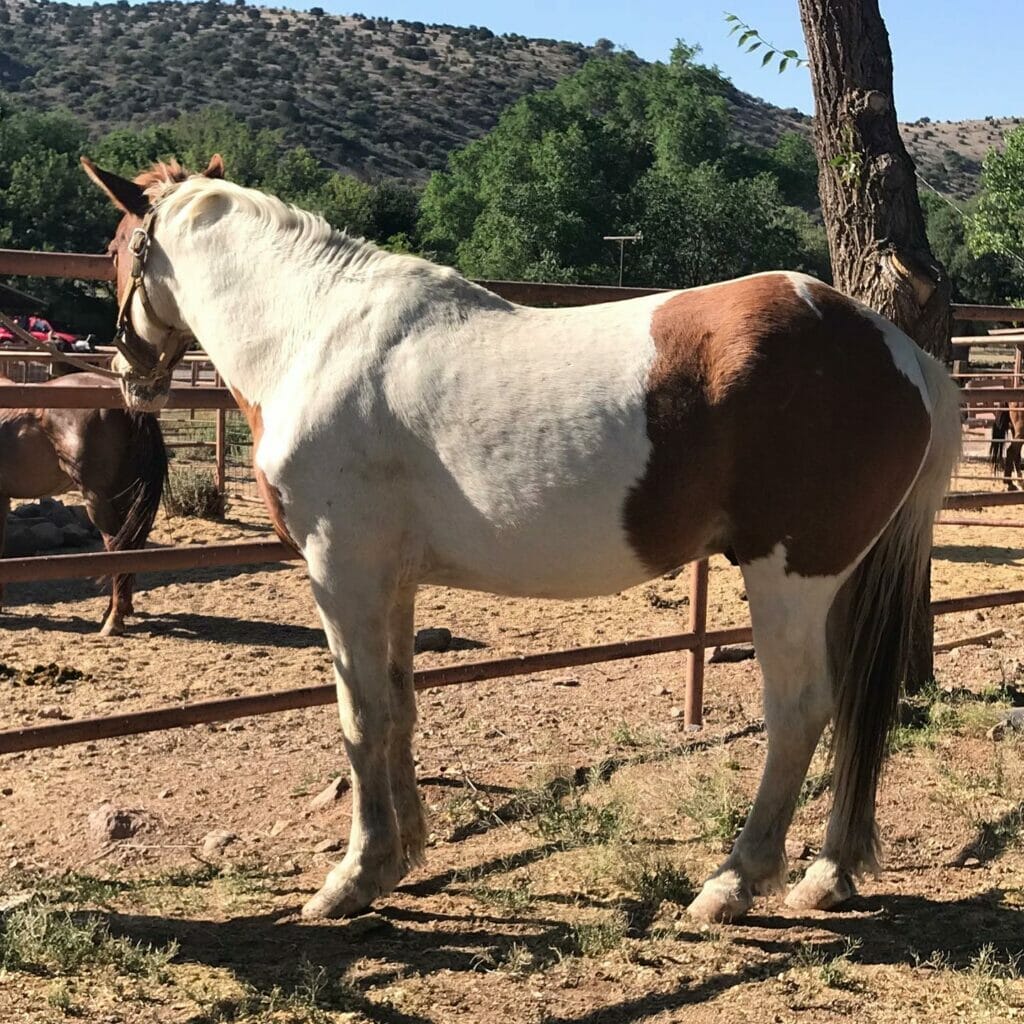 More than just horseback rides – a complete wilderness experience.
For beginners and more experienced riders aged 6 and up, trail rides of one or two hours are a great way to see around this beautiful part of Texas and get close to nature.
Younger riders can take a short buckaroo rode with and experienced wrangler maintaining control of the horse for safety.
You'll want to stay for more than a day … and you can.
Accommodation ranges from suites and family cabins through bunkhouses and RV sites with power, water and sewer hookups.
Kids haven't had enough?
Let them enjoy even more activities at a Summer Camp.
At Historic Prude Ranch, there's something for everyone year round.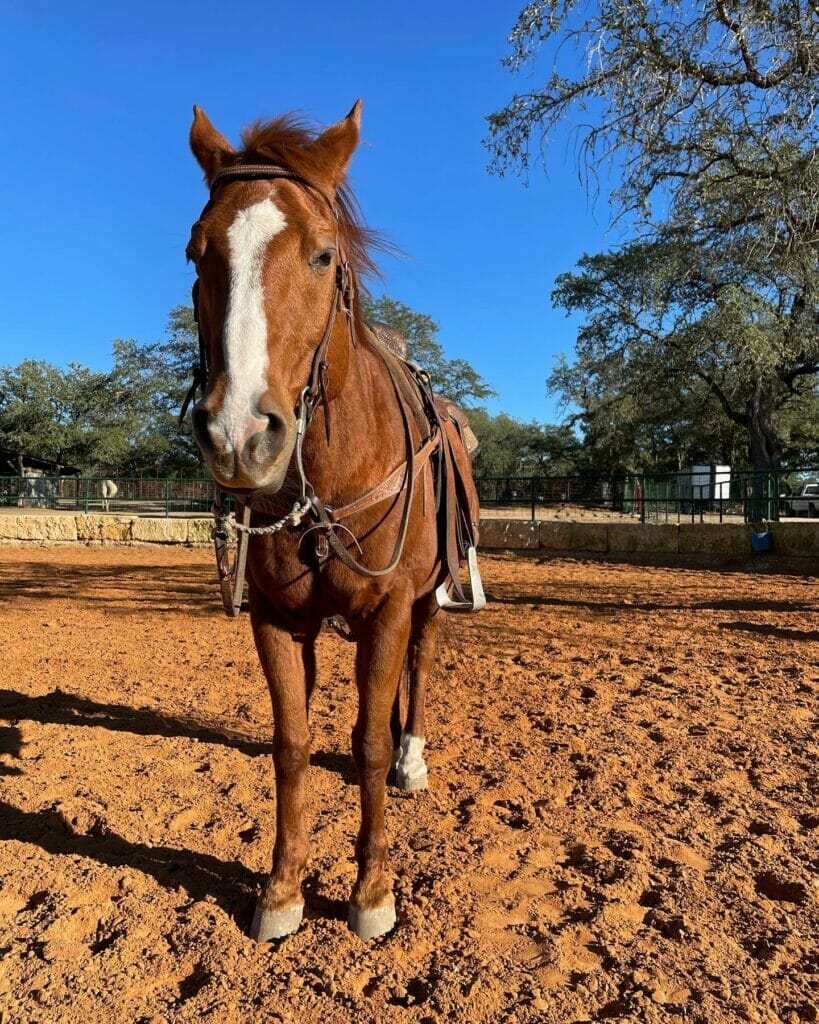 Where the horses train the riders!
Open 6 days a week, Hollow Tree Ranch offers trail rides to build lifelong memories for riders 5 and up.
Weave through the Texas hill country and try to spot some of the wildlife such as deer.
Take a moonlight ride, arrange a birthday party or take regular lessons.
If you have your own horse, they can board there as well.
Hollow Tree Ranch offers a complete package in a family friendly environment.
Before you go: Have a look at the website to find out how the Ranch got its name – and the tale of one very lucky little boy.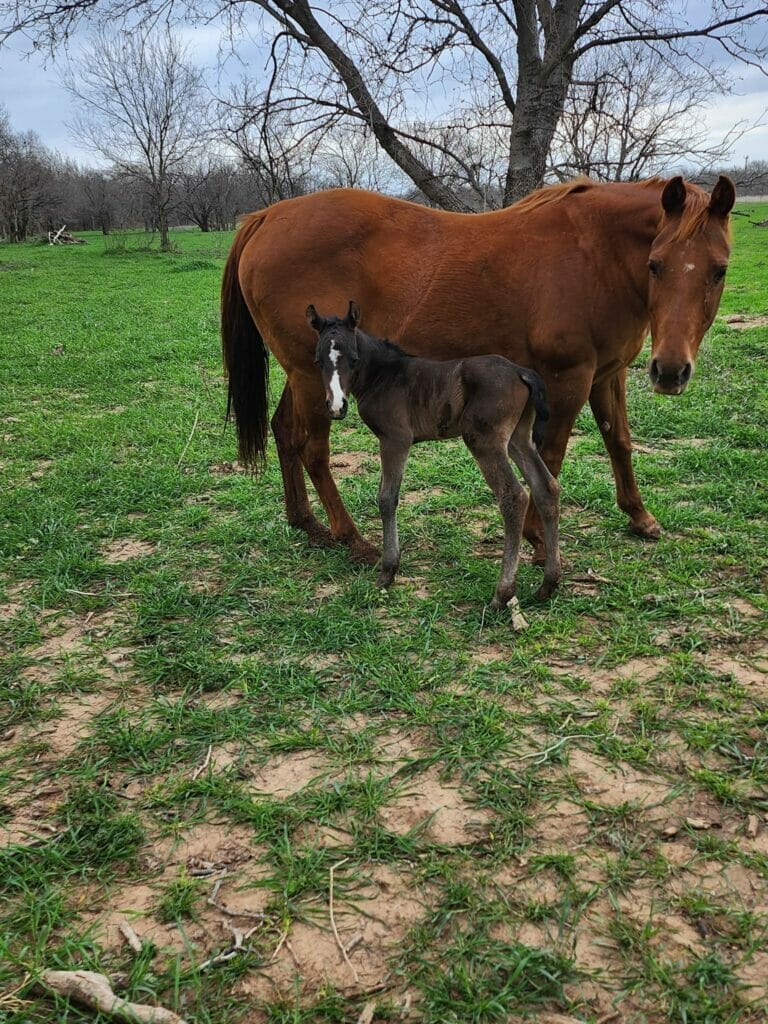 More than just trail rides.
Griffin Cattle and Equine sure does have trail rides, but they have much more as well.
They offer both English and Western riding lessons and horse boarding too.
You can even take out a monthly membership that lets you take private rides whenever you want.
And, for a truly unique experience, you can join a horseback pig hunt.
How great does that sound?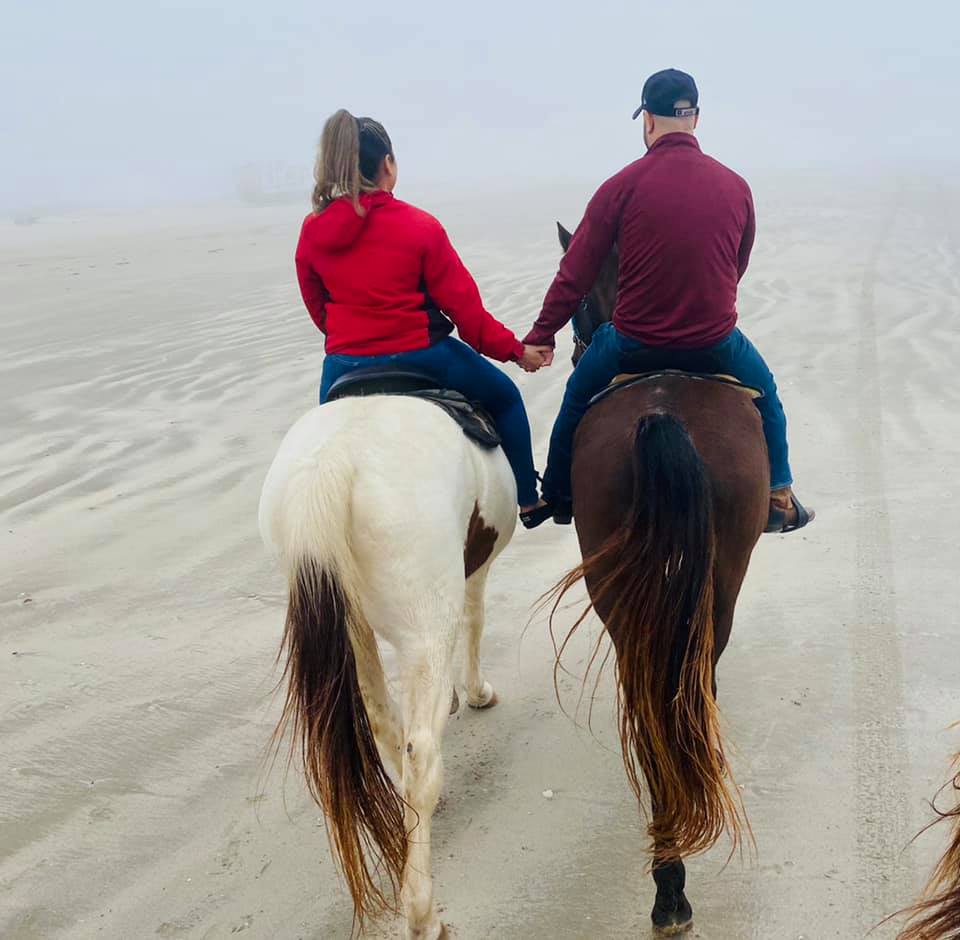 Close to Houston and Galveston, you can easily make a beach ride part of your day out on the coast.
Beach Bum Horse Rides is a great option for a gentle, guided beach ride if you have a bit of experience.
This family run business guides small groups with a minimum of two riders.
Celebrating an event?
Why not bring a photographer to make a permanent record of your memories?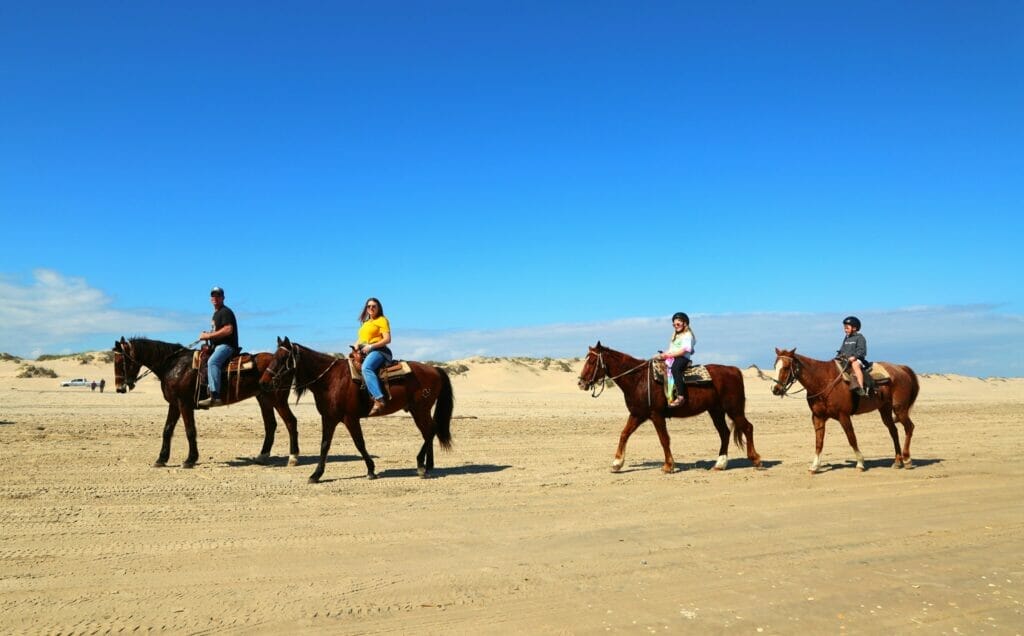 Adventure awaits!
Whether you go as a couple, a family or a group of friends, you're guaranteed a great time at the South Padre Island Adventure Park horseback rides.
Choose from daytime, sunset or moonlight rides.
We really loved the sunset ride and getting to see some of the local wildlife that you won't see during the day.
Most of the horses are rescues who are well cared for here for the rest of their lives.
There's a happy horse to suit every level of riding experience for all ages 6 and up.
With no minimum group size, you're assured of a fantastic beach horseback ride.
Once you're done with your ride, you can enjoy some other great adventures at the Park too.
Top tip: Receive a discount when you book your ride online.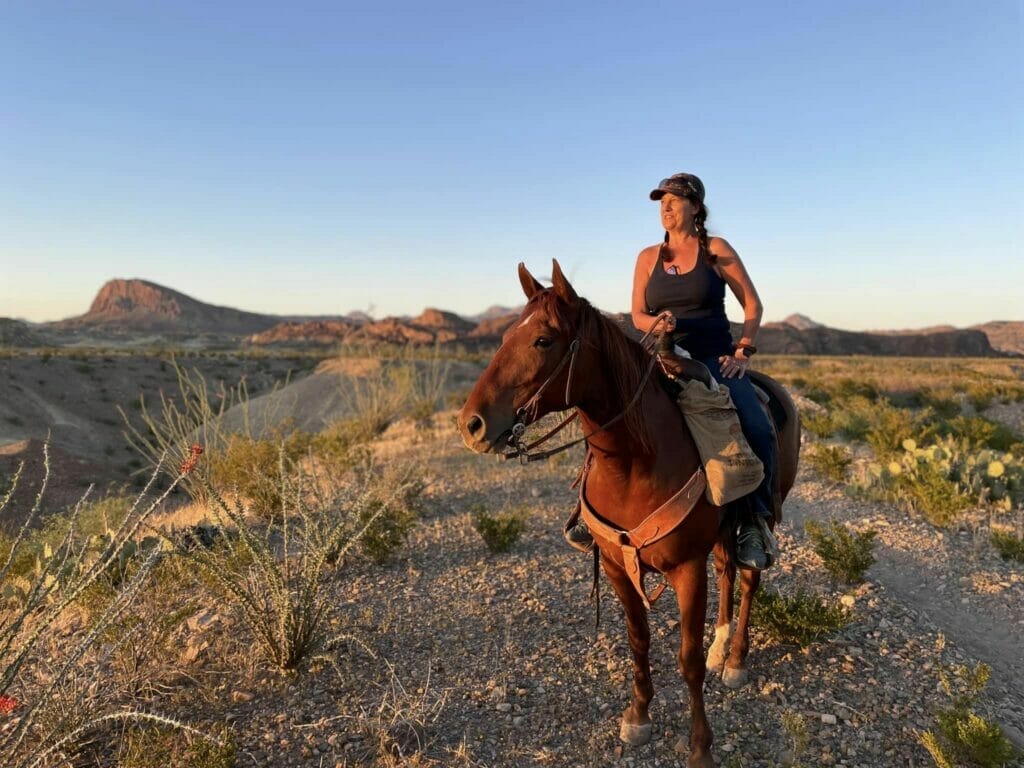 Exceptional Texas horseback trail riding!
You've ridden on the beach – now it's time for a whole different experience.
Trail ride in the beautiful Texas desert country with Big Bend and Lajitas Stables.
Trail rides vary in length for riders from 6 years of age.
For those from 10 and up there are overnight trips up to 3 days.
There are even donkeys and mules to ride.
We never get tired of the scenery around here, and it's surprisingly varied.
We know you'll love it too.
Before you go: Make sure you have plenty of water bottles and fill them. This is the desert and you'll need more than you think.
Looking for a fun getaway for groups, couples and families?
Tres Molinos will give you all that and more.
Your horseback ride will definitely not be your typical tail-to-tail ride and all levels of experience are catered for.
You can hang back or go ahead if you're a more confident rider.
What better way to enjoy the beautiful Texas landscapes?
With more than 100 years of history, this family-owned ranch offers the full ranch experience with gorgeous accommodation and other outdoor activities like shooting, archery, fishing and more.
You'll want to come more than once to take it all in.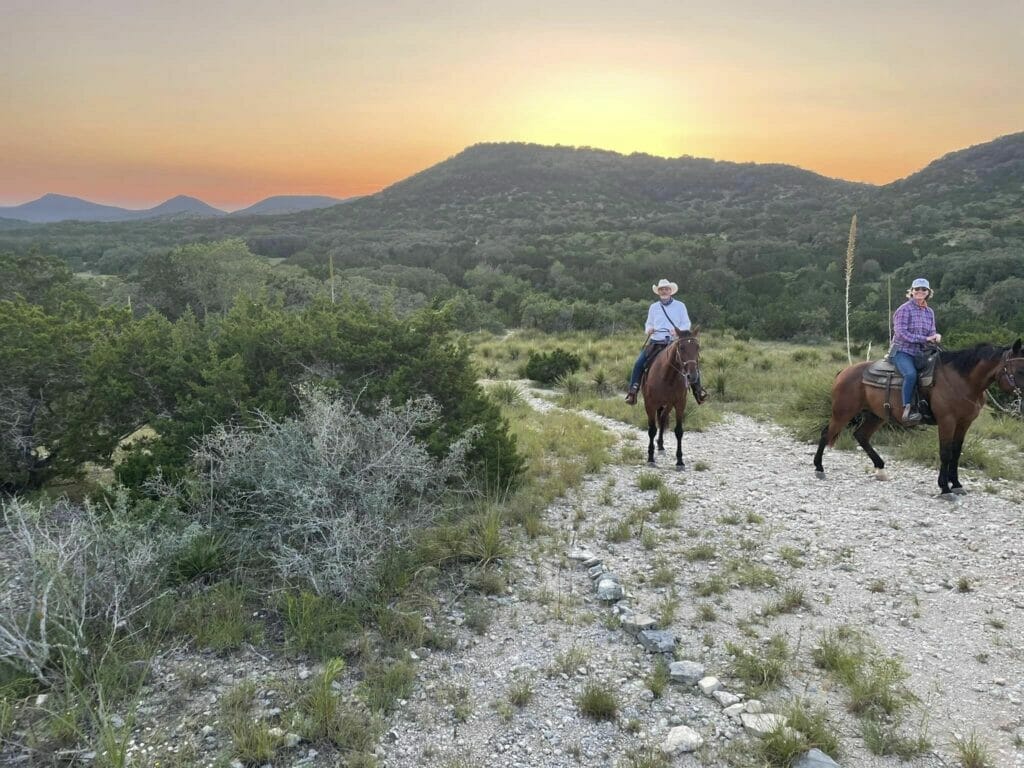 Where the horses are family!
Wow! You can really get a different experience at Bandera Historical rides.
Ride through the river, through wildflowers, even into town.
Yes, you read that right. Ride right into Bandera.
Private rides and group rides to suit everyone from beginner to advanced.
And if you want to stay a little longer, they have overnight and weekend experiences so you can enjoy both day and evening rides.
There's nothing average about Bandera Historical Rides.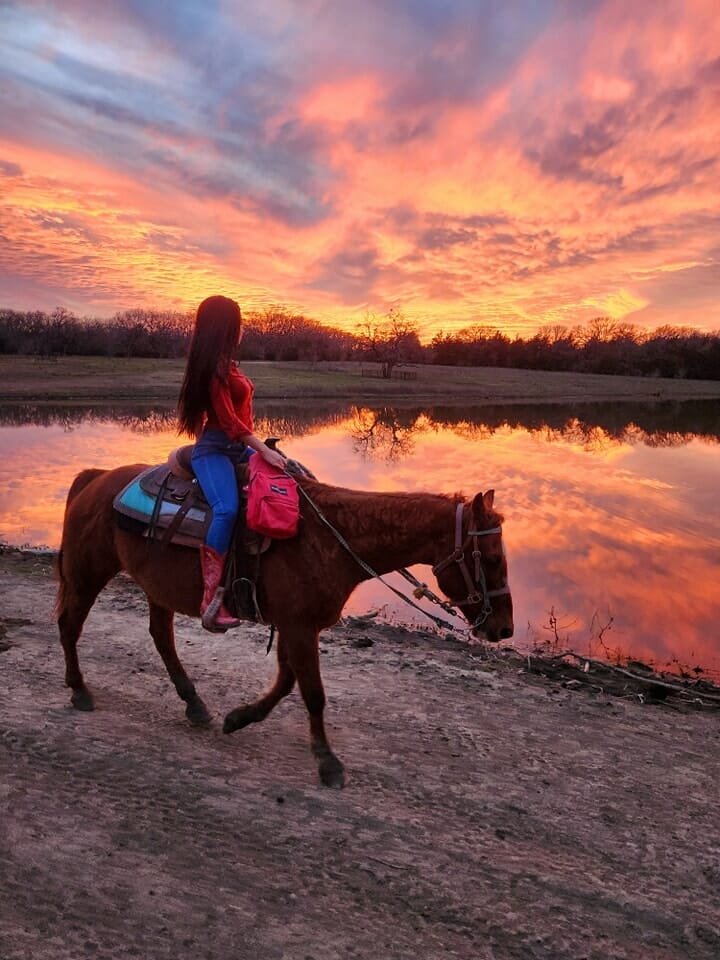 Whether it's a trail ride or horse-riding lessons, Chisholm Trail Rides has everything you'll need.
If you're looking for where to horseback ride in Texas and still be close to town, this is the place where you can get out into the fresh air to see the local wildlife and enjoy wooded trails and open fields without traveling too far.
Start with the basics if you're new to horses and gradually build your skills.
Open riding lets the horses move naturally and you can ride to your skill level, whatever that may be.
Top tip: If you live nearby, why not take advantage of their 6 or 12 hour packages?