Looking for the best places to eat in Galveston, Texas?
From casual beachside eateries serving up the world's best seafood to romantic date night options and steakhouses, these are the best restaurants in Galveston, TX that both visitors and locals enjoy.
Whether you're looking for a great place for a special occasion or just want a gathering place for family and friends on your trip to Galveston, these Galveston restaurants offer something for everyone.
There are plenty of things to do in Galveston, including Galveston tours and of course hitting the beach for some sun and sand, but nothing feels better at the end of the day (or beginning) than a delicious meal at one of the best restaurants in Texas with the people you love.
Enjoy this list, put together by our team of Galveston locals, and happy dining!
PS – if you have suggestions for your top restaurants in Galveston, let us know below!
1. BLVD Seafood
Nestled along the coastline, this charming place to eat in Galveston offers a captivating beach-front view that sets the stage for an unforgettable dining experience.
Immerse yourself in a gastronomic journey by indulging in a variety of flavorful seafood dishes.
From the fresh and delectable Tuna poke bowl to the delightful BLVD sampler that showcases a medley of mouthwatering flavors, every bite is a testament to the restaurant's commitment to quality.
The catch of the day, cooked to perfection, will leave a lasting impression, accompanied by tantalizing accompaniments such as bay shrimps, scallops, and fried soft shell crab.
To enhance your dining experience further, BLVD Seafood presents an impressive selection of cocktails that cater to various tastes.
From refreshing options like "the wave" to the indulgent "bourbon pecan pie," each sip is one to remember.
For dessert, indulge in rich and delicious mousses or explore the delicate flavors of their Creme Brule.
Each dessert is crafted with care, ensuring a delightful ending to your meal.
2. Shrimp N Stuff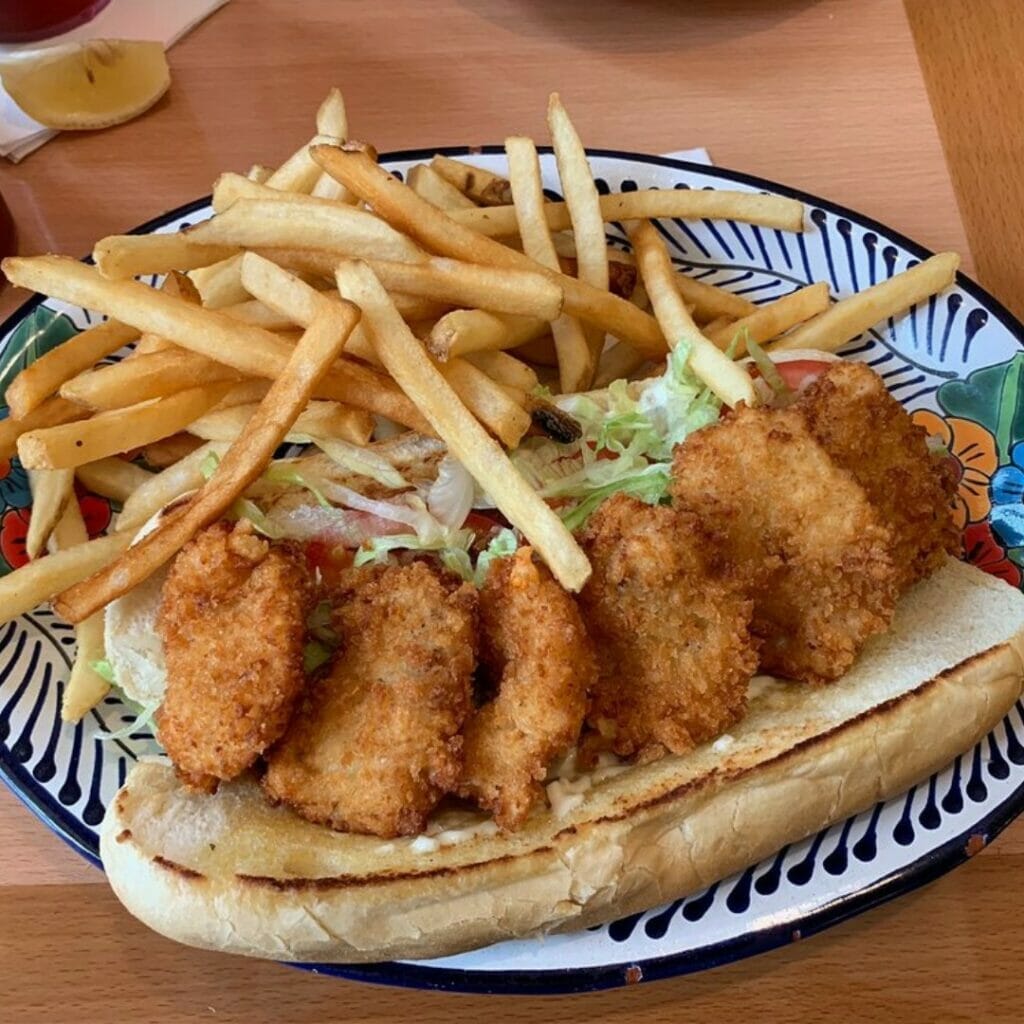 Shrimp n Stuff restaurant is a must-visit destination for seafood lovers seeking an exceptional dining experience.
With rave reviews highlighting the excellent food, amazing service, and great prices, there's no doubt that this establishment is worth experiencing.
With a casual atmosphere and indoor or outdoor dining, you'll feel relaxed and right at home.
The menu at Shrimp n Stuff boasts a wide variety of options, but their fried shrimp and catfish steal the show.
Another highlight of Shrimp n Stuff is the convenience of their ordering system.
Simply place your order at the counter, select a table, and relax until your food is ready.
This streamlined process allows you to enjoy your meal at your own pace!
From their fresh and flavorful shrimp to the incredibly sweet oysters, every bite is a testament to their commitment to sourcing the finest ingredients.
Don't forget to try the gumbo, known for its thick and piping hot consistency with generous portions of shrimp!
3. Saltgrass Steak House
Elevate your Galveston dining experience by visiting Saltgrass Steak House, a standout destination for steak lovers seeking a memorable meal and one of the top restaurants in Galveston.
Situated just steps away from the beach, this restaurant offers a distinct charm that sets it apart from typical seaside establishments.
You'll notice a variety of steak options on the menu, each promising incredible flavor and expert seasoning.
From the first juicy bite to the last, you'll understand why this restaurant has earned a stellar reputation.
But Saltgrass Steak House isn't limited to just outstanding steaks.
Indulge in the savory pleasure of steak tips over creamy mashed potatoes, topped with mushrooms and gravy.
The flavorful green beans add the perfect touch of freshness.
And don't forget to explore their special lunch menu, offering great prices for a midday treat.
As you savor the delectable dishes, don't forget to appreciate the small touches that make the experience truly remarkable.
From the delightful bread and butter to the refreshing and flavorful selection of teas and soft drinks, every detail is carefully considered to ensure your satisfaction.
4. Shykatz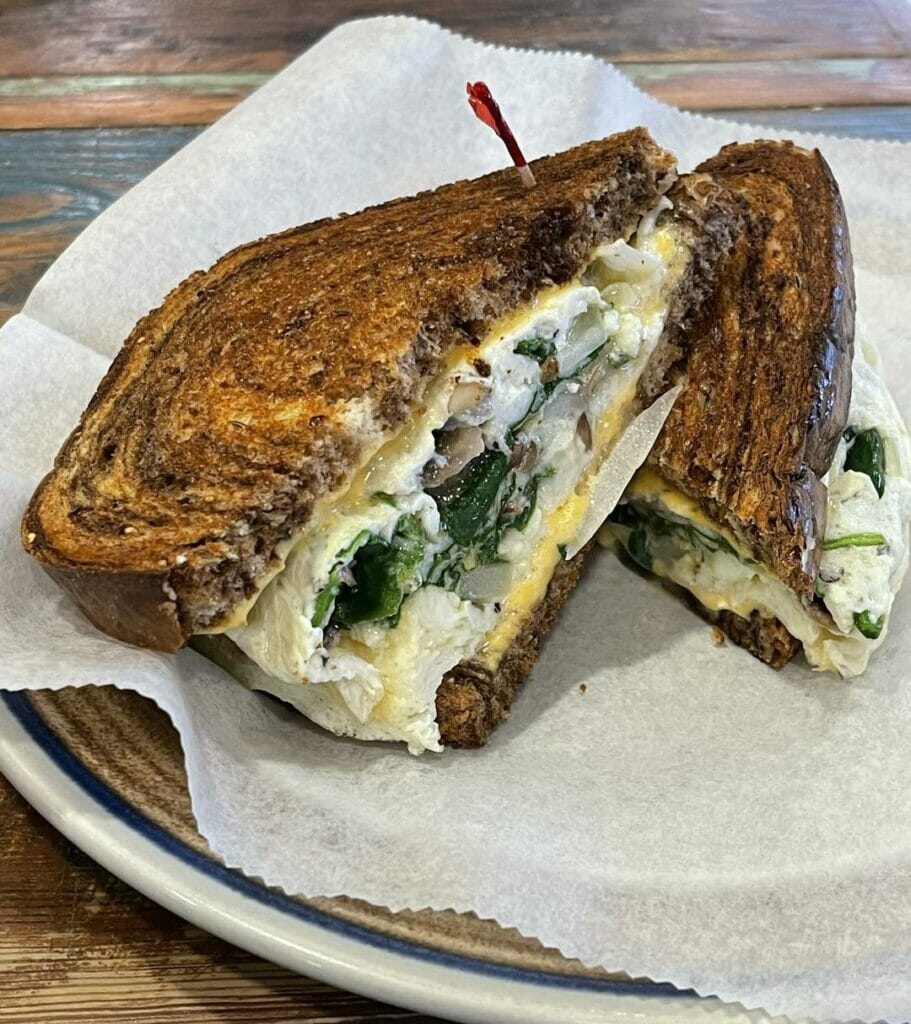 Discover the culinary gem of Galveston, Texas at Shykatz, where exceptional flavors and a warm ambiance await you.
Indulge in their delectable homemade crab cakes and flavorful shrimp cocktail as appetizers, tantalizing your taste buds for the feast to come.
For the main course, savor the mouthwatering chicken fried steak, perfectly paired with creamy mashed potatoes.
Seafood lovers will delight in the Gulf Coast shrimp platter, showcasing the freshest catch from the nearby waters.
And don't miss the homemade pies, from classic apple to rich chocolate silk, a sweet ending that will leave you craving more.
Whether you're sharing a meal with loved ones or enjoying a solo culinary adventure, you'll be treated like family.
Situated in the heart of Galveston, this hidden gem offers a perfect respite after a day of exploring the city's vibrant offerings.
5. Huli Huli Hut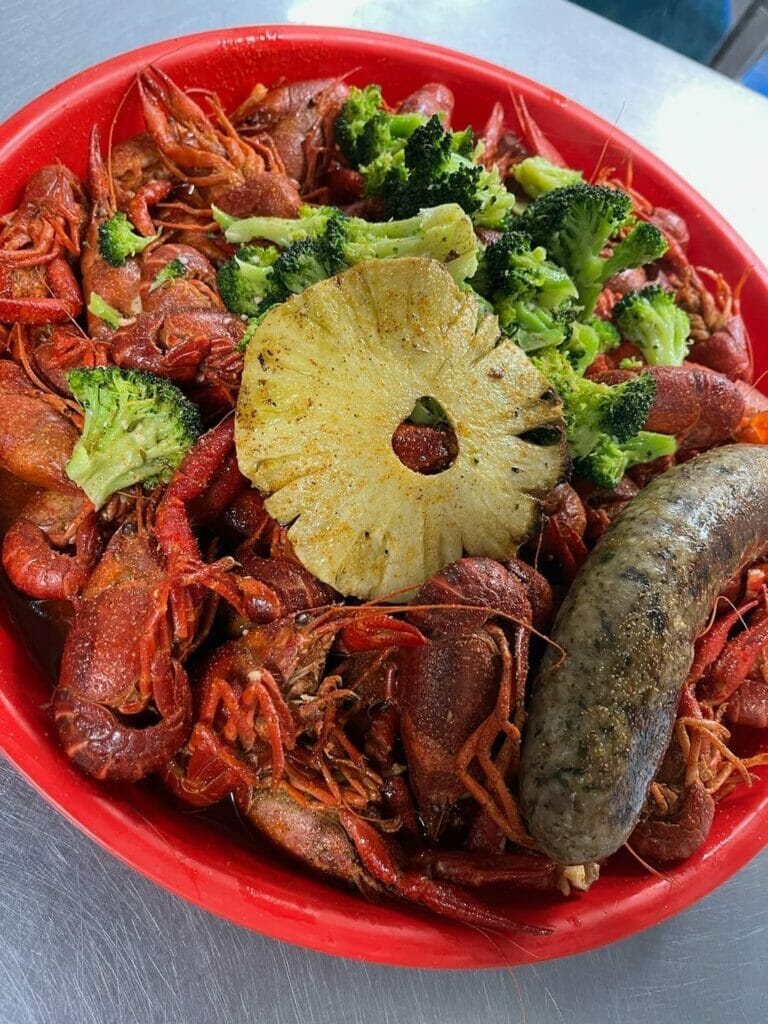 Embark on a tropical culinary journey right in the heart of Galveston, Texas, at the vibrant Huli Huli Hut.
Prepare to be transported to an island paradise as you step into this delightful eatery.
Begin your gastronomic adventure with their irresistible appetizers, such as the flavorful Hawaiian-style pork sliders or the zesty pineapple shrimp skewers.
As you delve into the main course, be prepared to be captivated by the diverse range of island-inspired dishes.
Indulge in their signature Huli Huli chicken, a succulent grilled chicken marinated in a special blend of Hawaiian spices.
For seafood enthusiasts, the fresh catch of the day prepared with a tropical twist is a must-try.
Save room for dessert and treat yourself to their mouthwatering Hawaiian shaved ice or the indulgent coconut cream pie.
Beyond the exceptional food, Huli Huli Hut radiates a lively and welcoming atmosphere, reminiscent of a beachside tiki bar.
6. Papa's Pizza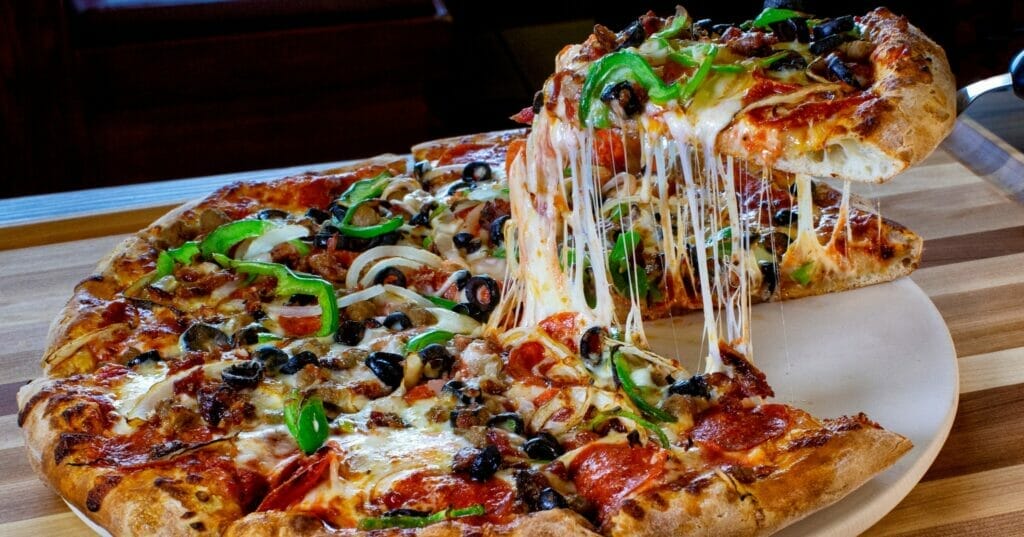 Craving a slice of pizza paradise in Galveston, Texas?
Look no further than Papa's Pizza, a local gem that delivers a mouthwatering experience.
Try their signature pizzas, crafted with the perfect balance of flavors and generous toppings.
From classic pepperoni and cheese to gourmet combinations like BBQ chicken and bacon, each bite is a symphony of taste that will leave you craving more.
And for those with dietary preferences, Papa's Pizza offers gluten-free crust options and vegetarian toppings, ensuring everyone can enjoy a slice of their favorite pie.
But it's not just about the pizza at Papa's Pizza.
Their menu also features a variety of appetizers, salads, and pasta dishes that cater to every palate.
Start your meal with their irresistible garlic knots or cheesy breadsticks, then savor a fresh and crisp Caesar salad.
If you're in the mood for something heartier, try their comforting pasta dishes like spaghetti marinara or creamy fettuccine Alfredo.
7. The Spot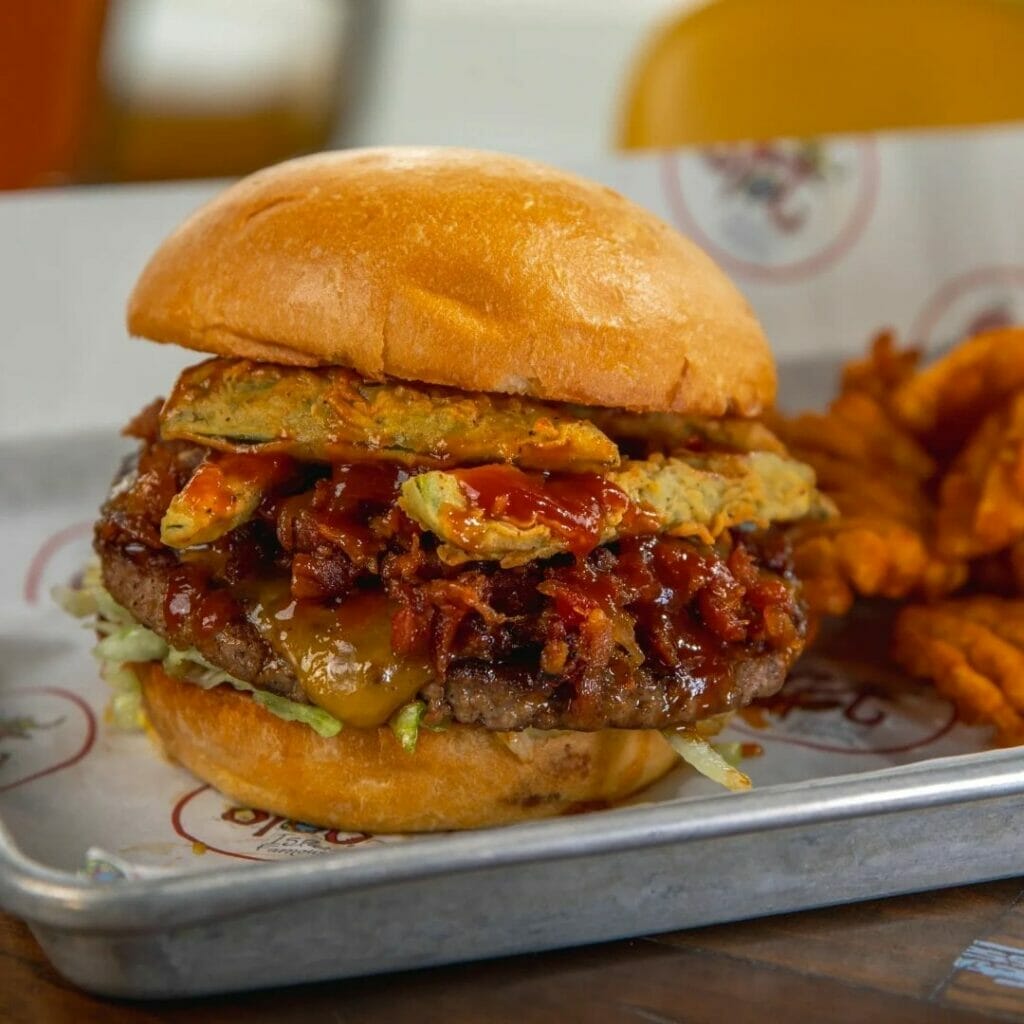 At The Spot, prepare your taste buds for a treat with their mouthwatering burgers and some of the best food in Galveston.
Each burger is a towering masterpiece, featuring juicy patties, fresh toppings, and an array of gourmet sauces.
Indulge in classic cheeseburgers or the fiery jalapeño bacon burger.
Complement your burger with a side of their crispy hand-cut fries or renowned sweet potato fries for the ultimate satisfaction.
But The Spot isn't just about burgers.
Seafood enthusiasts will revel in their coastal-inspired dishes, including delectable shrimp and fish tacos bursting with flavors.
For a refreshing option, dive into their vibrant salads, generously adorned with crisp greens and your choice of grilled chicken, shrimp, or the catch of the day.
Quench your thirst with tropical cocktails and invigorating beverages that perfectly harmonize with the beachside vibes.
Situated just steps away from the beach, the Spot beckons locals and tourists alike.
8. Salsas
Salsas is known for its extensive margarita selection, featuring unique and delicious flavors that are sure to please.
Whether you opt for their house margarita during happy hour or indulge in one of their specialty margaritas, you'll be treated to a delightful and refreshing drink.
The attentive and speedy service from the friendly staff ensures that you'll feel like a VIP, even during busy times.
The enchilada trio at Salsas is a standout dish that will leave you craving more.
Unlike other places where the red enchilada sauce can taste the same, Salsas brings a new level of flavor and satisfaction to their enchiladas.
The well-executed dishes and the welcoming ambiance make this a restaurant you'll want to visit again and again.
Even if you didn't expect Galveston to have exceptional Mexican food, Salsas will prove you wrong.
Open late during the week, this restaurant is the perfect place to enjoy margaritas on the rocks and delicious food.
The live Mariachi band adds an extra touch of authenticity and entertainment to your dining experience.
With friendly and accommodating staff, Salsas is the go-to spot for Mexican food in Galveston.
9. Darlene's Shrimp Shack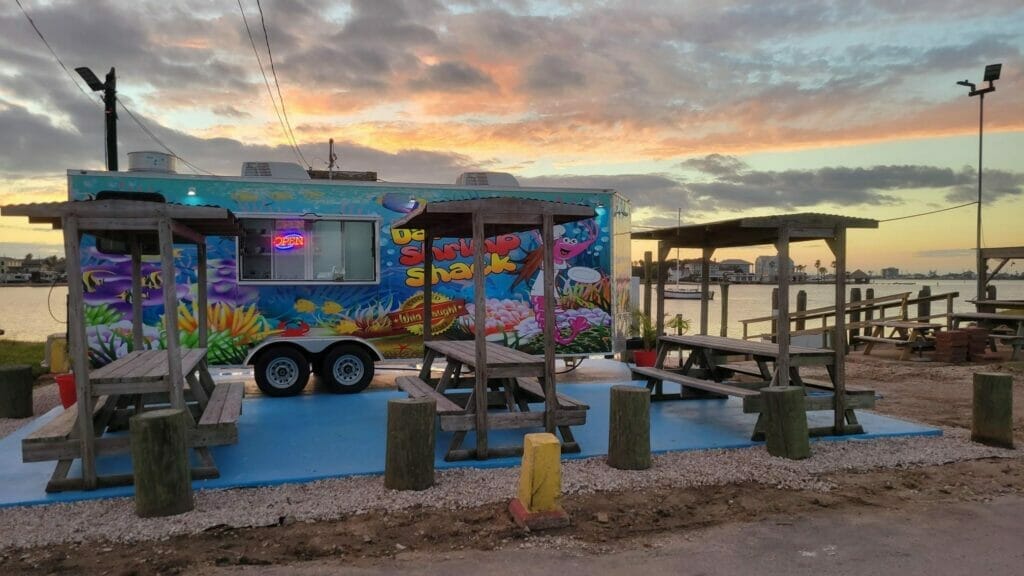 Get ready to dive into a seafood extravaganza at Darlene's Shrimp Shack in Galveston, Texas.
This laid-back gem is all about good vibes and delicious ocean eats.
Get your shrimp fix with their mouthwatering options, from crispy fried shrimp to zesty shrimp scampi.
Each bite is bursting with flavor and will transport you to seafood paradise.
And if you're in the mood for something different, give their fish tacos or grilled salmon a try. Trust us, you won't be disappointed.
As you step into Darlene's Shrimp Shack, you'll feel like you're at a beachside hangout.
The atmosphere is relaxed and welcoming, perfect for kicking back and enjoying good company.
10. The Gumbo Diner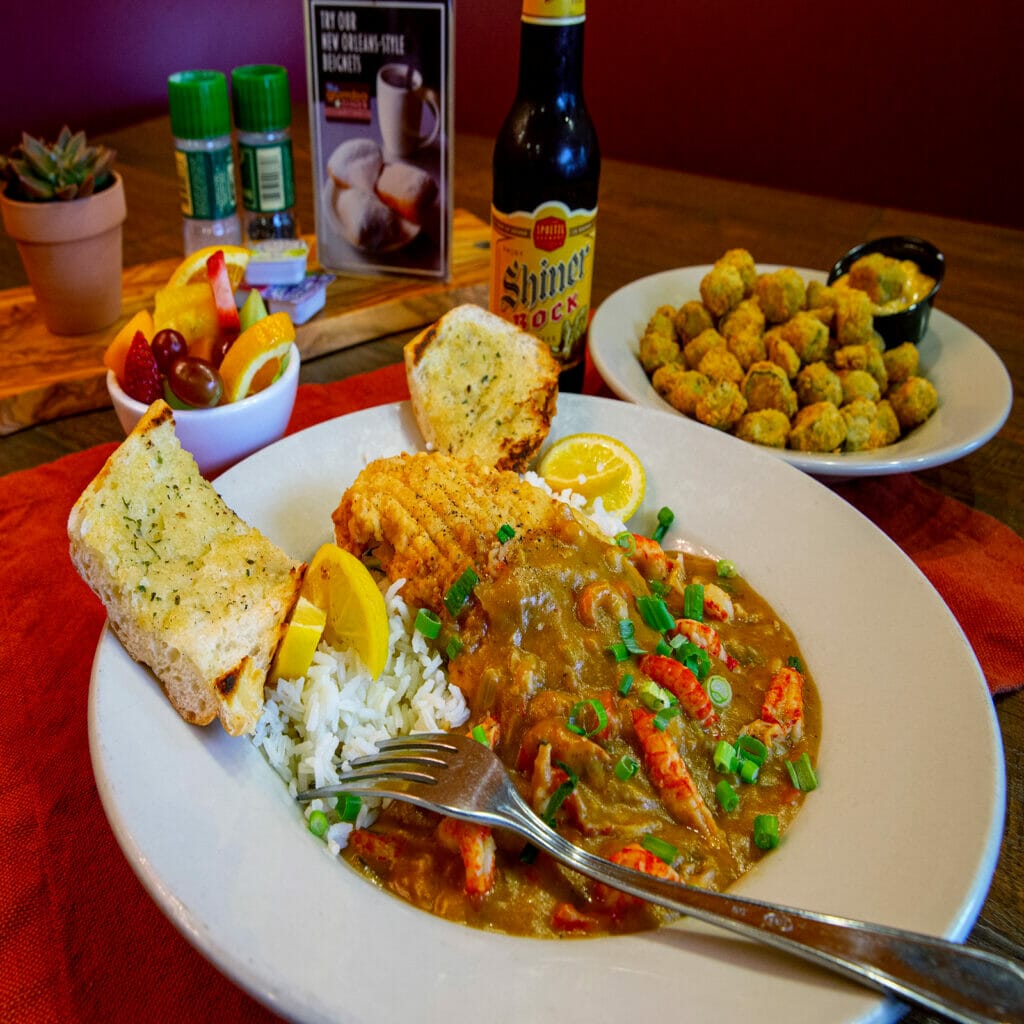 If you're in the mood for some soul-satisfying Southern comfort food in Galveston, Texas, look no further than The Gumbo Diner, one of the best restaurants on Galveston Island.
This local gem is a go-to spot for locals and visitors alike, offering a menu filled with mouthwatering dishes that will transport you straight to the heart of Louisiana.
At The Gumbo Diner, you'll find a variety of Cajun and Creole classics that will leave you wanting more.
From their signature gumbo bursting with flavors to their crispy fried seafood platters, every dish is a celebration of Southern cuisine.
Don't forget to try their famous po' boys, loaded with your choice of fillings and dressed to perfection.
And if you're craving something sweet, their homemade bread pudding or pecan pie will satisfy your dessert cravings.
11. Gaido's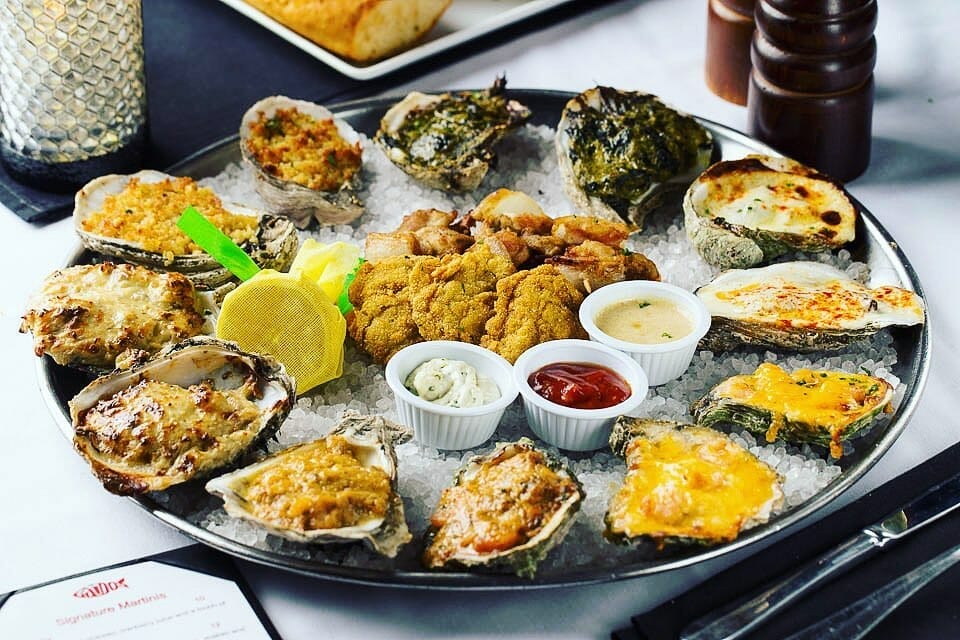 When it comes to fresh seafood and a dining experience steeped in Galveston tradition, Gaido's is the place to be!
This iconic seafood restaurant has been a local favorite for over a century, serving up delicious Gulf Coast cuisine that will make your taste buds dance with joy.
At Gaido's, you'll find a menu brimming with seafood delights.
From succulent shrimp and flavorful crab to perfectly grilled fish, their dishes are a true celebration of the ocean's bounty.
Start your meal with their famous shrimp cocktail, featuring plump, chilled shrimp served with zesty cocktail sauce.
Then, dive into their signature dishes like the seafood platter overflowing with fried oysters, shrimp, and flaky fish, or the buttery lobster tail that melts in your mouth.
The nautical-themed décor, warm wood accents, and friendly staff create a welcoming ambiance that sets the stage for a memorable dining experience.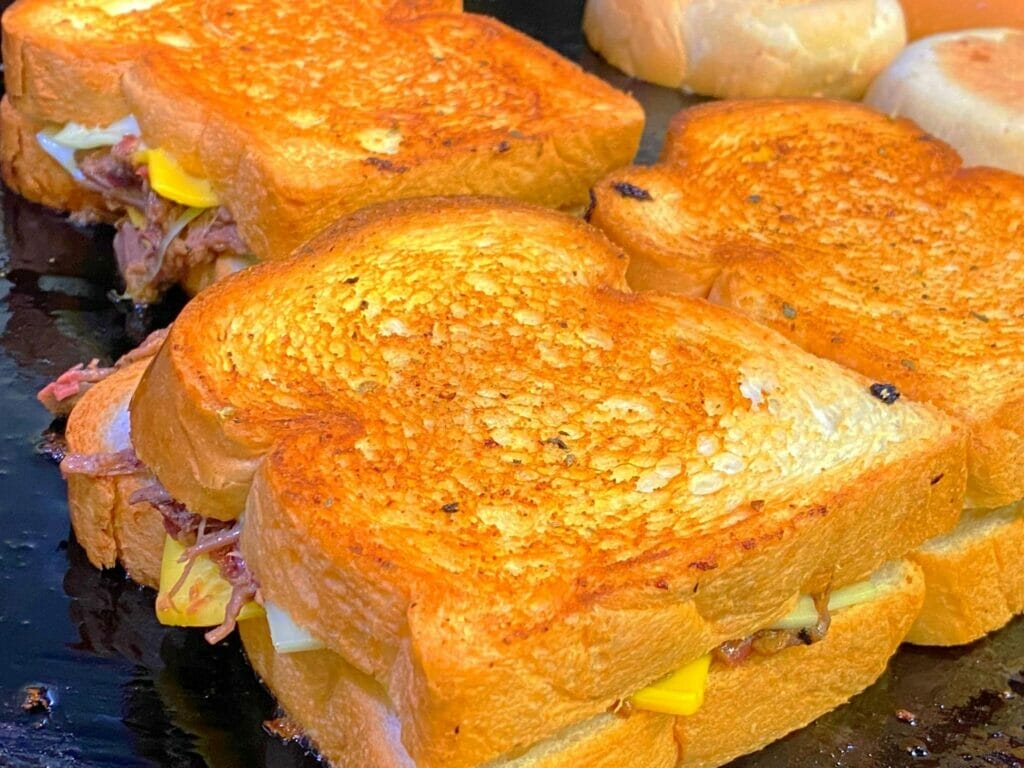 If you're on the hunt for good places to eat in Galveston, look no further than Koop's BBQ Kitchen!
This local joint is a meat lover's paradise, serving up mouthwatering barbecue dishes that will have you coming back for seconds.
Koop's BBQ Kitchen is all about that smoky and savory goodness.
Sink your teeth into their tender and juicy brisket, which is slow-smoked to perfection.
Craving some pulled pork?
They've got you covered with their melt-in-your-mouth, flavor-packed pork shoulder.
And let's not forget about their delectable ribs, with meat so tender it practically falls off the bone.
Each bite is a burst of smoky flavor that will have you reaching for the barbecue sauce.
13. El Nopalito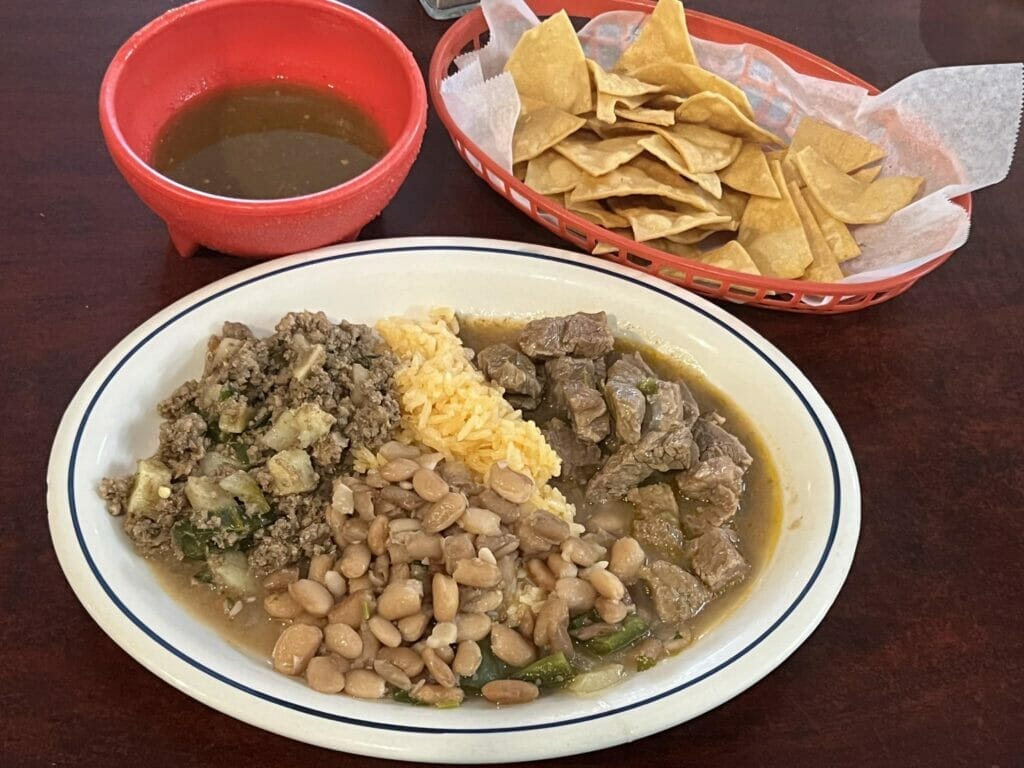 This lively and welcoming restaurant is a local favorite, serving up delicious Mexican dishes that will transport your taste buds south of the border.
El Nopalito is all about bringing the vibrant flavors of Mexico to your plate.
From sizzling fajitas to cheesy enchiladas, their menu is packed with classic Mexican delights.
Start off with some crispy tortilla chips and tangy salsa, then dive into their mouthwatering tacos filled with your choice of succulent meats and topped with fresh cilantro and onions.
Don't forget to sample their homemade guacamole, bursting with the perfect balance of creamy avocado and zesty lime.
Step inside El Nopalito and you'll be greeted by a lively and festive atmosphere.
The colorful décor, upbeat music, and friendly staff create a lively ambiance that makes every visit a fiesta.
Whether you're enjoying a family dinner or a night out with friends, El Nopalito offers a warm and inviting setting to enjoy delicious Mexican cuisine.
14. Mario's Seawall Italian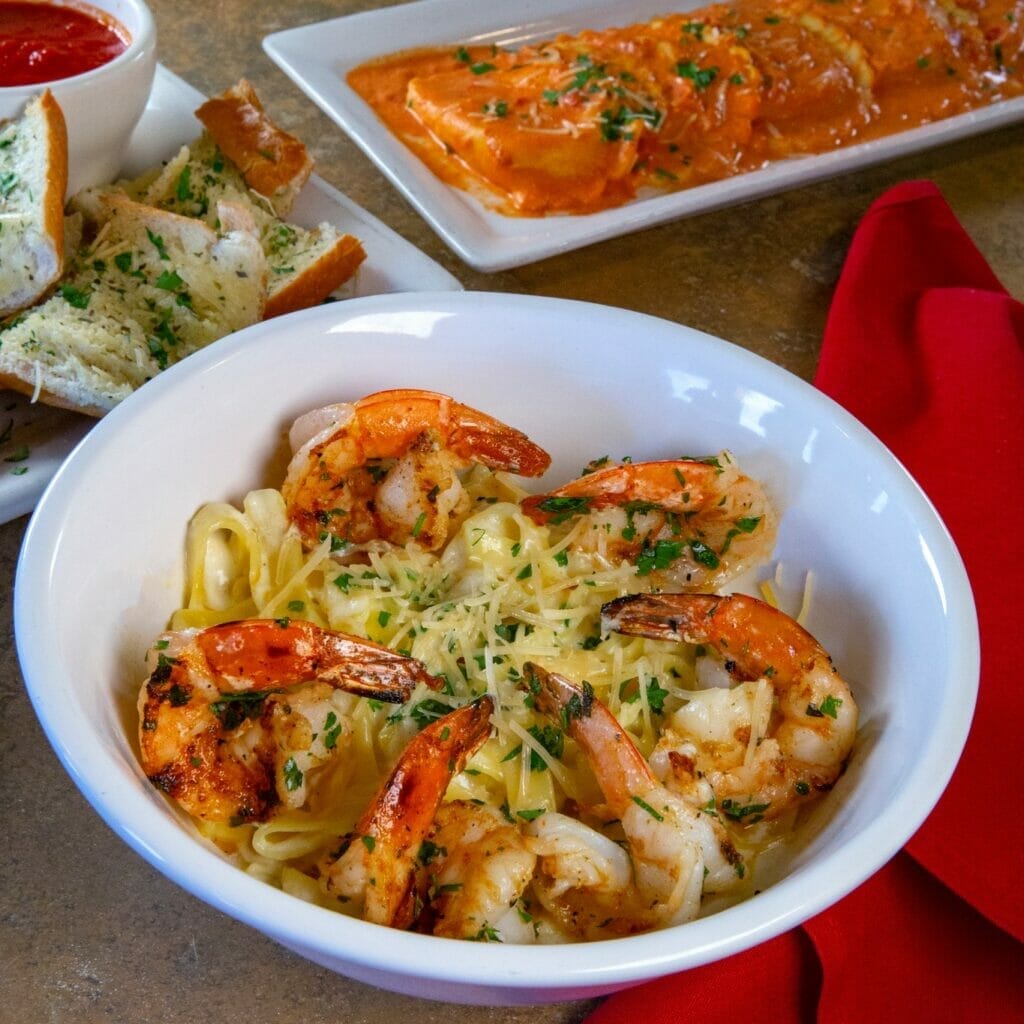 Looking for a taste of Italy on the Galveston Seawall?
Look no further than Mario's Seawall Italian, a great restaurant in Galveston.
Mario's Seawall Italian is all about traditional Italian flavors done right.
From classic pasta dishes to wood-fired pizzas, their menu is a delight for any Italian food lover.
Start off with their bruschetta, topped with fresh tomatoes, basil, and garlic, or indulge in some crispy calamari rings.
Then, feast on their mouthwatering lasagna, with layers of rich meat sauce, gooey cheese, and perfectly cooked pasta.
And don't miss out on their pizzas, with thin, crispy crusts and a variety of toppings to choose from.
15. Marina Bar & Grill: Galveston dining gem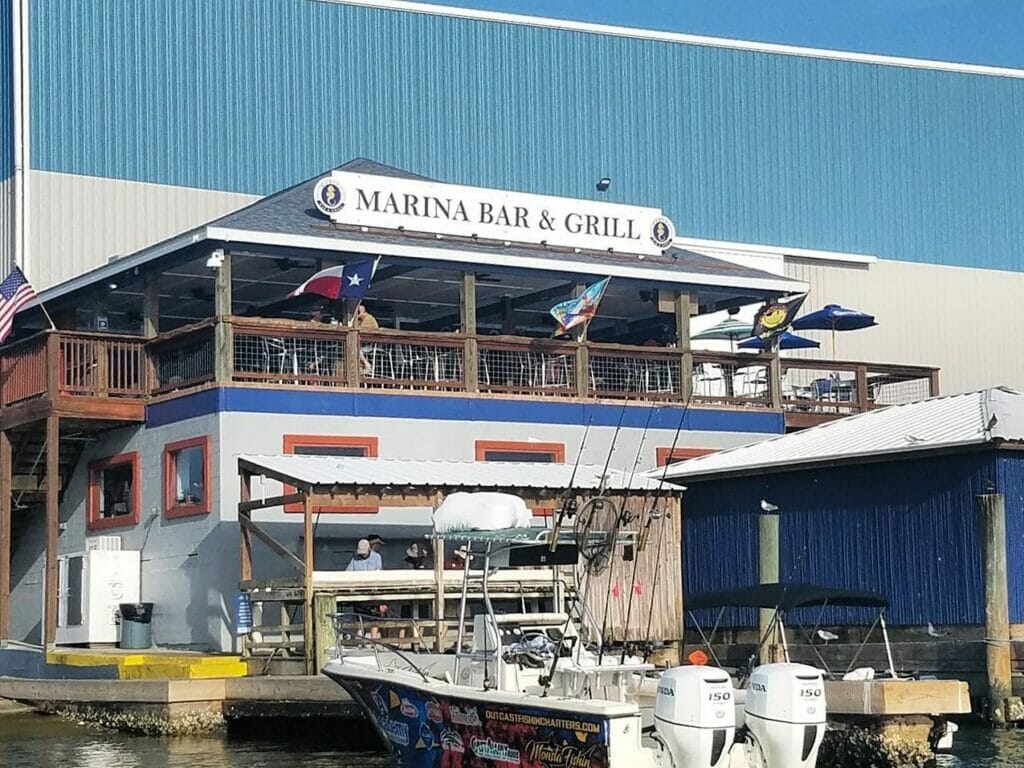 Nestled on the East End of Galveston, the Marina Bar & Grill is a hidden gem that has captivated locals and visitors alike.
With its stunning views of the harbor and cruise ships, this charming establishment offers a delightful dining experience.
Whether you're a seafood lover, burger aficionado, or craft beer enthusiast, Marina Bar & Grill has something to satisfy every craving.
Step inside and you'll be greeted with warm hospitality and prompt service.
The menu boasts an array of delicious options, from juicy and well-seasoned chicken sandwiches to perfectly battered onion rings that will leave you wanting more.
The food is prepared with care, using fresh ingredients and clean oil, ensuring a delightful dining experience.
What sets Marina Bar & Grill apart is its serene location on the marina of the yacht basin.
Away from the bustling Seawall or Strand, you can unwind and take in the picturesque views while enjoying your meal.
Watch as the boats gracefully come and go, and if you're lucky, catch a glimpse of dolphins playing in the water.
With friendly waitstaff, a selection of local craft beers, and reasonable prices, it's the ideal spot to relax, unwind, and soak in the beauty of a Galveston sunset.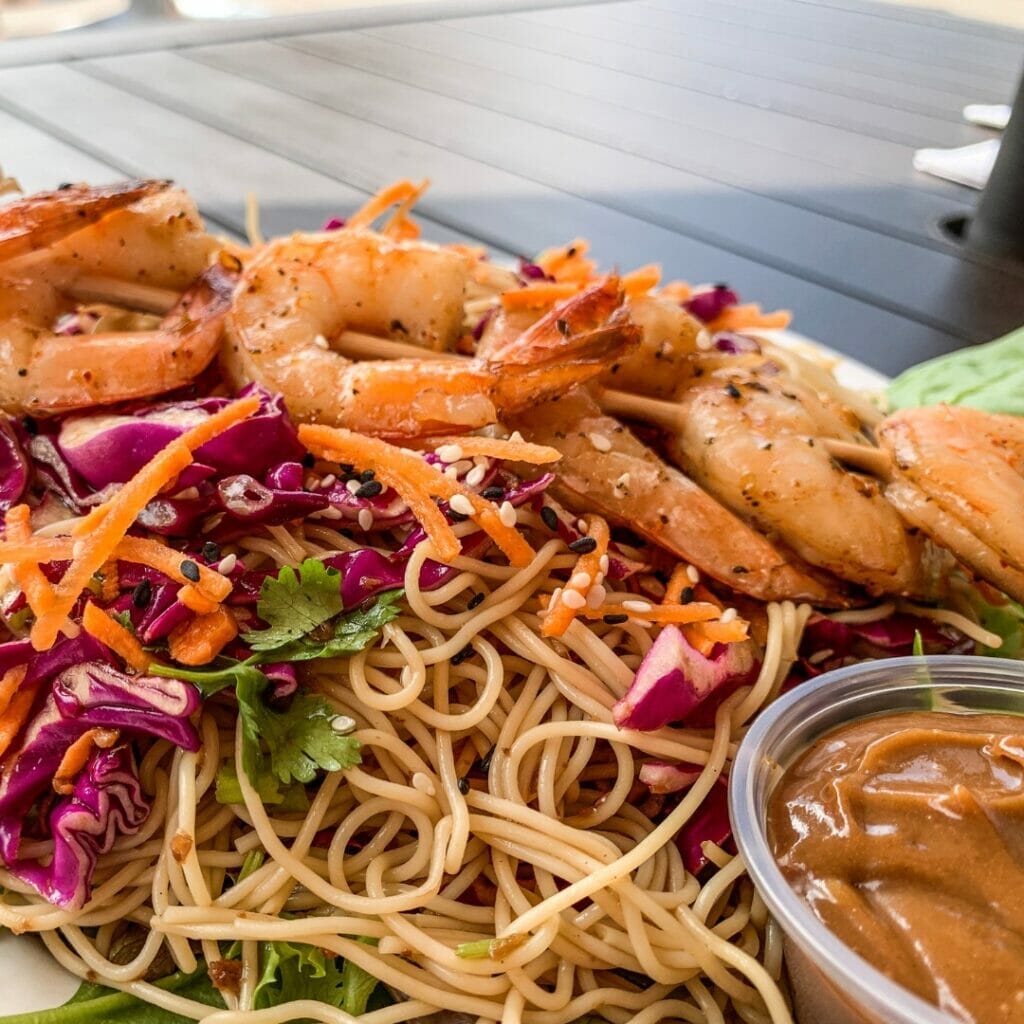 Step into the welcoming ambiance of Mosquito Café, where Galveston's culinary delights and a laid-back atmosphere merge to create an unforgettable dining experience.
This charming café goes the extra mile to cater to various dietary needs, offering an array of flavorful dishes, including gluten-free options, that will please every palate.
Indulge in a breakfast feast featuring mouthwatering favorites such as the irresistible breakfast bowl and the one-of-a-kind crab omelet.
If you're craving something heartier, their delicious turkey burgers and fluffy pancakes are sure to hit the spot.
And be sure to leave some space for their delectable desserts that are simply hard to resist.
With friendly staff and a clean environment, your visit to Mosquito Café promises not just a delightful meal, but also a pleasurable overall dining experience.
As you soak in the relaxed and cool ambiance, get ready to embark on a culinary adventure.
Mosquito Café caters to a variety of preferences, whether you're a seafood enthusiast or prefer vegetarian options.
Don't miss the chance to savor their tantalizing Senegalese vegetables with shrimp, which combines the creamy richness of coconut milk, a touch of sweetness, and a subtle hint of spice.
It's a flavor explosion that is bound to leave your taste buds yearning for more.
17. Mr. Taco Cantina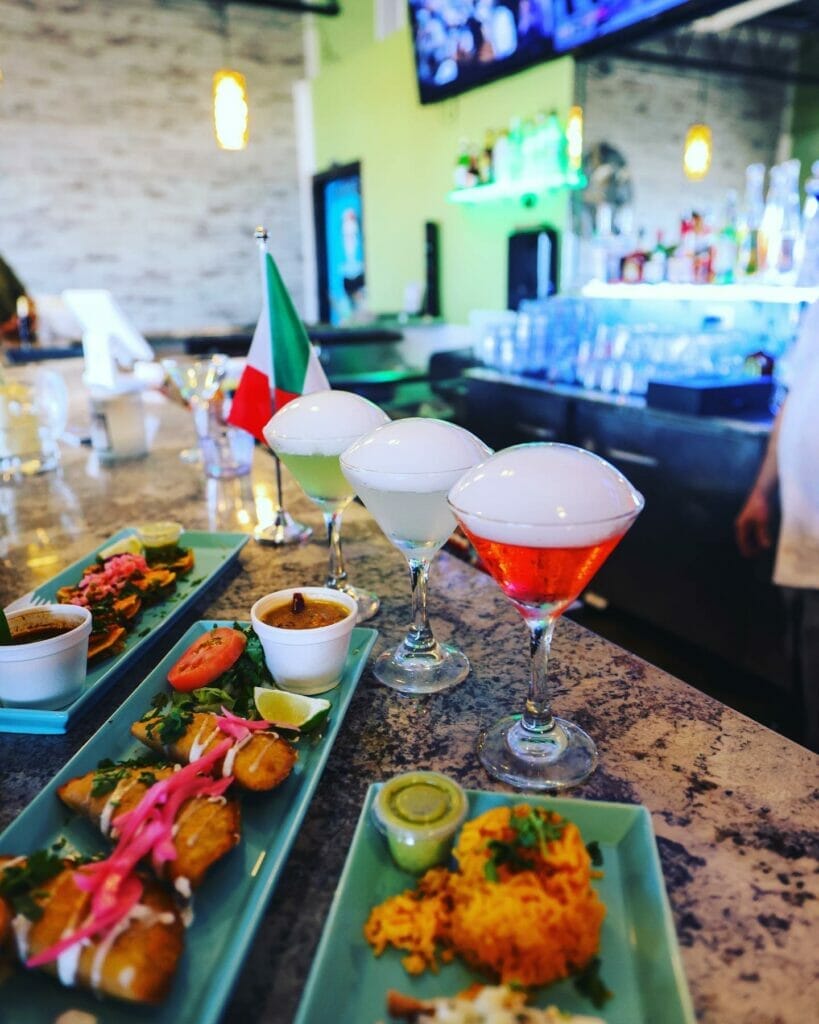 Step right into Mr. Taco Cantina, where the vibrant flavors of Mexico and a relaxed atmosphere come together to ignite a fiesta in your mouth.
This lively cantina located in Galveston is the ultimate destination for those craving authentic Mexican cuisine that will satisfy your taste buds and keep you coming back for more.
Embark on a culinary journey as you delve into the diverse menu at Mr. Taco Cantina.
Try the sizzling fajitas, savor the explosion of flavors in their mouthwatering tacos, and delight in the gooey goodness of their cheesy quesadillas.
Don't forget to refresh your palate with their zesty ceviche, a perfect blend of tanginess and freshness.
Make sure to treat yourself to their signature dishes, like the juicy carne asada or the zingy shrimp tacos that are bursting with flavor.
And for those seeking an extra kick, the house-made salsas are a must-try, adding a fiery touch to every bite.
18. Seahorse Grill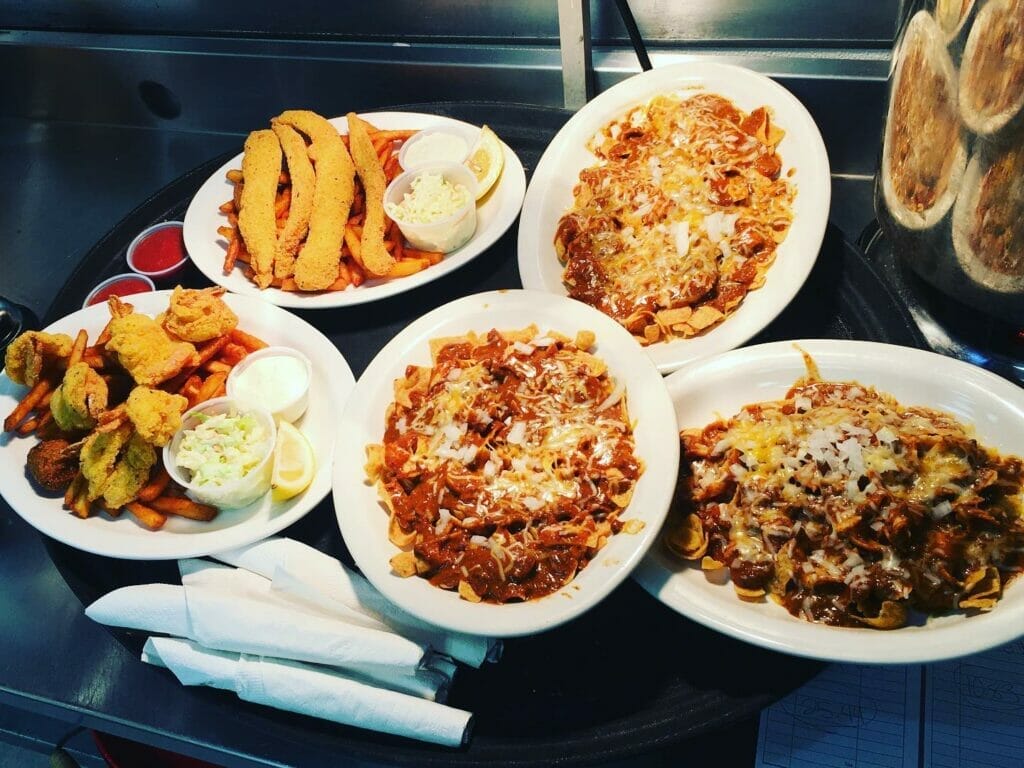 Seahorse Grill is all about that fresh and tasty seafood.
They've got everything from succulent shrimp to perfectly grilled fish and mouthwatering crab cakes.
It's like taking a culinary trip to the beach!
And if you're not a seafood aficionado, don't worry—they've got you covered with juicy steaks and hearty burgers that'll make your taste buds do a happy dance.
This place has it all, from classic fish and chips to unique seafood creations bursting with flavors.
But they don't stop there! Seahorse Grill knows how to satisfy everyone's cravings.
Sink your teeth into a juicy ribeye or chow down on their specialty burgers that are loaded with mouthwatering goodness.
Whether you're coming in for a laid-back lunch or a cozy dinner, Seahorse Grill is the spot to be.
19. Lupita Tex-Mex
Lupita Tex-Mex is proud to serve a diverse menu filled with all your favorites.
Start your culinary adventure with their sizzling fajitas, perfectly seasoned and served with warm tortillas.
Or dive into their cheesy enchiladas, smothered in flavorful sauce and topped with melted cheese.
Craving tacos?
Lupita Tex-Mex has got you covered with a selection of mouthwatering options, from tender carne asada to zesty shrimp tacos bursting with flavor.
And don't forget to try their homemade guacamole, made with ripe avocados and a perfect blend of spices.
Not only is the food at Lupita Tex-Mex amazing, but the lively atmosphere will transport you to a vibrant Mexican cantina.
Grab a seat, sip on a refreshing margarita, and soak in the energetic vibes.
The friendly staff is always ready to make your dining experience memorable and enjoyable.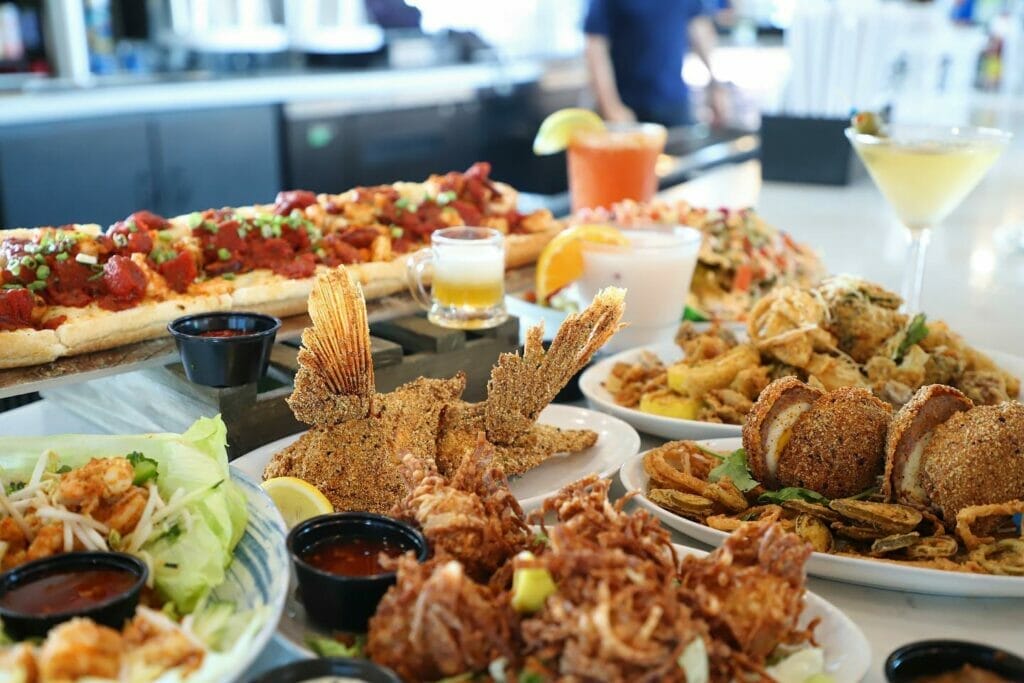 At Katie's Seafood House, you can expect nothing but the freshest catch of the day.
From succulent shrimp and juicy crab legs to flaky fish and plump oysters, their menu boasts a wide selection of seafood delights.
Whether you prefer your seafood grilled, fried, or served raw in a refreshing ceviche, Katie's has something to satisfy every craving.
Don't forget to pair your meal with a chilled craft beer or a zesty cocktail for the ultimate coastal experience.
Not only does Katie's Seafood House excel in their seafood offerings, but their friendly and laid-back atmosphere will make you feel right at home.
The rustic coastal décor, coupled with the friendly and attentive staff, creates a welcoming environment that enhances your dining experience.
So kick back, relax, and savor the flavors of the Gulf Coast as you enjoy your meal.
21. Black Pearl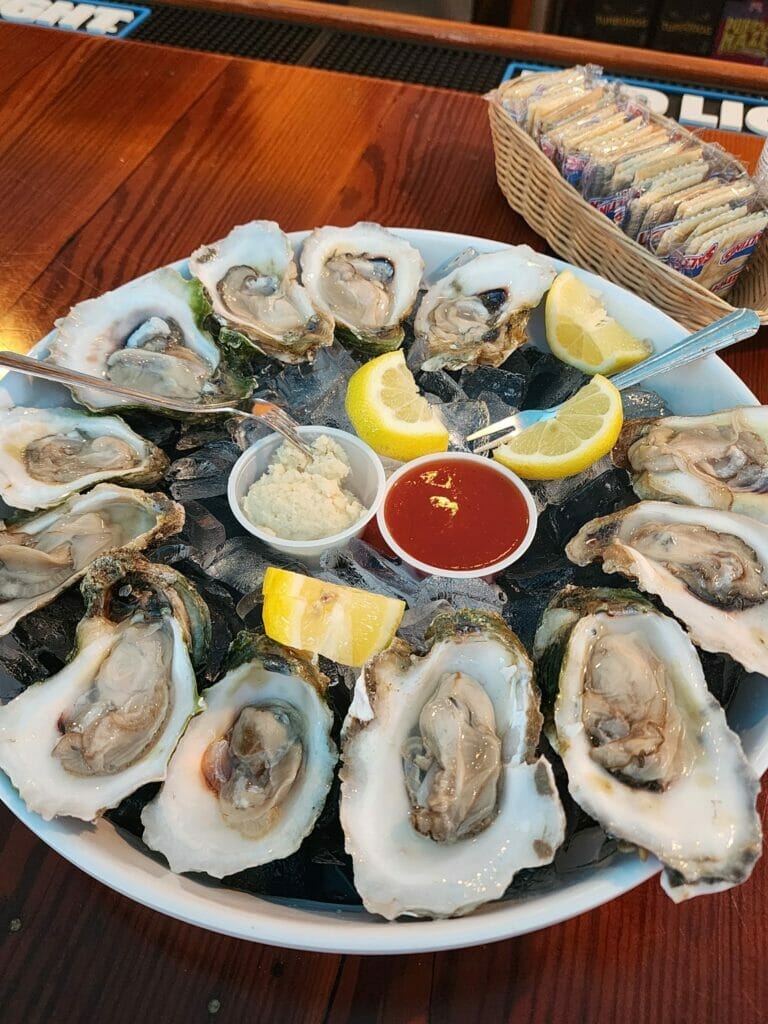 Welcome to Black Pearl, the ultimate hangout spot in Galveston, Texas!
This place is all about good vibes, great food, and a relaxed atmosphere that'll make you feel right at home.
Get ready for a dining experience like no other!
The menu at Black Pearl is a mouthwatering adventure.
They've got something to satisfy every craving, whether you're in the mood for a juicy steak that's cooked to perfection, some fresh and flavorful seafood, or a plate of pasta that'll make your taste buds dance.
Picture this: sinking your teeth into their mouthwatering ribeye steak, twirling your fork in a bowl of seafood pasta that's bursting with flavors, or digging into a plate of shrimp and grits that'll transport you straight to flavor town.
Yum!
What makes Black Pearl even more special is their commitment to using top-notch ingredients from local suppliers.
That means you're getting the freshest, tastiest ingredients in every dish.
Whether you're stopping by for a casual lunch or a cozy dinner, Black Pearl has got you covered.
So grab your crew, bring your appetite, and get ready for a foodie adventure you won't soon forget. Black Pearl is where it's at!
This place is all about good times, delicious eats, and a laid-back vibe that'll have you coming back for more.
Get ready to indulge in some seriously tasty dishes!
When it comes to the menu at Allen's, they've got something for everyone.
From mouthwatering burgers that are stacked high with all your favorite toppings to crispy chicken tenders that'll satisfy your cravings, you'll find all the comfort food classics here.
And let's not forget about their famous seafood dishes!
Dive into a plate of succulent shrimp, savor the flavors of their perfectly fried fish, or treat yourself to a steaming bowl of rich and creamy seafood gumbo.
It's a seafood lover's dream come true!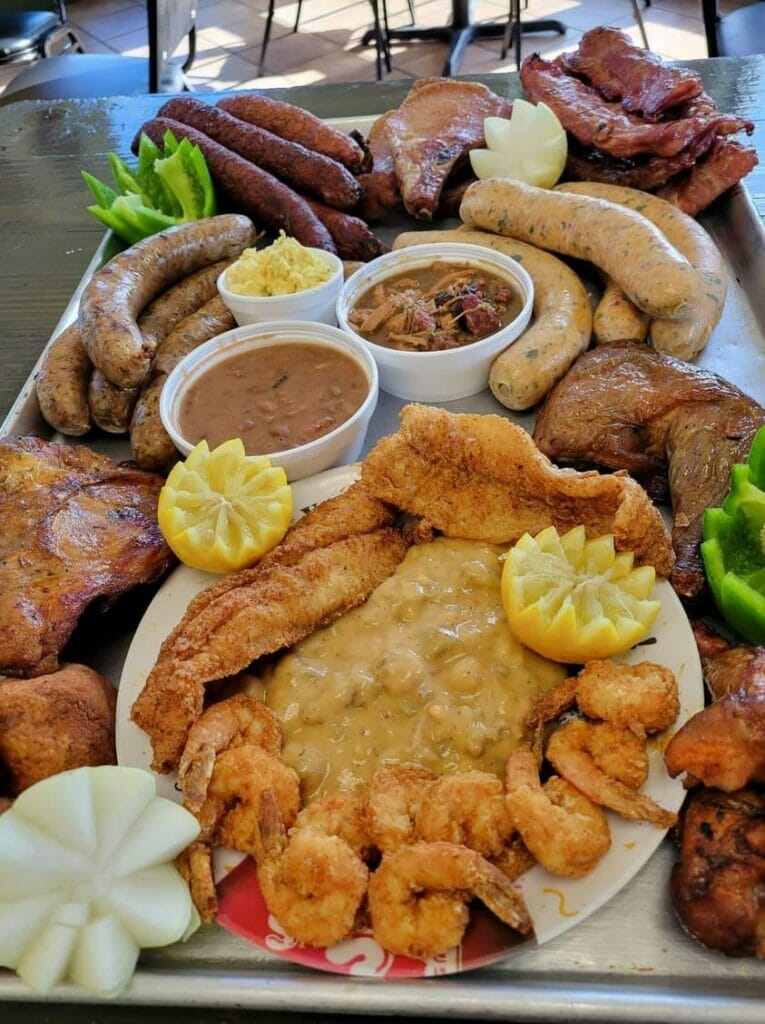 With its extensive and diverse menu featuring seafood, Cajun classics, and American comfort food, Leo's has something to satisfy every craving.
This no-frills joint boasts a clean and inviting atmosphere, with friendly and efficient service at the counter.
Indulge in the flavors of the Gulf Coast with Leo's signature dishes.
Try the delectable oyster po'boy, packed with plump and juicy oysters, or savor the authentic Cajun taste of boudin.
Looking for a hearty breakfast?
The breakfast basket and the outstanding breakfast bowls are sure to hit the spot.
And don't miss their crowd-pleasing crab cakes, known for their delightful blend of flavors and generous portions.
Leo's Cajun Corner is all about delivering deliciousness with speed and efficiency.
Whether you're dining in or grabbing a to-go order, the friendly staff ensures a seamless experience.
The crab cakes are a standout, served piping hot and loaded with succulent crab meat.
And if you're in the mood for something truly exceptional, make sure to try their legendary riblets, a true highlight of the menu.
Map of the Best Restaurants in Galveston, TX
Psst – want more restaurant recommendations in Texas? Check out our other guides!