If you're planning a trip to Texas, sampling the state's delicious cuisine and incredible restaurants should be a vital part of your itinerary.
The choice can be overwhelming, so we've rounded up the 19 best places to eat in Texas to help you decide.
From fine dining restaurants to chilled cafes and street food markets, these top eateries are a must-visit during your trip!
Hey! Looking for more great food and drink Texas guides? Head here!
GET A

FREE

TEXAS GUIDEBOOK WITH LOCAL TIPS!
With 71 pages of helpful travel tips and the "best of" Texas lists, this is your ad-free key to your Texas trip.
Okay, everyone grab their favorite Texas foodie shirt and let's get going!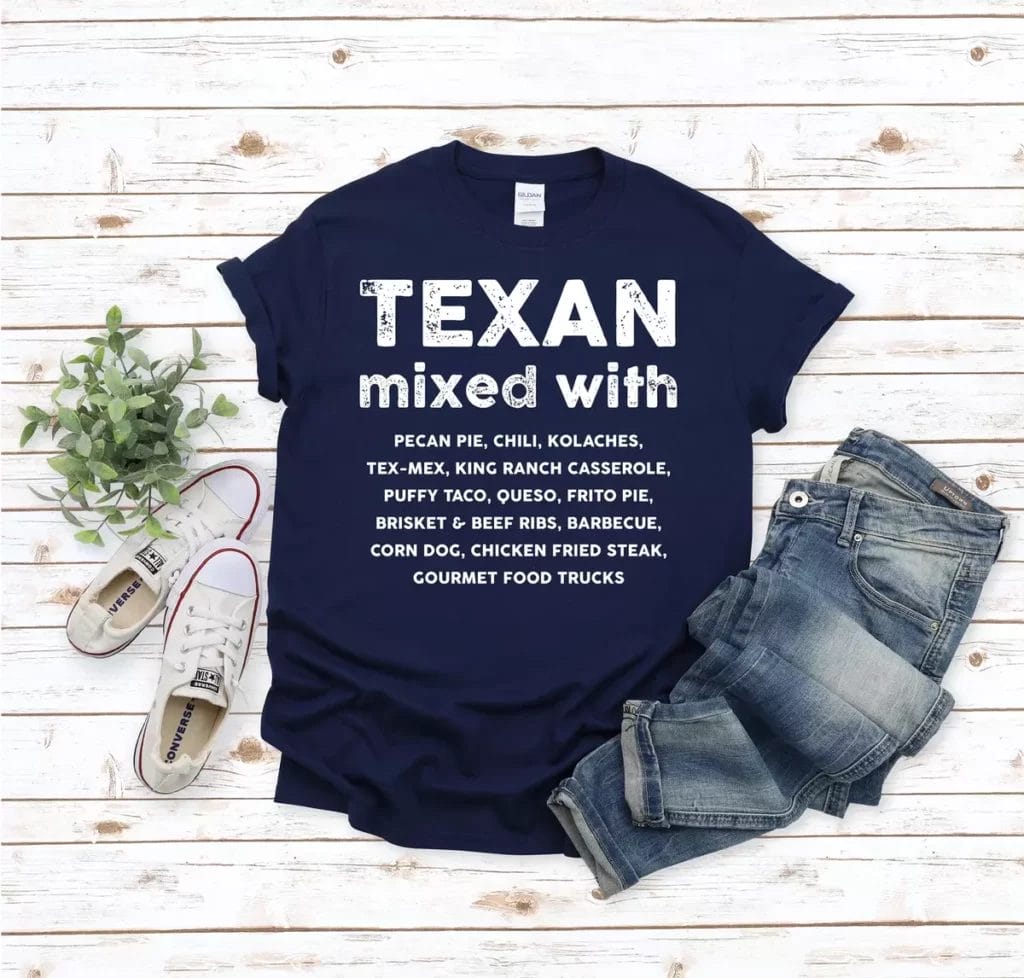 Best places to eat in Texas: Austin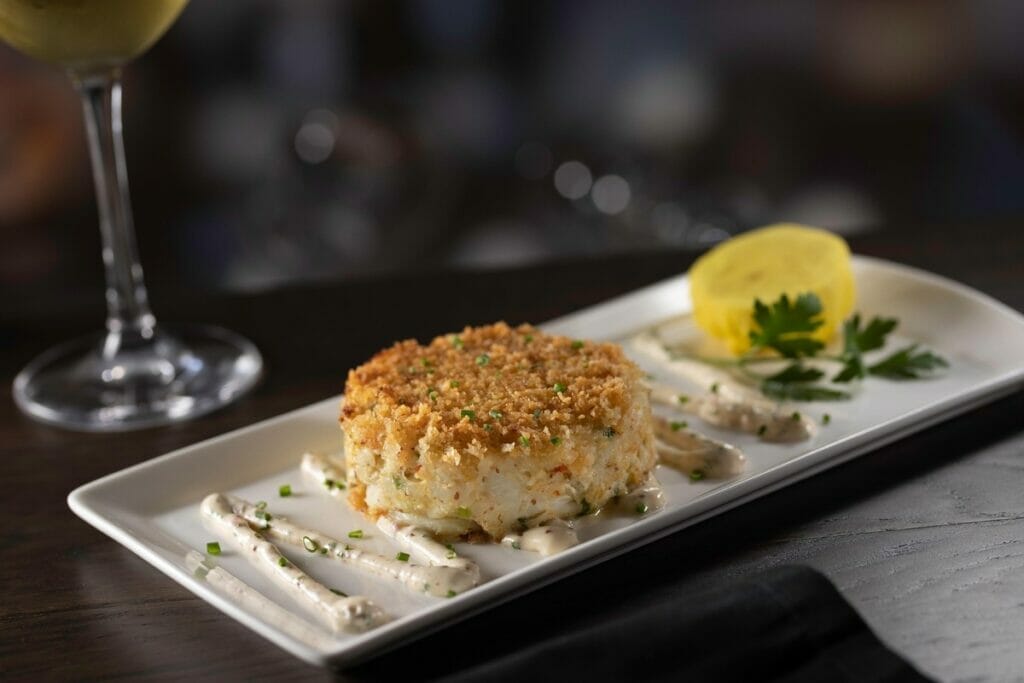 Many of the best Texas restaurants are in its lively capital city, Austin.
For undoubtedly the best fine-dining fish dishes, head to Eddie V's Prime Seafood, in the thriving heart of central East Austin.
Romantic, elegant décor combined with an attentive and personal wait service is sure to make you feel extra special.
Eddie's has a huge menu to choose from, but our top recommendations are the Gulf Coast oysters, steamed king crab legs, the shellfish tower, and Petrossian caviar.
There's a dreamy cocktail offering and an extensive gluten-free menu, too.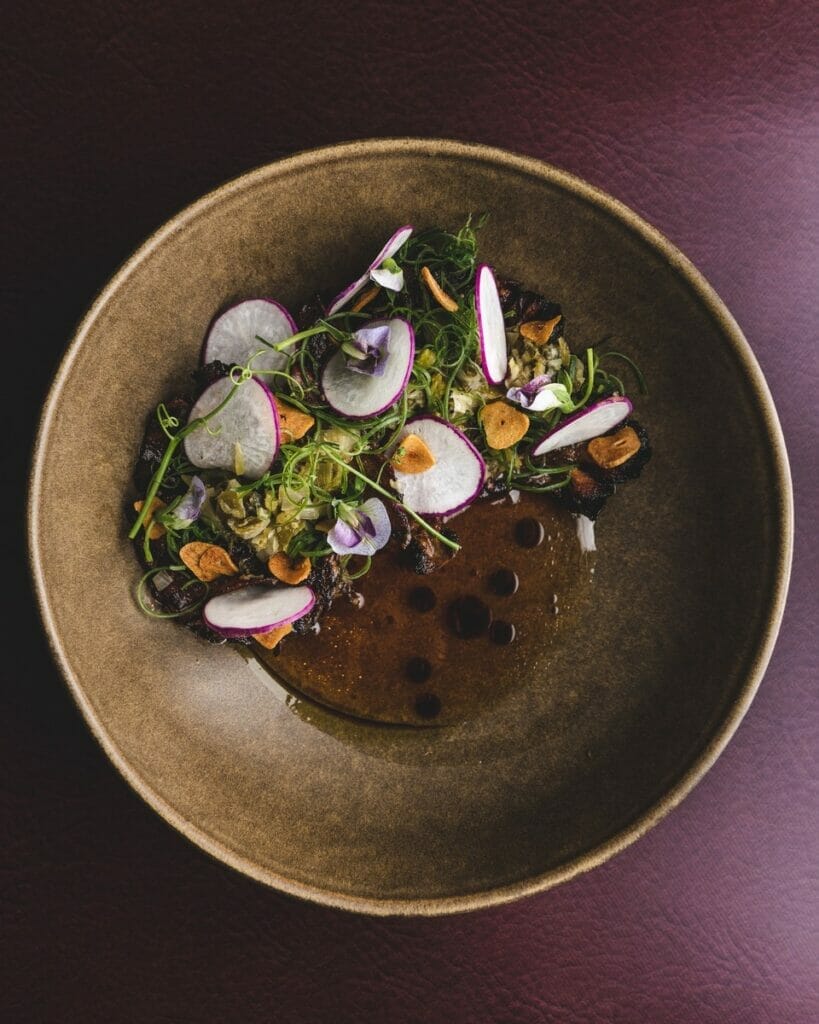 Hestia specializes in wood-fired dishes, with an exquisite tasting menu and carefully selected wine pairings.
The rustic, cozy interior is perfect for date night and one of the best places to eat in Texas if you're celebrating a special occasion.
The prices reflect the outstanding quality and talent here.
You'll find it just North of the Colorado River in downtown Austin.
The chef's tasting menu is $195pp and features thirteen miniature courses which change seasonally.
Some of the previous offerings have been pecan matcha shrimp, sourdough ice cream, potato croissant, and strawberry brine red snapper.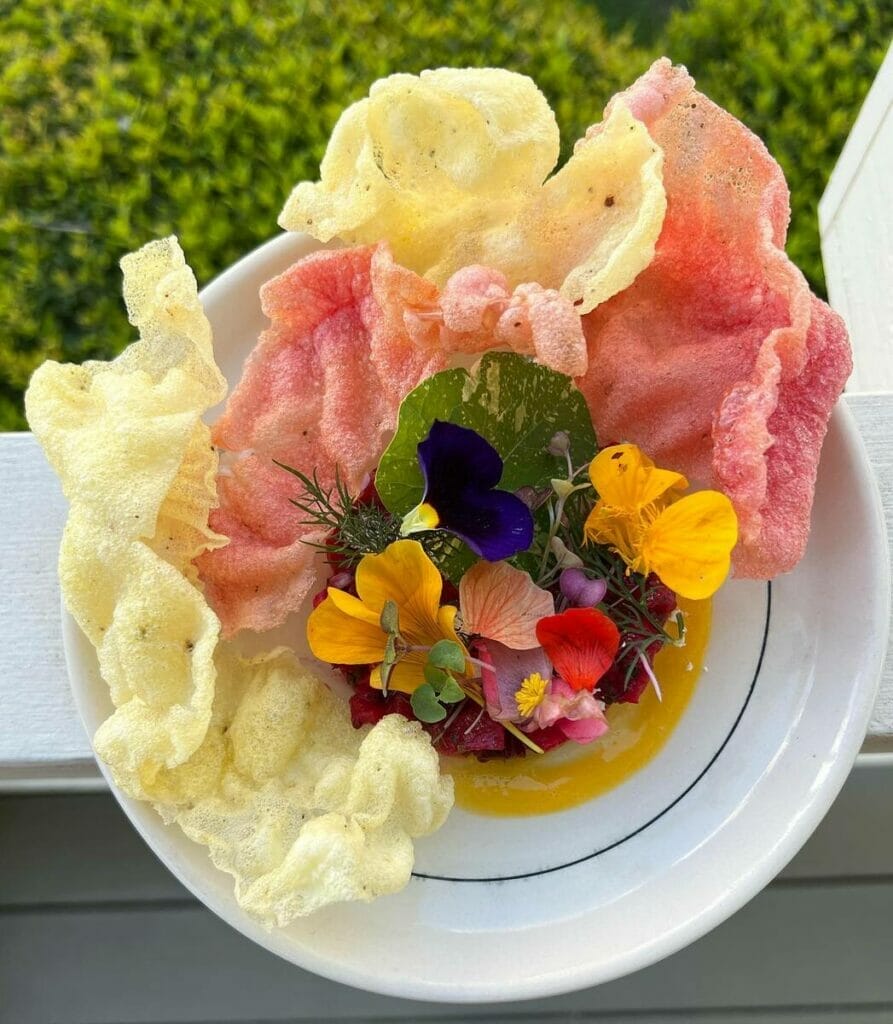 Imagine a restaurant inspired by a local farmer's market and you'll understand Olamaie, in the North Side area on the outskirts of Austin.
It's set in a converted ranch house, and you'll be treated like part of the family by the friendly staff.
Olamaie excels in modern, Southern fare dishes.
You must try the Hopi blue corn hushpuppies, the lamb terrine, and the okra gumbo.
For sides, the buttermilk biscuits are famous locally and the whipped potatoes are divine.
Best places to eat in Texas: Houston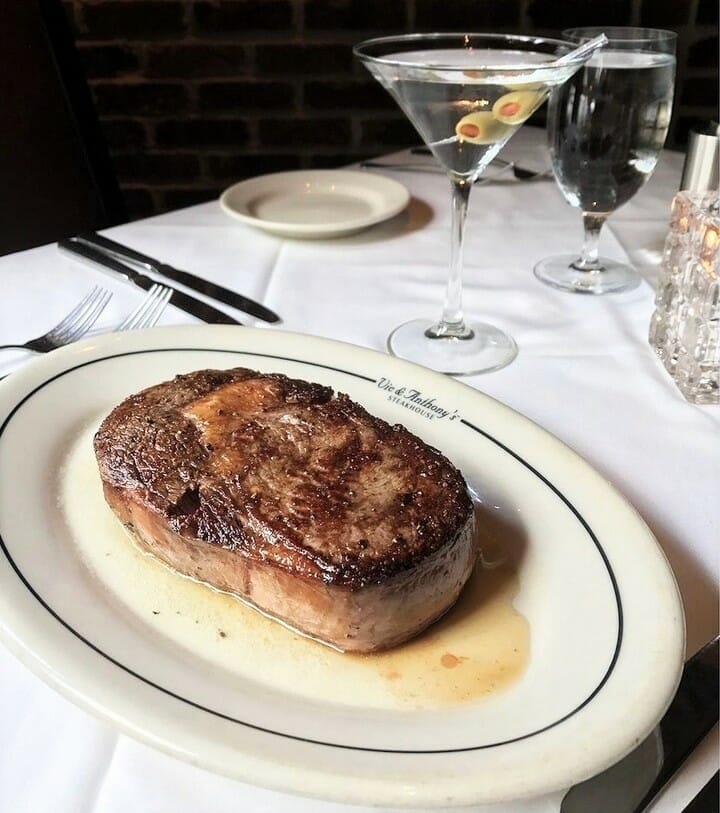 This downtown restaurant was voted Best Steakhouse in Houston in 2021, so you'll be guaranteed to enjoy an exquisite meal.
It's one of the pricier restaurants but the large portions and high quality are certainly worth it.
Vic & Anthony's has a vast steak menu, including the perfect tomahawk chop, flavorsome wagyu beef, and a classic filet mignon.
Their blue cheese bacon butter is to die for!
The menu also has a delightful range of seafood – the fried lobster mac and cheese comes highly recommended.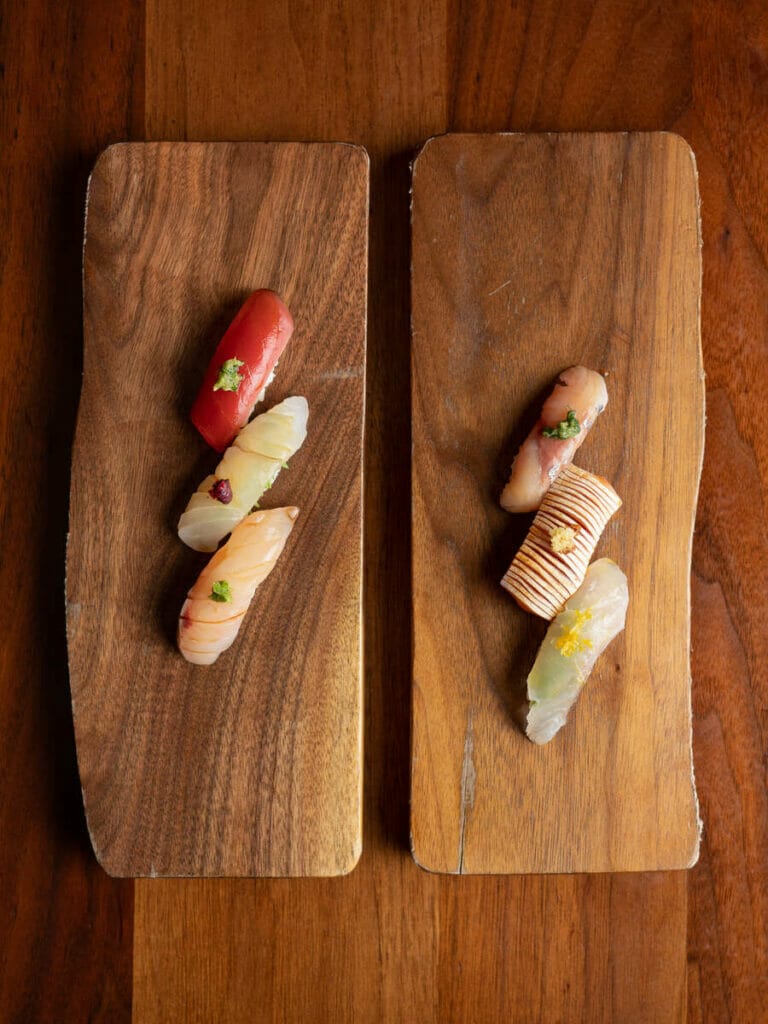 When it comes to sushi, UCHI are the experts and one of the best Texas restaurants for seafood.
You'll find them in central Houston, on Westheimer Road.
Uchi is highly popular so you'll definitely need to book this one in advance.
This is a chic place to impress a first date, especially the ten-course chef's tasting menu.
Some of the menu highlights include golden osetra caviar, soft shell crab maki, lobster pancake, and shrimp tempura.
There's also a fantastic vegetarian selection, including avokatsu and cauliflower tempura.
The prices are in line with other top sushi restaurants but you can grab a bargain during happy hour in the early evening.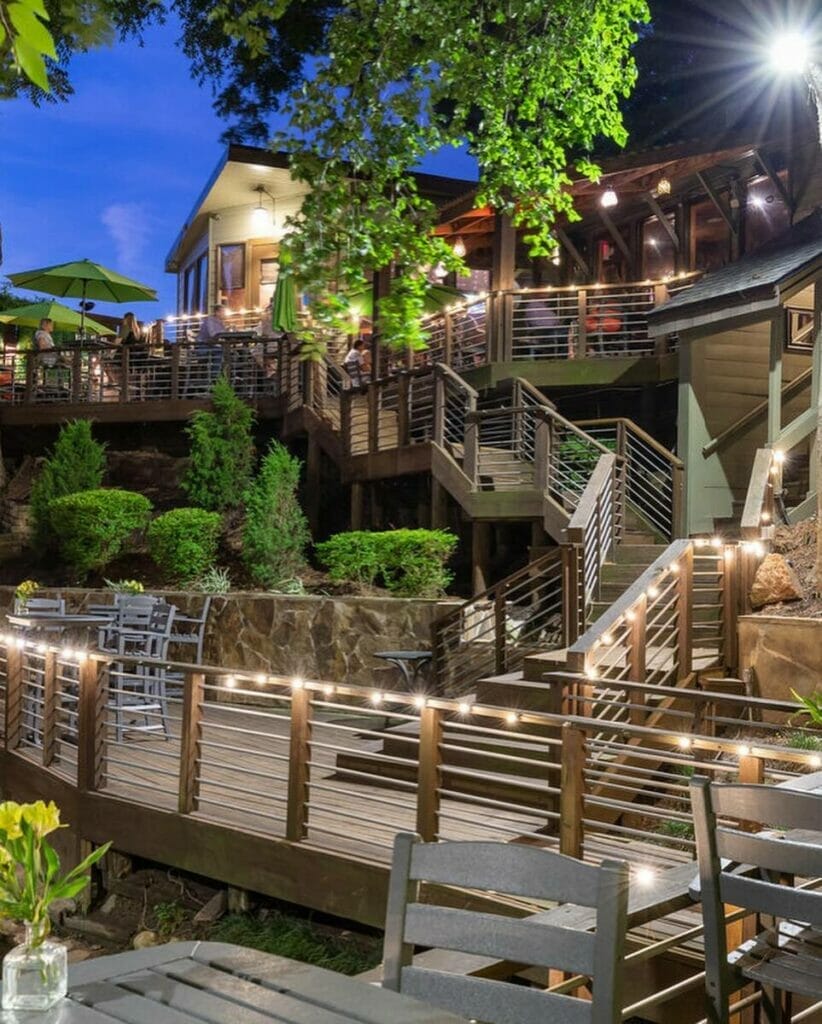 Rainbow Lodge is a restaurant with a wow factor on Ella Boulevard in the North of Houston.
It's a beautiful log cabin setting with a super intimate atmosphere – the perfect place to celebrate a special occasion.
They specialize in locally sourced wild game, including bison, venison, and quail.
Taste a bit of everything with the wild game mixed grill or try something new such as grilled elk chop or nilgai antelope loin.
Alternatively, book a brunch reservation to enjoy their famous fried Texas quail bites or bacon brioche French toast.
Restaurants in Texas: Dallas
Al Biernat's have steak and seafood restaurants in North Dallas and Oak Lawn.
This elegant old-world style restaurant focuses on traditional dishes packed with flavor and served with sophistication.
It's a lively place with a great atmosphere.
Expect to find an exquisite wine list with over 650 bottles, specialty steaks, seafood sharers, and freshly caught lobster.
The veal chop and Atlantic salmon come very highly recommended, not to mention the extensive brunch menu.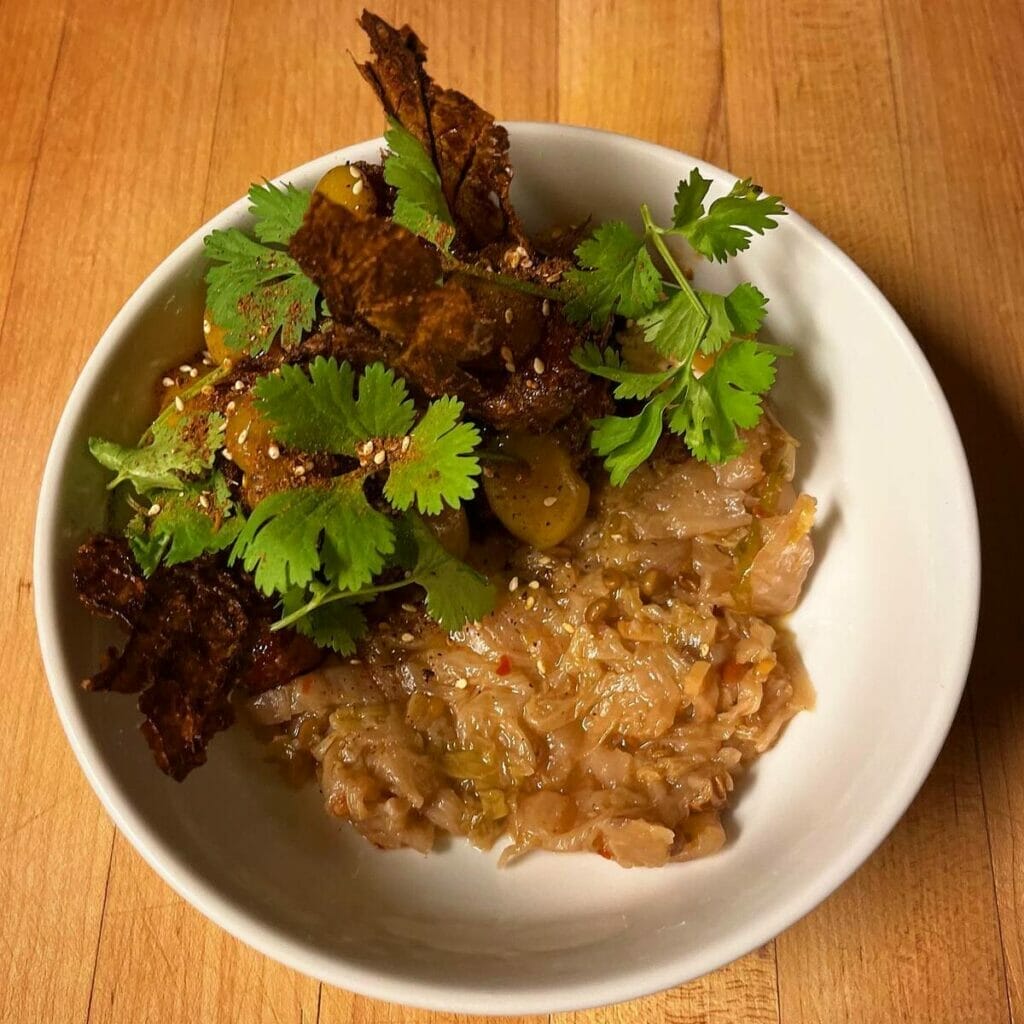 For the best fine dining experience, check out Petra and the Beast on North Haskell Avenue.
Despite being one of the smallest eateries on this list, this unassuming restaurant certainly packs a flavorsome punch.
Petra has a farm-to-fork ethos, focusing on sustainably sourced, high-quality local ingredients.
The six-course Saturday tasting menu is the star of the show, offering regularly changing seasonal dishes such as turkey wonton, garlic-cured Shima aji, and pepper jelly.
You'll also love their mouth-watering charcuterie and cheese boards. Plus, the food presentation is super insta-worthy!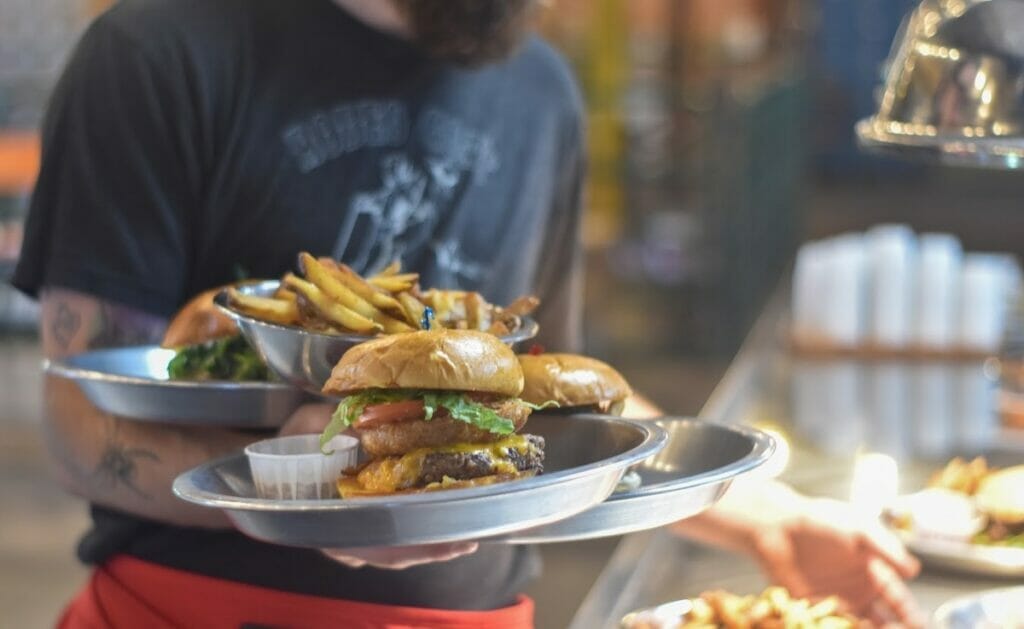 For a huge choice of affordable gourmet burgers and craft beers, you can't go wrong with Rodeo Goat in uptown Dallas.
You wouldn't know it from the unassuming exterior, but Rodeo Goat is always buzzing inside.
Meat eaters and vegans alike will find plenty of exciting options here – every burger is available with either a beef, chicken, turkey, vegetable, or Impossible vegan patty.
Some interesting menu items are the sugar burger with candied bacon and grilled peaches, the turkey burger with sprouts and berry Boursin, and the Mike Rawlings burger with Irish whiskey cheddar and blackberry compote.
There are more than sixty craft beers to choose from, including non-alcoholic and gluten-free versions.
Best places to eat in Texas: San Antonio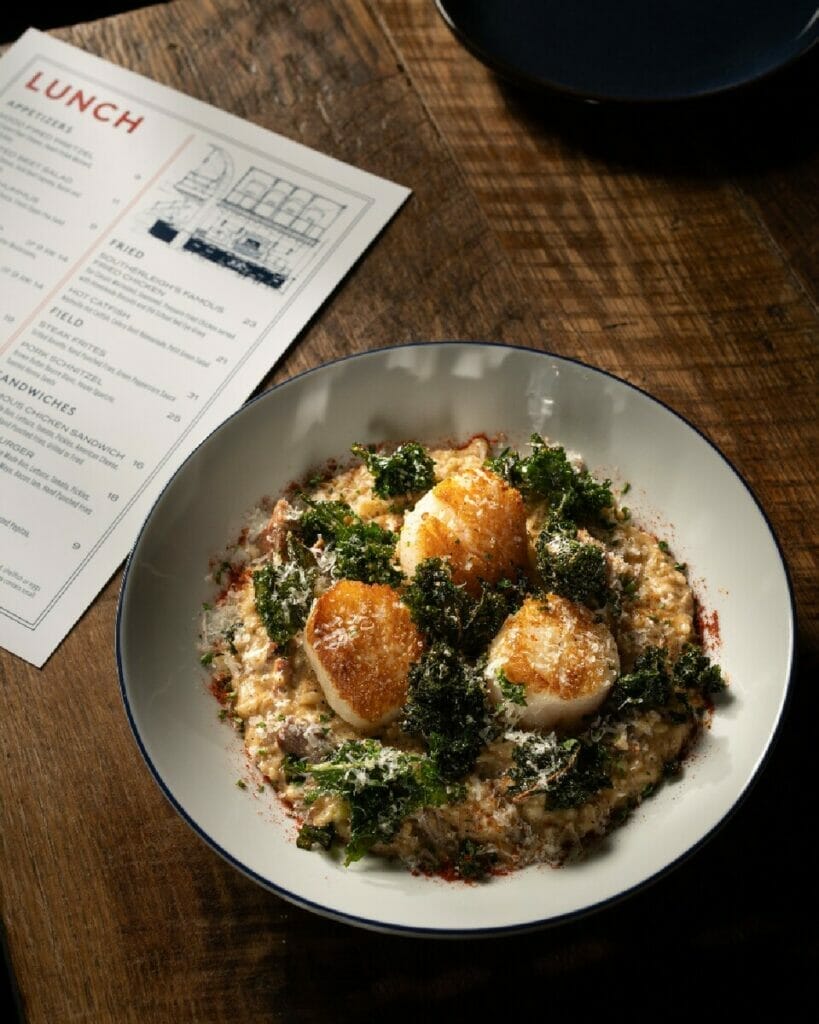 Southerleigh Fine Food and Brewery is one of the best Texas restaurants for authentic, traditional Southern food.
The ground floor of this gorgeous old building houses the restaurant while the second floor is home to the brewery.
Find it in the Tobin Hill area of central San Antonio.
For a light bite, the wood-fired pretzel with beer cheese and house pickles never misses.
If you're hungry, the famous fried chicken, snapper throats, hot catfish, and pork schnitzel are all delicious.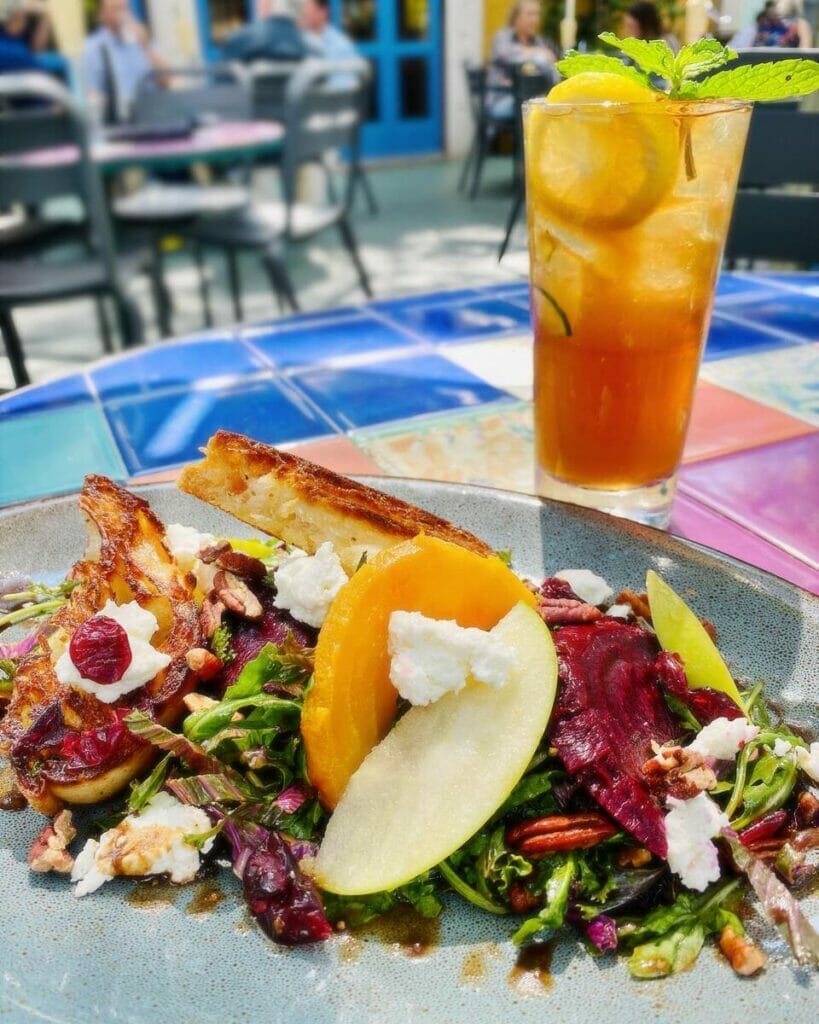 Cappy's is based on Broadway Street and is the best spot in town for brunch.
It's a family-owned business advertised as "casual yet upmarket" but the prices are very reasonable.
Cappy's serves every kind of egg you could imagine, fried breakfast, pot roast, omelet, surf and turf, mac 'n' cheese, and parfait, to name a few.
The menu isn't limited to brunch, they also serve incredible steaks, seafood, and cocktails in the evenings.
This place is famous for its amazing food, warm hospitality, and cozy atmosphere.
Best Quality Daughter was rated the number-one restaurant in San Antonio by TimeOut in 2022.
It's located in North San Antonio at The Historic Pearl, in an iconic pink bungalow – very Instagrammable!
This fusion establishment expertly blends Asian and American cuisine to create modern, adventurous dishes, making it one of the most innovative new restaurants in Texas.
Most of the dishes here are available as individual portions, or as family-style sharers.
Expect to find creations such as marinated bamboo, mochi cheddar hush puppies, Impossible potstickers, and Taiwanese popcorn chicken.
Famous Texas Restaurants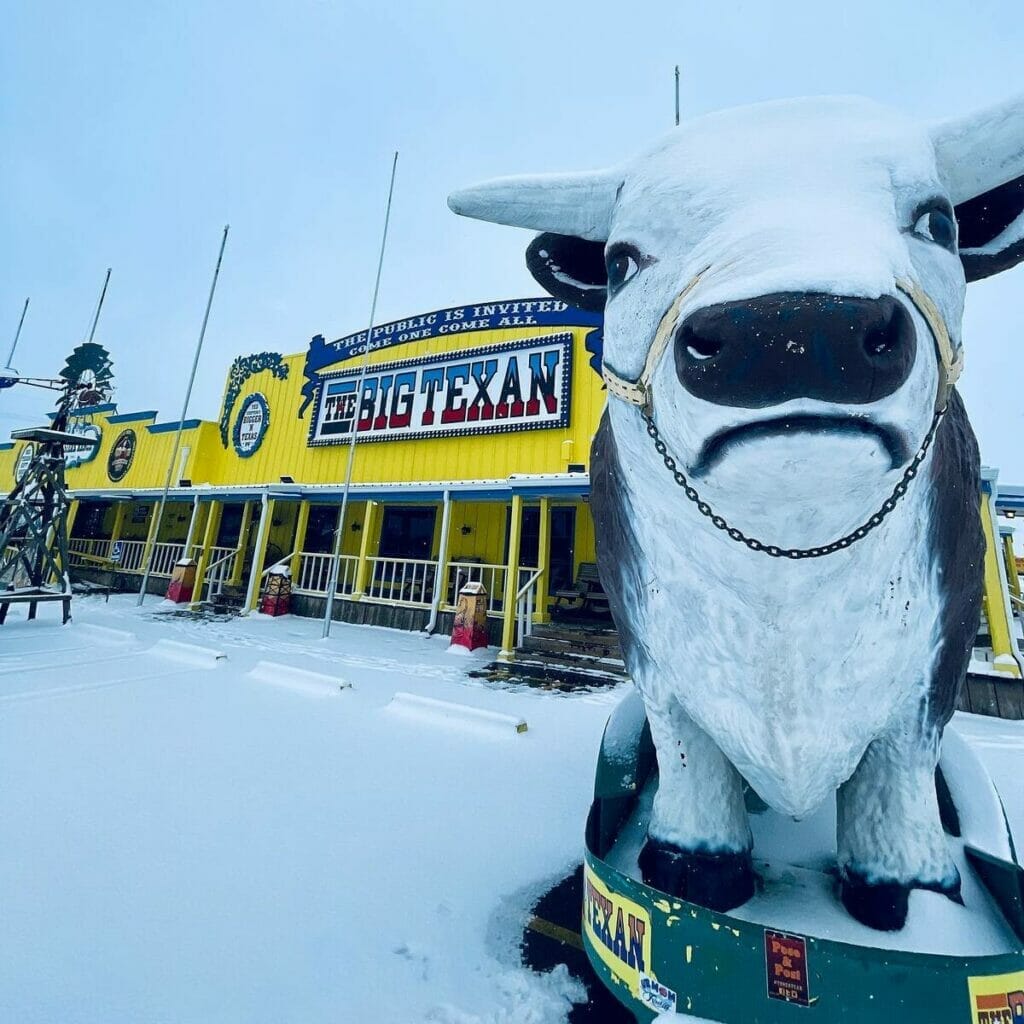 You certainly can't miss this iconic Texas restaurant in Amarillo as you drive along Route 66, it has a giant rodeo bull in the car park!
The Big Texan is more than a restaurant, it's a destination.
The venue also includes accommodations, a brewery, a gift shop, and the famous Thanksgiving Day Buffet.
This kitsch out-of-town spot makes an ideal road trip stop and is famous for its 72-oz steak challenge, so wear some stretchy pants! In the challenge, patrons have one hour to eat a 72-oz steak alone which costs $72.
If successful, the full price is refunded. The challenges are live-streamed online and only 10% of entrants have completed the challenge.
Don't worry if the steak challenge isn't for you, there's also a huge choice of normal-sized steaks, fried chicken, sandwiches, burgers, ribs, and quesadillas to enjoy.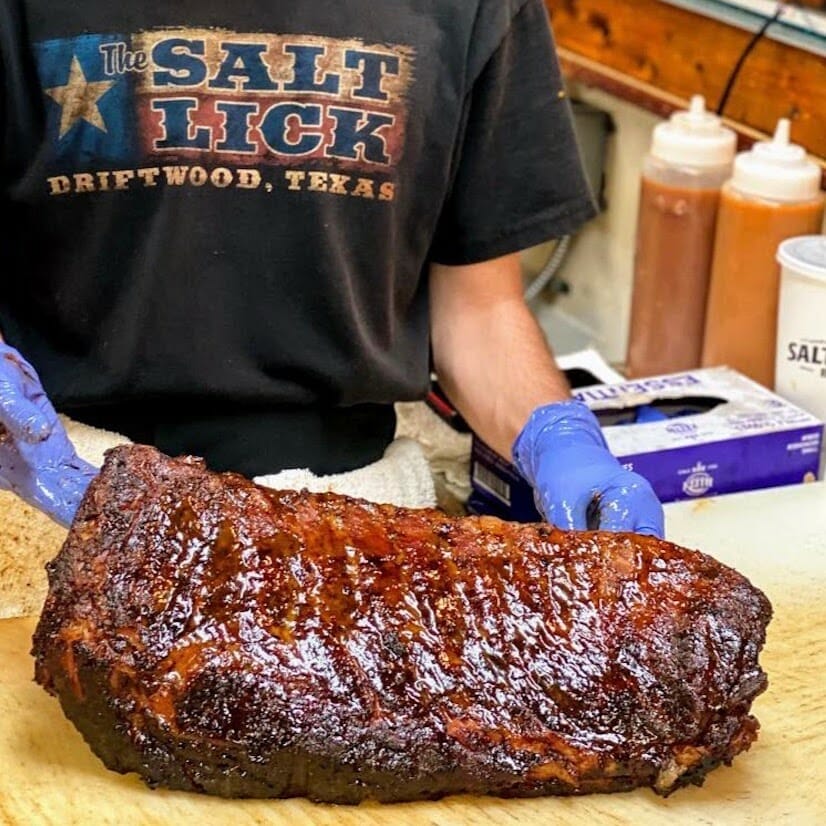 The Salt Lick is based in the remote town of Driftwood, not far from Austin.
It's described as a "fast food BBQ" and truly embodies the spirit of Texas BBQ culture.
As well as the restaurant, it has a huge outdoor dining area around the BBQ with long communal tables and marquees where live music is performed.
The most famous menu item is the Family Style – which is all-you-can-eat brisket, ribs, sausage, potato salad, beans, and coleslaw.
You can also order these items separately as small plates or in a sandwich.
This really is a great place to bring your whole family.
Salt Lick also sells their own brand of BBQ sauce which is equally as famous as the restaurant itself!
Fun Places to Eat in Texas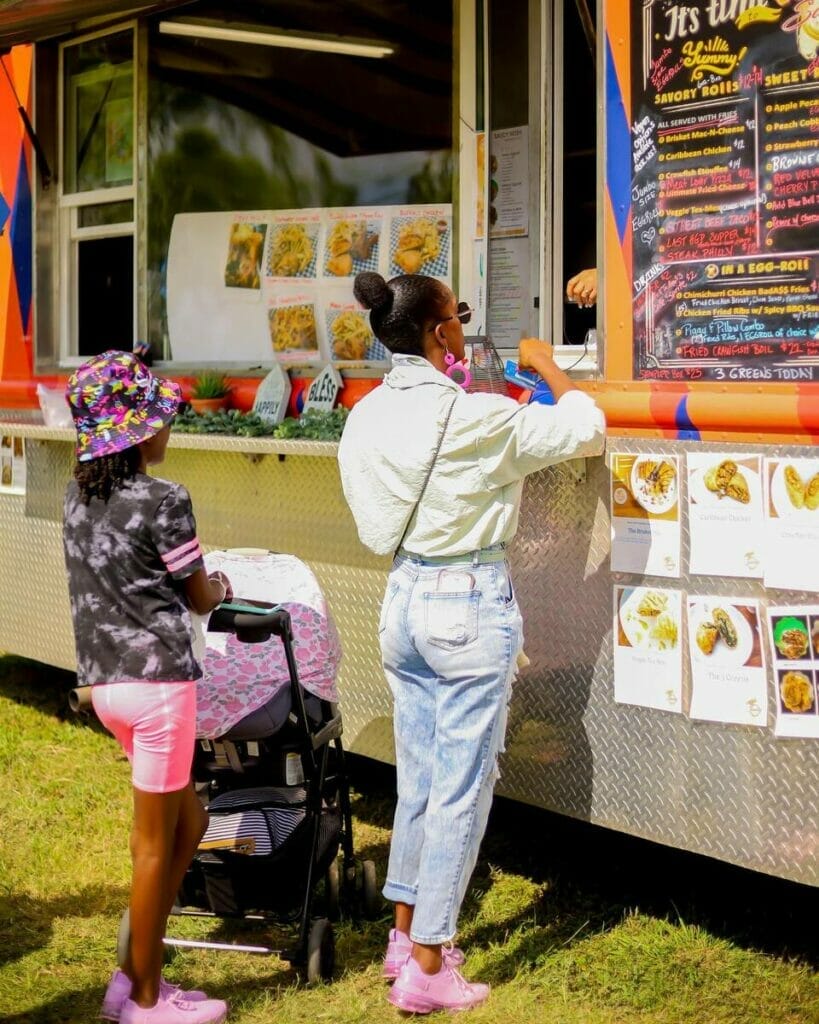 If you don't fancy formal dining in a traditional restaurant, check out one of the many exciting street food markets in Texas.
One of the best is BLCK Market in Houston.
It's the largest gathering of black-owned businesses in the area and is full of creatives, culture, and good vibes.
At this bi-monthly event, you'll find a ton of street food vendors, live music, handmade arts and crafts, artisanal foods, and an art exhibition.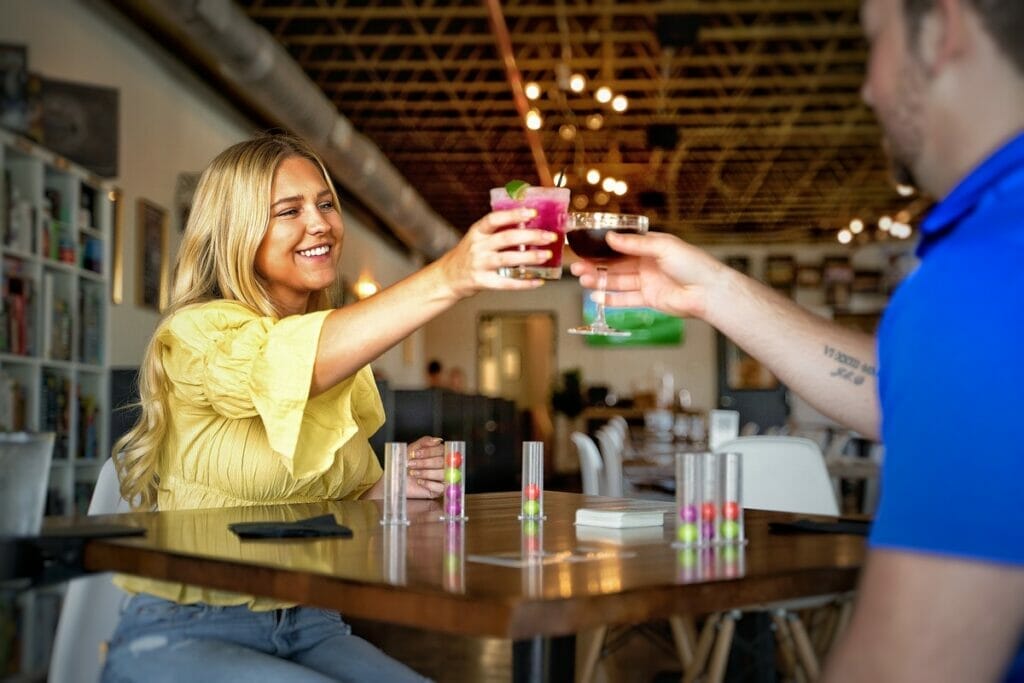 A fun Texas restaurant that offers something a bit different is Game Theory.
It's a chilled-out, industrial diner in West Dallas where you can hang out with friends while playing board games.
Game Theory has every board game you can imagine available to rent for just $2, or free to members.
On the menu are some creative cocktails and classic American dishes like chicken and waffles, cooked breakfasts, and tacos.
You absolutely must experience a traditional Texan bakehouse during your time in the state and where better than Collin Street Bakery, in Corsicana?
This enormous bakery has an incredible selection of tasty sweet and savory pastries to try.
Choose between pumpkin loaves, apple strudel muffins, pecan bread, butter pan rolls, cake balls, brownies, and cookies in every conceivable flavor. We'll take one of each, please!
The service at Collin Street Bakery is also second to none so expect to be welcomed warmly like a lifelong friend.
Where to Eat in Texas as a Vegetarian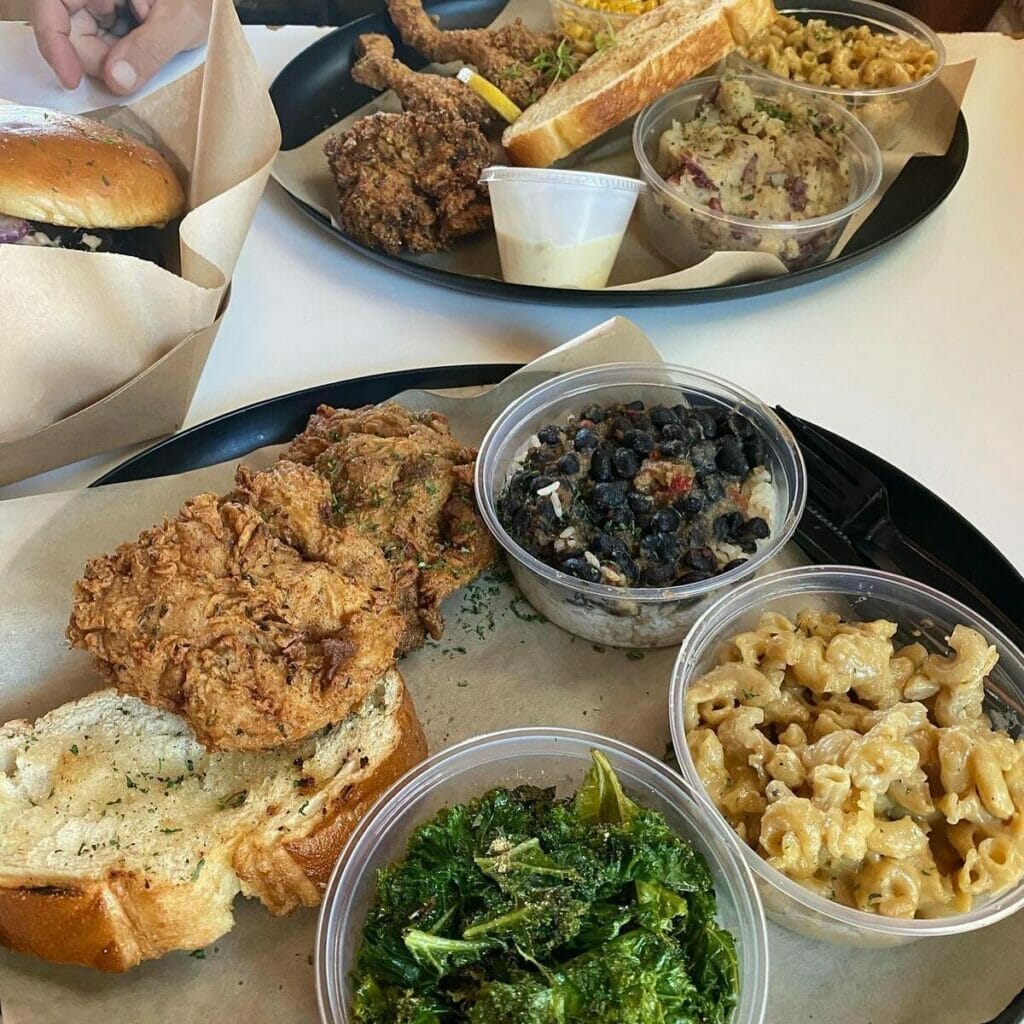 Although Texans are renowned steak lovers, there are plenty of equally fantastic meat-free menus available.
The best place to eat in Texas without meat is Vegan Food House, in Dallas.
As the name suggests, the entire menu is vegan, and you'll find an exciting range of fully plant-based versions of classic Texan street food dishes.
Some of the tastiest are the jambalaya chimichanga, fried lasagna stuffed with ricotta, bacon grilled cheese, and BBQ cauliflower wings.
Even meat eaters will love this casual and affordable hangout.
The attention to detail, flavor profiles, and creative combinations will be a winner for everyone in your party.
Kalachandji's is a fabulous fully vegetarian Indian restaurant, set within a beautiful temple. It's a hidden gem off the beaten track in Northeast Dallas.
It claims to be the longest-serving veggie establishment in the city and has been awarded "Best Vegetarian Restaurant" multiple times by food critics.
The atmosphere inside the traditional temple adds something extra special to visits, creating a feeling of serenity and community spirit.
The restaurant is based around a buffet that changes daily but you can typically expect to find curries, rice, pakora, vegetables, poppadom, bread, and chutneys in a range of styles and flavors.
Many of the dishes are also suitable for vegan guests.
The nature of Indian cooking means most dishes are traditionally meat-free but full of flavor, so meat-eating guests will be happy to eat their favorite dishes here.
Closing Thoughts
So, those are our recommendations for the 19 best Texas restaurants.
Whether you're looking for an intimate setting for a romantic dinner, a quirky street food dish, or an authentic home cooked meal, you'll be spoilt for choice in this foodie state!
Pin for Later!