New Braunfels, Texas, nestled in the scenic "Hill Country," is a sought-after tourist destination.
With a population of 96,630 spread across 45 square miles, this area showcases a vibrant German culture and breathtaking natural landscapes.
When it comes to dining options in New Braunfels, you'll be faced with the delightful challenge of narrowing down your choices as it's got some of the best restaurants in Texas.
Whether you're craving German delicacies or fresh seafood, mouthwatering burgers or locally crafted brews, Tex-Mex or traditional American fare, sizzling barbeque or a classic steakhouse experience, or perhaps some comforting Southern cuisine, this city has it all.
Here are some of the best restaurants in New Braunfels that promise to tantalize your taste buds.
GET A

FREE

TEXAS GUIDEBOOK WITH LOCAL TIPS!
With 71 pages of helpful travel tips and the "best of" Texas lists, this is your ad-free key to your Texas trip.
1. Gristmill River Restaurant & Bar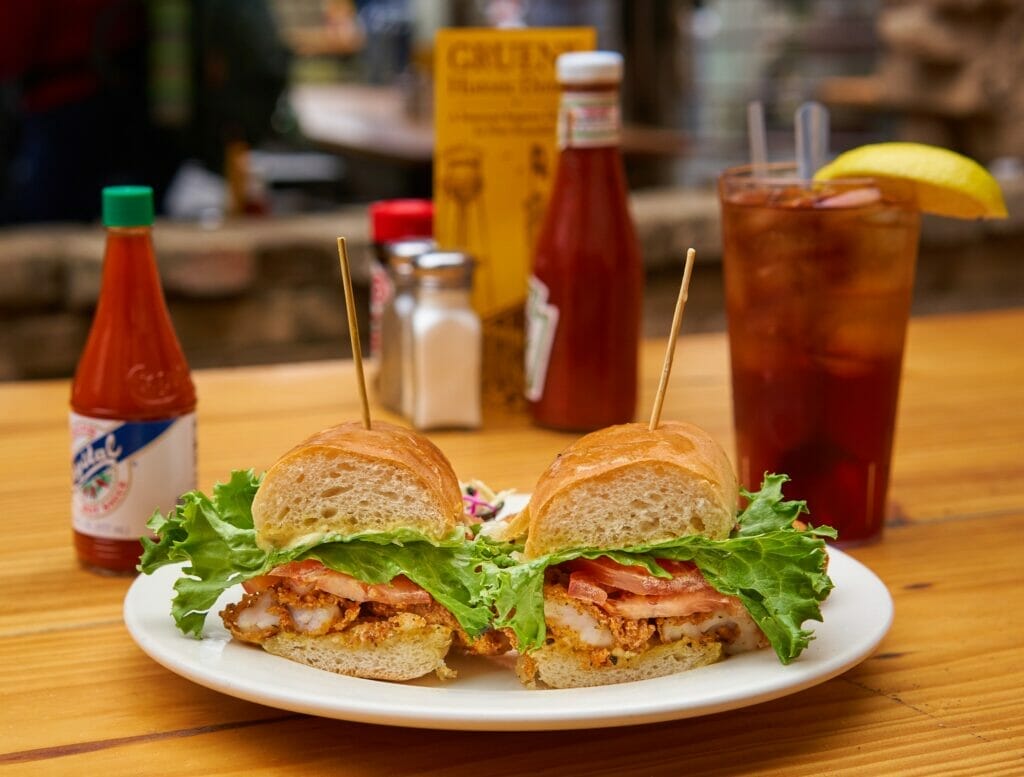 Celebrating 45 years since their 1977 opening, with a location that combines history and turn of the century architecture as well as views of the Guadalupe River, this is one of the best New Braunfels restaurants and a lovely step back in time, with multi-levels, indoor and outdoor seating, native stone fireplaces, a beer garden and store.
It's also just a downright beautiful place and one of New Braunfels' best restaurants to enjoy a delicious, hearty American style meal.
Many notable guests have eaten here, and it's on the National Register of Historic Places as well.
Fresh fish, thick steaks, chicken and burgers, lovely salads, vegetables, soups, and appetizers, using the freshest ingredients, try some of their unique offerings, such as the Texas Torpedo appetizer, which is deep fried bacon wrapped jalapenos stuffed with cheeses and served with chipotle ranch, or their huge onion rings.
For your entrée, enjoy a beef tenderloin salad, their New York Strip steak, or a secret specialty – tomatillo chicken and bronzed catfish, baby back ribs, or their burgers.
Finally, finish with a delicious dessert of their fresh Strawberry shortcake, Chocolate supreme pie, or one of their other options.
Considered one of the best places to eat in New Braunfels.
Full bar available, and Live music scheduled.
No reservations, so enjoy the outdoors and store while you wait.
Hours are Sunday – Thursday from 11am-9pm, Friday – Saturday, 11am-10pm.
2. Alpine Haus Restaurant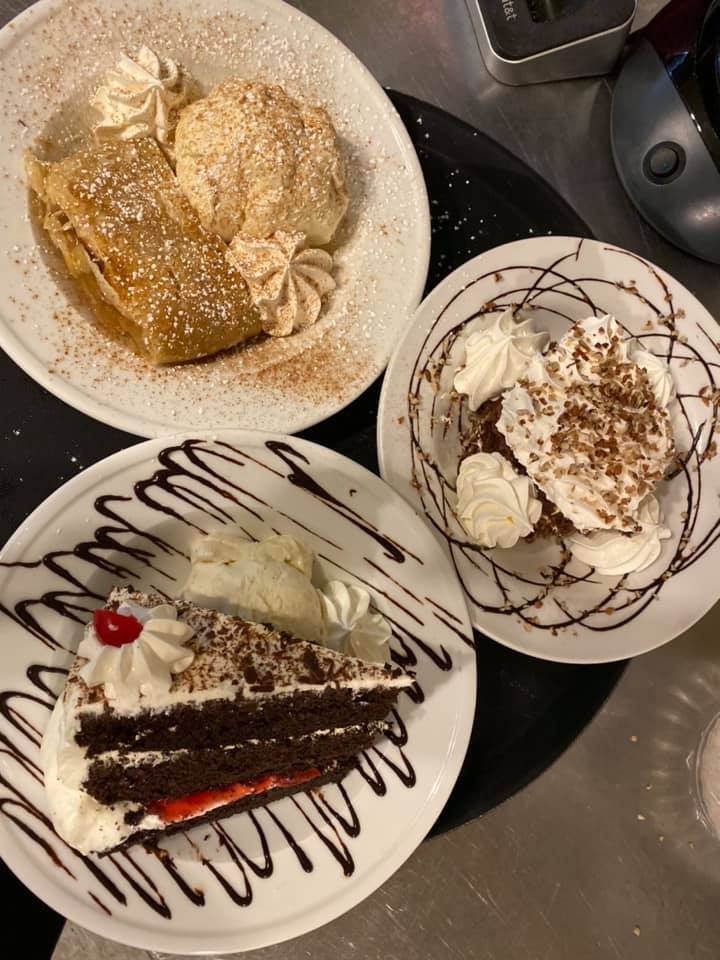 Looking for the best places to eat in New Braunfels?
Boom, you've found it.
Located in a 164-year-old historic building in the heart of downtown, you'll find an authentic German experience, with an extensive collection of German beers and wine and offering pairing information for your selections.
The German word for Appetizers is Vorspeisen, and their offerings include those popular from the Alpine region.
Try their fried mushrooms with horseradish sauce, a sausage sampler platter, fried brie cheese, or a soft pretzel with German mustard and beer cheese.
Moving on to their entrees, Hauptgerichte, their Schnitzels are the stars, of pork, chicken, or veal, or one of their specials of steak, roast beef, loin of pork and more.
Before you leave, try one of their desserts of Black Forest cake, pecan pie, or apple strudel.
Hours are Monday – Thursday from 11am-2pm, 5pm-9pm; Friday – Saturday 11am-10pm; Sundays 11am-9pm.
3. Buttermilk Café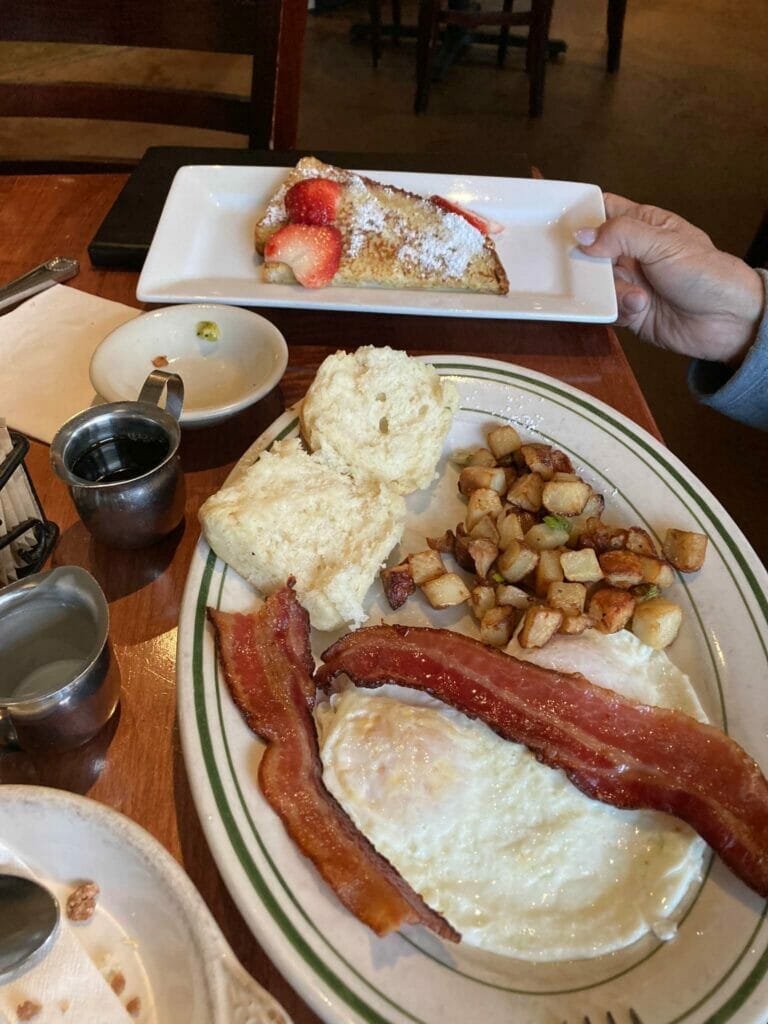 A breakfast and brunch café offering comfort food with an upscale twist, with a chef who has been honored as San Antonio Chef of the Year and Texas Chef of the Year.
With a specialty of home cooking, you'll enjoy their down-home options for breakfast or lunch.
Breakfast or brunch offers are vast, with eggs benedict, chicken and waffles, and biscuits and gravy, the classics of pancakes, French toast, avocado toast, and omelets, but also the unique options like pork carnitas tacos, Coastal Creole shrimp breakfast, and much more.
Lunch has such southern options of fried green tomatoes, honey suckle salad, soups with cornbread, cornmeal crusted catfish, gulf shrimp, and all the expected Americana favorites.
A favorite with locals, note that it's often very busy!
Open Monday – Saturday from 7am-2pm and closed on Sunday.
4. Huisache Grill and Wine Bar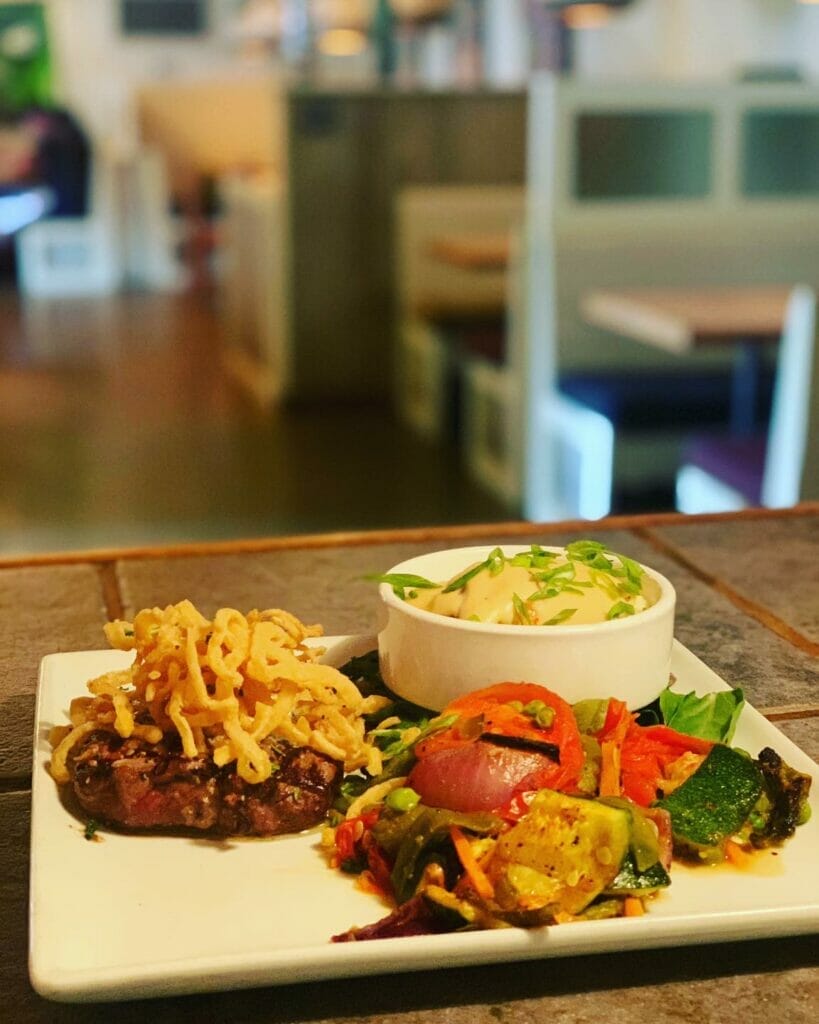 Intimate and casual wine bar and restaurant in New Braunfels, TX, with an extensive wine and beer list, a rustic, cozy and romantic atmosphere with outdoor fire pit and patio seating.
Their meals have generous servings, and offerings include fried Brie, charcuterie board, Asian salmon salad, Southwest blackened chicken salad, duck breast salad, crunchy trout, charbroiled chicken Yucatan, with its citrus and spice, or the mixed grill for a variety among more.
For dessert, try the crème brûlée, chocolate buttermilk cake, Southern Pecan Pie cheesecake, home-style banana pudding, and more.
Hours are Tuesday – Thursday from 11am-9pm, Friday-Tuesday, 11am-10pm, closed on Monday.
5. Adobe Café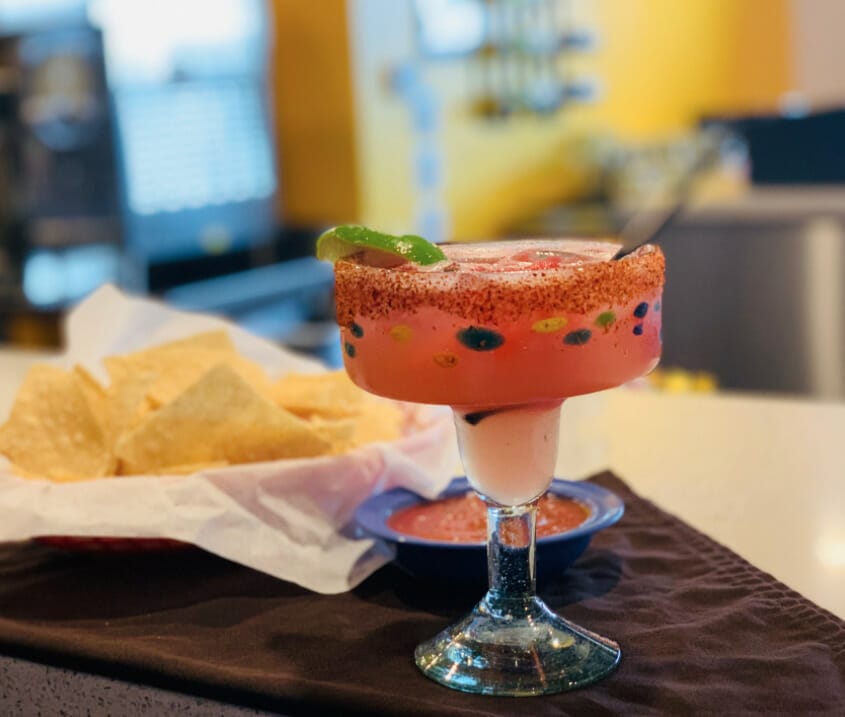 This New Braunfel place to eat is delightfully Tex-Mex and draws the locals as well as those passing through.
Casual and family friendly, and friends drop in to watch the game.
All the traditional offerings you would expect, but also many with additional flair, and that includes a Vegan/Vegetarian selection.
Try their fried avocado or mushroom appetizers, tortilla soup, southwest salad, sizzling fajitas with beef or shrimp, steak ranchero, breast of chicken with a variety of toppings like queso, mole, chipotle, poblano or other sauces, specialties like Skirt Steak Tampiquena, Blackened Mahi Mahi, Tex-Mex platters, and more.
Don't forget their desserts, including Tres Leches Cake and Sopapillas.
Margaritas, beer, and other signature cocktails offered at their full-service bar, and Happy Hour is weekdays from 3-6:30pm.
Hours are Sunday – Thursday, 11am-9pm, Friday – Saturday, 11am-9:30pm.
6. Muck & Fuss Craft Beer and Burgers: unique restaurants in New Braunfels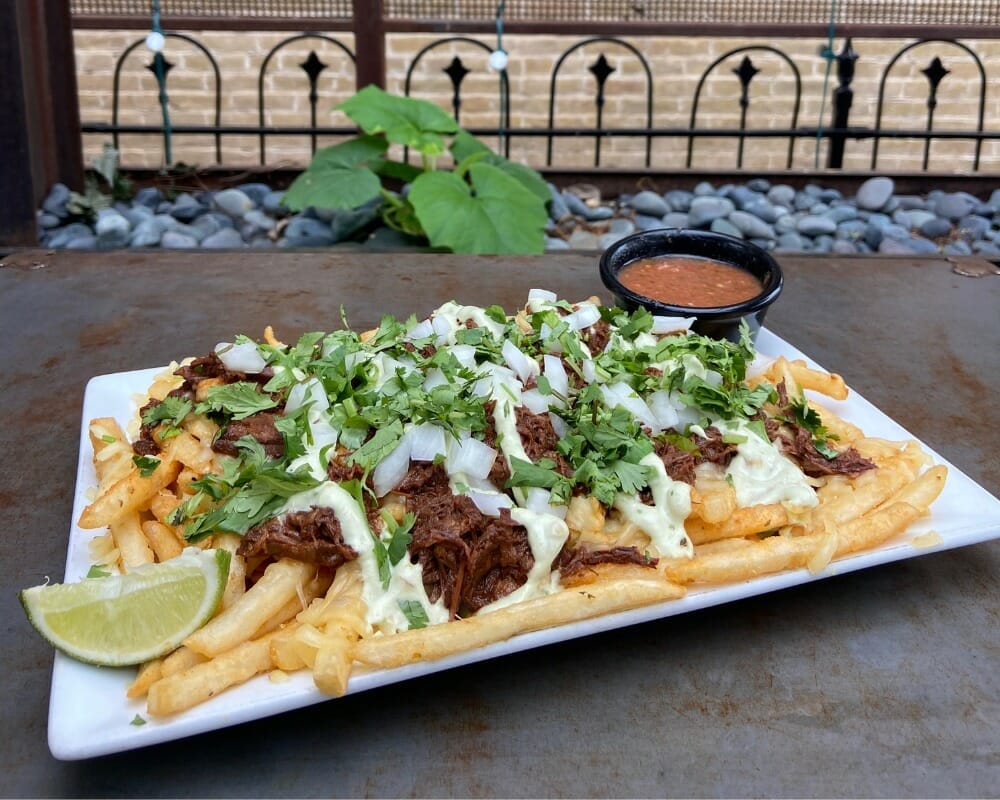 Locally owned Craft Beer and Burgers industrial-style restaurant in the downtown district, the perfect spot for a lively, classy, and casual meal. Indoor and outside patio, dog friendly for the patio area Biergarten, family friendly for both.
While the wide variety of burgers (including Veggie, Bison, Turkey, or Chicken) are their specialties, there are other options, from salads and specialty fries, to tacos and sandwiches like BBQ and Crab Cake, and appetizers including fried green tomatoes or tempura-fried shrimp, award-winning Mac 'n Cheese, and amazing sides like onion rings, Asian Slaw, Jalapeno Cheddar tots or Cajun Sweet Potato fries.
Their Milkshakes are incredible, with unique options such as Strawberry Cheesecake, Texas Turtle, Cookies & Cream and more, but also what they call their "Boozy" shakes for adults, like Strawberry Cheesecake with Vodka, Coffee with Kahlua and Bailey's Irish Cream, Salted Caramel Bourbon with Bourbon and Bailey's Irish Cream, Cookie Dough with Whisky and Chocolate Syrup, and their Texas Turtle with Evan Williams Bourbon, chocolate syrup, pecans, and caramel sauce. It's just not a place to count your calories, so be warned!
Enjoy the live music at the Biergarten, along with one of their 38 draft beers.
Hours are Sunday – Thursday, 11am-10pm, Friday -Saturday, 11am-11pm.
7. McAdoo's Seafood Company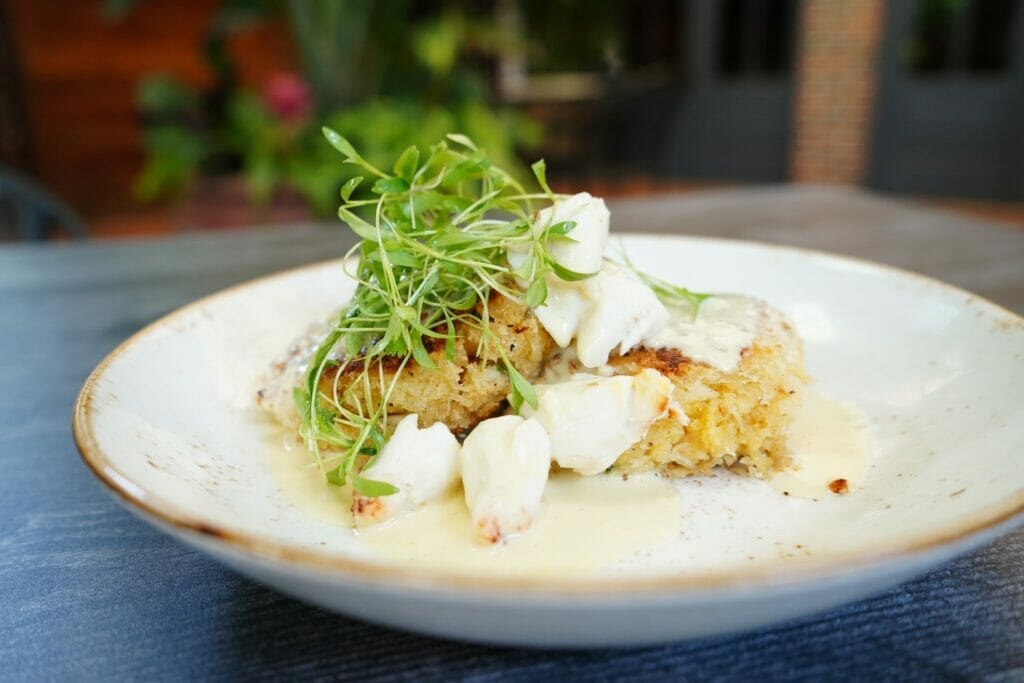 Located inside the restored elegant and classy 1915 post office art deco building, you'll find original features including the exterior façade, wood furnishings, floors, and interior brickwork.
Covered outdoor seating.
Enjoy their Oyster bar, Mahi Mahi Boudreaux, Redfish Pontchartrain, Cajun Enchiladas, Chilean Sea Bass, Calamari, Seafood Fondue, Fried Crawfish and Cajun Pasta, Lobster Bisque, or their Fish Platter.
Desserts are amazing, including Key Lime Pie, Chocolate Chip Bread Pudding, or Raspberry or Chocolate Praline Cheesecake.
Happy Hour is Monday – Friday 3-6pm at the Treasury Bar & Patio.
Check out the Blues Sunday Brunch, with a varied menu of great options as well.
Hours are Sunday – Thursday, 11am-9pm, and Friday – Saturday, 11am-10pm.
Reservations recommended, and more upscale rather than casual.
8. Clear Springs Café
Located in nearby Clear Springs on the country roads of the Texas Hill Country, this location resides in a historical building worth seeing, dating all the way back to 1869 when it was a local grocery.
Casual and family friendly atmosphere. Bar at the front for drinks, generous and sharable portion sizes.
Specialties are their catfish and seafood options, with starters including their award-winning onion rings, fried pickles, Stingers, which are fresh jalapenos stuffed with catfish and shrimp, and shrimp cocktail.
Soups include Cajun Gumbo and Jalapeno Crawfish chowder.
Try their Grilled Salmon or Crawfish Salad, burgers, steak, or fish tacos, among more, and save room for their peach cobbler, banana pudding, or double chocolate cake!
Hours are Monday – Thursday and Sunday, 11am-9pm, Friday – Saturday, 11am-10pm.
9. Krause's Café and Biergarten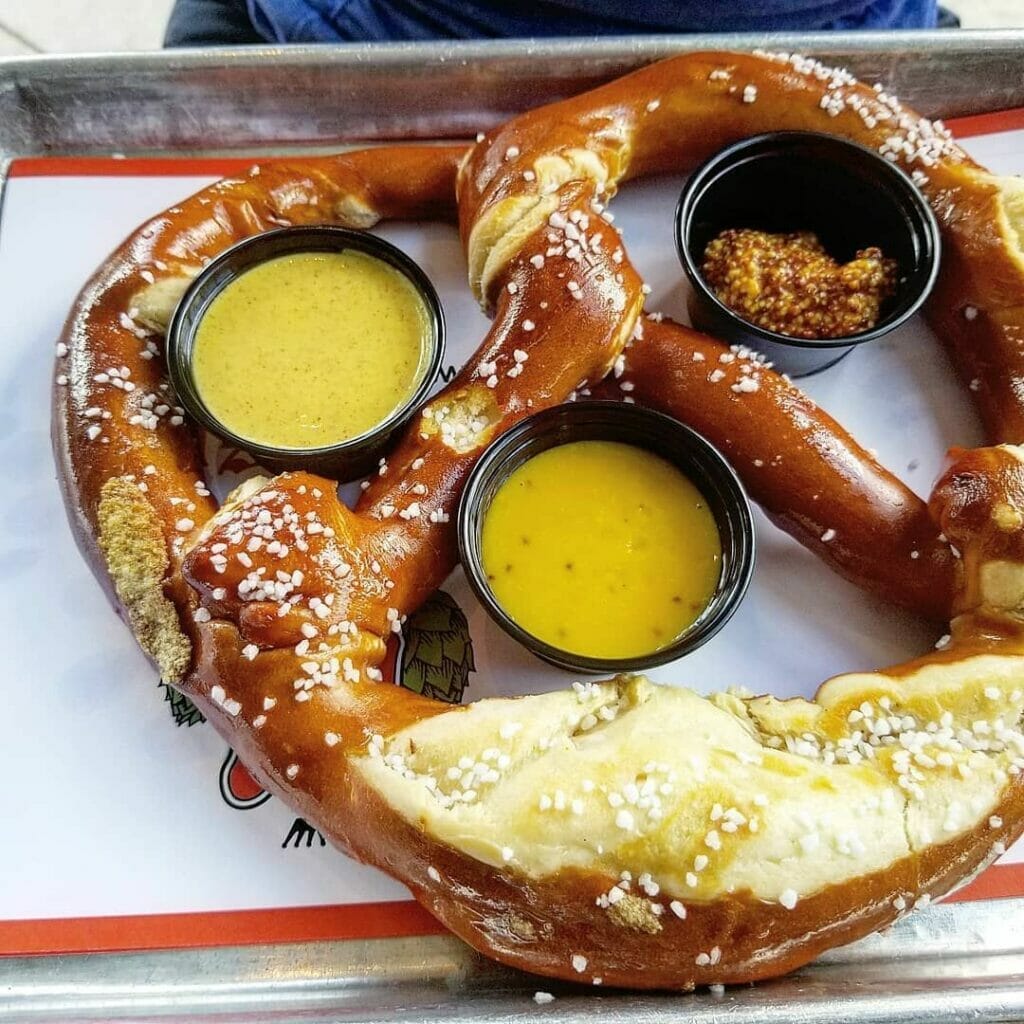 There is history here at one of the top restaurants in New Braunfels.
Located in the heart of town and originally "Gene's Place" from 1938, but in 1959, Kermit Krause bought it from his dad, and it's been going ever since, though at first as a saloon known for beer, dominoes, and card games.
It's evolved over time into a staple gathering place with an outdoor Biergarten with live music on weekends for family and friends, serving German classics and Texan favorites, some of the best food in New Braunfels.
Offering breakfast, lunch and dinner, and with a huge beer menu, with beer flights available as well as breakfast cocktails, ciders, wine and seasonal cocktails, their menus are extensive.
Breakfast offerings include all the expected as well as specialties including their Holzmacher Skillet, Bauern Schnitzel, a Smoked Salmon board, Veggie Omelets, Bananas Foster French Toast and Apfel Fritters, along with their breakfast cocktails.
Lunch and dinner offerings include starters such as their Wild Game Sausage Sampler, Bavarian Pretzels and Kartoffel poppers, salads, wraps and soups, sandwiches and burgers, and entrees including a variety of Schnitzels, venison, ribeye steak catfish, and some German House favorites, from German Meatballs to potato cakes and grilled salmon.
They also offer some Family Platters for sharing.
Finally, save room for dessert, from bread pudding to apfel strudel or fritters, or triple chocolate Dunkel cake.
Hours are Monday – Thursday and Sunday, 7:30am-9pm, and Friday – Saturday, 7:30am-10pm.
Breakfast served from 7:30am-10:45am.
10. Gruene River Grill: nice restaurants near New Braunfels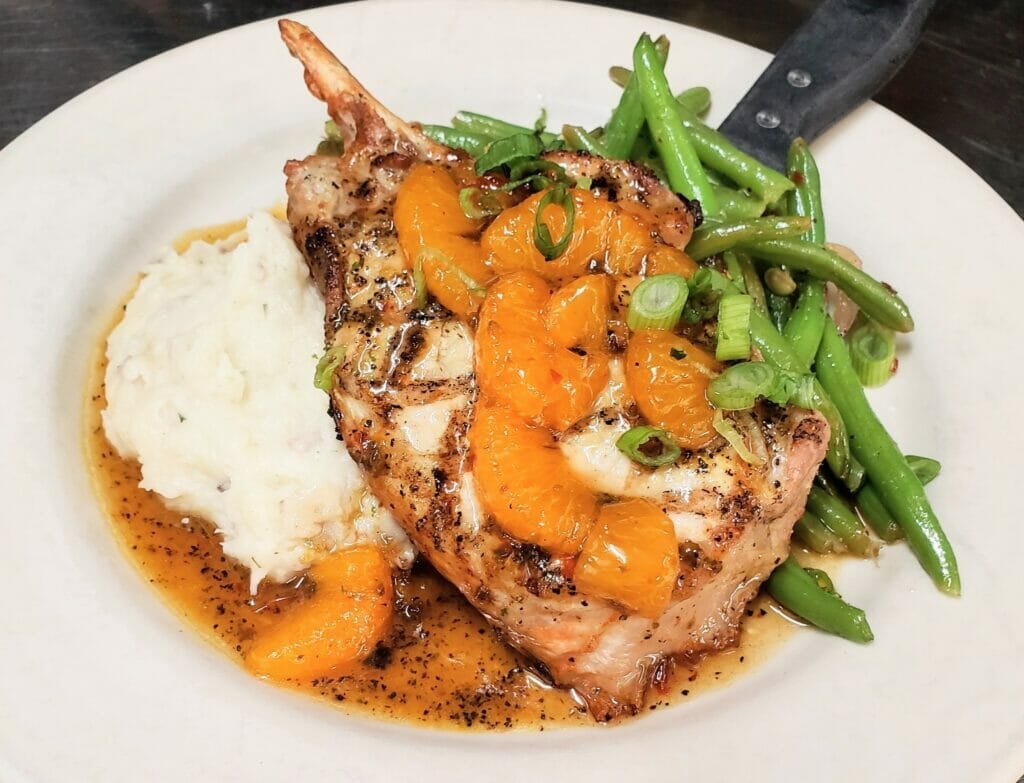 Overlooking the Guadalupe River in the historic district, they offer patio as well as indoor seating in a casual family environment.
Full-service bar with premium liquors, margaritas, locally brewed craft beers and an extensive wine list.
The menu is wide and varied, from starters of Shrimp Wontons or Tri-Fecta, which is tortilla chips with Queso, Guacamole and Roasted Salsa, great salads, burgers and steaks, Redfish, Salmon Piccata, or Shrimp, Fish tacos, Chicken Enchiladas, Meatloaf or Pork Tenderloin among others, as well as family style meal options.
Don't skip dessert, with Blackberry Cobbler, Key Lime Pie, Crème Brulée, 5-Layer Chocolate Cake and more.
Hours are Monday – Thursday, 11:30am-9:30pm, Friday – Saturday, 11am-10pm, Sunday, 11am-9:30pm.
11. Fork & Spoon Patio Café
Offering breakfast – morning to close! – as well as lunch, it serves both American and German dishes.
Pan crepes, biscuits and gravy, chicken and waffles, Monte Christo, pancakes, French toast, Eggs Benedict, omelets, Mediterranean skillet or bowl, soup and salad, build-your-own potatoes, sandwiches, mac 'n cheese, burgers, bratwurst, grilled salmon salad, Schnitzel and sausage dishes, bakery goods and homemade pie.
Unpretentious location among shops, with both indoor as well as outside dining.
Pets allowed on the patio.
Hours are Monday – Friday, 7am-3pm, Saturday – Sunday, 8am-3pm.
12. The Gruene Door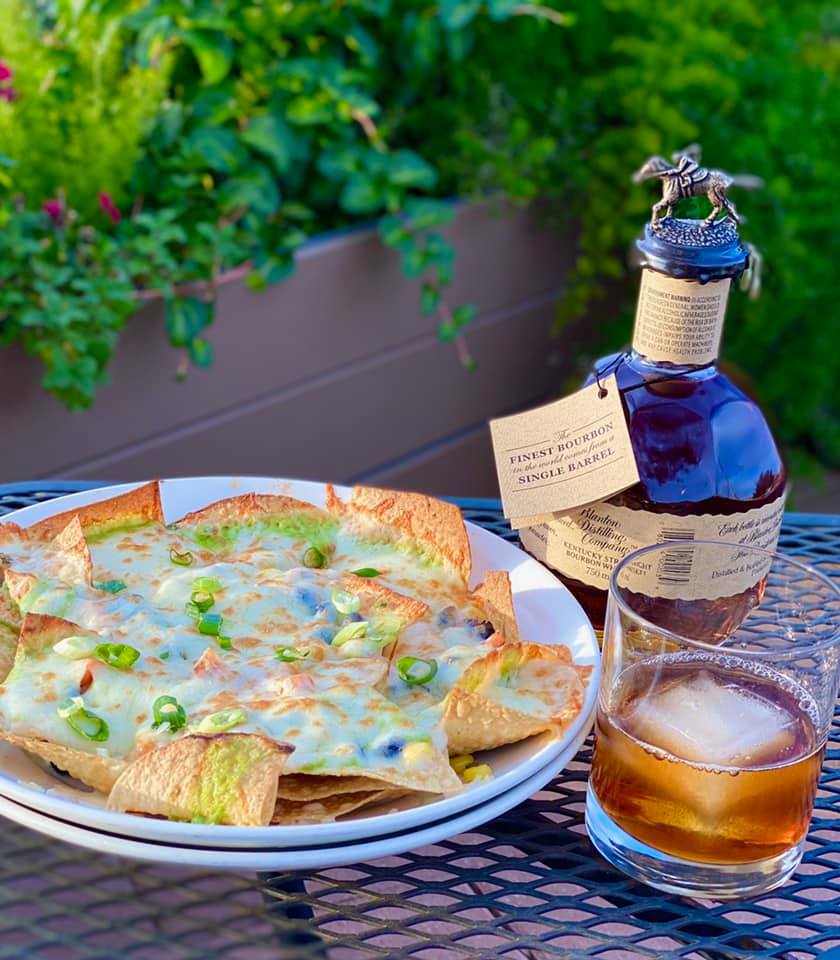 An upscale, casual eclectic American restaurant with patio seating, over 60 fine wines, and a full bar with craft cocktails and Texas craft beers – this is one of the really good places to eat near New Braunfels.
Located in the quaint Gruene Lake Village among local shops.
Offering small plates, full salads, sandwiches, entrees such as Beef Tenderloin, Rib Eye Steak, Smoked Pork Chops, Beef Short Ribs, Glazed Duck, Grilled Salmon, Rack of Lamb, Black and Bleu Cheeseburger, Smoked Salmon Tacos, Meatloaf, Shrimp Linguini and more, with desserts of Bread Pudding, Crème Brulee, and Chocolate Cake.
Hours are Tuesday – Saturday, 11am-9pm, Happy Hour Tuesday – Friday 3pm-6pm, Closed Sunday and Monday.
13. Mozie's Bar & Grill
American traditional sports bar, for those times you just want to relax and eat casually.
Located across the street from Gruene Hall, Mozie's is a great spot before a show or to watch a game, has a full bar, with a filling menu that includes sliders, sandwiches, hot dogs with jalapeno mustard and sauerkraut, fish tacos, sandwiches, salads, nachos, top sirloin, meatballs and pasta, garlic fries, onion rings, and strawberry cake for a sweet finish.
Hours are Sunday, 11am-10pm, Monday – Thursday, 11am-11pm, Friday, 11am-12midnight, and Saturday, 11am-1am. Happy Hour: Monday – Friday, 3-7pm, with $6 Frozen Margaritas + discounts.
14. Cooper's Old Time Pit Bar-B-Que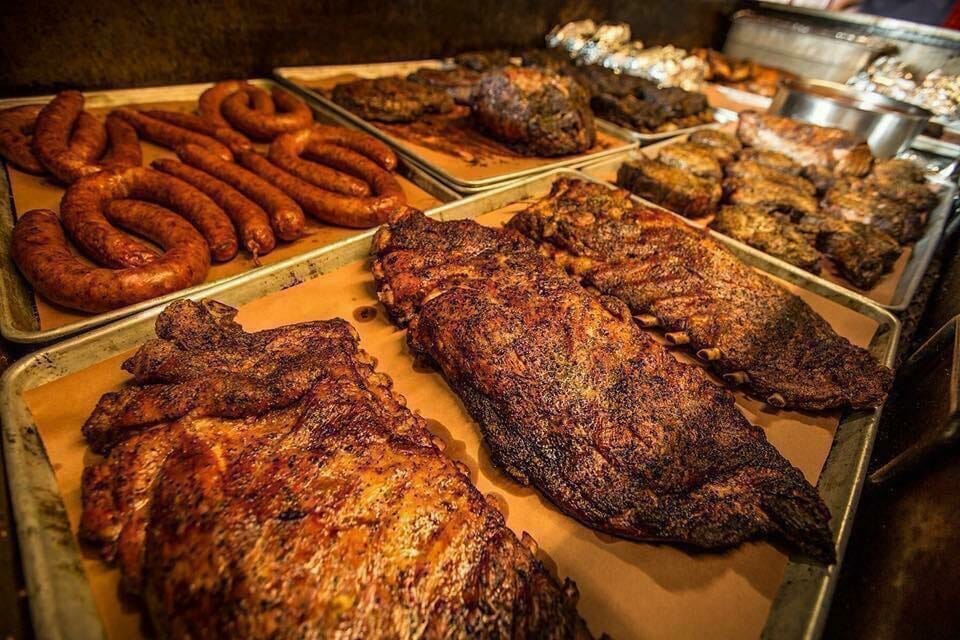 Their logo includes the slogan, "It's All About the Meat", and it certainly is, cooked over mesquite coals and served right off the pit!
Located in the midst of the river and music attractions, you'll find traditional picnic style seating in their main dining room, or outdoor seating under the trees.
Meat options include: Beef – Ribs, Brisket, chopped, sandwich, Prime Rib, Ribeye, or Sirloin; Chicken – Whole or Half; Turkey; Pork – Chops, Loin or Ribs; Sausage.
Sides include potato salad, coleslaw, mac 'n cheese, baked potato, salad, pinto beans, corn on the cob, grilled corn, chips, pickles.
Desserts are Peach, Apple, Blackberry or Pecan Cobbler with Ice Cream, so save room!
Hours are Sunday – Thursday, 11am-8pm, Friday – Saturday, 11am-9pm.
15. Naegelin's Bakery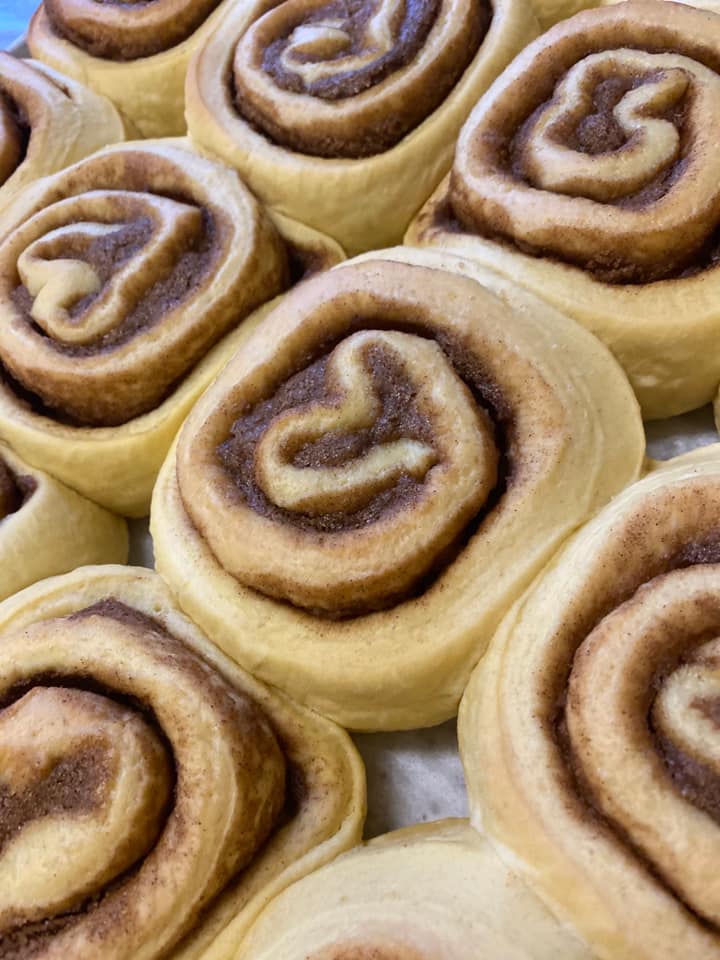 This bakery is one that is not to be missed!
Open and active for over 142 years and located at the current property since 1874, it has been passed down in the family until the early 1980's when the Granzin family purchased it.
This is more than your basic bakery of cakes and treats.
You'll find specialty breads, tortillas, cakes, cupcakes, cookies, Danish, donuts, coffee cakes in many amazing flavors, strudel, sweet rolls, a host of different pies, Kolache meats, fudge, cream puffs, eclairs, brownies, fruit tarts, cream horns, and flavored honey butters.
Hours are Monday – Friday, 6:30am-5:30pm, Saturday, 6:30am-5pm, Sunday, 8am-2pm.
Map of the Best Places to Eat in New Braunfels, Texas
Psst – want more restaurant recommendations in Texas? Check out our other guides!