Everybody knows the absolute best barbecue restaurants are found in Texas!
No visit to the Lone Star State is complete without trying this world-renowned fare!
But with so many options to choose from, you may need some help narrowing down the top Texas barbecue spots!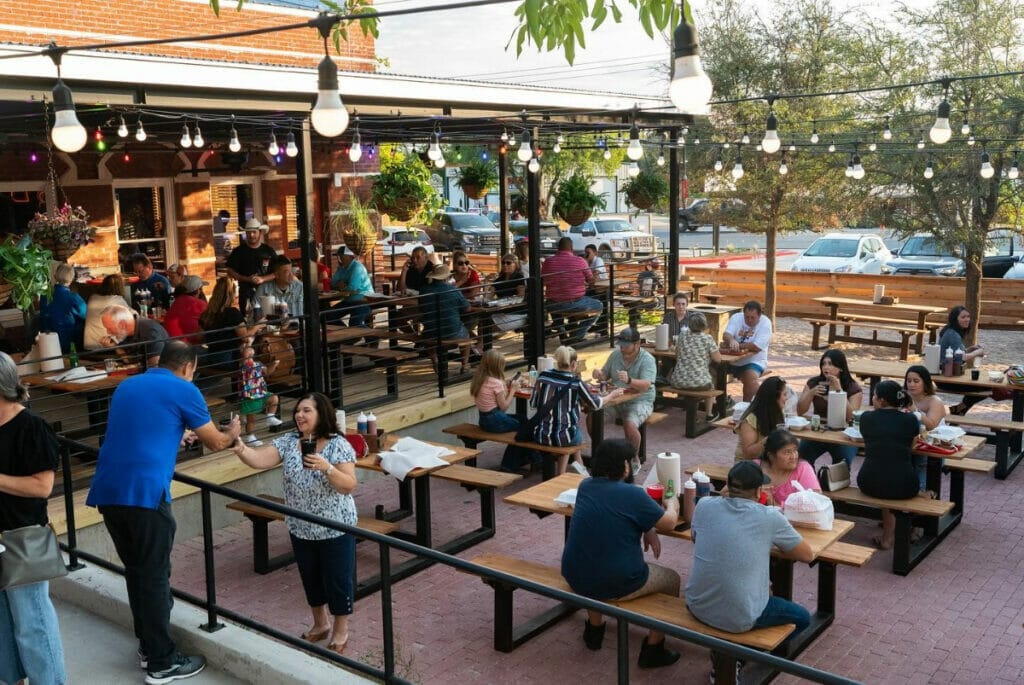 If you're wondering where to get the best barbecue in Texas, this list has you covered!
Looking for more fun Texas food and drink guides? Check these out!
GET A

FREE

TEXAS GUIDEBOOK WITH LOCAL TIPS!
With 71 pages of helpful travel tips and the "best of" Texas lists, this is your ad-free key to your Texas trip.
Everyone grab their "I Love BBQ" shirts and let's get going!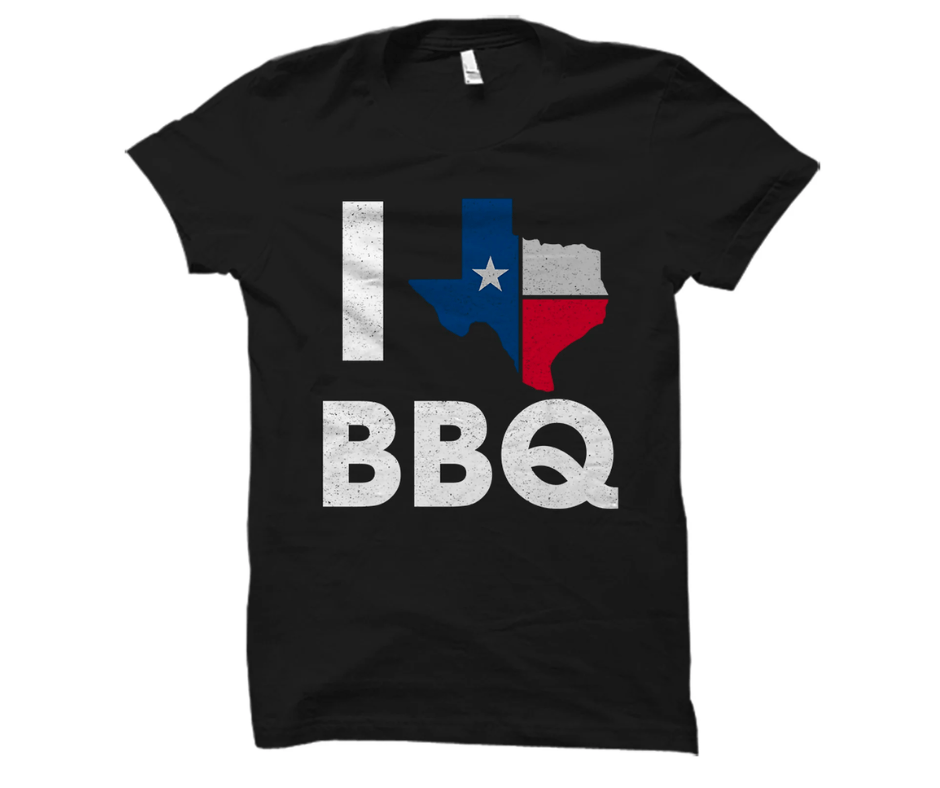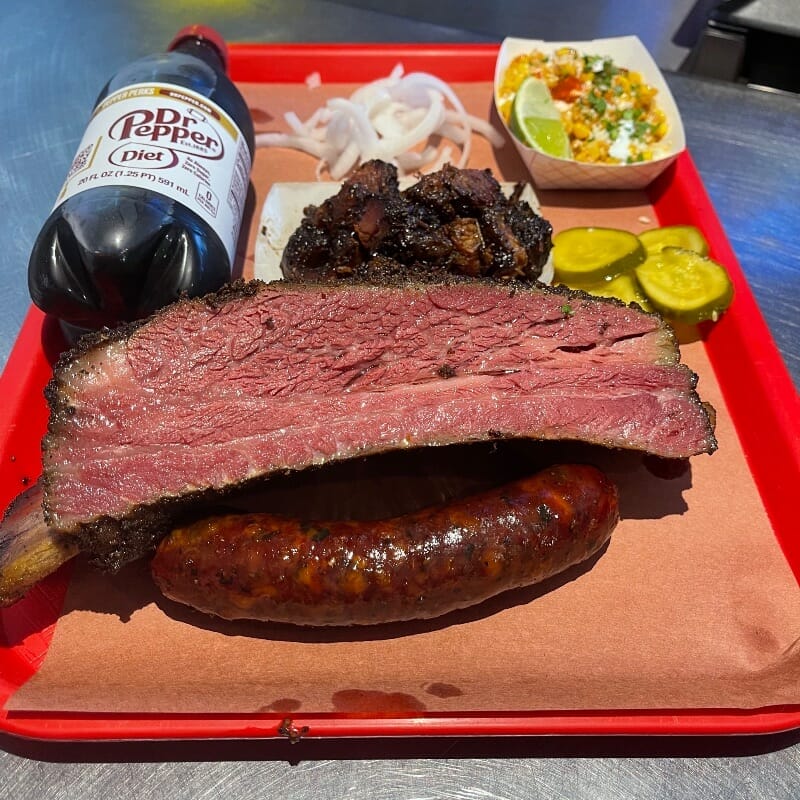 Named as one of the Top 10 barbecue restaurants in Texas according to Texas Monthly magazine, Cattleack Barbecue is worthy of the prestige!
With ribs that fall off the bone and perfectly smoked brisket, the food here is worthy of a wait in the Texas heat!
And that's just what you can expect when you visit Cattleack – a wait in line!
Only open two days per week, Thursday and Friday between 10 a.m. and 2 p.m., the long line forming before opening time speaks for itself!
But don't let the line scare you away – it tends to move quickly!
And you'll enjoy the murals of BBQ legends and heroes that adorn the walls of the alley where the line forms.
Before you know it, you'll be enjoying one of the best barbecue restaurants in Texas with plenty of picnic table seating to choose from!
Only a half hour outside of Dallas, this is a spot not to be missed!
Make sure to try the mac n' cheese with hatch chilis – a unique flavor combo you're sure to love!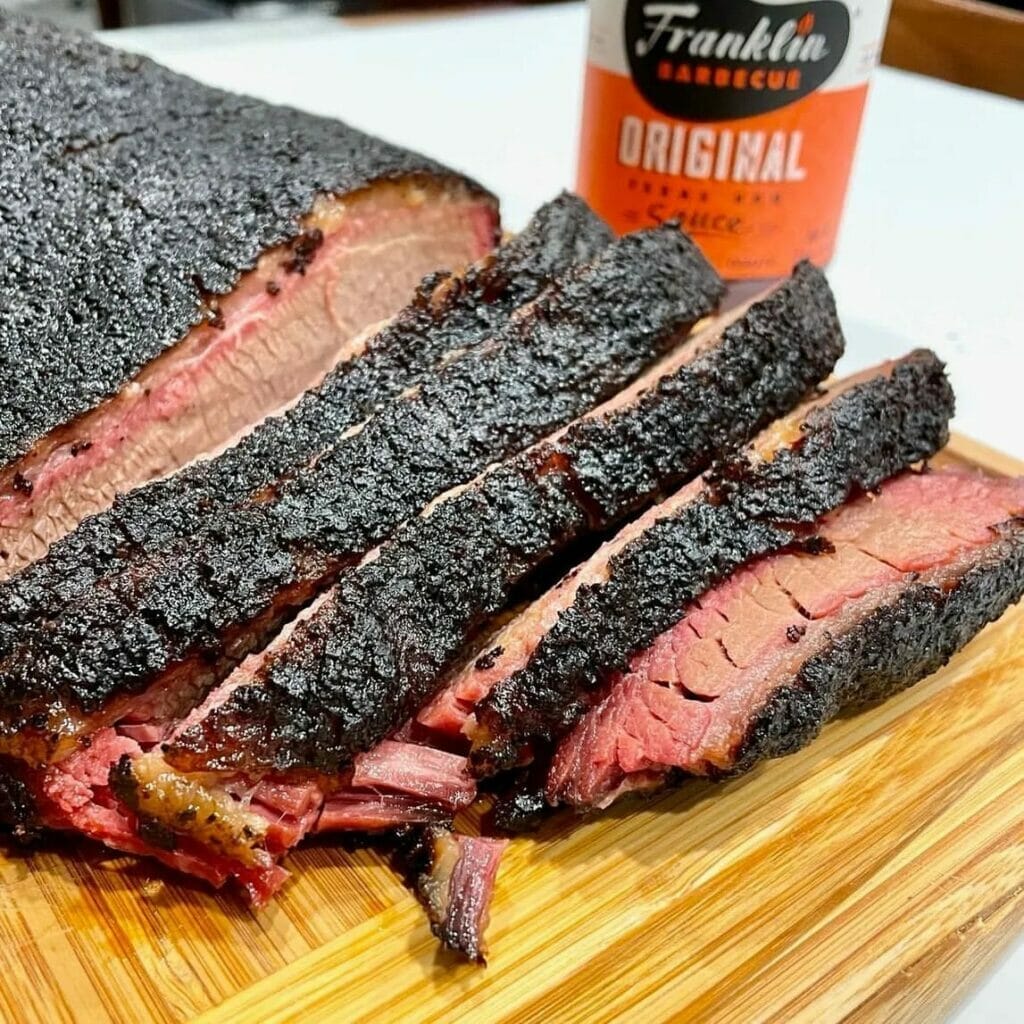 Fabled stories of long lines, sold out signs and irresistible brisket precede the reputation of this Austin landmark of legend!
You simply can't make a list of the best barbecue restaurants in Texas without mentioning Franklin Barbecue!
A Texas barbecue icon for locals and visitors alike, wait times have been known to get up to four hours long!
But as any BBQ enthusiast will tell you, there's no better place to "risk it for the brisket" than right here at Franklin!
The love they have for BBQ is evident from the taste of the food to the attentive service.
The barbecue here is simply top notch, and their pies are famous, too!
Don't be intimidated by the long lines, though!
You'll be treated well with chairs to sit on and complimentary coolers of water, and craft beer and restrooms are available at the bar.
Make friends with the inevitable out-of-towners you'll meet in line, enjoy music playing in the background and bring your patience and humor with you!
It's an experience all its own and it's worth every minute!
Just be sure to arrive several hours before opening time!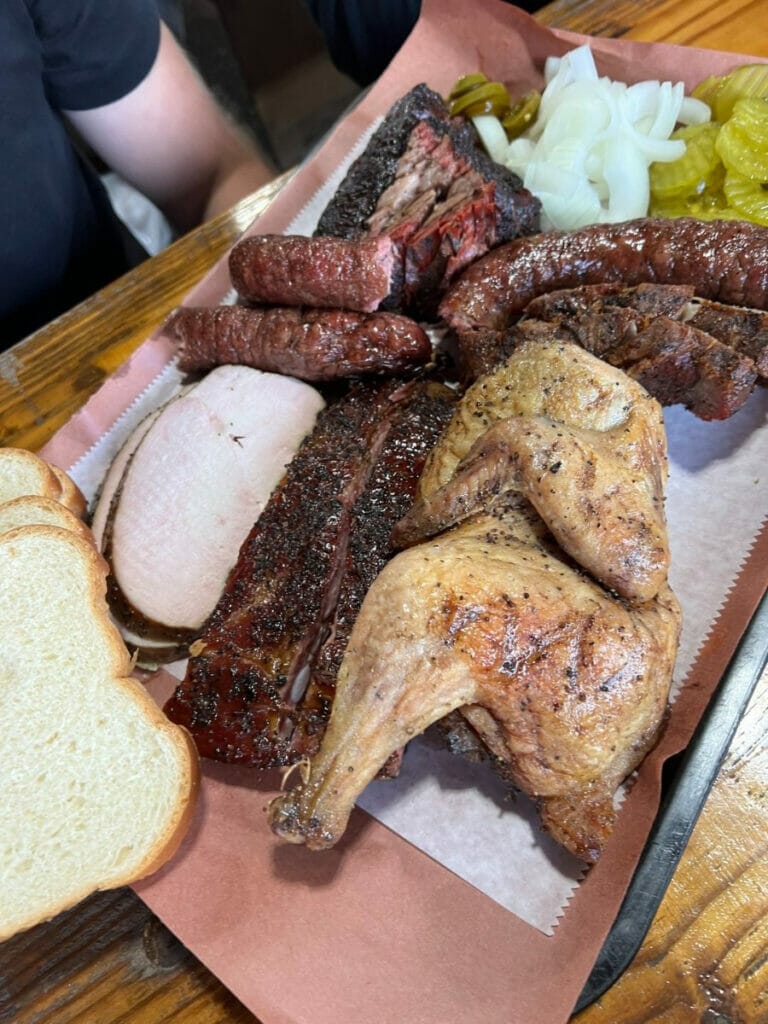 You may have heard the legend of pitmaster Tootsie, thanks to her appearance on Netflix's Chef's Table BBQ featuring Snow's Barbecue in Lexington, Texas.
People come just as much for the food as they do to meet Mrs. Tootsie, an experienced and true pitmaster and an expert at her craft!
Only open on Saturdays from 8 a.m. until sell out, the fame of this place brings in crowds every weekend, and it's not uncommon for the line to begin forming as early as 5 a.m.!
The staff at Snow's rewards you for your patience, though, with free drinks from the open bar!
With a fantastic open-air atmosphere, you can bank on meeting wonderful people while you wait.
You'll probably even end up sharing a meal with them – how very Texas!
A must for BBQ fans and just an hour from downtown Austin, Snow's Barbecue is worth the (very!) early Saturday morning trek!
Insider tip: they serve homemade cinnamon rolls that you simply can't miss!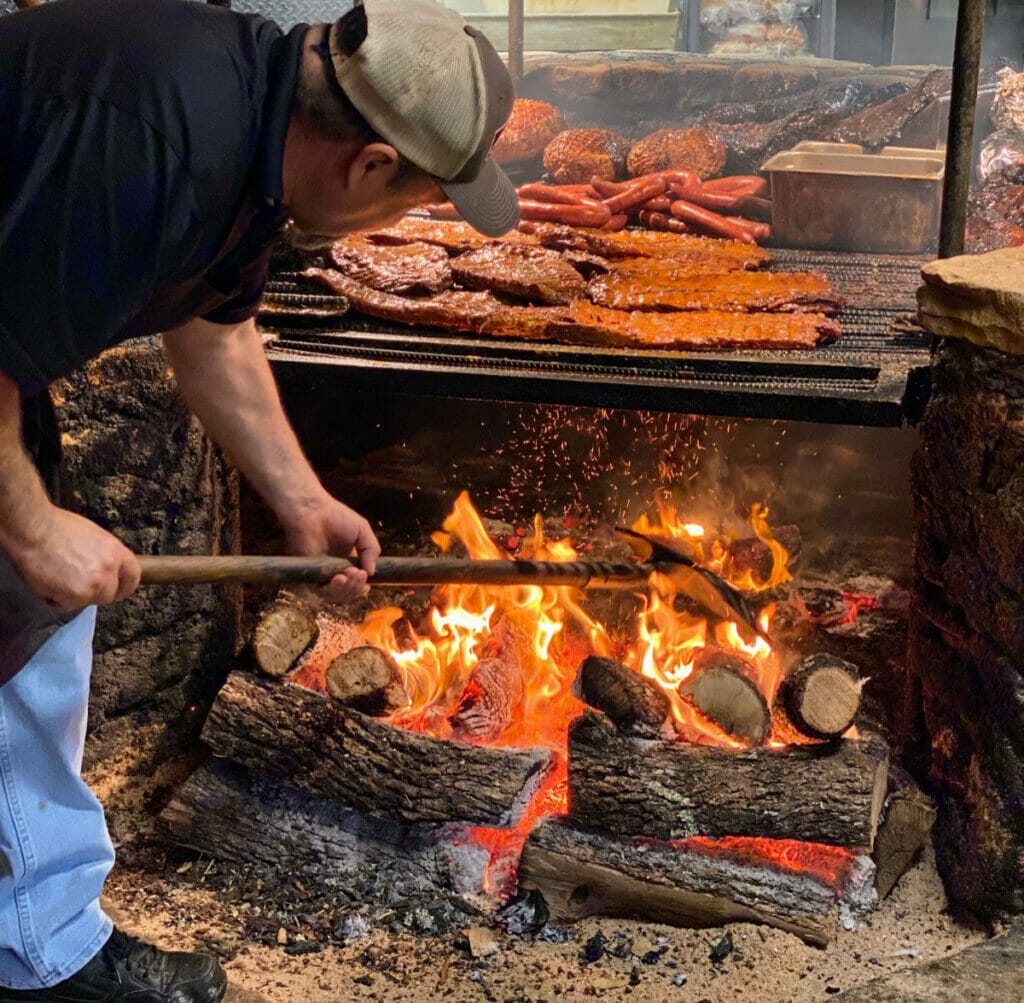 If you want to see what authentic Texas barbecue is all about, The Salt Lick BBQ is the place to go!
With fast, friendly service and a hill country setting, it's no wonder you'll find lots of crowds on the weekends!
But with ample parking and lots of outdoor seating, you'll still have a pleasant experience!
About a 45-minute drive outside of Austin, The Salt Lick is less commercial than the barbecue joints you'll find in the big city.
The genuine Texan décor and scenic, hilly drive to get there make visiting this top Texas barbecue spot an affair all its own!
Perhaps the absolute best feature of The Salt Lick is the winery right next door that hosts live music!
Or maybe it's the BYOB culture!
Barbecue, live music and wine – a Texas trifecta!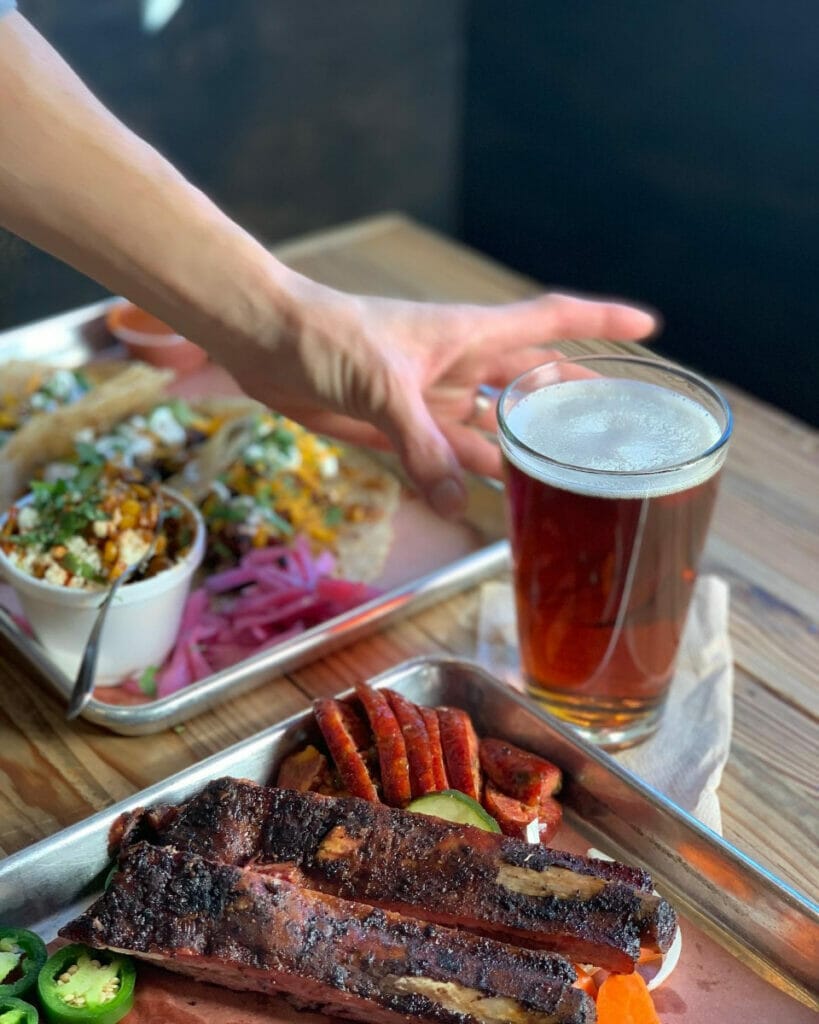 Tucked away in the Montrose area of Houston you'll find The Pit Room, a must-try Texas barbecue destination!
Featuring Czech-style sausage and delicious pickled veggies, the combination of moist, smoky meat and flavor make for some great eating!
Their ice cream sandwiches might be just as popular as their barbecue!
Made using homemade cookies, choose from three different varieties of the frozen treat!
It's a decadent finish to your meal that you won't want to share!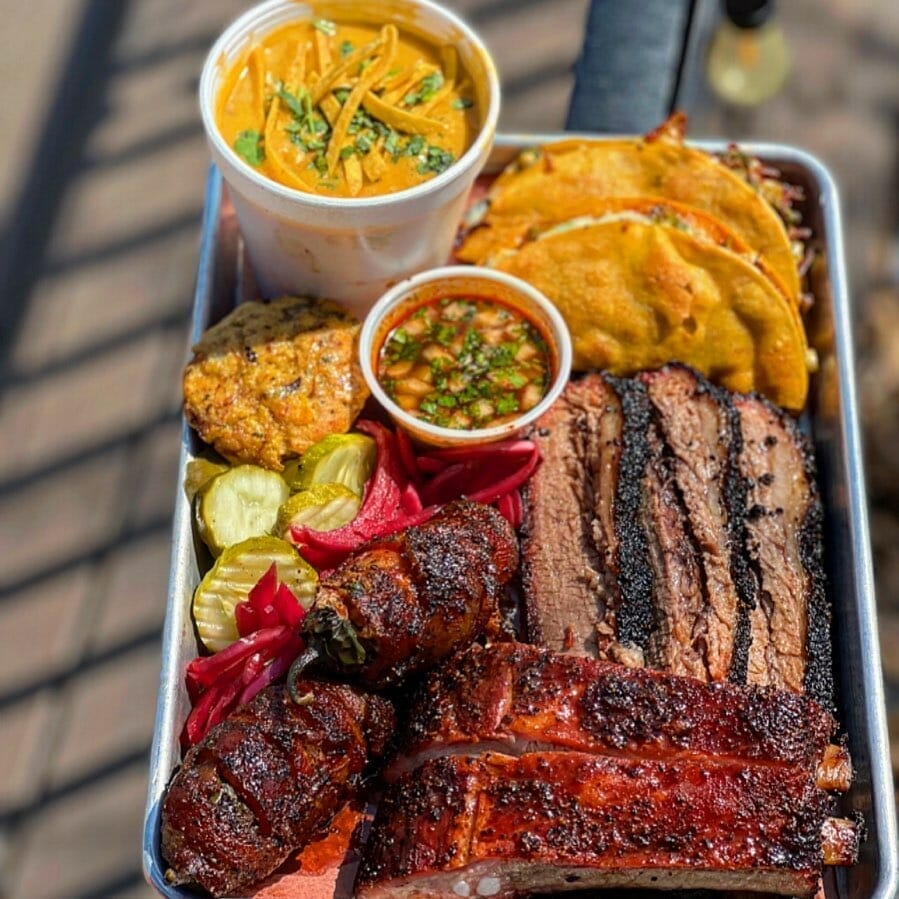 Have you ever heard of "Mexicue?"
That's Texas-style barbecue with a Mexican twist, and that's what you'll find at Hurtado Barbecue in Arlington, Texas!
The restaurant offers its own unique take on foods – like the potato salad that's actually "baked potato salad," and the Texas Twinkies – jalapenos filled with brisket, wrapped with bacon, and smoked!
Perfect for barbecue enthusiasts or those trying barbecue for the very first time, expect Texas-sized portions and impeccable hospitality!
They'll even let you see the smoke pits in the back if you ask nicely!
With food this good, you'll want to get there early as this not-so-hidden Texas barbecue secret always has a line!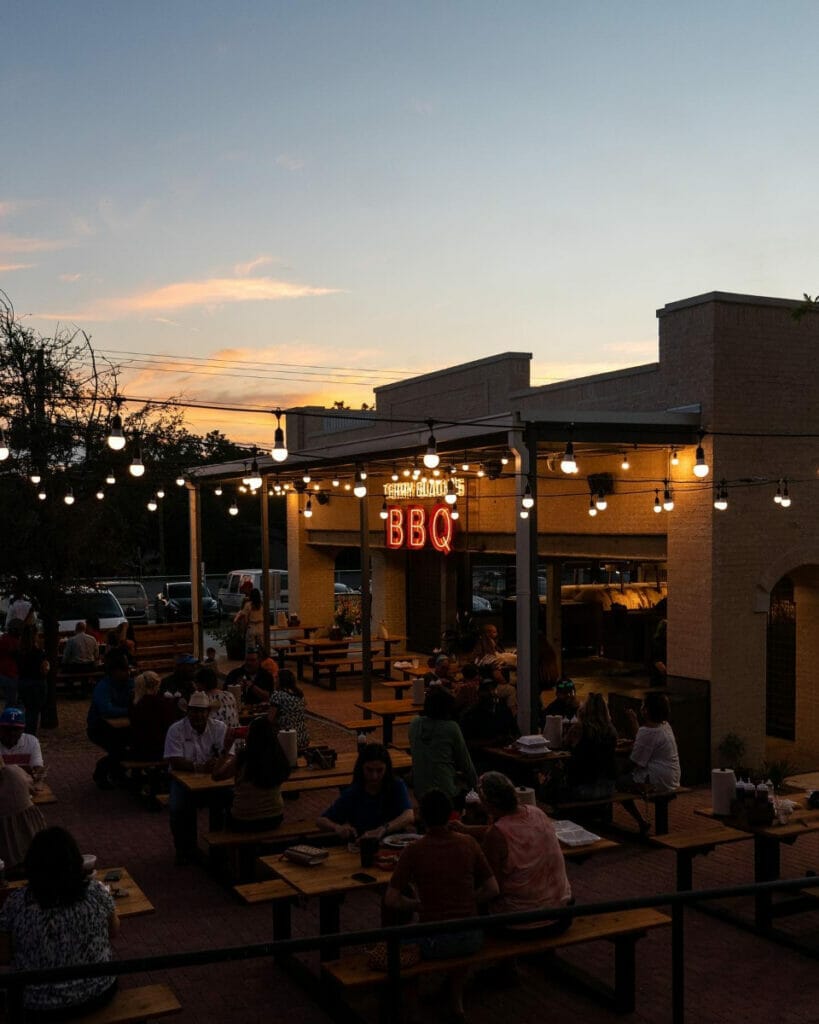 Sometimes the question of where to get barbecue in Texas is found right in the heart of one of its biggest cities!
Terry Black's Barbecue in Austin is everything you would expect from a Texas barbecue spot – from the look to the feel to the food!
With an efficient ordering process and huge indoor and outdoor seating areas, this place lives up to the hype!
Meat is sold by the pound and portions are huge!
You can anticipate tender, seasoned meats with rich, hearty flavor!
The beef ribs are a customer favorite!
And all the sides you expect to find are offered, like mac n' cheese, green beans and coleslaw! (Yum!)
You'll also enjoy generous portions of complimentary break and pickles!
Expect a full tummy by the time you leave!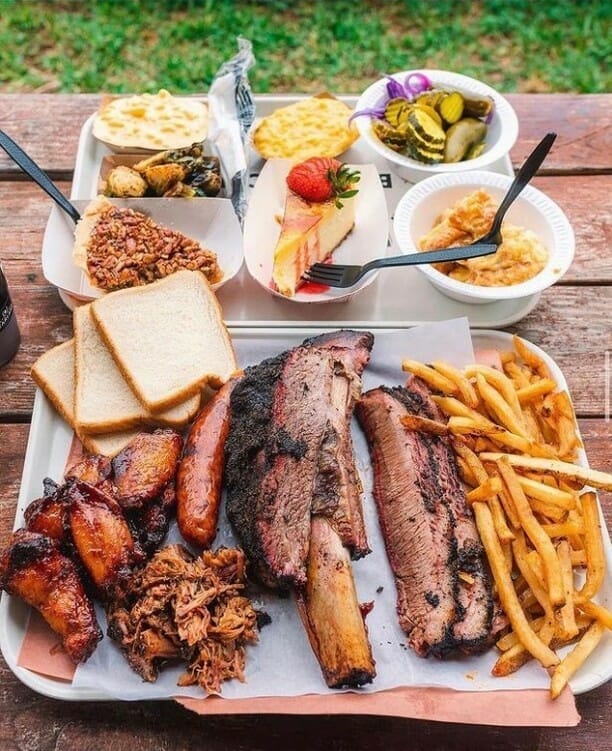 Just outside of Houston proper you'll find a quintessential Texas barbecue venue with the smokiest, juiciest, fattest cuts of meat you can dream of!
Three delicious house made sauces complement the meat offerings – not that you'll need them!
The food is so good here it's mouthwatering even without the sauce!
With a hipster vibe and cafeteria-style ordering, this may not feel like the Texas barbecue joints you're used to!
But Killen's melt-in-your-mouth brisket will win you over and you'll wonder what took you so long to find this BBQ gem!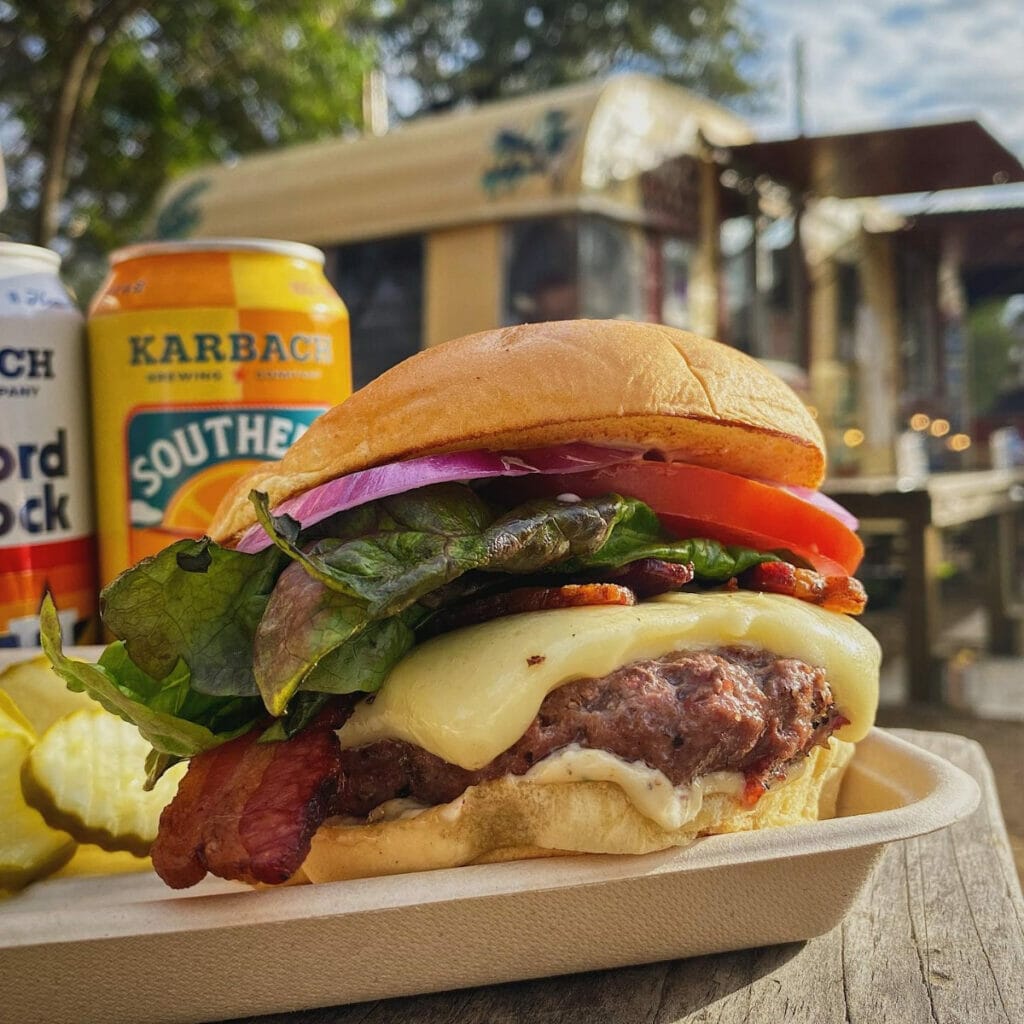 Is there anything more Texan than lining up for a barbecue food truck and grabbing a seat at an outdoor picnic table?
No matter that there's tons of space for a brick-and-mortar store – outdoor eating is part of the Texan charm at Micklethwait Craft Meats!
Consistently great barbecue and amazing sides make this a favorite the locals can't stop raving about!
Expect a wait on Saturdays if you aren't there by opening time!
Things slow down during the week during the first few hours, so plan ahead if you want to beat the crowds!
But don't worry, helpful and efficient staff keep things moving!
Even if you do end up waiting a bit, you can count on a smoky aroma filling the air as you wait in the umbrella-covered, mist-fanned picnic area – sounds rather pleasant, doesn't it?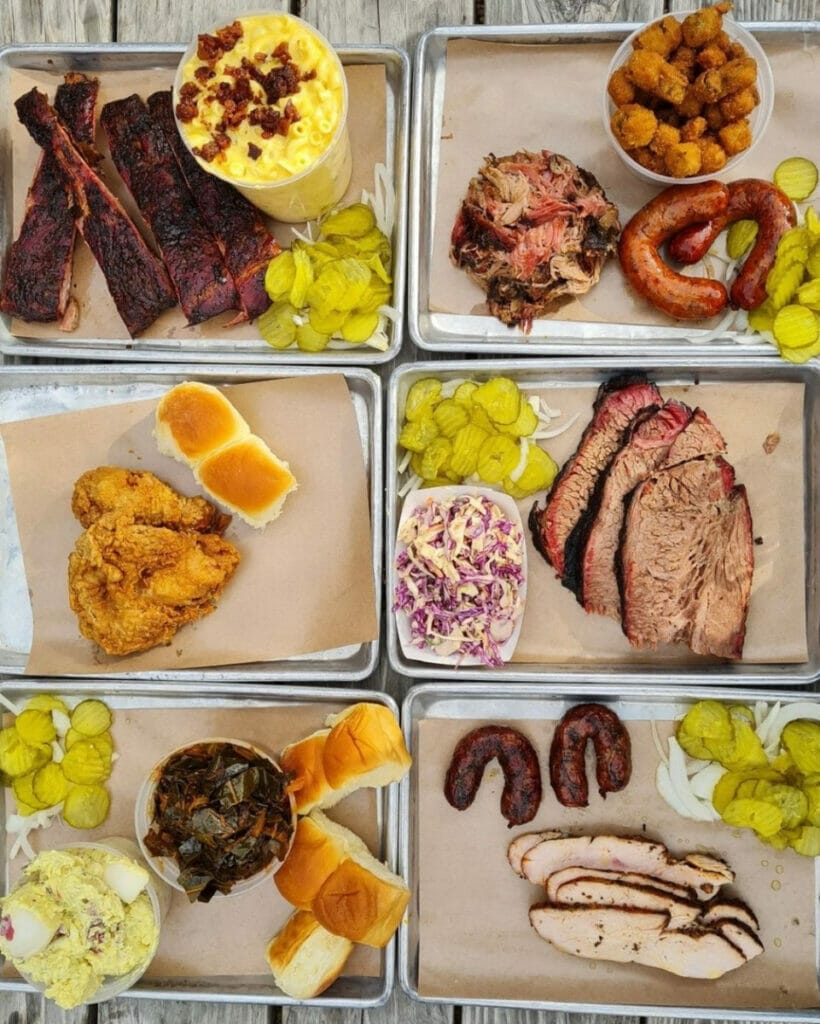 Featured on an episode of Diners, Drive-Ins and Dives, Pecan Lodge in the Deep Ellum neighborhood of Dallas is one of the best-known barbecue restaurants in the area!
Besides the stellar barbecue, a rustic, cool vibe and friendly staff make for a pleasant experience!
Acclaimed for great smoky flavor and reasonable prices, the fried ribs are a must try!
Don't pass on the banana pudding!
You won't leave hungry from this family friendly establishment!
You might even a sighting of Guy Fieri from the Food Network!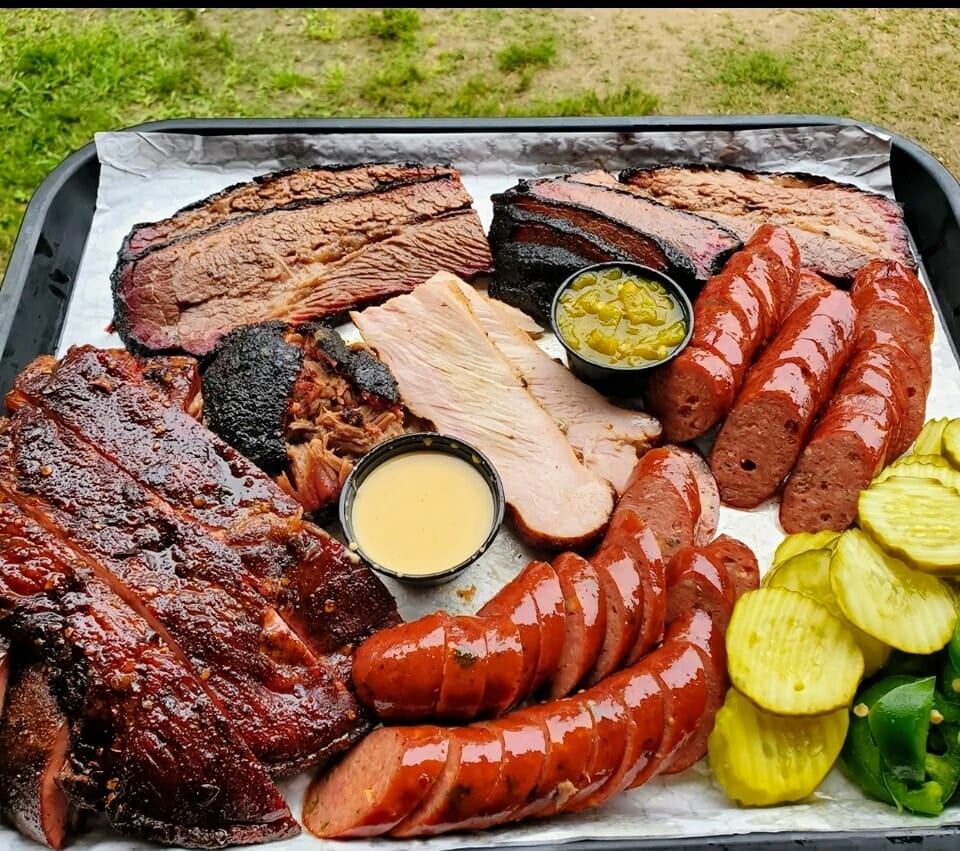 There's a friendliness about a small-town barbecue venue that the big city commercial joints just can't touch!
There's always an employee walking by asking if you need anything at Corkscrew BBQ, and they'll even grab you a drink while you wait!
They've thought about little ones, too!
You'll find toys for the kids on the outdoor pavilion to keep them out of your hair while you're in line!
And there's plenty of shade to escape the Texas sun in the outdoor area thanks to large trees on the property.
Just as you'd expect from one of the best barbecue restaurants in Texas, there's always a line wrapping around the front porch, so show up early!
It's worth the wait!
Don't forget to sample the apple cobbler!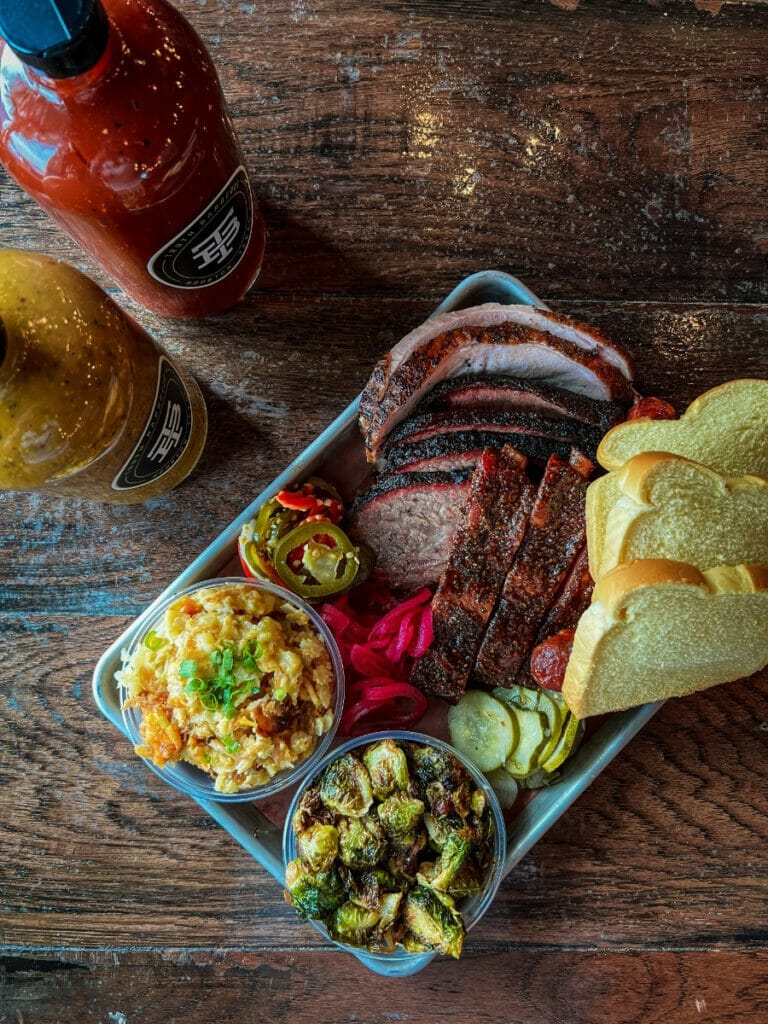 With phenomenal barbecue, a window case full of cakes and desserts, and a house made Tres Leches cake that's to die for, Truth BBQ in Houston lives up to its number 3 spot on the Texas Monthly list of BBQ hotspots!
This place holds a high standard for Texas barbecue and checks all the boxes – main dishes, sides, service, cleanliness, and atmosphere!
A hip, rustic ambiance, unique beers and straight forward, easy ordering make Truth BBQ a no brainer among the best barbecue restaurants in Texas!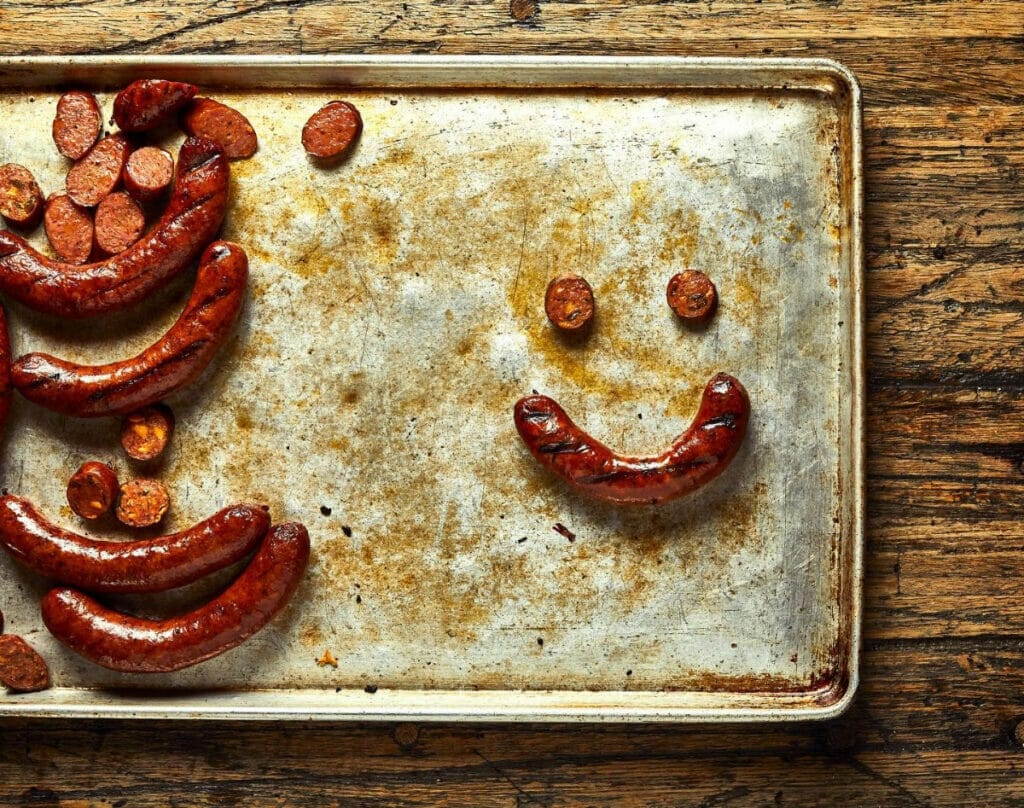 Start drooling!
Stack your plate with more food than you could possibly eat at Hutchins BBQ!
The all you can eat deal sets them apart among the best Texas barbecue restaurants allowing you to eat as much meat and sides as your heart desires for one flat price!
Delight in the huge bar of potato toppings and indulge in as much banana pudding, peach cobbler and soft serve ice cream your tummy can handle when you dine in – all for free!
On par with all the great barbecue spots in Texas, the long line is an indication of how good the food is!
But the smoky aroma while you wait is its own treat!
Before you take a single bite, you'll see a beautiful ring of smoke on all the meats letting you know you're about to taste something incredible!
No matter what you order here, you're in for a treat and certain to be back for more!
Pro trip: There's a separate pay station inside just for take out if you want to beat the line!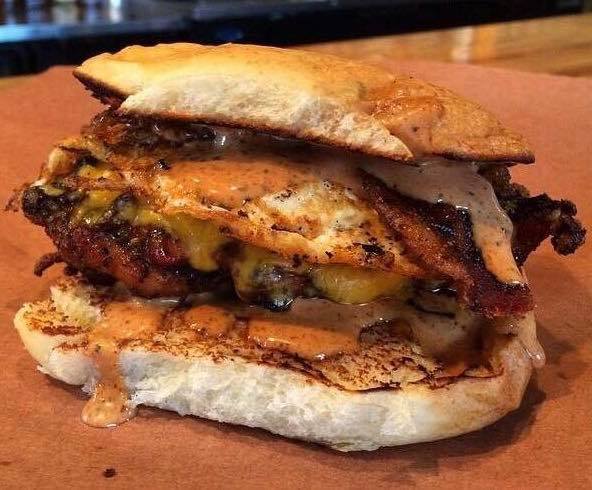 Live music and a great drink selection makes Stanley's Famous Pit Barbecue in Tyler, Texas a local favorite, and it's usually packed!
Local family owned, they know how to treat their customers!
From the fully stocked bar on the outdoor patio to the huge Connect Four board, Stanley's is a great place to hang out with family and friends!
The Mother Clucker and the Brother-in-Law live in local infamy, and even the bathrooms are immaculate!
It's worth the drive to Tyler for this laid-back locale!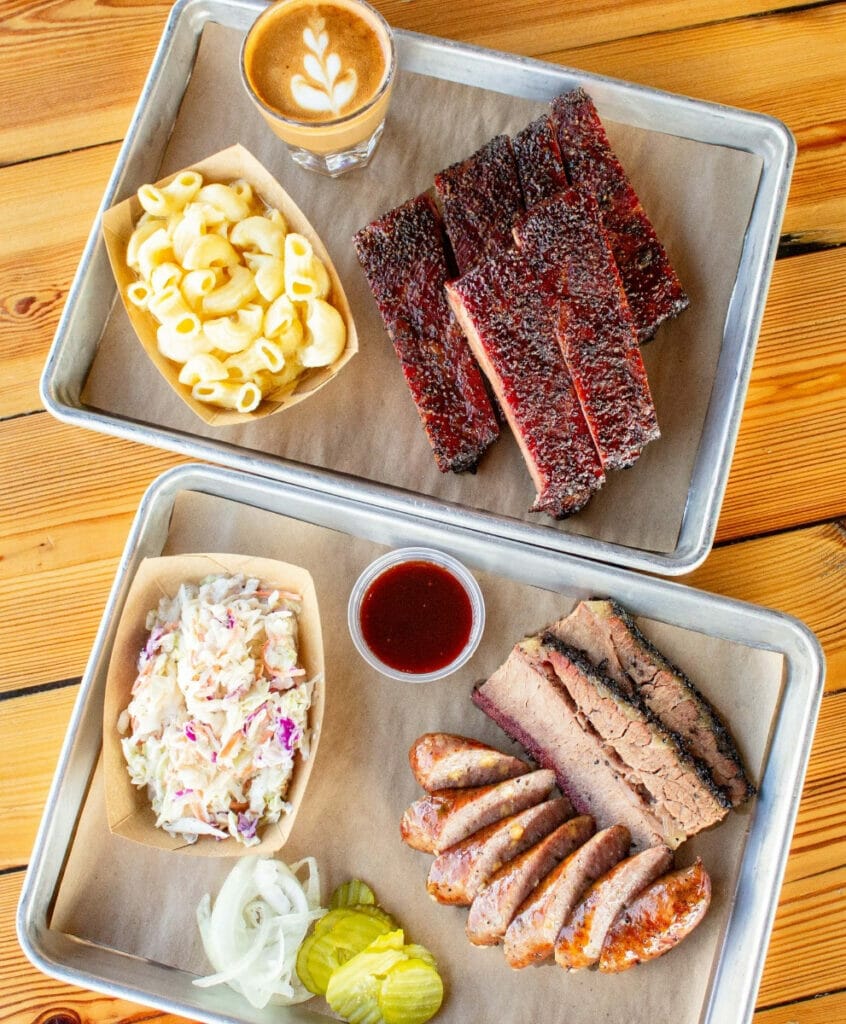 You've heard of beer and barbecue, but have you ever heard of a barbecue joint with a coffee bar?!
The lattes at Miller's Smokehouse in Belton give Starbucks some competition and serve as a sweet treat while you're waiting for the epic barbecue experience that awaits you!
With desserts good enough to be in their own establishment, you'll want to make sure to leave some room!
The sopapilla cheesecake and banana pudding are the stuff of legend, and you have to try the buttermilk pie!
And don't you dare leave without trying the cornbread!
With unbelievable service and people welcoming you at the door, this will become your regular spot!
Clean, stylish and well laid out, Miller's Smokehouse is a new place taking Texas barbecue to the next level!
Pin for Later!