The botanical gardens in Texas are full of surprises!
From spaces designed for food-growing and pollinators to native grown cacti and wetlands, if there is a plant you'd like to see, I'm sure you can find it somewhere along these paths.
Nature lovers will come to love the carefully curated and cultivated leafy spaces of Texas when visiting these best botanical gardens in Texas!
Keep reading to find out which space speaks to you and indulge your senses as you begin to explore!
Hey! Looking for more expert Texas guides? Check these out!
GET A

FREE

TEXAS GUIDEBOOK WITH LOCAL TIPS!
With 71 pages of helpful travel tips and the "best of" Texas lists, this is your ad-free key to your Texas trip.
Okay, everyone grab their "Texas Wildflower Shirts" and lets go!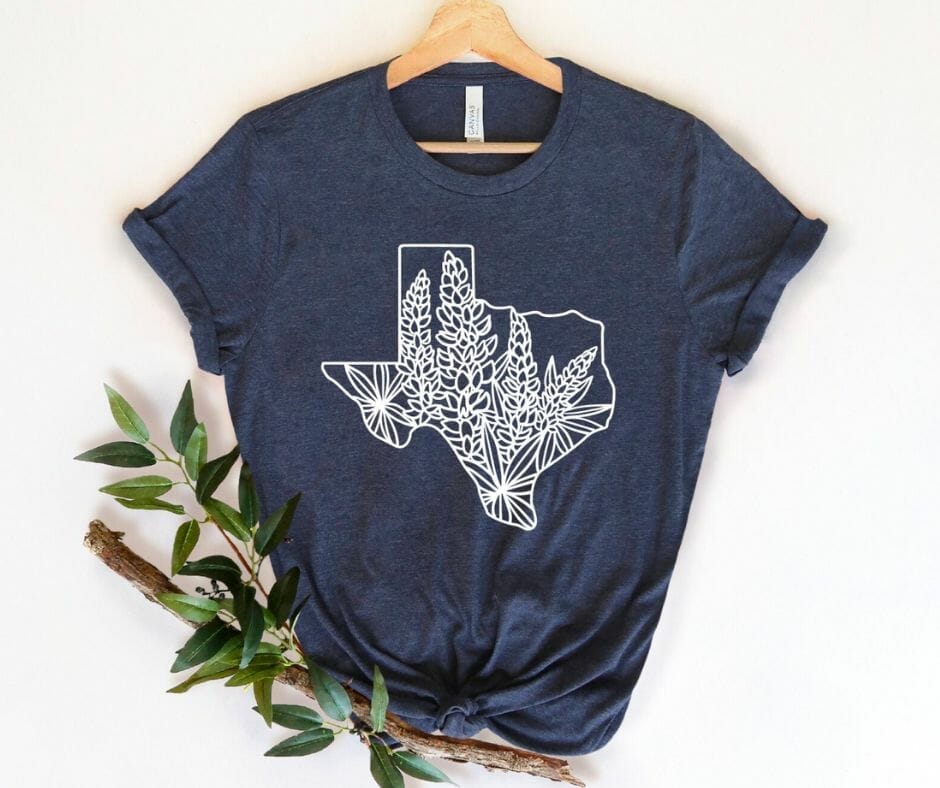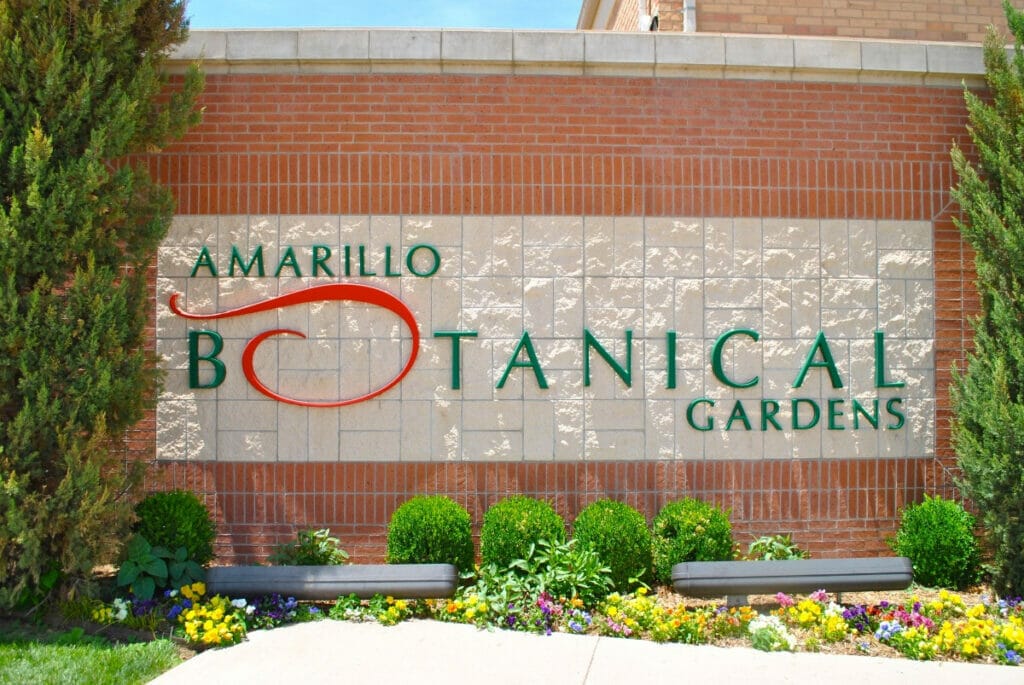 The Amarillo Botanical gardens was developed by the Amarillo Garden Club as a trial for gardening in the high plains of the Texas Panhandle and the good news for all, the test was a success!
The gardens are now a botanically diverse wonderland of plants that love to thrive (with assistance of the gardeners) in this arid climate.
When you visit, you will have a chance to explore four acres of seasonally themed areas like pollinator-friendly landscapes, Japanese and xeric gardens, or an autumnal oasis.
Make sure to check out the greenhouses to see an assortment of more tropical plants that need a bit more humidity than the dry Texas air can provide in these parts.
To enter the garden, you only pay a $5 donation (discounts for children and seniors) but make sure to check the opening/closing times as they change seasonally.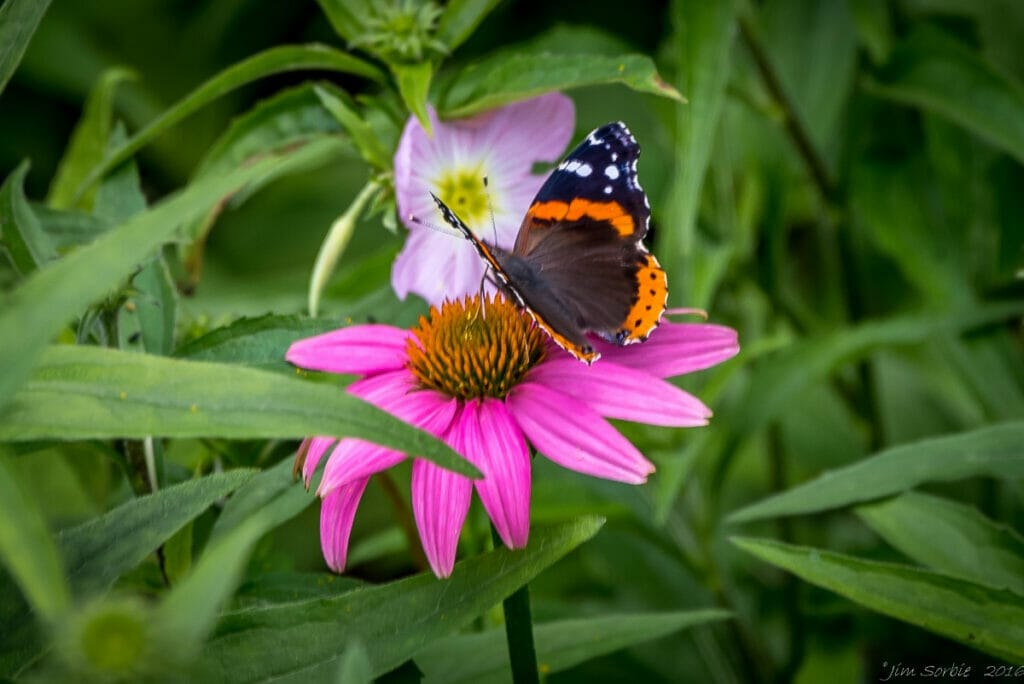 The University of Texas at Austin Lady Bird Johnson Wildflower Center was founded by former first lady, Lady Bird Johnson, and actress, Helen Hayes, in 1982.
Making this location slightly different from other Texas botanical gardens, the center focuses on using native plants to restore and create sustainable, beautiful landscapes.
The center makes it clear that conservation is key and puts a lot of effort in creating landscapes that will inspire visitors while also creating diverse habitats for native wildlife like butterflies, beetles, and bats!
The center includes an arboretum showcasing Texas trees, a blooming savannah meadow, a family garden with interactive features, a woodland garden, and the central gardens which feature lots of inspo for any home gardeners!
The garden is open daily and offers tours everyday at 10am! Make sure to book in advance as spaces frequently fill up.
Download the app TravelStorysGPS so you're all set with a free audio guide as soon as you arrive!
The South Texas Botanical Gardens & Nature Center, formerly known as the Corpus Christi Botanical Gardens and Nature Center is a nonprofit, 180-acre botanical garden and nature center that has been declared a calming respite from the busy city.
The gardens feature a variety of walking trails which wind around desert gardens, tropical flowers, roses, wetlands, and even a forest!
Looking for something extraordinary?
This Texas favorite even includes over 2,000 orchids in its collection!
Not enough excitement?
Maybe the reptile house, exotic parrots, or giant tortoises will fill you with delight!
Still not impressed?
This site even offers more of the wild side with trails out to a climbing bird tower overlooking Gator Lake!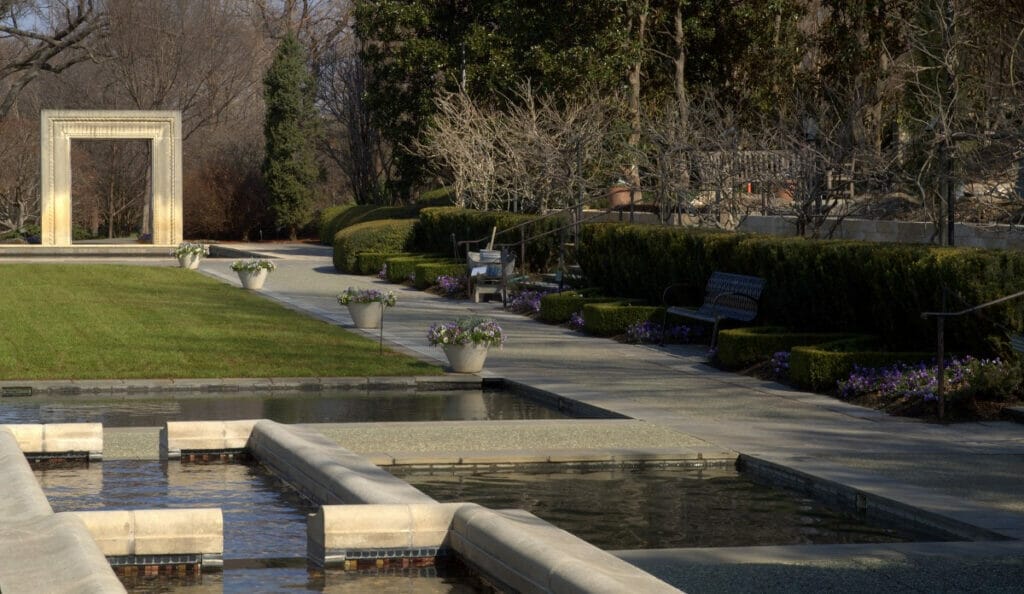 The Dallas Arboretum is always beautiful, no matter the season, and whether you have just an hour or a whole day to enjoy it, you're sure to be impressed by this arboretum in Texas!
Voted as one of the perfect places for a picnic in Dallas/Ft Worth, there are plenty of places to sit back and enjoy the atmosphere surrounded by roses, magnolias, pecan trees, crape myrtles, and much more (your choice!).
Looking to spend the day? There are 5 total cafes in the garden, including one made especially for families called the "Children's Adventure Cafe."
It's not all flowers and trees either, make sure to stop by the vegetable and herb garden, A Tasteful Place, for a free snack based on a seasonal vegetable harvested right from the garden, free of charge!
The garden is open daily but in advance of your trip, it's recommended to book tickets and parking (you'll save $5!).
Located 4 miles SE from Fort Davis on Hwy 118, the Chihuahuan Desert Nature Center & Botanical Gardens is not like your typical botanic garden as you might look around and see more brown and red rock than you do greenery!
The center comprises 507 acres of semi-desert grasslands, igneous rocks, and even a canyon and spectacular views in all directions!
You can explore nearly 5 miles of hiking trails with a range of paths for beginners to more advanced hikers.
Within the gardens, check out the native fauna, grasses (yes, even the grass is cool!), a geology exhibit, and last but certainly not least, over 200 species and
subspecies of Chihuahuan Desert cacti at the Maxie Templeton Cactus Museum
Collection.
More interested in birds than plants?
No worries there, check out the bird blind area with a 30-ft long water feature to check out some of the locals.
Want to trick your family into visiting a botanical garden?
Tell them it's a zoo!
But really, this place has it all, both flora and fauna!
For the plant lovers, make sure to check out the Chihuahuan Desert exhibit to learn about the animals and plants native to the El Paso area!
For those looking for something a bit softer than a cactus, the Zoo offers daily experiences (closed Mondays and Tuesdays) like fox encounters, giraffe feeding, and sea lion training, on most weekend dates all for the affordable price of $12 for adults and even less for teens and children.
If you're on a budget, the Zoo even allows you to bring your own picnic into the park.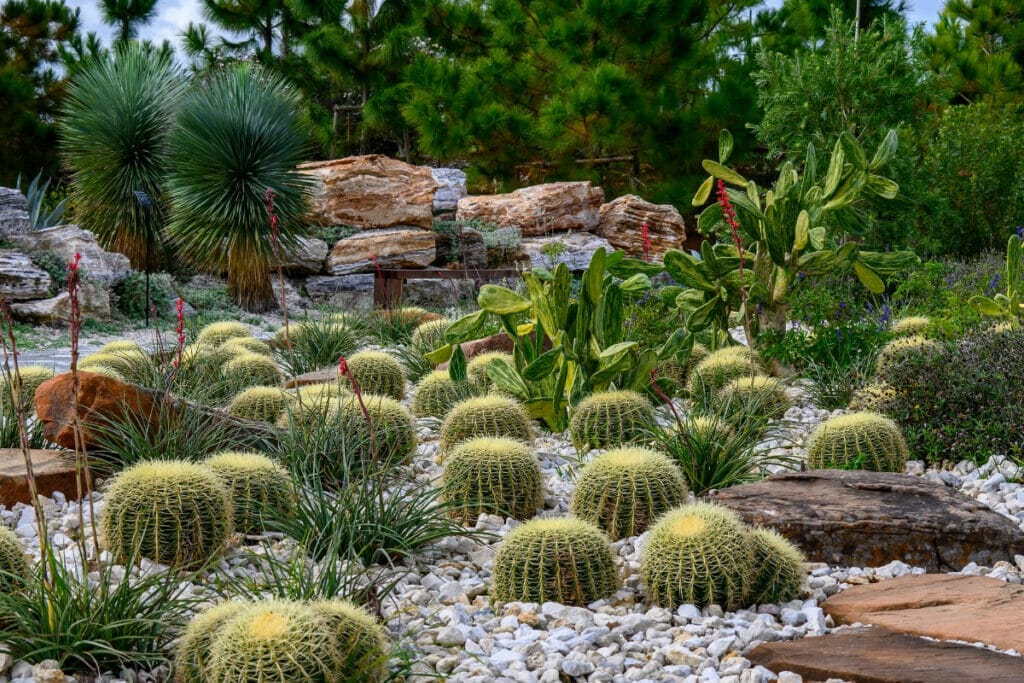 Engage your senses at this not-to-be missed botanic garden of Texas!
In the Global Collection Garden you can experience the diverse color and beauty of plants from around the world without even leaving Texas.
Want to learn more about the local area?
Check out the coastal prairies and pine groves where you'll hear the sounds of wildlife drawn to our natural ecosystems.
Interested in food growing?
The culinary garden features edible and medicinal plants that you can grow yourself!
If you have little ones with you, check out the Susan Garver Family Discovery Garden where you can engage with nature in hands-on ways!
Don't have time to spend the day?
The garden also offers a free picnic area which is accessible with or without an admission ticket to the Garden where you can enjoy your lunch under a selection of shady oaks!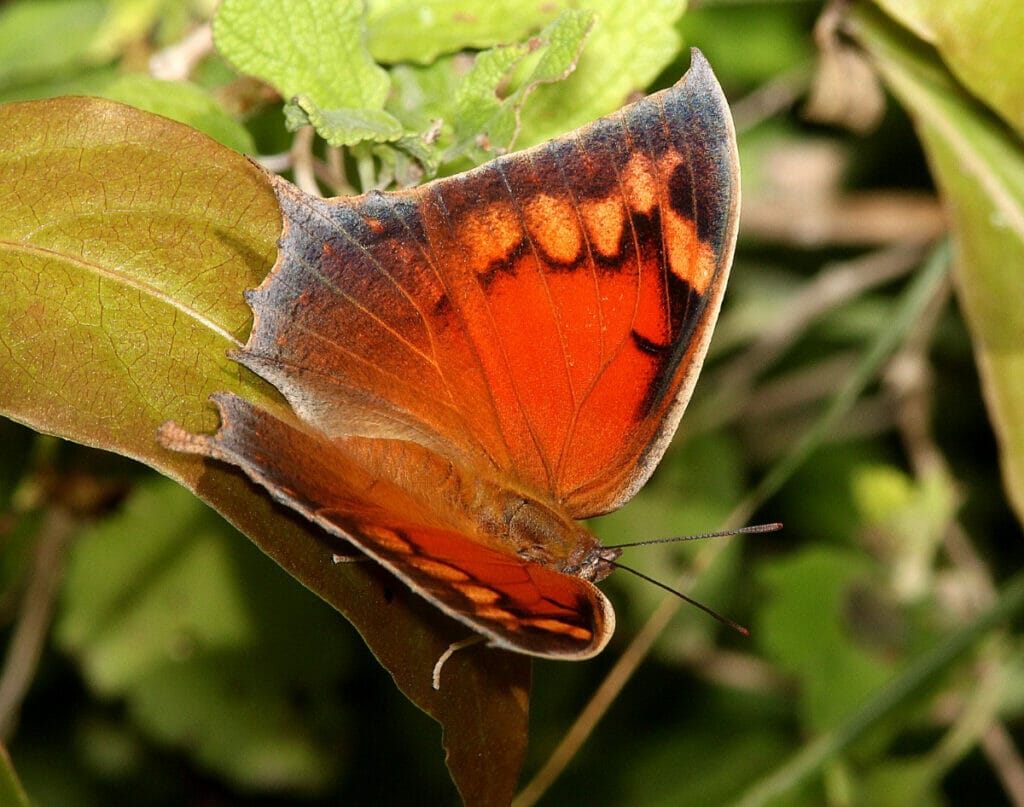 The National Butterfly Center is a project of the North American Butterfly Association and is a private nonprofit organization dedicated to teaching visitors all about the importance of pollinators and the plants that sustain them!
The site includes a 100-acre nature center planted for butterflies meaning, the entire site is outdoors and the native butterflies are free-flying!
Come prepared to walk trails (rain or shine) and use your peepers to find birds, butterflies and other wildlife in their native habitat.
Because the center is entirely outdoors, they cannot regulate how many butterflies or other animals you will spot but that's the excitement of it!
You can keep coming back and the experience will be different every time, just maybe check the weather forecast first.
Make sure to bring your cameras as the site is extra special with lots of opportunities for photos and ideas for your own pollinator-friendly gardens.
Picnics are encouraged, just remember, leave only your footprints.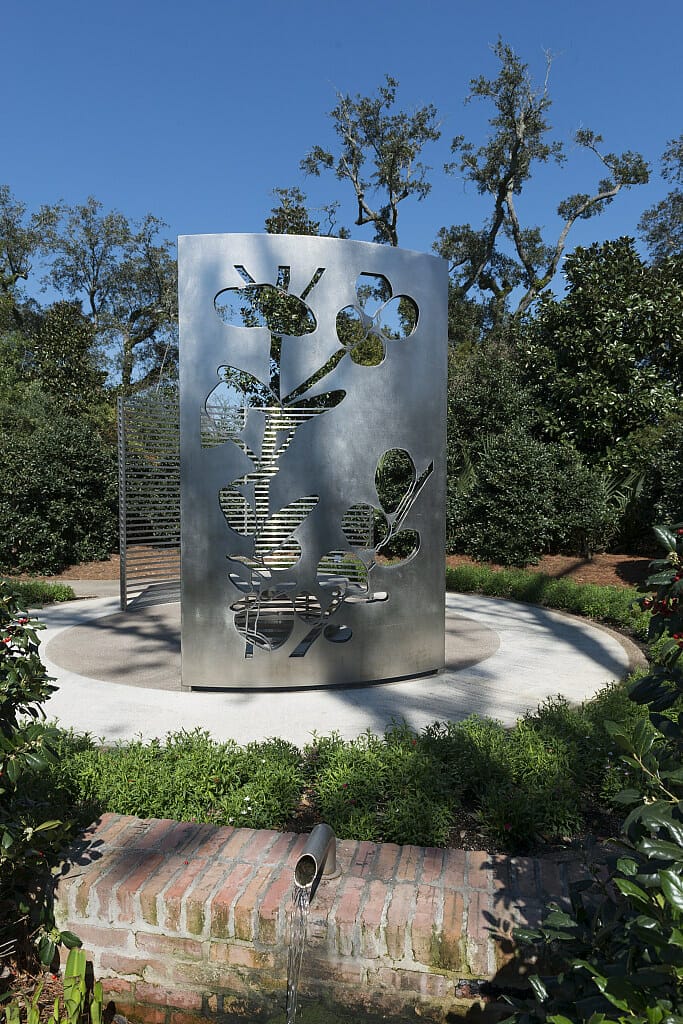 Shangri La is a 250+ acre space along the waterways of Adams Bayou that combines botanical gardens and an educational nature center for you to explore.
The garden offers display greenhouses, views of Ruby Lake and Adams Bayou (yes, there are alligators) along the trail, sculpture and hanging gardens, and even a wetland demonstration area.
If you're bringing the kids along, check out the Children's Garden for some hands-on exploration!
Shangri La also hosts a wide-range of fun events including a Scarecrow Fest for autumn, bird watching days, a Saturday adventure series, Christmas strolls, animal encounters, and plant propagation workshops!
The gardens are open Tuesday-Saturday and everything is free of charge!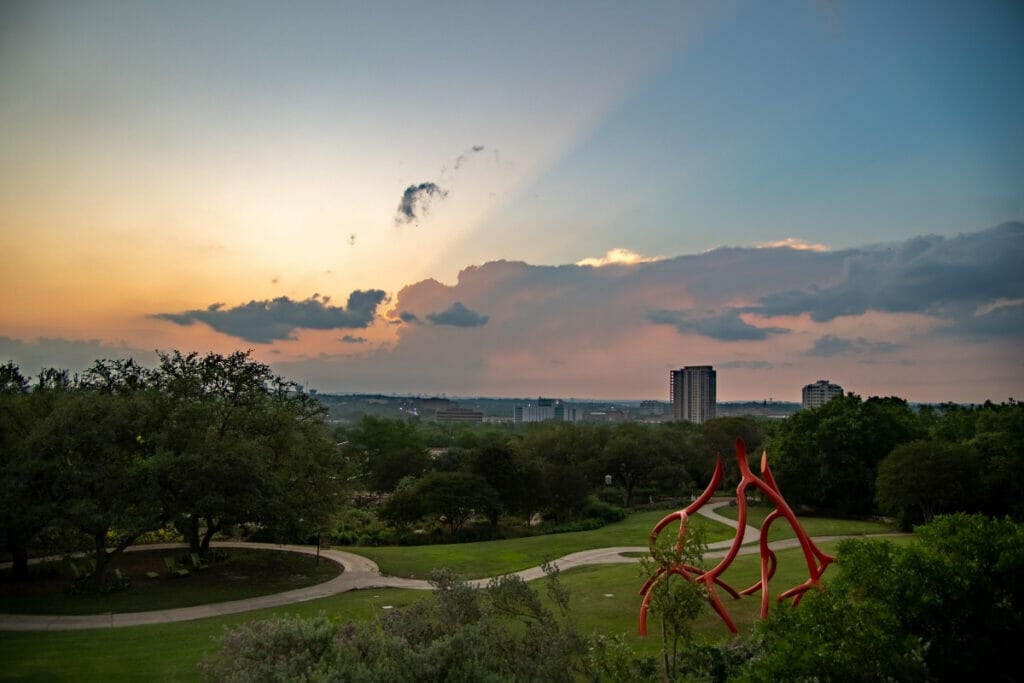 The San Antonio Botanical Garden serves as a 38-acre urban oasis that calls itself a "living museum of plants."
Visiting the garden will be a joyful experience for you and your family whether you're looking to immerse yourself in nature, learn something new, or simply enjoy some fresh air.
The site includes a Japanese garden, culinary garden and learning center, family adventure garden, an internationally renowned conservatory, and Texas native trails (and those are just the highlights).
Looking for a more in-depth experience?
The garden offers guided tours for up to 15 people so grab your family, friends, neighbors, or even your book club to join in on a walk with a knowledgeable docent!
Already established monthly guided walks are also available on themes like sustainability, native plants, and Texas native birds.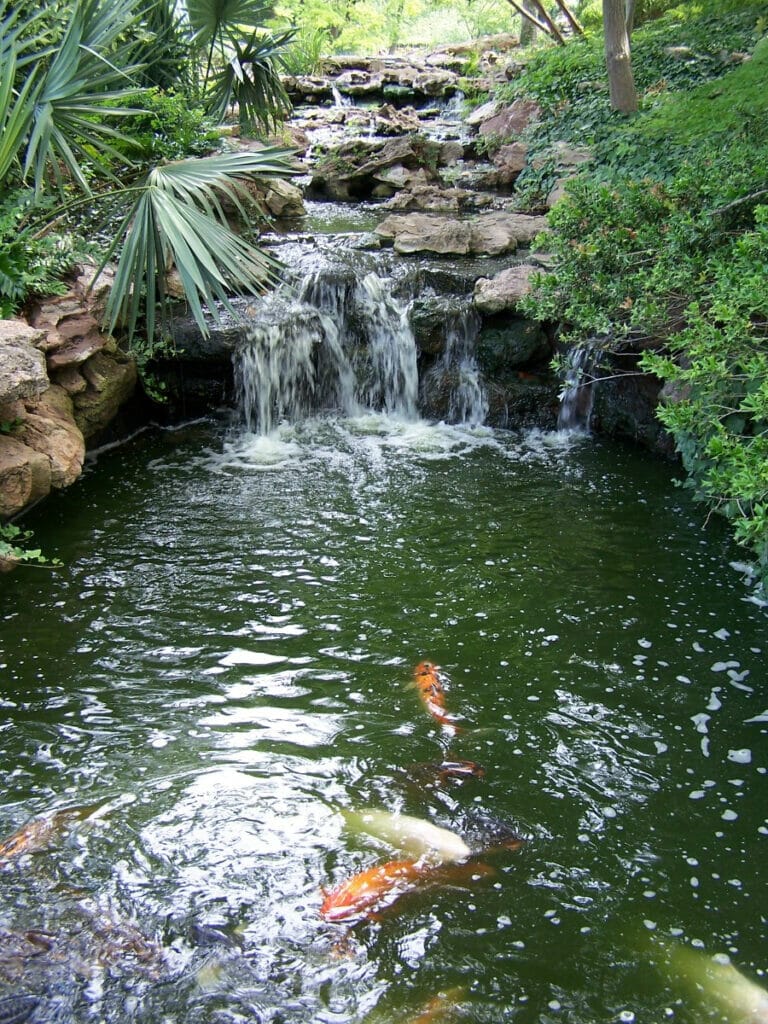 The Fort Worth Botanic Garden was established in 1934 and is the oldest major botanic garden in Texas!
Its site includes a collection of more than 2,500 species of plants on 120 acres for you to enjoy but this site isn't just for fun, it's for science!
Interested in digging deeper? Schedule a tour of the Philecology Herbarium, which houses more than 1.5 million plant specimens from around the world.
The gardens also include the Botanical Research Institute of Texas, one of the largest centers for botanical exploration and discovery in the United States.
The gardens are located in the heart of the Fort Worth Cultural District and conveniently just minutes from downtown!
The garden has been celebrated for its beautiful rose, perennial and Japanese gardens but includes 23 specialty gardens, including a tropical conservatory, a forest boardwalk, and a water conservation garden!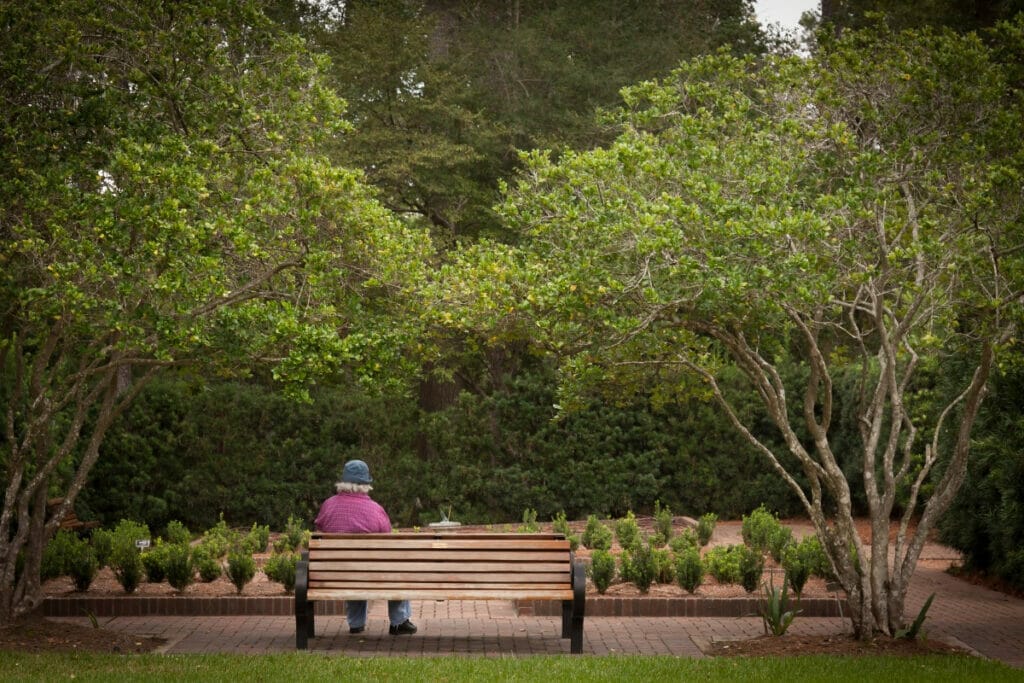 Named after Thelma and Charles Mercer, Humble's Mercer Arboretum and Botanical Gardens is a free volunteer and county supported garden where you can explore 250 acres of land along Cypress Creek.
The botanical garden has wonderful paths that meander through acres of plants, flowers, trees, herbs, vegetables and landscaping with ponds bringing you to butterfly houses and picnic areas.
Some of the highlights of the collection included in the largest collection of native and cultivated plants in the region are native Dogwood trees, vibrant pink camellias, rare camphor daisies and orchid trees.
See if you can spot local birds like the Pine Warblers, Black-capped Chickadees and Cardinals as they flit overhead.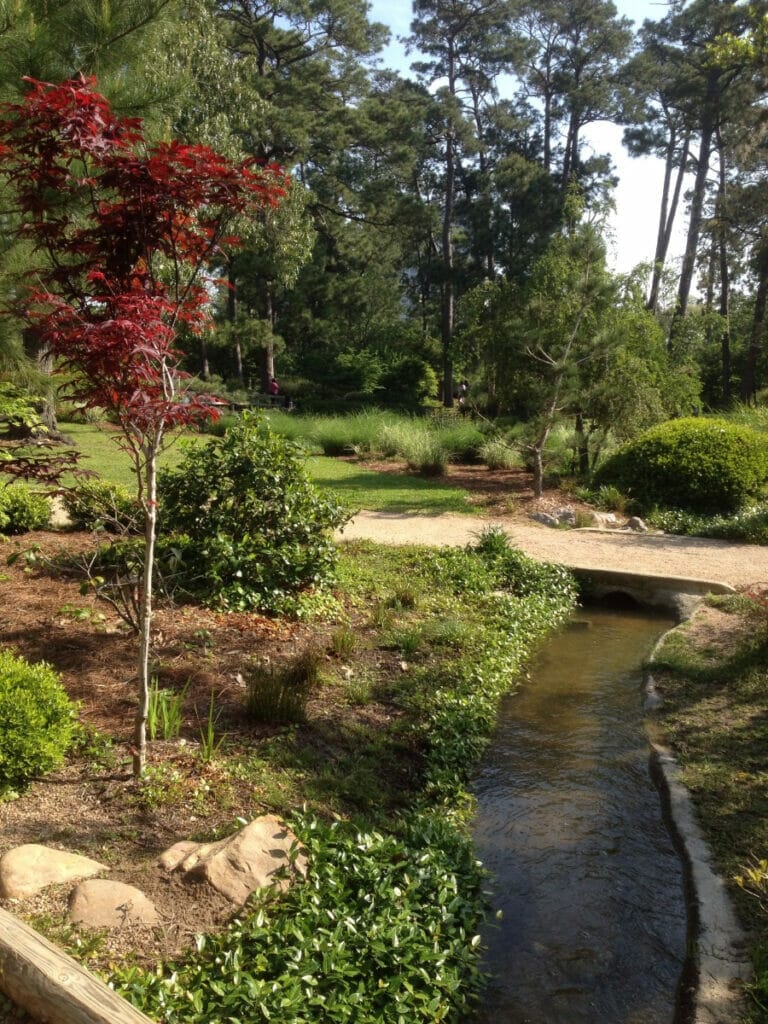 The 5.5 acre Japanese Garden is just a slice of paradise among the larger, biodiverse area that is Hermann Park!
The garden was designed by Tokyo landscape designer Ken Nakajima and opened in 1992 and is known for its waterfalls, bridges, and stone paths that where you can stroll among crepe myrtles, azaleas, Japanese maples, dogwoods, and cherry trees making it the mostful peaceful area of the park.
The entrance to the Japanese Garden is near the Pioneer Memorial obelisk just off Molly Ann Smith Plaza near the Heart of the Park.
When you enter the garden you'll walk through a traditional gateway, with rooms on either side that used to house a ticket booth, utility room, and restrooms.
Pin for Later!