Texas may not be the first place that comes to mind when you're looking to chase some waterfalls, but if you find yourself in the dry heat looking for a place to cool down, this big 'ol state has more to offer than you might expect!
The best waterfalls in Texas offer everything from sweeping views to swimming holes just outside the sprawling city limits (and some even inside, see Mckinney Falls or Airfield Falls).
From challenging hikes with epic rewards like Madrid Falls to more family-friendly adventures complete with a tour guide like Westcave Preserve, Texas has it all!
The key is knowing how to look beyond the rolling hills and desert landscapes for the bright pools of blue (and no, this is not a mirage).
Follow this guide to find hidden gems nestled in state parks, city greenbelts, privately owned parks (open to the public), and even Big Bend National Park!
To be prepared, make sure to check the website for each of these falls before visiting as water levels change throughout the year and many require reservations to provide an optimal experience for all!
Hey! Want more Texas tips? Check out our other expert guides:
GET A

FREE

TEXAS GUIDEBOOK WITH LOCAL TIPS!
With 71 pages of helpful travel tips and the "best of" Texas lists, this is your ad-free key to your Texas trip.
Okay, everyone grab their best vintage Texas tee and let's get going!
1. Gorman Falls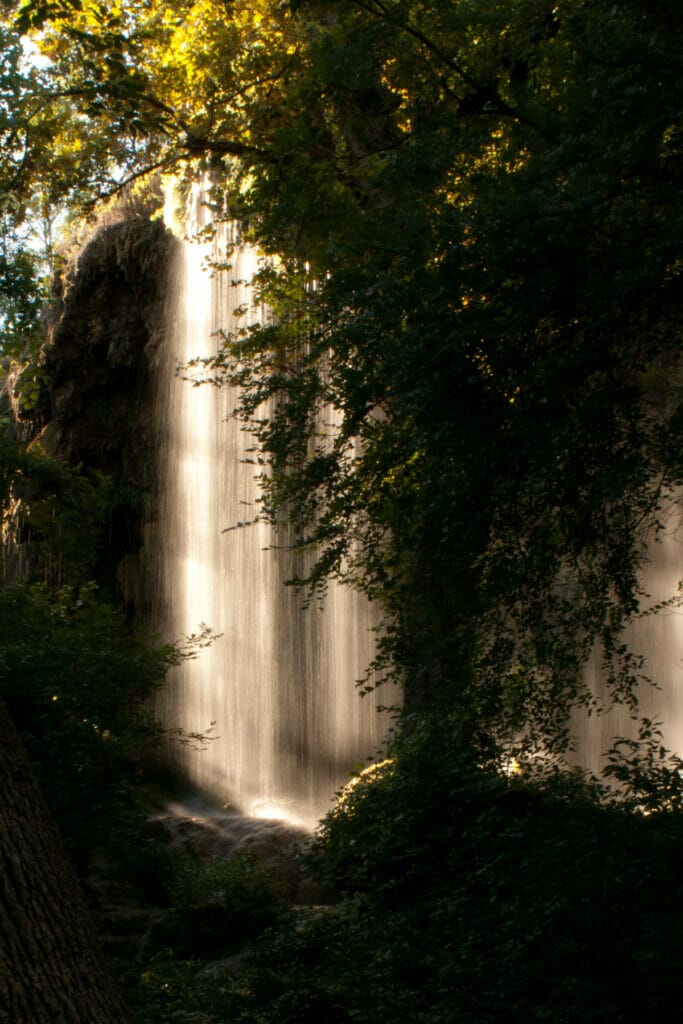 Swap out your cowboy boots for hiking shoes, because less than 2 hours away from the swinging saloons of Austin, TX is Gorman Falls in Colorado Bend State Park.
The park is named for the Colorado River which winds along the eastern border of the park. These 70 foot falls are accessible via a 3-mile round trip hike crossing rough and rocky terrain more suited for intermediate to advanced hikers prepared for the steep decent near the falls (those who have gone before you recommend grippy shoes or hiking poles).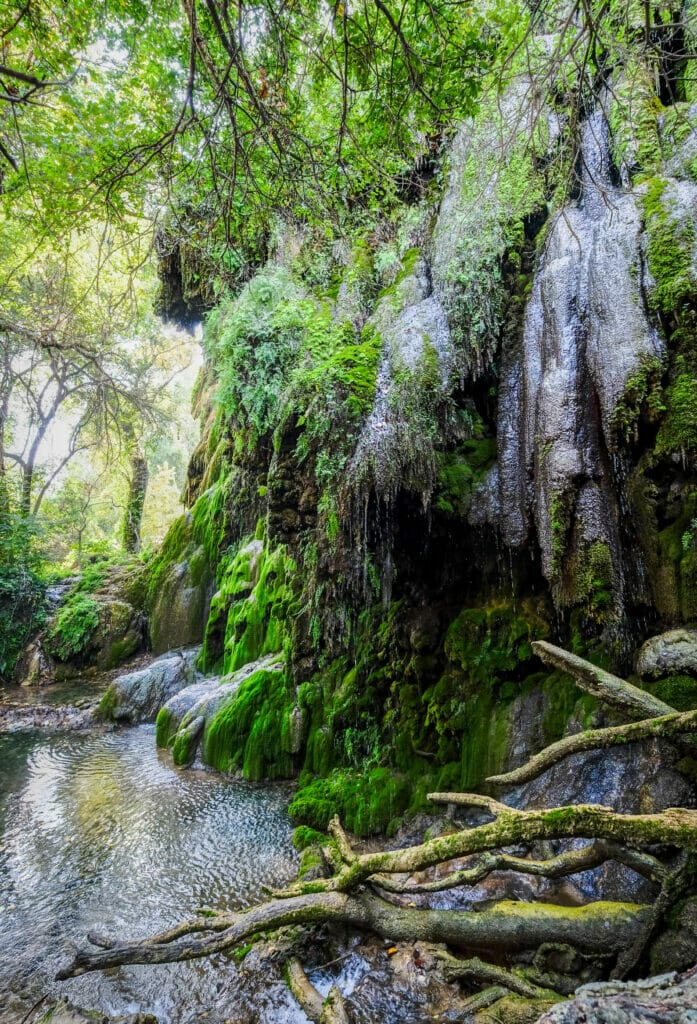 Throughout the hike, you will be enveloped in lush vegetation and surrounded by travertine (a rock formed by the evaporation of river and spring waters) formations making this shady trail an ideal spot for those seeking sun cover during the hot Texas summers.
But, don't be fooled, any hiking in Texas requires preparation – make sure to pack water, sunscreen, and to guarantee entry, reserve a day pass before making your visit!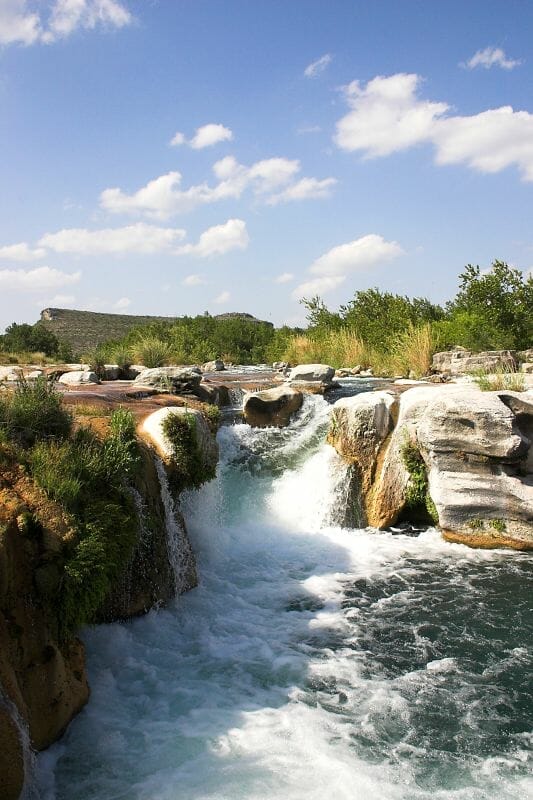 If you're looking for a rugged weekend escape with a secluded swimming spot, a variety of hiking options, and have the time to make the 4 hour trek from San Antonio then Dolan Falls at the Devils River State Natural Area is your destination!
While the Dolan Falls Preserve is closed to the public under protection by the Nature Conservancy, you can experience the wild and wonderful pristine landscape by visiting the natural area which boasts of clear spring-fed waters, wildflowers, canyons, and cacti, LOTS of cacti.
This best Texas falls has options for landlubbers and sea dogs alike.
On land, set out on foot or bicycle to explore one of 4 marked trail or if your up for the challenge, set out towards one of the primitive campsites for a stargazing session that will blow your mind!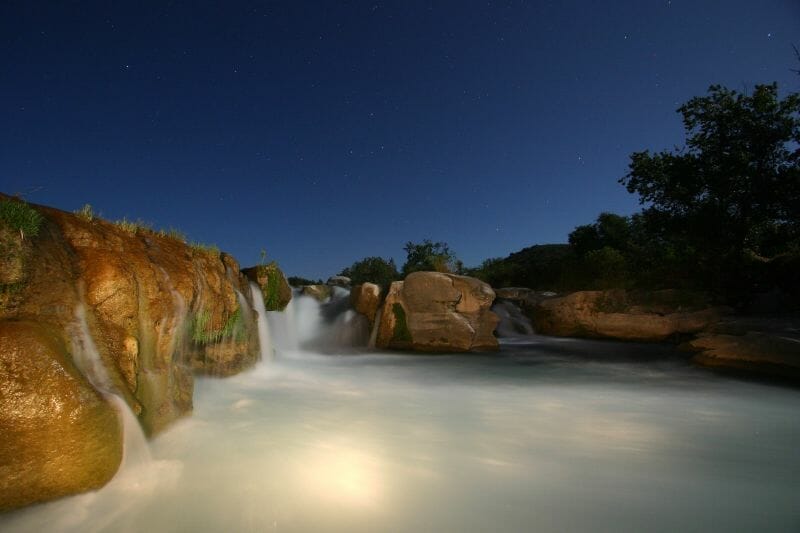 If water is more your thing, swimming, fishing, or paddling are all great options just make sure to check the park site before setting out as reservations are highly recommended and it's a 1-mile hike from the parking lot.
Pack lightly!
3. Cattail Falls
It's time to dust off that National Parks Pass because you're heading to one of the best Texas waterfalls in Big Bend National Park!
Although, being a desert park, nothing is going to stay dust-free for long….
This one of a kind park in West Texas provides dark skies, deep canyons, and if you're up for the 1.5-mile hike, a view of Cattail Falls.
This lesser-known falls sits within the 801,163 acres of land that makes up Big Bend (the 15th largest national park) and is only accessible by following the Cattails Falls Trail that begins half a mile from the parking area along a gravel track.
While there is signage at the entrance of the trail, for the rest of the hike you're on your own as this trek is not marked by the National Parks Service (with the intention to protect the trail by limiting visitors).
This is one of the best day trips in Texas!
4. Pedernales Falls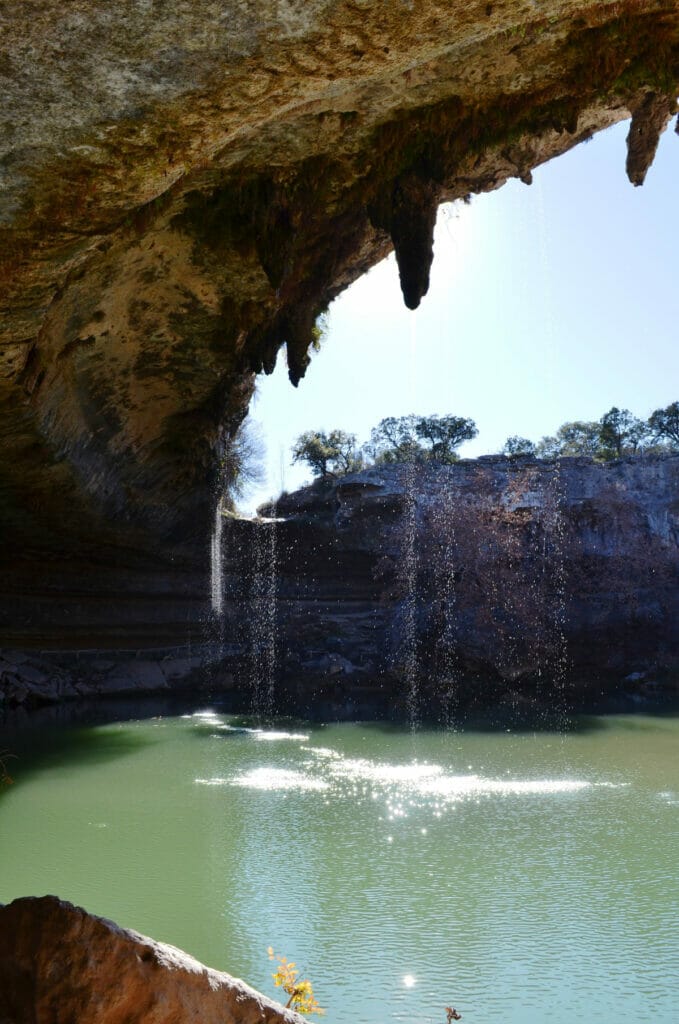 Sitting about equidistance from Austin and San Antonio is the tranquil, rolling waters of the very popular Pedernales Falls State Park (along the aptly named Pedernales River).
It makes for a great Austin day trip!
If it's swimming you're after, it's best to pack your hiking shoes along with your swimsuit as it's a strenous 1/4-mile (or more) hike across steep rocks to the swimming area but promises the perfect destination to cool off when you arrive (just don't forget, you have to make the trek back)!
Swimming is prohibited directly in the falls as the water can go from a drip to downpour in minutes and is best viewed from a distance.
The park often reaches capacity, especially in the blazing hot summer months so be sure to make reservations to guarantee entry.
As the Talking Heads would sing, "Take me to the river! Put me in the water!"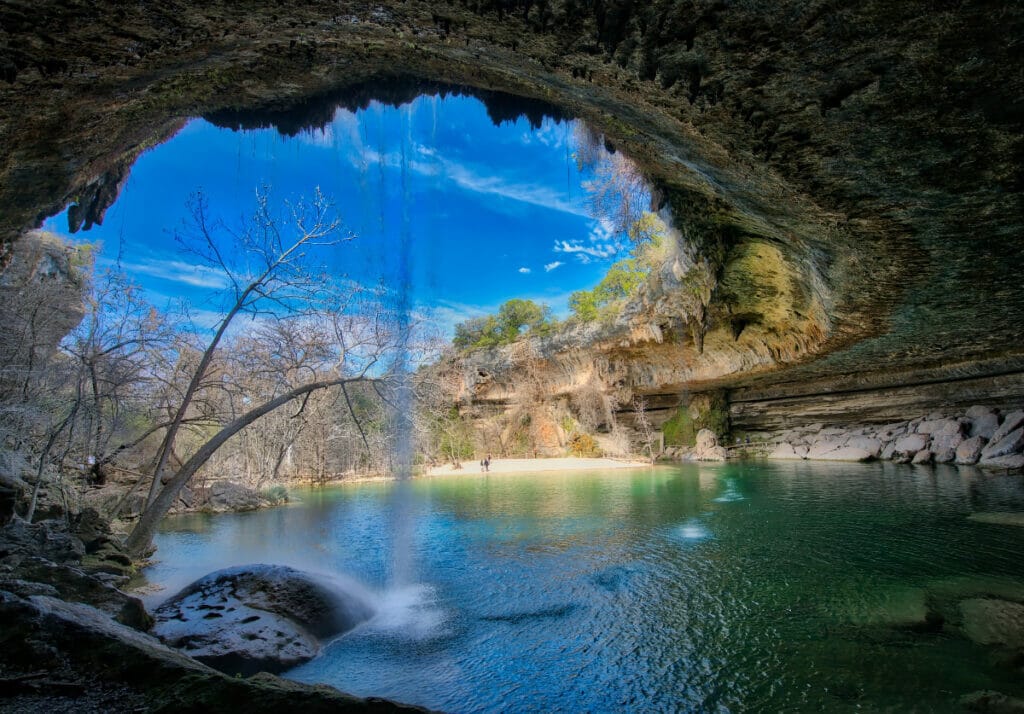 So close to Austin, TX you might still hear the music from the honky tonks sits the Travis County Parks Hamilton Pool Preserve.
This crystal blue oasis looks more like a snapshot out of a guide of Thailand than what you might expect from Texas Hill Country but alas, this crystal blue watering hole is not a mirage!
While currently (Summer 2022) closed to the public, due to falling rocks, this part of the Balcones Canyonlands Preserve (BCP) is typically flocked by folks looking for a place to cool off from the Texas summer heat.
Home to a diverse range of plants and animals (like the Golden-Cheeked Warbler), the preserve creates a safe space for the ecosystem and its inhabitants to thrive just outside the bustling citycenter.
When the preserve reopens for swimmers and hikers on a hunt for the famous waterfall, make sure to book ahead as reservations are required.
The 76-acre Westcave Preserve is a must-visit for families looking for an action-packed adventure with a little bit of outdoor education sprinkled on top.
This preserve is managed by the Westcave Preserve Outdoor Discovery Center which in addition to leading guided hikes throughout the year, also is host to school field trips, self-guided explorations, and a state-of-the-art learning center complete with exhibits!
To see the waterfall, you must pre-book an amazing "Walk Through the Grotto" experience with one of the experienced guides who will take you 30 minutes through a lush canyon to the 40-foot waterfall that fills the grotto pool.
Once at the fall, you'll have 30 minutes to take in the view of the fall, take a deep breath, snap some photos of the fam, and even check out the one-chamber room cave!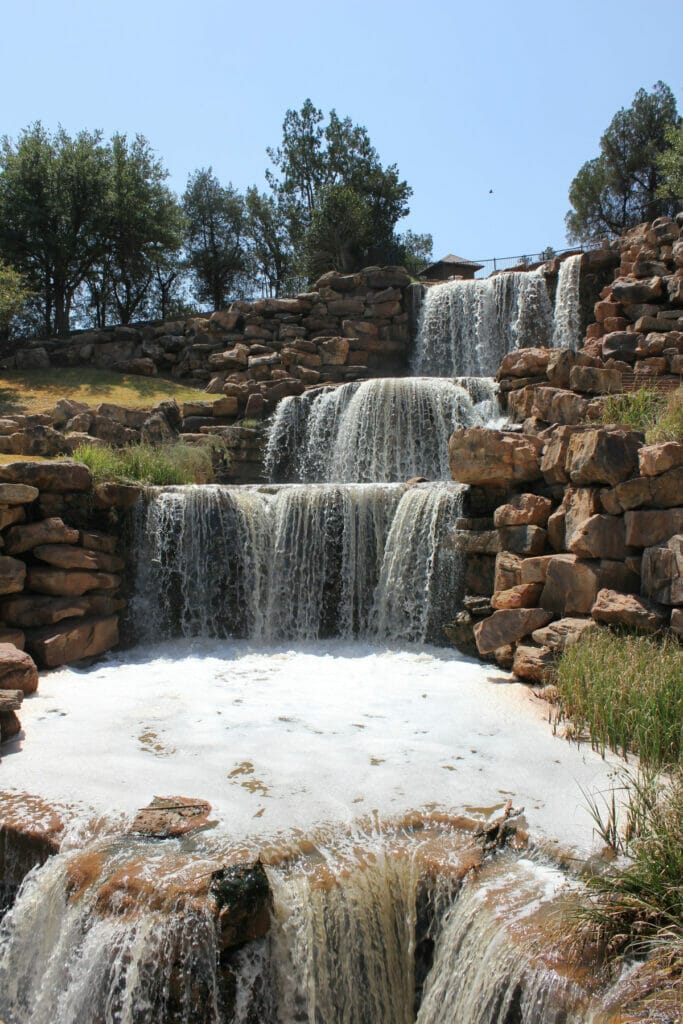 When you find yourself cruising down Interstate 44 in North Texas, make sure to turn your blinker on and pull off at Wichita Falls (also home to Professional Wrestling Hall of Fame and Museum)!
When American settlers arrived in this area in the 1860's this falls were a prominent feature of the landscape and the city itself was named for it but just 10 years later, a massive flood destroyed the water feature.
Have no fear though, just 100 years later, in the 1970's, the waterfall was restored and now stands at 54 ft high and recirculates at 3,500 gallons of water per minute!
The falls themself are visible to south-bound traffic on Interstate 44 but if you're looking for a more natural experience, make sure to visit the nearby River Bend Nature Center which features nature trails and exhibits all about the surrounding area.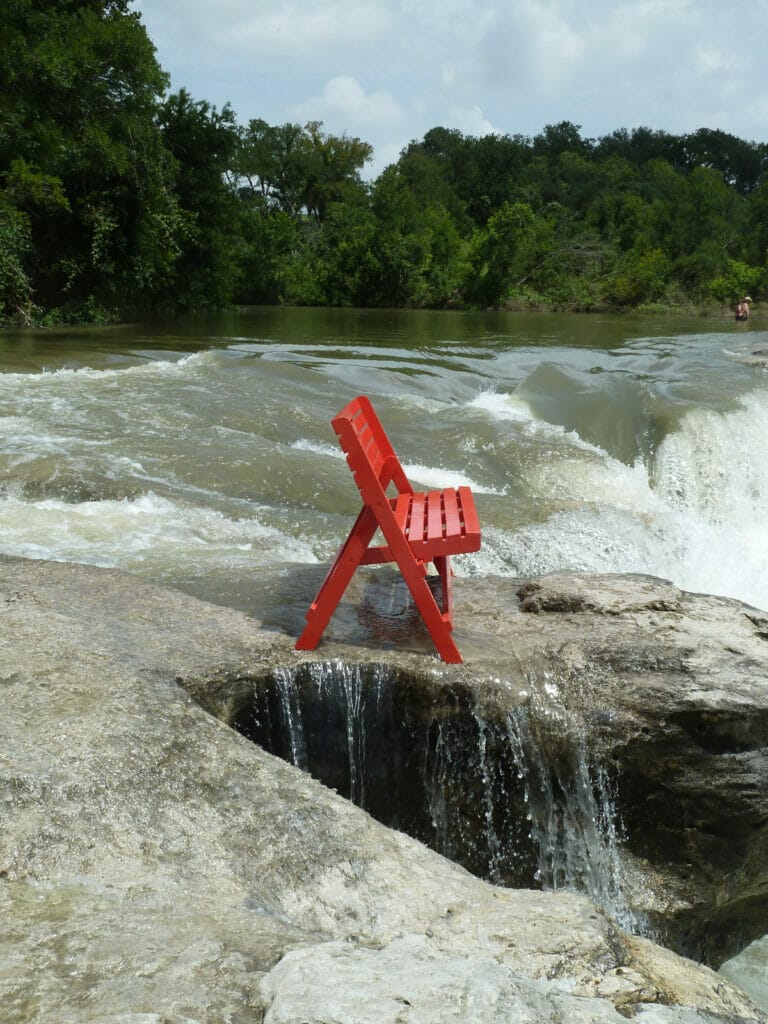 By now you're probably thinking, since when did Austin get so many waterfalls?!
But the truth is, where there are hills, there are probably falls and McKinney Falls State Park sits right in the heart of hill country and within the famous Austin city limits!
Considered to many as Austin's backyard, this park offers 81 campsites, hiking, biking, fishing, swimming, and a visitor center decked out with a a view of the falls!
McKinney Falls is actually comprised of a series of two falls, the upper and lower which are both easily accessible from the main parking areas but to assure you a safe journey, pick up a map from the visitor center.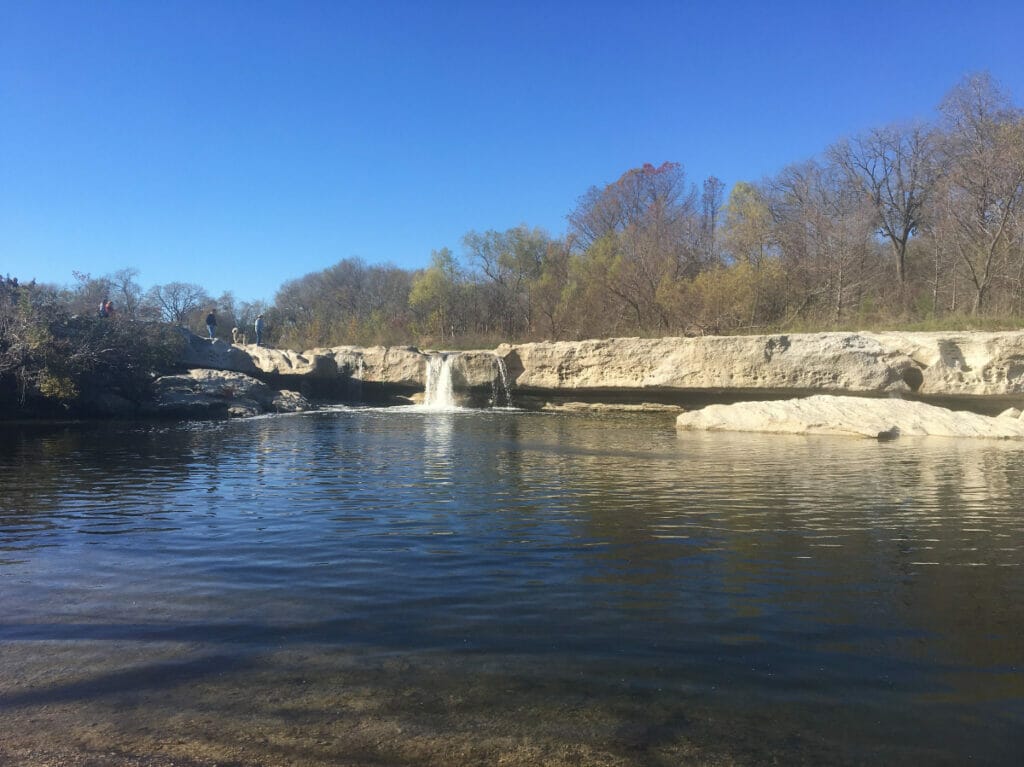 While you're here, you must say hello to one of the oldest bald cypress trees still standing tall for over 500 years (103 feet!) on public land, named appropriately "Old Baldy."
Like many of the parks circling the city center, reservations are highly recommended!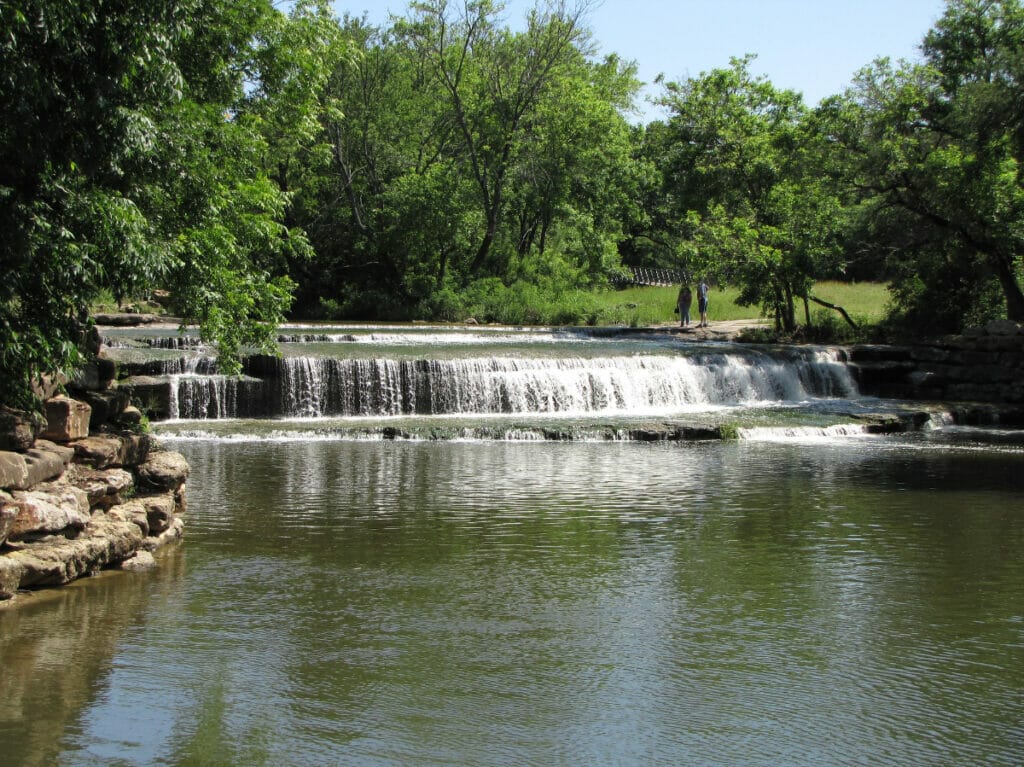 Follow along the Airfield Falls trailhead in Tarrant County, Texas to one of the best Texas waterfalls just minutes from downtown Fort Worth!
The short pleasant walk from the parking lot to the falls sits sits alongside the Naval Airstation that the falls are named for and includes potential for wildlife spotting including butterflies and bees in the spring and summer seasons.
Once you've arrived at the falls, kick off your shoes (or bring water shoes if you have little ones) and get your feet wet in the rushing waters.
While most active after a heavy rain, this hidden gem offers a lively escape from the city while embracing the area's history and nature.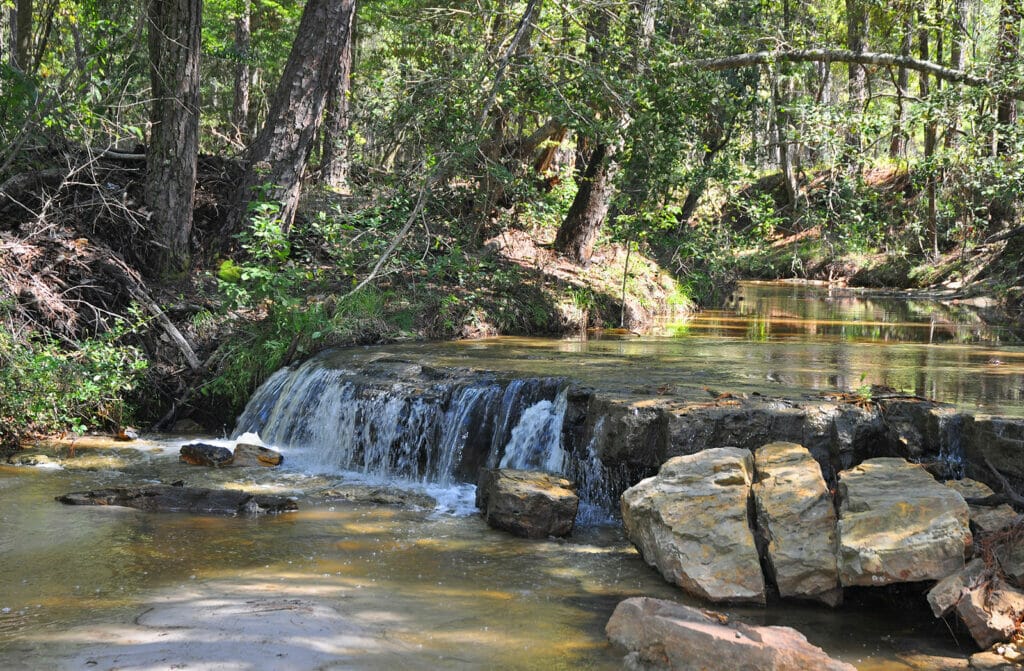 On the eastern edge of the great state of Texas sits the longleaf & loblolly filled Angelina National Forest, one of the four national forests in Texas and a great stop on a road trip in TX.
Between the pines, you'll find Boykin Springs, a hot spot (or a rather cool one, temperature wise), for picnickers, hikers, and swimmers alike.
Cannonball straight into the manmade spring-fed lake (all thanks to the 1938 Civilian Conservation Corp) or ease yourself in from the white sandy beachlined edge.
PS – if you're really interested in Texas lakes, check out our guide to the best Texas lakes here!
If you decide to take a hike around the recreation area, you'll find fun bridges to cross, an old saw mill, and for the history buffs, even an small confederate cemetery!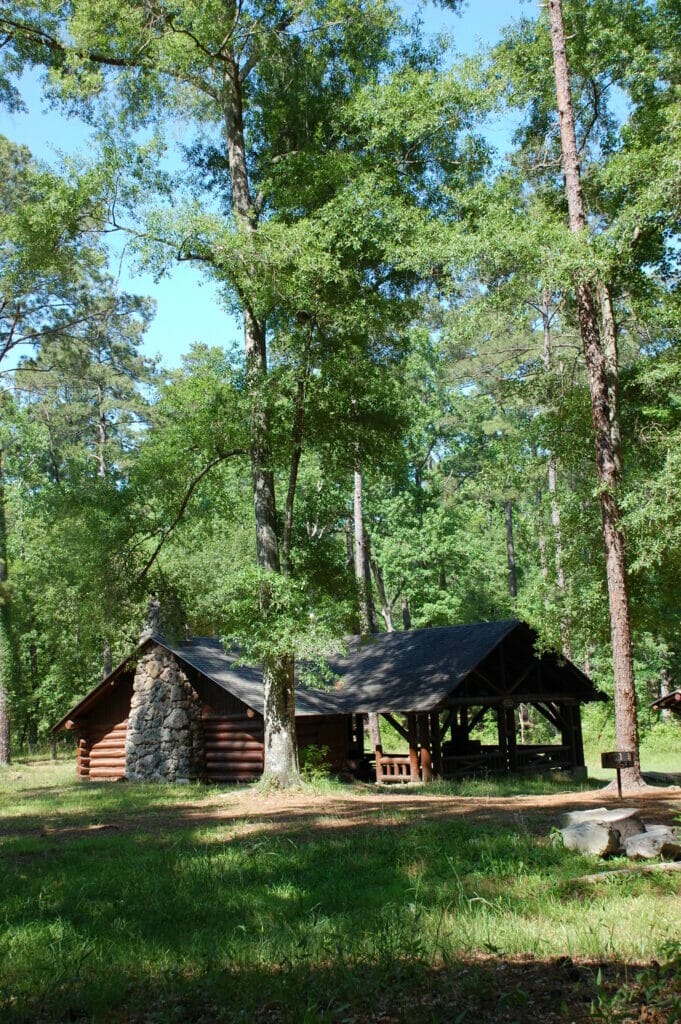 With both a campsite and day use area (one of the best camping spots in Texas,) you have the option to pitch a tent and stay over night after making the 4 hour drive from the Dallas area just make sure to put "Boykin Springs Recreation" into the search so you make to the right destination.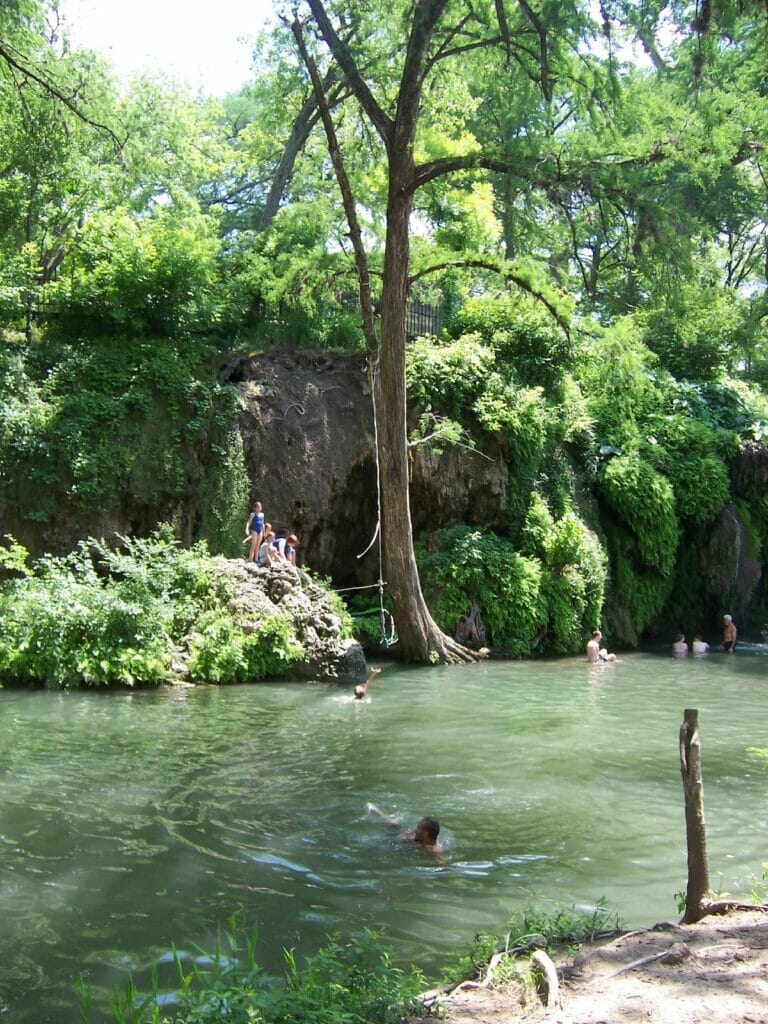 This privately owned oasis just 30 miles west of Austin promises cool, spring fed 68° waters even during the harshest droughts year round (although do check before you go as they often close for maintenance/holidays in the winter months).
With THIRTY-TWO (and no, that's not a typo!) natural springs on site and a manmade pool, there are plenty of options for campers and day use visitors looking for a place to relax and cool down (although there may be a rope swing, for the more adventurous types).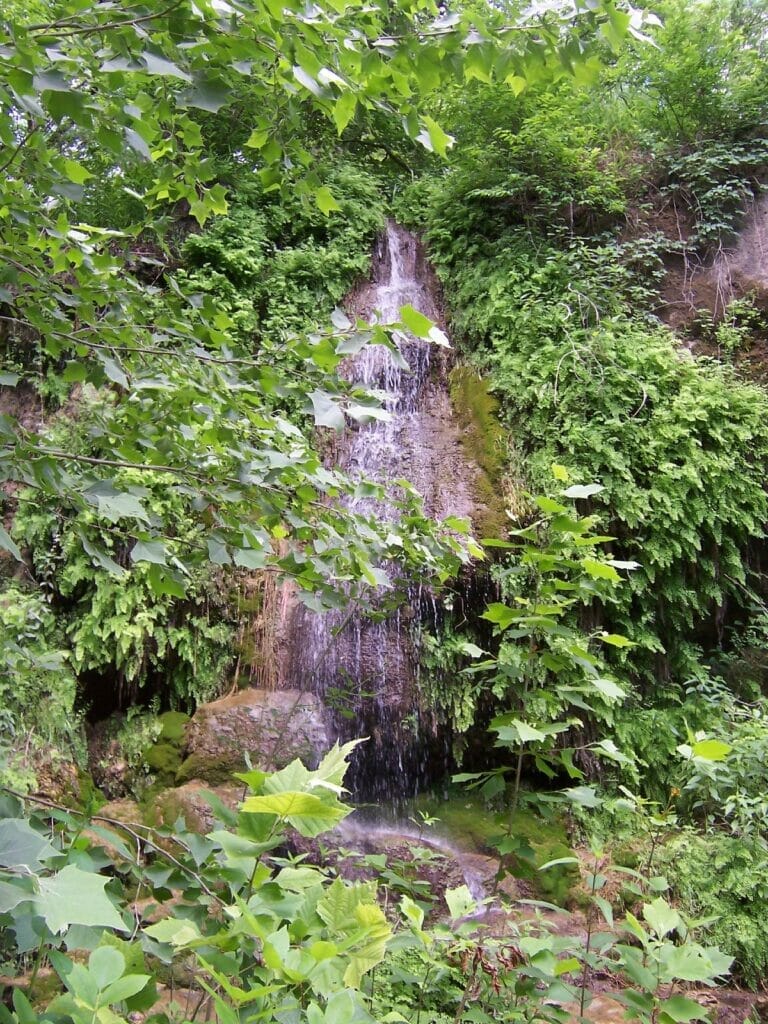 Owned by the Krause family since 1955, this recreation area has been built to perfection including a butterfly garden, lots of picnic areas, a large pavilion available for reservation and even RV sites.
If it's a well-curated natural area with lots of amenities you're looking for, look no further than Krause Springs!
12. Twin Falls & Sculpture Falls
If you find yourself in the heart of Austin (one of the best places to see in Texas) looking for a city escape, hop on the Barton Springs Greenbelt and head south towards the Twin Falls & Sculpture Falls.
Best visited after a rainy season (these falls have been known to dry up in drought season), these falls offer a unique view at the end of a pleasant walk along the trail.
You'll arrive at Twin Falls first where the water often gets deep enough for you to jump in from the upper edge into a deeper area below the falls.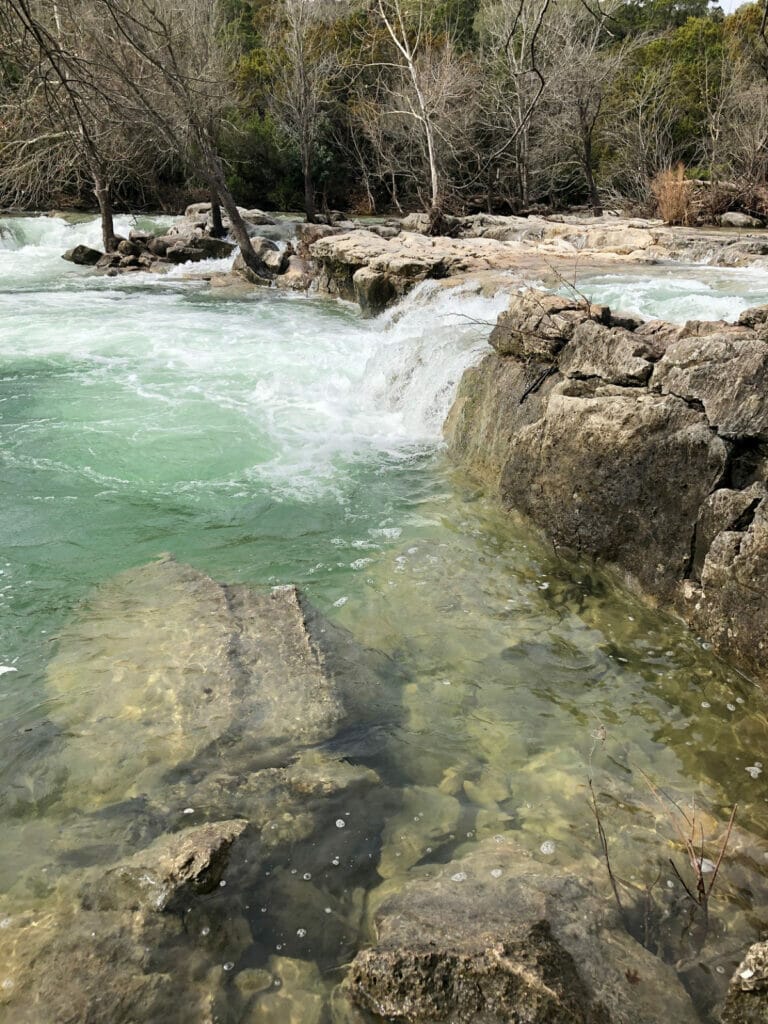 If one waterfall (technically two, since there is a twin) isn't enough, you can continue down the path another 20-30 minutes to Sculpture Falls where you'll discover an even deeper swimming hole complete with a rope swing (and likely less people).
Despite the trail and the falls being a popular place for locals, because the trail is so long with lots to see along the way, you can certainly find a more secluded spot if that's what you're after!
13. Madrid Falls
Attention thrill seekers and experienced hikers only!
Madrid Falls, the second tallest waterfall in the state of Texas (the first tallest is Capote Falls and is not accessible to the public), is nestled in the canyons of Big Bend Ranch State Park and sits at 100' tall.
The difficult to navigate terrain surrounding the falls makes it often left off of the radar but for those with the stamina to seek it out will be met with a breathtaking view unlike any of the other best falls in Texas!
14. Big Joshua Creek Falls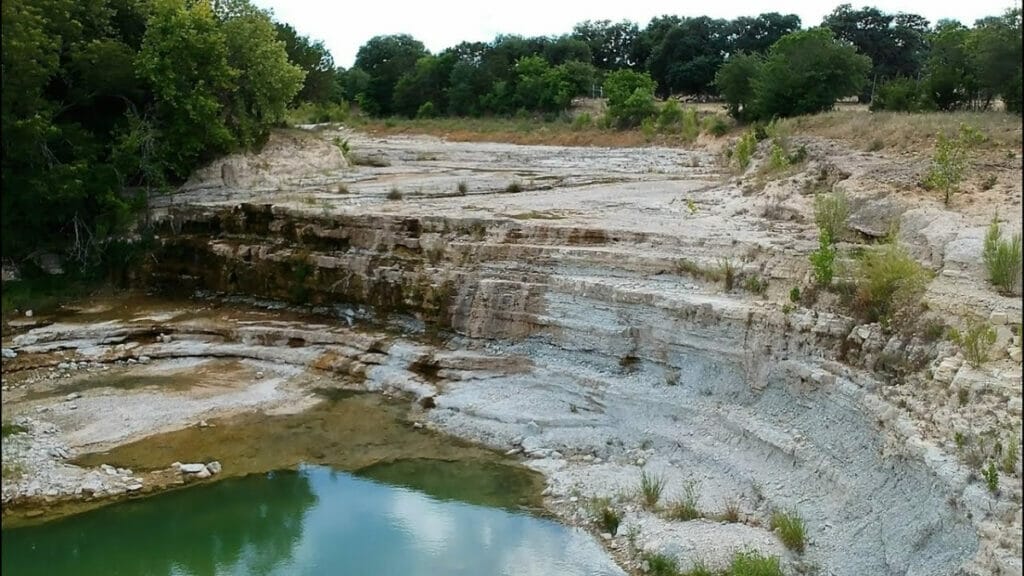 The falls at Big Joshua Creek in Comfort, TX are temporarily blocked off, but you can easily see them from the highway on FM 289!
This is a perfect stop to make on your way to Joshua Springs Park & Preserve, which is located just two miles south of the falls.
At the preserve, you'll find a large picnic pavilion with a basketball hoop, clean public restrooms, and a playground – perfect for a family day in nature!
Take an invigorating walk on the well-marked hiking trails, cast a line off one of the fishing piers, or do some bird watching in the park's wildlife observation blind.
15. Chalk Ridge Falls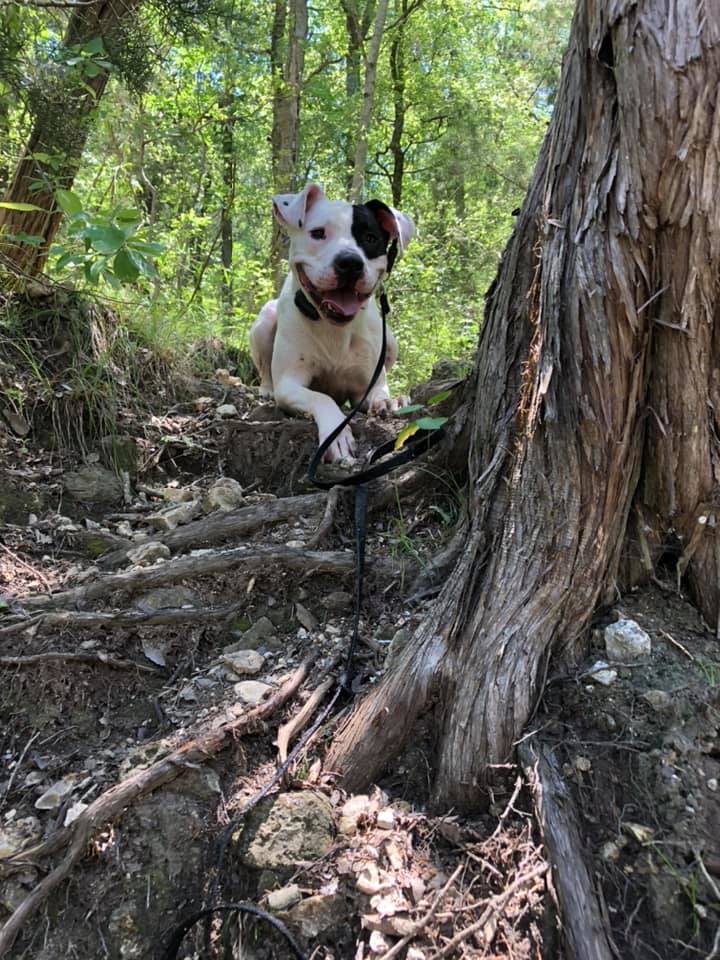 The small but beautiful waterfall tucked away in Chalk Ridge Park is truly a hidden treasure!
But don't worry, it's not too hard to find.
Take the main trail from the parking lot, then take a left at the bench, followed by another left at the next divide, which will bring you to the falls.
Unfortunately, these beautiful falls require stairs to reach and are not accessible for those who use wheelchairs.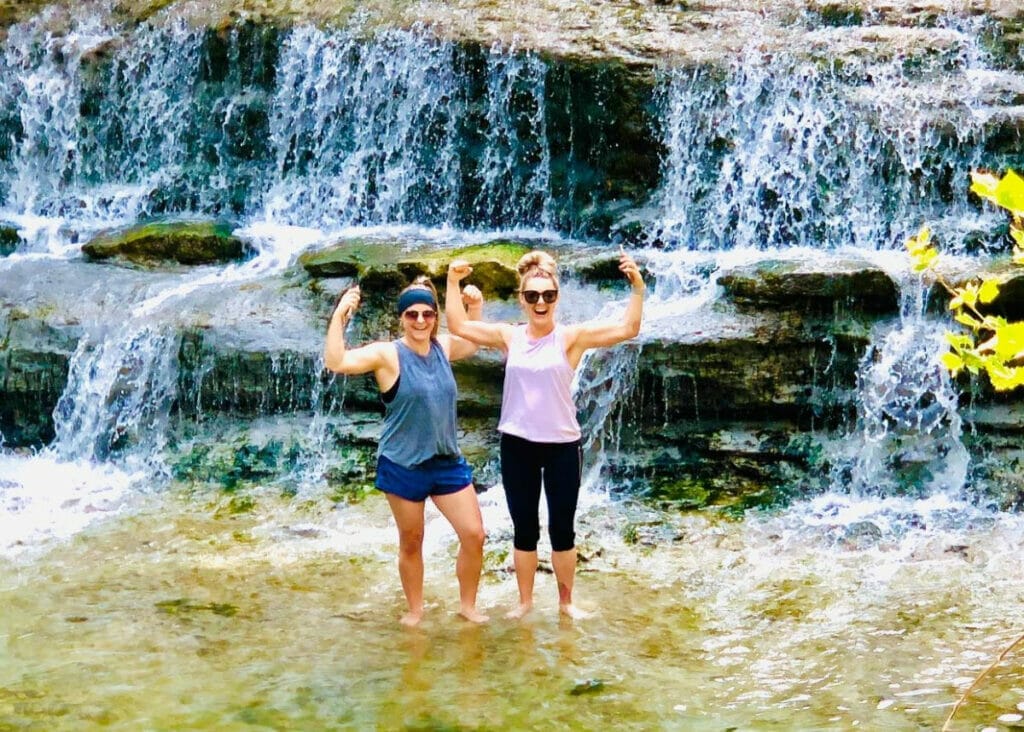 The park also features several bridges, including a suspension bridge that little ones will love to scare their parents on by making it shake about.
Note: the public restroom leaves much to be desired – best to go before you get there, or bring your own sanitation products!
Also, keep an eye out for snakes!
16. Falls Creek Waterfall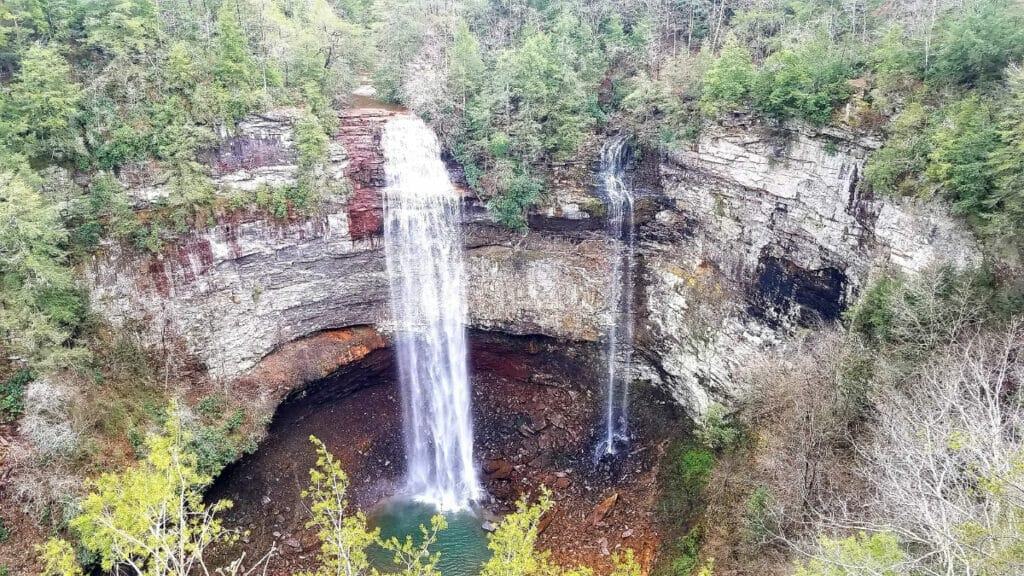 You'll need a boat, canoe, or kayak to access the stunning overhead falls in Tow, TX.
Just over 3 miles from the docks at Cedar Point Recreation Area, the Falls Creek Waterfall is one of the most beautiful hidden gems in Texas waters.
Once you get there, feel free to jump into the lake and splash around under the falls!
These falls will be at their most scenic after a heavy rain, so plan your trip accordingly if you want to paddle under a refreshing waterfall.
Note: it may be too shallow in the driest part of the summer months to navigate your vessel through the waters. Aim for a spring or autumn trip to get the most out of it!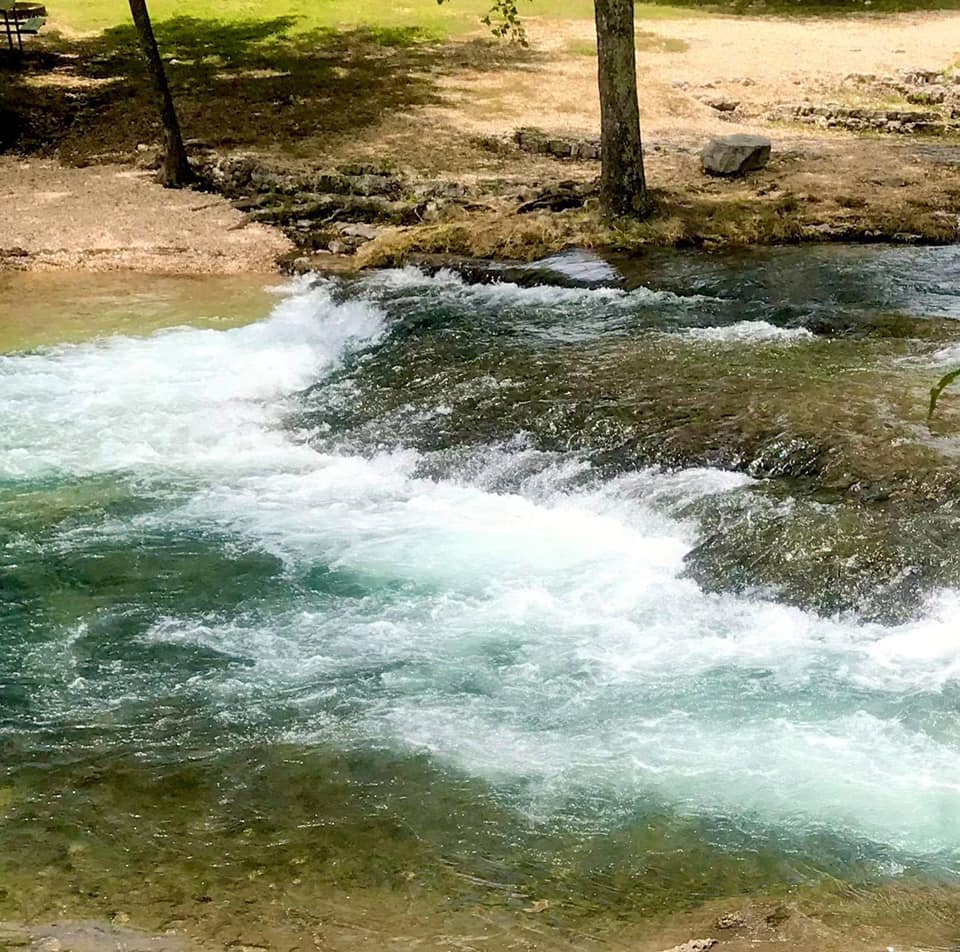 Less than 30 miles from Austin, in Georgetown, TX, you'll find Blue Hole Park.
This public park is free to enter and features walking trails, picnic areas, public restrooms, and a wading area.
The falls, or "cliffs" as they are called, aren't very tall… but they impressively span the width of the swimming area, which adds to the park's scenic setting.
Although the City of Georgetown has outlawed jumping or diving from the cliffs, they still serve as an excellent backdrop amongst parkgoers.
This popular local park can get pretty busy in the afternoon, so head over in the morning for a refreshing swim before having a picnic when the crowds show up.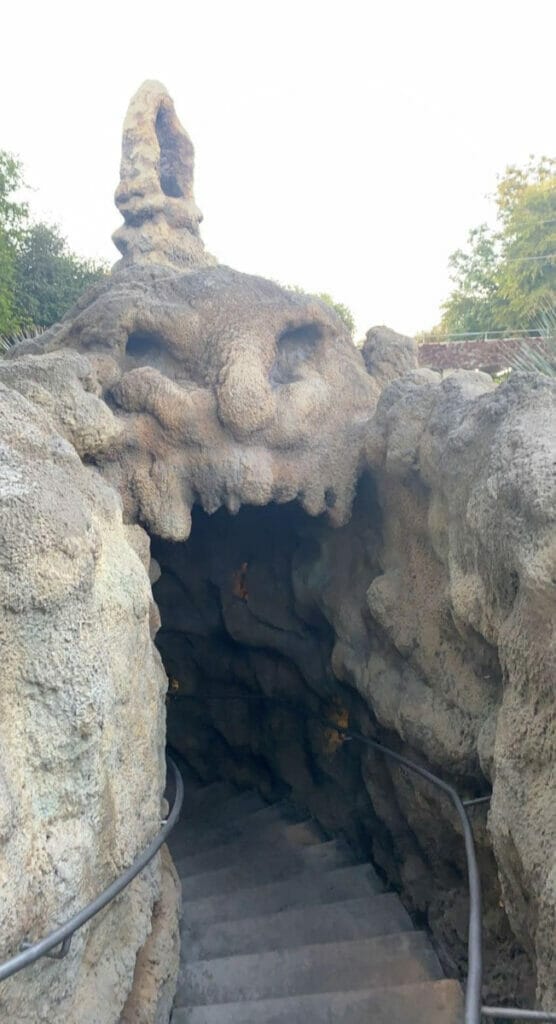 For an altogether different experience, check out The Grotto in downtown San Antonio!
This constructed old-timey cave features stalactites, carved faces and figures, and a small waterfall inside, with a face carved from stone at the top where the water emerges.
It's pretty cool!
…Or maybe a little disturbing, depending on your tastes.
This unique art installation is located along the River Walk – a special attraction in itself – between Newell Avenue and Camden Street.
Looking for something a little more modern?
Check out the next item on the list!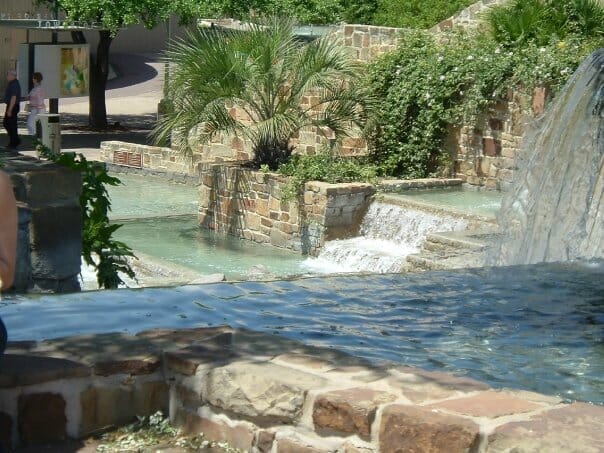 Also in downtown San Antonio, Hemisfair Park features several waterfall-like fountains, which create a beautiful backdrop in this popular public park.
Take a walk through the park, which circles around the 750-foot-tall Tower of the Americas, or relax on a bench and listen to the sound of the flowing water.
If you want to go up to the tower's Observation Deck, consider dining at the bar or restaurant to avoid having to buy a ticket.
In addition to the scenic fountains, the park offers local eateries, accessible playgrounds, picnic tables, public restrooms, and fun games like chess, cornhole, ping pong and more!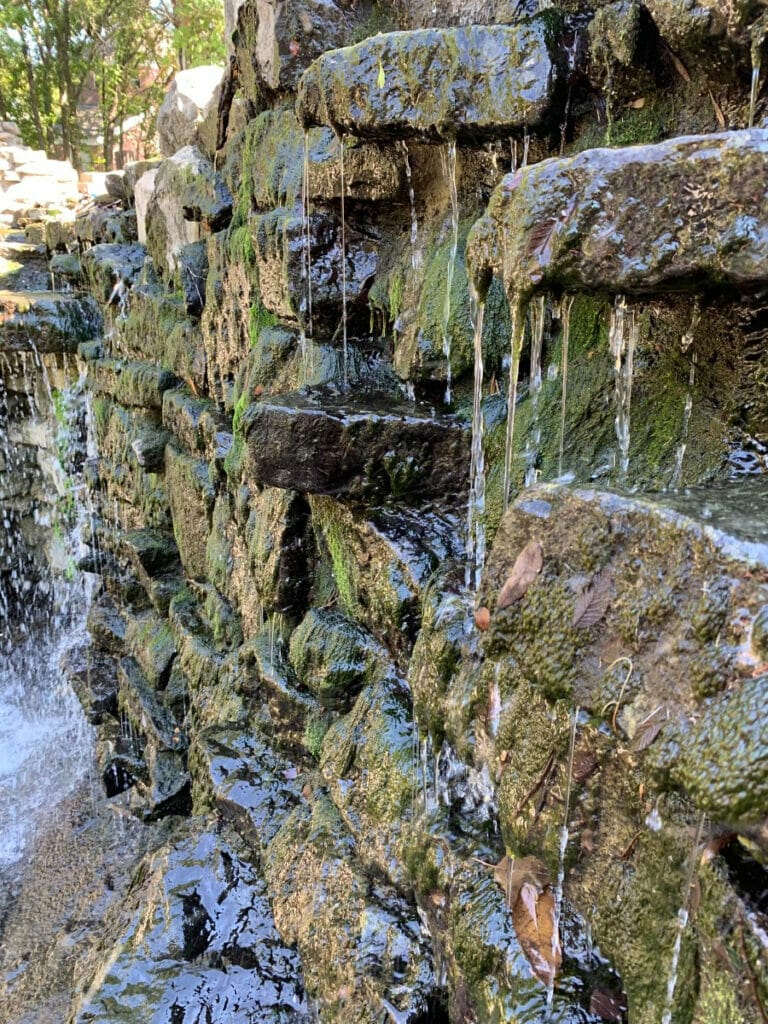 The beautiful waterfall at Prairie Creek Park is just one of the things that make this serene park worthwhile.
Located in Richardson, TX, just a half hour's drive from Dallas, this public nature park spans 37.2 acres and features wooded trails, picnic areas, and, of course, the waterfall.
Huck Finn trail will take you on a beautiful shaded walk through a diverse forest of trees, right along the creek.
Take a walk across the park's bridge, where you're likely to find groups of turtles swimming underneath.
There are no public restrooms in the park, so remember to go before you get there!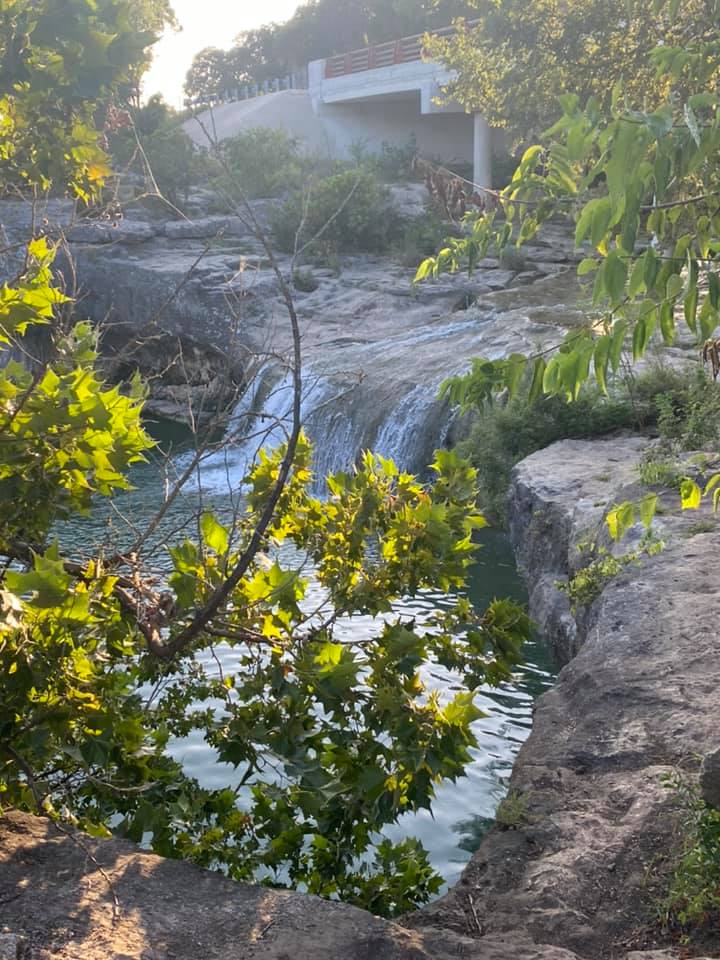 A hidden gem in the small Texas town of Crawford, Tonkawa Falls is a public park that features RV parking, campsites, picnic areas, and a 15-foot waterfall under an overpass.
The waterfall pours into a swimming area, where locals and travelers alike enjoy a scenic swim.
There is no lifeguard on duty, and the falls can be dangerous for young children who might slip and fall from the top – be sure to keep an eye on them and remember safety first!
Due to water levels, swimming is sometimes prohibited by the local authorities.
Check the park's Facebook page to stay updated on when you can splash around under this Texas waterfall!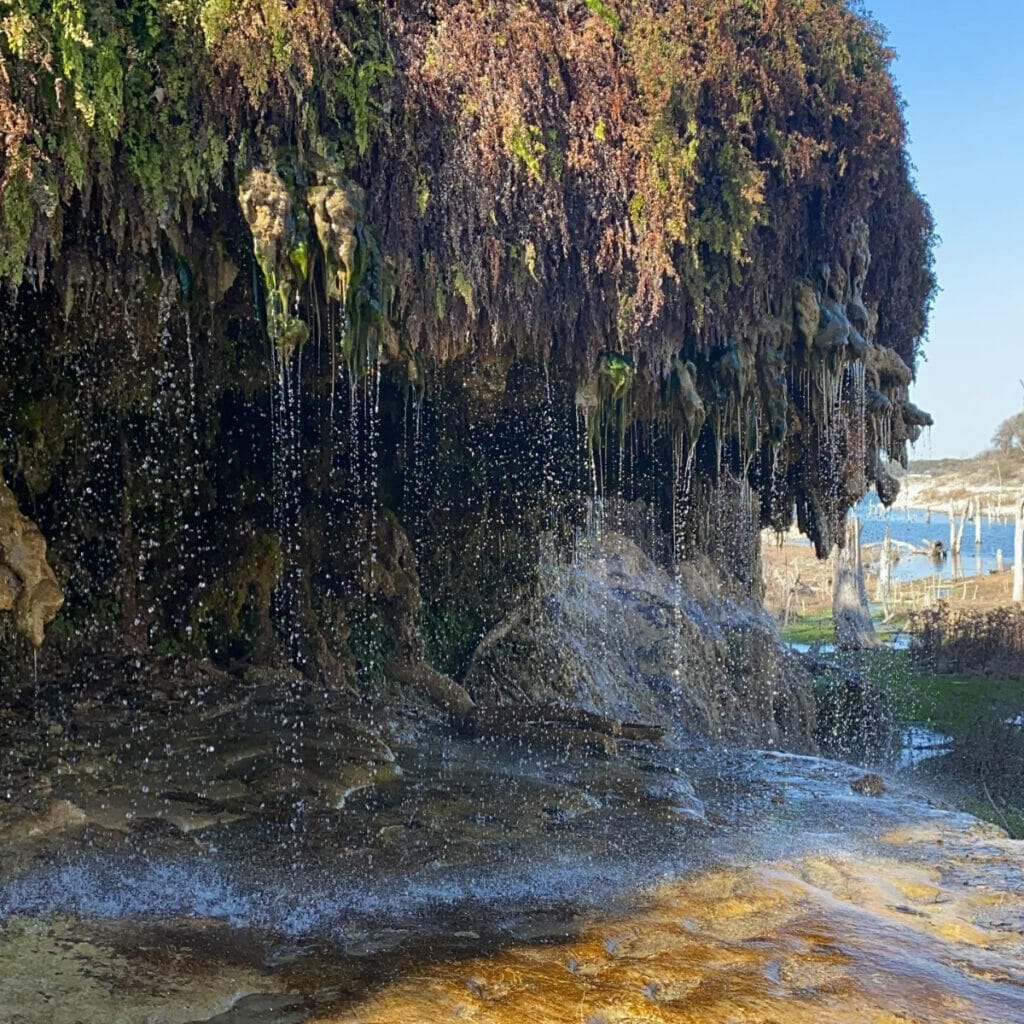 Georgetown, TX is home to a beautiful nature park and a hidden waterfall.
Crockett Garden Falls pours from an alluring canopy of greenery into a small, rocky beach.
To get there, you'll start in Cedar Breaks Park, which features camping sites equipped with electricity, water, and even hot showers!
Whether you're camping at this highly rated park, or just visiting for the day, you'll definitely want to see the waterfall at the end of the San Gabriel River Trail.
It's about a 2.5 mile hike from the start of the trail to the waterfall, so be prepared with some good walking shoes and plenty of water!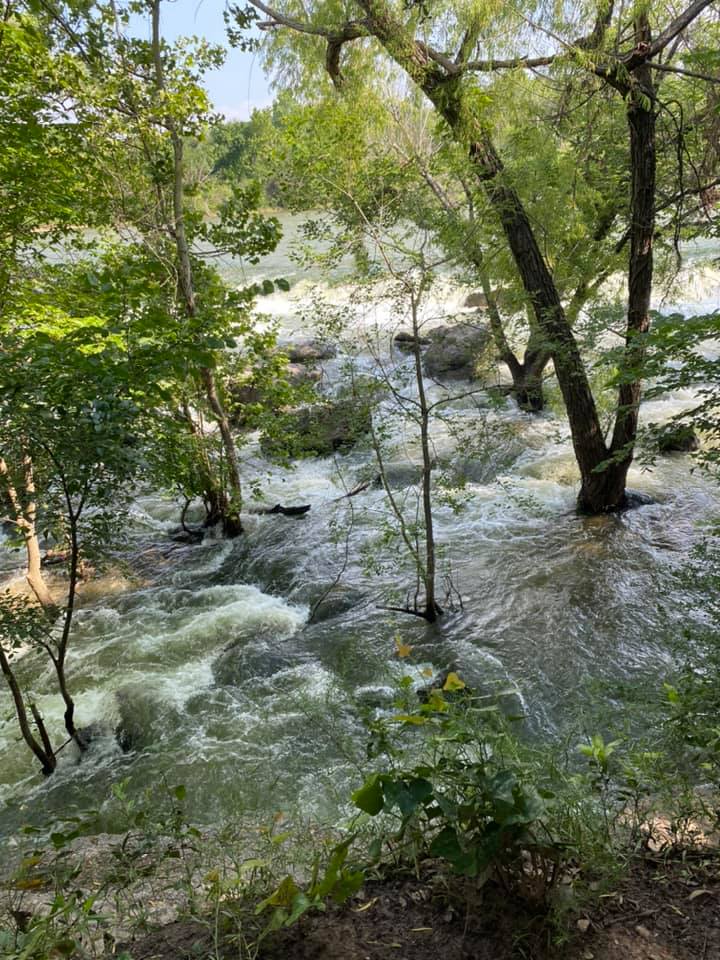 Marion Sansom Park in Fort Worth, TX doesn't just have beautiful wooded hiking and biking trails – there's also a scenic waterfall!
The trek down to the falls is a pretty steep one, so bring good hiking shoes and be careful not to slip!
Due to frequent fishing and somewhat murky water, it's not the best area to go for a swim.
But the falls make for a beautiful backdrop to enjoy a picnic, or to kick back on a large rock and listen to the sounds of nature!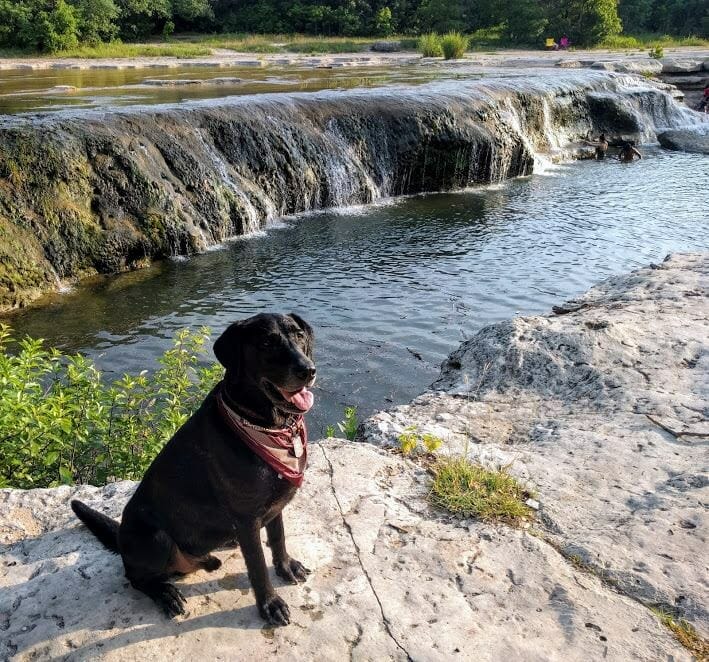 In Austin, TX, about 10 miles from downtown, you'll find Bull Creek Park.
This beautiful nature park is full of rocks, trees, water, and hiking trails.
Link Falls is a popular destination for all sorts of nature lovers – from families with kids, to dog parents, solo hikers, couples… Everyone will have a blast at this scenic swimming area!
It's about 2.5 miles roundtrip from the entrance of Bull Creek Park to the falls and back, and there are some tricky parts of the hike where you'll need to be able to navigate around rocky areas and shallow waters.
Bring your best (waterproof!) walking shoes!
25. St. Edward's Park Falls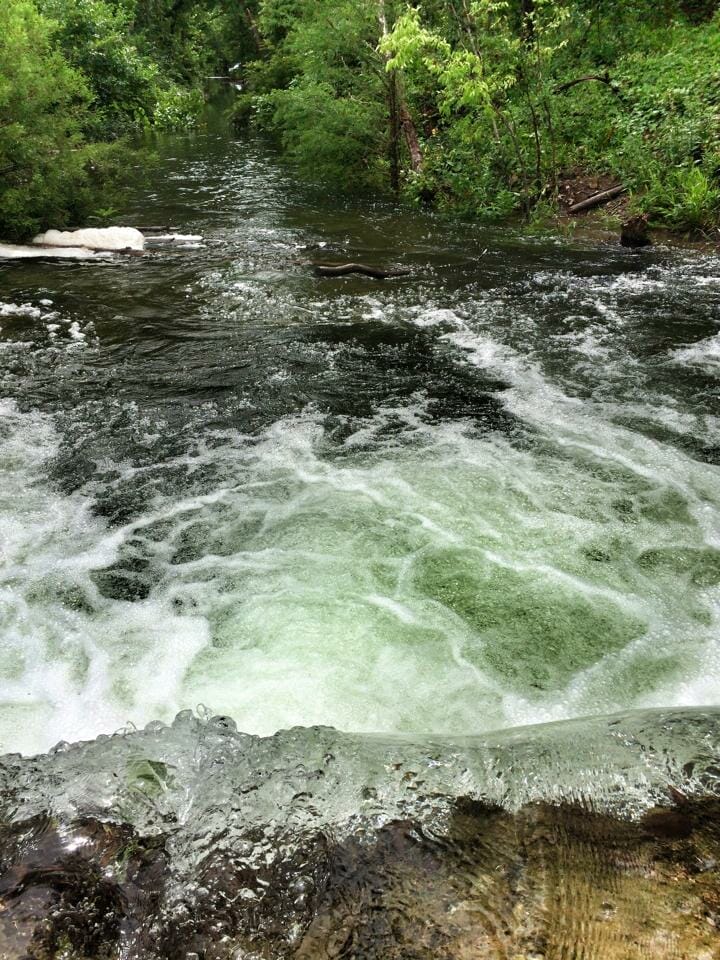 Also in Austin is St. Edward's Park, where the small waterfalls throughout the park add to its scenic charm.
This 80-acre park is full of beautiful greenery, serene waters, and features dog-friendly trails – your furry friend will love it!
Important Note: Though this park is revered for its beauty, there have been reports of car break-ins in the parking lot.
Be sure not to leave any valuables in your car, or consider parking elsewhere and either biking or taking an Uber or Lyft to the park.
In fact, there's another hiking area about a mile and a half north of the park, called Spicewood Valley Trail.
It might be a good idea to park on the side street there, then enjoy both parks – there's a small waterfall on the Spicewood Valley Trail, too!
Pin for Later!