As the second largest state in the US, Texas has it all.
Deserts, mountains, beaches, big cities, small towns – there is so much to explore in the best places to visit in Texas!
World class museums in Texas, historical sites, and beautiful parks are all waiting for you.
Love shopping?
Whether you love antiques or designer clothes, there's something for everyone.
Or take in one of the many sightseeing tours from wine tasting to ghost tours to a tour of NASA's space center.
And Texas is all about that food.
Indulge in everything from BBQ to Tex-Mex to Texas sheet cake (and chili…so much chili).
Now let's explore some of the must-see places in Texas, from Abilene to Austin.
Hey! Want more expert tips on Texas? Check out our other guides!
GET A

FREE

TEXAS GUIDEBOOK WITH LOCAL TIPS!
With 71 pages of helpful travel tips and the "best of" Texas lists, this is your ad-free key to your Texas trip.
Our favorite San Antonio hotel: St. Anthony Luxury Hotel
Our favorite San Antonio VRBO:
Our favorite San Antonio tour: The Ultimate San Antonio Food Tour
San Antonio is one of the must see places in Texas and best Texas day trips.
It's the 7th largest city in the US and home to the Alamo, SeaWorld, and the River Walk.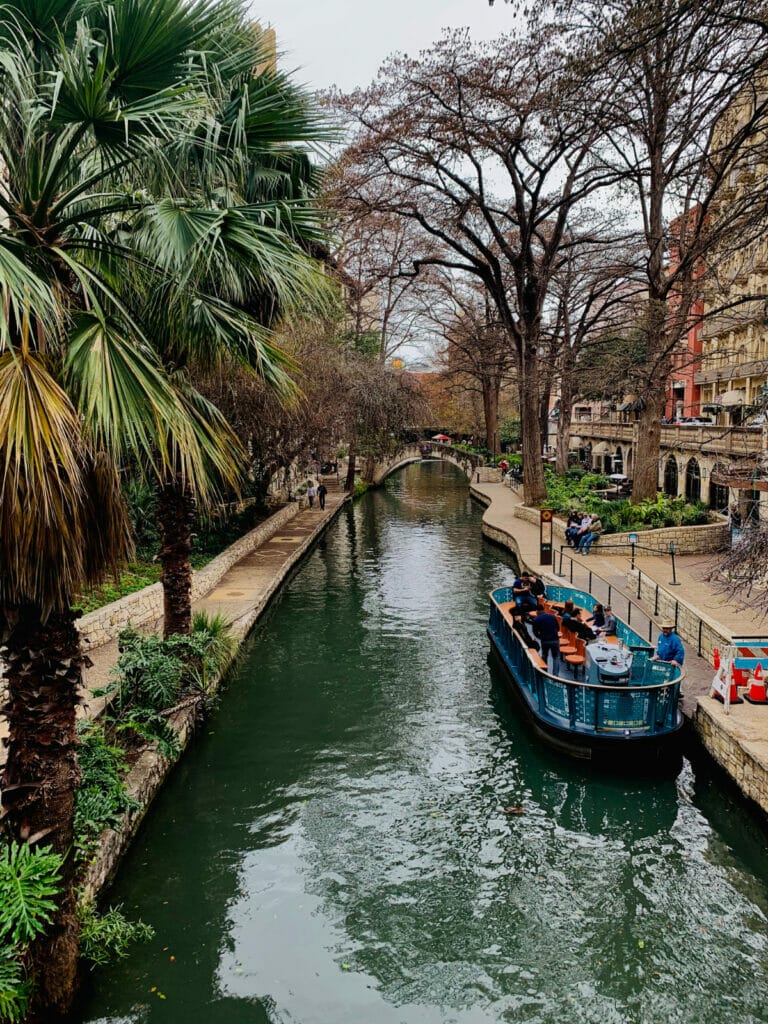 Entertainment, shopping, beautiful landscape and architecture, history, culture, and food (make sure you try a puffy taco!) are all front and center.
History buff?
Take a self-guided walking tour through the four Spanish colonial missions.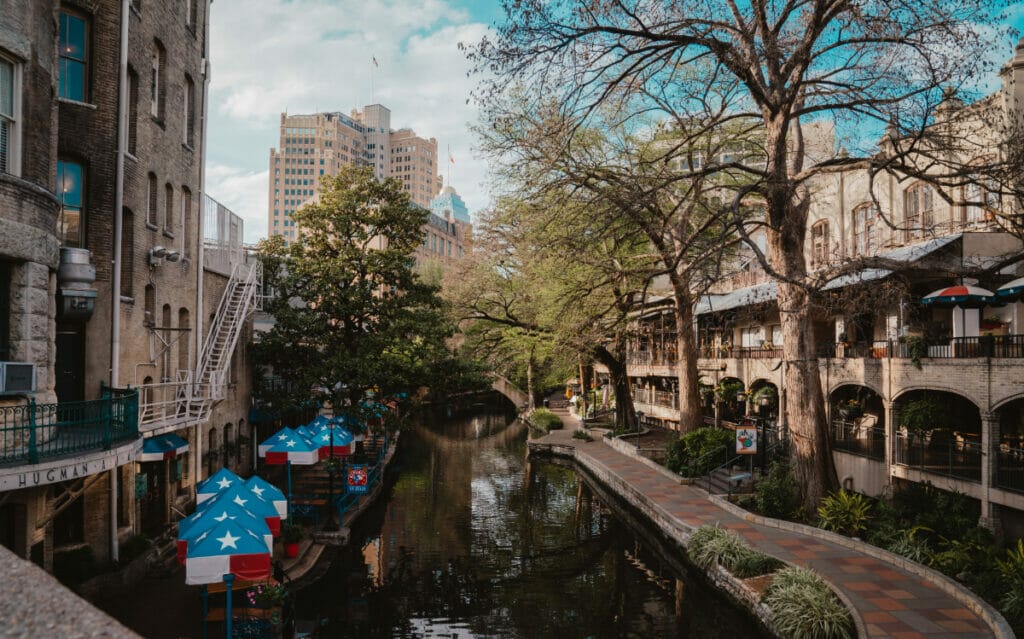 Be sure not to miss the Alamo and its stunning gardens!
Or head over to La Villita Historic Arts Village and step back in time as you shop, eat, and explore 300-year-old architecture.
San Antonio is easily one of the best vacation spots in Texas for families!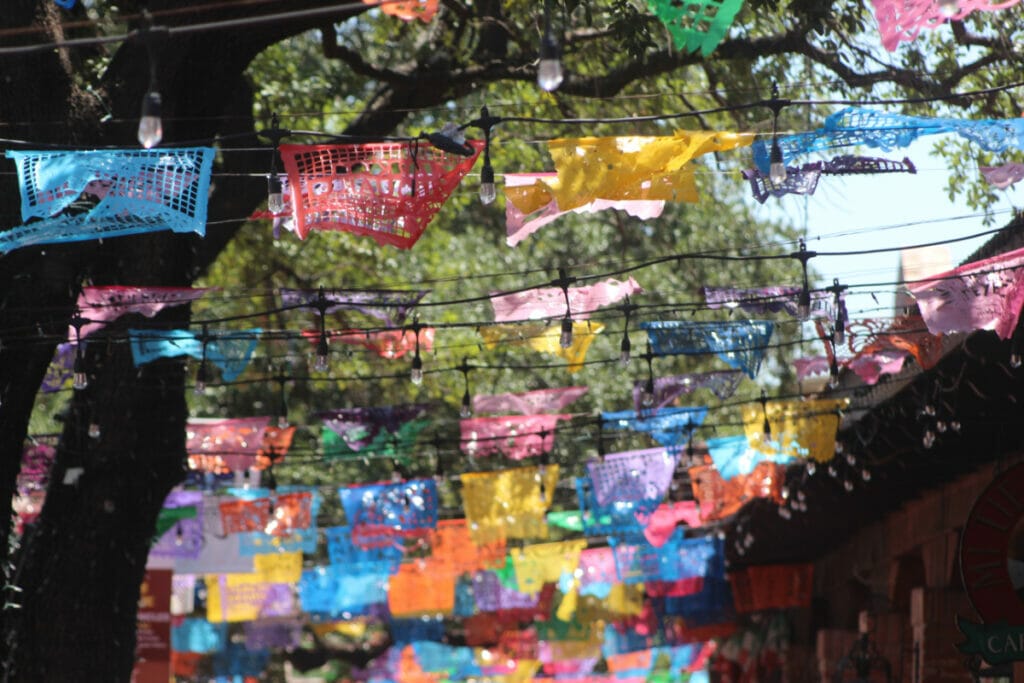 Six Flags, zoos, museums, water parks, and SeaWorld are just some of the reasons it's one of the most fun places to visit in Texas.
2. Austin
Our favorite Austin hotel: Omni Barton Creek Resort & Spa
Our favorite Austin VRBO:
Our favorite Austin tour: Double-Decker Austin Sightseeing Tour
Being the "live music capital of the world" easily makes Austin one of the coolest places to visit in Texas.
Coffee shops, food trucks, ghost tours, murals (take the mural selfie tour!), record stores, and one of a kind shopping all add to the artistic charm of the city.
Love music?
Experience the live music crawl or go two-stepping at one of the dancehalls.
Spend time on Sixth Street and take in bands or see a movie at Alamo Drafthouse.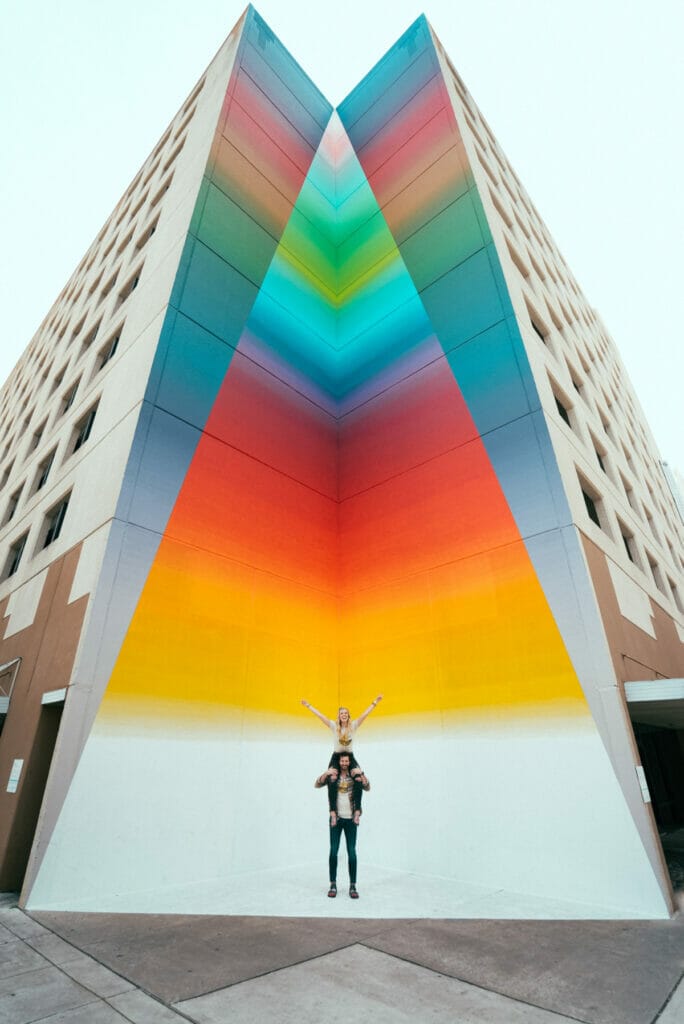 Surround yourself with art at the Blanton Museum of Art, or wander the sculpture park on Lake Austin (learn more about the best lakes in Texas here!)
Visit a presidential library and then head over to the Museum of Ice Cream to round out your day.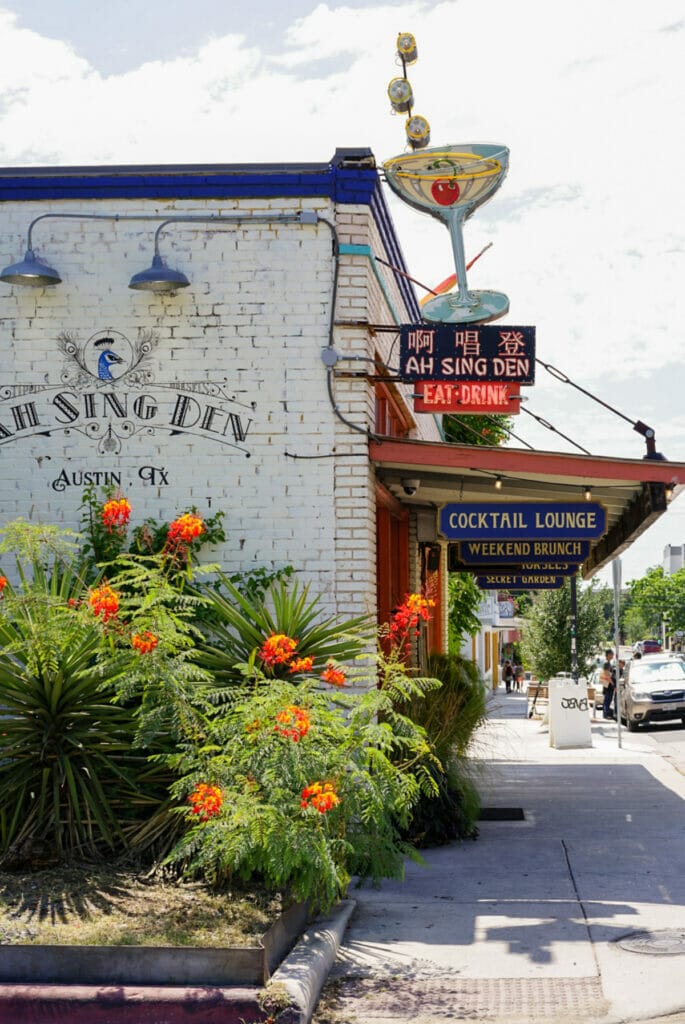 Get back to nature at the 240-acre Lady Bird Johnson Wildflower Center or explore 358-acre Zilker Park and swim in a spring-fed pool.
There are also some wonderful day trips from Austin to discover, including Texas Hill Country and Texas Wine Country.
3. Houston
Our favorite Houston hotel: C. Baldwin, Curio Collection
Our favorite Houston VRBO:
Our favorite Houston tour: Pedal Party Barge Houston Tour
World-class dining, shopping, and culture set Houston apart from the rest and make it one of the best places to go in Texas.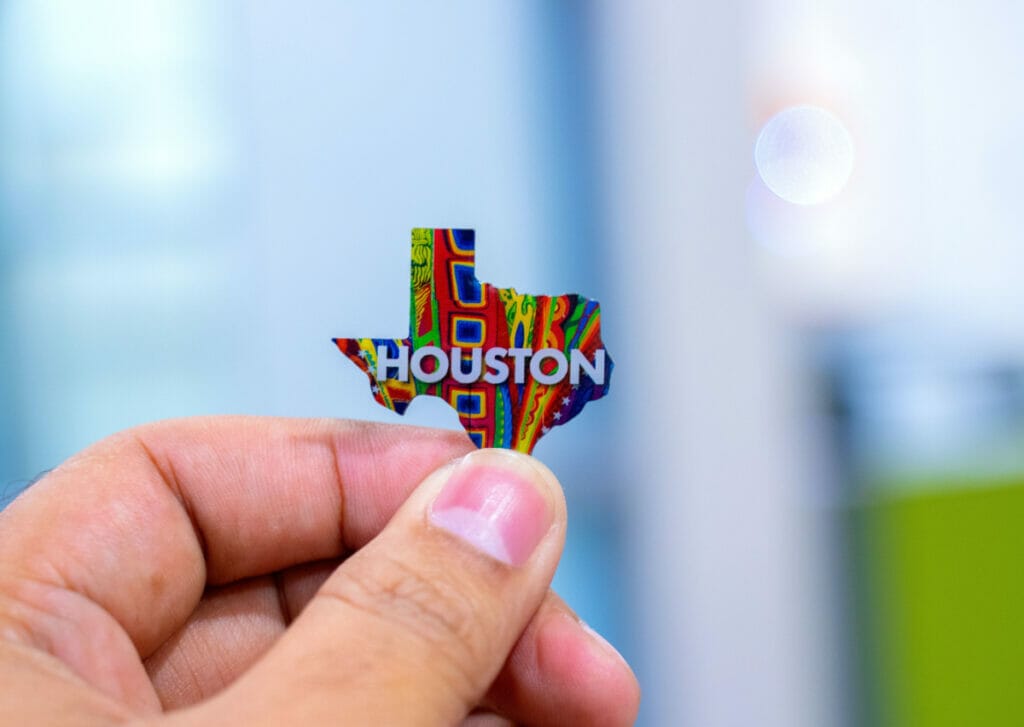 Houston has a rich arts scene.
Explore the Museum of Fine Arts along with 18 other museums in the museum district.
The kids will love the children's museum and the Houston zoo located there, as well.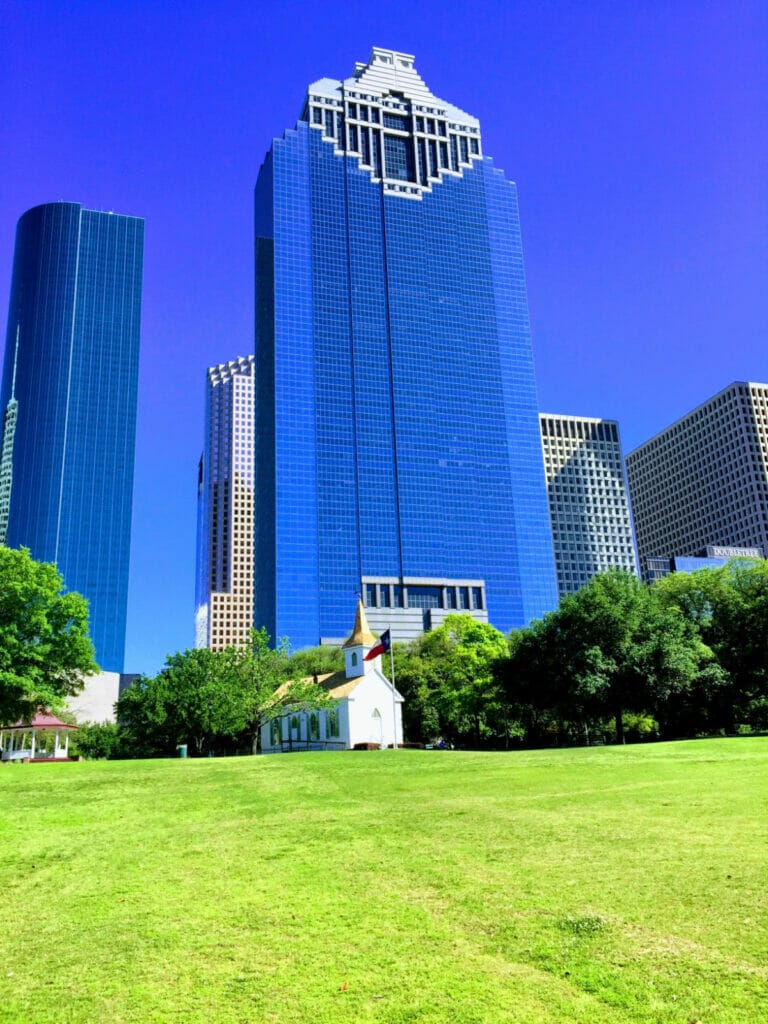 Be part of NASA's mission as you visit the Space Center Houston and at night relax under the stars and take in a classical concert or a Shakespearean play at the Miller Outdoor Theatre.
Enjoy nature at the Houston Arboretum.
And you don't want to miss the iconic 64-ft-tall water wall in the Gerald D. Hines Waterwall Park.
Want nightlife?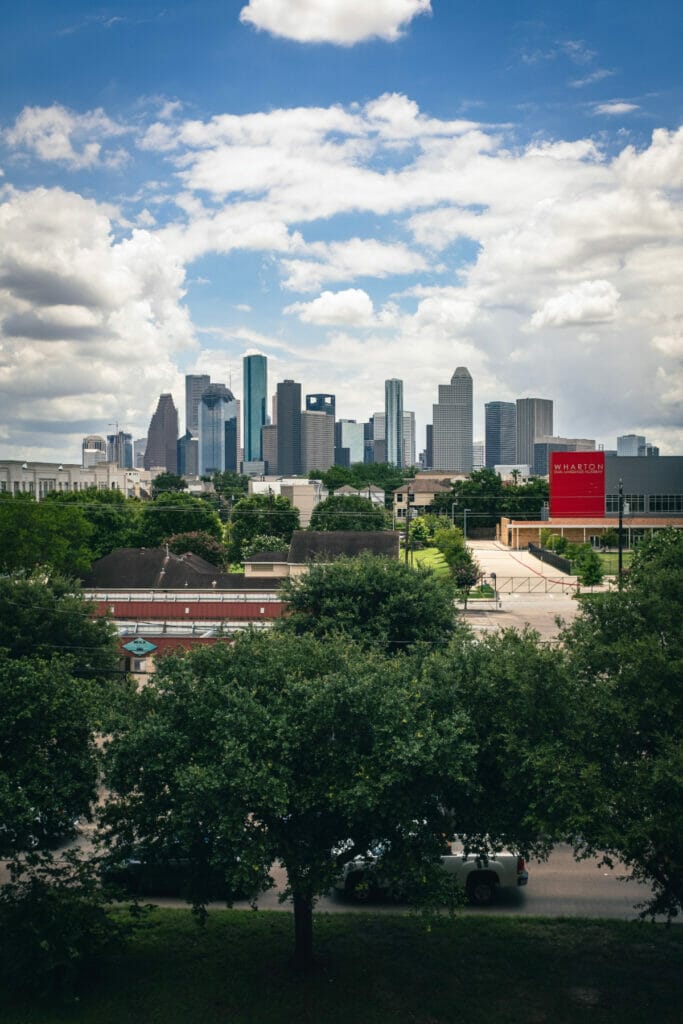 Washington Avenue has you covered.
Play vintage arcade games at Kung Fu Saloon or sip southern style cocktails at Julep.
4. Galveston
Our favorite Galveston hotel: Hilton Galveston Island Resort
Our favorite Galveston VRBO:
Our favorite Galveston tour: Must-Do Dolphin Sightseeing Tour
Stunning Victorian homes, miles of beaches, and a thriving art scene make Galveston one of the most beautiful places to visit in Texas (it's also one of the best Texas beach towns!).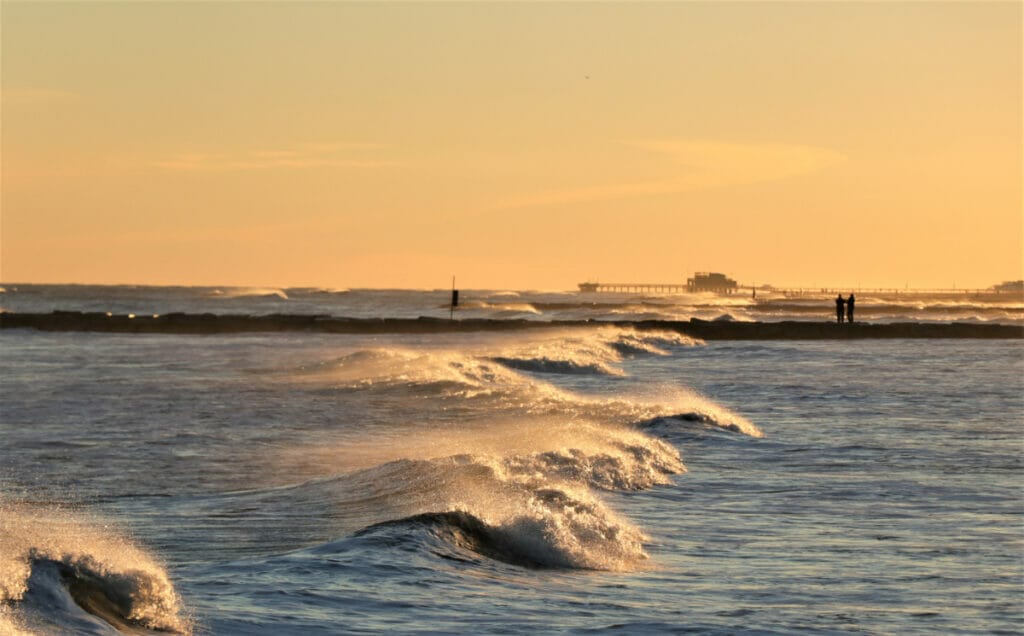 Galveston is also one of the top places to visit in Texas for family fun.
Spend your days on 32 miles of beaches boating, swimming, surfing, and kayaking.
Check out Pleasure Pier for exciting rides that take you out over the Gulf of Mexico.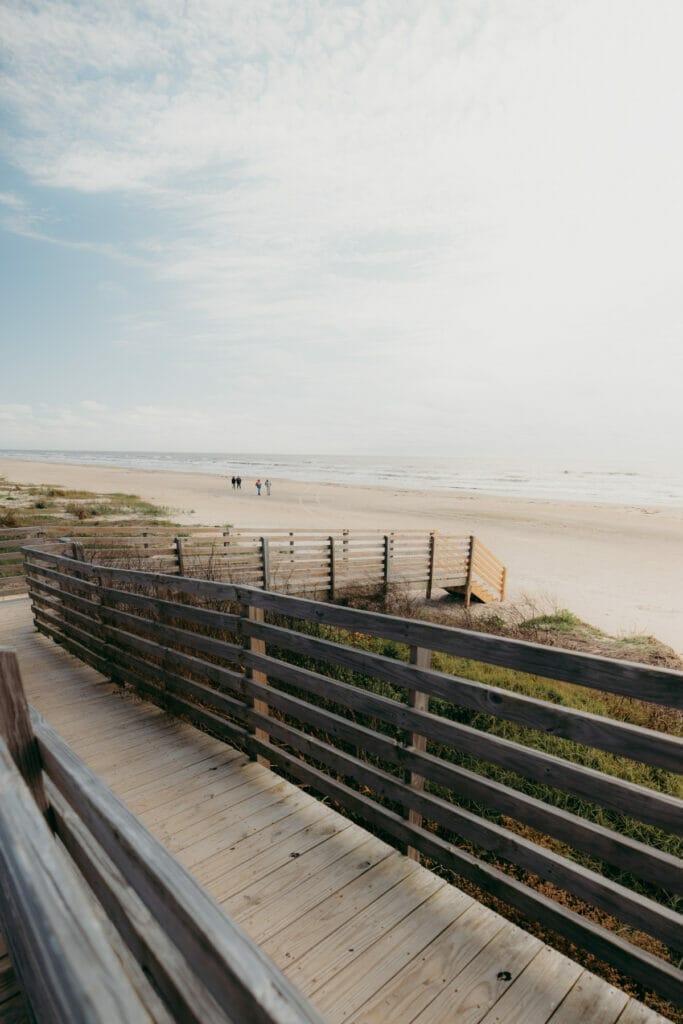 Make sure you explore Moody Gardens to see the Rainforest and Aquarium Pyramids and afterwards take a dinner cruise on a colonial paddlewheel boat.
Or make your way to Kemah Boardwalk to see the Johnson Space Center, and the games and rides on the fairway and touch a live stingray in Stingray Reef.
Craving an adrenaline rush?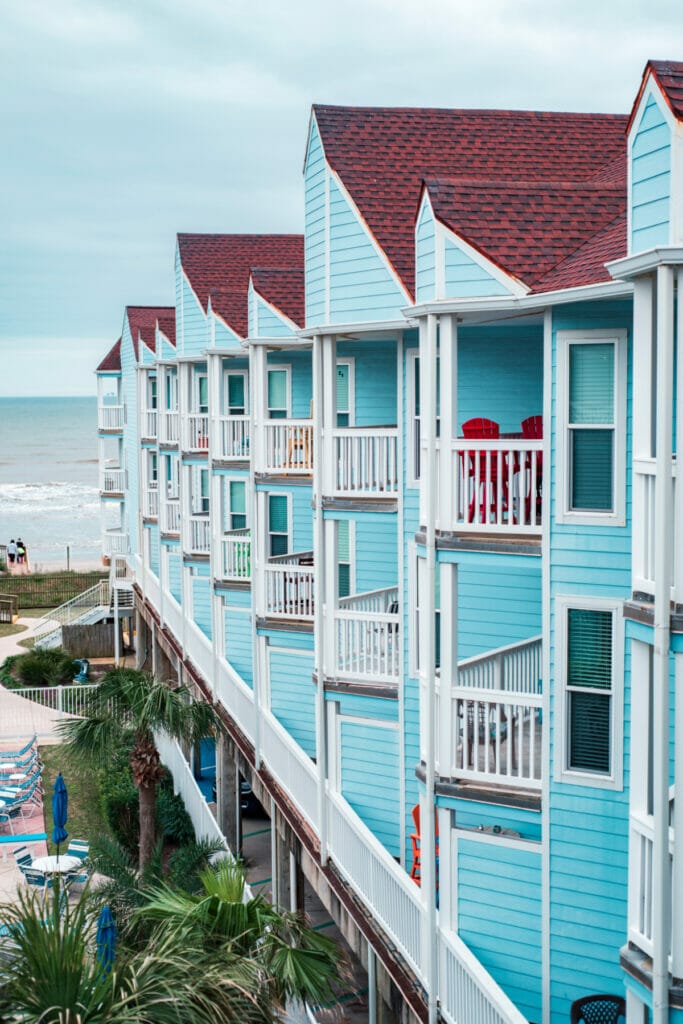 Schlitterbahn Water Park has water slides, wave rivers, and the world's tallest water coaster.
Massive Blaster is 81 ½ ft. of pure fun!
5. Port Aransas
Our favorite Port Aransas hotel: Ocean's Edge Hotel
Our favorite Port Aransas VRBO:
Our favorite Port Aransas tour: Glowing Kayak Tour
Get back to nature in Port Aransas (and check out a full guide of things to do in Port Aransas here).
Explore beaches and parks and dine on seafood as you relax in open air eateries.
Like to fish?
Port Aransas is the fishing capital of Texas.
Take an off-shore excursion and fish in the bays and channels.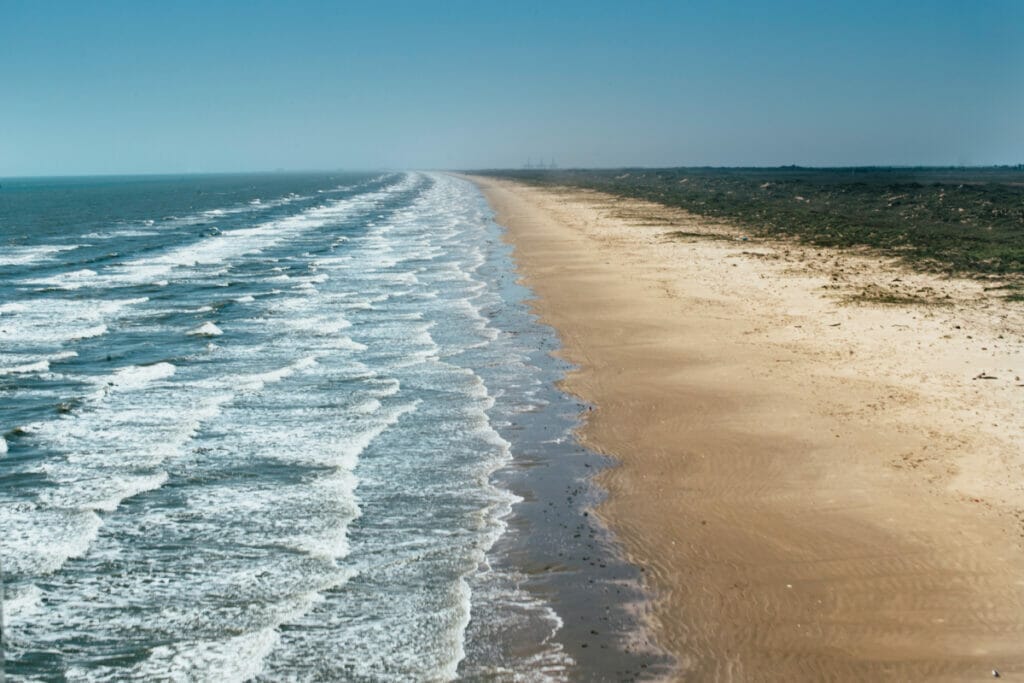 Or get some sun and swim in the 18 miles of shoreline beaches.
Want more excitement?
Go parasailing, kiteboarding, windsurfing, or choose from many other water activities.
Don't miss Mustang Island State Park.
It has 5 miles of beach, shallow water fishing, bike trails, and 20 miles of paddle park trails.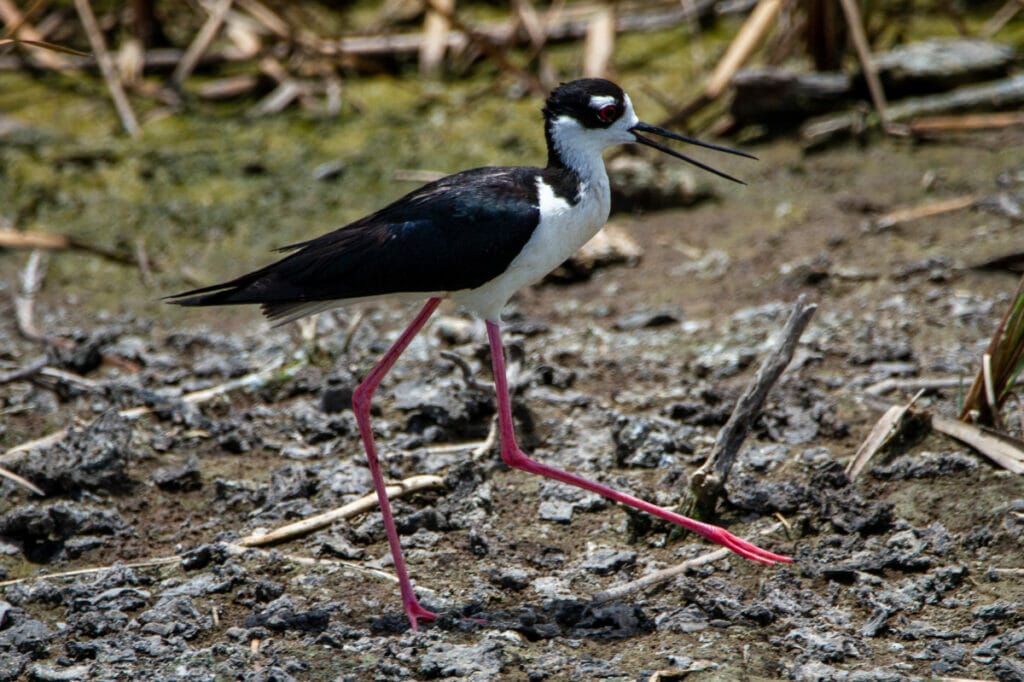 Ever wanted to hunt for treasure?
Take a pirate cruise and go on a treasure hunt, sword fight, and even dolphin watch.
6. Fredericksburg
Our favorite Fredericksburg hotel: Hotel Kitsmiller on Main
Our favorite Fredericksburg VRBO:
Our favorite Fredericksburg tour: Winery Tour with Lunch Included
Fredericksburg is a small town with German roots.
Art, theater, eclectic shops, and historic charm make Fredericksburg one of the nicest places to travel in Texas.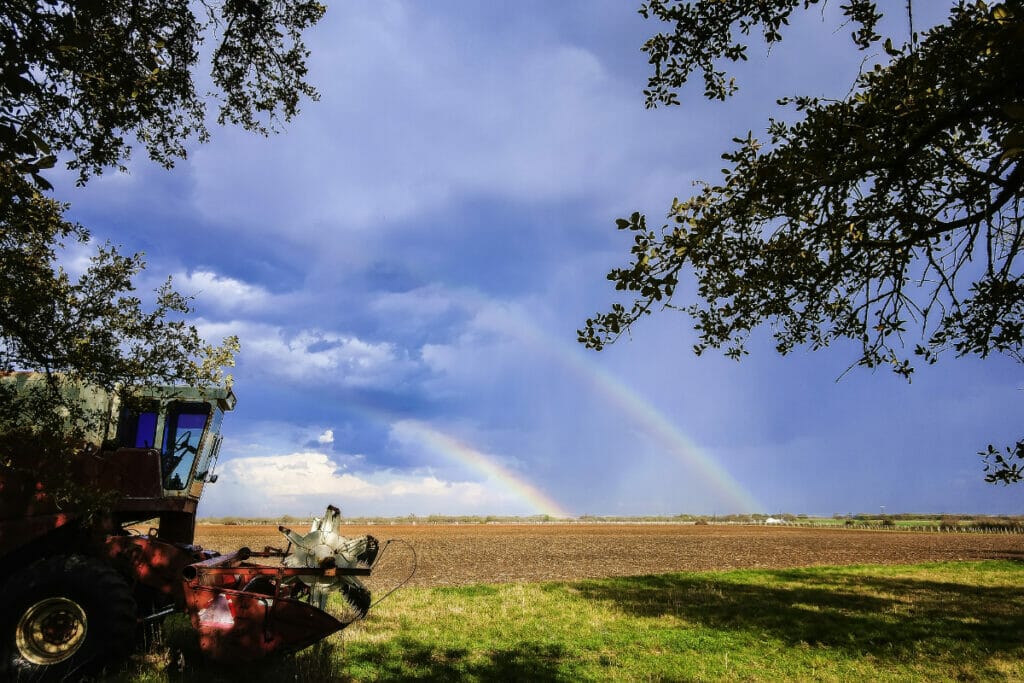 What Fredericksburg lacks in size they make up for in culture.
Head to a local winery for a tasting and a tour (there are more than 50 wineries to choose from!)
Prefer beer?
There's also a brewery where you can grab German beer and food.
Check out one of the museums for a history lesson.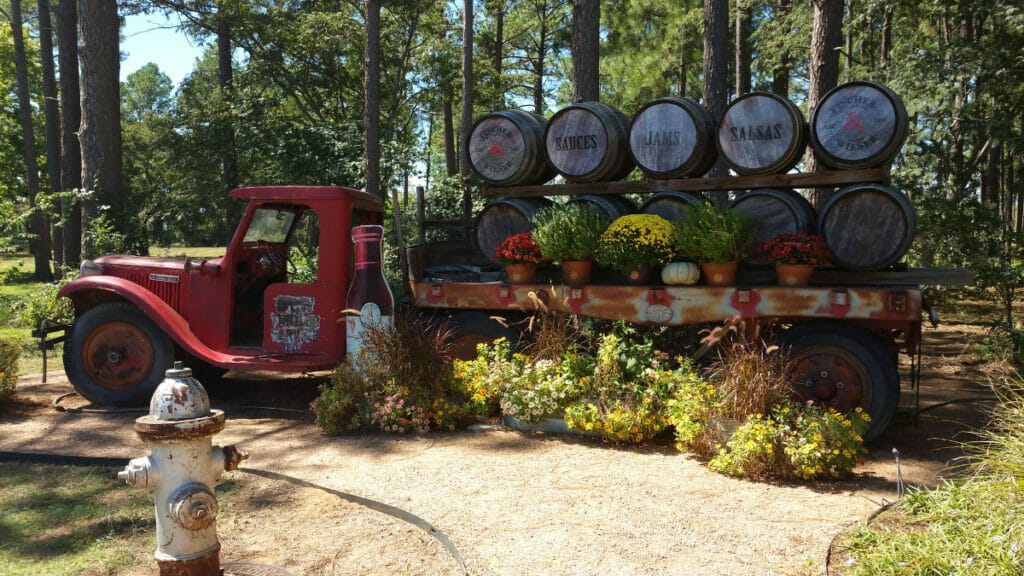 Or explore the Lyndon B. Johnson State Park and Historic Site.
It's one of the best places for stargazing and in 2021 was designated an International Dark Sky Park.
Art is a huge part of life in Fredericksburg with 9 different art galleries.
Explore the galleries, do some shopping, and then eat at one of the many farm to table restaurants.
7. Corpus Christi
Our favorite Corpus Christi hotel: Aloft Corpus Christi Hotel
Our favorite Corpus Christi VRBO:
Our favorite Corpus Christi tour: Walking Ghost Tour
Beaches, Tex-Mex, seafood, and fun in the sun is why Corpus Christi is one of the must visit places in Texas.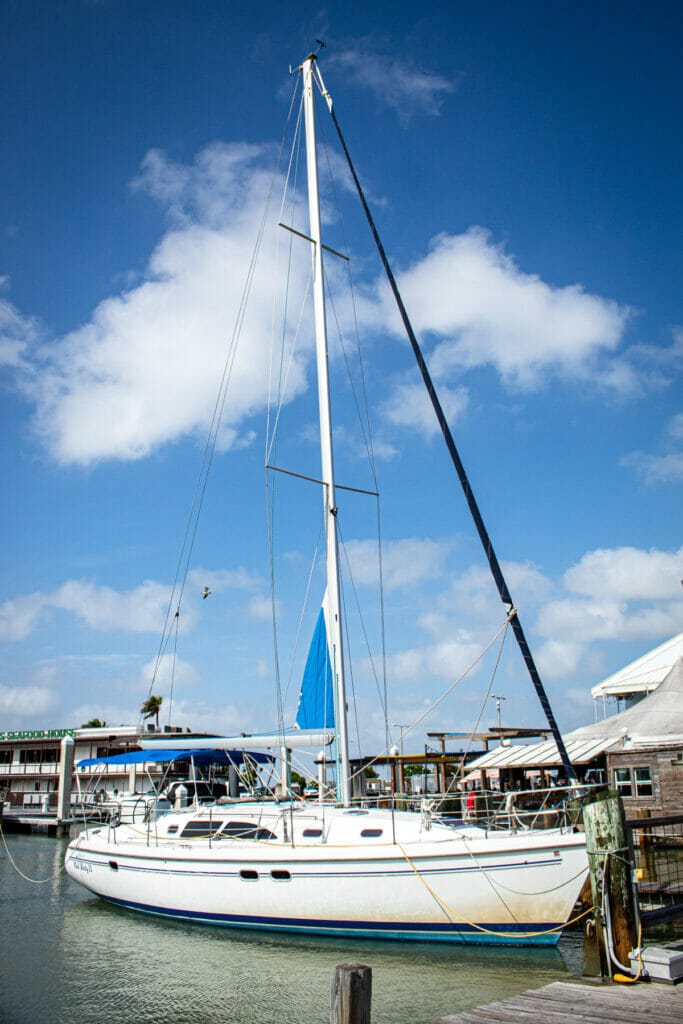 With 9 different beaches and miles of shoreline on the gulf, you can play, relax, and reconnect.
No trip to Corpus Christi is complete without a visit to Padre Island National Seashore.
It's 70 miles of shoreline and the perfect place for windsurfing, parasailing, kayaking, and surfing.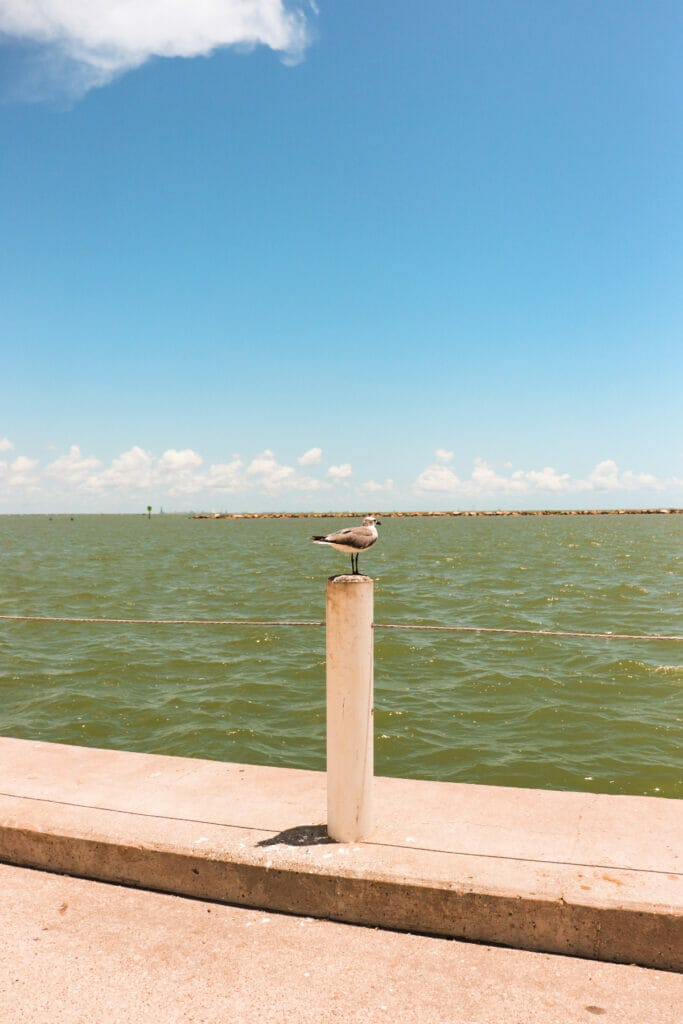 Want to try something new?
WaterDog offers a paddleboard yoga class.
Get outside for some "floating fitness."
Wander the grounds at South Texas Botanical Gardens and Nature Center.
Explore the USS Lexington Museum and have fun in the escape rooms and flight simulator.
Or check out the Surf Museum in downtown Corpus Christi.
Have the adventure of a lifetime snorkeling with sharks, eels, stingray, and other fish at the Texas State Aquarium.
8. Terlingua
If you ever wanted to see an actual ghost town, now's your chance!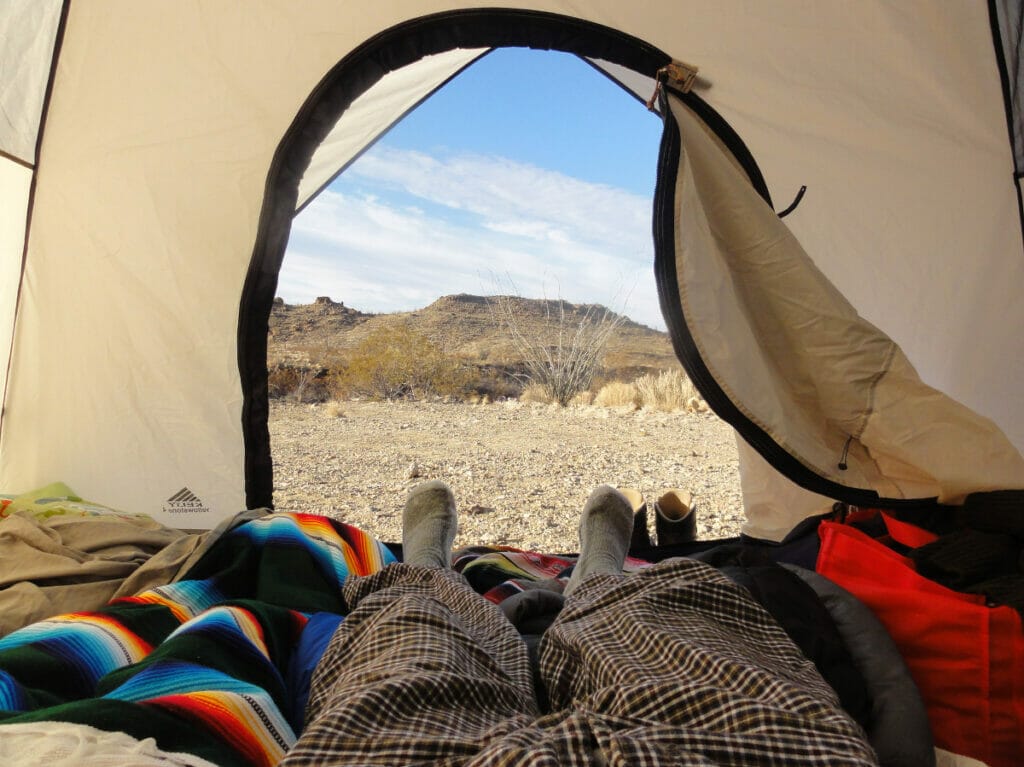 Terlingua is an eccentric, artsy, tiny little town loaded with unique art installations including a pirate ship, submarine, statue of liberty, and even a statue of a full mariachi band.
Its quirkiness makes it one of the best places to travel in Texas, as well as one of the most unique camping spots in Texas.
Stay in a traditional rock house and visit the one-room Terlingua jail and the old cemetery which dates back to 1903 (maybe see a ghost or two.) and check out St. Agnes church which was built in 1914.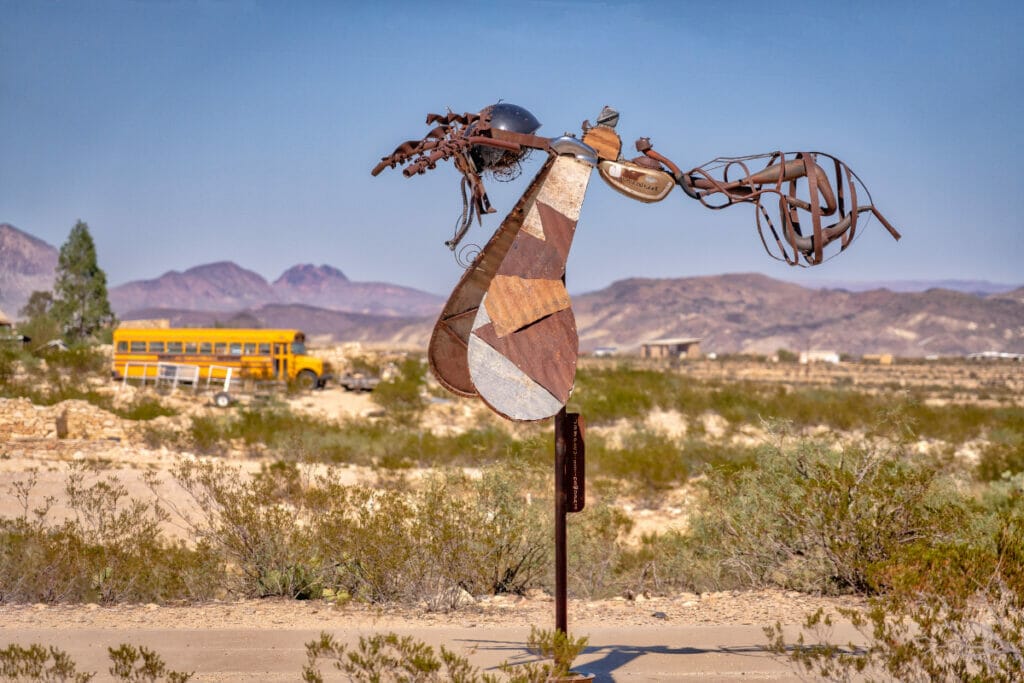 Get back to nature and explore Summit at Big Bend which has over 1,000 acres of desert land.
It's the darkest sky in the lower 48 states which makes it ideal for stargazing.
Still have more energy?
Terlingua neighbors Big Bend National Park and Big Bend Ranch State Park.
9. Marfa
Minimalist art, a random, instagram worthy, Prada store art installation, and unexplained light shows in the night sky put Marfa on the list of cool places to go in Texas.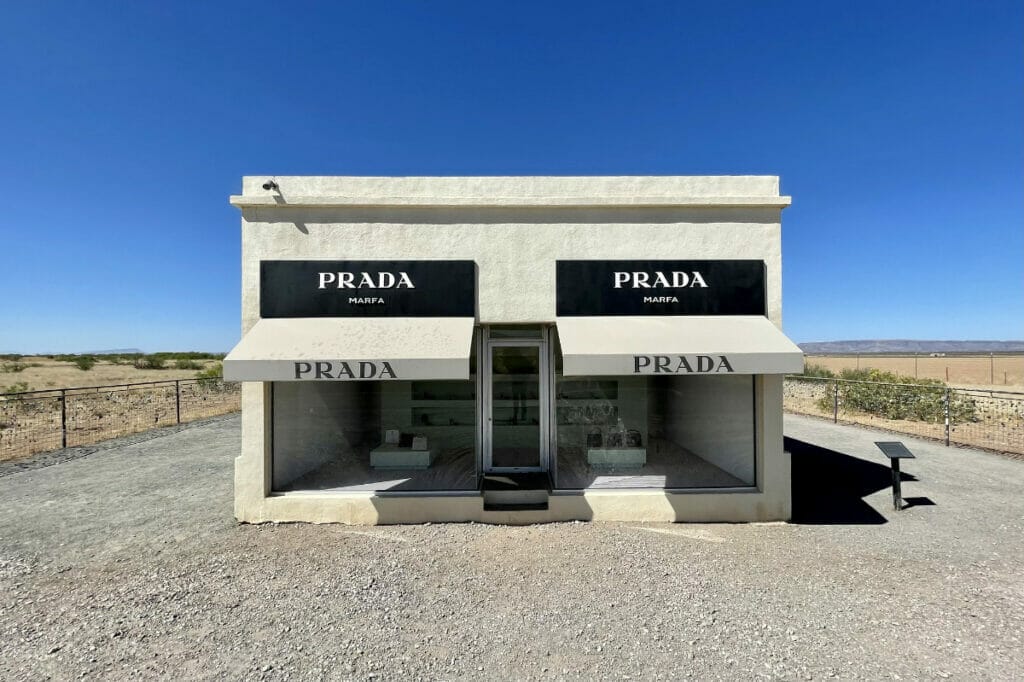 Stay in a yurt, an Airstream trailer, or even a bubble!
And be prepared for some of the best food of your life as Marfa has world-renowned chefs waiting to feed you.
See the landscape from above as you take a tour in a glider plane.
Learn how to make cheese at Marfa Maid Dairy and you can't miss the Chinati Foundation self-guided tour.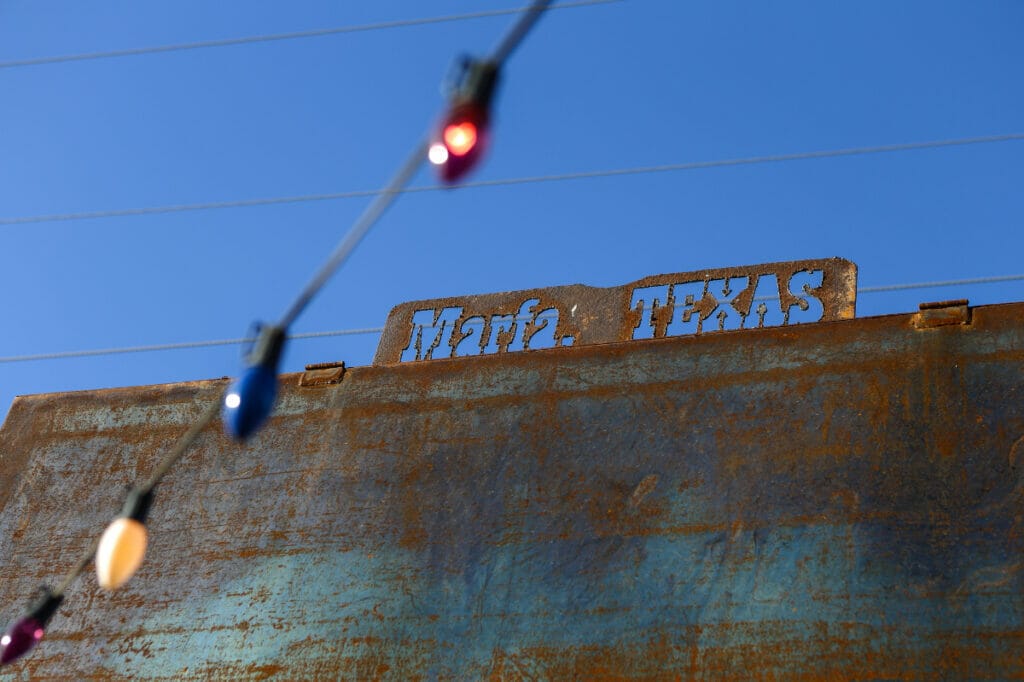 Purchase one of a kind custom made shoes or treat yourself to some specialty soap from a local shop.
Head to Alta Marfa winery for wine tastings and pick up a bottle of wine to enjoy while you sit under the stars and watch the Marfa lights.
10. Waco
Our favorite Waco hotel: Aloft Waco Baylor
Our favorite Waco VRBO:
Our favorite Waco tour: Fixer Upper Fan Tour
Besides being the hometown of Dr Pepper and HGTV's Fixer Upper, Waco also has amazing parks, rivers, shopping, and food.
Fan of Joanna and Chip Gaines?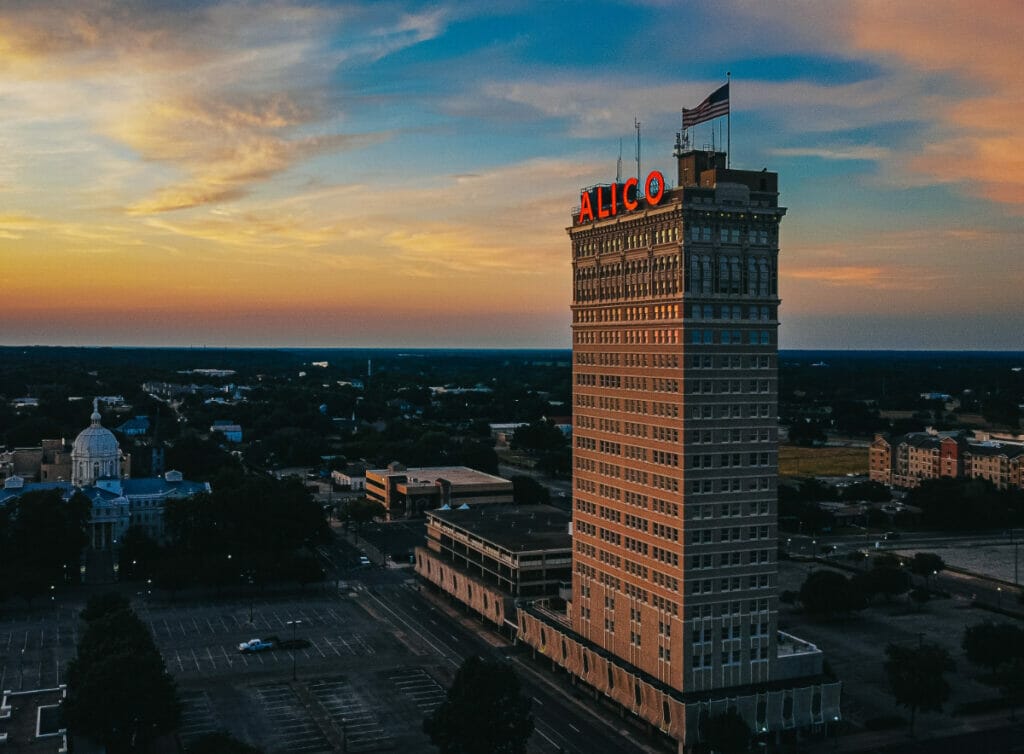 Visit Magnolia Market where you can peruse 6 different shops, eat at the food trucks, and take classes.
Watch artisans work, shop for their handmade goods, and dine in the restaurant at Homestead Craft Village.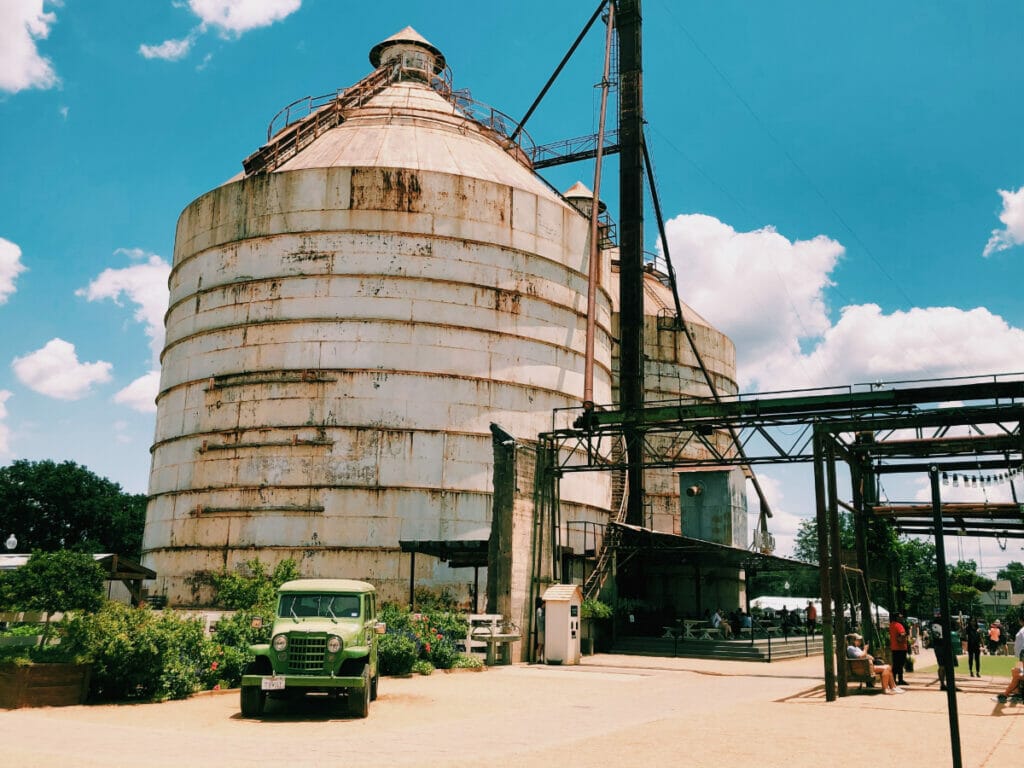 Spend the day exploring Cameron Park's 416-acres, including a 52-acre zoo, Brazos and Bosque rivers, three playgrounds, splash pads, etc.
Don't miss Lover's Leap overlook and trails.
Enjoy the Suspension bridge built in 1870 and Waco Mammoth National Monument, a 100-acre park on the Bosque River.
Drink whiskey at Balcones distillery or head to the Dr Pepper Museum for the "make a soda" experience.
11. Laredo
Situated on the banks of the Rio Grande, Laredo is a town steeped in history and Mexican culture.
Walk the streets of Laredo and check out the various historic streets and districts.
Take time to explore the museums!
The Republic of the Rio Grande Museum showcases items from the Laredo area in the 19th century.
In the Old Mercado district, you'll find the Laredo Center for the Arts which houses three galleries in its building. Or
enjoy a state of the art, immersive experience at the Lamar Bruni Vergara Science Center Planetarium.
For outdoor fun head to Lake Casa Blanca International State Park for hiking, biking, and water sports.
Go shopping on San Bernardo Avenue.
It's 40 blocks of one-of-a-kind stores.
In the San Agustin de Laredo Historic District you'll find Zaragoza Street.
A cobblestone street full of cool boutiques and great restaurants.
12. Jefferson
Jefferson will make you feel like you are stepping back in time.
Reserve a cozy room in a bed and breakfast and explore this quaint, historic town.
Do some shopping in the antiques shops and vintage stores, and then relax and enjoy a charcuterie board at Austin Street Bistro.
Take an historic walking tour that begins and ends at the Excelsior House Hotel.
The tour showcases historic homes, memorials, and churches.
Or take a tour of the historic Atalanta rail car.
It has 4 staterooms, a dining room, a lounge, a kitchen, a butler's pantry, and a ballroom!
Take a ride on the historic Jefferson railway and then grab a sweet treat at Fudge Factory or try gourmet flavored peanut butter at Nutty's.
At night be sure to check out the LED light shows on the Howe Truss bridge.
13. Boerne
Boerne is an upscale city in Hill Country perfect for romantic getaways or family-friendly adventures.
Take the historic walking tour featuring more than 100 historic properties and then check out the Old Jail Museum.
Spend the day shopping in vintage, antique, and thrift stores.
Enjoy art galleries, theatres, and a variety of restaurants that cater to every palate.
Get pampered at the Puresol Spa and Salt Cave and afterwards take a tour of one of the many local wineries and breweries.
Explore the outdoors at Cibolo Nature Center.
Hike the trails and relax by the creek surrounded by 1,000 year old cypress trees.
Be sure to see the exact replicas of 100,000,000 year old Acrocanthosaurus dinosaur tracks.
Or head to Cave without a Name, a Natural National Landmark, and see the stalagmites, stalactites, and pan for gemstones and fossils.
14. Rockport
With 367 miles of coastline, fresh seafood, water sports, and a thriving art scene, Rockport Texas is a perfect getaway.
Discover the Rockport Cultural Arts District and see art galleries, a sculpture garden, and restaurants.
Hit up Latitude 2802 for a restaurant, bar, and art gallery in one.
Explore the Fulton Mansion State Historic Site, see the Texas Maritime Museum, or have a moment of zen at Schoenstatt Shrine.
Visit Goose Island State Park and see a 1,000-year-old tree that has a 35 ft. trunk and branches that stretch 89 ft. across.
Bring a picnic and enjoy hiking, fishing, biking, and birding.
Get out on the water.
Enjoy a whooping crane boat tour.
Go kayaking at night on the GlowRow boat tour.
Don't miss Rockport Beach!
It's a certified Blue Wave Beach.
There's a saltwater lagoon, walking paths, and kids play areas.
15. Port Isabel
Stunning views of the Texas Gulf Coast, historic museums, great food, and artisan shops make Port Isabel one of the must see places in Texas.
Get pampered at one of the luxurious spas and then look for hidden gems at the Port Isabel Antique and Flea Market.
Ever wanted to climb to the top of a lighthouse?
The Historic Port Isabel Lighthouse is 70 ft. tall, has a 16 mile view and is open to the public.
Afterwards, check out Lighthouse Square for unique shops and restaurants (Don't miss the local fudge!)
Go dolphin watching, take an eco tour, or a romantic sunset cruise at Dolphin Docks.
See wild dolphins at Laguna Madre Bay when you take the boat from South Padre Island Dolphin Research and Sea Life Center.