Nestled along the Texas coastline, Port Aransas is a city on Mustang Island and one of the best places to visit in Texas.
This practically tropical location is best known for its gorgeous beaches and lively aquatic life.
Here you can find active wildlife such as dolphin sightings, alligator spottings, and an array of beautiful birds.
No matter what your interests are, there is something for everyone to enjoy on a trip to Port Aransas, Texas.
From gorgeous nature scenes to exploring the wetlands, to watching a live music performance, they have it all.
If you're looking for some fun ways to pass the time in Port Aransas, Texas, you've come to the right place!
Read on to discover the 25 best things to do in Port Aransas, Texas.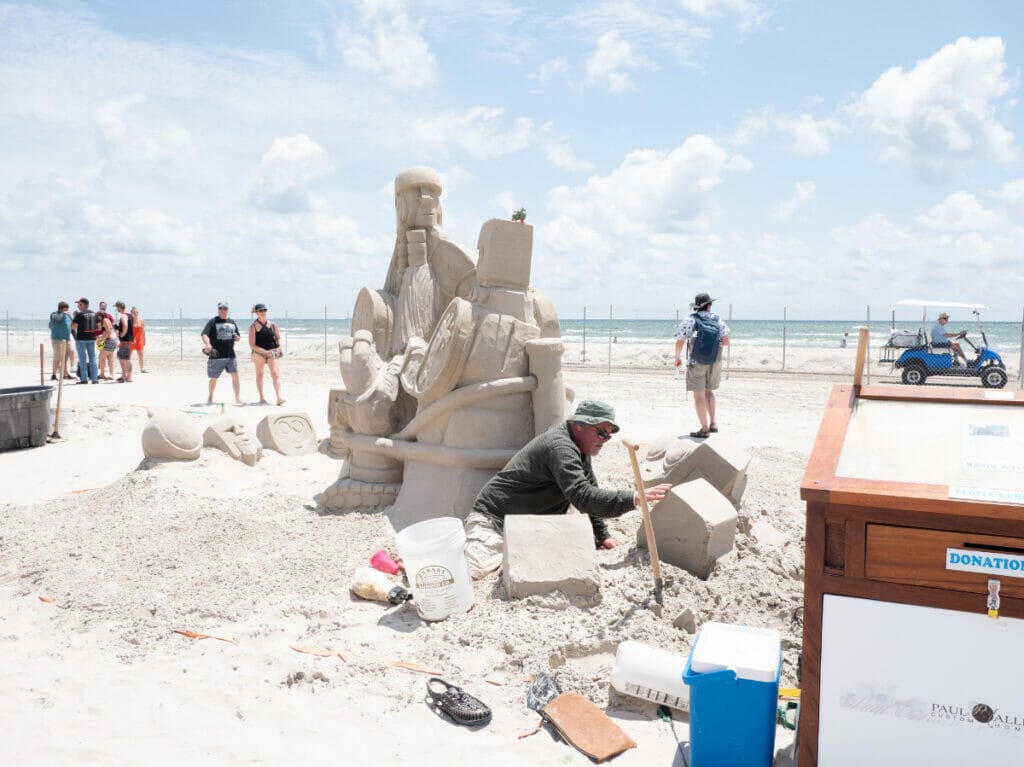 Hey! Want more super helpful Texas guides? Check these out!
GET A

FREE

TEXAS GUIDEBOOK WITH LOCAL TIPS!
With 71 pages of helpful travel tips and the "best of" Texas lists, this is your ad-free key to your Texas trip.
Where to stay in Port Aransas
From renovated VRBOS to boutique hotels, here are the best places to stay in Port Aransas on every budget!
($) The Place at Port Aransas – With huge rooms so you can completely stretch out, the Place at Port Aransas is a great budget hotel that won't feel like you're skimping at all. Enjoy the breakfast each morning, take advantage of the microwaves and fridges in the room, and relax knowing you're only a 10 minute drive from the beach so you can be there for sunrise in no time. Click here to check prices and read reviews.
($$) Best Western Port Aransas – for modern rooms in a safe location, look no further than the Best Western Port Aransas. Use the hot water shower outside to rinse off after the beach, enjoy the updated kitchenettes, and make sure to order pizza from the pizzeria across the street! It's clean, beautifully decorated, and a great place to stay in Port Aransas! Click here to check prices and read reviews.
($$$) Ocean's Edge Hotel – for the ultimate in comfort in Port Aransas (and while it's our "most luxury option," it's really not pricey!) check out the Ocean's Edge Hotel. Lounge in the wonderful outdoor spaces, enjoy the hot breakfast that gets rave reviews, and take advantage of the beautiful outdoor pool when the weather's nice. Click here to check prices and read reviews.
Don't forget to pack…
For all of your opportunities to hit the beach, don't forget to bring:
How to get around Port Aransas
Like most of Texas, the best way to get around Port Aransas is to explore on your own by car!
If you're visiting and need to rent a car, we highly recommend Discover Cars where they find you the best car rental deals from all of the competitors (has saved us so much money!).
1. Head to Port Aransas Beach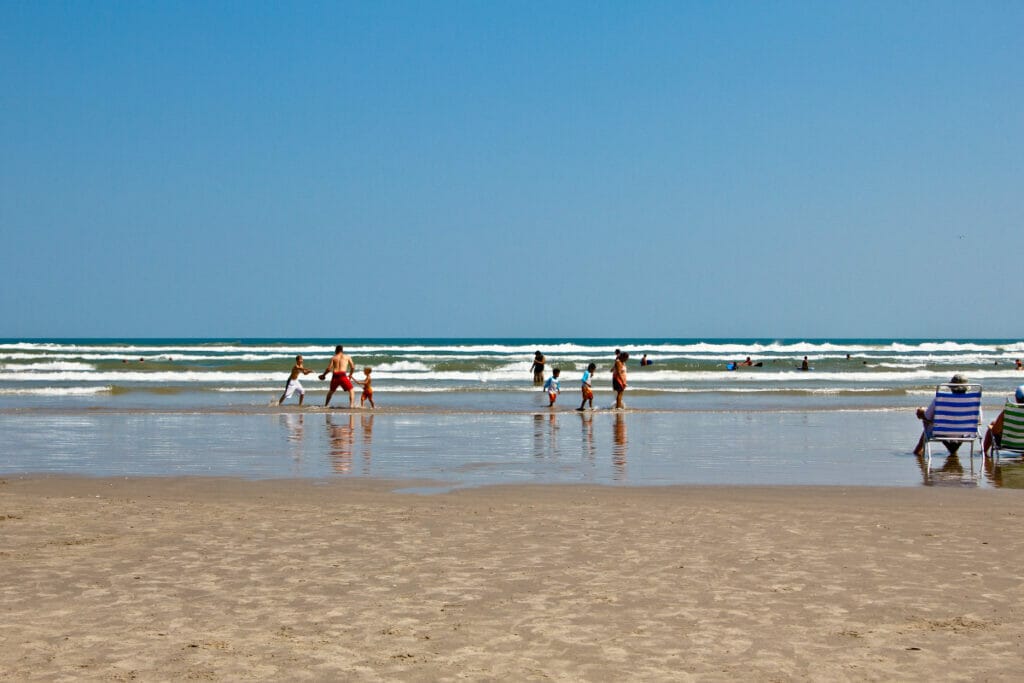 One of the top things to do in Port Aransas (one of the best beach towns in Texas) is spending the day at their fantastic beach.
This relaxing beach is known for its cleanliness and family-friendly amenities.
Pack a lunch and head to Port Aransas Beach for a family picnic, hang out in one of their shaded sitting areas, or soak up the sun with a few of your besties, the opportunities are endless!
In some areas, you will also find free parking.
Checking out the Port Aransas Beach is a must when you are visiting the area, even if it's only for the afternoon.
2. Dolphin Tours with Scarlet Lady Dolphin Adventures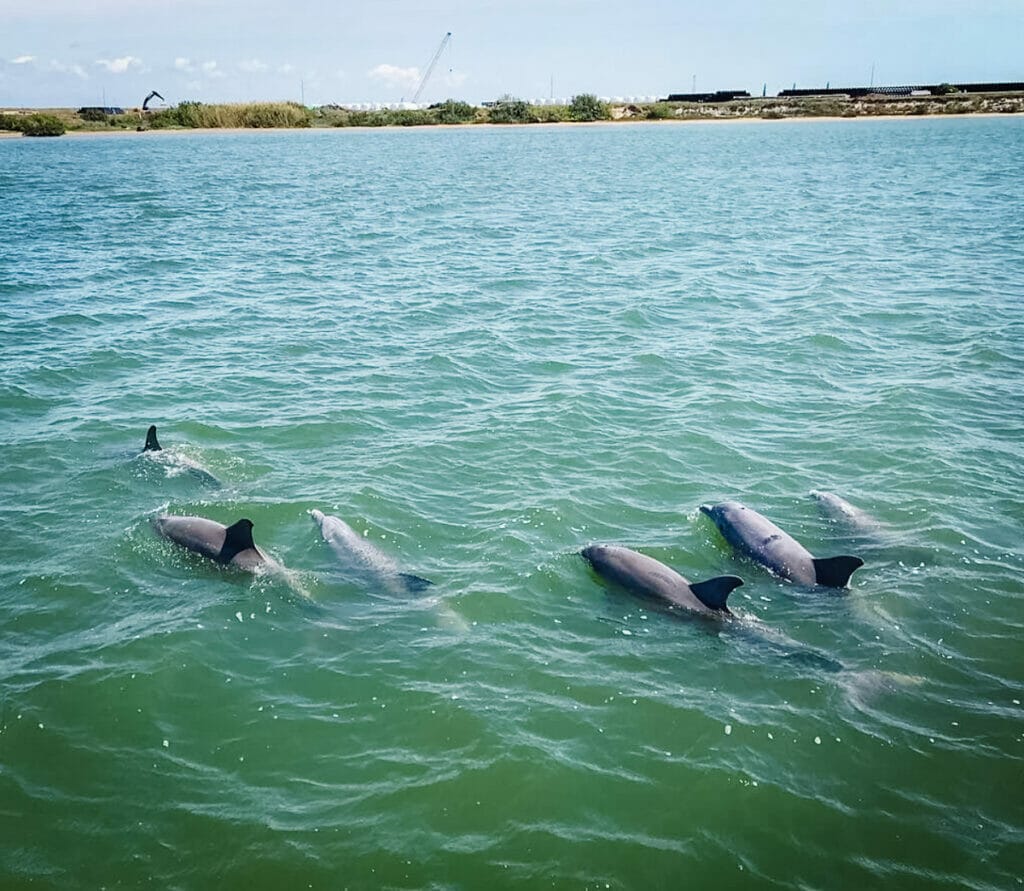 One of the things that Port Aransas is known for is its lively dolphin life.
That's why it's no surprise that embarking on a dolphin tour with Scarlet Lady Dolphin Adventures just before sunset is one of the most popular activities in the area.
The experienced sea captains of Port Aransas know all of the best locations in the Gulf of Mexico to experience dolphins.
As a bonus, you will get to witness one of the most beautiful sunsets you will ever see out on the open water.
For an experience unlike any other, gather up your family members and embark on a dolphin and sunset tour in Port Aransas, Texas.
Most of the dolphin and sunset tours in the area are moderately priced and feature fun memories that the entire family can enjoy.
One of the main tourist attractions in Port Aransas is their annual SandFest.
This three-day, family-friendly event is held in April of each year.
Both professional and amateur sand sculptors make the journey to Port Aransas from all over the country to put their skills on display.
When you attend Texas SandFest, you can see all sorts of beautiful sand sculptures on display, indulge in some street food, experience live music events, and even do some shopping at one of their vendors.
They have solo and duo competitions for sand sculpting and the competition takes place regardless of weather conditions, rain or shine.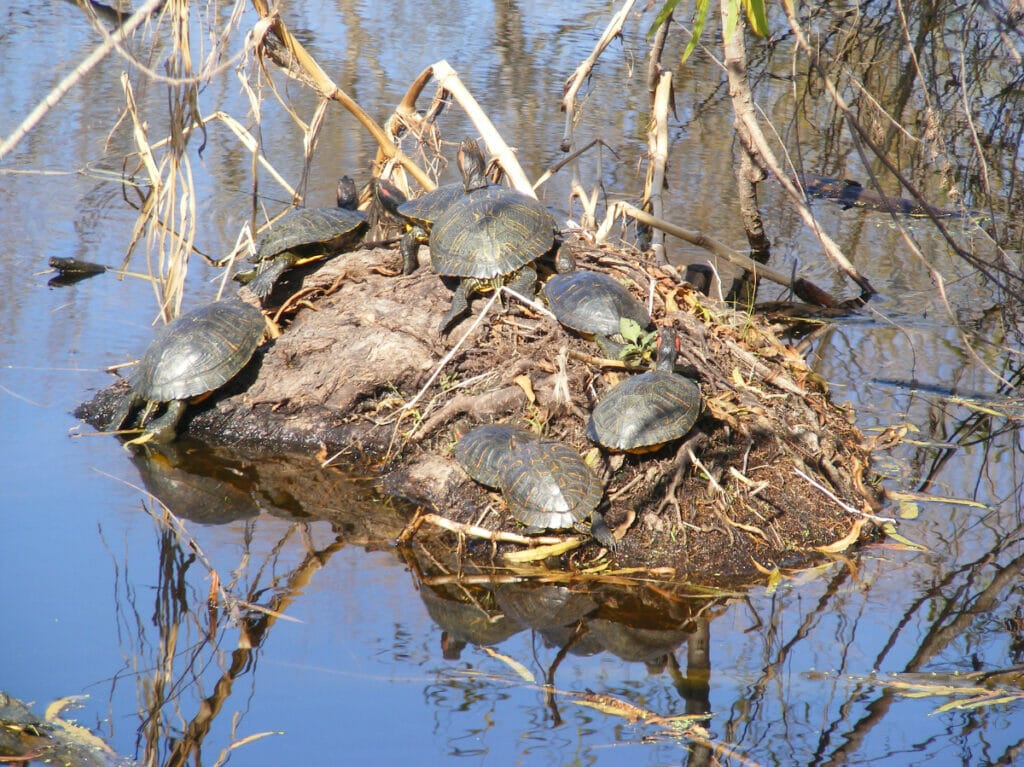 Nestled behind some of the most delectable restaurants in the area, you will find a small and exciting nature preserve known as Joan & Scott Holt Paradise Pond.
This is the perfect place to explore with your family or embark on a romantic walk with the one you love.
Many people report seeing a variety of bird life and other aquatic species including turtles.
There is a leisurely, raised deck trail to guide you along your path through the wetlands.
Most people recommend spending about 1 to 2 hours exploring the nature and wildlife of Joan & Scott Holt Paradise Pond.
5. Go for a Ride on the Ferry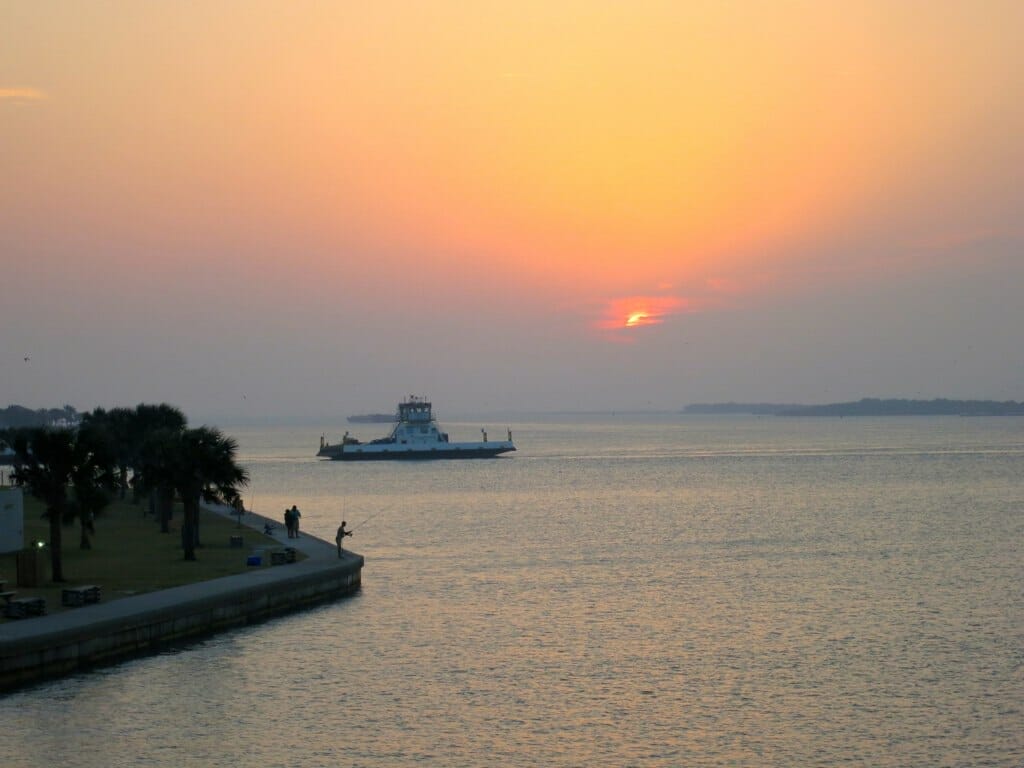 If you're looking to explore some of the incredible aquatic views surrounding Port Aransas, try taking a ride on the Port Aransas Ferry System.
This is a favorite activity for anyone visiting the Port Aransas area.
The ferry runs between Port Aransas and Aransas Pass daily and it is free to ride.
During the brief ride, you can get out of your vehicle to soak in the beautiful views of the Gulf of Mexico.
The trip takes less than one hour to complete each way, so you may want to consider making an afternoon trip out of the excursion.
Many people even report seeing dolphins splashing around the ferry during their trip.
With so many wonderful things to experience, it's no surprise that this is a must-try for anyone in the Port Aransas area.
People of all ages enjoy an authentic Gulf of Mexico fishing experience at the Horace Caldwell Fishing Pier.
This incredible pier extends over 1200 feet into the Gulf of Mexico, bringing you right to where the fish are.
For a small fee, you can bring a fishing pole and try your luck at catching your own dinner for the evening.
Visitors report this as a very active fishing area where you can sit back and relax with your family or even do a bit of sightseeing.
7. Embark on an Offshore Fishing Charter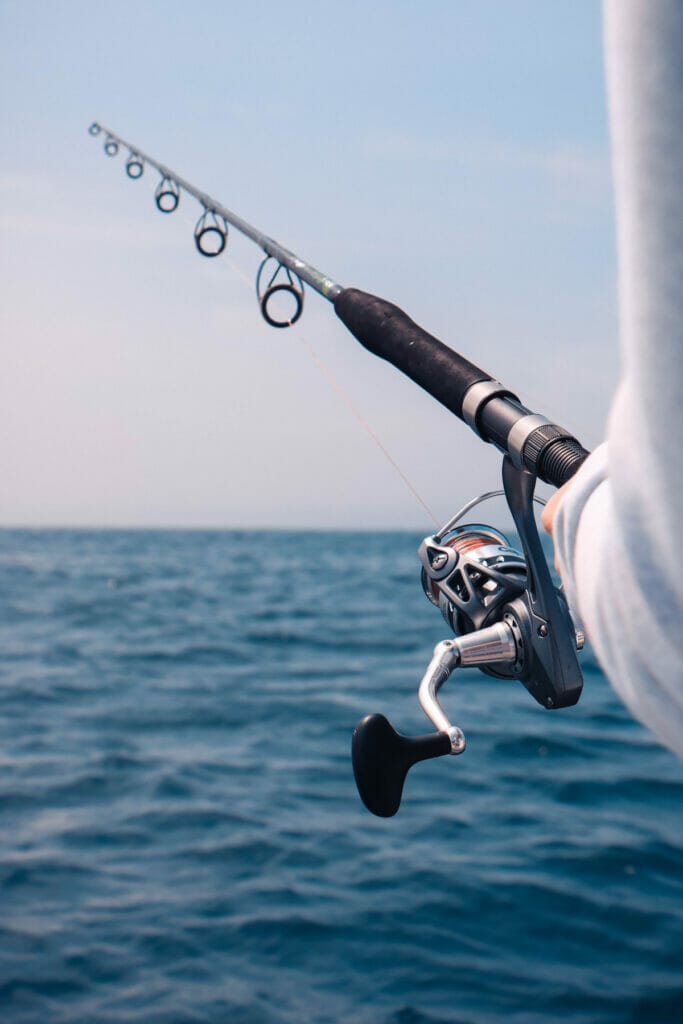 For an all-day adventure to enjoy with your family or friends, consider embarking on an offshore fishing charter.
There are plenty of tours of the open water available where you can experience deep sea fishing for yourself.
The fisherman of Port Aransas will take you on a journey through all of the best locations for catching the biggest fish including trout, redfish, flounder, red snappers, tuna, marlin, or even sharks!
Learn how to fish from the professionals when you embark on an offshore fishing charter from Port Aransas.
8. Enjoy Some Fresh Seafood at Port Aransas Fishermans Wharf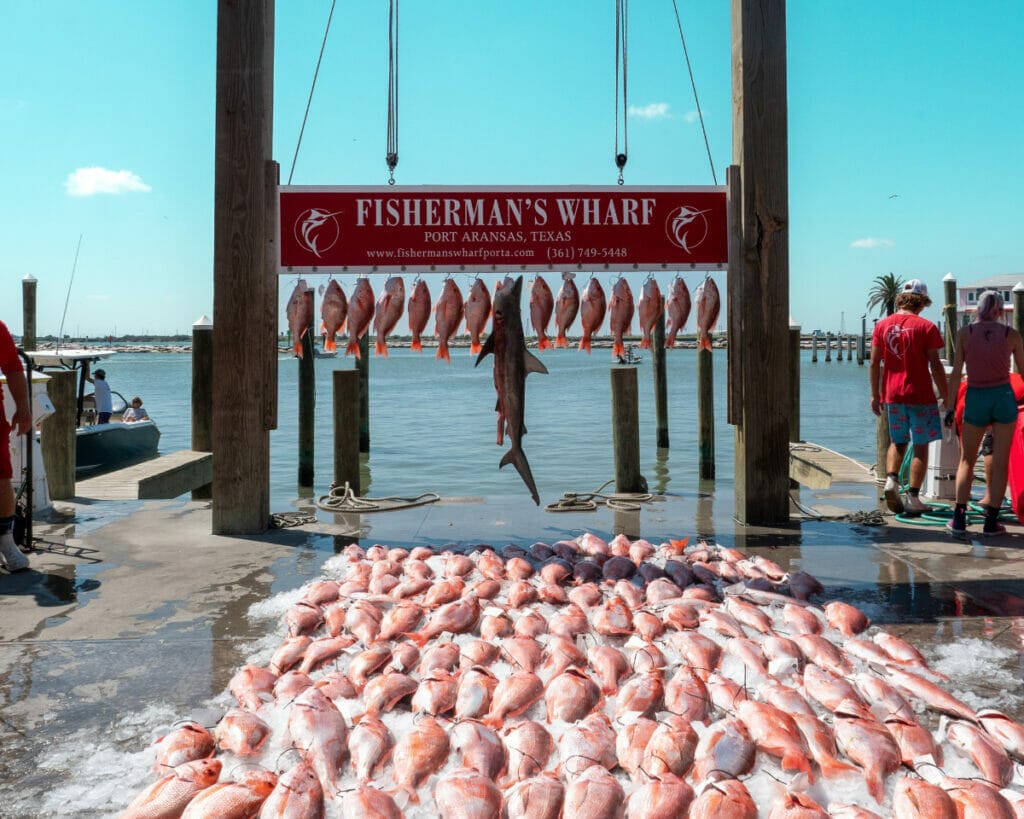 If you're looking for a starting point for your fishing trip or just another exciting place to explore the Port Aransas Fishermans Wharf has it all.
Here, you will find a full-service marina and retail stores which have everything you need to enjoy a day out on the water including souvenir items to commemorate your trip to the Gulf of Mexico.
This is the perfect place for a photo op with all of your daily catches.
If you're not into fishing but love the taste of fresh seafood, there are also some restaurants nearby where you can enjoy the exciting flavors of the Gulf of Mexico.
No matter what kind of boat tour you're embarking on, chances are that it all begins at the Port Aransas Fishermans Wharf.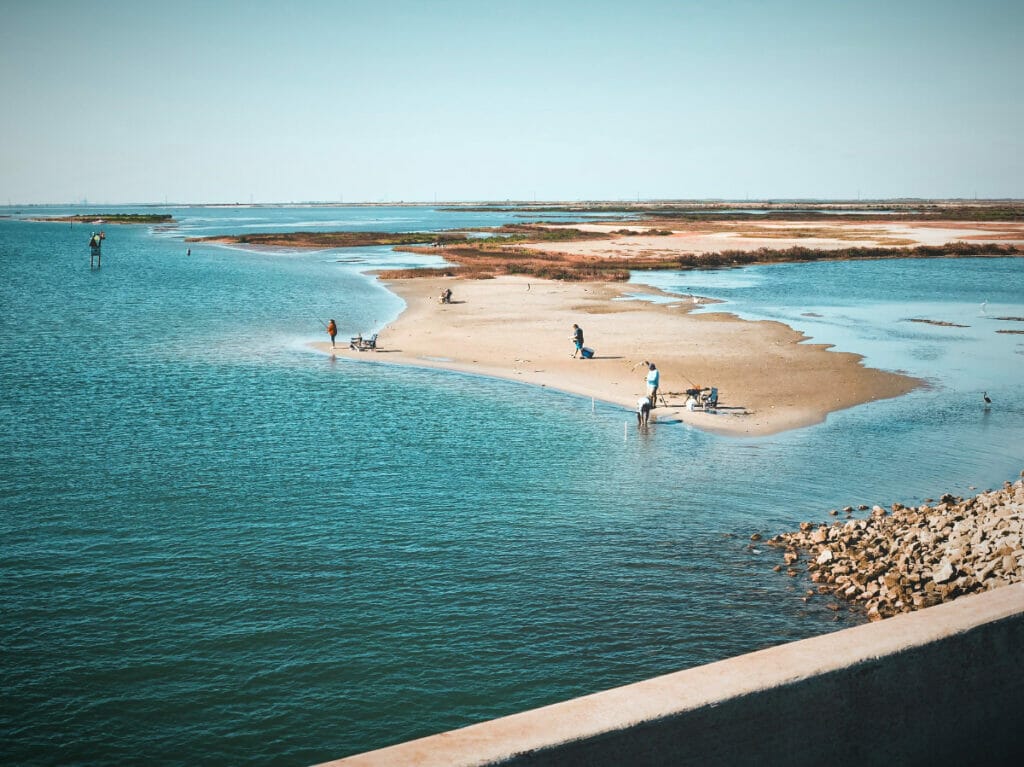 Another main attraction in Port Aransas is Mustang Island State Park.
Here you can find all of the top amenities for camping, enjoying a day at the beach, or sharing a picnic with family and friends.
Visitors love this state park for its beach access, including the ability to drive out onto the beach and park your car there.
You can also rent a golf cart from the campsite and explore Mustang Island in style.
If you love to rough it out in nature, this is the perfect place for you to explore.
10. Explore the Leonabelle Turnbull Birding Center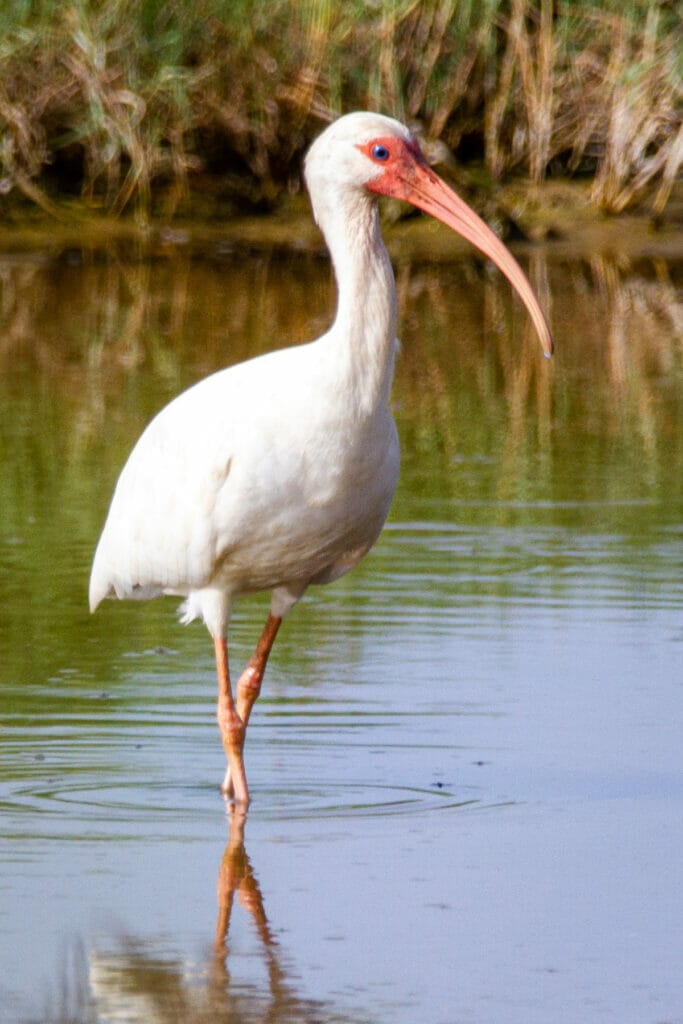 If you love birdwatching and you're in the Port Aransas area, this is the perfect place for you to visit with your family or loved ones!
Here at the Leonabelle Turnbull Birding Center, you can find a wide variety of different birds such as pelicans, egrets, ibises, and spoonbill ducks.
You can also catch a peek at an alligator named Boots who frequents the area.
This nature reserve offers free admission all year round.
It is recommended that you bring binoculars along for your visit so you don't risk missing out on any of the beautiful bird life.
11. Hike Through Port Aransas Nature Preserve at Charlie's Pasture
Nature lovers will delight in a hike through Port Aransas Nature Preserve at Charlie's Pasture.
If you had a great time exploring the Leonabelle Turnbull Birding Center and want to uncover more of the natural wildlife, the next step is to check out this nature preserve at Charlie's Pasture.
Although areas of this trail are still under construction after taking some hurricane damage a few years ago, there is still plenty to enjoy.
Here you can witness some local bird life and enjoy a picnic with your family in their beautiful pavilion area.
12. Learn About the Local History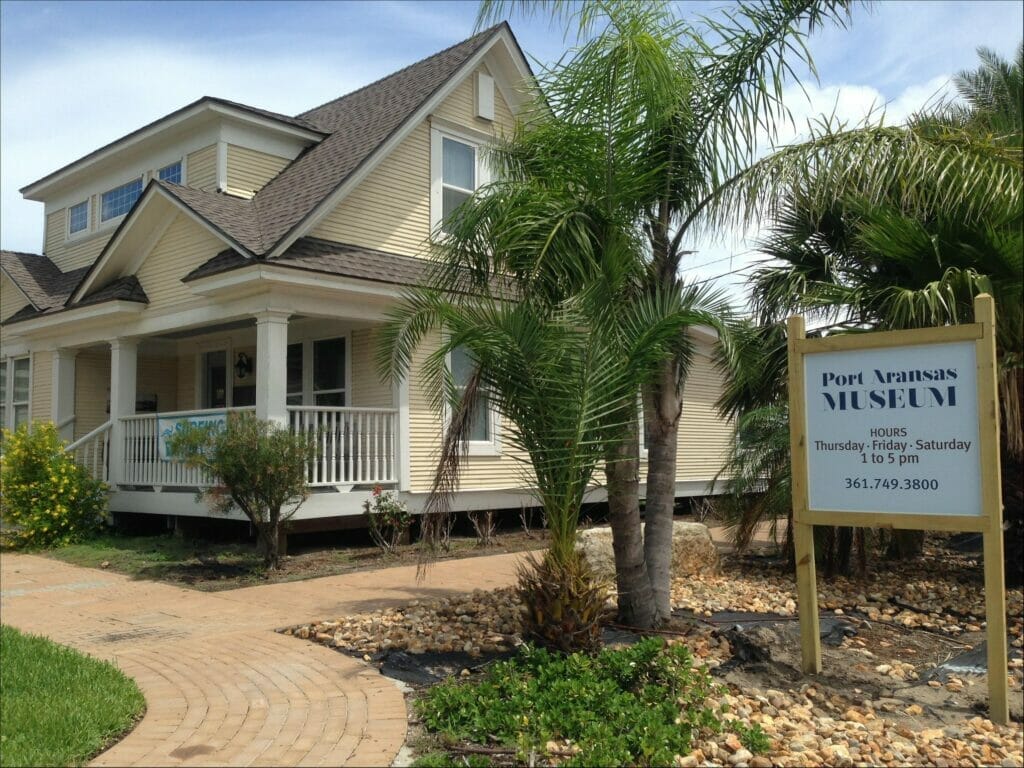 If you love to uncover local histories, the Port Aransas Museum and Farleys Historic Boat Shop is a must-visit.
This museum is known for its friendly and knowledgeable volunteer hosts that are available to guide you through the natural and cultural history of the area.
This is the perfect activity for a cooler or rainy day in Port Aransas that the whole family can enjoy.
There are three separate locations to explore and learn and it is recommended that you spend about an hour at each one.
13. Explore Marine Life at The University of Texas Marine Science Institute
Marine science lovers will delight in the exhibits at the University of Texas Marine Science Institute.
This natural science museum is free to explore.
Upon entering, you will uncover tanks full of live sea horses, eels, oysters, fish, and other fascinating species of marine life.
Here, you and your family can learn about the interdependence of marine life and see how the underwater ecosystem thrives.
This is the perfect family-friendly rainy-day activity for people visiting Port Aransas.
There are plenty of arts-related experiences for guests to enjoy on a trip to Port Aransas.
If you love to watch live performances, head over to the Third Coast Theater in Port Aransas for an experience unlike any other.
This venue features immaculate amenities and fantastic seating options.
Its incredible acoustics can be experienced from every seat in the house.
Here, you will frequently witness live music and shows taking place.
You can also pack your own snacks and cooler for a budget-friendly beverage selection.
Visitors can delight in the intimate and cozy feel of the Third Coast Theater.
15. Paddle Along Lighthouse Lakes Trail
Lighthouse Lakes Trail isn't your typical hiking experience.
Instead, you will embark on this self-guided tour by kayak.
If you're not great with directions, you don't have to worry because this sea kayak trail is clearly marked with GPS coordinates and trail signs.
Explore all of the aquatic natural views on this journey through a beautiful estuary region in Port Aransas, Texas.
For more groups, it will take about 2 hours to complete the tour, so you will want to plan on spending the morning or afternoon with this activity.
Some visitors experienced slight difficulties keeping up with heavier winds, so it is a good idea to begin your journey earlier in the morning to avoid any delays.
Visitors of Port Aransas love this attraction for its tranquil and peaceful waters where you can become one with the nature of the Gulf of Mexico.
16. Go on a Party Cruise with Captin Kirk's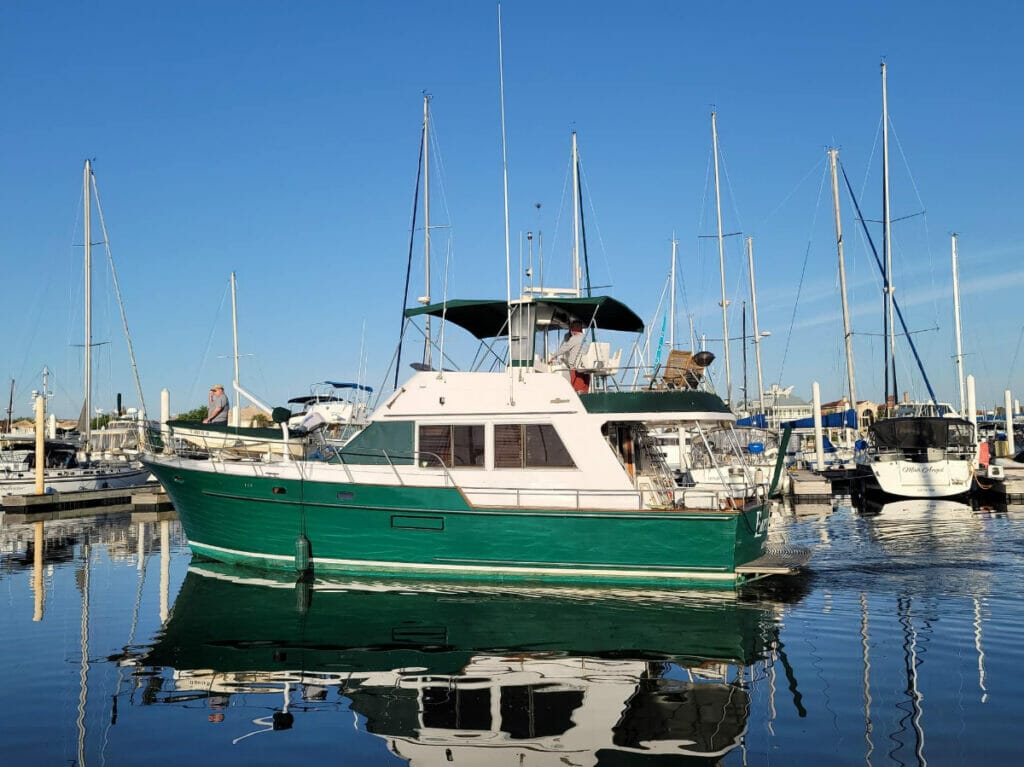 Another exciting activity for guests to participate in on their vacation to Port Aransas is a party cruise boat.
This moderately priced boat tour features all of the most exquisite views of Port Aransas.
You and your friends can head out on the open waters with a professional captain for two hours of pure fun.
As you board, you will be transported to a fun and safe environment with optional life jackets available at your request.
There are also restrooms available on board for you to use at your convenience.
Pack a cooler full of your favorite beverages and get ready to kick back and relax for an epic afternoon extravaganza.
For an amazing nighttime activity that will take your breath away, take to the open waters for a glow-in-the-dark kayak tour of Port Aransas.
This guided tour is designed for adults only and takes a little over an hour to complete.
Your tour guide will lead you to all of the most exciting areas for aquatic life throughout Lighthouse Lakes in Port Aransas, Texas.
Through the use of special underwater LED lights, you will gain an all-access pass into the unique underwater world that exists just below your feet.
This is a one-of-a-kind experience that you and your friends will remember for the rest of your lives!
18. Head to Island Wine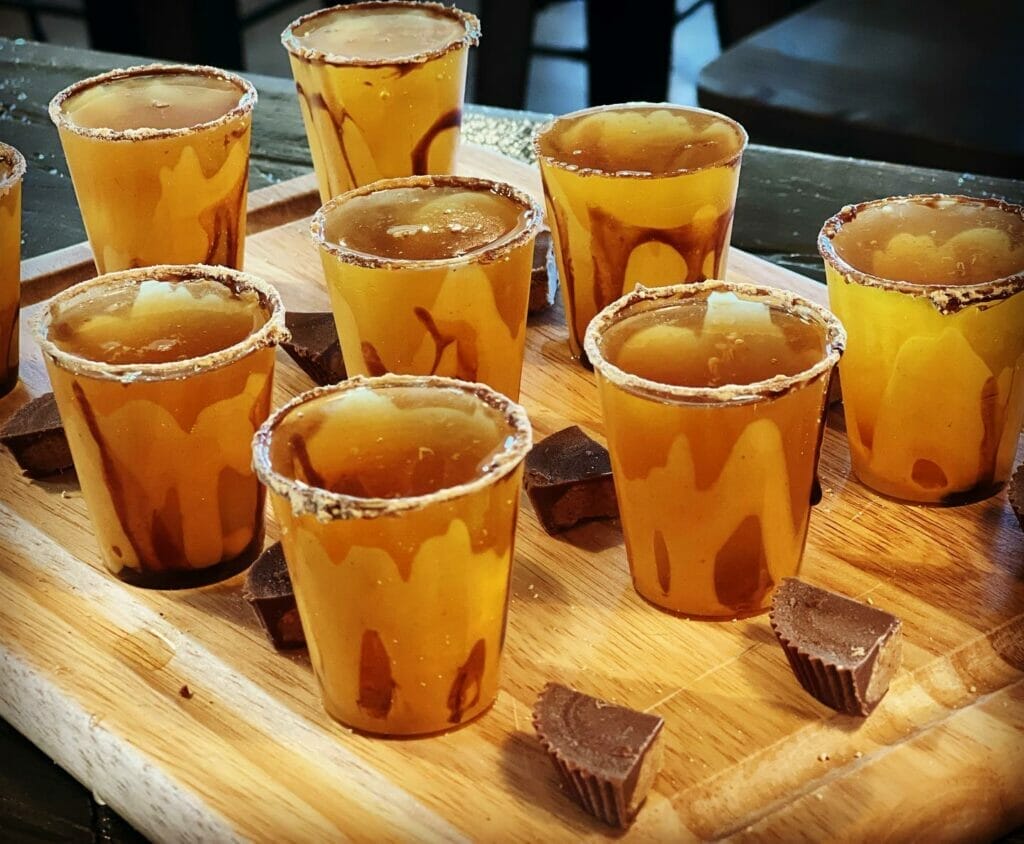 When you want to just chill with your family and friends (adults only!), visit Island Wine, a boutique wine store that offers tasting and events.
The wine selection is regularly rotated and the beer selection is on point as well.
Regular karaoke nights make it easy to people and jam out to some (usually country) music, and the atmosphere is incredibly cozy and welcoming.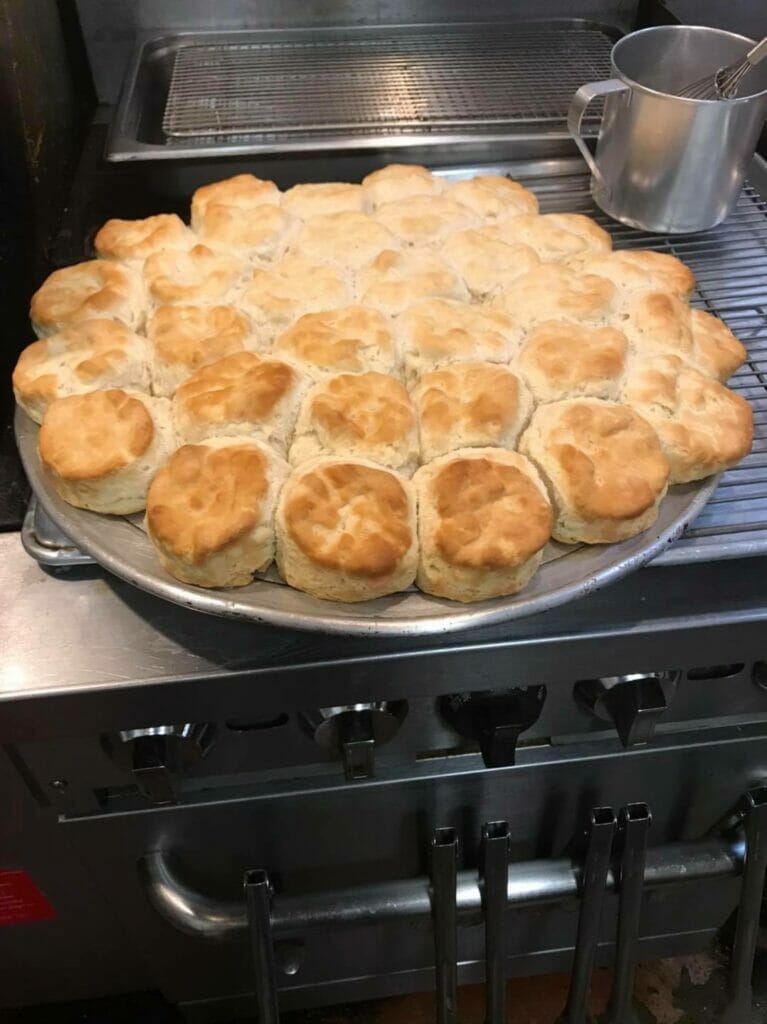 For the best breakfast on the island, check out Coach's Island Grill!
Mix in a delicious treat into your pancakes, enjoy their perfectly cooked eggs, or visit later in the day for a Philly Cheese Steak to rock your world.
Try the grilled cheese on Texas toast to sink your teeth into cheesey and buttery goodness, or enjoy the "Home Run" breakfast which has enough food to feed one really, really hungry person or basically an entire army.
The staff is like family to their customers, and while it's a small, local place, that's what makes it so perfect.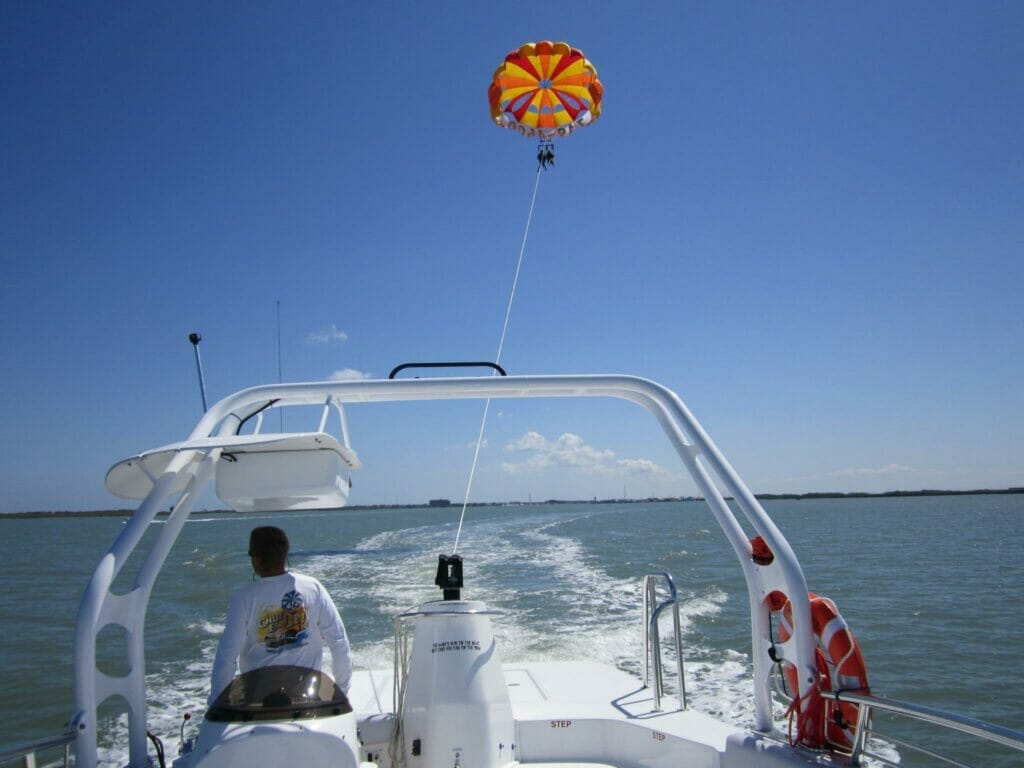 For the best views of Port Aransas, book yourself a parasailing adventure with Chute Em Up Parasailing, who will take you 500 feet up to learn what it's like to fly in the sky!
Better yet, it's an experience the whole family can enjoy together (kids welcome!) and the staff will make sure that you have a safe, friendly, and enjoyable time!
Get the wind in your face as you go out on the boat, and then enjoy the peace as you're up in the air, effortlessly floating your way over Port Aransas.
Picture perfect.
With plenty of spirits and cocktails to keep you going all night, the Salty Dog Saloon is one of the number one hangouts in Port Aransas when the sun goes down.
The karaoke entertainment is great to watch if you're feeling a bit shy or get involved in if you've had enough to drink!
Locals love the bar for its honky tonk music and friendly atmosphere.
It's also got dart boards, shuffle boards and pool tables so you can spend your evening having fun with friends.
With 50 acres right on the waterfront, Roberts Point Park is a fantastic place to go with the family to play, fish, and just hang out.
There's plenty of parking and the playground is great for the kids.
If you've got furry friends, they're welcome too.
Better yet, if you look out to the water, you can usually see dolphins jumping at most points in the day, making it a really relaxing and bucketlist type of destination (that is, if you don't normally get dolphin spottings in your local park!).
Take a picnic and keep an eye out for ocean creatures (including sea turtles) or use the barbecue grills to make your dinner.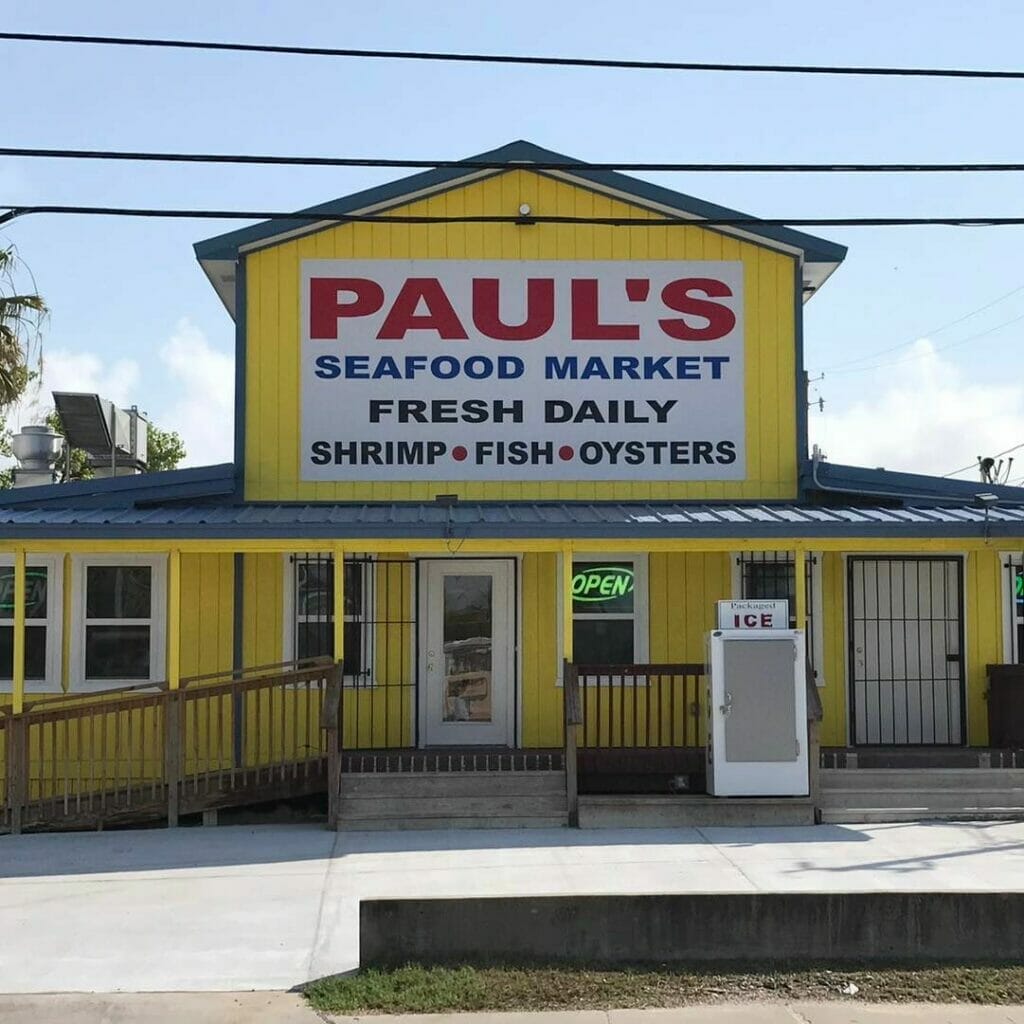 If you're staying at an AirBnb or house in Port Aransas and have your own kitchen, run, don't walk, to Paul's Seafood Market.
This is where you'll find the freshest seafood on the island, including flounder, squid, red snapper and shrimp.
Support local businesses by shopping here instead of one of the other Texas grocery stores, and rest assured that the market is clean and well-maintained so you're getting the best quality seafood all around.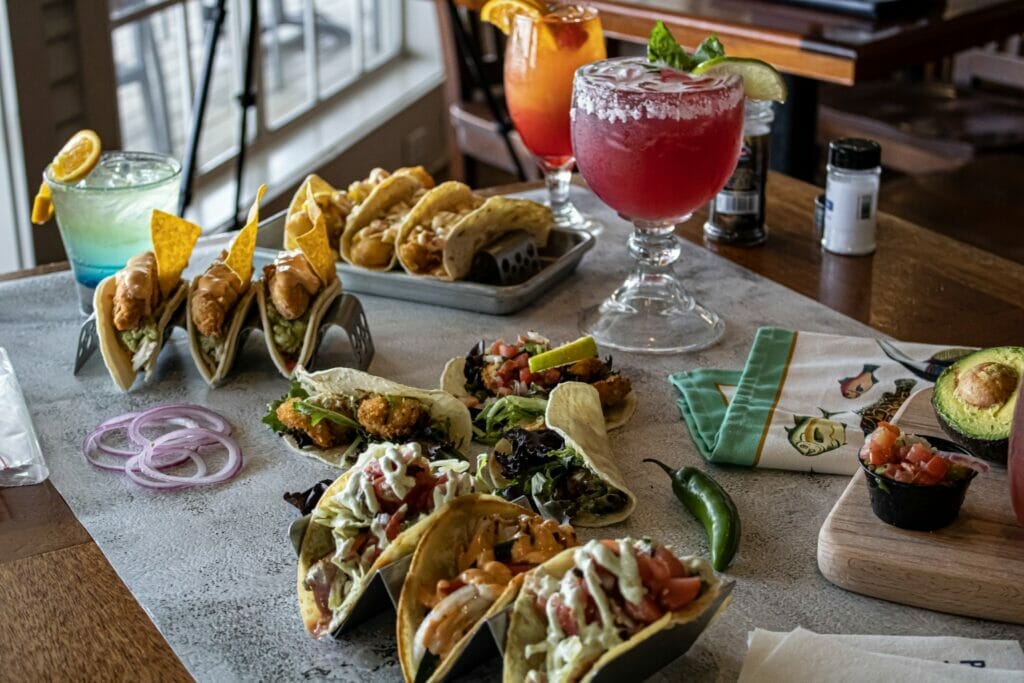 Want to watch the boats go by in the marina while enjoying Cajun-inspired seafood?
Trout Street Bar & Grill is one of the best places to go for dinner in Port Aransas if you want a nice meal out in a great atmosphere.
Try the shrimp alfredo if you're in the mood for pasta, or try the seafood Gumbo or crab cakes (the chipotle sauce is next level).
The cocktails are also worth trying, ranging from the hibiscus margarita to a nice beer selection.
They're also very readily able to help cater for dietary needs if you have any allergies!
25. Coffee Waves Port Aransas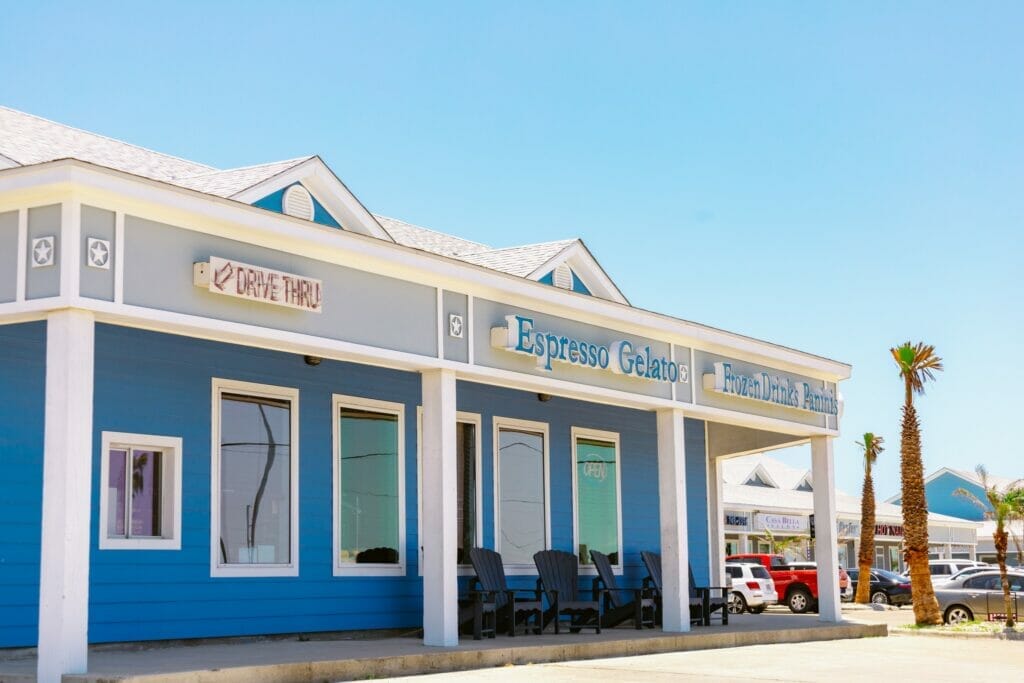 Want the best coffee in Port Aransas?
Support this local coffee shop that serves up incredible coffees, breakfast sandwiches, and creamy gelatos.
Try an iced espresso on a hot day, or opt for a hot panini in the afternoon as a break from the beach when it's a bit windy.
Even better, enjoy your interactions with the staff who go above and beyond for customer service and making every visitor and local in Port Aransas feel welcome.
You'll leave feeling refreshed, upbeat (thanks to the coffee and the friendliness), and ready for the best day in Port Aransas.
Pin for Later!