Looking for a less crowded beach getaway?
Why not a trip along the sunshine-filled Texas coastline?
Start southeast of Houston following a chain of islands that hug the Texas coast of the Gulf of Mexico.
Continue past Corpus Christi, down to where Texas meets Mexico.
Enjoy warm water and unobstructed Gulf views, while preparing yourself to enjoy a brighter side of Texas.
Follow along for the 11 best beach towns in Texas.
But, first!
Why consider Texas beach towns for a getaway?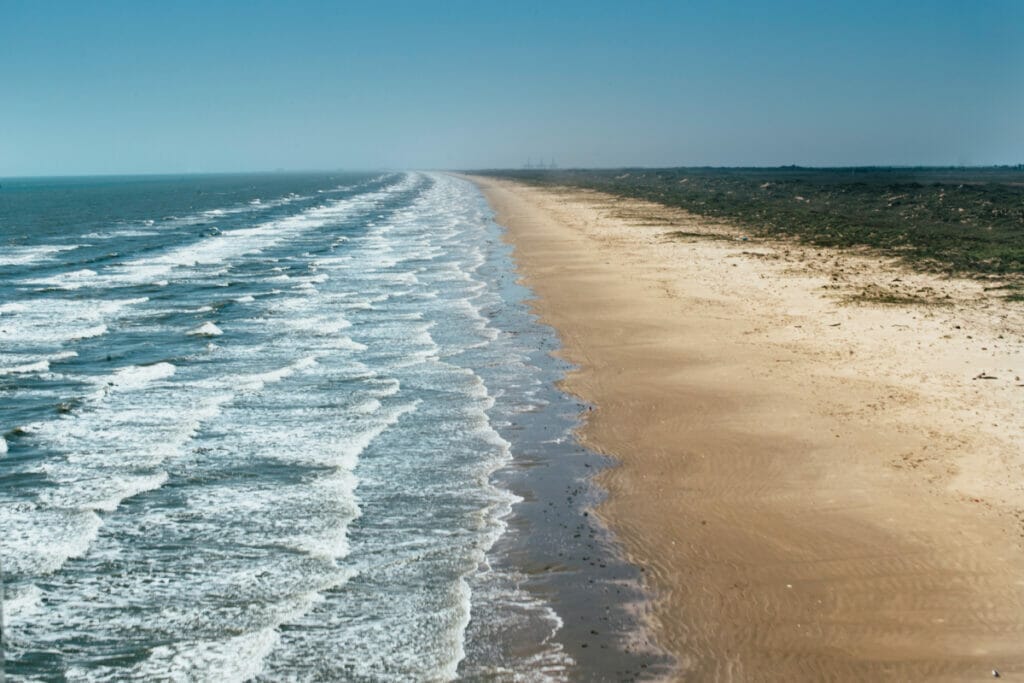 A few reasons:
Affordability – unlike some major East and West coast beach towns, Texas beach towns are still relatively affordable both for living and for day trips. You'll find more affordable restaurants, accommodation, and things to do.
Warm waters – Texas beaches have some of the warmest waters in the Gulf, which makes it super relaxing to chill out in (and yes, you can swim off of Texas' coast!)
See a different side to Texas – let's face it, most people don't think of the coast of Texas. They think of the rodeo, of major Texas inland cities, and maybe of Buccees, but they're missing out on the gems that can be found on the coastline. Discover a different side to Texas in its beach towns and see why this state has so much to offer.
Hey! Want more expert tips on Texas? Check out our other guides!
GET A

FREE

TEXAS GUIDEBOOK WITH LOCAL TIPS!
With 71 pages of helpful travel tips and the "best of" Texas lists, this is your ad-free key to your Texas trip.
Don't forget to pack…
For all of your opportunities to hit the beach, don't forget to bring:
1. Port Arthur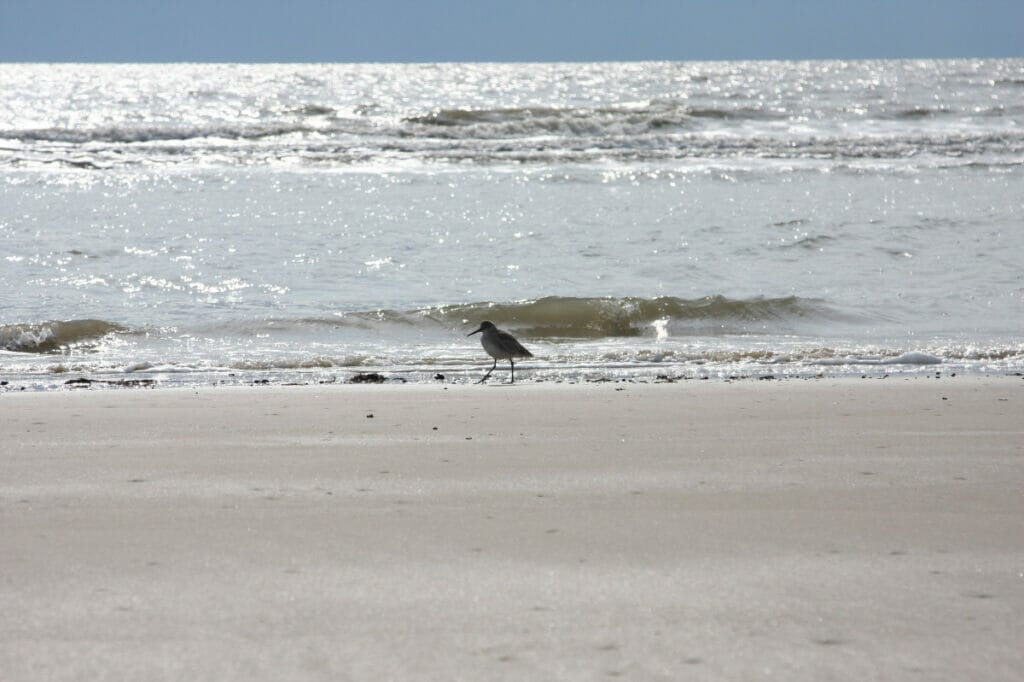 Across the border from Louisiana sits Port Arthur, one of the smaller beach towns in Texas.
It's also known as the historic site where the Confederate soldiers stopped the Union forces during the Civil War, so history buffs should make sure to plan a stop here.
Check out the Sabine Pass Battleground Memorial site where you can grill your favorite foods and picnic next to the water (don't forget the bug spray in the warmer months).
Next, look for Sea Rim State Park or McFaddin Beach, both places where Texans and visitosr alike can enjoy sand and sun.
Launch your boat for a playful afternoon on the water, soaking in the rays.
Further south is the McFaddin National Wildlife Refuge offering a mix of wetlands and beach.
Here, enjoy outdoor activities including swimming, fishing, camping (one of the best places to camp in Texas), and seashell hunting (some of the best seashells in the area!).
It's a quiet location which means there can be lots of wildlife.
Look for wild hogs, alligators, crabs, dolphins, and even bald eagle!
Bring a pair of binoculars to make your visit even better.
Pitch a tent and fall asleep stargazing on warm nights.
Had enough sun?
Enjoy a super cool whiskey tasting experience at the new veteran-owned, hand crafted Clifford Distillery, in downtown Port Arthur.
Before you head home, try the Museum of the Gulf Coast for a bit of local flavor.
Entry is under $10 per person, offering exhibits on the history and artistry of the area.
Port Arthur's best beaches:
McFaddin Beach
Pell's Landing
Where to stay in Port Arthur:
Best Port Arthur low cost hotel: Clarion Pointe
Our favorite Port Arthur hotel: Home2Suites by Hilton
Recommended VRBO/AirBnb: Sunshine Vibes Waterfront Condo
2. Bolivar Beach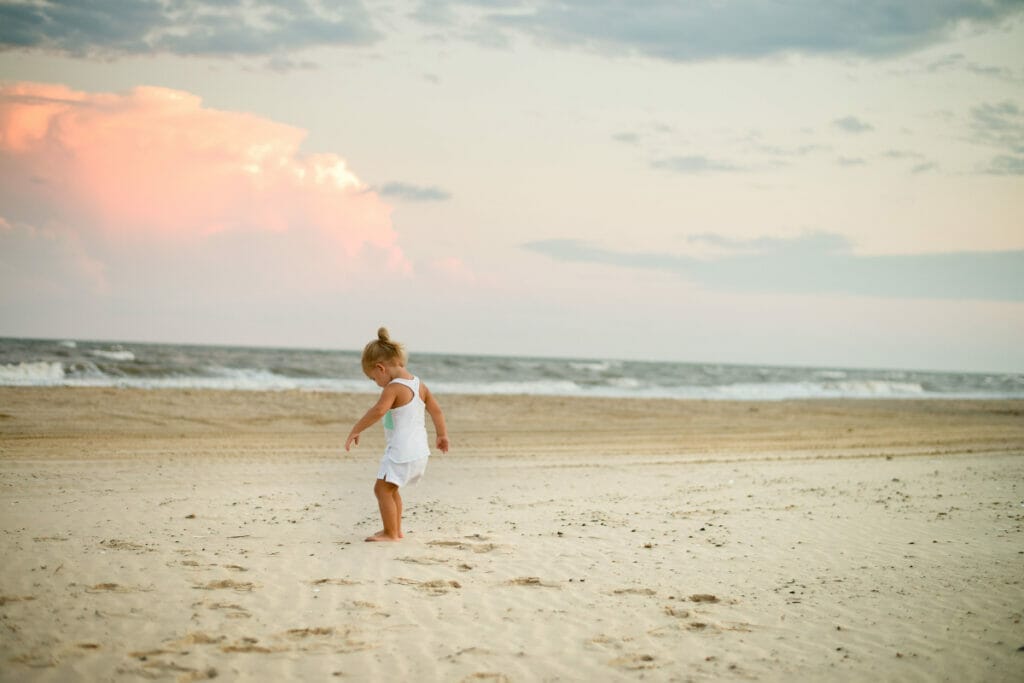 Just south of Port Arthur is the Bolivar Peninsula, home to Bolivar Beach, Goat Island and Fort Travis Park.
Drive your car right onto Bolivar Beach and camp.
Your belongings will never be far away, so you can easily run back to your set-up for some food, an extra layer, or more sunscreen.
Beware of the four wheelers going fast along the water's edge (definitely keep an eye on the kids), but delight in the sunset on the gulf.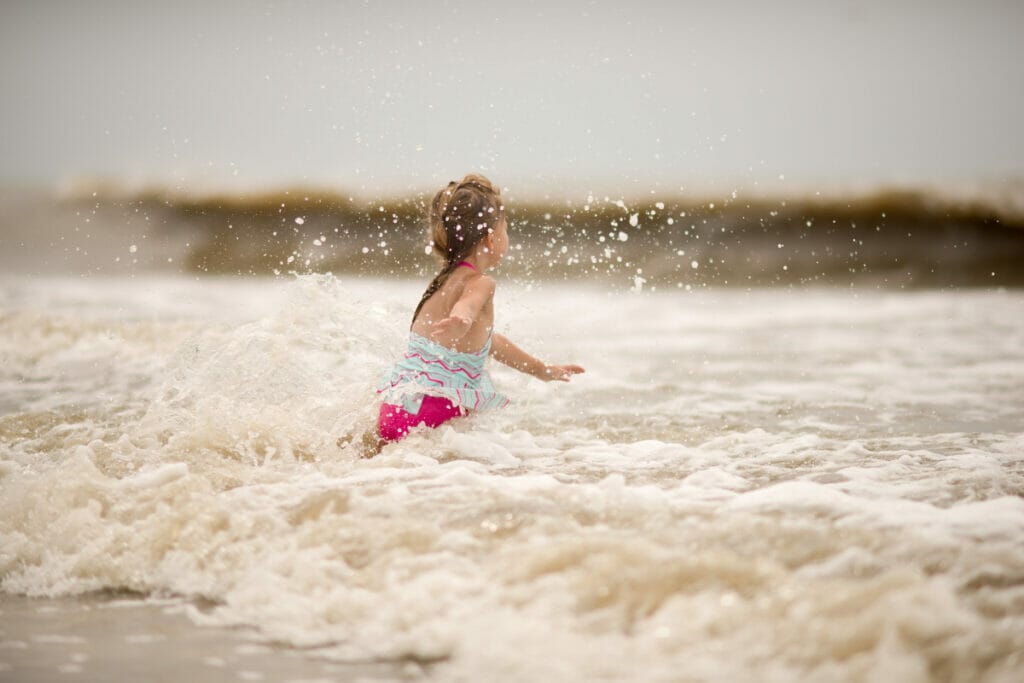 They're truly out-of-this-world and something everyone should see with their own eyes.
Birding enthusiasts will also love this part of Texas.
Keep an eye out for sandhill cranes!
Where to stay in Bolivar Peninsula:
Best Bolivar Peninsula low cost hotel: Boardwalk Resort
Our favorite Bolivar Peninsula hotel: Pineapple Beach House
Recommended VRBO/AirBnb: Charming waterfront home
3. Goat Island
Arguably the best coastal town in Texas, Goat Island may not have any goats (a shame), but at only four miles long and one mile wide, it packs a lot in for those seeking fun and mystery.
It has a reputation for being the "Key West of Texas" with bars and an eclectic group of islanders that celebrate life to the fullest.
And why not when you're in such a beautiful part of the world?
Top tip: make sure you know that you'll need to leave your car on the peninsula, as this is a 'car free' zone where residents and visitors use golf carts and bikes to get from place to place.
It makes for a super chilled out experience, and: there's a bonus!
No one has to worry about being the designated driver.
The Point Bolivar lighthouse is also a great way to spend some time, getting pictures and enjoying the beautiful backdrop against the deep blue sky.
4. Galveston/Jamaica Beach
From Goat Island, you can grab the ferry to Galveston Island and Jamaica Beach.
Tucked in the northwest corner of the Galveston Island State Park is Jamaica Beach, one of best beaches in Texas to live if you're looking to settle down near the coast.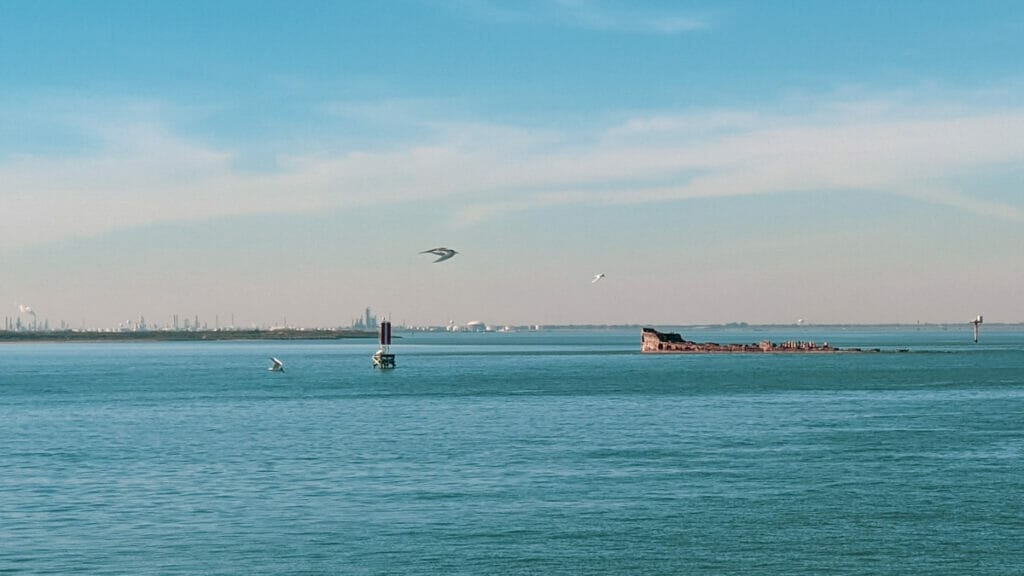 Yes, it's crowded at peak times with Texas daytrippers, but you can find secluded spots if you go a bit further and pitch your umbrella away from the masses.
This is the perfect beachy spot for hiking, birdwatching, and swimming – all in a safe, protected and natural setting.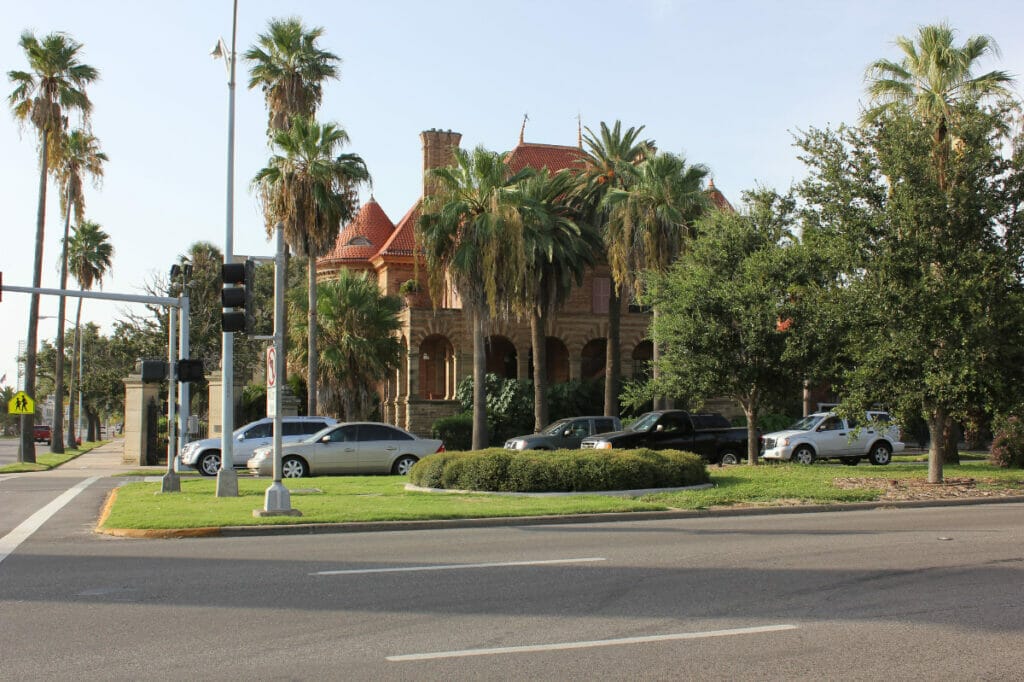 Rent a beachfront home for a week to enjoy home cooked meals with the family (we recommend using VRBO instead of AirBnb) or stay in the campgrounds after a long day at the beach if you want to feel more one-with-the-beach.
See the area by chartered boat or helicopter for a unique, Texas-sized adventure (everything's bigger in Texas, don't you know?)
Galveston's Beaches:
Sunny Beach
Pirates Beach
Galveston Seawall Beaches
Jamaica Beach
Galveston at-a-glance:
Best Galveston tour: Galveston Historic Ghost Tour
Where to stay in Galveston on a budget: Baymont by Wyndham
Our favorite Galveston hotel: Moody Gardens Hotel & Spa
Recommended VRBO/AirBnb: Beach Cottage Steps from Surf
5. Quintana Beach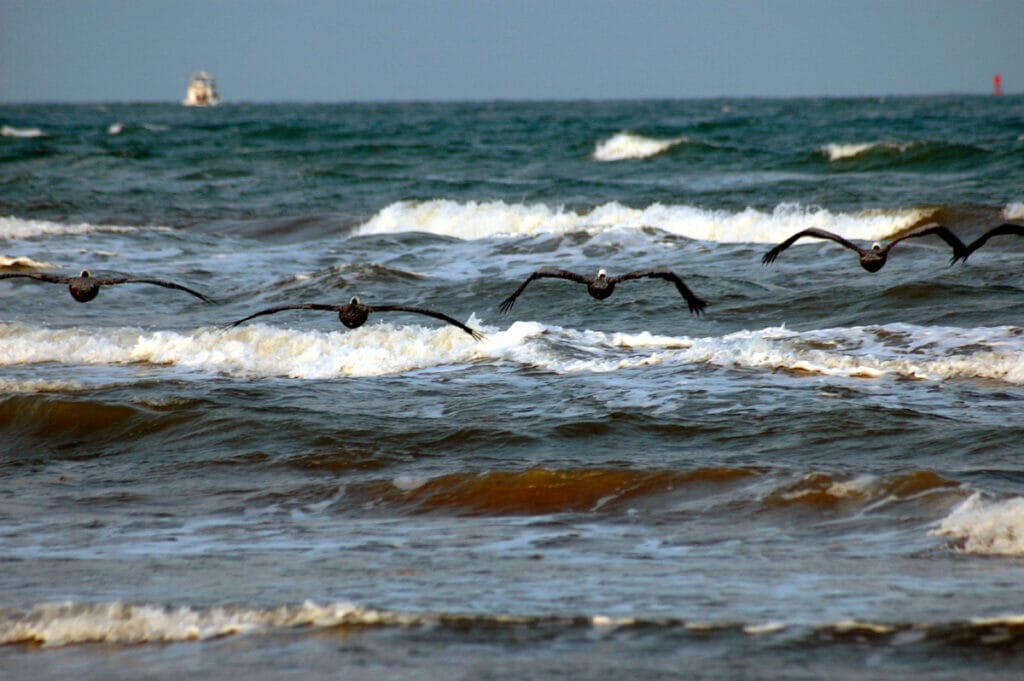 Quintana Beach is next on the list, known for being a peaceful place to hang with family or friends.
This is where you should go if you want to escape a bit more from day-to-day life and just relax without a ton of hub bub.
This is another public beach you can drive on and park for the day, so incorporate it easily into a Texas road trip.
Locals recommend bringing your own food and drinks, as it's a bit far to go if you forget something (make sure to bring a cooler that's easy to carry onto the beach).
Bring your RV or rent a cabin and take a break from the rest of the world.
Flanked by Brazoria National Wildlife Refuge to the northeast and San Bernard National Wildlife Refuge to the southwest, Quintana Beach has lots of activities to keep everyone entertained, including boating, fishing and crabbing, and other water sports.
6. Freeport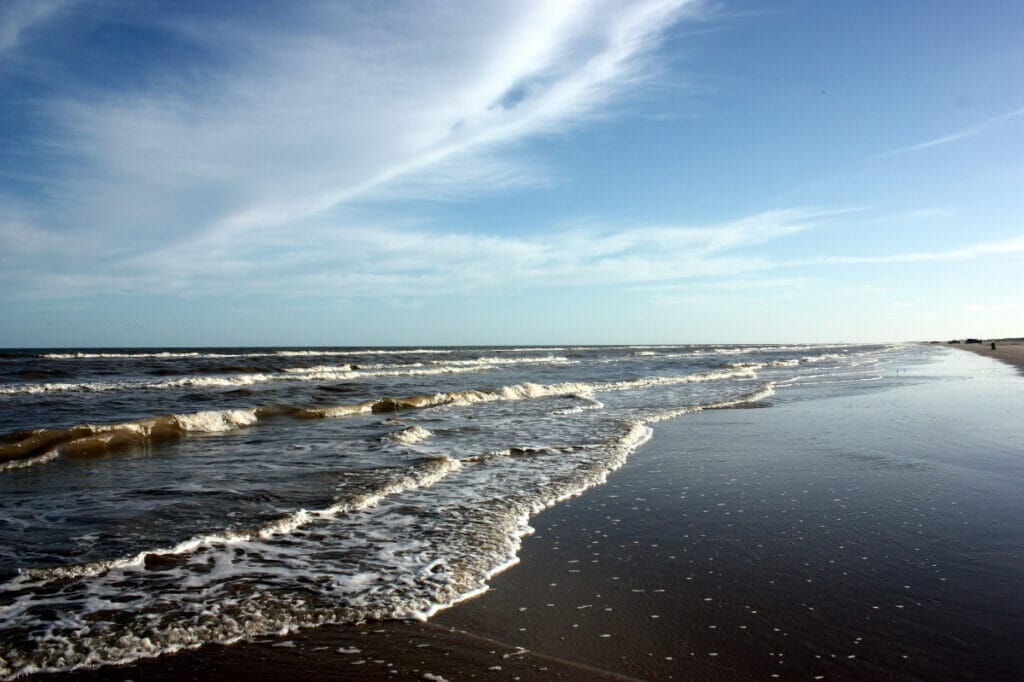 Freeport is close by, where the Brazos River meet the Gulf of Mexico, with cute dive bars, diners with Americana classics, and hotels (if you need some suggestions, check out our guide to the best places to stay in Texas).
Another one of the best Texas beach towns to live in and definitely worth a stop on your Texas adventures.
The motto is "where fun happens," and you'll totally see why once you arrive and head to Surfside Beach.
Need help planning your trip?
Stop by the Freeport Historical Museum and Visitor Center on your way to the beach.
They'll be more than happy to help you figure out exactly what to do and where to go for the cheapest eats and the absolute best way to spend the day.
Freeport's beaches:
Surfside Beach
Brazoria County Beach
Bryan Beach
Where to stay in Freeport:
Best Freeport low cost hotel: Motel 6 Freeport
Our favorite Freeport hotel: Cozy loft by the sea
Recommended VRBO/AirBnb: Beautiful surfside house
7. Matagorda Island
Fishermen and women take note, this next best Texas beach also has the best fishing in Texas – Matagorda Island.
At the east tip of the island is Pass Cavallo, known as the secret jackpot spot for fishing (shh!)
Hire an experienced guide to take you out for your very own catch of the day.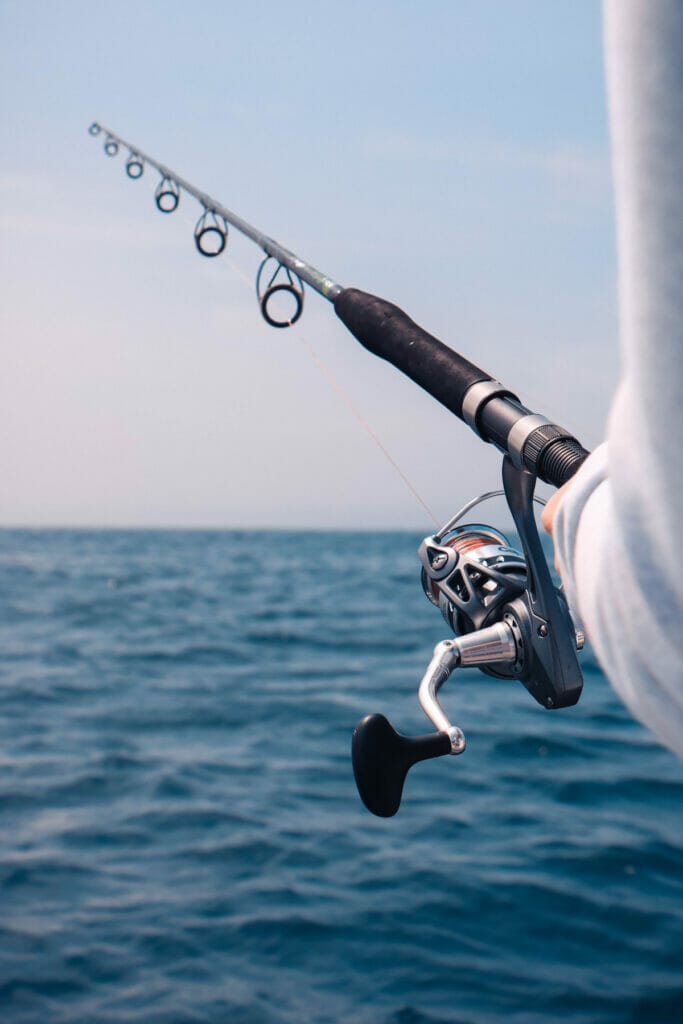 The Matagorda Island Lighthouse is another gem, and it has a unique cast iron shaft that has patinaed to a beautiful copper green.
It sits at the end of an old army base, great for riding bikes.
Matagorda is Spanish for "thick bush" describing the canebrakes that once grew along this meeting of land and sea.
Those bushes are still around, mainly found in the Matagorda Bay Nature Park just next to the beach, where the Colorado River meets the Gulf of Mexico.
The main beach is a great place to camp but here's an expert tip for you: you must buy a pass from the local shops.
It's a small price to pay for a great overnight stay.
8. Rockport Beach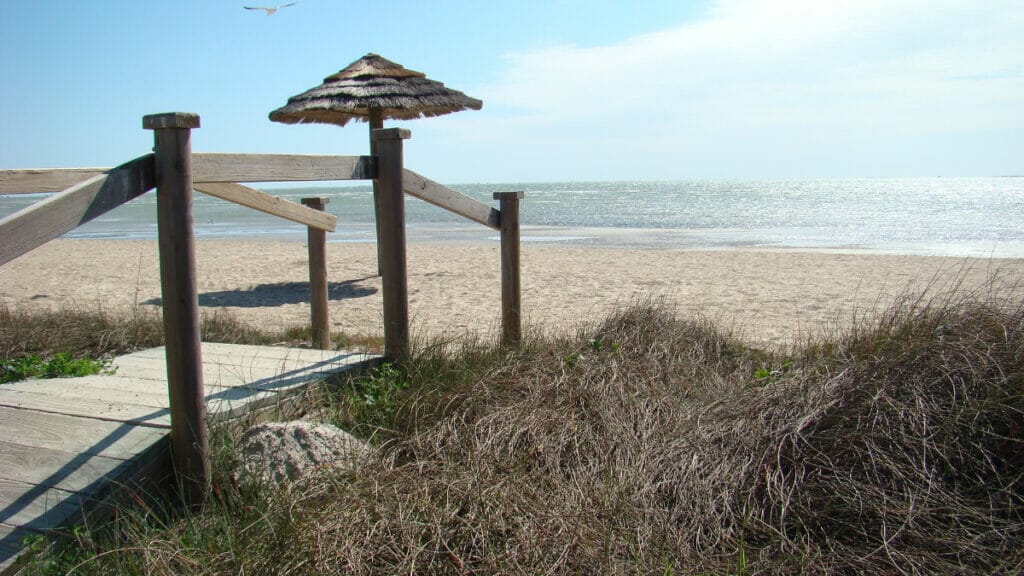 Further southwest sitting on Aransas Bay is Rockport Beach, one of the best beach cities in Texas and a favorite for families.
In fact, Rockport is one of the best places to visit in Texas!
There is a clean, shallow, soft sand beach, with well-maintained indoor showers and restroom facilities, playgrounds and even covered picnic tables for sand and salt-free mealtimes and to catch some shade from the harsh rays.
It's only $5 for a day pass, which makes for a cheap day out in Texas.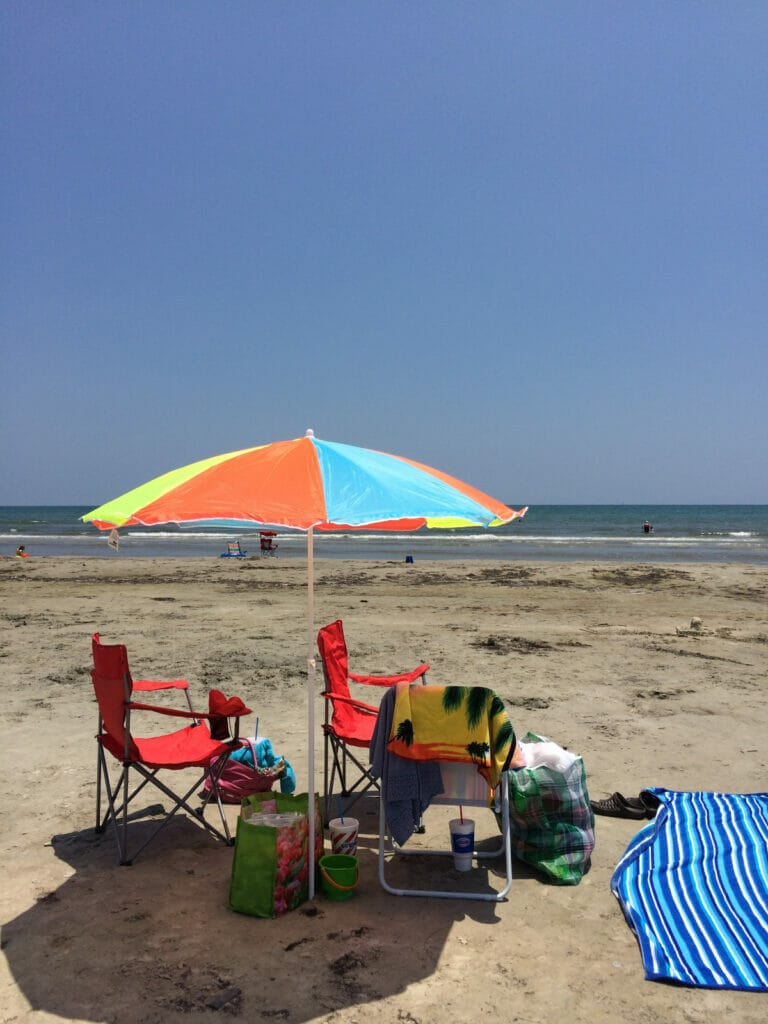 Grab some friends for beach volleyball, boating, or spend some quiet time together on the fishing deck.
When you're not on the beach, grab a drink at the dual wine and brewery on the water, take in some fine art at the galleries featuring local artists (lots of events to attend), or visit Fulton Mansion for a bit of Texas Golden Age history.
The next best beach towns in Texas are next up, right around Corpus Christi.
Where to stay in Rockport:
Best Rockport low cost hotel: Quality Inn Rockport
Our favorite Rockport hotel: Whooping Crane Manor
Recommended VRBO/AirBnb: Dog-friendly beach house
9. Mustang Island/Port Aransas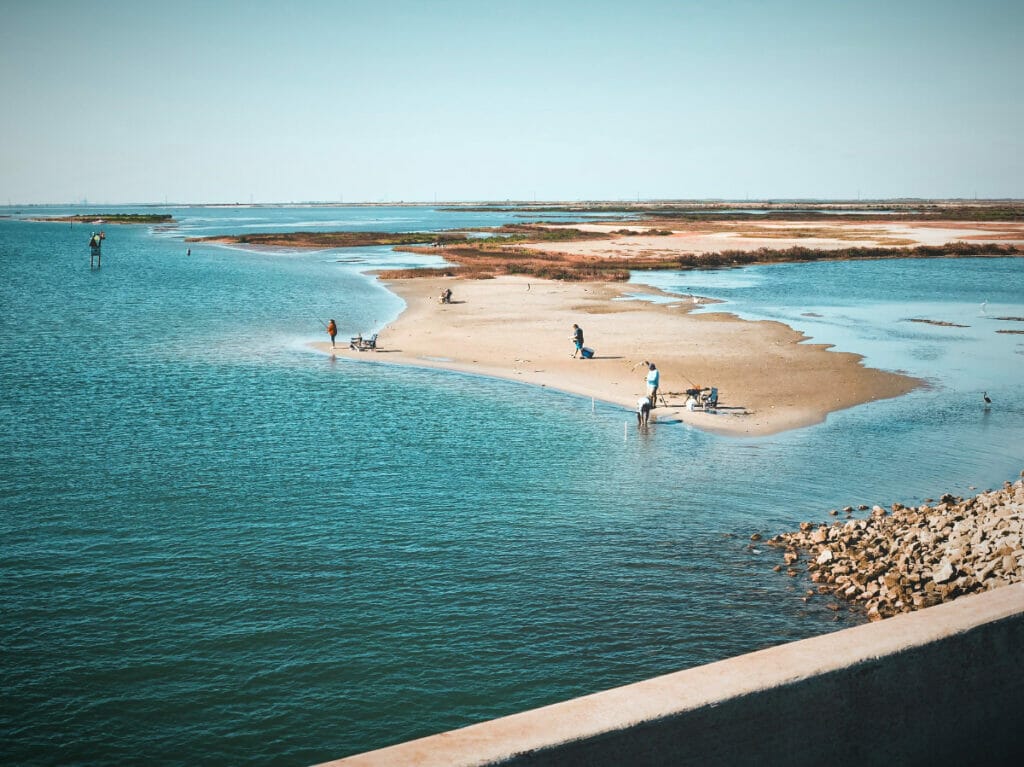 Mustang Island stretches for 18 miles of sandy beachfront along the coast with absolutely stunning views and plenty to do.
Port Aransas is on this island and is known to be one of the highest rated places for surfing, swimming, sunbathing, and other recreational activities to keep the whole family busy – certainly, a top contender for one of the best beach cities in Texas!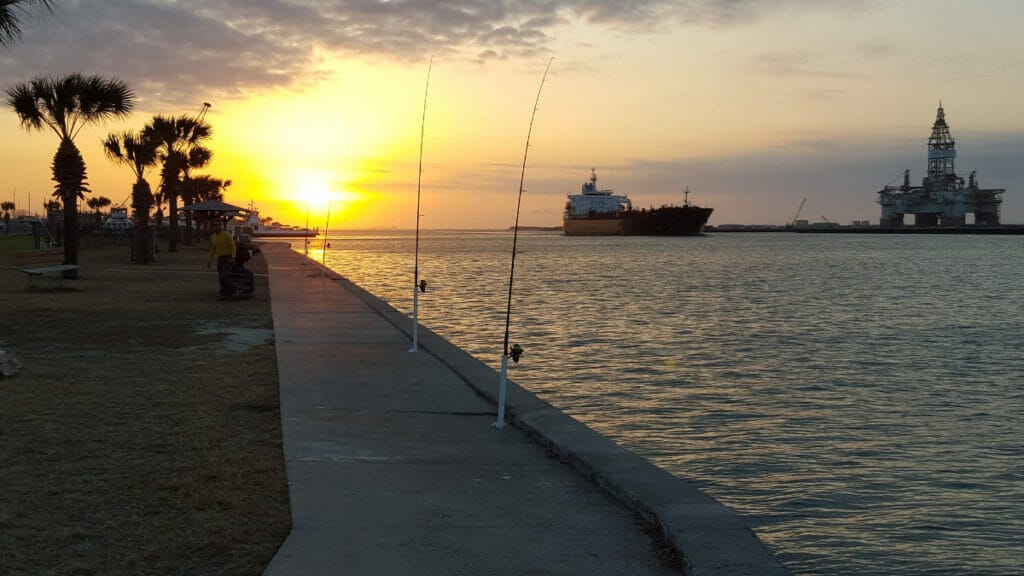 After you've built a sky-scraping sandcastle and protected it with a moat, grab a bite at much-loved local spots like Oceans of Seafood or Rosita's Taco Shop and finish your night dancing the two-step at one of the bars featuring live country music (this is Texas, after all).
Bring your RV or tent to camp on the beach, inviting the ocean waves to lull you to sleep.
Port Aransas at-a-glance:
Where to stay in Port Aransas on a budget: The Place at Port Aransas
Our favorite Port Aransas hotel: Alister Square Inn
Recommended VRBO/AirBnb: Beach house with pool
10. Corpus Christi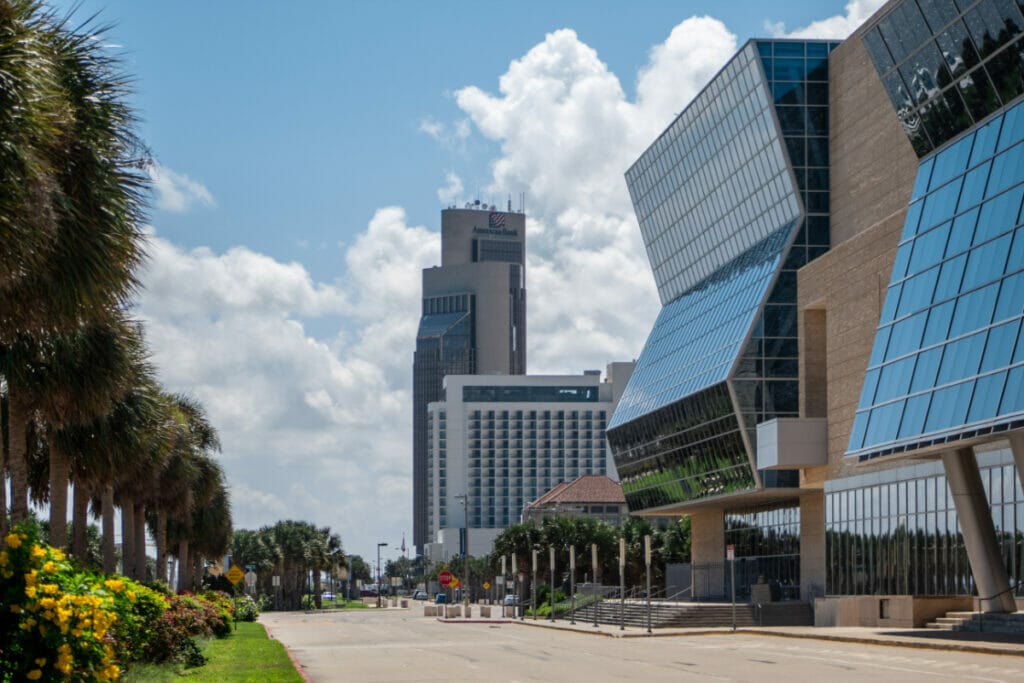 Just across the bay in the Corpus Christi, are the South Texas Botanical Gardens and Nature Center, Hurricane Alley Waterpark, and Texas State Aquarium.
Don't leave out the Texas Surf Museum!
With the Dolphin Connection viewing center a short trip over the bridge in Ingleside, this is definitely one of the top Texas beach towns to live in.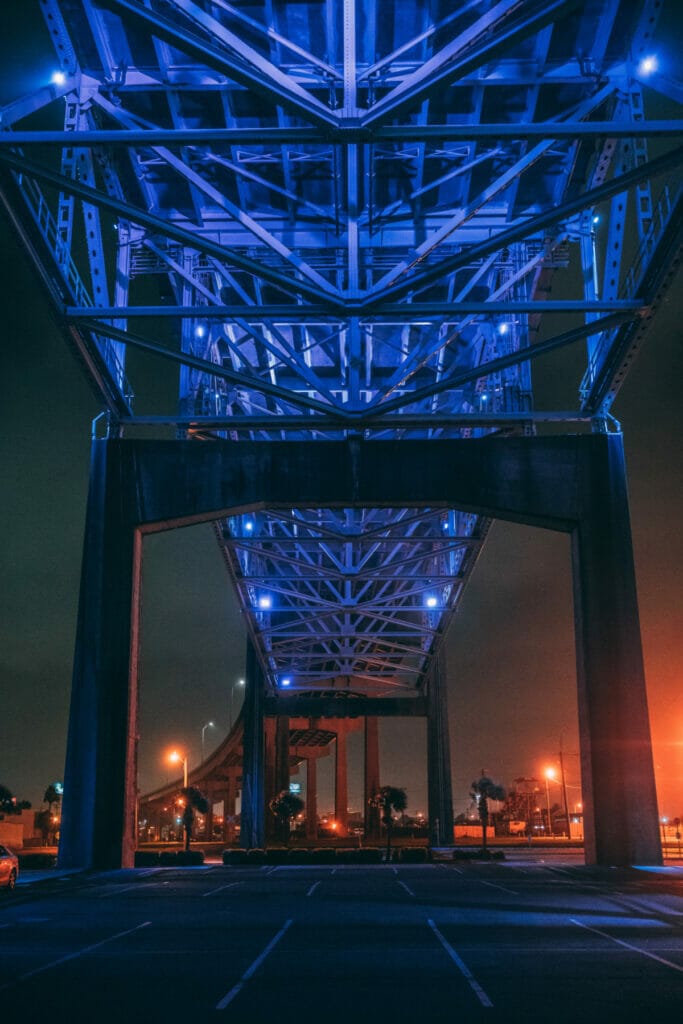 Another great thing about Corpus Christi is the amazing amount of Tex Mex here, with plenty of delicious restaurants and foodie options.
Corpus Christi's best beaches:
Whitecap Beach
North Beach
Padre Balli County Park
McGee Beach
Big Shell Beach
Little Shell Beach
South Packery Channel Beach
North Packery Channel Beach
Corpus Christi at-a-glance:
Best Corpus Christi tour: Glowing Kayak Tour
Where to stay in Corpus Christi on a budget: Hawthorn Suites by Wyndham
Our favorite Corpus Christi hotel: Omni Corpus Christi
Recommended VRBO/AirBnb: Resort-style condo with views
11. Padre Island/South Padre Island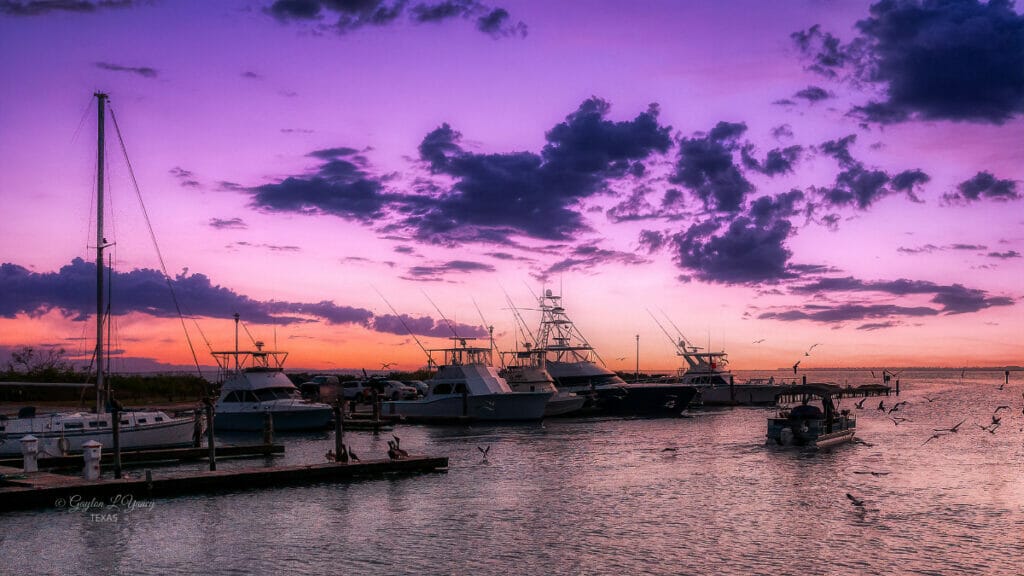 The Padre Island national seashore is a protected coastal area hugging the last stretch of Texas coast, starting at Padre Island and extending down to South Padre Island, with a few remote beaches along the way.
While Port Aransas is a top destination for families, South Padre Island is known for being a Spring Break destination.
Keep this in mind if you're visiting during this time of year and this isn't your scene.
The rest of the year, however, South Padre Island is one of the best coastal towns in Texas for nature lovers.
Residents care for the sea life, rescuing sea turtles and rehabilitating them for release through Sea Turtle Inc.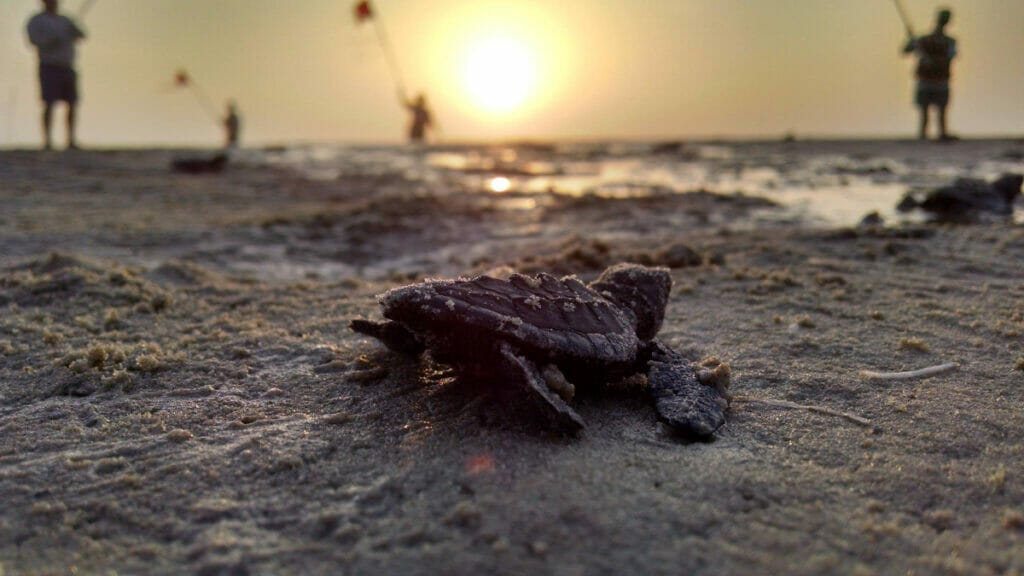 The South Padre Island Birding and Nature Center has a 5-story watchtower where you can watch migrating birds and the Dolphin Research & Sealife Nature Center has touch tanks and boat tours along the outer banks.
Of course, you can still enjoy water sports like parasailing any time of year!
Plan your visit around one of the sandcastle days, when sculptors bring their talents to the beach for some of the most creative – and tall – sand artistry you will ever see. Some take days to build!
That's it for the 11 best beach towns in Texas.
Ready to surf the Texas coastline down to Mexico?
PS – if you're still looking for water activities in Texas, don't forget about our guide to the best lakes in Texas if you can't make it to the ocean!
Where to stay in Padre Island:
Where to stay in Padre Island on a budget: The Inn at South Padre
Our favorite Padre Island hotel: Holiday Inn Resort South Padre
Recommended VRBO/AirBnb: Modern coastal condo
12. Brownsville
Right along the border of Mexico is Brownsville, Texas, where you'll find the southernmost beach in the state.
Locals love Boca Chica Beach because it's one of the lesser known Texas beaches, so it's not as crowded.
Not only that, it has the unique feature of being just half a mile from the SpaceX Launch Facility and Landing Pad, so you can stoke your wonder for both space and sea in one trip!
(Note: SpaceX does not offer tours, but it's still pretty cool to see the station in the distance while you're chillin' on the beach!)
If you've had your fill of the beach, check out Brazos Island State Park for hiking, camping, or fishing.
Or, head into the city, where you'll find a well-kept zoo, several museums, a large modern park with a playground, and plenty of shops and eateries right by the border!
Where to stay in Brownville on a budget: La Quinta by Wyndham
Our favorite Brownville hotel: Holiday Inn Express
Recommended VRBO/AirBnb: Beautiful home in the historic district
13. Texas City
Despite its name, Texas City is one of the lesser known stops along the Texas coast, making it a great destination if you don't want to be surrounded by tourists!
The strong currents at Dike Beach aren't ideal for swimming, but it's a great place to catch some fish, or simply enjoy the sunset.
For safer swimming, the whole family will enjoy the Nessler Park Family Aquatic Center!
This affordable water park features slides, a lazy river, a swimming pool, and a play area for toddlers.
Learn about local history at the Texas City Museum, or tour the historic Davison Home At Heritage Square Park on the first Sunday of the month.
Looking for some spooks? Head over to Terror Isle Adventures for a haunted house and several creepy escape rooms!
Be sure to stop by Halfmoon Shoal Lighthouse for some idyllic vacation photos!
Where to stay in Texas City on a budget: Best Western
Our favorite Texas City hotel: Home2 Suites by Hilton
Recommended VRBO/AirBnb: Spacious and comfortable home
14. Kemah
Okay, so Kemah might not be home to an actual beach, but you'll never have time to miss it when you're having a blast at the Kemah Boardwalk!
Located just outside of Houston, Kemah is more than worthy of a weekend stay.
Go fishing, take a short cruise on an upscale yacht, or hit up the Kemah Lighthouse District for some shopping!
Of course, the star of the city is the popular Kemah Boardwalk.
Scream your heart out on the amusement rides, win fun prizes from the boardwalk games, or chow down on some good ol' fashioned seafood.
Don't forget to get some funnel cake!
If you're still craving some time at the beach, El Jardin Beach in Seabrook is just 6 miles away!
Where to stay in Kemah on a budget: Days Inn by Wyndham
Our favorite Kemah hotel: Boardwalk Inn
Recommended VRBO/AirBnb: Waterfront Two Story Cottage
15. Seabrook
It doesn't just have a pretty name.
Seabrook is home to a handful of gorgeous parks, including a wildlife refuge.
But most importantly, there's the beach!
El Jardin Beach is known for being clean, secluded, and perfect for picnicking with the family.
Top tip: plan your trip to El Jardin Beach during a weekday – it's less busy, and you'll get to skip the $10 weekend fee!
If you get tired of the sand, you'll find plenty of other options for aquatic fun in the area, like fishing, sailing, kayaking, or canoeing!
Where to stay in Seabrook on a budget: Captain Inn and Suites
Our favorite Seabrook hotel: Holiday Inn Express & Suites
Recommended VRBO/AirBnb: Seaside Getaway with Bay Views
16. La Porte
Another great small Texas beach town is La Porte!
First things first, Sylvan Beach Park is where you'll go for soft sand, cool waters, and a wooden fishing pier.
There's even a skate park near the coast for some scenic skating!
Further into town, you'll find several quaint parks, with playgrounds and hiking trails, as well as a nice golf course.
Step into one of the town's art galleries or antique shops, or head over to The Moon, a unique local bar with whimsical art displays on the back patio.
Where to stay in La Porte on a budget: Comfort Suites La Porte
Our favorite La Porte hotel: Home2 Suites by Hilton
Recommended VRBO/AirBnb: Relaxing VRBO Rental with Bay Views
17. Twin Points Park
You don't have to go to the coast to enjoy a Texas beach!
Twin Points Park is located on the outskirts of Fort Worth, and features a beach with soft, clean sands leading out to the blue waters of Eagle Mountain Lake.
Grab a bite nearby at Augie's Sunset Cafe and Marina, a popular restaurant on the waterfront.
You might even get to enjoy some live music while you're there!
And, of course, you'll be less than a half hour's drive from the shops, eateries, and other attractions in downtown Fort Worth!
Where to stay in Twin Points Park on a budget: Motel 6-Azle
Our favorite Twin Points Park hotel: The Old Liberty Schoolhouse
Recommended VRBO/AirBnb: Cozy 3 Bedroom Retreat
18. Port Lavaca
Port Lavaca is home to a gorgeous historical lighthouse, and the suitably named Lighthouse Beach.
Not only will you enjoy the sandy beach, you'll also have access to a playground and splash pad, a fishing pier, and a dedicated tower for bird watching.
Enjoy a packed lunch at one of the picnic tables by the water, or lay a blanket out on the beach and relax under one of the straw umbrellas. (Just be sure to get there earlier in the day to snag your spot!)
The Bayfront Peninsula Park is another good place to kick back and enjoy the ocean view, or head into town for some local eateries like Roma's Italian or Pit Devil BBQ!
Where to stay in Port Lavaca on a budget: Royal Inn Port Lavaca
Our favorite Port Lavaca hotel: Holiday Inn Express Port Lavaca
Recommended VRBO/AirBnb: Huge Waterfront Home with Pier
19. Port O'Connor
The small but friendly population of Port O'Connor leaves its beach quiet and uncrowded.
King Fisher Beach is ideal for building sandcastles, collecting shells, and playing in the warm, shallow waters.
Just be sure to wear water shoes so you don't hurt your feet on any of the beautiful shells that adorn this charming little beach!
Hungry?
Sharkies Bar & Grill is a nice casual place to grab a meal, and Cathy's seafood restaurant is a locally hidden gem!

Recommended VRBO/AirBnb: Rental Home 5-Minutes from the Beach
20. The Colony
The Colony is a small city just half an hour north of Dallas.
You'll find a small beach overlooking the lake at Stewart Creek Park, as well as a fishing pier, walking trails, campgrounds, and a golf course!
Head into town for more aquatic fun at Hawaiian Falls, a popular local water park.
If you get sick of the water, race your heart out at Andretti Indoor Karting and Games, or stop along the highway for a nice meal from one of the many local eateries or your favorite national chain.
And for something really unique, don't forget to check out Barney Smith's Toilet Seat Art Museum before you leave town!
Where to stay in The Colony on a budget: Tru By Hilton
Our favorite hotel in The Colony: Hyatt Place
Recommended VRBO/AirBnb: Chic and Cozy Waterfront Home
21. Little Elm
Another lake town, Little Elm is home to a clean, sandy beach at the popular Little Elm Park.
From hiking trails, to volleyball courts, to picnic areas, to a playground, and of course the beach and its clean blue waters, you'll find plenty to do during your stay in Little Elm!
And if the weather isn't ideal, you can always head over to The Cove at the Lakefront, an indoor water park that's open year-round!
For lunch or dinner, you've got to get yourself over to the Hula Hut.
You'll forget you're in northern Texas when you're surrounded by the quirky beach atmosphere at this popular Tex-Mex restaurant!
Right at the border of Oklahoma and Texas, in the city of Denison, you'll find Eisenhower State Park.
Where to stay in Little Elm on a budget: The Colony Guesthouse
Recommended VRBO/AirBnb: Hidden Gem Lakefront Rental
22. Denison
The park's secluded beach makes for a perfect getaway for families, couples, and solo travelers.
Search for the hidden cave while you're there – it can be difficult to find, but it's worth the effort for a unique memory!
While you're in Denison, you'll enjoy the antique, clothing, and gift shops downtown, as well as the Eisenhower Birthplace State Historic Site.
Don't miss the Downtown Denison Farmers Market if you're in town on a Saturday morning!
Where to stay in Denison on a budget: La Quinta by Wyndham
Our favorite hotel in Denison: Best Western Plus Hotel
Recommended VRBO/AirBnb: The Perfect Holiday Home
23. Granbury
Texas may not have as many coastal destinations as you would think, but, as we've seen, there sure are plenty of inland cities that offer their own unique beach experience.
Another worthy mention is Granbury, a small city that's big on charm.
And, most importantly, it has a beach!
Granbury City Beach Park offers clean sands, perfect swimming conditions, picnic tables, and volleyball courts.
But it isn't just the beach that'll draw you to this beautiful riverside town.
Historic Granbury Square is worth a trip in itself, with dozens of local shops and eateries housed inside some of the most charming historic buildings to ever grace a city's downtown.
Where to stay in Granbury on a budget: Lake View Inn
Our favorite hotel in Granbury: Hilton Garden Inn
Recommended VRBO/AirBnb: Firefly Cozy Cottage
Pin for Later!