There's no better way to get away from all the distractions and reconnect with nature than camping in Texas.
Camping offers a unique opportunity to strengthen your relationships, get back to nature, breathe in the fresh air, and make lasting memories.
Texas camping is an experience all its own!
With the varied landscapes, you can choose anything from mountains to desert valleys to beaches.
There are caverns to explore, beautiful fishing spots, and endless miles of hiking and biking trails.
Of course, no camping trip is complete without water sports.
Get in a canoe or kayak and take in some peaceful scenery.
Or have a swim, or get on a jet ski, or go wakeboarding.
Whatever your passion, this list will help you find just the right spot for your next adventure (psst – if you've changed your mind and want to check out the roof-variety of accommodation in Texas instead, check out the best hotels in Texas).
Hey! Want more expert tips on Texas? Check out our other guides!
Love Texas? Love visiting Texas?
Show your support for this great state and get more helpful visiting tips on our Facebook page.
Don't forget to pack…
If you're camping in Texas, don't forget to pack these 3 things (in addition to your tent, duh!)
Top Camping Spots in Texas
1. Enchanted Rock State Natural Area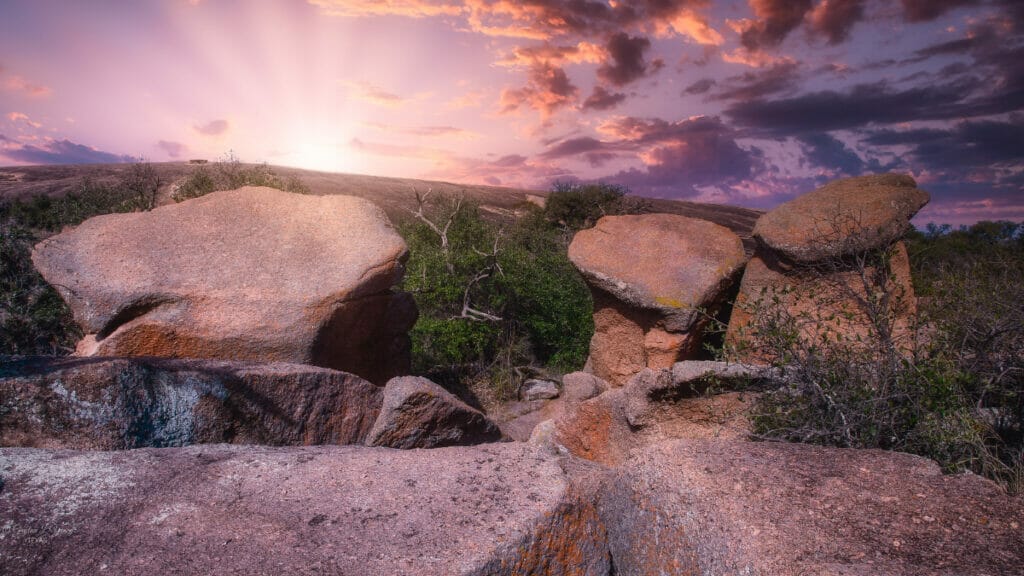 Located in Fredericksburg, Enchanted Rock State Natural Area is one of the best places to camp in Texas.
Bring your hiking shoes and climb the pink granite dome rock which spans 640 acres and is 425 ft. high.
The view is breathtaking when you reach the top so remember your camera and bring water because there is no water available at the park.
Sign up for one of the guided hikes or nature walks or explore the 11 miles of hiking trails on your own.
Geocache all morning and then enjoy a picnic and birdwatch.
Nights are made for campfires and stargazing.
Enchanted Rock is a designated International Dark Sky Park so you may even see the Milky Way!
2. Caprock Canyons State Park
Colorful canyon walls, a herd of bison, a prairie dog town, and breathtaking scenery make Caprock Canyons State Park in Quitaque one of the best campgrounds in Texas.
Campsites vary wildly from sites with electricity to primitive sites that require a seven mile (or more!) hike or bike ride to enter.
Want to bring your horse?
Caprock Canyons has campsites with horse stalls.
Hike, bike, or horseback ride along 90 miles of trails and don't miss the bats in Clarity Tunnel or the stunning views at Haynes Ridge Overlook.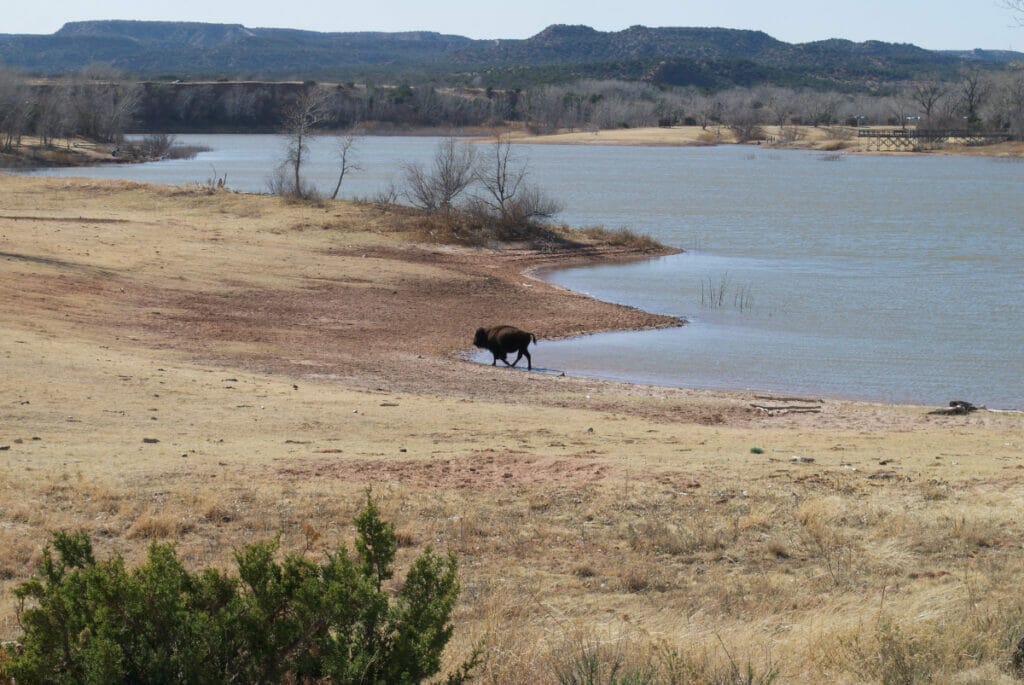 Spend the day on Lake Theo swimming, kayaking, or fishing, have a picnic lunch, and then take the scenic 5-mile drive through the park.
3. Lost Maples State Natural Area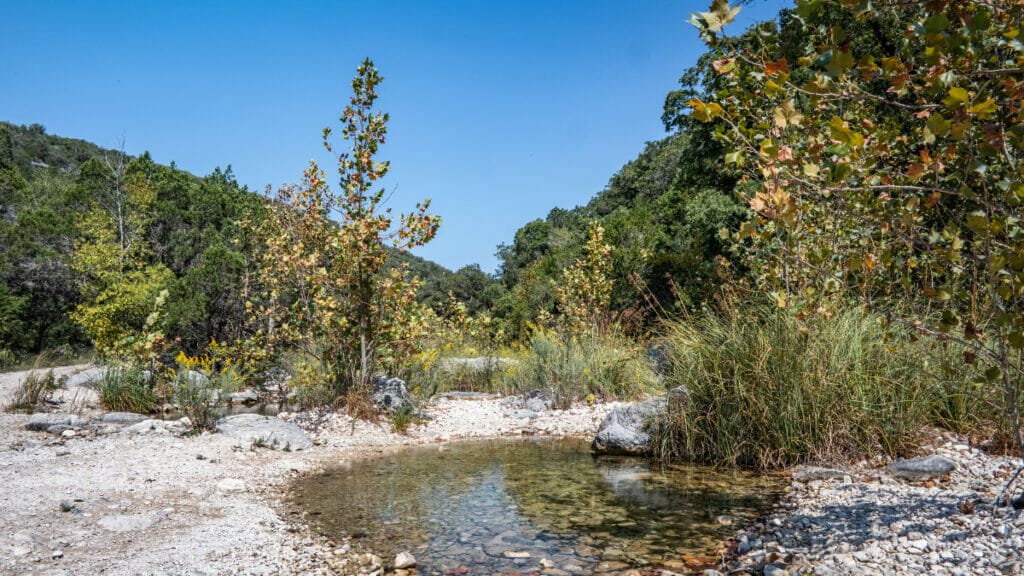 Lost Maples State Natural Area in Vanderpool, is located on the Sabinal River and is one of the best camping spots in Texas.
It's best known for its breathtaking fall foliage, but is beautiful any time of year.
Stay in campsites with electricity and other amenities or go immerse yourself in nature in one of the backpack-in primitive sites.
Spend your days geocaching, swimming, fishing, and birding. (See if you can spot the endangered golden-cheeked warbler!)
Grab your binoculars and camera and hike the 10 miles of trails.
One trail leads to a cliff over 2,000 ft high!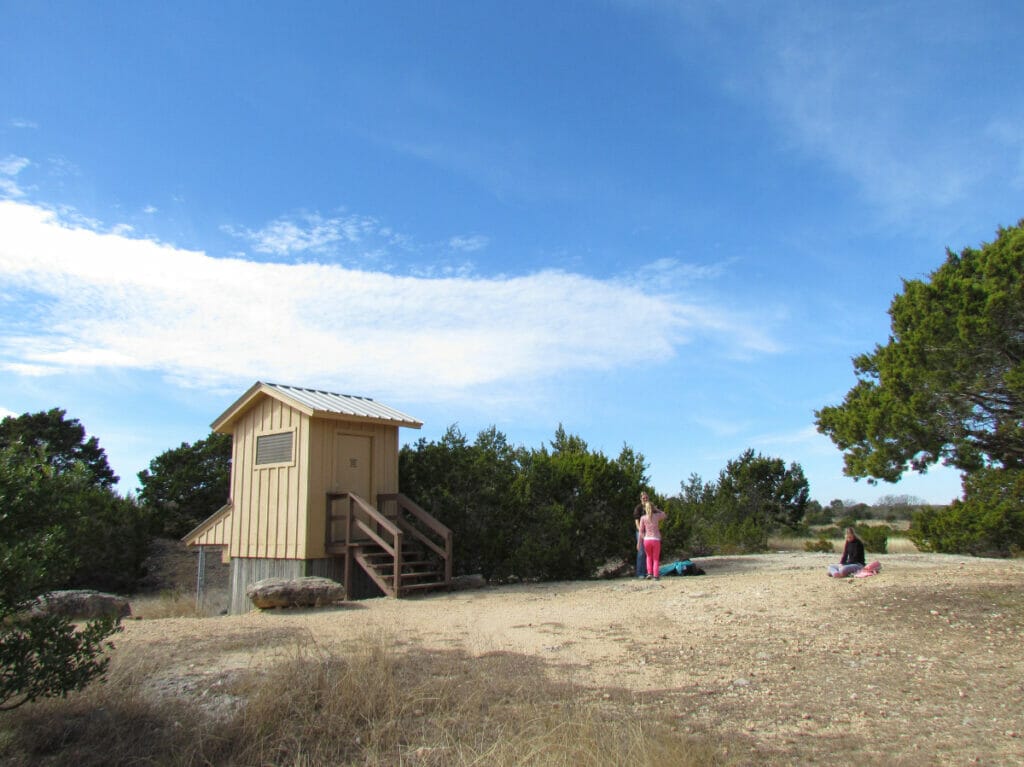 Don't miss Monkey Rock and be sure to take time to find your zen in the Grotto.
Lost Maples is a designated Dark Sky Park so enjoy your evenings spotting shooting stars and the milky way.
4. Franklin Mountains State Park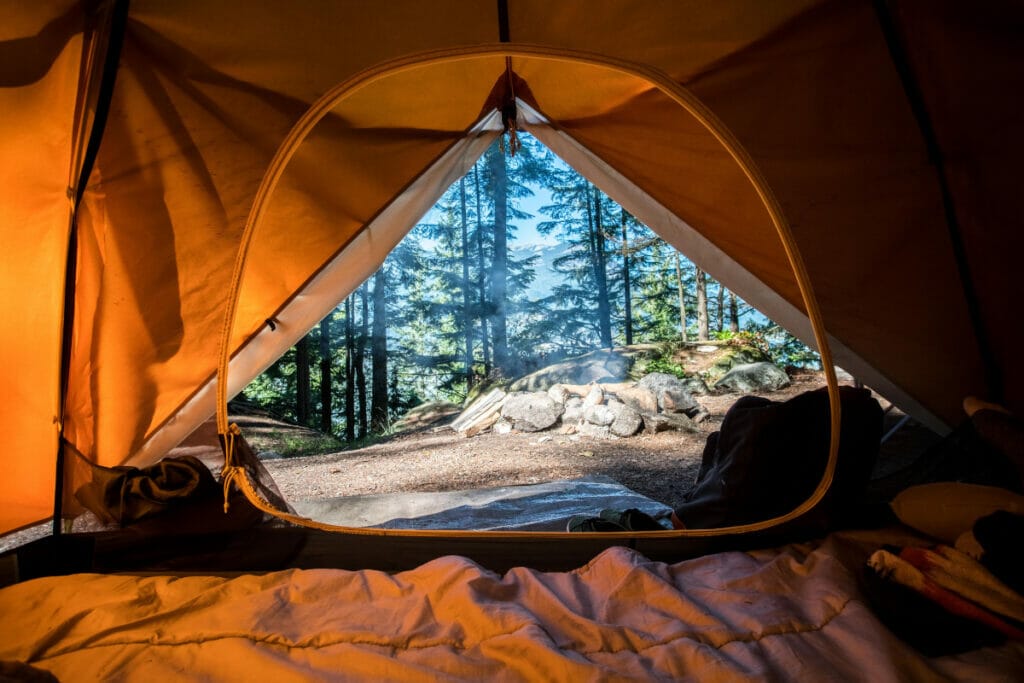 Bring your hiking boots when you stay at Franklin Mountains State Park which is located just outside of El Paso.
Rugged and rocky trails, breathtaking mountain views, and the Chihuahuan Desert landscape make this one of the best places to go camping in Texas.
Set up your tent in one of the drive-up or walk-in primitive campsites.
Spend the day rock climbing in Sneed's Cory or McKelligon Canyon.
Explore caves when you hike and mountain bike over 100 miles of trails.
Don't miss the Tin Mine and Aztec Cave!
Drive Transmountain Road for amazing views, stop at historic markers, and enjoy a picnic as you look out over the landscape.
At the end of the day, take in a sunset atop Franklin Mountain or enjoy a concert at McKelligon Canyon amphitheater.
5. Guadalupe River State Park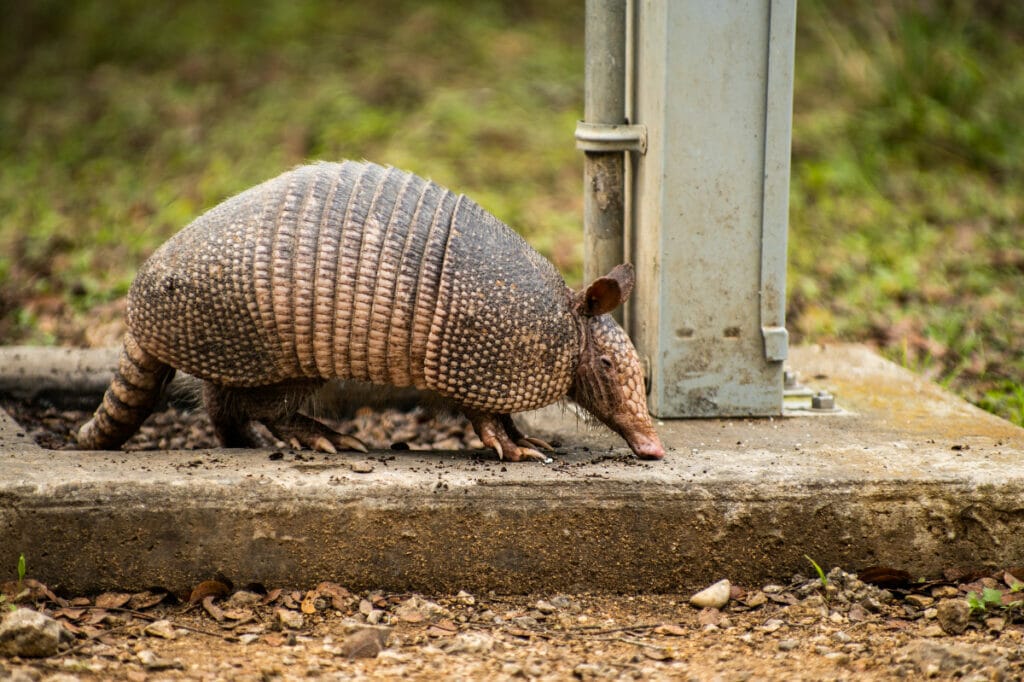 Located in Spring Branch, Guadalupe River State Park is the ultimate place to unwind and get away from it all.
With 85 different campsites available, there is something for every style of camper.
They even offer camping gear for rent!
Swim, kayak, tube, canoe, or fish along the four miles of river that is the centerpiece of the park.
Don't miss the 5-mile Guadalupe River State Park Paddling Trail!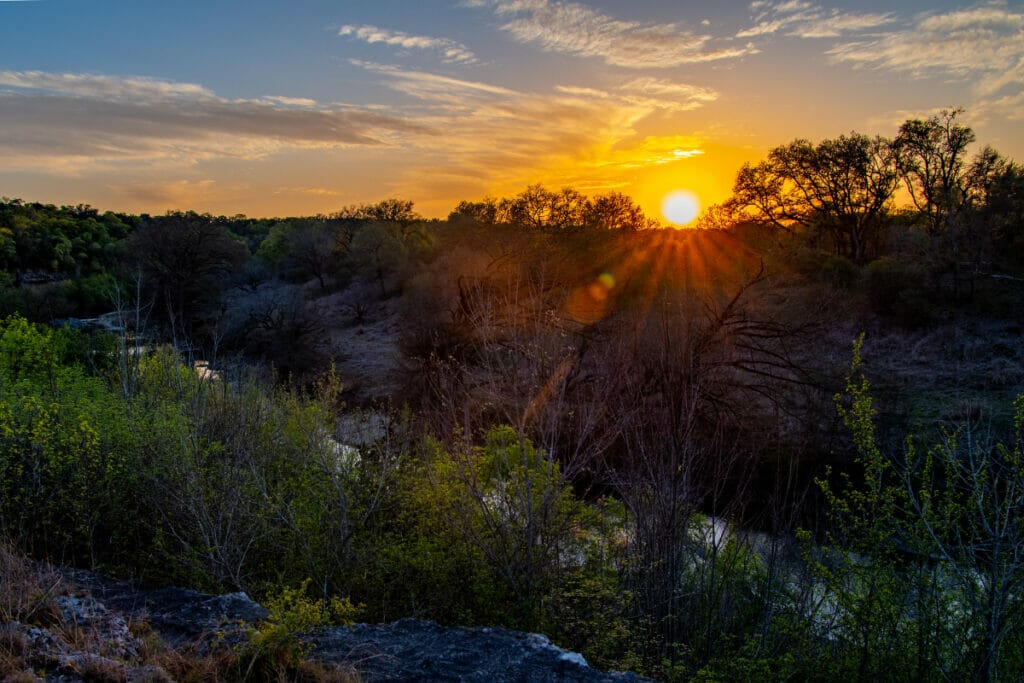 When you want a break from the water, go for a bike ride or hike the 13 miles of beautiful trails that wind through the park.
Looking for a more rugged, primitive hiking or biking experience?
Head to Bauer Unit and spend the day traversing the Hill Country forest.
6. Mustang Island State Park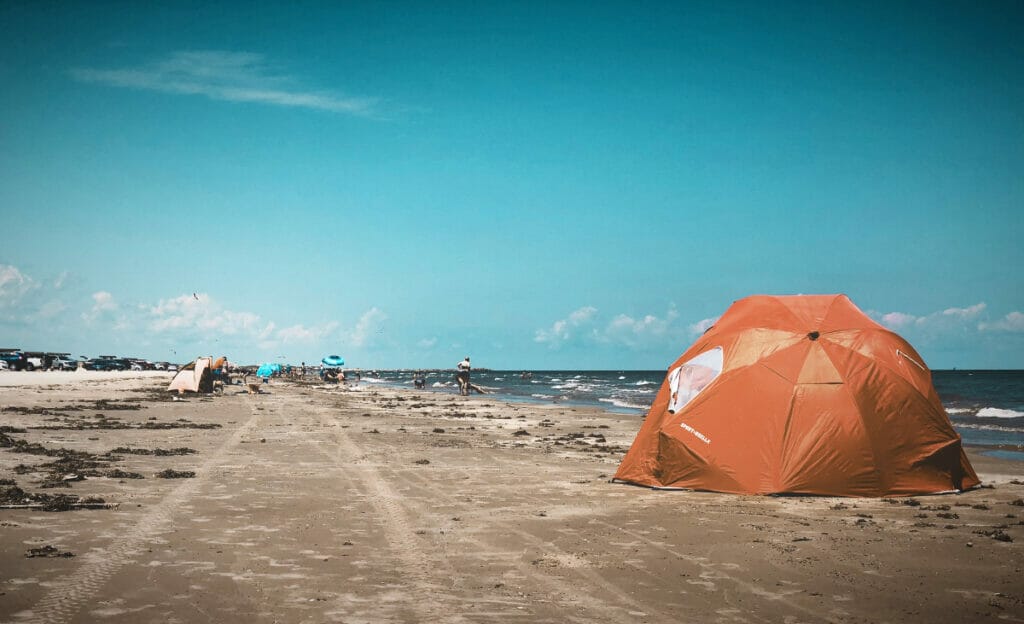 Mustang Island State Park in Corpus Christi (also one of the best places to visit in Texas and best beach towns in Texas) is all about the beach which makes it one of the best Texas state parks for camping.
With 48 sites with electricity and water, as well as 50 primitive sites, (drive up!) you'll be sure to find the perfect spot to pitch your tent or park your camper.
Spend your days at the beach as you enjoy 5 miles of coastline.
Build a sandcastle, climb the dunes, swim, surf, kayak, look for shells or just relax in the sun.
Don't miss the Mustang Island State Park Paddling Trail!
It's 20 miles of paddling trails that gives you a close up look at wildlife.
Watch for jellyfish, stingrays, hundreds of different birds, fish, and sea turtles as you take in the beautiful scenery.
The trails offer amazing opportunities for shallow-water fishing.
Best Tent Camping in Texas
7. Lake Livingston State Park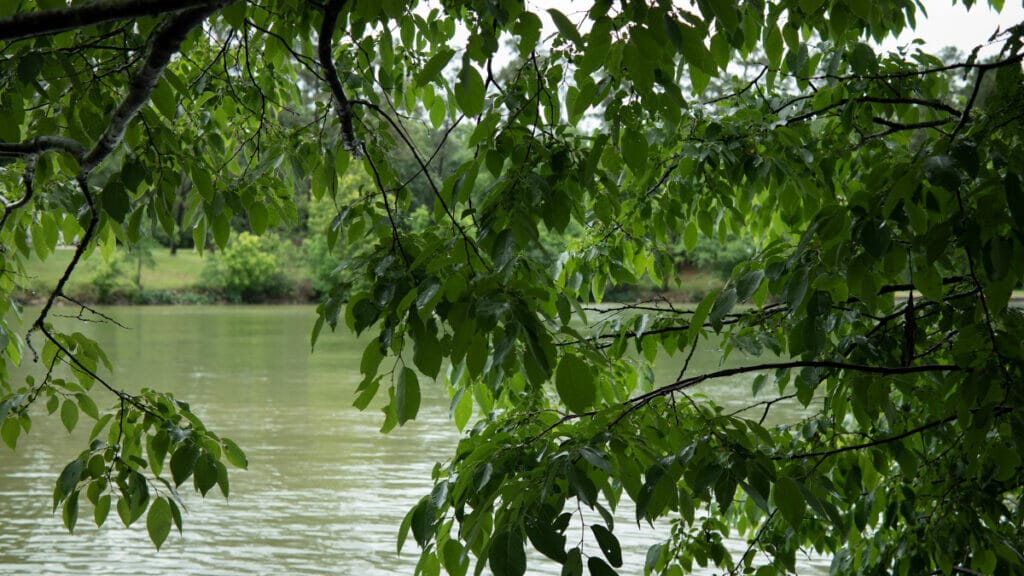 Lake Livingston State Park, located in the town of Livingston, is a peaceful escape from the daily grind.
Wake up to a view of the lake (one of the best lakes in Texas!) when you book a campsite on the Piney Shores loop.
Prefer a wooded site deep in the trees, instead?
Check out the sites in the peaceful Briar Loop area which is set aside exclusively for tent camping.
Spend your days swimming or rent a paddle board or kayak and explore the lake.
Fishing is one of the main activities at Lake Livingston.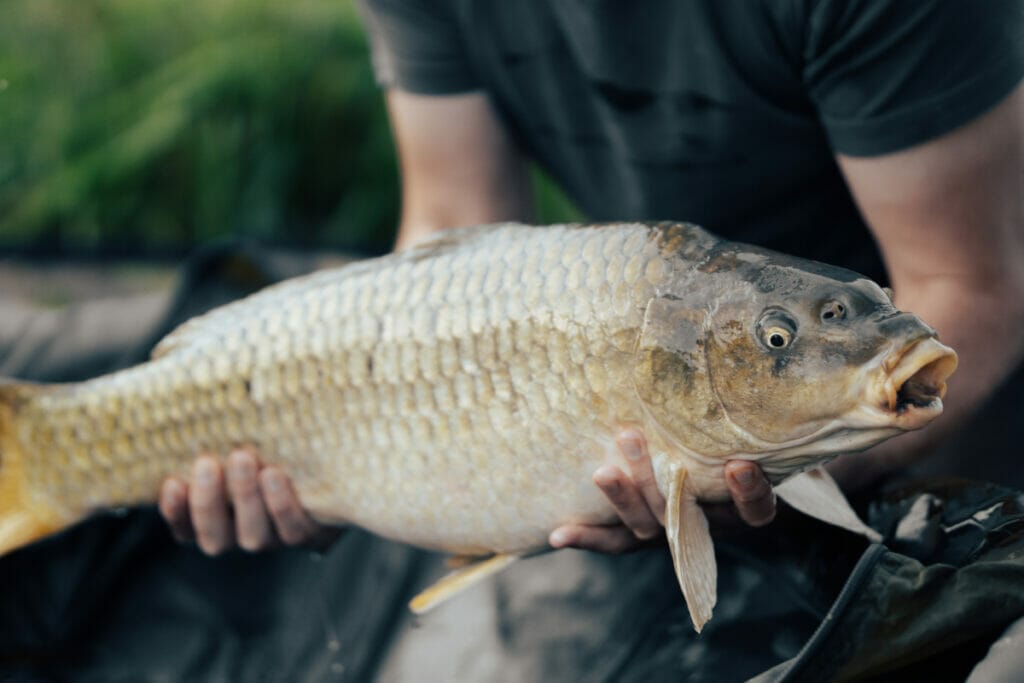 Catch a fish and grill it up for dinner!
Hike through the forest and explore the various habitats and wildlife and check out the native pollinator garden.
And don't miss the view from the Observation Tower!
Finish out your day at the frog pond and get serenaded as you take an evening hike.
8. Tyler State Park
Serene beauty awaits you at Tyler State Park located in the town of Tyler.
Sleep surrounded by towering trees as you relax and unwind in the beautiful, wooded campsites. (Some of the areas are tents only)
During the day, swim and boat on the spectacular 64-acre spring-fed lake.
Fish off of one of the three fishing piers or rent one of the boats and find the perfect fishing spot.
Hike on 13 miles of trails exploring different types of forest.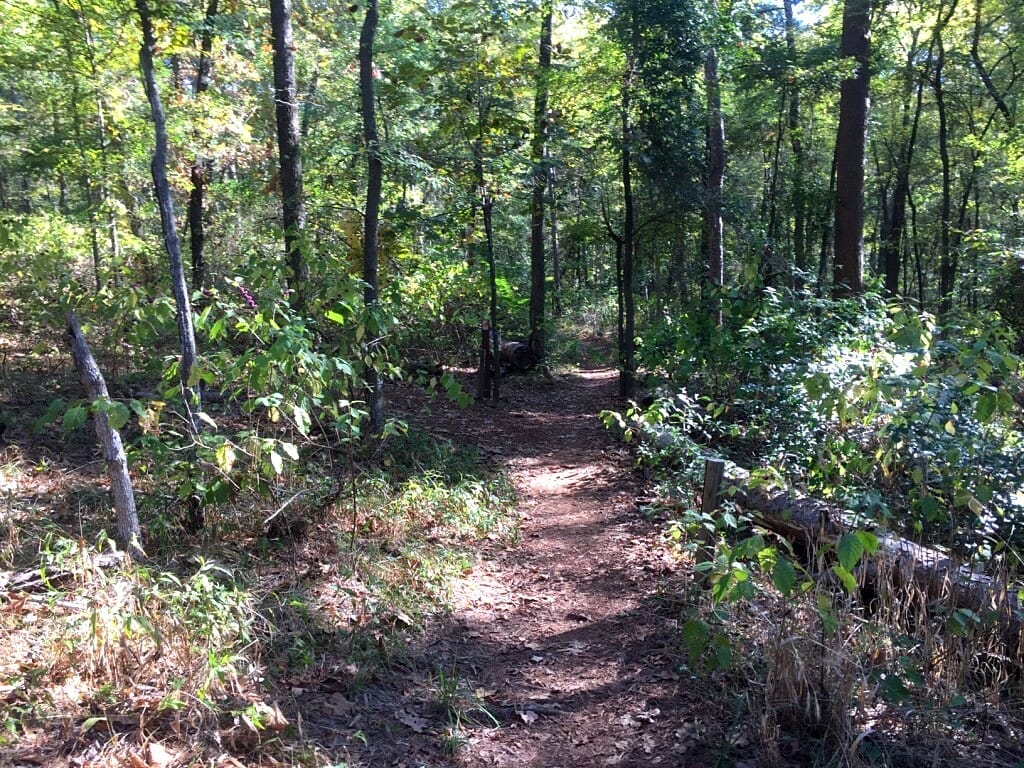 Follow Whispering Pines Trail to see a wading pool and small, rock waterfall (for more waterfalls, check out the best waterfalls in Texas!)
In the evening, have a picnic as you take in the beautiful sunset.
9. Inks Lake State Park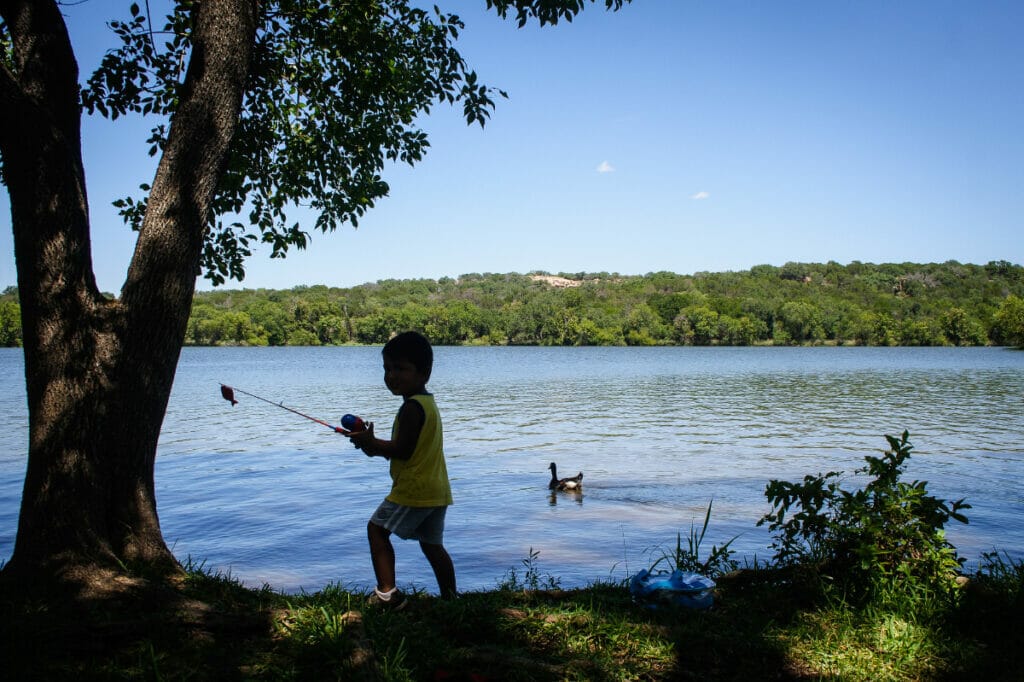 Inks Lake State Park, a 1,200-acre park in beautiful Hill Country, has a gorgeous lake and picturesque cliffs (600 million year old rock formations!) which makes it one of the best camping spots in Texas.
Camp on the lake or choose a wooded, secluded site to relax and connect with nature.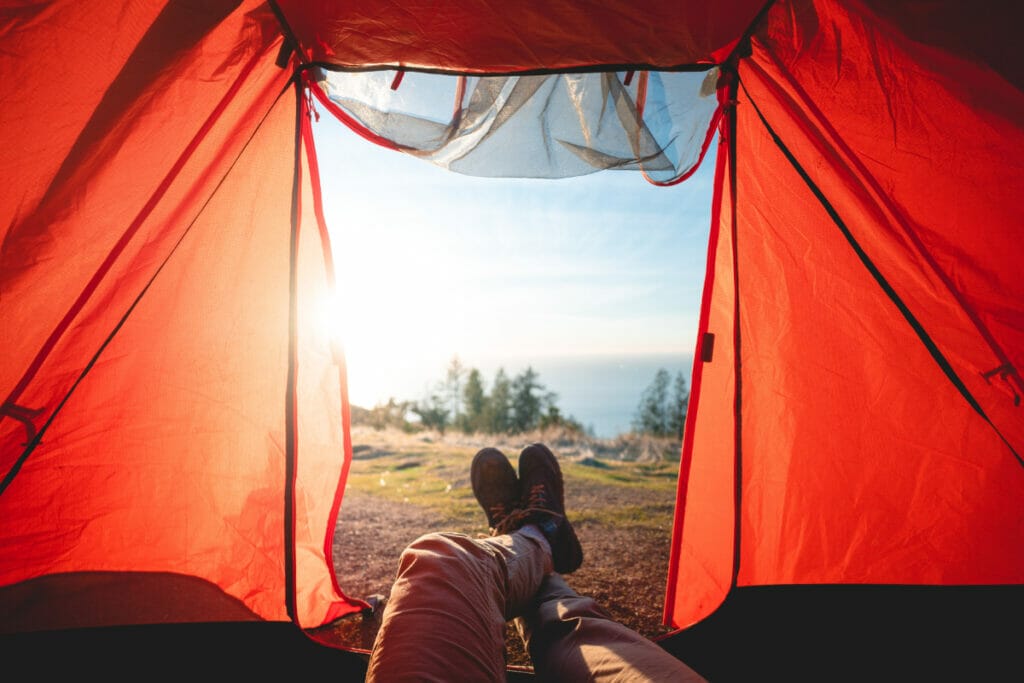 Spend your day scuba diving, swimming, boating, or fishing.
Head to Devil's Waterhole where you can hike the canyon or go cliff jumping (at certain times of year you can explore nearby Valley Spring Creek Waterfall)
Enjoy 9 miles of hiking trails where you can see all of the wildlife, diverse landscapes, cacti and trees.
Be sure to catch one of the best sunsets in all of Texas.
10. Ratcliff Lake Recreation Area
The beautifully wooded, Ratcliff Lake Recreation Area is a park within the Davy Crockett National Forest.
The 56 wooded, roomy campsites makes this one of the best camping sites in Texas.
Spend the day on the beautiful, peaceful 45-acre lake swimming and fishing.
Looking for a hunting opportunity?
The park offers deer, waterfowl, squirrel, dove, quail, and turkey hunting, depending on the season.
Take a hike!
Head to the Tall Pines Trail for a 1.5 mile hike or explore Trail Tamers (which is less than a mile) or go all out on the 20 mile Four C Trail.
Beginning at Ratcliff Lake Recreation Area, The Four C Trail winds through the Davy Crockett National Forest and ends at the Neches Bluff Overlook where you will see amazing views of the area.
Make sure you check out the ruins of the old lumber mill on your visit.
Best Cabin Camping in Texas
11. Caddo Lake State Park
Get away from it all at beautiful Caddo Lake State Park in Karnack!
Sleep in one of the rustic, historic stone and wood cabins (choose from several different types of cabins which sleep anywhere from 2-6 people) and then spend the day paddling through the bayou in one of the rental canoes and kayaks.
Cypress trees draped with Spanish moss shade you as you traverse the variety of waterways. (Watch out for alligators!)
Explore over 50 miles of paddling trails in the area either self-guided or you can do any number of bayou or swamp tours.
Spend the day fishing among the stunning lotus flowers and lily pads.
Enjoy simple hikes on the miles of trails that wind through the park and then end the day watching a gorgeous sunset over the water.
12. Garner State Park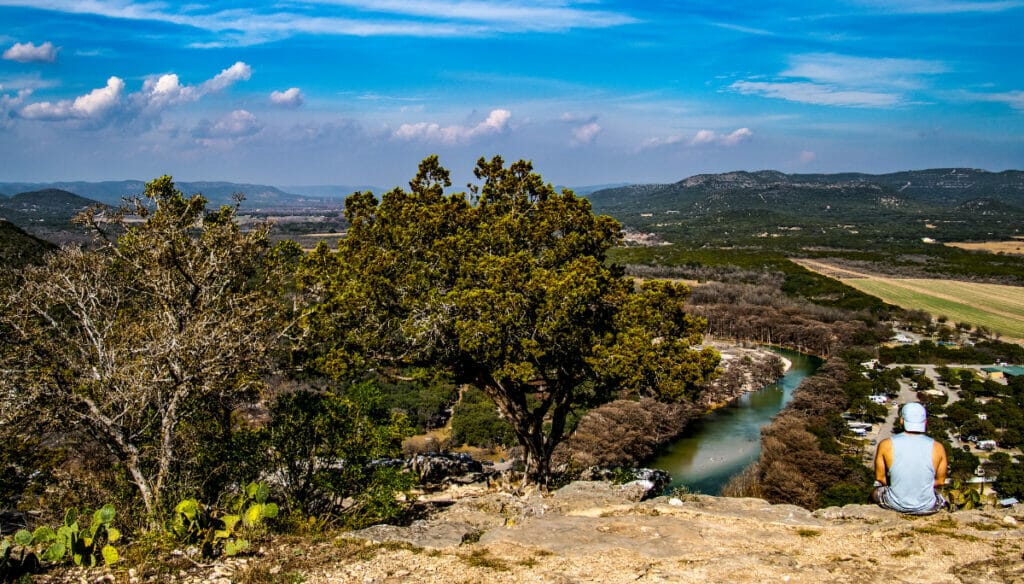 Stunning Hill Country scenery, a beautiful river, and a cave full of dazzling crystals make Garner State Park in Concan one of the coolest places to camp in Texas and a great Texas road trip idea.
Rent a cabin with a fireplace complete with a kitchen and bathroom for your home away from home.
Spend the day swimming, paddle boarding, kayaking, canoeing, or floating on an inner tube down the Frio River.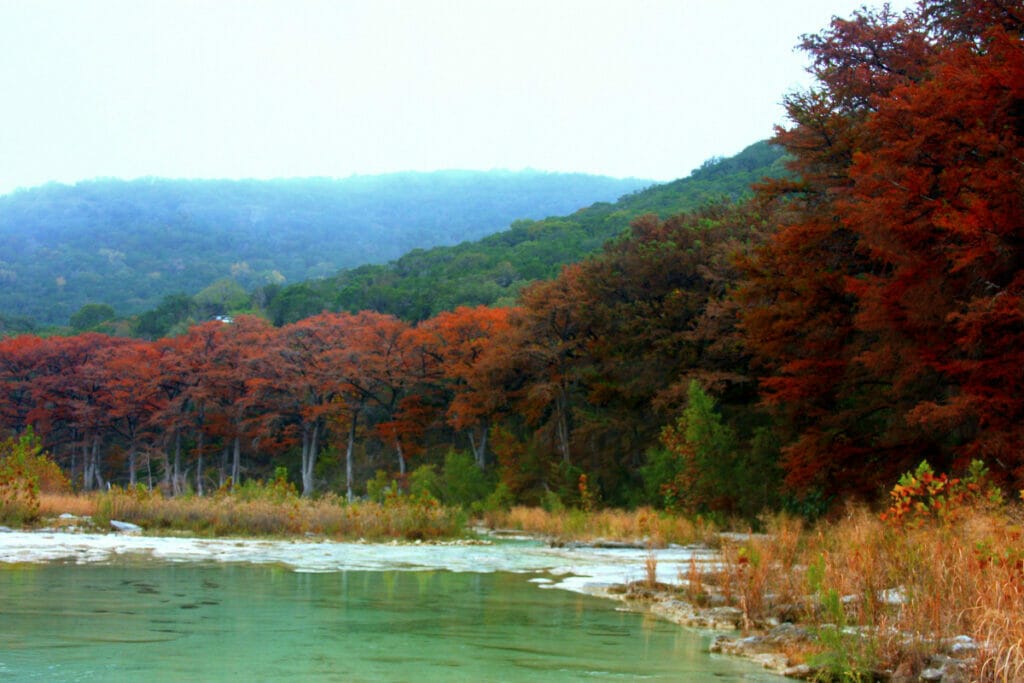 Hike or bike the 16 miles of trails and take in the wildlife and breathtaking views.
No trip to Garner State Park is complete without a climb up Mt. Baldy and a hike to Crystal Cave!
In the evening, play a round of miniature golf, get a treat at the candy shop, and then head to the dance pavilion for the legendary jukebox dance.
13. Palo Duro Canyon State Park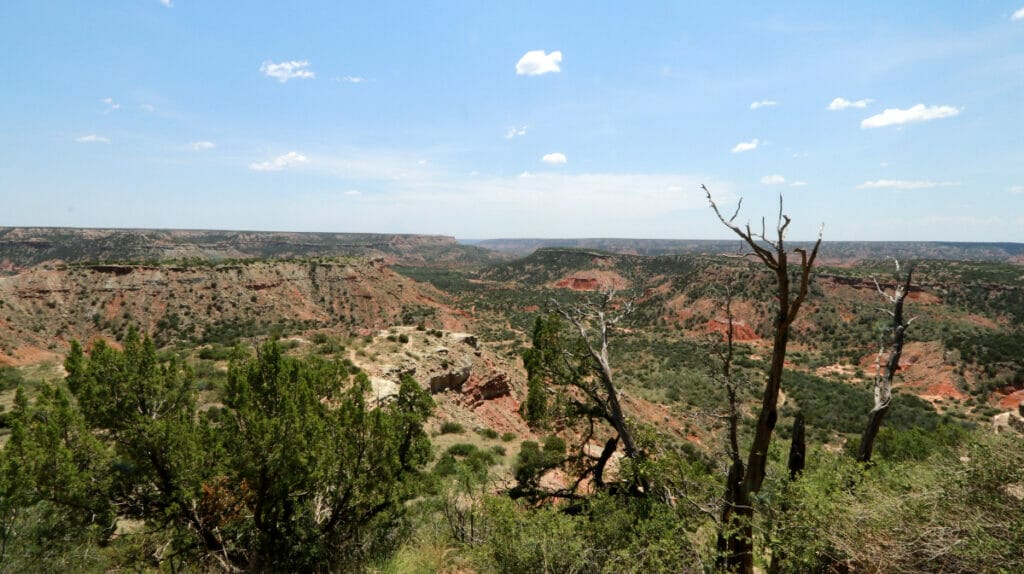 The Longhorn Pasture and panoramic views at CCC Overlook greet you as you enter the Palo Duro Canyon State Park, located in Canyon.
Stay in one of the stone cabins on the canyon rim complete with bathrooms or choose a more rustic stone cabin on the canyon floor with bathrooms and showers nearby.
Spend your days hiking, biking, and horseback riding.
Hike the Lighthouse Trail to see the famous lighthouse rock formation.
Or head to the Rock Garden to hike through an ancient landslide.
Take the Paseo del Rio Trail to see how cowboys lived in the 1800's.
Bike Capitol Peak, Lighthouse Trail, and GSL Running Trail.
There are 1500 acres of the park dedicated to horseback riding trails!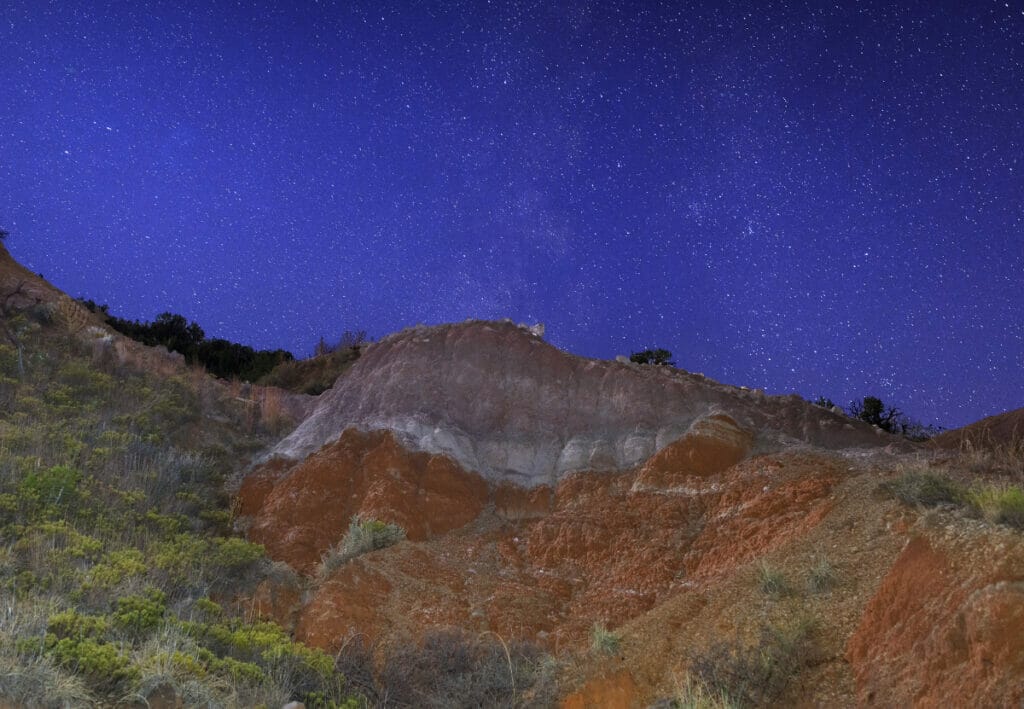 No horse? Take a guided horseback riding tour and enjoy the wildlife, and the beautiful, rugged scenery.
End your day experiencing the TEXAS outdoor musical show complete with fireworks.
Best Primitive Camping in Texas
14. Colorado Bend State Park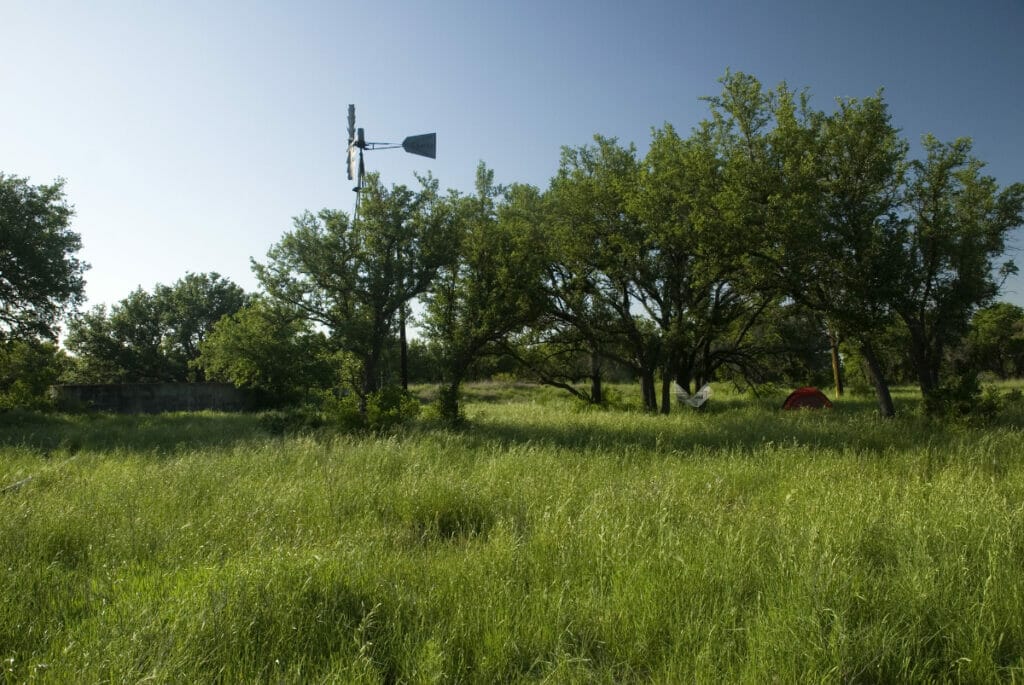 Take in the breathtaking views, rugged wilderness, and raw nature at Colorado Bend State Park.
Sleep in the backcountry wilderness, along the riverbank, in drive-up sites, walk-in sites, or hike-in sites.
The choices for unspoiled, primitive sites are why Colorado Bend State Park is one of the best camping sites in Texas.
There are 5,300 acres of untamed wilderness (including over 400 caves!) waiting for you to explore.
If you want to go caving, you need a guide. Check for availability before you go.
Spend the day on the Colorado River where you can go for a swim, fish, or kayak.
Or meander up Spicewood Springs Trail where you'll find a plethora of stunning, spring-fed swimming holes and waterfalls.
Hike the River trail if you want a scenic, simpler trail or Gorman Falls trail if you want more of a challenge.
Go mountain biking on actual mountains!
15. Padre Island National Seashore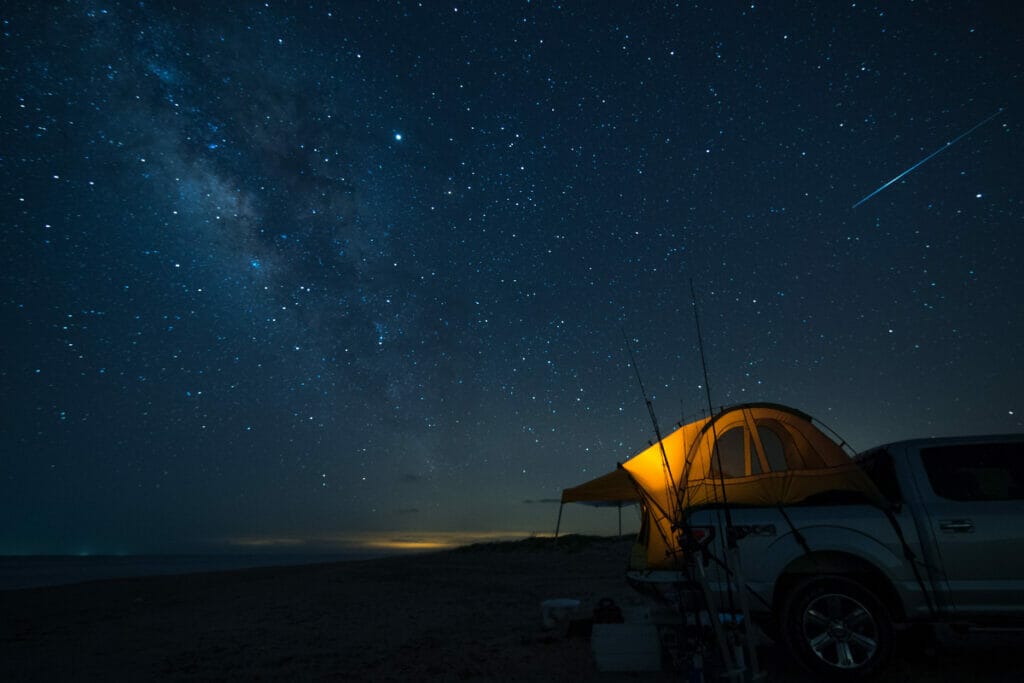 Padre Island National Seashore, with its four campgrounds, is a campers paradise.
It offers primitive beach camping, white sand beaches, a natural marine habitat (they are working on protecting the Kemp's ridley sea turtle), coastal dunes, and grassland.
Bike on the beach and explore the island.
Spend the day at the Laguna Madre Estuary where you can scuba dive, snorkel, birdwatch, and do some saltwater fishing in this hypersaline lagoon.
Windsurf at Bird Island Basin or go kayaking on one of the Padre Island paddling trails.
Hike the Grassland Nature Trail and the dunes and then sign up for a three-hour birding tour to learn about coastal birds.
Have an unforgettable experience as you end the day with a horseback ride on the beach at sunset.
16. Dinosaur Valley State Park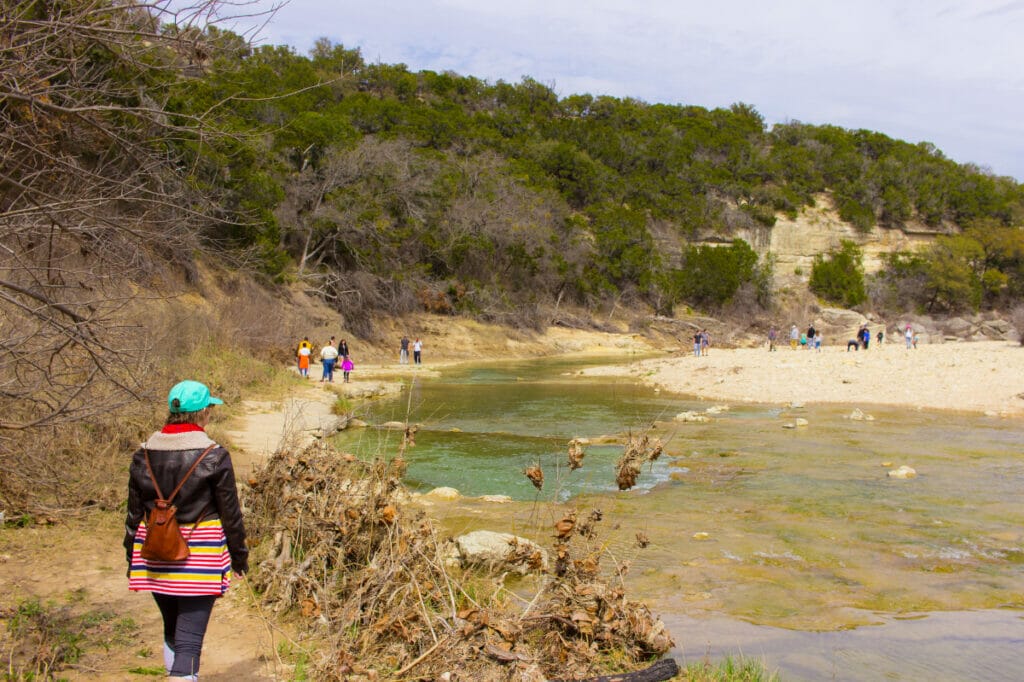 Walk in the tracks of dinosaurs from long ago at Dinosaur Valley State Park, located in Glen Rose.
Stay in primitive campsites (both walk-in and hike-in), immerse yourself in nature and see why it's a good camping site in Texas.
Swim or fish for catfish in the Blue Hole.
Download the map and go search for dinosaur tracks in the Paluxy River.
Hike over 20 miles of trails and see waterfalls, bubbling springs, wildlife, woodlands, and grasslands.
Go back in time and take a horse-drawn wagon ride to see the beautiful landscape.
Check out the breathtaking views at the scenic overlooks.
Don't forget your selfie with the dinosaur models from the 1964 World's Fair!
17. Big Thicket National Preserve
113,000 acres of swamps, forests, canyons and much more await you at Big Thicket National Preserve.
Big Thicket National Preserve offers backcountry camping for all skill levels in a variety of terrains from forests to jungle to canyons and more.
Wind your way through a trail of carnivorous plants on Sundew Trail, or explore the 9 miles of varied landscapes on The Big Sandy Trail (it's the only trail that allows biking and horseback riding).
There are over 40 miles of hiking trails to explore.
Hike Birdwatchers Trail and look for some of the 74 species that nest in the area.
Paddle on the bayou under the Cypress trees at the Beaumont Unit.
Do some fishing on Turkey Creek, Neches River, Pine Island Bayou, or Village Creek.
Want to hunt?
Depending on the season, you can hunt rabbits, squirrels, hogs, waterfowl, and deer.
Pin for Later!