There's no better way to get away from all the distractions and reconnect with nature than camping in Texas.
Camping offers a unique opportunity to strengthen your relationships, get back to nature, breathe in the fresh air, and make lasting memories.
Texas camping is an experience all its own!
With the varied landscapes, you can choose anything from mountains to desert valleys to beaches.
There are caverns to explore, beautiful fishing spots, and endless miles of hiking and biking trails.
Of course, no camping trip is complete without water sports.
Get in a canoe or kayak and take in some peaceful scenery.
Or have a swim, or get on a jet ski, or go wakeboarding.
Whatever your passion, this list will help you find just the right spot for your next adventure (psst – if you've changed your mind and want to check out the roof-variety of accommodation in Texas instead, check out the best hotels in Texas).
Hey! Want more expert tips on Texas? Check out our other guides!
GET A

FREE

TEXAS GUIDEBOOK WITH LOCAL TIPS!
With 71 pages of helpful travel tips and the "best of" Texas lists, this is your ad-free key to your Texas trip.
Don't forget to pack…
If you're camping in Texas, don't forget to pack these 3 things (in addition to your tent, duh!)
Top Camping Spots in Texas
1. Enchanted Rock State Natural Area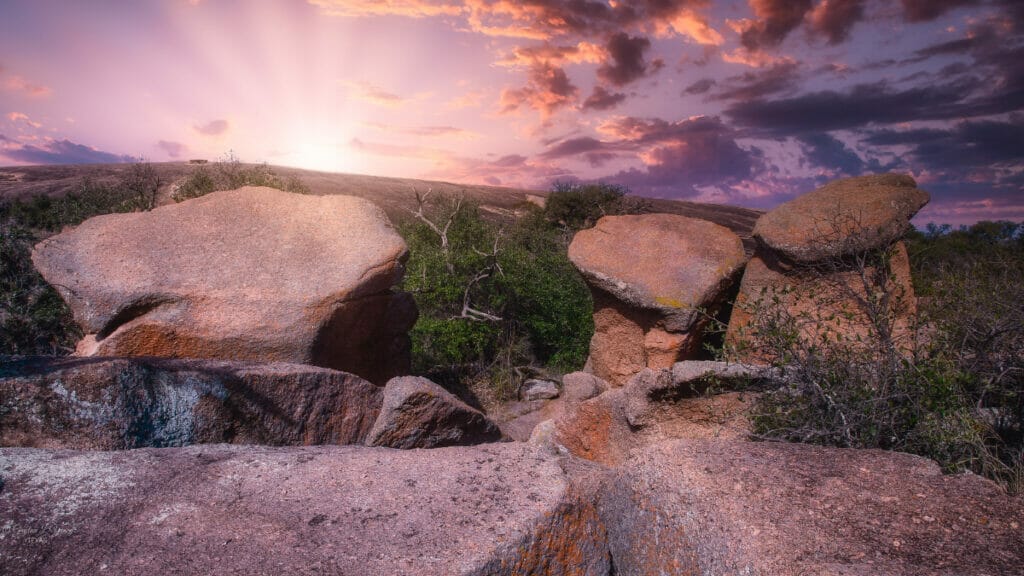 Located in Fredericksburg, Enchanted Rock State Natural Area is one of the best places to camp in Texas.
Bring your hiking shoes and climb the pink granite dome rock which spans 640 acres and is 425 ft. high.
The view is breathtaking when you reach the top so remember your camera and bring water because there is no water available at the park.
Sign up for one of the guided hikes or nature walks or explore the 11 miles of hiking trails on your own.
Geocache all morning and then enjoy a picnic and birdwatch.
Nights are made for campfires and stargazing.
Enchanted Rock is a designated International Dark Sky Park so you may even see the Milky Way!
2. Caprock Canyons State Park
Colorful canyon walls, a herd of bison, a prairie dog town, and breathtaking scenery make Caprock Canyons State Park in Quitaque one of the best campgrounds in Texas.
Campsites vary wildly from sites with electricity to primitive sites that require a seven mile (or more!) hike or bike ride to enter.
Want to bring your horse?
Caprock Canyons has campsites with horse stalls.
Hike, bike, or horseback ride along 90 miles of trails and don't miss the bats in Clarity Tunnel or the stunning views at Haynes Ridge Overlook.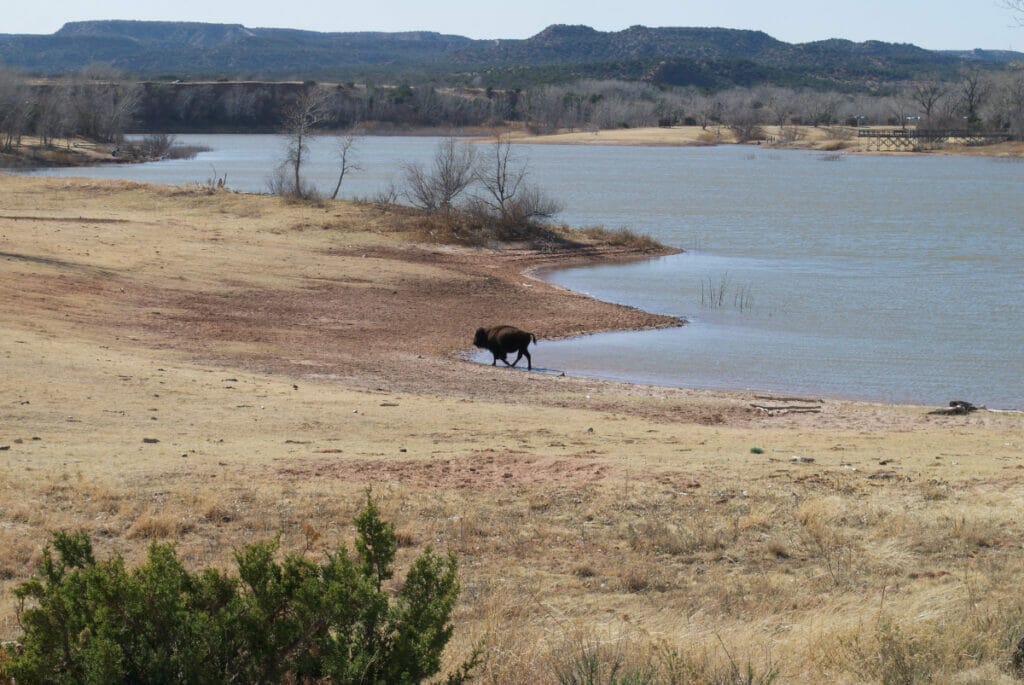 Spend the day on Lake Theo swimming, kayaking, or fishing, have a picnic lunch, and then take the scenic 5-mile drive through the park.
3. Lost Maples State Natural Area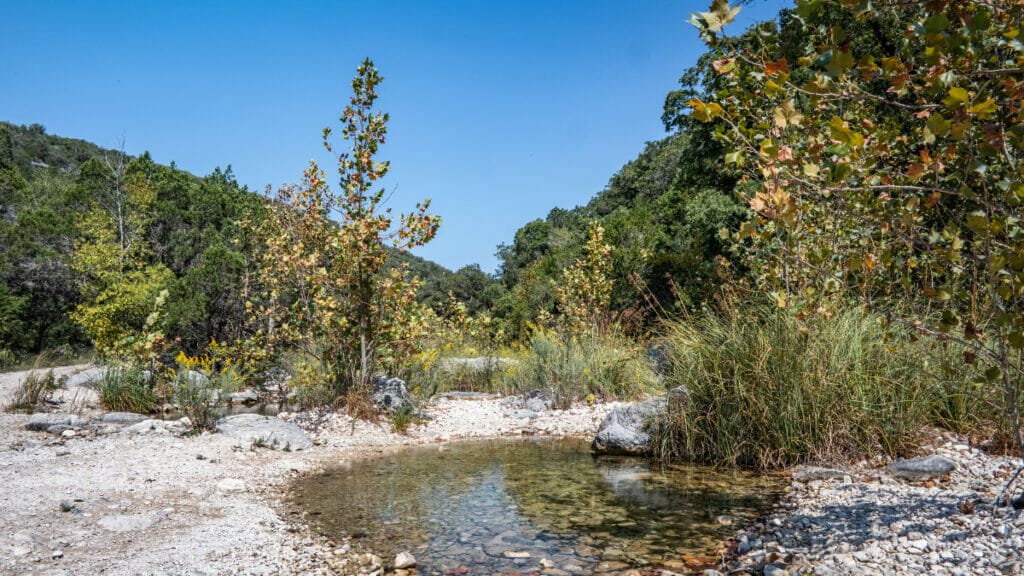 Lost Maples State Natural Area in Vanderpool, is located on the Sabinal River and is one of the best camping spots in Texas.
It's best known for its breathtaking fall foliage, but is beautiful any time of year.
Stay in campsites with electricity and other amenities or go immerse yourself in nature in one of the backpack-in primitive sites.
Spend your days geocaching, swimming, fishing, and birding. (See if you can spot the endangered golden-cheeked warbler!)
Grab your binoculars and camera and hike the 10 miles of trails.
One trail leads to a cliff over 2,000 ft high!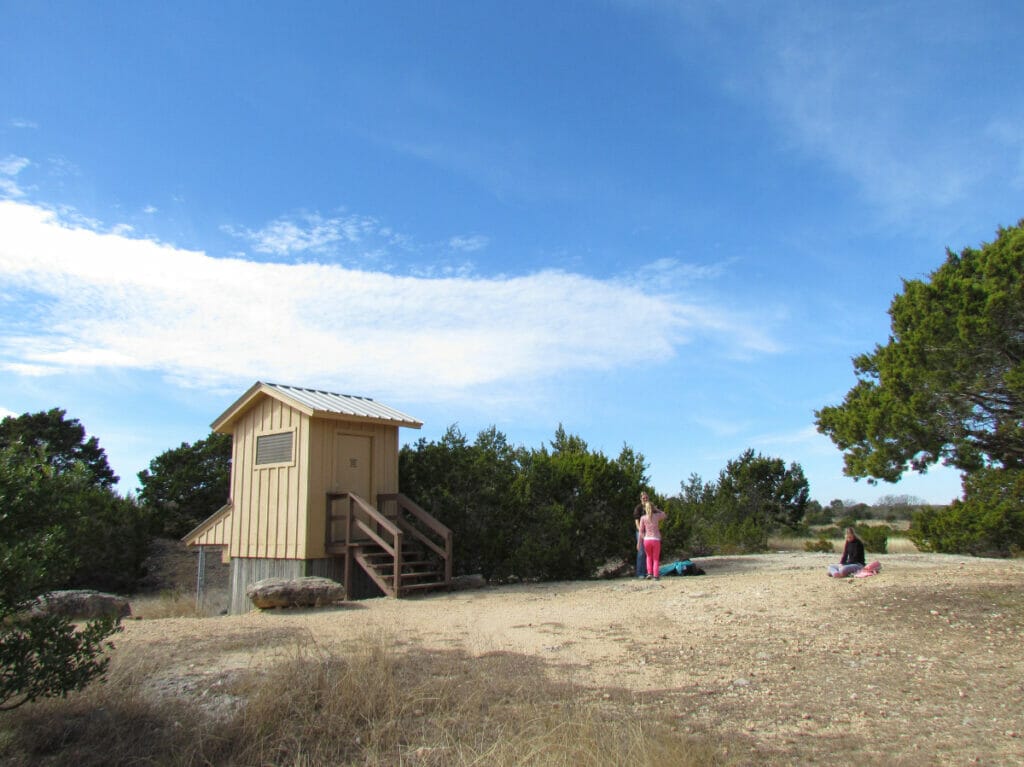 Don't miss Monkey Rock and be sure to take time to find your zen in the Grotto.
Lost Maples is a designated Dark Sky Park so enjoy your evenings spotting shooting stars and the milky way.
4. Franklin Mountains State Park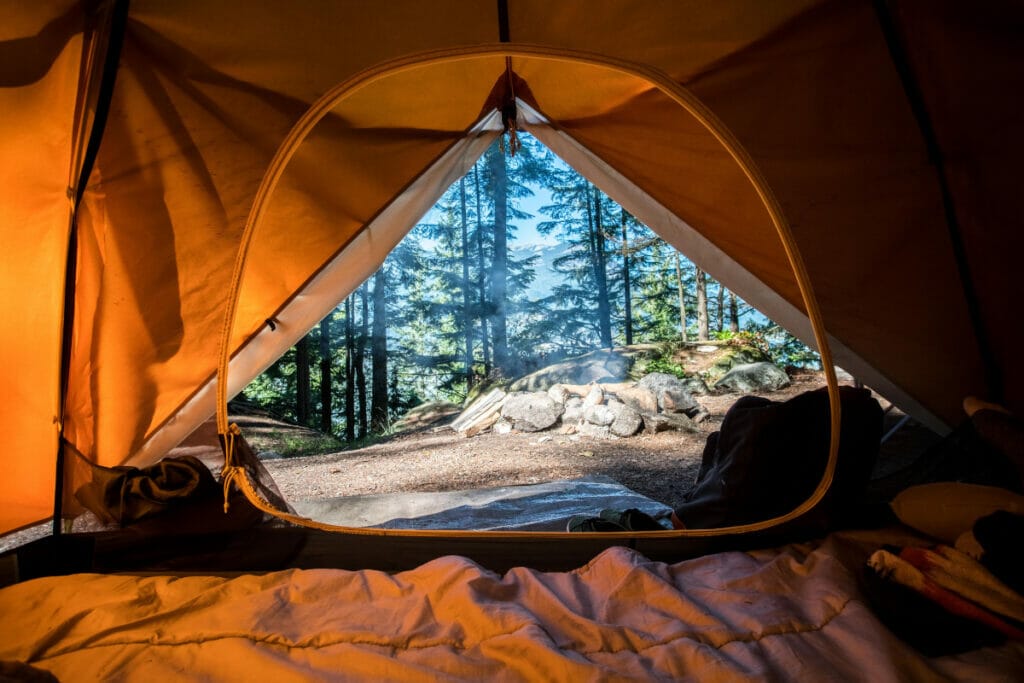 Bring your hiking boots when you stay at Franklin Mountains State Park which is located just outside of El Paso.
Rugged and rocky trails, breathtaking mountain views, and the Chihuahuan Desert landscape make this one of the best places to go camping in Texas.
Set up your tent in one of the drive-up or walk-in primitive campsites.
Spend the day rock climbing in Sneed's Cory or McKelligon Canyon.
Explore caves when you hike and mountain bike over 100 miles of trails.
Don't miss the Tin Mine and Aztec Cave!
Drive Transmountain Road for amazing views, stop at historic markers, and enjoy a picnic as you look out over the landscape.
At the end of the day, take in a sunset atop Franklin Mountain or enjoy a concert at McKelligon Canyon amphitheater.
5. Guadalupe River State Park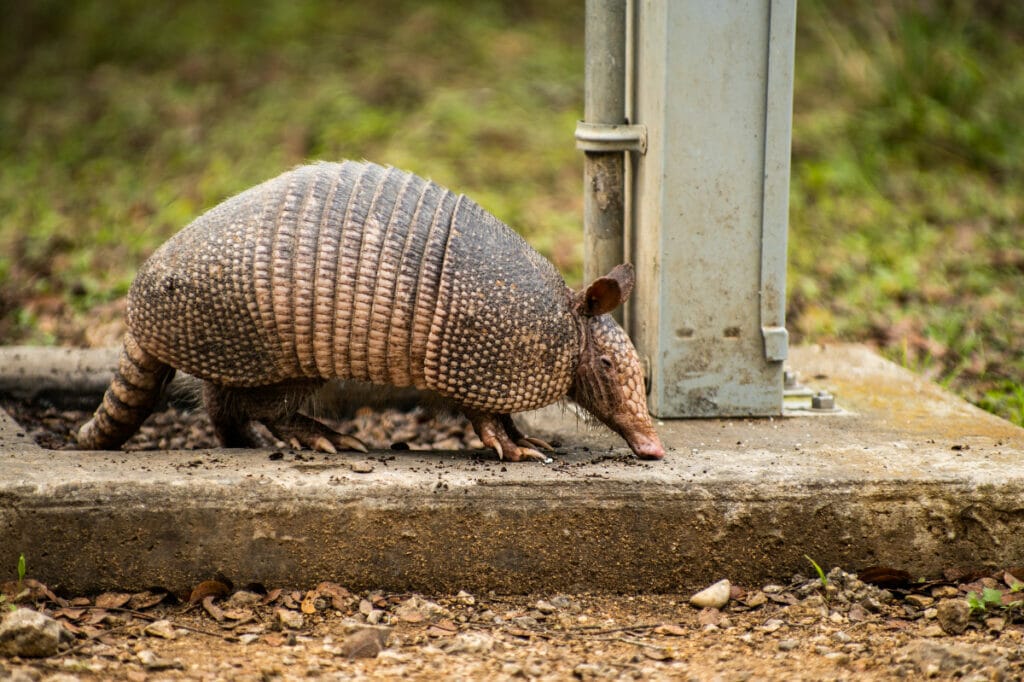 Located in Spring Branch, Guadalupe River State Park is the ultimate place to unwind and get away from it all.
With 85 different campsites available, there is something for every style of camper.
They even offer camping gear for rent!
Swim, kayak, tube, canoe, or fish along the four miles of river that is the centerpiece of the park.
Don't miss the 5-mile Guadalupe River State Park Paddling Trail!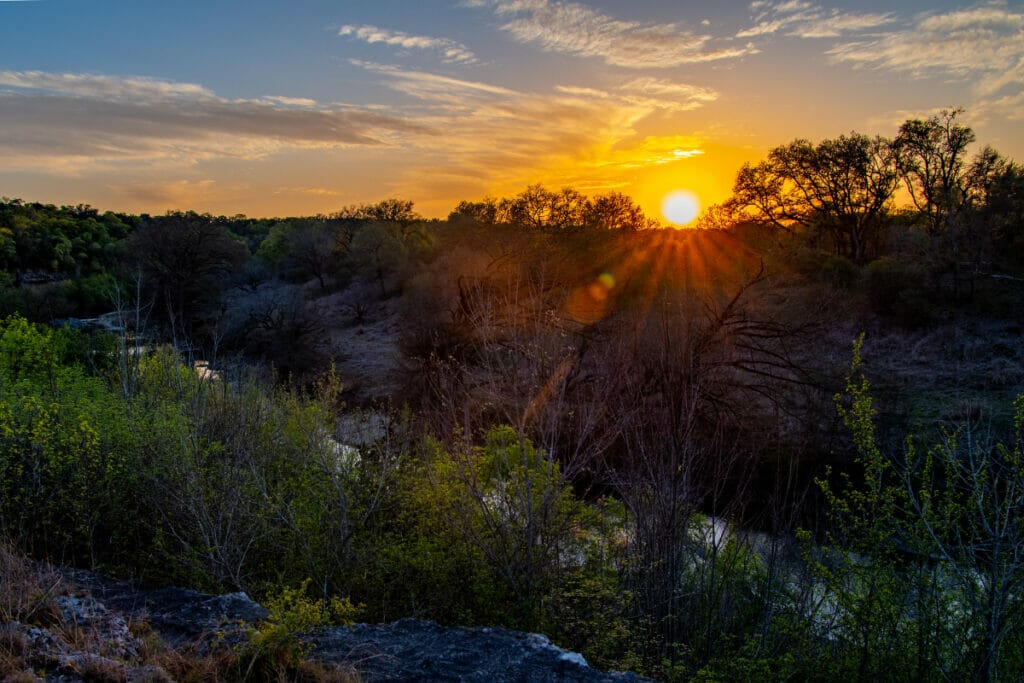 When you want a break from the water, go for a bike ride or hike the 13 miles of beautiful trails that wind through the park.
Looking for a more rugged, primitive hiking or biking experience?
Head to Bauer Unit and spend the day traversing the Hill Country forest.
6. Mustang Island State Park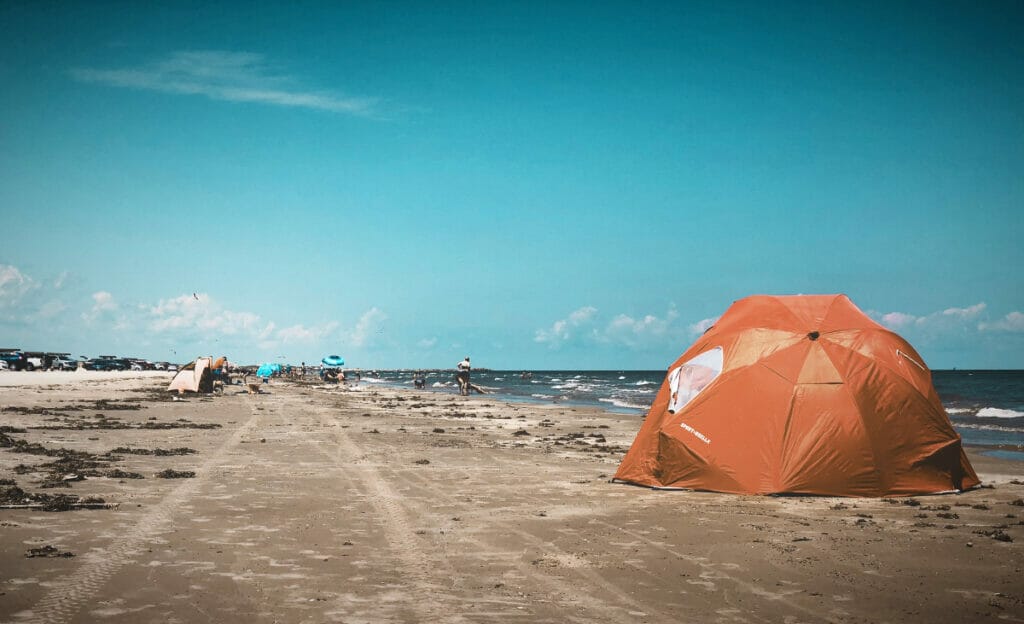 Mustang Island State Park in Corpus Christi (also one of the best places to visit in Texas and best beach towns in Texas) is all about the beach which makes it one of the best Texas state parks for camping.
With 48 sites with electricity and water, as well as 50 primitive sites, (drive up!) you'll be sure to find the perfect spot to pitch your tent or park your camper.
Spend your days at the beach as you enjoy 5 miles of coastline.
Build a sandcastle, climb the dunes, swim, surf, kayak, look for shells or just relax in the sun.
Don't miss the Mustang Island State Park Paddling Trail!
It's 20 miles of paddling trails that gives you a close up look at wildlife.
Watch for jellyfish, stingrays, hundreds of different birds, fish, and sea turtles as you take in the beautiful scenery.
The trails offer amazing opportunities for shallow-water fishing.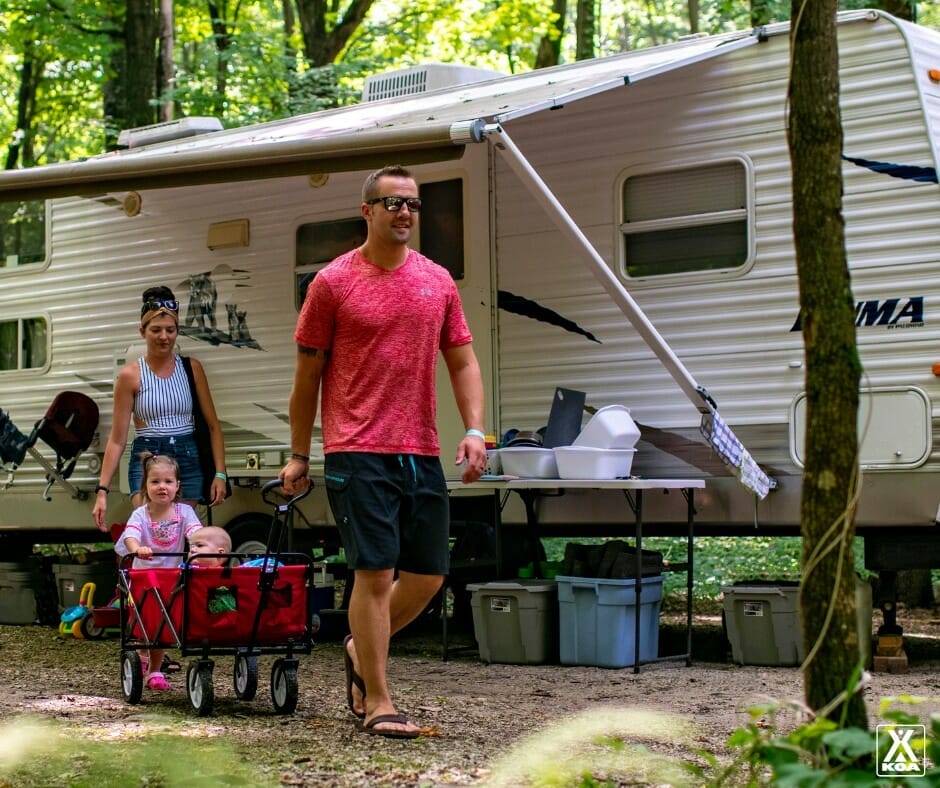 Historic Route 66 isn't the only exciting thing about Amarillo, TX!
At Amarilla KOA Journey, the whole family will enjoy this camping site's amenities and convenient location.
Less than half a mile off of Route 66 itself, you'll have the perfect home base to explore all the fun things to do in Amarillo!
Pitch a tent on the green grass, park your RV, or settle into a clean cabin during your stay.
You'll have KOA's outdoor heated pool, playground, tetherball, and cornhole game to keep you entertained.
That is, when you're not busy checking out the historic Amarillo Route 66 area, visiting the Amarillo Museum of Art, or hunting for treasure at the 6th Street Antique Mall!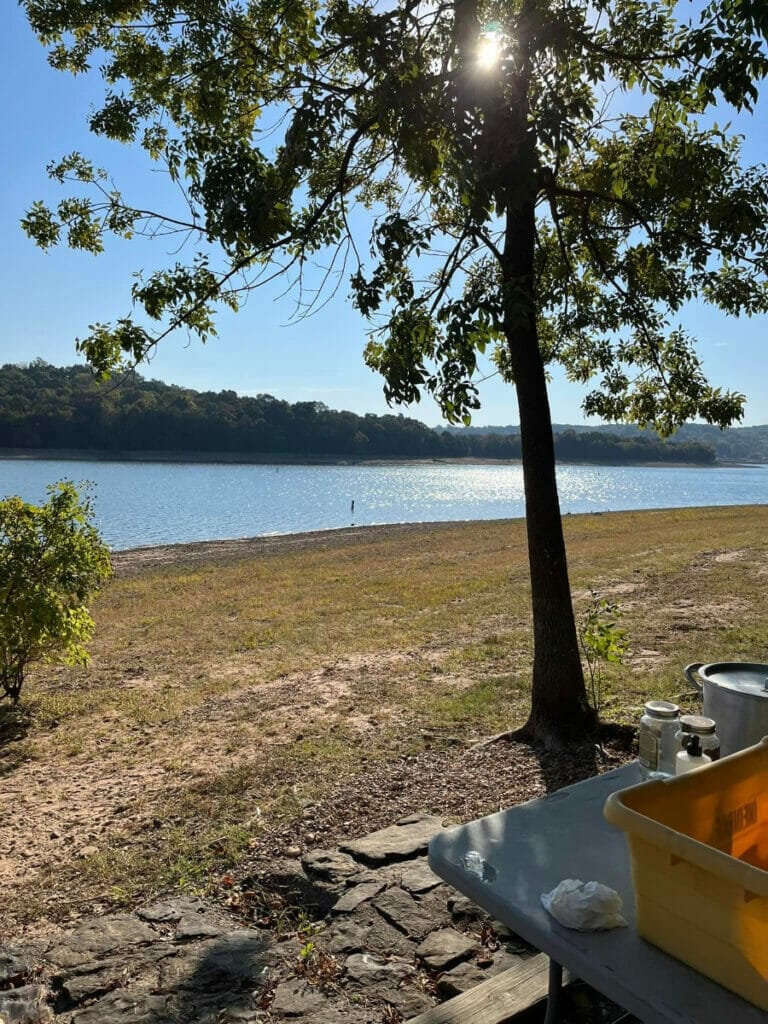 Shaded, paved walking trails, covered picnic tables, and fishing and boating in Lewisville Lake are just a few of the offerings at Hickory Creek Campground!
Whether you're pitching a tent or parking an RV, you'll love Hickory Creek Park's tall trees, breathtaking lake views, and clean restrooms – complete with hot showers!
For RVs, you'll be all set with water and electricity hookups as well as a dump station.
Traveling with a furry friend?
Remember to keep them on a leash at all times, per the park's rules.
Enjoy some time spent in nature, and be on the lookout for deer in the area!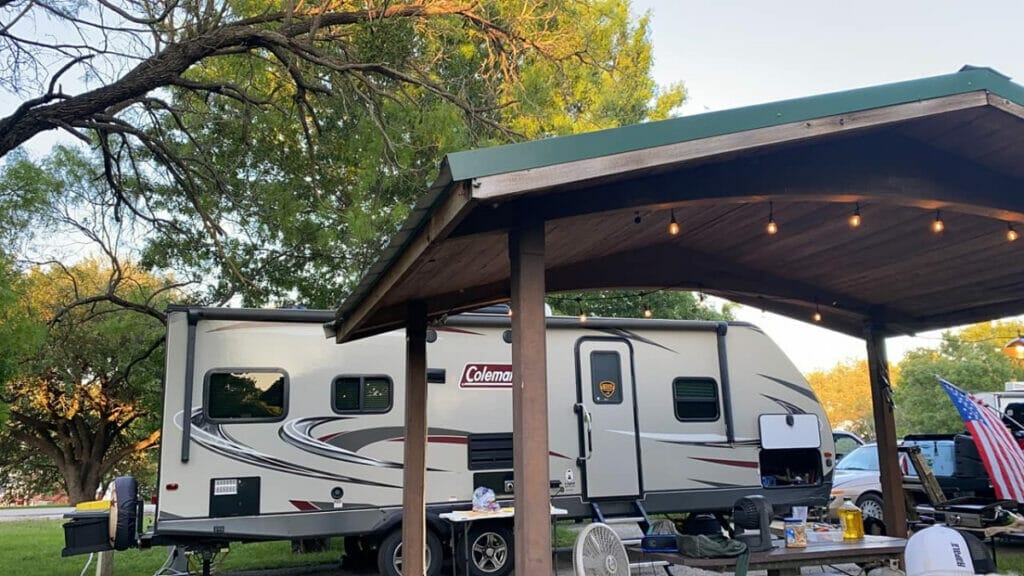 The lakeside campsite at South Holiday Park in Fort Worth offers tent, camper, and paved RV spaces.
Equestrian trails and horse corrals make this the perfect site for campers with horses, and the area is dog-friendly, too!
During the day, go fishing, boating, kayaking, or take a refreshing dip in the lake.
Or, walk the scenic trails and enjoy the peaceful wildlife.
In the evening, use the fire pit to grill up some hot dogs, hamburgers, or the day's catch, and watch the sun go down over the lake.
Forget something? Stone's Throw Farm Co. is just a couple miles away, where you'll find local produce, eggs, milk, meat, and basic toiletries.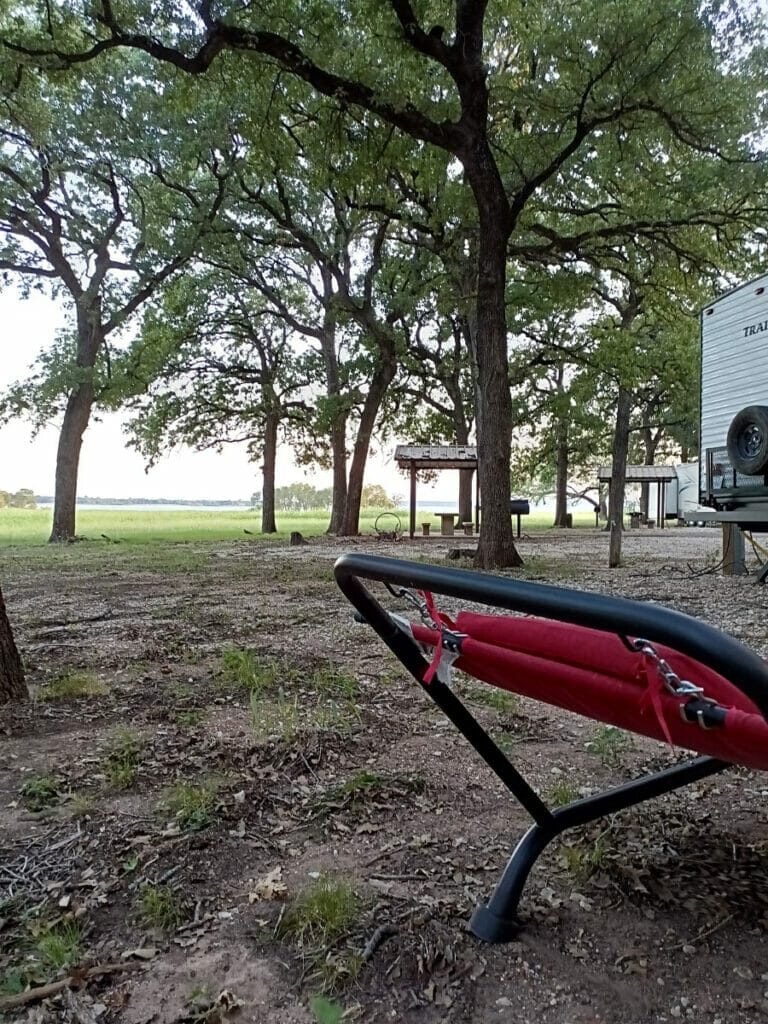 Deer abound at Cedron Creek Park in Whitney, TX!
The gentle creatures are so used to humans in the campgrounds, they might just come right up to you!
The nearby Lake Whitney is perfect for fishing, swimming, boating, kayaking, and canoeing.
Covered picnic tables with beautiful lake views are a scenic setting for lunch, and kids can keep themselves occupied on the playground while the grownups are busy cooking.
Need to rinse off after a dip in the lake or a hike on the nearby Hopewell Trail?
Head over to the site's clean, large bathrooms for a nice hot shower!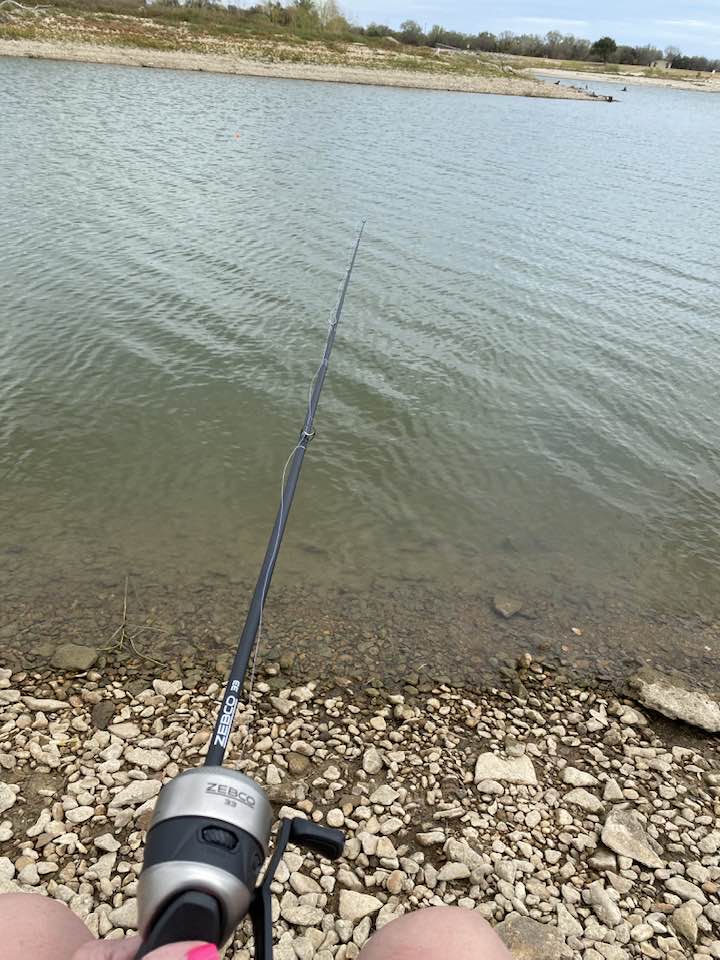 Seated proudly along Lake Waco is Airport Park, a peaceful campground perfect for both RV and tent camping.
Don't let the name cause any worry – you're not likely to be disturbed by much air traffic despite the nearby airport.
If fishing is your goal, you'll find plenty of catfish, crappie, bass, and sunfish in the waters of Lake Waco!
Enjoy a family meal at a lakeside picnic table, or reserve a screen shelter complete with electric outlets and water.
Thirsty for more nature? Head over to Waco's Cameron Park Zoo, or walk the scenic trails at the Waco Lake Wetlands!
Best Tent Camping in Texas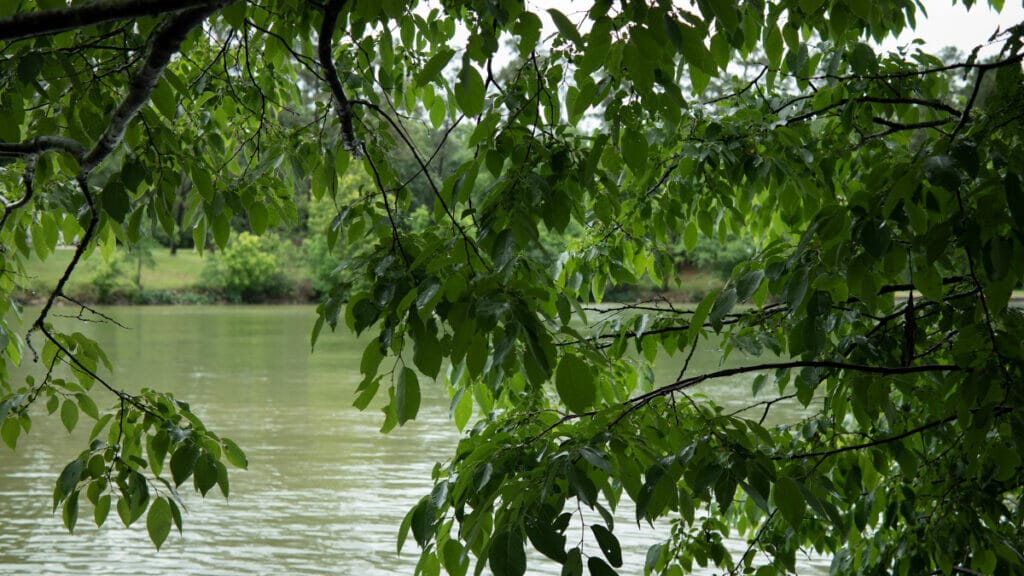 Lake Livingston State Park, located in the town of Livingston, is a peaceful escape from the daily grind.
Wake up to a view of the lake (one of the best lakes in Texas!) when you book a campsite on the Piney Shores loop.
Prefer a wooded site deep in the trees, instead?
Check out the sites in the peaceful Briar Loop area which is set aside exclusively for tent camping.
Spend your days swimming or rent a paddle board or kayak and explore the lake.
Fishing is one of the main activities at Lake Livingston.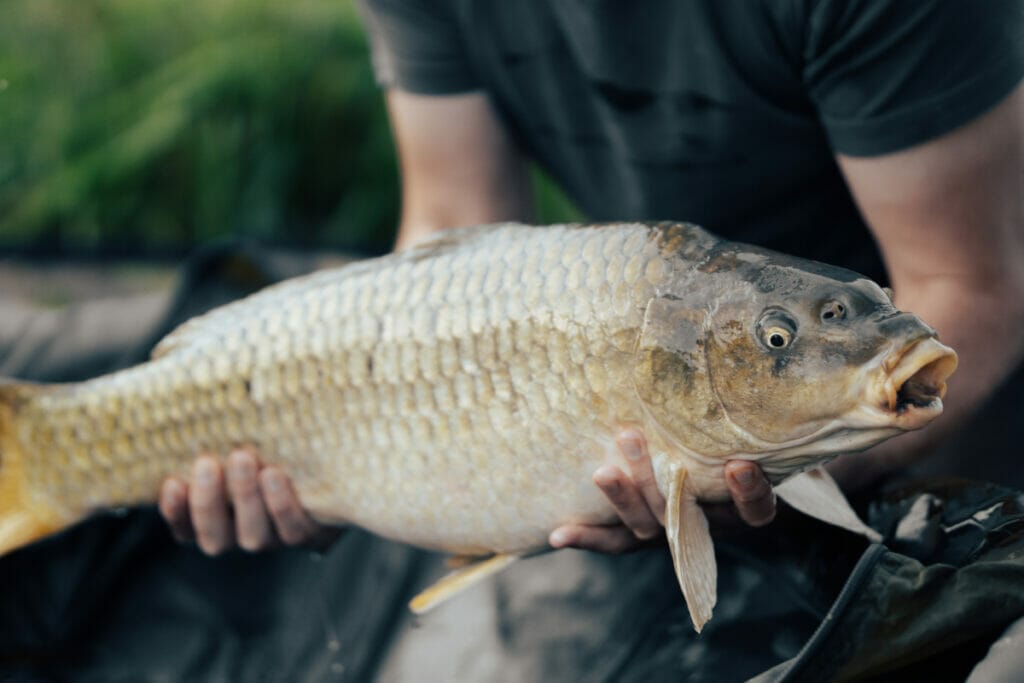 Catch a fish and grill it up for dinner!
Hike through the forest and explore the various habitats and wildlife and check out the native pollinator garden.
And don't miss the view from the Observation Tower!
Finish out your day at the frog pond and get serenaded as you take an evening hike.
Serene beauty awaits you at Tyler State Park located in the town of Tyler.
Sleep surrounded by towering trees as you relax and unwind in the beautiful, wooded campsites. (Some of the areas are tents only)
During the day, swim and boat on the spectacular 64-acre spring-fed lake.
Fish off of one of the three fishing piers or rent one of the boats and find the perfect fishing spot.
Hike on 13 miles of trails exploring different types of forest.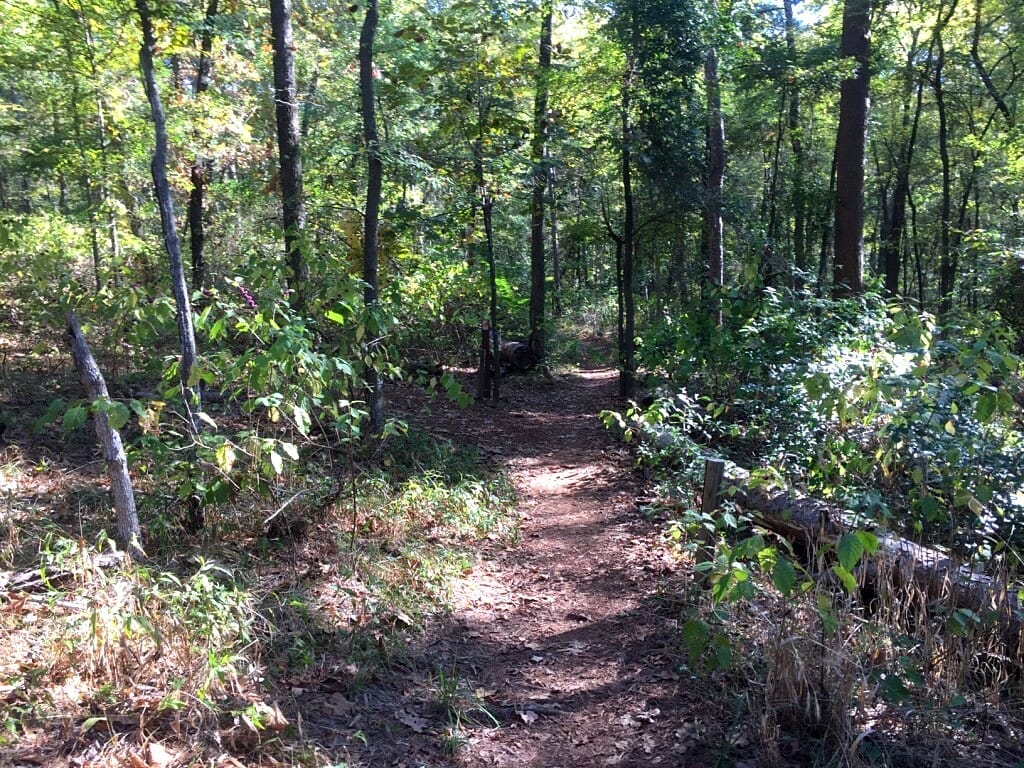 Follow Whispering Pines Trail to see a wading pool and small, rock waterfall (for more waterfalls, check out the best waterfalls in Texas!)
In the evening, have a picnic as you take in the beautiful sunset.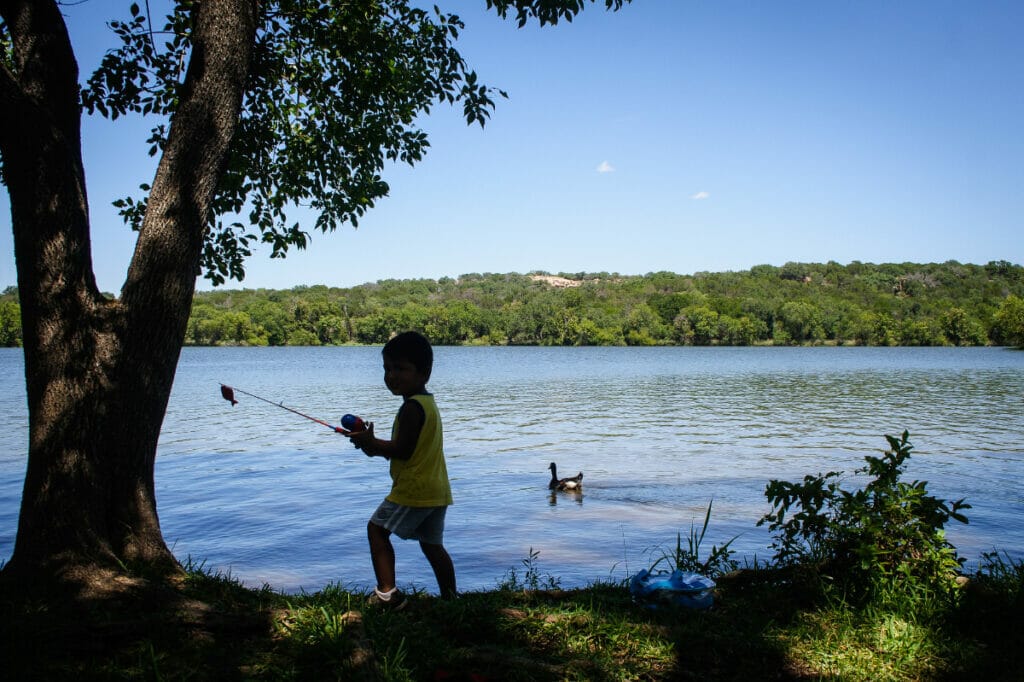 Inks Lake State Park, a 1,200-acre park in beautiful Hill Country, has a gorgeous lake and picturesque cliffs (600 million year old rock formations!) which makes it one of the best camping spots in Texas.
Camp on the lake or choose a wooded, secluded site to relax and connect with nature.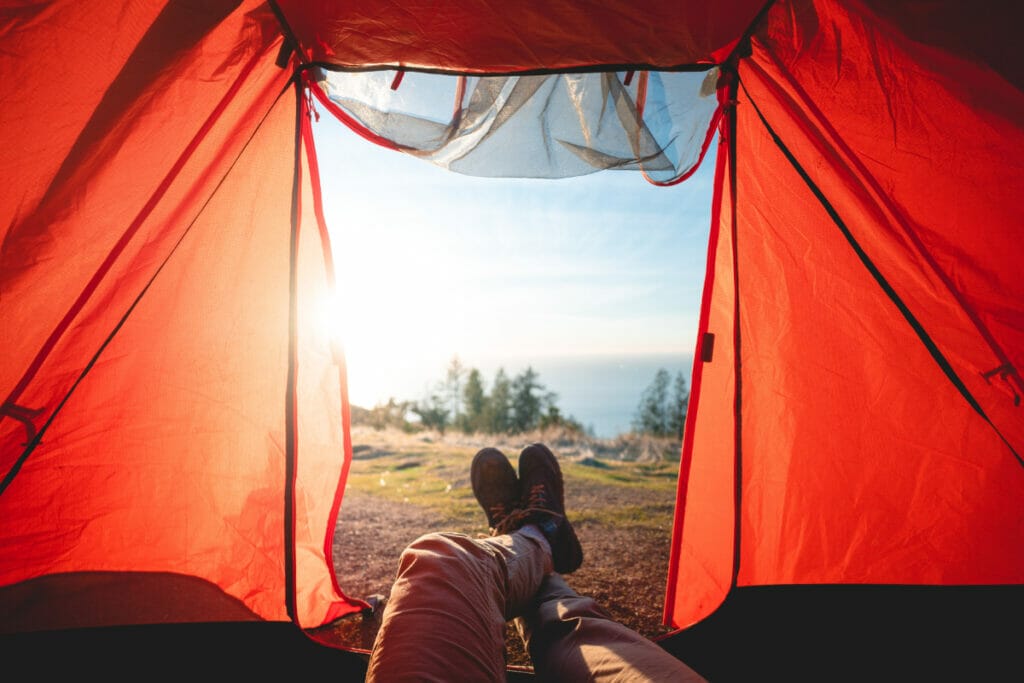 Spend your day scuba diving, swimming, boating, or fishing.
Head to Devil's Waterhole where you can hike the canyon or go cliff jumping (at certain times of year you can explore nearby Valley Spring Creek Waterfall)
Enjoy 9 miles of hiking trails where you can see all of the wildlife, diverse landscapes, cacti and trees.
Be sure to catch one of the best sunsets in all of Texas.
The beautifully wooded, Ratcliff Lake Recreation Area is a park within the Davy Crockett National Forest.
The 56 wooded, roomy campsites makes this one of the best camping sites in Texas.
Spend the day on the beautiful, peaceful 45-acre lake swimming and fishing.
Looking for a hunting opportunity?
The park offers deer, waterfowl, squirrel, dove, quail, and turkey hunting, depending on the season.
Take a hike!
Head to the Tall Pines Trail for a 1.5 mile hike or explore Trail Tamers (which is less than a mile) or go all out on the 20 mile Four C Trail.
Beginning at Ratcliff Lake Recreation Area, The Four C Trail winds through the Davy Crockett National Forest and ends at the Neches Bluff Overlook where you will see amazing views of the area.
Make sure you check out the ruins of the old lumber mill on your visit.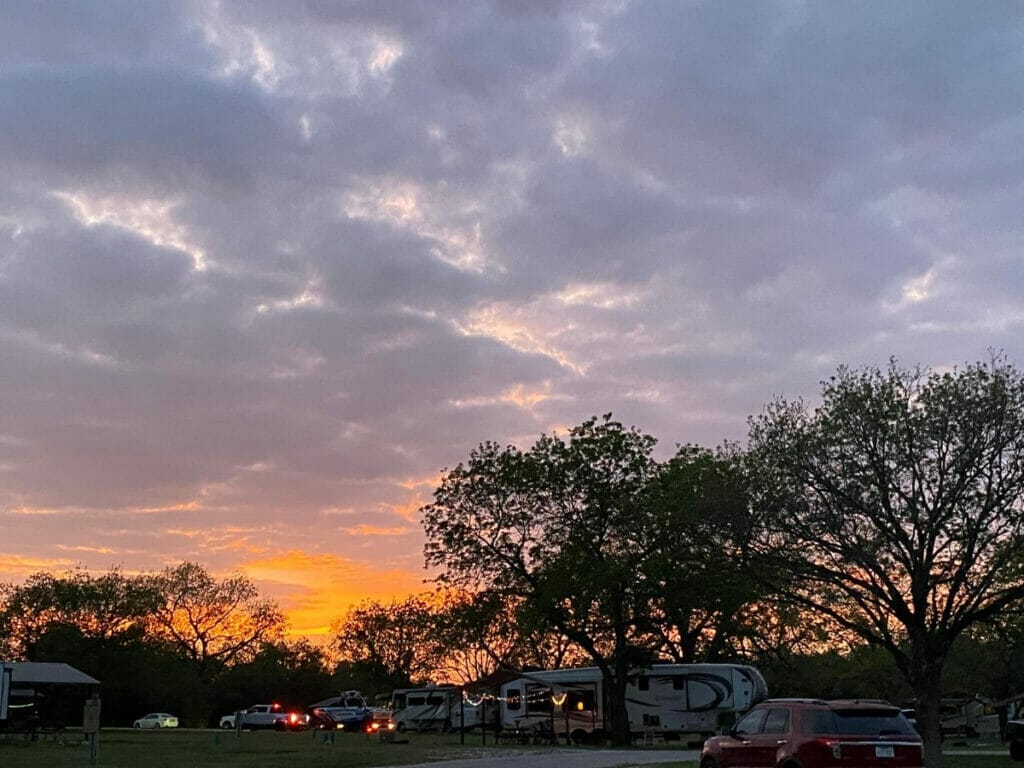 Located right along the Brazos River in Kopperl, TX is Kimball Bend Park.
Just off the highway and wedged between lush greenery and cool waters, this campsite is ideal for families looking to stay near Lake Whitney.
Check out the ruins of a stone building, hike the Hopewell Trail, or fire up the grill and enjoy a meal with the family under one of the site's picnic shelters.
Take note that part of the highway runs across the lake, so you might hear traffic during your stay.
Planning on fishing? You'll need a license to fish at any park on Lake Whitney!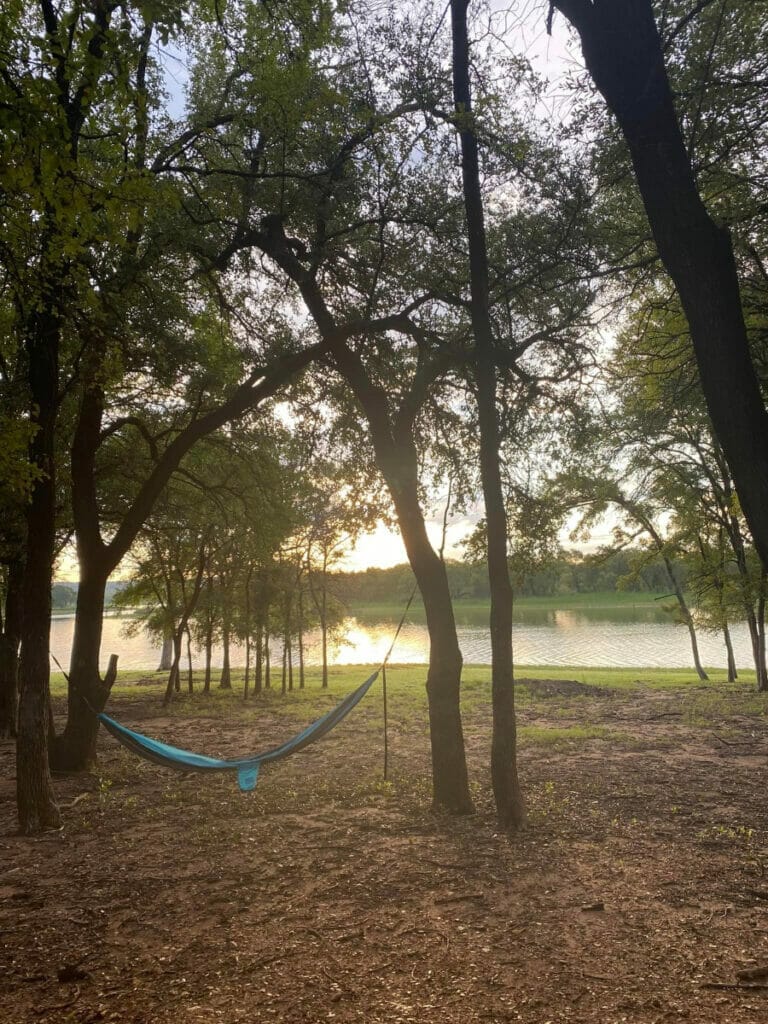 Also in Kopperl, TX is Plowman Creek Park.
A bit further down the Brazos River, this campsite features an equestrian trail, hiking, biking, boating, and more!
Kids will enjoy the site's playground, and the lake offers the perfect place to go swimming, canoeing, kayaking, or fishing.
You'll love being immersed in nature, watching the sun go down over the lake, and rise in the morning through the trees.
Just be on the lookout for local wildlife – in addition to deer, bobcats and coyotes have been spotted in this area!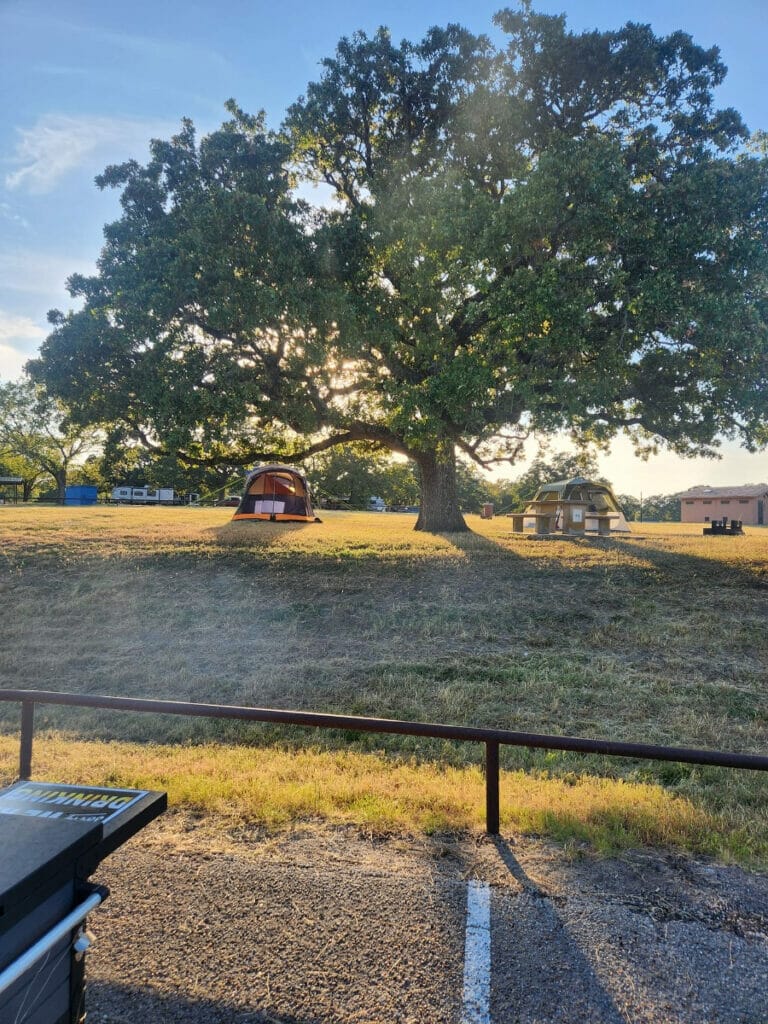 Sick of the city?
About an hour and a half away from the Dallas/Fort Worth area, in Dawson, TX, is the scenic Liberty Hill campground.
This beautiful, clean park sits proudly beside Navarro Mills Lake – perfect for fishing, swimming, and boating.
But the lake isn't all this site has to offer!
The local wildlife, flowers, and birds make this an ideal place to immerse yourself in nature.
Of course, there can be such a thing as too much nature…If you're worried about bugs getting in the way of your BBQ lunch, be sure to reserve a screened-in shelter!
Best Cabin Camping in Texas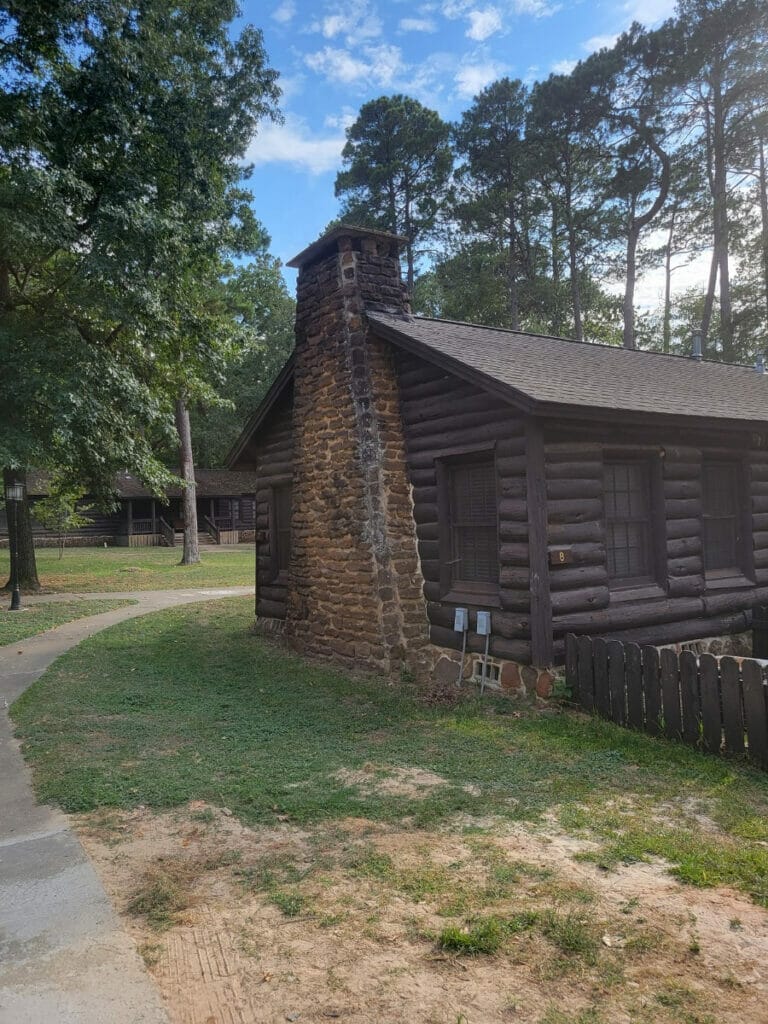 Get away from it all at beautiful Caddo Lake State Park in Karnack!
Sleep in one of the rustic, historic stone and wood cabins (choose from several different types of cabins which sleep anywhere from 2-6 people) and then spend the day paddling through the bayou in one of the rental canoes and kayaks.
Cypress trees draped with Spanish moss shade you as you traverse the variety of waterways. (Watch out for alligators!)
Explore over 50 miles of paddling trails in the area either self-guided or you can do any number of bayou or swamp tours.
Spend the day fishing among the stunning lotus flowers and lily pads.
Enjoy simple hikes on the miles of trails that wind through the park and then end the day watching a gorgeous sunset over the water.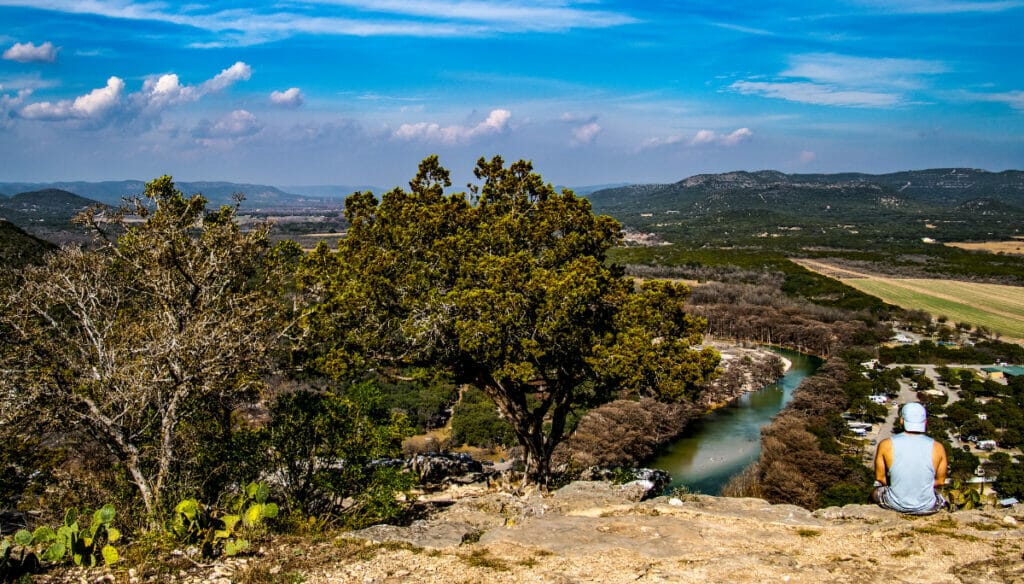 Stunning Hill Country scenery, a beautiful river, and a cave full of dazzling crystals make Garner State Park in Concan one of the coolest places to camp in Texas and a great Texas road trip idea.
Rent a cabin with a fireplace complete with a kitchen and bathroom for your home away from home.
Spend the day swimming, paddle boarding, kayaking, canoeing, or floating on an inner tube down the Frio River.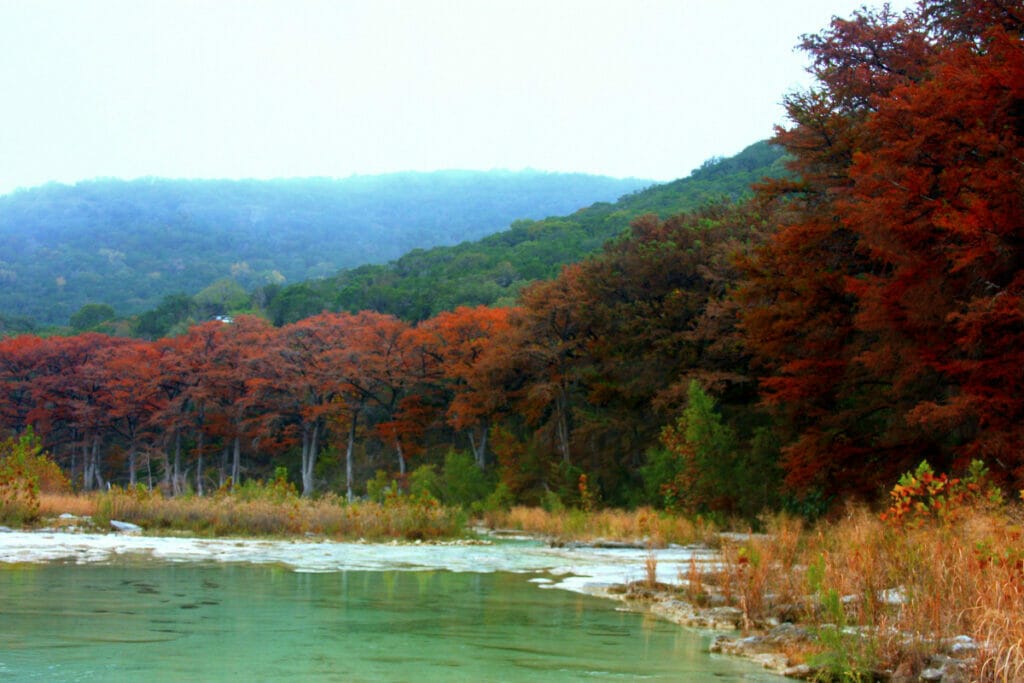 Hike or bike the 16 miles of trails and take in the wildlife and breathtaking views.
No trip to Garner State Park is complete without a climb up Mt. Baldy and a hike to Crystal Cave!
In the evening, play a round of miniature golf, get a treat at the candy shop, and then head to the dance pavilion for the legendary jukebox dance.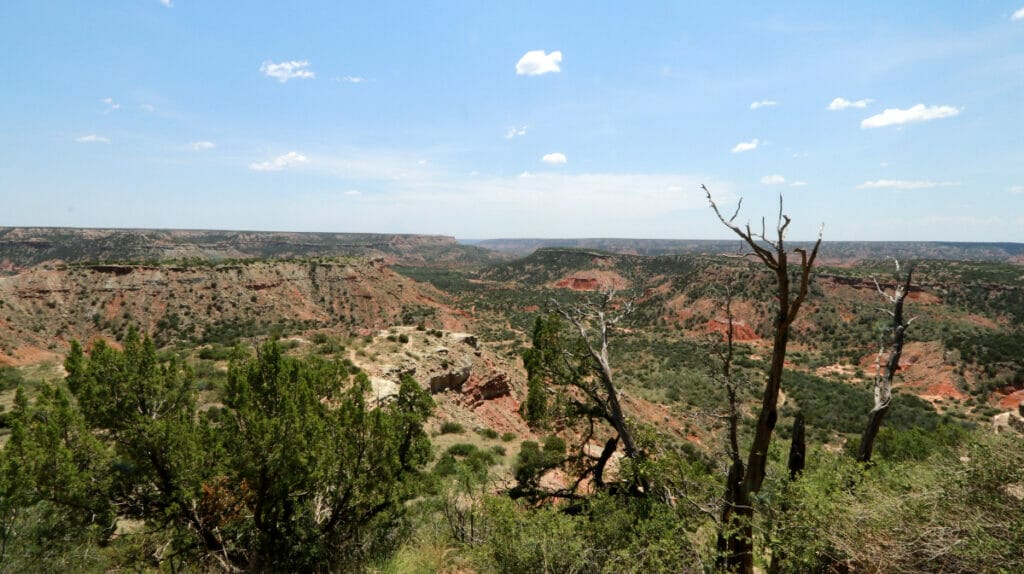 The Longhorn Pasture and panoramic views at CCC Overlook greet you as you enter the Palo Duro Canyon State Park, located in Canyon.
Stay in one of the stone cabins on the canyon rim complete with bathrooms or choose a more rustic stone cabin on the canyon floor with bathrooms and showers nearby.
Spend your days hiking, biking, and horseback riding.
Hike the Lighthouse Trail to see the famous lighthouse rock formation.
Or head to the Rock Garden to hike through an ancient landslide.
Take the Paseo del Rio Trail to see how cowboys lived in the 1800's.
Bike Capitol Peak, Lighthouse Trail, and GSL Running Trail.
There are 1500 acres of the park dedicated to horseback riding trails!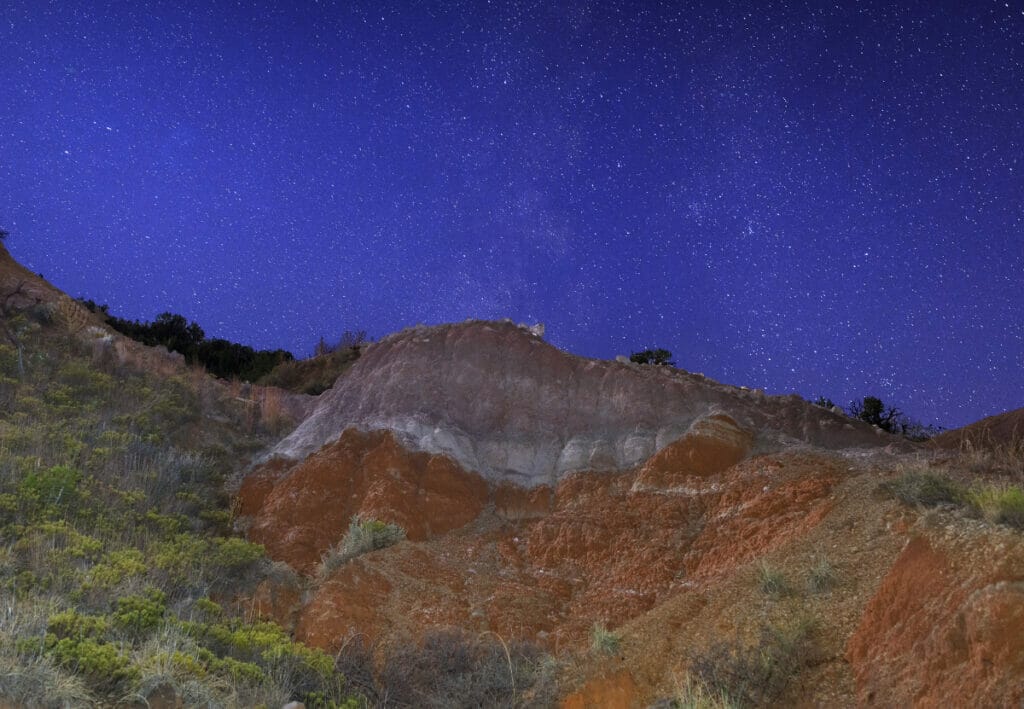 No horse? Take a guided horseback riding tour and enjoy the wildlife, and the beautiful, rugged scenery.
End your day experiencing the TEXAS outdoor musical show complete with fireworks.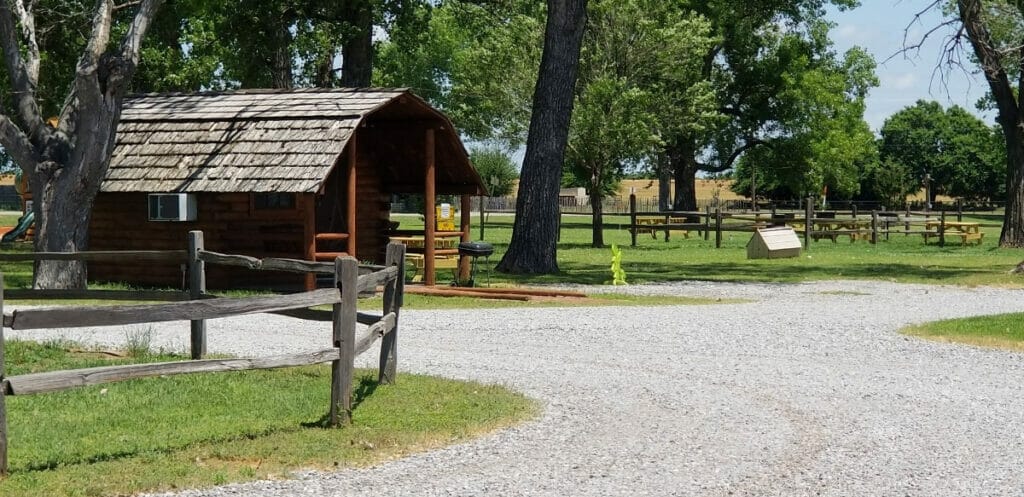 Looking for a classic cabin experience? Book the log cabin at Burkburnett / Wichita Falls KOA Journey!
While it doesn't have its own bathroom (adding to the old-timey feel), the community bathrooms were recently renovated in 2020.
If a private bathroom is a must, opt for a deluxe cabin instead!
On the camping site, you'll enjoy a saltwater pool, playground, games and puzzles, a library, and more!
Stop by the Historical Marker on State Loop 267 to read about the history of Burkburnett and the Red River – it's about half a mile from the camping site.
Another half mile will bring you to the Welcome to Texas sign at the Oklahoma border, the perfect photo op to mark your Texas camping vacation!
Best Primitive Camping in Texas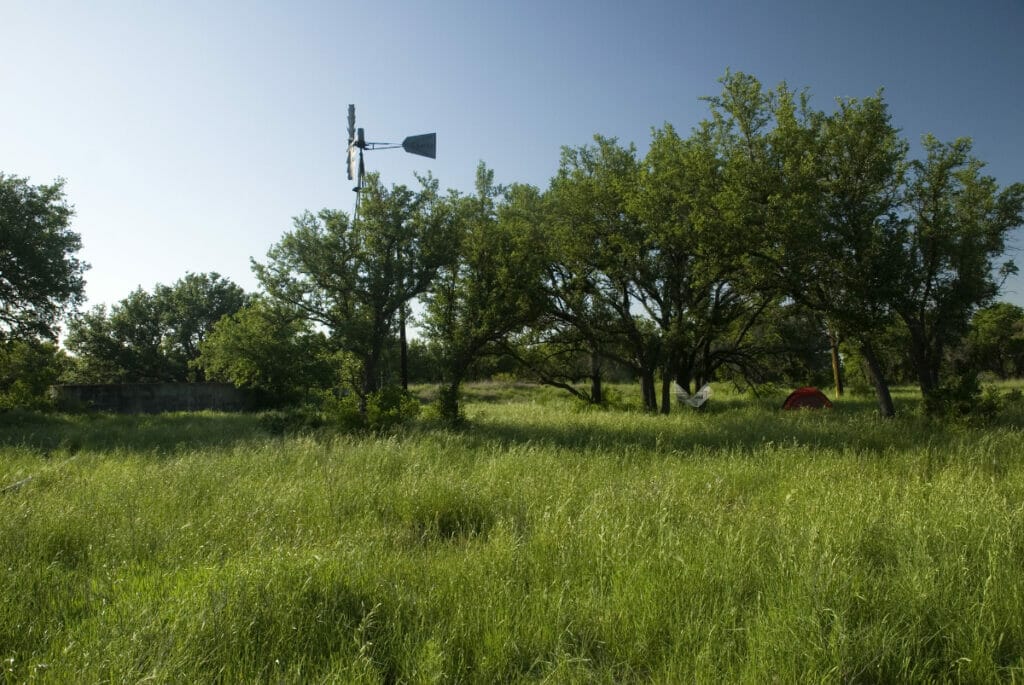 Take in the breathtaking views, rugged wilderness, and raw nature at Colorado Bend State Park.
Sleep in the backcountry wilderness, along the riverbank, in drive-up sites, walk-in sites, or hike-in sites.
The choices for unspoiled, primitive sites are why Colorado Bend State Park is one of the best camping sites in Texas.
There are 5,300 acres of untamed wilderness (including over 400 caves!) waiting for you to explore.
If you want to go caving, you need a guide. Check for availability before you go.
Spend the day on the Colorado River where you can go for a swim, fish, or kayak.
Or meander up Spicewood Springs Trail where you'll find a plethora of stunning, spring-fed swimming holes and waterfalls.
Hike the River trail if you want a scenic, simpler trail or Gorman Falls trail if you want more of a challenge.
Go mountain biking on actual mountains!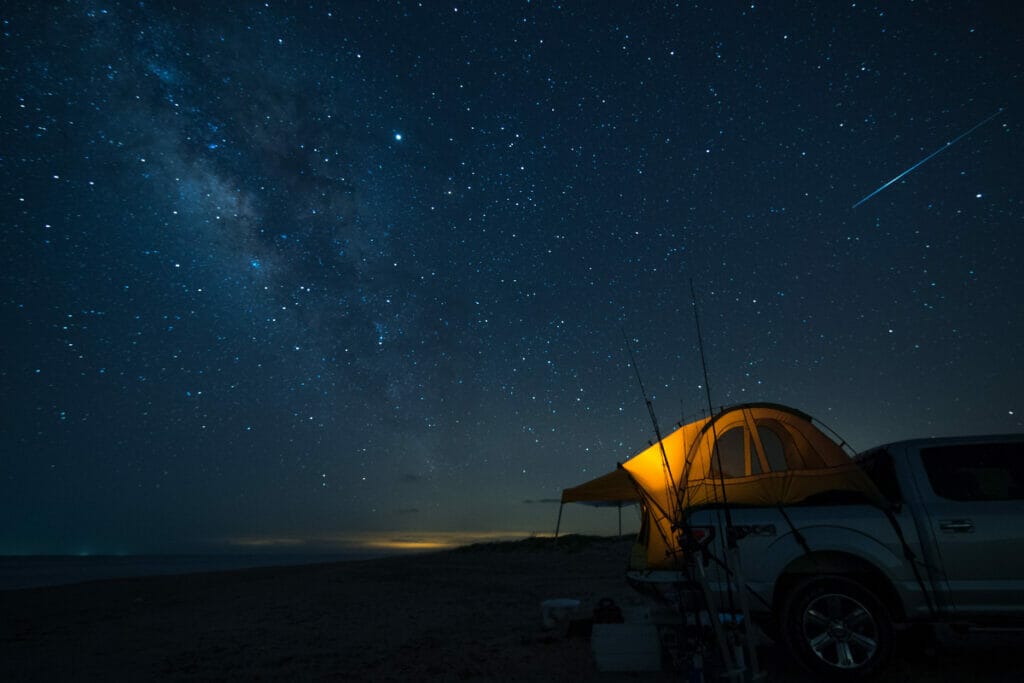 Padre Island National Seashore, with its four campgrounds, is a campers paradise.
It offers primitive beach camping, white sand beaches, a natural marine habitat (they are working on protecting the Kemp's ridley sea turtle), coastal dunes, and grassland.
Bike on the beach and explore the island.
Spend the day at the Laguna Madre Estuary where you can scuba dive, snorkel, birdwatch, and do some saltwater fishing in this hypersaline lagoon.
Windsurf at Bird Island Basin or go kayaking on one of the Padre Island paddling trails.
Hike the Grassland Nature Trail and the dunes and then sign up for a three-hour birding tour to learn about coastal birds.
Have an unforgettable experience as you end the day with a horseback ride on the beach at sunset.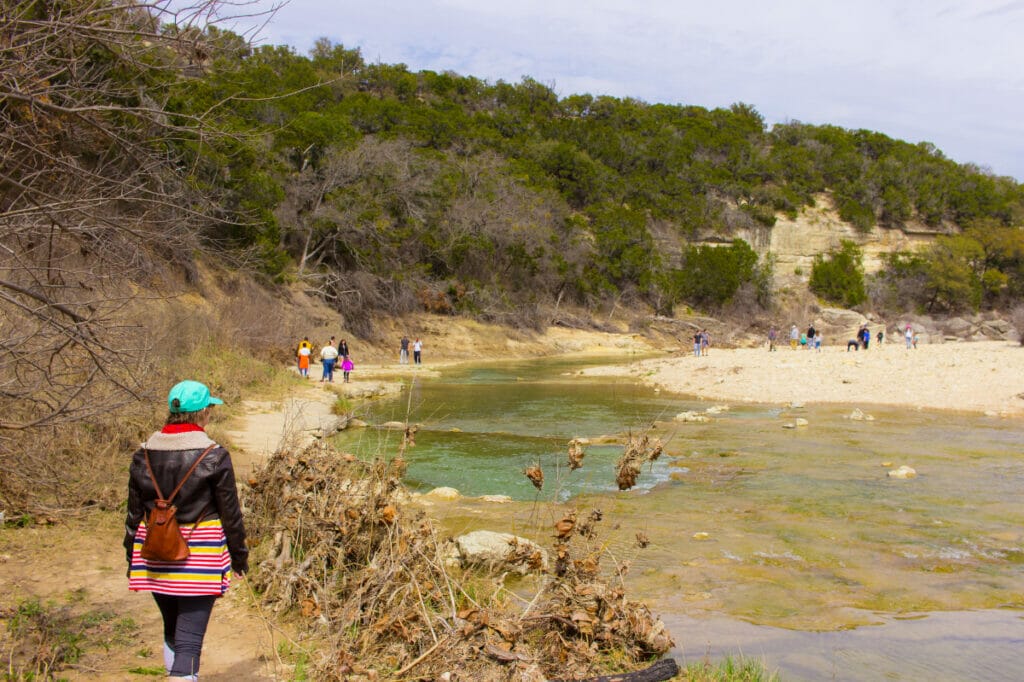 Walk in the tracks of dinosaurs from long ago at Dinosaur Valley State Park, located in Glen Rose.
Stay in primitive campsites (both walk-in and hike-in), immerse yourself in nature and see why it's a good camping site in Texas.
Swim or fish for catfish in the Blue Hole.
Download the map and go search for dinosaur tracks in the Paluxy River.
Hike over 20 miles of trails and see waterfalls, bubbling springs, wildlife, woodlands, and grasslands.
Go back in time and take a horse-drawn wagon ride to see the beautiful landscape.
Check out the breathtaking views at the scenic overlooks.
Don't forget your selfie with the dinosaur models from the 1964 World's Fair!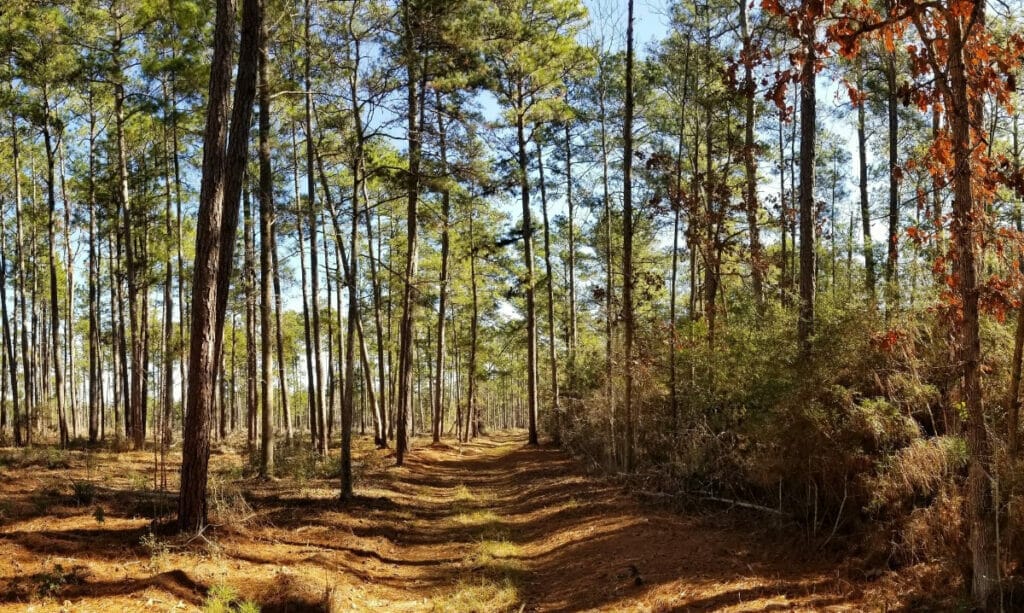 113,000 acres of swamps, forests, canyons and much more await you at Big Thicket National Preserve.
Big Thicket National Preserve offers backcountry camping for all skill levels in a variety of terrains from forests to jungle to canyons and more.
Wind your way through a trail of carnivorous plants on Sundew Trail, or explore the 9 miles of varied landscapes on The Big Sandy Trail (it's the only trail that allows biking and horseback riding).
There are over 40 miles of hiking trails to explore.
Hike Birdwatchers Trail and look for some of the 74 species that nest in the area.
Paddle on the bayou under the Cypress trees at the Beaumont Unit.
Do some fishing on Turkey Creek, Neches River, Pine Island Bayou, or Village Creek.
Want to hunt?
Depending on the season, you can hunt rabbits, squirrels, hogs, waterfowl, and deer.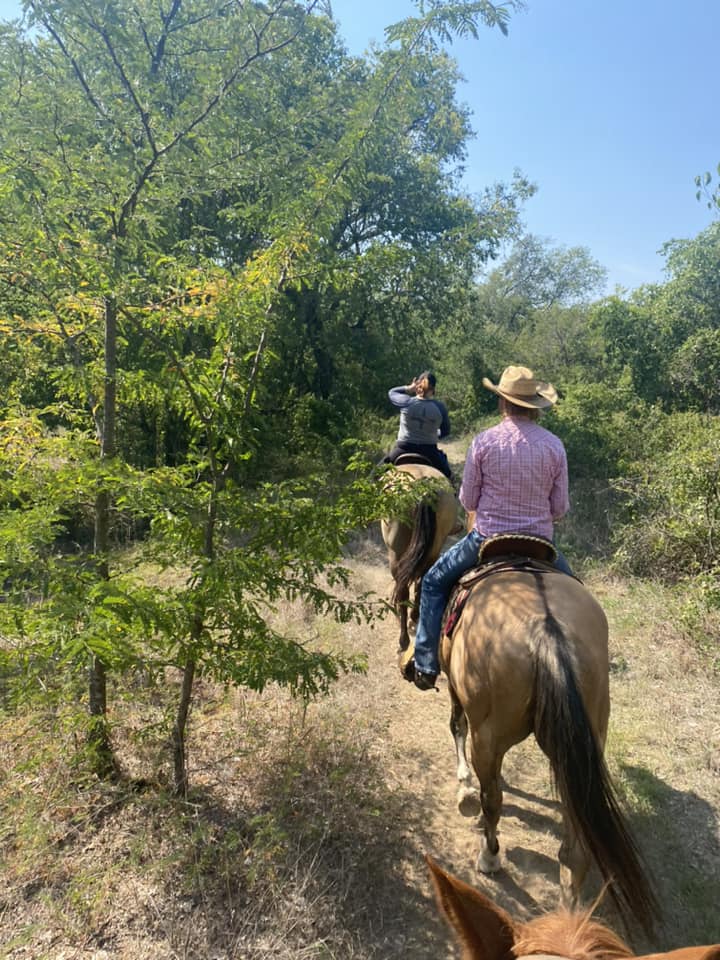 One of the best campgrounds along Lake Whitney has got to be McCown Valley Park!
The clean beach and clear waters of Lake Whitney are ideal for swimming, fishing, and boating, and the sunset looks spectacular from this campground.
You'll be grateful for the cool lake and the shaded hiking and picnic areas during the summer – but McCown Valley is a beautiful camping spot in the winter months, too!
There are 13 primitive tent sites available, as well as spaces for trailers with water and electricity hookups.
Bringing horses along? McCown Valley also has 39 equestrian sites and is a popular destination for horseback riding!
Best RV Camping in Texas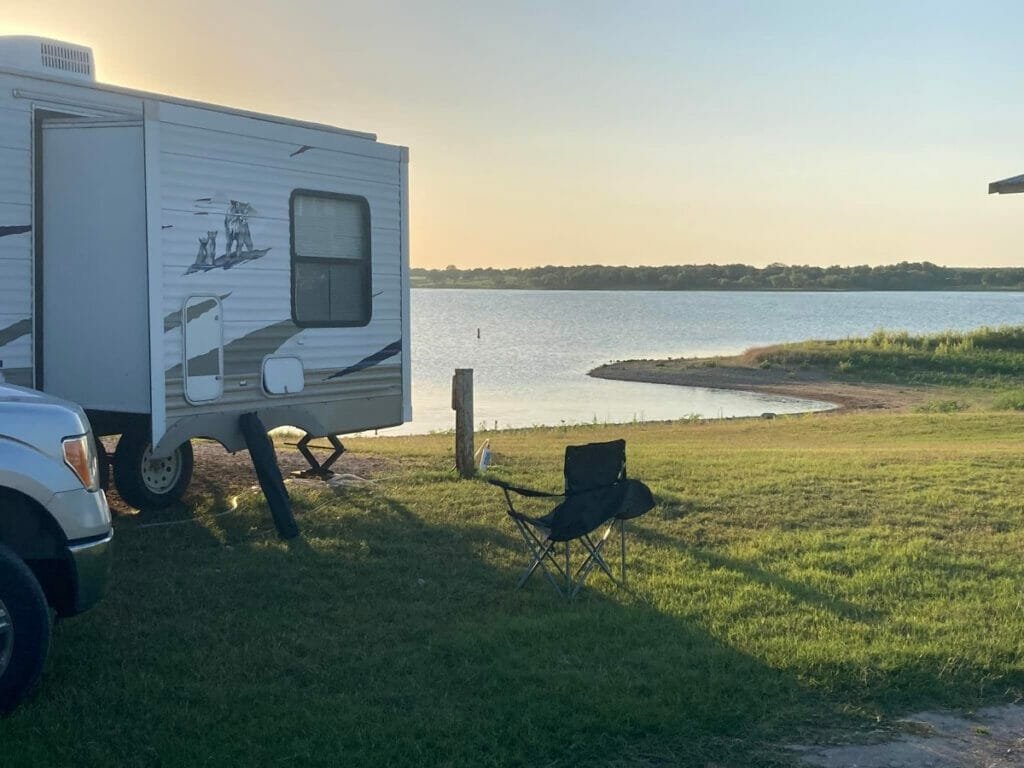 Comanche, TX is home to Copperas Creek, a campground situated alongside Proctor Lake.
This park is ideal to park your RV and engage in some birdwatching, fishing, walking through the trees, or swimming in the lake.
The gorgeous waterfront sites immerse you in nature, and the big, clean restrooms feature both flush and pit toilets, as well as showers.
Cook the day's catch on a grill by a lakeside picnic table, and watch the sun go down over the water.
Not in the mood to cook? Country Pickin's Cafe is just down the road – the perfect spot to grab a freshly made breakfast or lunch!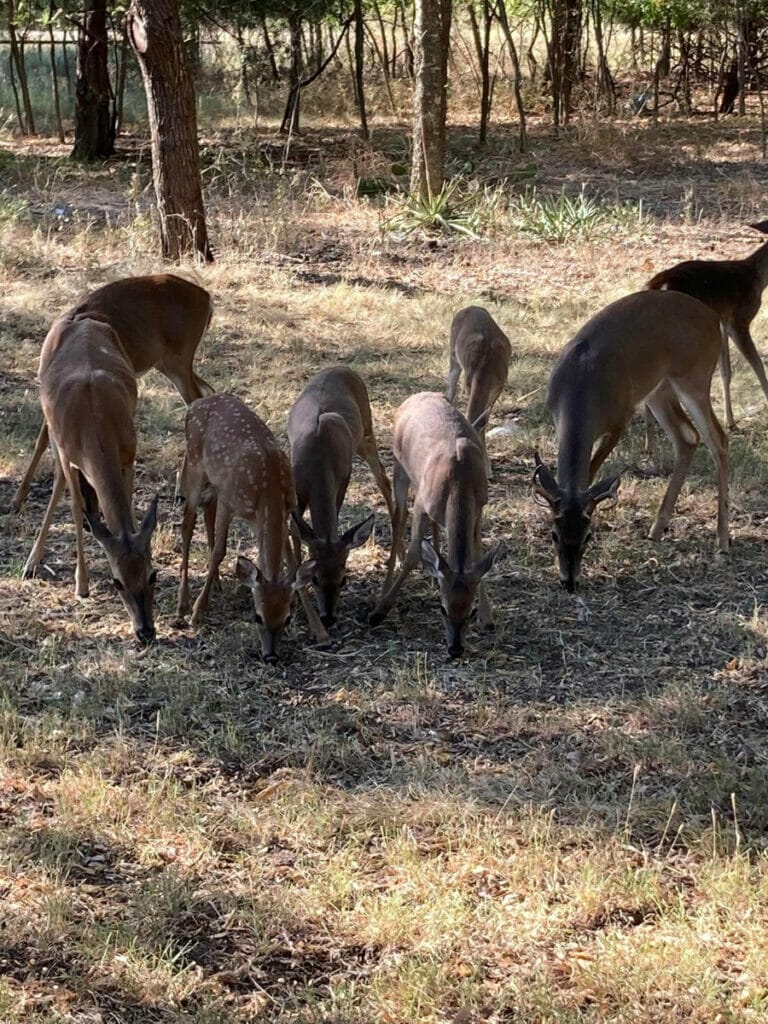 Speegleville Campground in Waco, TX is a beautiful, quiet place to bring the family in your RV.
The sites are nicely spaced out, giving you a sense of privacy as you enjoy nature with your loved ones.
Have a scenic lunch at one of the covered picnic tables, which are spread out on the green grass with gorgeous views of the lake.
The covered playground is perfect for kids that need to get their energy out, and dogs will have the time of their lives running along the shoreline!
Speegleville has two screened shelters and 30 campsites, complete with water and electric hookups.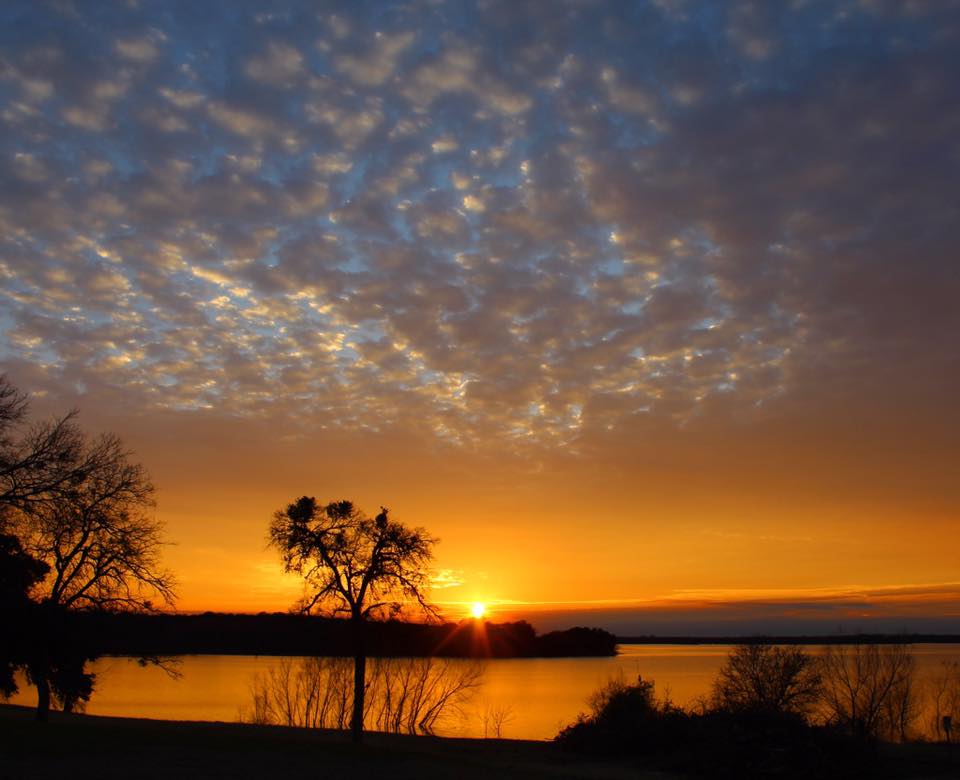 One of the most popular campsites around Lake Waco is Midway Park.
The trees around the park provide a beautiful place to set up a hammock, where you can truly enjoy the serenity of the area.
Or, liven it up with a game of disc golf!
Kids will enjoy the playground, and playing by the lakeshore.
The boat ramp costs $5 to launch from, or you can fish from the dock.
This campground is excellent for RV camping, but there are also 5 tent sites at the park.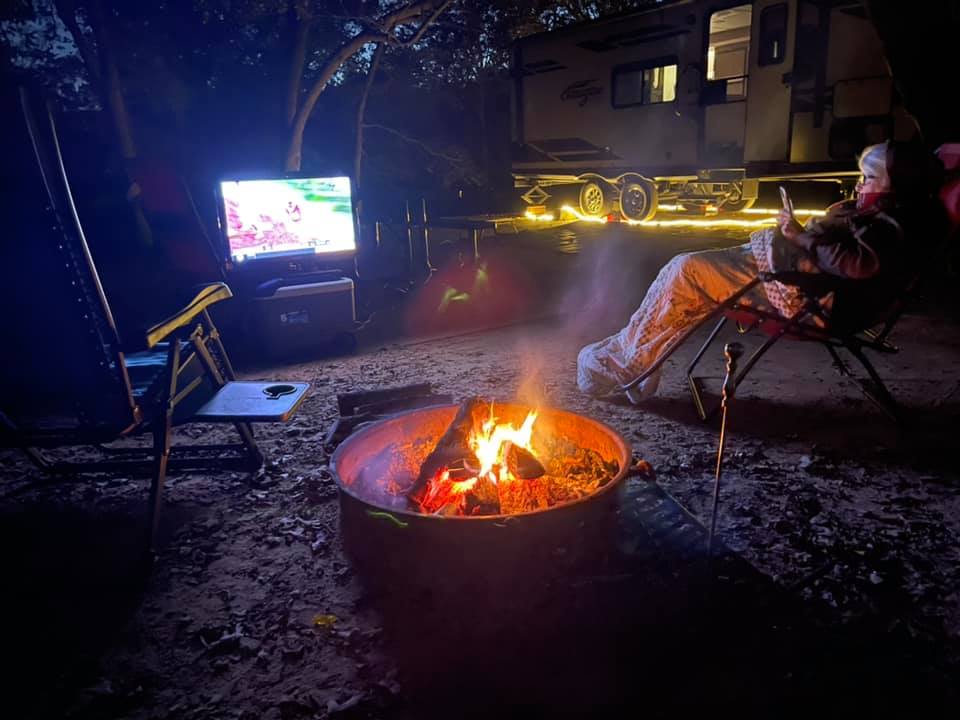 Looking to park your RV and camp near Lake Texoma, otherwise known as the "Playground of the Southwest"?
Juniper Point in Gordonville, TX is the campground for you!
The lakeshore features both sandy beach areas, or rockier spots – both of which are excellent to fish from!
Cast a line and reel in some crappies, catfish, or bass, and enjoy your catch after cooking it on a grill and sitting down at a covered picnic table.
The bathrooms are notably cleaner than most campgrounds, and the walking trails are perfect for a breath of fresh air.
While this serene park is most popular with RV campers, tent camping is also available at Juniper Point!
Pin for Later!