Hidden historical gems. Sea turtle hatchling releases. Beautiful beaches. The largest ranch in the United States. Pirate cruises.
With such a diverse selection of things to do in Corpus Christi, this "Gulf Coast Capital" is an ideal vacation destination for solo travelers, couples and families alike!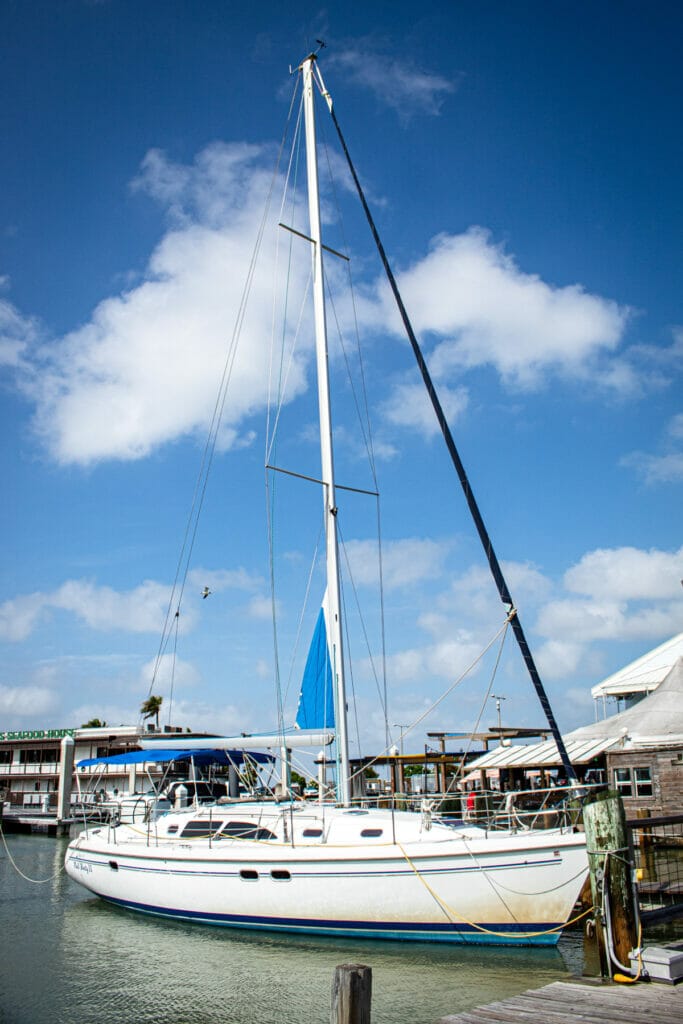 Here are 21 top Corpus Christi attractions:
Love Texas? Love visiting Texas?
Show your support for this great state and get more helpful visiting tips on our Facebook page.
Want more awesome Texas guides? Check these out!
Where to stay in Corpus Christi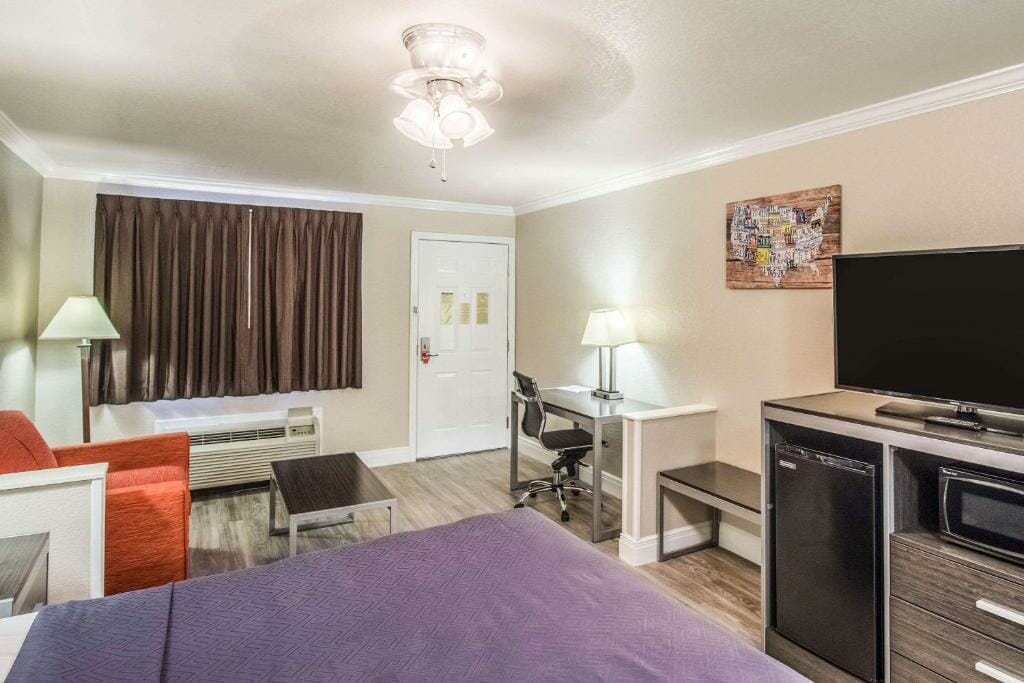 From renovated VRBOS to boutique hotels, here are the best places to stay in Corpus Christi on every budget!
($) Econo Lodge Corpus Christi – with every amenity you could want in a hotel room for a bargain price, the Econo Lodge in Corpus Christi is a great family-friendly place to stay. You're not far from the beach, the kids will love the on-site swimming pool, and the rooms are clean and spacious. It's a no-brainer! Click here to check prices and read reviews.
($$) Aloft Corpus Christi – Aloft hotels are known for their colorful and trendy vibe, and Aloft Corpus Christi is no different. From a year-round outdoor pool to a billiards room to an awesome bar, this is a great place to stay in Corpus Christi as a couple or with friends. Click here to check prices and read reviews.
($$$) Omni Corpus Christi Hotel – looking for oceanfront views? Head to the Omni Corpus Christi hotel, where you'll find stunning coastline, an on-site restaurant serving up the best steaks you've ever had, and room service that will keep you fed and happy while you're enjoying your modern and well-designed room. Click here to check prices and read reviews.
How to get around Corpus Christi
Like most of Texas, the best way to get around Corpus Christi is to explore on your own by car!
If you're visiting and need to rent a car, we highly recommend Discover Cars where they find you the best car rental deals from all of the competitors (has saved us so much money!).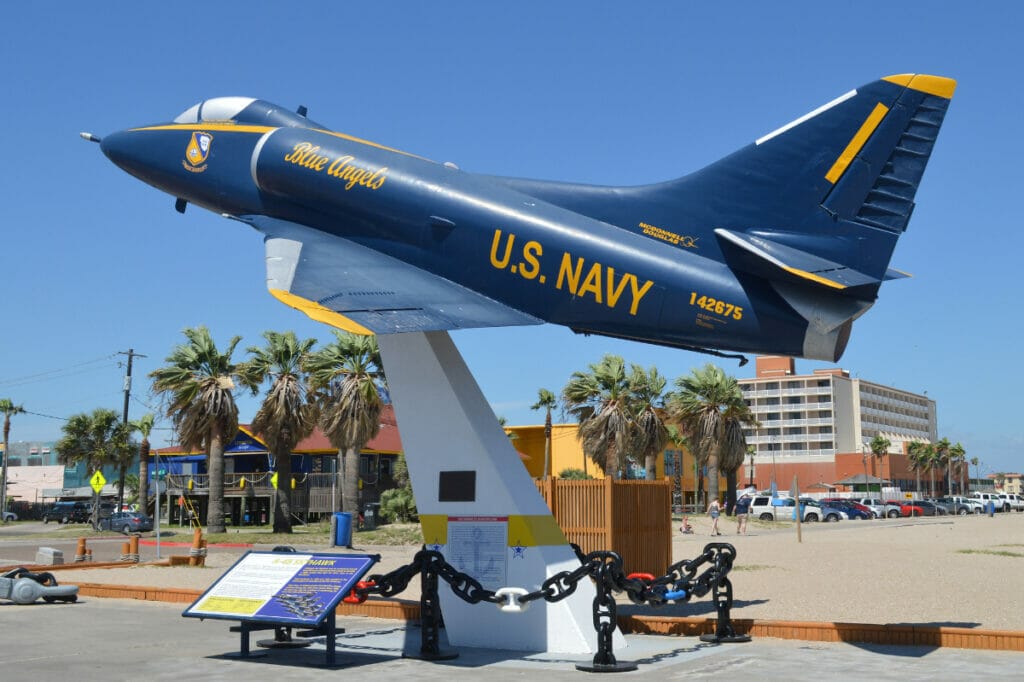 One of the top things to do in Corpus Christi is a WW II-era aircraft carrier turned museum that explores the ship's history and the experience of the sailors who served aboard it.
You will definitely want to consider one of the many guided or self-guided tours.
There is an elevator from the hangar deck to the flight deck, but otherwise keep in mind that this is still a former navy ship, so interior tours require navigating steep ladder-style stairs and narrow passageways.
If mobility issues or claustrophobia makes that sound like a nightmare, or you have limited time, stick to tour 1 (the flight deck with a lot of cool aircraft, including a Tomcat with "Maverick" and "Goose" painted across it in tribute to the hit 1980s film, Top Gun) and tour 5 (exhibits in the area right after you pass through admissions).
On the other hand, if a day of climbing and squeezing is just what you're looking for, tour 4 will take you through most of the lower deck crew quarters and provide the best feel of life onboard a naval ship of this era!
Take a break with drinks and snacks at the cafe, and then wrap up the day watching the popular "must-see" 45-minute film in the 3D theater!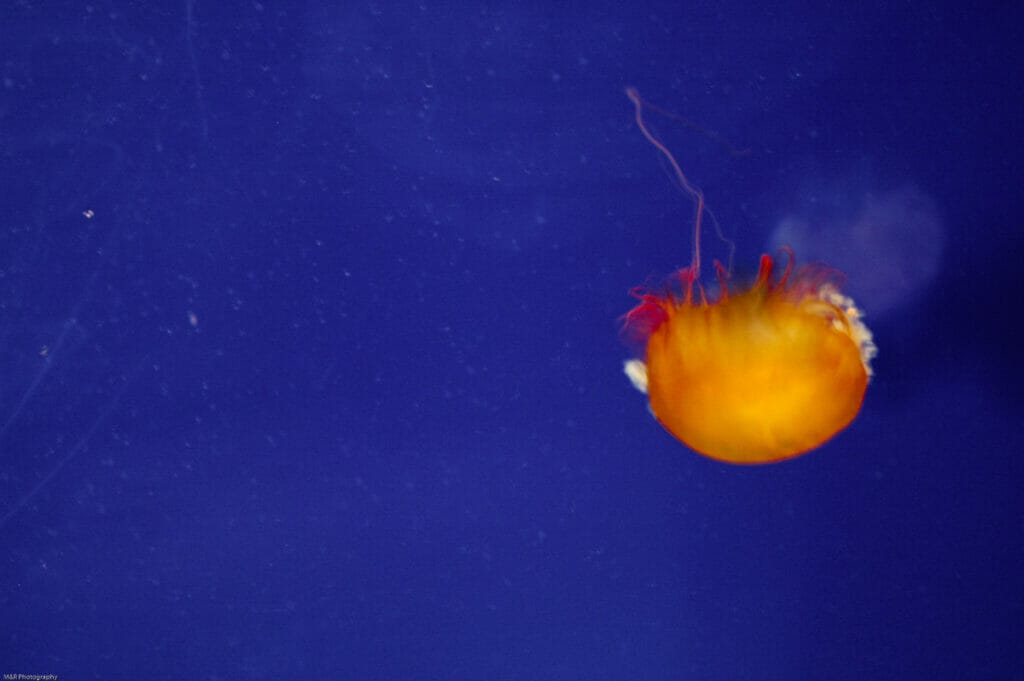 Alongside the USS Lexington, on the shore of Corpus Christi, thousands of animals call the Texas State Aquarium home.
Boasting a Sea Shark habitat with the longest acrylic windows of any aquarium in North America, a 4D movie theater, and a popular dolphin show (get there early – it fills up fast!), the aquarium makes it onto every list of the best things to do in Corpus Christi!
The adventurous among you (Snorkel with a shark? Pet a sting ray?) will want to book an animal encounter and also watch for "meet and greet" opportunities when staff bring individual animals out for up close and personal greetings with park guests!
If swimming with the sharks has worn you out, grab a coffee or cold drink and take a break in the covered food court while keeping an eye on the kids playing in the splash pad.
Keep in mind that, just like you and me, animals tend not to slow down in the hottest part of the day, so beat the heat and the crowds by arriving early – you may even catch the sloth at his most active!
3. Padre Island National Seashore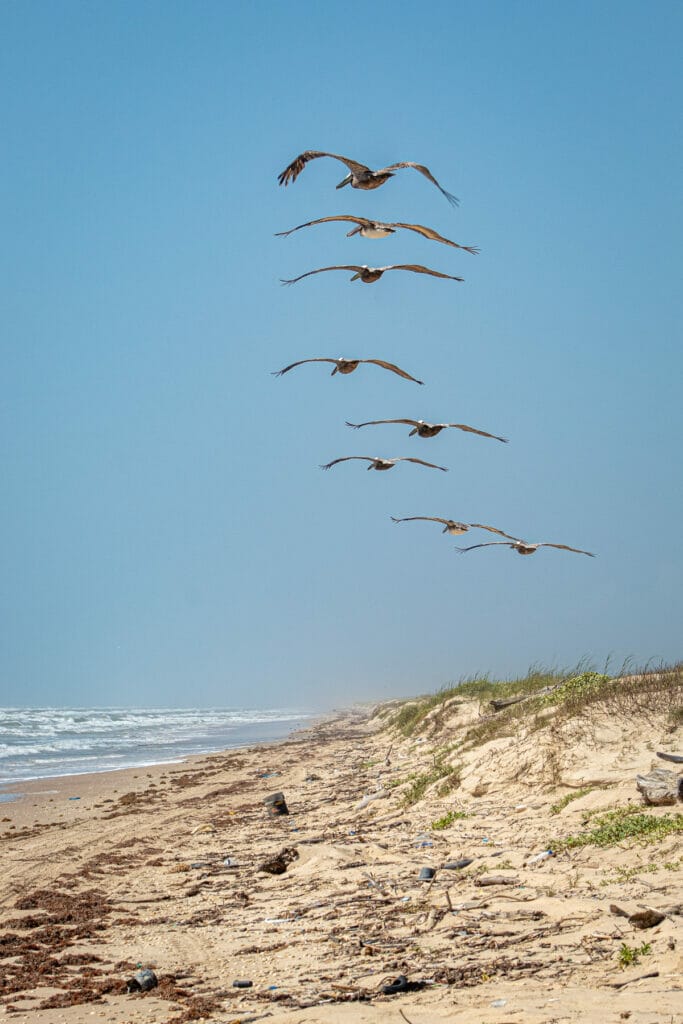 Just a 15-minute drive from downtown Corpus Christi, you'll find Padre Island National Seashore, the longest stretch of undeveloped barrier island in the world, protecting 66 miles of coastline along the Gulf of Mexico.
Hit the Visitor Center on Malaquite Beach for exhibits and various Ranger-led programs about the history and wildlife of the island, and then enjoy a picnic lunch on the viewing deck.
Malaquite Beach is also the place to be for early morning sea turtle hatchling releases – it's one of the most popular things to do in Corpus Christi from mid-June through August, with hundreds of people often in attendance, so check the schedule on the Hatchling Hotline (yes, it's a real thing) to confirm the start time, and then head over early!
When not hosting the send-off of baby sea turtles, the beaches of Padre Island National Seashore are also ideal for fishing, birding, and camping, and most allow you to drive your vehicle right out onto the sand!
4. South Texas Botanical Gardens and Nature Center
Take some time to enjoy one of the most peaceful Corpus Christi activities, a meandering walk along the trails of the South Texas Botanical Gardens and Nature Center.
The collections of gardens feature beautiful native plants and flowers, including a rose garden and an orchid conservatory, and you may even hear one of the tropical parrots talking to you or spot the resident giant tortoise.
Check out the popular butterfly house and reptile room before you relax on a shady bench while the kids enjoy the play area complete with monkey mansion climbing tree house.
5. Artwalk
If you happen to be looking for things to see in Corpus Christi on the 1st Friday of the month, head over to Artisan Park in the Marina Arts District for Artwalk.
Wander through a showcase of work by local and national artists while enjoying live music and the tempting aromas from a variety of food trucks.
Browse the selection of items from local arts and crafts vendors for a special something to take home.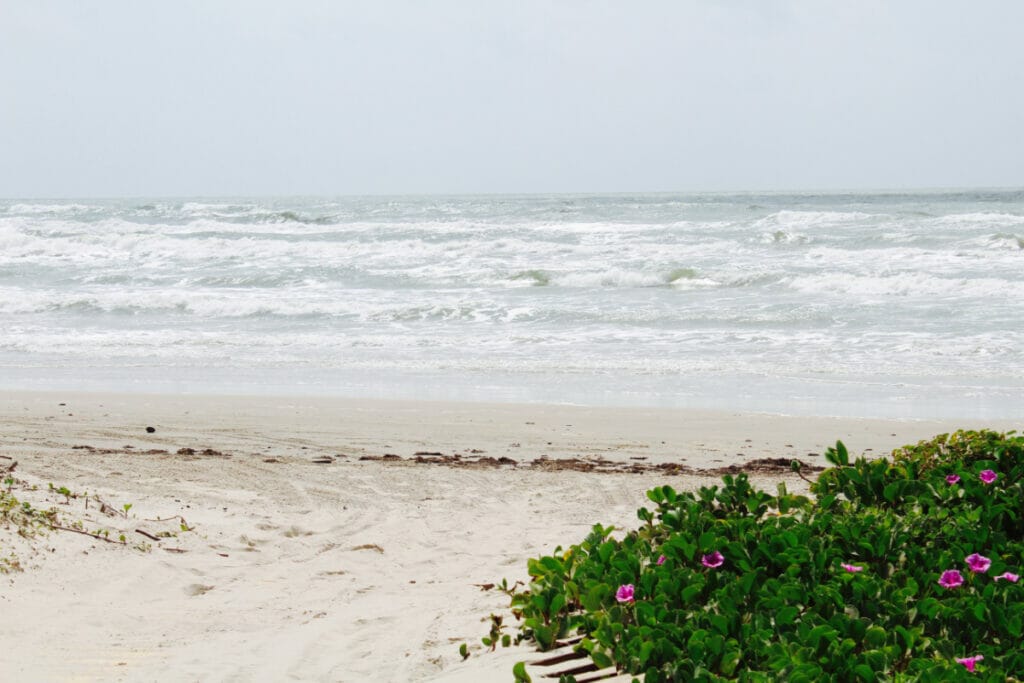 Your Corpus Christi sightseeing adventures would not be complete without this popular scenic drive around the bay.
The most frequent route begins downtown on the bayfront and, while the full route clocks in at about an hour without stops, make a full day of it if you can!
Enjoy the view of iconic old Harbor Bridge, cool off in the 8-inch waves Splash Fountain at Bayfront Park, and enjoy a cold treat from the nearby snack kiosk.
Exit on one of the numerous access roads to hit one of the local beaches.
Grab a bite to eat and explore the shops and galleries of Port Aransas on Mustang Island.
Board the ferry for a free ride back across the channel to the mainland, making sure to keep an eye on the water since this route offers a great chance to see dolphins!
7. Boat Tour on the Bay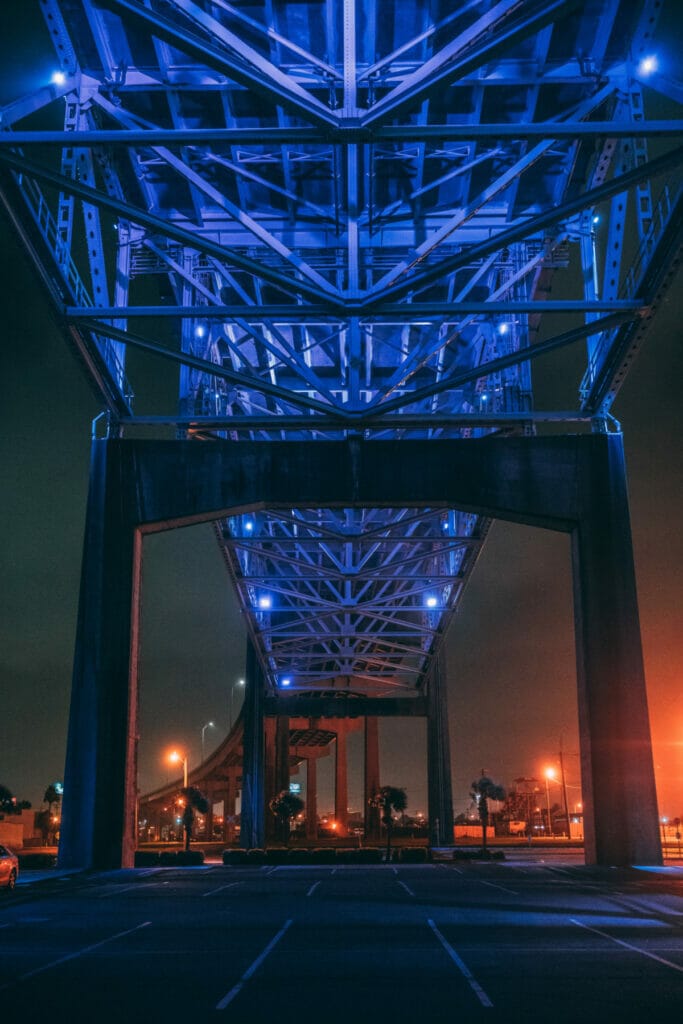 Enjoy the downtown cityscape from another perspective during a one-hour cruise around the bay on Japonica, a 50-foot open air touring boat.
Enjoy a picnic lunch or just grab some drinks on board as you cruise past the Texas State Aquarium, the USS Lexington and Naval Air Station – Corpus Christi.
Choose a morning or sunset cruise to increase the likelihood of spotting dolphins!
8. Downtown Seawall
Sneak in a workout with a walk, jog or bike ride on the 1.5-mile seawall along scenic Shoreline Blvd.
Enjoy the view from one of the eight "miradores del Mar," gazebo-type structures inspired by the seaside resorts of Morrocco and Spain, each strategically placed to maximize the view and honoring an aspect of the City's history (La Mirador de la Flor, the most popular, features a bronze statue of Tejano music star, Selena).
Walk down to the manicured sands of McGee Beach to fish from the jetties or let the kids play in the calm waters – if you plan to stay awhile, rent a beach chair and umbrella, or even a cabana.
With water sports equipment, from a sedate pedal boat to a roaring jet ski, available to rent, you'll have no excuse not to get out on the water!
9. Sunset Island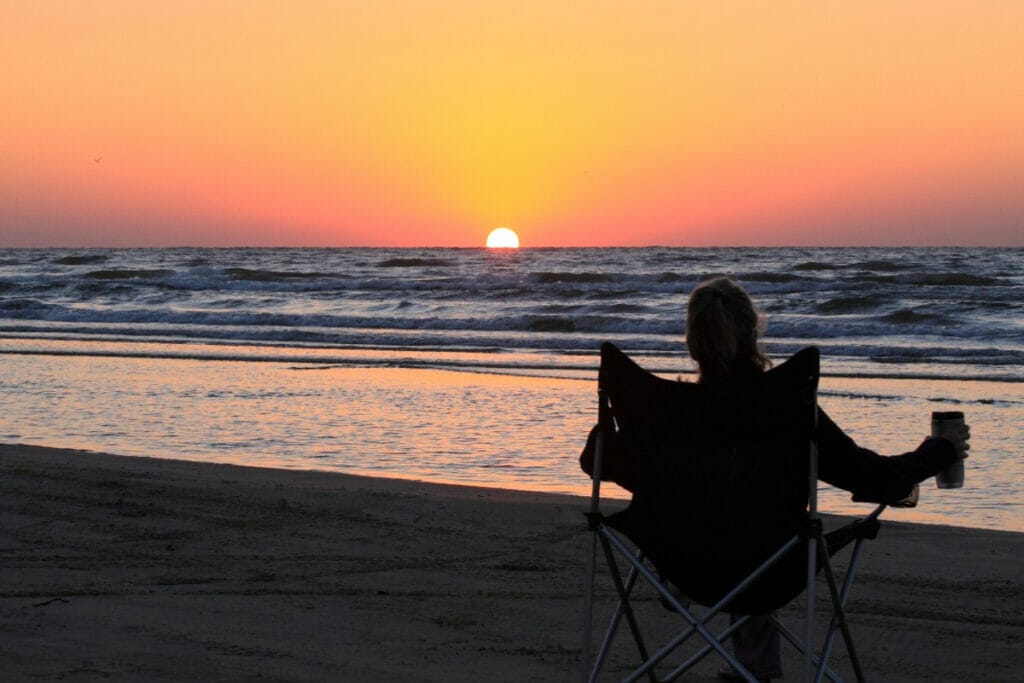 As the name suggests, Sunset Island, nestled on the Intracoastal Waterway, provides an ideal location from which to catch a spectacular sunset.
Fish from Paradise Pier, check out the boats tucked in at Marker 37 Marina, and stroll the 600-foot boardwalk (every bit of which is covered by art), before settling in for a cocktail at the Polynesian Room or the Tiki Bar.
Relax over a mouth-watering seafood dinner while enjoying live music with a view at Snoopy's, and then top things off with an ice cream treat from Scoopy's.
10. Old Bayview Cemetery
Head over to a small hill downtown to explore one of the historic Corpus Christi things to do.
The oldest federal cemetery in Texas, Old Bayview Cemetery witnessed its first burial in 1845, before Corpus Christi was an established city, and has since received a diverse assortment of residents.
You'll find veterans from the War of 1812 to the Civil War, the city's first mayor, the county's first sheriff, and victims of disease and natural disaster – earning the site a place on the National Registry of Historic Places.
A community burial ground with no separation based on race or religion, Old Bayview Cemetery was usual for its time and, although many of the markers went missing over the years, you can still see numerous fantastic examples of the grave adornments popular in the Victorian Era.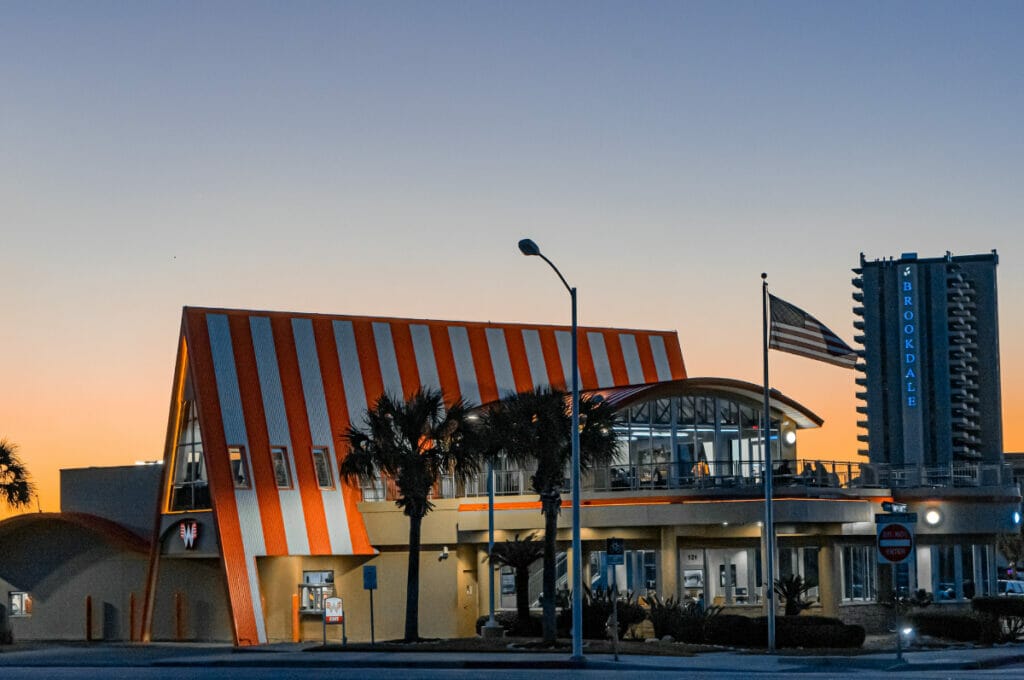 Craving a burger but don't want to settle for the typical fast-food joint?
Head over to one of the more unusual Corpus Christi things to do at Whataburger by the Bay.
Founded in 1950, Whataburger boasts over 800 locations across the country, but this two-story flagship location is in a class by itself!
Enjoy your food on a second-story deck with views of the bay, and then be sure to snap a photo with the bronze statue of Whataburger founder, Harmon Dobson, on your way out.
Walk off those calories with a stroll across the street to Sherrill Park- named for the first Corpus Christi native to lose his life in WW II (on the USS Arizona at Pearl Harbor), the park also features the South Texas Veterans Memorial.
12. Heritage Park
Take a leisurely walk from the bayfront or downtown to this scenic park.
Heritage Park features a dozen fully restored Victorian-era houses, each selected and moved to this location to highlight Corpus Christi's diverse cultural history and with a historical marker to tell its story.
One of the "younger" buildings is a survivor of the 1919 hurricane while the oldest, the Britton-Evans Centennial House, dates to 1851.
A small rose garden offers a lovely spot for photos in the spring and summer
13. Museum of Science and Industry
Centrally located and well-priced, the Museum of Science and Industry is a treat for science and history buffs alike!
Showcasing 500 years of South Texas natural and cultural history, with exhibits that include a hands-on science center, artifacts from a 16th-century shipwreck, and an earth science hall, this one's at the top of the list of great stuff to do in Corpus Christi.
Visitors particularly enjoy the local history-focused recreation of a home highlighting the Gilded Age technological advancements which shaped the lives of local residents.
Request a scavenger hunt packet from the admissions desk and be sure to catch the film in the planetarium.
Take a break in the lovely Xeriscape Garden, highlighting native plants, while the kids enjoy the indoor play area or outdoor playground.
Visit the modest but intimate museum which pays tribute to one of the most legendary and beloved residents of Corpus Christi – the "Queen of Tejano music," Selena Quintanilla Perez.
Situated in the building which holds her actual recording studio (untouched since her passing), it has become a must-see for fans and the curious alike.
View the substantial collection of Selena's actual belongings, including childhood dolls, family photos, some of her most famous outfits, Grammy award, gold and platinum records, and even her red 1986 Porche (it's not uncommon to even spot a family member, particularly Selena's father, since their production company occupies the remainder of the building).
Among other significant Selena-related sites, you'll find the home she lived in at the time of her death at 705 Bloomington St (be sure to drive down to the corner at Elvira to view the Selena mural), and Selena's final resting place at Seaside Memorial Park.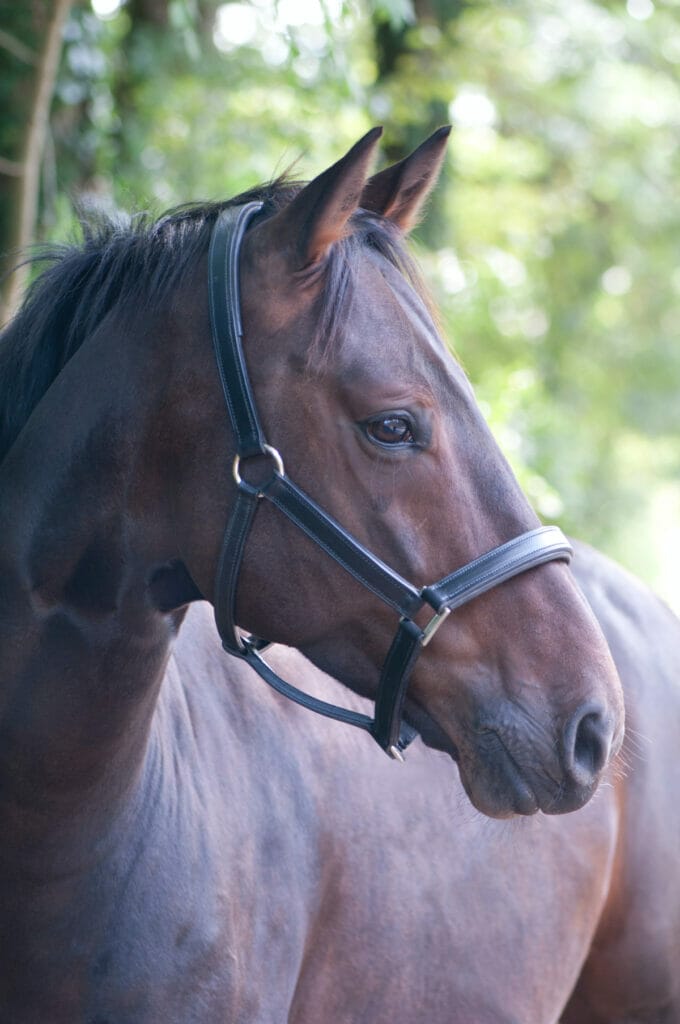 Looking for something a little more unique that earns rave reviews from individuals, couples, and families alike?
Head out to this local stable which offers horses suited for riders of any experience level, friendly staff, knowledgeable guides and, of course, beautiful scenery.
Opt for the 90-minute sunset beach ride to take advantage of an even more spectacular setting for the professional photograph included with your ride.
There isn't any shade on the beach and purses/backpacks are not allowed, so don't forget sunblock, and be sure to have a pocket if you want to have your phone along!
When looking for fun things to do in Corpus Christi on a hot Texas day, there's nothing like cooling off at a waterpark!
Catch the perfect wave every time.
Plunge down a spiraling 6-story slide (there is a half-size option for those not seeking quite that big an adrenaline rush).
Enjoy a gentle ride on the lazy river.
Look for the private cove and water play area for the little ones, and a swim-up bar for the big ones!
For a more VIP experience, plan to book a spot on the beach with your chosen seating options and an umbrella, or rent one of the various size cabanas with comfy seating, ceiling fan, bottled water in a fridge, a lock box for your personal items, and your own tubes.
17. King Ranch
You've heard the expression "everything is bigger in Texas" but, with over 800,000 acres (that's larger than the state of Rhode Island!) spread across six counties, King Ranch really is one of the biggest things to do in Corpus Christi!
From its 1853 founding by an Irish immigrant who knew almost nothing about ranching, to its development of a unique breed of cattle and legacy of champion Thoroughbreds (King Ranch produced the only Texas horse to win the vaunted Triple Crown of horse racing), this National Historic Landmark has a history nearly as epic as its size.
Start your day with a visit to the Ranch Museum, where the stories and items on display provide a look into bye-gone days on the Ranch.
Learn about the history and modern working of the Ranch on a daily tour, or dive into an individualized special interest tour.
Stop by the Saddle Shop to watch a saddle being hand-made by a master saddle maker, and then stick around to answer the dinner bell for a BBQ meal at a historic cowboy camp house!
Sail the seven seas of Aransas Bay on a replica 17th-century pirate ship!
Enjoy a cocktail on the adult-only deck or grab some snacks while your personal pirate crew provides two hours of swashbuckling interactive entertainment, complete with "cannons", sword-fighting, treasure hunt, music, and dancing.
Take the time to snap a few photos of the sights from a shipboard perspective (often including dolphins).
Consider the sunset cruise for an even more spectacular view and remember to bring cash to tip your crew.
19. Whitecap Beach
Although just 1.5 miles long, the great waves which inspired its name make it a favorite of surfers.
Stroll along the groomed, super-white sand or choose the sidewalk along the seawall at this less crowded beach.
Pay a small fee for a permit allowing a vehicle to be parked on it (on holidays and weekends, there can be a line of cars along the beach, but folks park horizontal to the water so you don't end up with people blocking your access to the water).
Book a hotel or condo nearby, or camp on beach if one day isn't enough!
20. Bella Luna Downtown
21. Art Museum of South Texas
22. Brewster Street Ice House
23. Concrete Street Amphitheater
24. Bill Miller Bar-B-Q
25. El Gavilan Pollero
26. Sandi's Diner
27. Cole Park
28. Lozano Golf Center
29. Railroad Seafood & Brewing Co
Pin for Later!