With a big state like Texas (second largest in the US!) comes a long list of its best museums!
Steeped in history and culture, Texas museums have a wide variety of topics to cover and their top museums do a stellar job of bringing the stories of the Lone Star state alive.
Trust us, this state has surfers, cowgirls, presidents, and artists to celebrate!
It has vintage RV's, space shuttles, and mammoths to explore! It even has video games, dinosaurs, and butterflies, oh my!
With a list like this, there's bound to be something to peak everyone's interest whether you're making a cross-state road trip or just popping in on your way to somewhere else, be prepared for excitement, learning, and so much more.
Follow this guide to find the museum that fits your interests and location with recommendations in cities big and small like Austin, Houston, Corpus Christi (one of the best beach towns in Texas), Dallas, San Antonio and even Marfa and Lubbock!
Hey! Want more locally-approved Texas guides? Check these out!
GET A

FREE

TEXAS GUIDEBOOK WITH LOCAL TIPS!
With 71 pages of helpful travel tips and the "best of" Texas lists, this is your ad-free key to your Texas trip.
Okay, everyone grab their best vintage Texas tee and let's get going!
1. Blanton Art Museum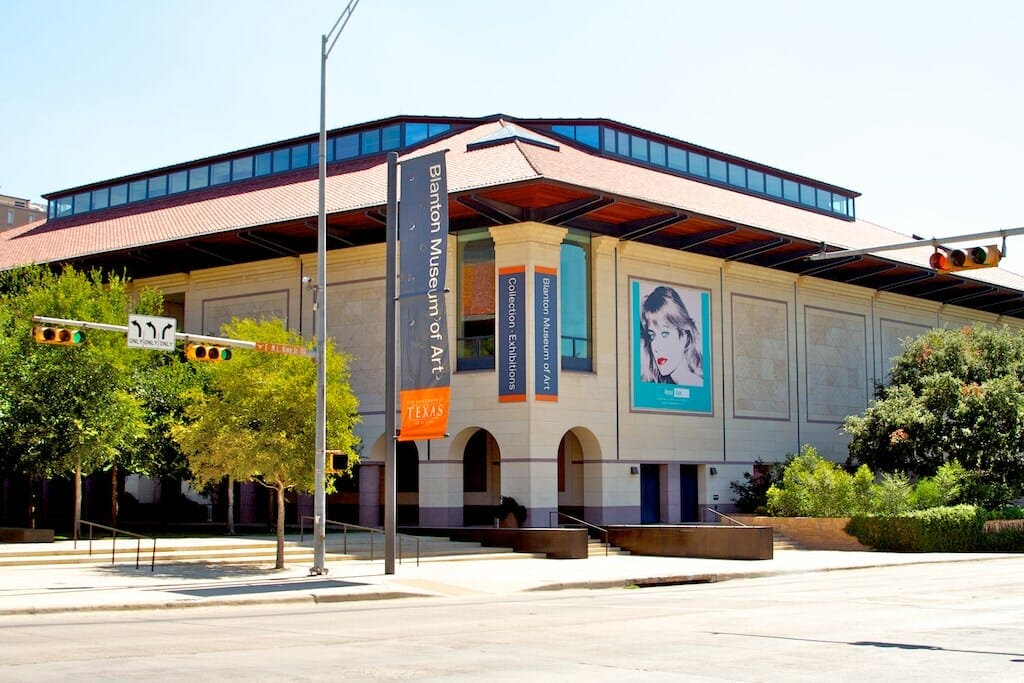 From ancient Greek to abstract expressionism, the Blanton Art Museum's permanent collection of 21,000 works (at the University of Texas at Austin) has something for everyone.
Throw in some rotating exhibits featuring world-class art in the heart of the city and you're destined for an inspiring day.
The museum itself is one of the largest university museums in the country but you don't even need to be a student to enjoy the perks, visit on a Thursday to receive free admission!
Make sure to check out the Latin American collection as it's one of the museum staff favorites.
And, before you go, get some shopping in at the gift shop, one of the premier spots for city souvenirs!
2. National Cowgirl Museum and Hall of Fame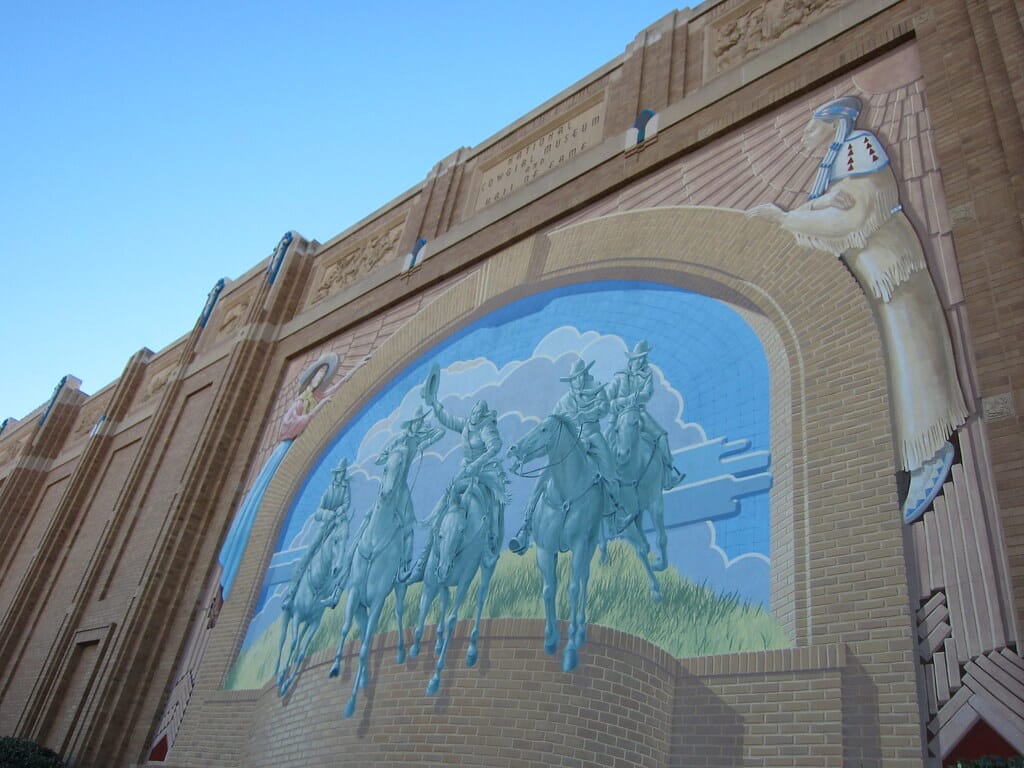 Yeehaw!
Grab your lasso and cowgirl boots cause you're headed to the National Cowgirl Museum and Hall of Fame in Ft Worth, TX!
Not sure if you can even name a famous cowgirl…? Have no fear!
This museum not only honors rodeo cowgirls and ranchers but also pioneers, artists, writers, entertainers, humanitarians, business women, and educators like Laura Ingalls Wilder, U. S. Supreme Court Justice Sandra Day O'Connor, and Georgia O'Keeffe.
The first and only museum dedicated to women of the West includes interactive exhibit galleries featuring artifacts of the permanent collection, a traveling exhibit gallery, two theaters, gift shop, a research library and archives, and a NEW second floor, dang!
While you're there, make sure to see the highlight of the collection, Annie Oakley's wedding ring and gun! This top museum of Texas is a jewel to behold for the whole family.
3. Mexic-Arte Museum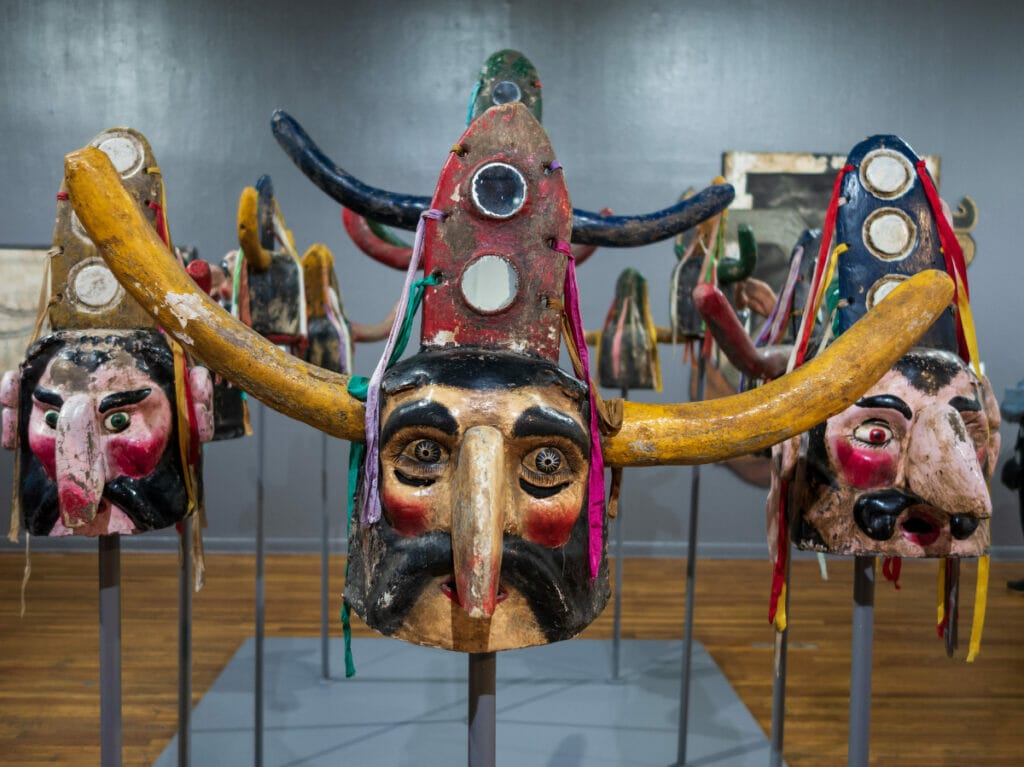 Bienviendos!
Founded by artists themselves, the Mexic-Arte Museum in downtown Austin, TX features up-and-coming artists from the United States, Mexico and Latin America.
Walk inside the small gallery packed with vibrant pieces that will transport you to Texas's closest neighbor, Mexico!
Since parking in the area might be challenging, we recommend including this top-notch gallery in your tour of the downtown area (think right after tacos but before margaritas!).
Looking for an interesting souvenir to take home? Visit the gift shop to find a one-of-a-kind handmade piece of art of your very own! Purchases directly support the exhibitions and educational programs of the Mexic-Arte Museum.
If you're traveling on a budget, visit on a Sunday to take advantage of free admission!
4. Rainbow Vomit
Ok, we know it sounds…. strange… but hang with us here because Rainbow Vomit is one of Dallas, TX top-rated museums AND voted as one of the best things to do in the city (and there is A LOT to do in this city).
So… what is it exactly?
Rainbow Vomit is an immersive art exhibit with interactive installations created by a team of artists.
Imagine walking through a Lisa Frank-inspired wonderland covered in cotton candy and sparkles designed to transport you to a world of art, light, and sound.
If you're still having a hard time picturing it – think about 10000 LEDs, 2000 Balloons, 300 pounds of cotton, 4 miles of ribbon, and a life-sized unicorn all squeezed into 2600 sq feet of pure joy and entertainment.
If it's fun Instagram selfies and an escape from reality you're after, Rainbow Vomit is the spot for you!
5. Perot Museum of Nature and Science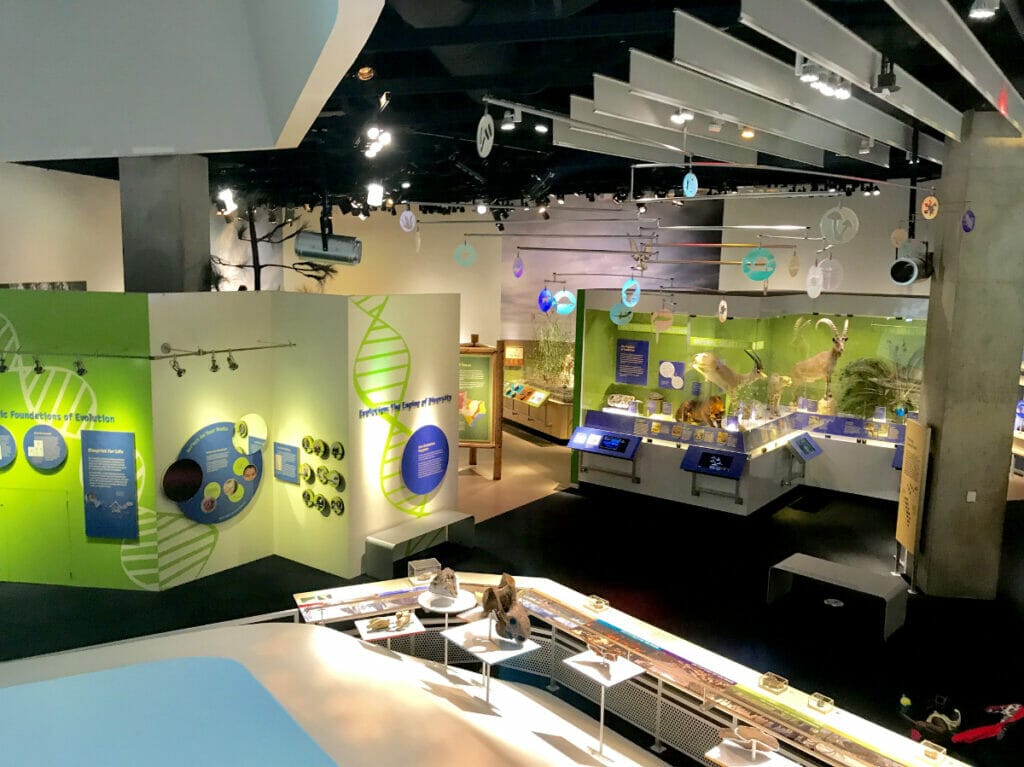 What do earthquakes, robots, and birds have in common?
Well, they can all be found at your next stop at one of the top museums in Texas, the Perot Museum of Nature and Science – a fantastic day trip option!
This five-story museum packs a punch with everything from dinosaurs to DNA and it's open 7 days a week for families to enjoy.
Learn about some of the animals we talk about in our interesting facts about Texas.
When you arrive, find a digital museum map via the QR code when you arrive and hop on the T-rexalator (aka the elevator) up to Level 4 and take the stairs on the way down.
With exhibits designed for lifelong learners of all ages, you're bound to find something to peak your curiosity while exploring the hands-on exhibits devoted to the science of our natural world.
If your stomach starts to roar (and you know for sure it's not the T-rex behind you), check out the cafe for a variety of snacks so you don't go extinct!
6. Dallas Arboretum & Botanical Garden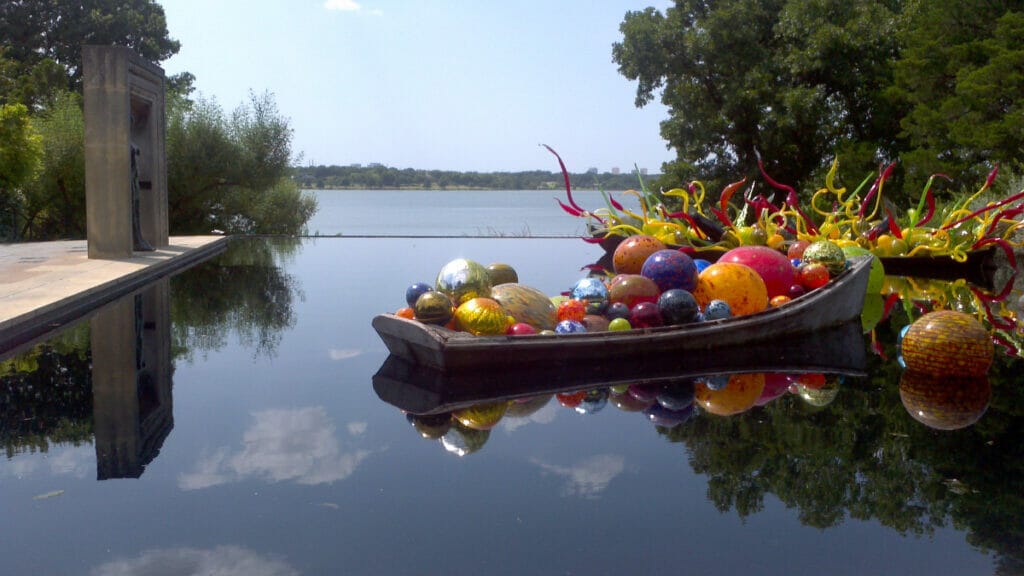 We couldn't have a list of the top museums in Texas without including at least one stunner of a garden and Dallas Arboretum & Botanical Garden made the cut!
Listed as a top botanical garden in America by USA Today, this spot includes 66 acres of bursting blossoms and is one of the reasons why Dallas is a great place to see in Texas.
Some family favorites include the Rory Meyers Children's Adventure Garden which uses the space to teach kids about Earth science and the Margaret Elizabeth Jonsson Color Garden which includes sweeping beds of seasonal flowers (perfect for photographers!)
No trip is complete with visiting "A Tasteful Place," an award-winning ornamental garden, pavilion and kitchen that really brings the concept of farm-to-kitchen to life by serving up sustainable, seasonal produce on the daily menu.
Check the events page before you go as they are always planning premier programs including daily free daily tastings and cooking demos at the kitchen!
7. Bullock Texas State History Museum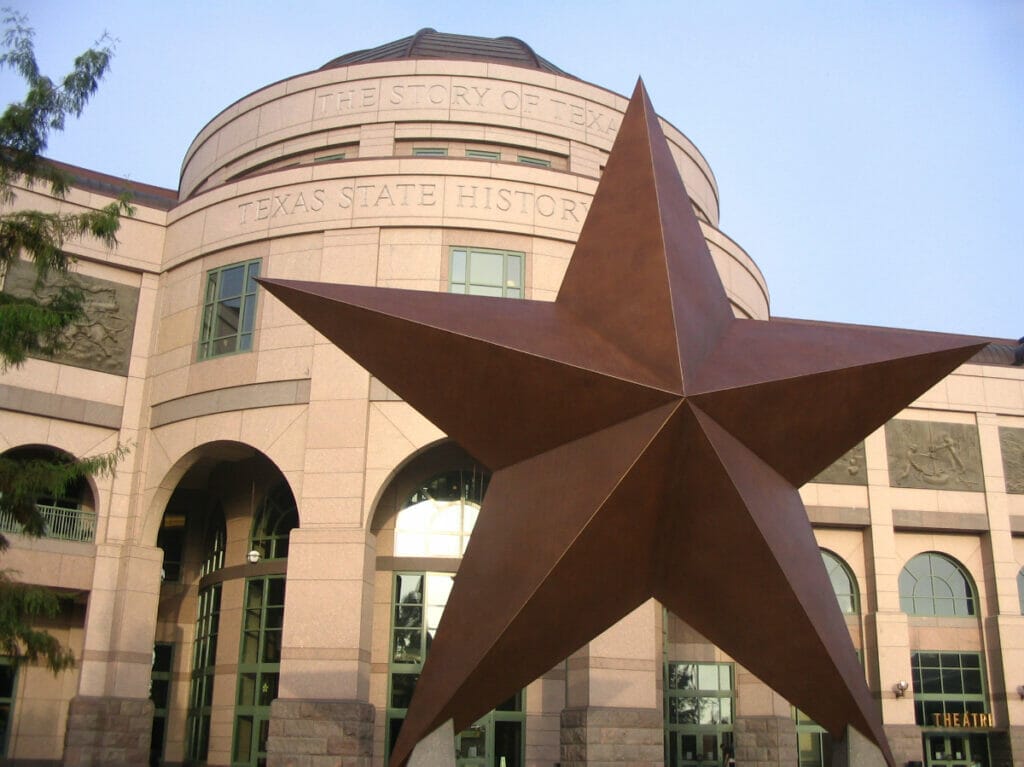 Just a few blocks from the capitol in Austin the Bullock Texas State History Museum is the best Texas museum for learning the true stories of the state's past through unique exhibits that weave personal narratives at every turn.
Using the galleries to display objects from the museum's historical collection, you'll find yourself learning about historical moments in new, compelling ways!
By featuring rotating exhibits on hot button topics like mental health or human trafficking, this museum is sure to surprise you and leave you coming back time and time again.
Before you go, check out the iMax theater schedule which hosts a variety of feature films and top-notch documentaries.
The perfect air-conditioned solution to a scorching Texas summer day!
8. Jack Sisemore Traveland RV Museum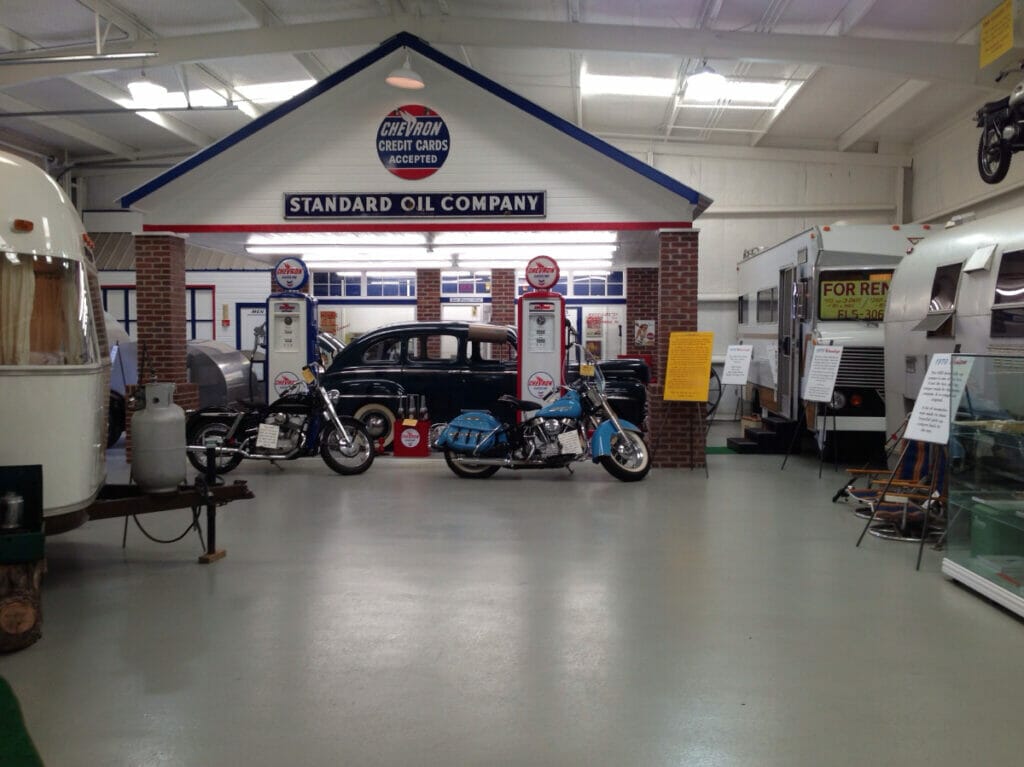 Put your blinker on during your Texas road trip because you must NOT miss the exit for the Jack Sisemore Traveland RV Museum in Amarillo, TX!
Step back in time while you explore vintage including the oldest Airstream, 1940's Harley Davidson motorcycles, and loads of other classic vehicles collected and displayed by enthusiast Jack Sisemore.
And if you're thinking, what's the point if all I'm going to do is peek through the windows, then think again because you can even walk right inside these beauties!
Whether you consider yourself a "gear head" or not, this hidden gem is destined to transport you to another era including the low entry fare.
The entire museum is free, with donations accepted.
9. Kimbell Art Museum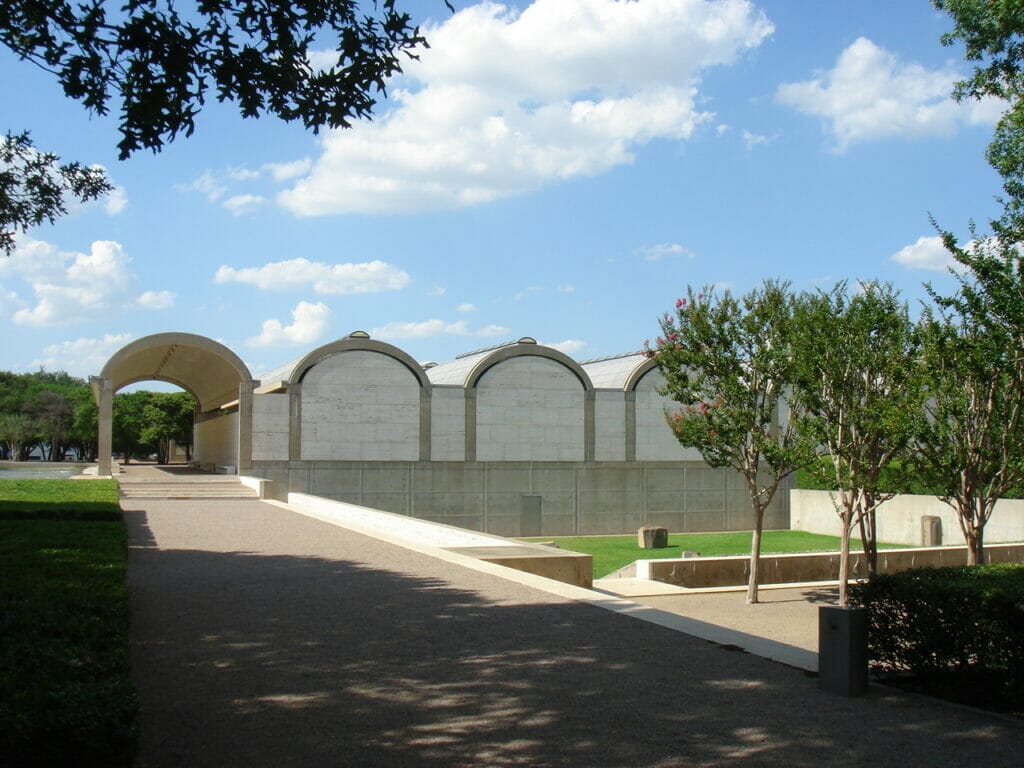 You don't have to New York or Paris to see works of art by Monet, Michelangelo, or Picasso, heck, you don't even have to leave Texas thanks to the Kimbell Art Museum in Fort Worth!
Before you enter the museum, take a step back to appreciate the architecture of the building designed by Louis I. Khan and is recognized as one of the most significant works of architecture of modern times!
Once inside, you'll see the unique architecture at work as the silvery light splashed beautifully across the gallery walls and ceiling.
While many museums at this caliber come at a cost, the Kimbell's main collection is free for all with only its special exhibits for a fee.
10. National Videogame Museum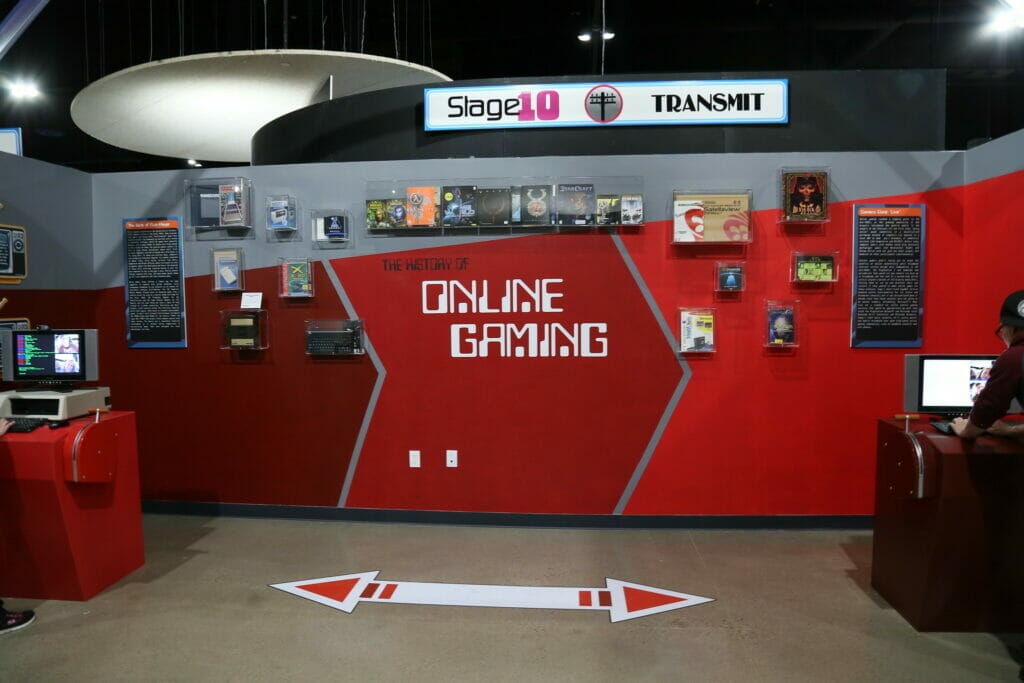 Thinking maybe museums aren't for me, I'd rather just stay home and play video games (or maybe you've heard a version of this from some whining kiddos in the backseat on your cross country roadtrip…)?
Then, we've got a museum for you and good news, you don't have to travel far as the National Videogame Museum (NVM) sits just north of the Dallas/Ft Worth area in Frisco, TX!
The NVM is the nation's first museum dedicated to the gaming industry and includes 20 interactive exhibits that document and preserve the rich history for gamers of all ages.
Plan to spend a couple hours here (or more if you're really competitive) as this museum also has a complete 80's arcade!
Bringing the kids?
Now's the chance to show off your Donkey Kong on Nintendo skills on console just like the one you used to have!
Keep in mind, you only get 4 tokens per person with your admission so bring cash for the token machine if you think you'll be sticking around awhile.
11. Judd Foundation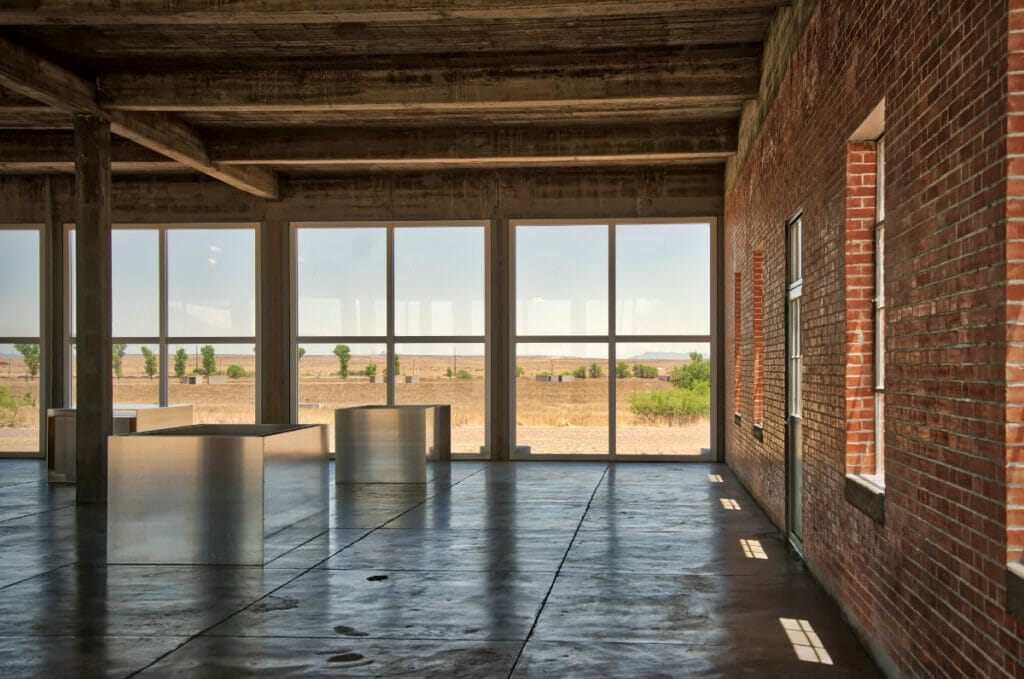 Marfa, TX is known for its hip, artsy vibes and the Judd Foundation (a museum named after its founder and visionary Donald Judd) definitely meets those expectations.
This trendy spot is not your average museum experience as guided tours (make sure to book in advance, it's required) are required throughout the grounds of Judd's former private living and working spaces turned permanent art installation.
This tour is most suitable for those seeking out an alternative art experience with interest in clean lines and abstract modernist designs.
For this one, we recommend leaving the little ones at home as the 1-2 hour might be a bit long for anyone with a short attention span.
If you're looking for an attraction that lives up to the true Marfa experience, the Judd Foundation is a must-do!
12. Space Center Houston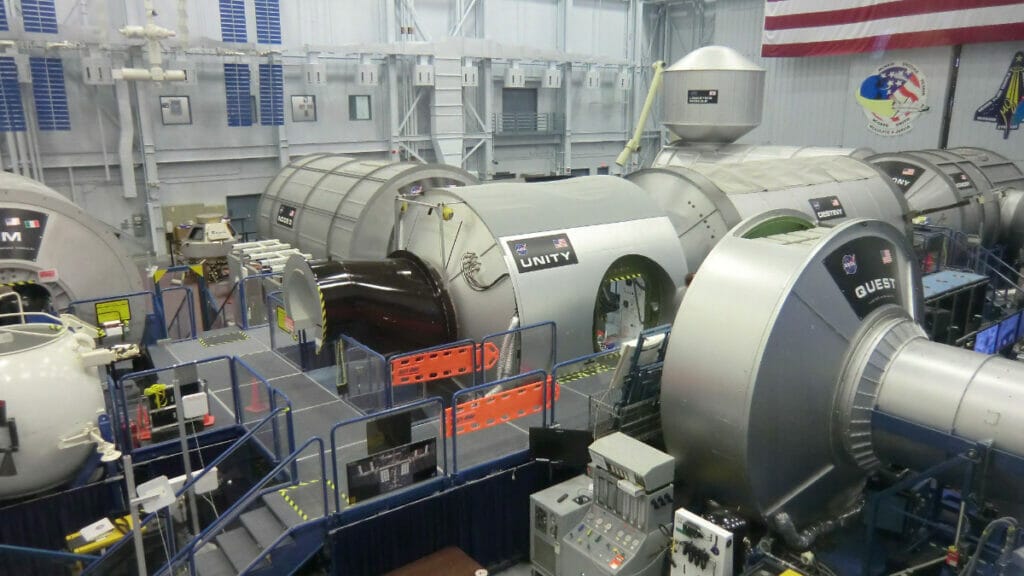 3, 2, 1, LIFT OFF!
While less of a museum and more of a hub for innovation and exploration, the Space Center Houston has to be added to any tour of Texas!
This center of learning has 400 things to do so be prepared to spend the day getting up close to the SpaceX Falcon 9 rocket, checking out the collection of space suits, going INSIDE the replica of the shuttle, and so much more!
If you're not sure where to start, check out the NASA tram tour where you'll get a behind-the-scenes look at human space exploration at the NASA Johnson Space Center.
Best part, the tram tour is included in the regular ticket price!
If you need a break for lunch, check out The Food Lab, an immersive eatery experience right on site!
Want more Houston fun? Check out this amazing guide on what to do in Houston for some ideas.
13. LBJ Presidential Library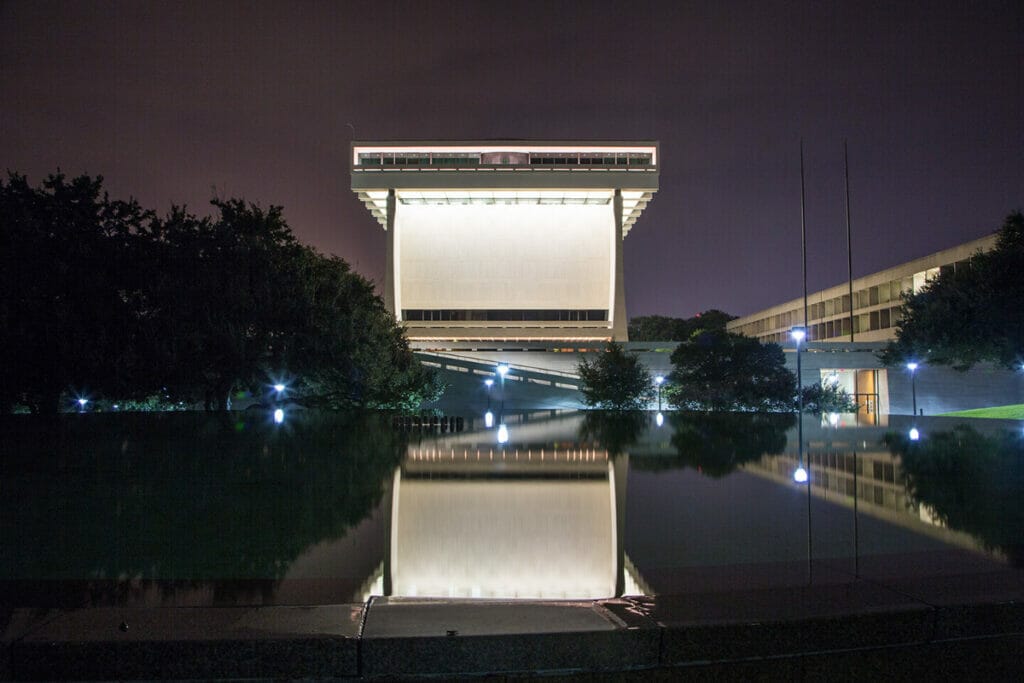 The LBJ Presidential Library in Austin, TX is not your average library (no shade on average libraries, we love those, too!) full of books to borrow, it is a pinnacle of learning and history!
Exhibitions include an Oval Office replica and a beautiful architectural design featuring an open display of archives along with a variety of historical displays on LBJ's life and career.
According to the Library, it houses 45 million pages of historical documents, 650,000 photos, and 5,000 hours of recordings from President Johnson's political career, including about 643 hours of his recorded telephone conversations!
While probably most appreciated by American history buffs, the LBJ Presidential Library is a healthy dose of learning for anyone making the cool museum tour of the great state of Texas!
14. The Buddy Holly Center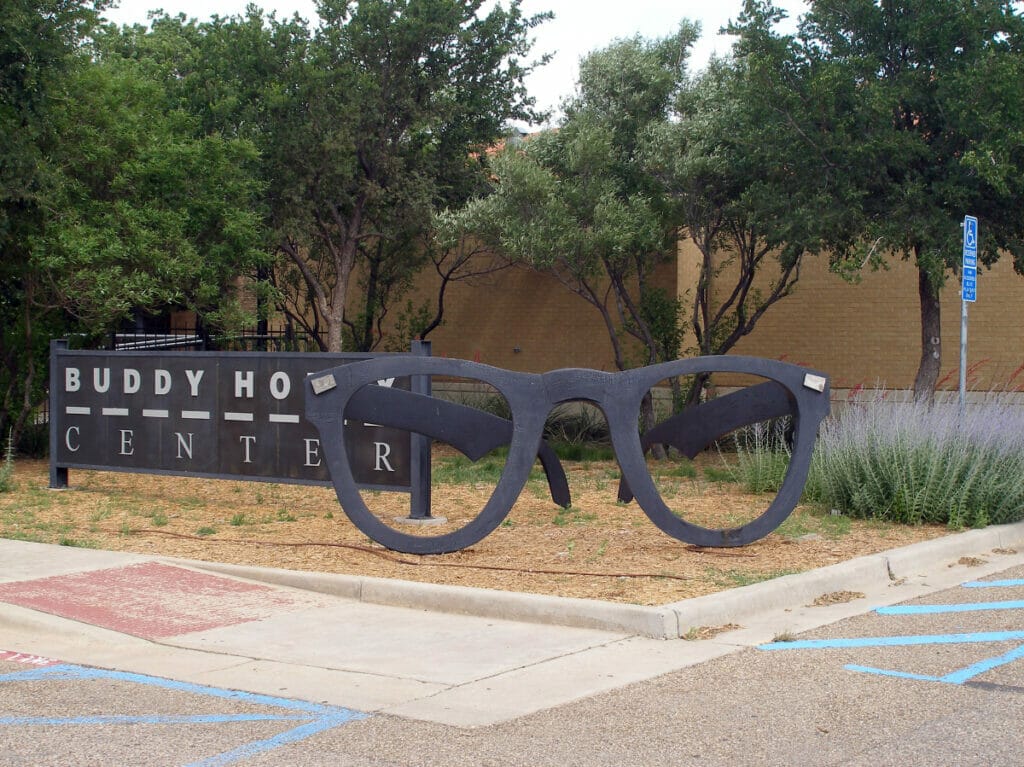 Well, that'll be the day… that you visit Lubbock, TX!
The Buddy Holly Center celebrates the life and musical journey of famed artist, you guessed it, Buddy Holly!
From his childhood in Lubbock to making the Rock n' Roll Hall of Fame, exhibits at the center tell the whole story of how Buddy Holly came to be.
The coolest part – The Buddy Holly gallery itself is actually shaped like a guitar!
The center frequently hosts concerts throughout the year so if you're cruising through town, make sure to check the schedule before you go so you don't miss out!
Music lovers will also discover displays about other Lubbock and West Texas musicians, as well as a Fine Arts Gallery Center that showcases contemporary visual arts exhibitions in 2500 sq ft of gallery space.
15. National Museum of the Pacific War
While nowhere near the ocean, the National Museum of the Pacific War in Fredericksburg, TX is the premier location to hear the real human story of WWII in the Pacific.
Inside the museum the exhibits progress over chronological time eventually bringing you to a combat zone.
Once in the Pacific Combat Zone exhibition, you'll experience a re-creation of a Pacific island battlefield complete with a Quonset Hut, a PT boat and base, Japanese tank, palm trees, and machine gun placements.
Throughout the year, living history reenactments take place within the museum so if you time it right, history buffs might find themselves with a real treat!
Allow yourself plenty of time to absorb the stories before stepping back out into our current times as this top museum in Texas will have even the vaguely curious history seekers digging deep!
16. Waco Mammoth National Monument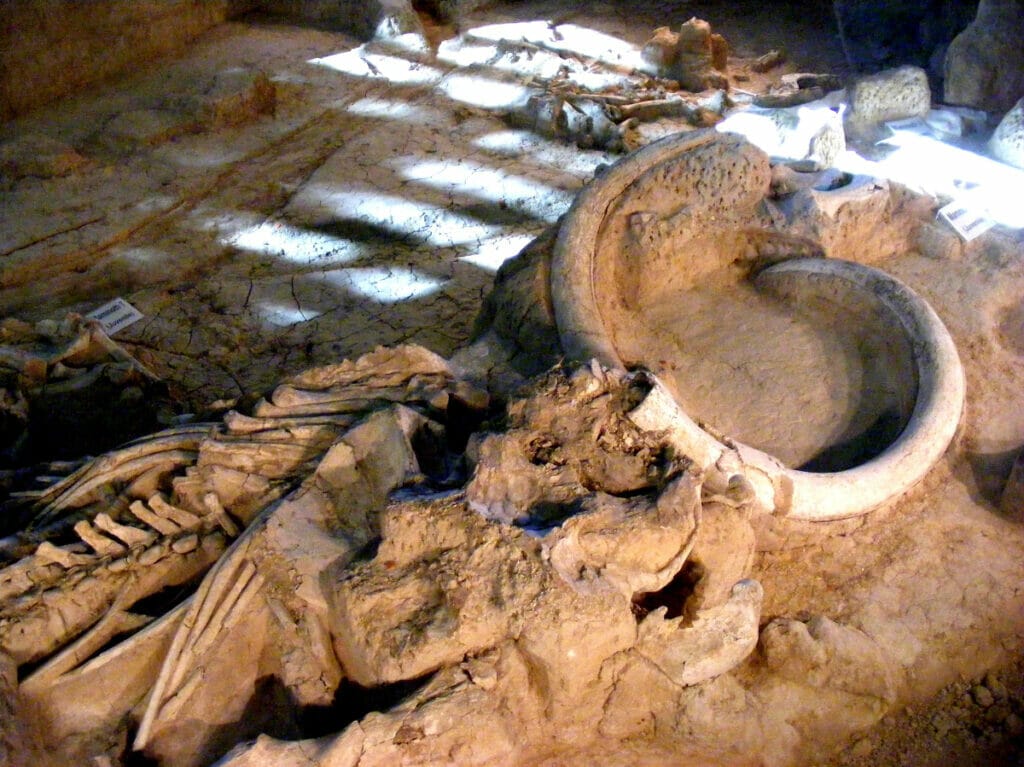 It's about time you visit this top Texas museum as the fossils have been waiting for you for over 68,000 years!
The Waco Mammoth National Monument and museum is a National Park Service administered site where 24 Columbian mammoths (Mammuthus columbi) and other mammals from the Pleistocene Epoch have been uncovered and are now open for public viewing!
While visiting, take a guided tour of the site with an expert to get the full experience and then you can take a self-guided stroll through the short nature trails and of course, the gift shop. National Parks have the best shopping!
Junior Ranger activities are provided for any kiddos in your group to get a full-on taste of what it's like to be a real paleontologist!
17. The Houston Museum of Natural Sciences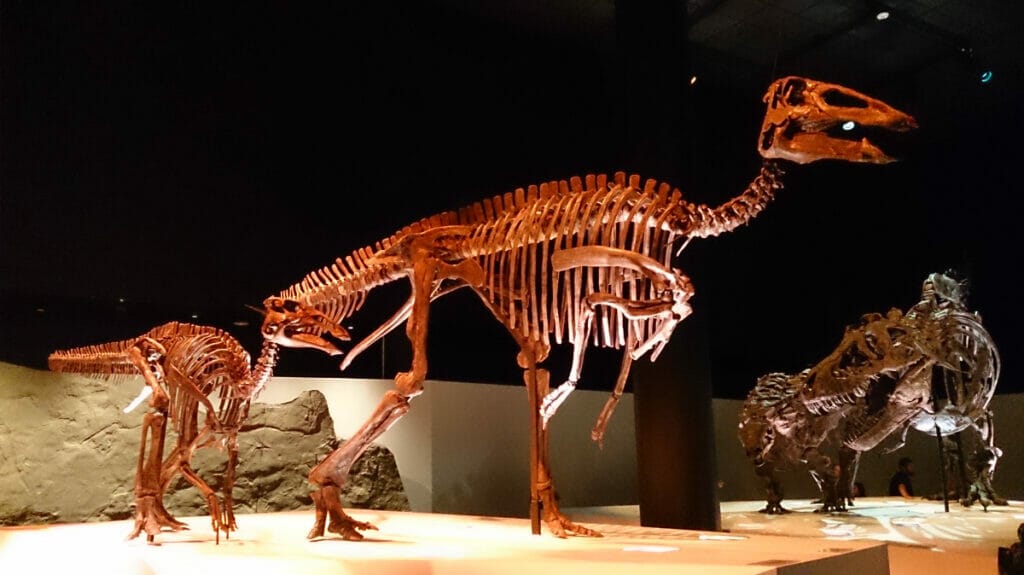 One of the most popular museum destinations in Texas is the Houston Museum of Natural Sciences, and for a good reason!
When you visit the museum, you'll find something for everyone across the 5 floors of exhibits featuring astronomy, space science, Native American culture, paleontology, energy, chemistry, geology, seashells and Texas wildlife.
Make sure to check out the Cockrel Butterfly Center, where you can take a walk through a living rainforest habitat with live and preserved specimens for an extra fee.
Bugs not your thing, have no fear, the Burke Baker Planetarium has over 10 science shows a day to choose from!
We recommend spending a couple hours in this massive museum but even if you just have a short amount of time to spare (avoiding a long layover perhaps..) you're sure to find something to peak your interest.
Hot tip – come by on a Thursday to skip the admission costs!
18. The Sixth Floor Museum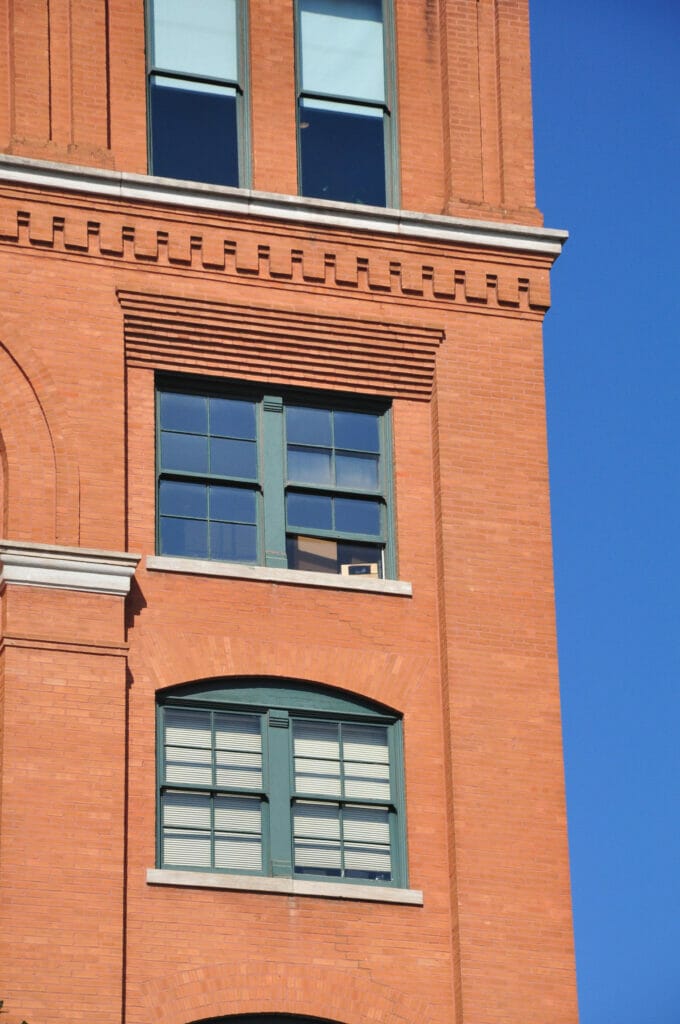 The Sixth Floor Museum in Dallas, TX is located within the former Texas School Book Depository building and it chronicles the assassination and legacy of President John F. Kennedy.
Wondering why the sixth floor, well, a sniper's perch and rifle were found on the sixth floor of the building after the assassination of President Kennedy
Now, you can check out the main exhibit, John F. Kennedy and the Memory of a Nation, on the exact floor, pretty eerie.
After visiting the museum walk on down to Dealy Plaza to navigate the site of the Kennedy assassination using the museum's interactive guide using your own phone.
19. Witte Museum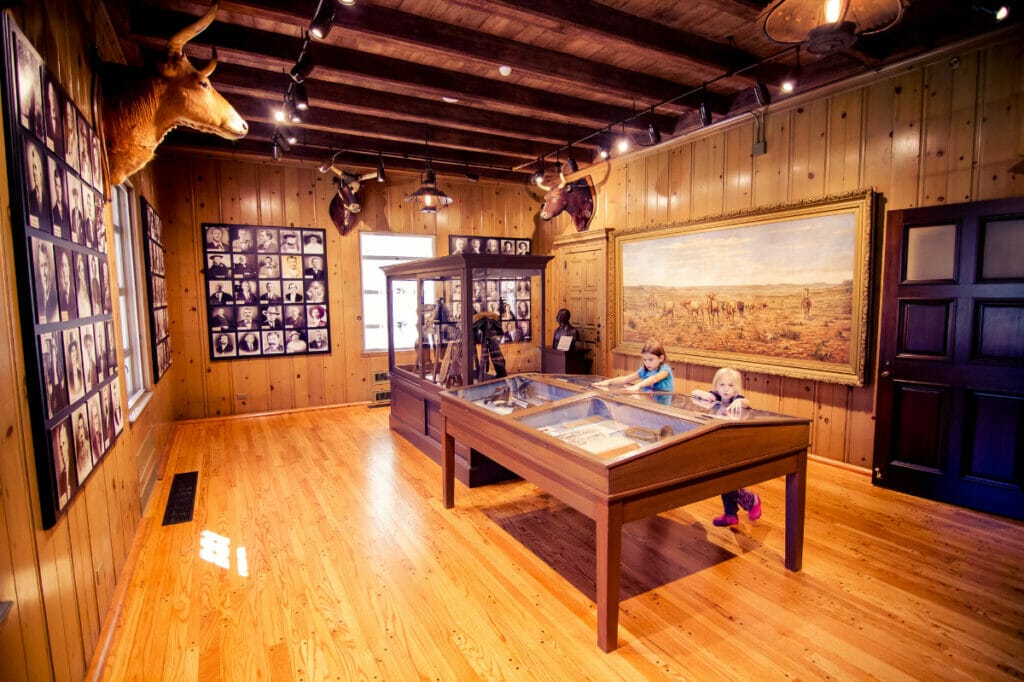 If you're looking for a one-stop shop for everything Texas-style (nature, science, AND culture) get yourself on down to the Witte Museum in San Antonio, TX!
With over 9,000 years of Texas history to uncover, plan to spend a few hours at this hot spot right along the San Antonio River.
Visitor favorite exhibits include everything from the dinosaurs to Native American clothing with lots of interactive elements along the way including digging for fossils and rotating special exhibits.
Expect to find something new everytime you go and keep in mind, free admission on Tuesdays from 3pm-6pm!
20. Texas Surf Museum
Surfs always up at the Texas Surf Museum in Corpus Christi.
At no surprise, this is the only surf museum in the state and it explores the history of surfing in general and showcases the Lone Star State's unique place in that history.
Whether you're an old sea dog or more of a land lover, this one-of-a-kind museum is a great place to chill out while exploring the extensive collection of surf memorabilia, film clips, and classic surfboards.
Like all the best beaches, this museum is always free so stop on your way to catch some rays!
21. Coming Soon: Meow Wolf
Coming soon: Meow Wolf
Big news!
While not open just yet, the VERY popular, EXTREMELY immersive art experience, Meow Wolf, is coming soon to Texas.
If you're planning a trip to Dallas or Houston in 2023 or 2024 (respectively) make sure to include Meow Wolf in your plans.
Originating in Santa Fe, New Mexico, Meow Wolf has taken the US by storm and now plans to to work with hundreds of Texas artists as well as artists from their original collectives to create brand-new permanent exhibitions that will blow your mind!
What is Meow Wolf you ask?
Well, that's a tough one to answer but think about stepping inside of the weirdest work of art you've seen and having a chance to look around and get lost in the imagination of the artist.
Still confused, check out their website for now and start planning that trip for the future!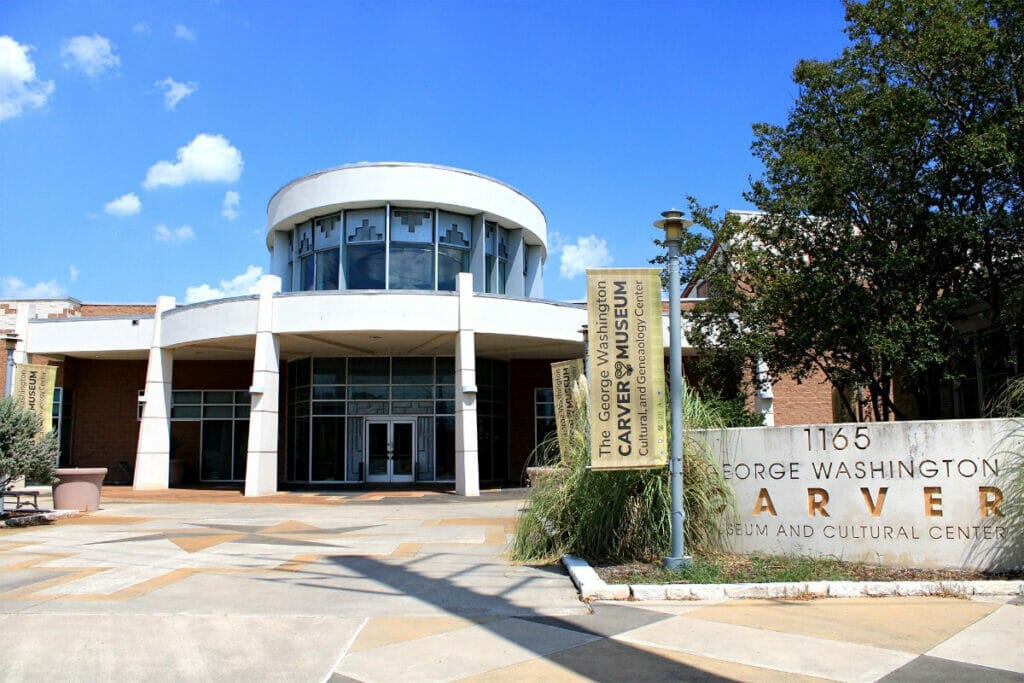 This outstanding museum celebrates the global contributions of African Americans.
Experience the personal stories and learn how they influenced local, national, and international events.
The Juneteenth Memorial Sculpture Monument presents a visual timeline of slavery to freedom.
For those researching their family history, there is a genealogy center.
Top tip: Self-guided audio tours are available on request. You will need to bring your own headphones.
23. The Ann & Gabriel Barbier-Mueller Museum
For one of the most fascinating museums in Texas, head to the Ann & Gabriel Barbier-Mueller Museum.
This collection of helmets, masks, and armor from the Japanese Samurai is certaintly something that you don't usually see in Dallas!
How did the museum get there?
Well, it opened in 2012 as a means to house the personal collection of the family who had been collecting these kinds of artifacts for over 20 years, dating back to about the 12th to 19th century in the Japanese Edo period.
It's fun, it's unique, and it's totally free!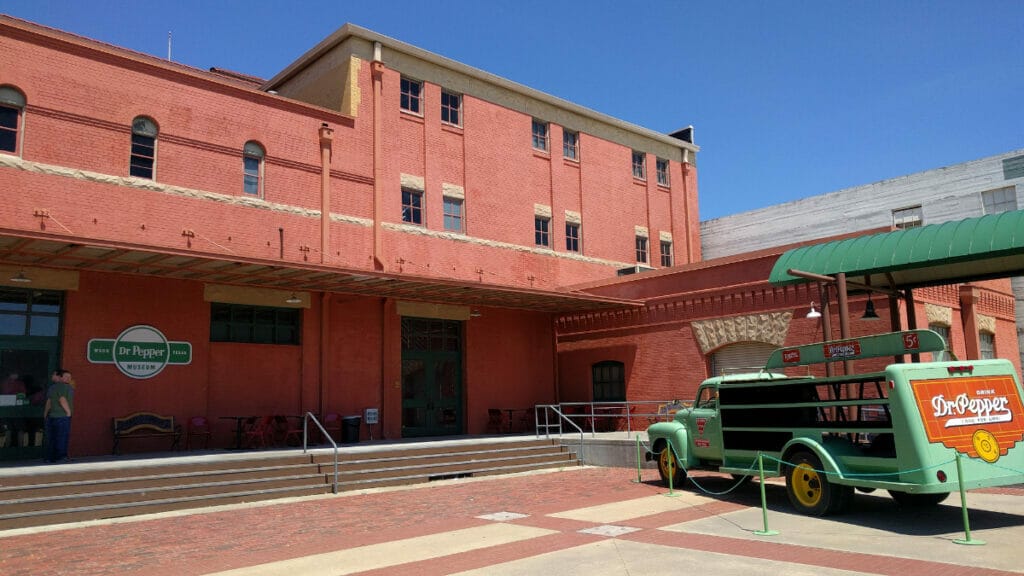 Yes, it's true, Dr. Pepper has its roots in Waco!
If you're soda fans, you'll adore this museum which tells you all about the history of the soft drink, dating back to the building that was a bottling factory for Dr. Pepper back in the day.
You'll learn about Dr. Pepper itself, as well as where it fits into the landscape of American soda history (seriously, it's a thing!).
Check out the historic toys, ads, and bottles that they've kept on hand, and if you're thirsty, you'll be happy to know that you get a Dr. Pepper drink included with your admission because, duh!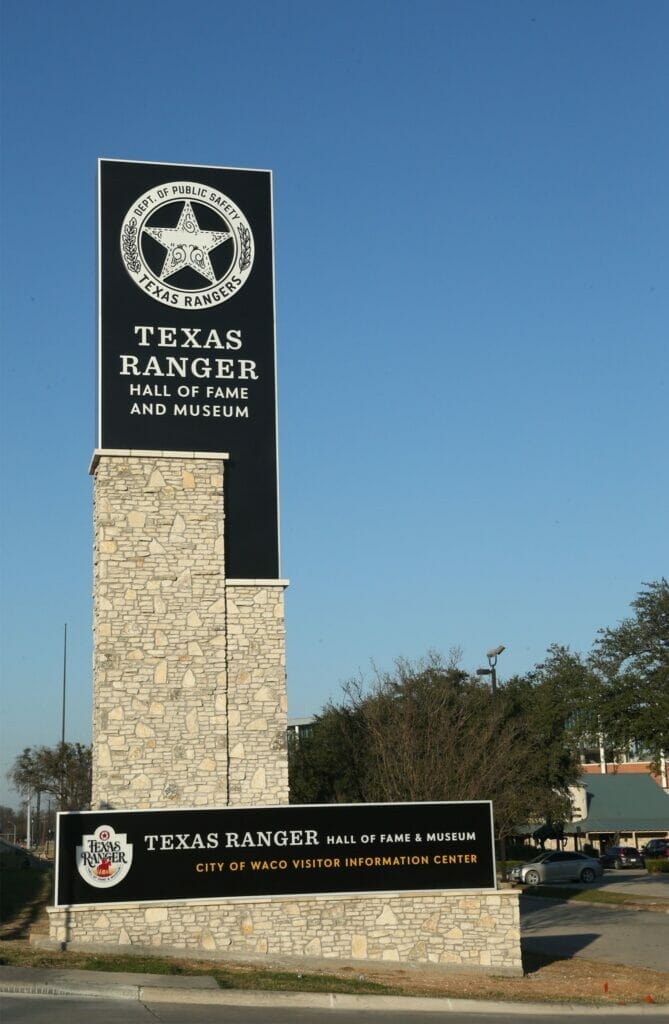 If you haven't heard of the Texas Rangers, you should know that they are an iconic part of Texas's history and members of their police force.
The Rangers are really synonymous with the American West, and Waco is proud to have them serve and be a part of the local community.
The Texas Ranger Hall of Fame and Museum is for them, the people that have dedicated their time and lives to supporting the local communities that they protect.
There's a whole exhibit on the history of the Texas Rangers, including artifacts and old articles.
Plan to see the museum in about 2 hours, as there's plenty to uncover, and it's open every day of the week so you can fit it in your travel plans easily.
At the end, purchase a souvenir from the gift shop and don't forget to take advantage of the military discounts!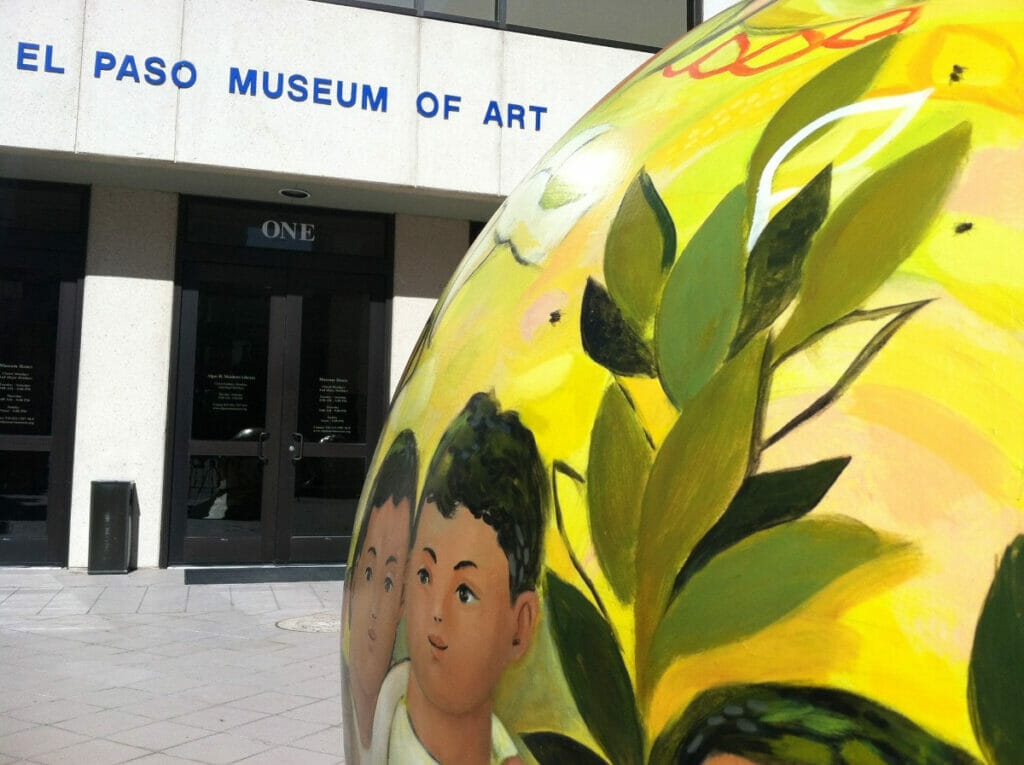 A small but impressive museum, the El Paso Museum of Art makes for one of the most interesting places to see in Texas.
Located in a former Greyhound terminal, the free to visit El Paso Museum of Art has a permanent collection of art spanning a number of centuries and artistic styles.
Fans of Baroque and Renaissance art will be delighted at the works from Van Dyck, Botticelli and Canaletto on display.
For history buffs, there's also an impressive collection of works from the Byzantine era along with a revolving display of temporary exhibitions.
27. Silent Wings Museum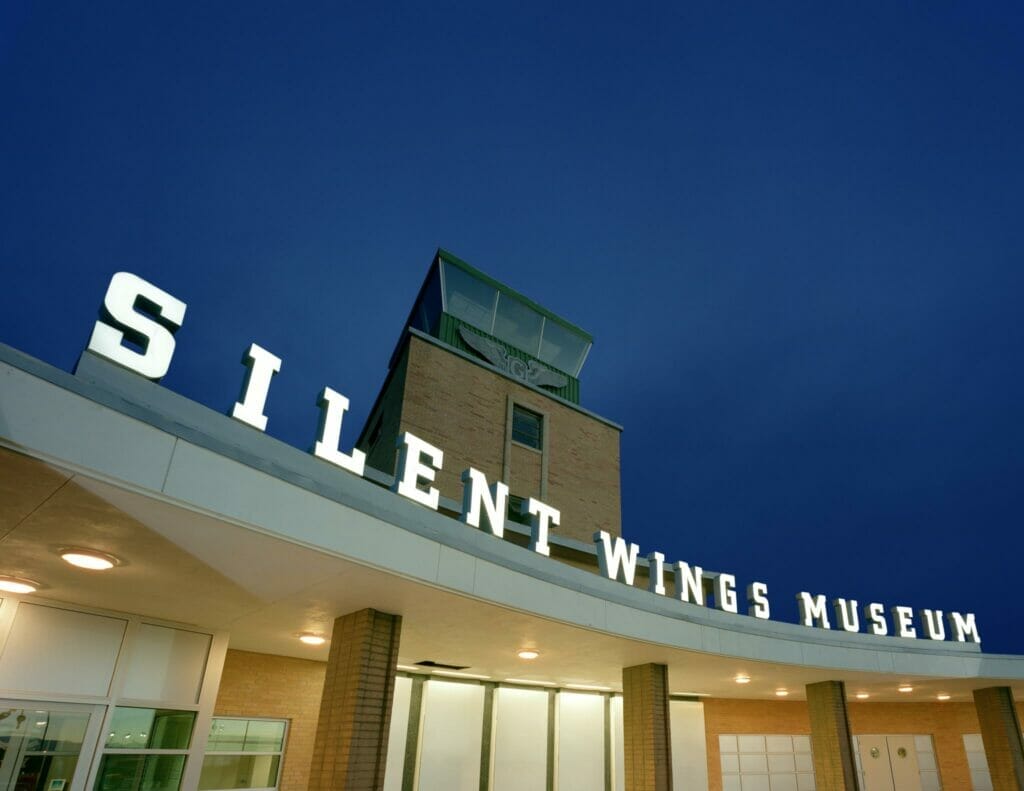 While the Silent Wings Museum is also great for adults, this World War II museum featuring the military gliders is also fantastic for kids.
Housed in what used to be the Lubbock airport, this museum has models of the gliders and life-size military history replicas which will leave any child in awe.
It's not a boring museum with a bunch of long plaques to read with glass cases, but a truly immersive experience that allows you to see the gliders hung from the ceilings towering above you as well as get up close and personal to other World War II artifacts on display.
This would be best for elementary aged and teenaged children in Lubbock.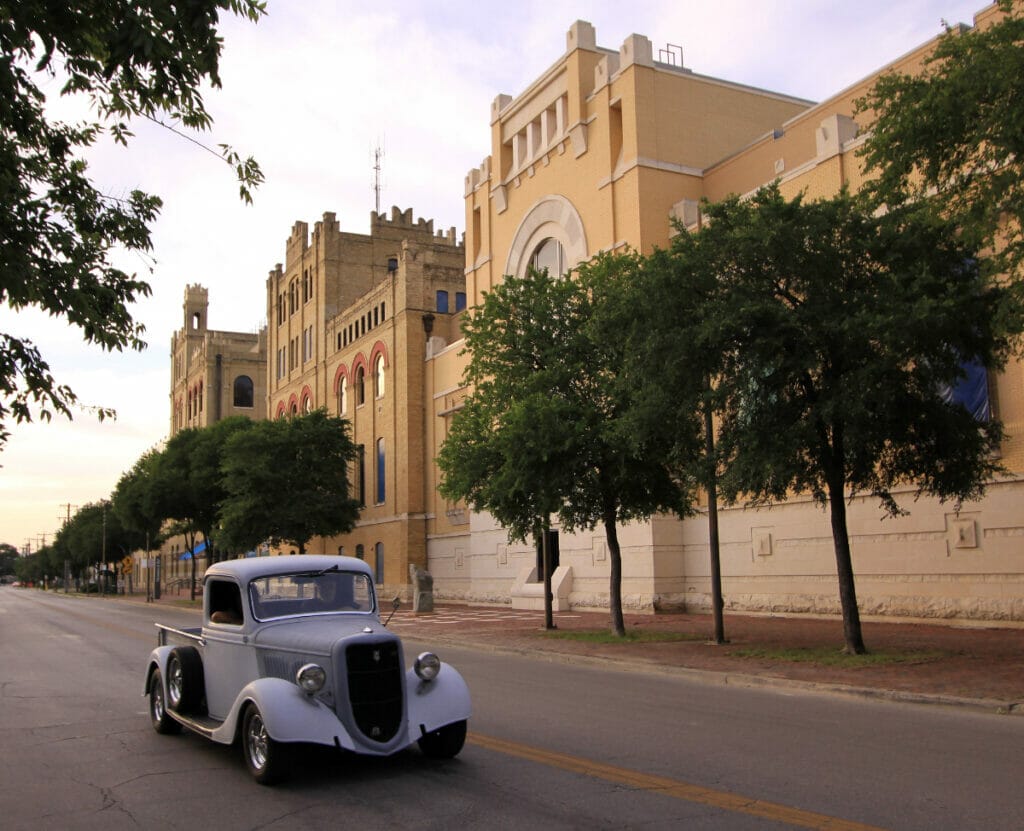 One of the great museums in Texas if you're an art lover is the Museum of Art.
Housed in a historic former brewery along the River Walk's Museum Reach, the museum showcases 5000 years of art from around the world and, if you happen to visit on Tuesday, admission is free.
Survey the most comprehensive collection of Greek, Roman and Egyptian antiquities in the southern U.S.
Explore pre-Columbian, Spanish colonial, Latin American and Asian-Pacific art.
Discover the works of international and local Texan artists alike.
Catch one of the rotating exhibits.
Enjoy lunch or dinner in the former brewery Hops House, now a lovely restaurant overlooking the San Antonio River.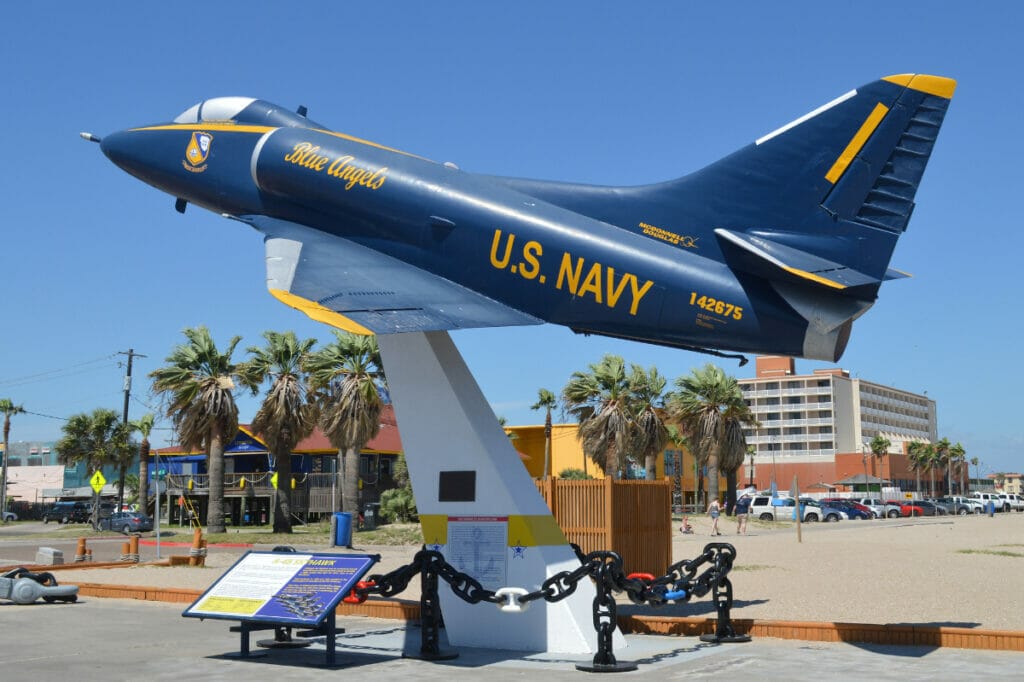 One of the best museums in Texas is a WW II-era aircraft carrier turned museum that explores the ship's history and the experience of the sailors who served aboard it.
You will definitely want to consider one of the many guided or self-guided tours.
There is an elevator from the hangar deck to the flight deck, but otherwise keep in mind that this is still a former navy ship, so interior tours require navigating steep ladder-style stairs and narrow passageways.
If mobility issues or claustrophobia makes that sound like a nightmare, or you have limited time, stick to tour 1 (the flight deck with a lot of cool aircraft, including a Tomcat with "Maverick" and "Goose" painted across it in tribute to the hit 1980s film, Top Gun) and tour 5 (exhibits in the area right after you pass through admissions).
On the other hand, if a day of climbing and squeezing is just what you're looking for, tour 4 will take you through most of the lower deck crew quarters and provide the best feel of life onboard a naval ship of this era!
Take a break with drinks and snacks at the cafe, and then wrap up the day watching the popular "must-see" 45-minute film in the 3D theater!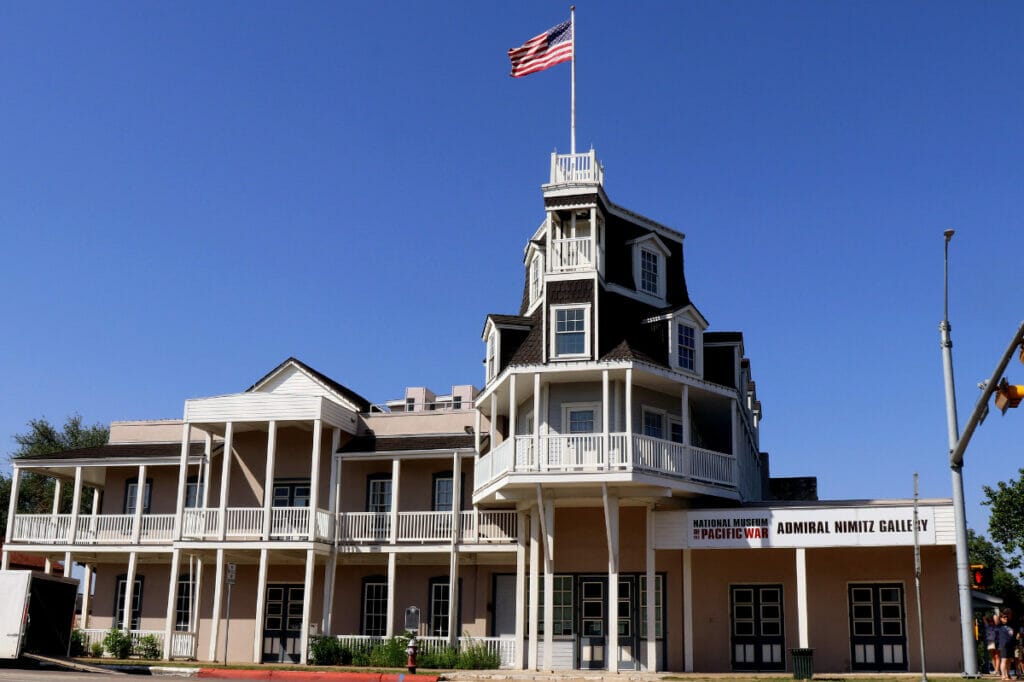 The Admiral Nimitz Gallery, a Smithsonian Affiliate, the Plaza of the Presidents, George Bush Gallery of the Pacific War, Memorial Walk, Pacific Combat Zone and the Japanese Garden of Peace are all part of the National Museum, named the 5th best history museum in the US in 2020 by USA Today readers, and dedicated to all those who served in the Pacific War.
31. Houston Museum of Natural Science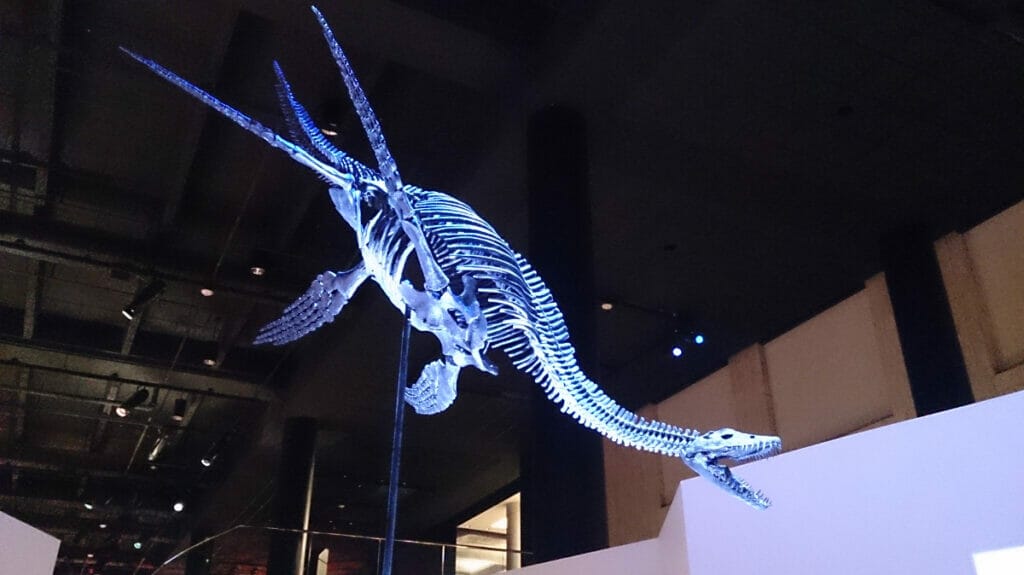 So impressive you'll find it hard to see it all!
The Museum of Natural Science is not just static displays, it's one of the best museums in Texas!
The Cockrell Butterfly Center is a live animal rainforest experience where you get up close and personal with some of nature's most beautiful insects.
Not just for the kids, this is absolutely one of our favorite places to visit in Houston.
Displays and exhibits take you through the history of the earth.
The giant screen theatre's digital 3D shows take you on a realistic journey to some of the earth's most amazing places.
And when you're tired of keeping your feet on the ground, head further afield at the Burke Baker Planetarium.
A great place for all the family to spend a few hours or a few days.
Pin for Later!