Need a break from the stresses in life?
Get away for the day on a fantastic day trip in Texas.
Whether you're north, south, east or west, Texas offers the best day trips for anyone wanting to hop in a car for a 24-hour adventure.
Seeking the chance to reconnect with nature?
Looking to learn something new?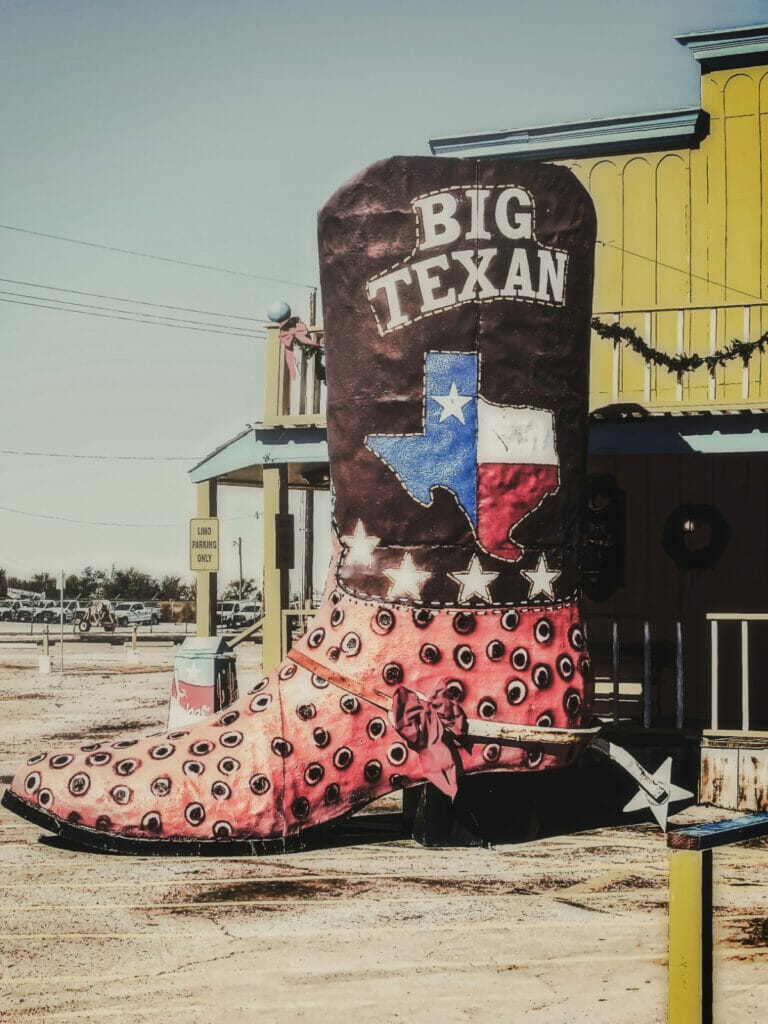 Want to be transported to another world or time?
Or just relax poolside with a drink in hand?
Keep reading to make plans for the best day trips in Texas.
Grab a friend, grab your kids, grab your keys and get ready for loads of fun in the Texas sun!
Hey! Want more awesome, locally-approved Texas content? Check out our other guides!
GET A

FREE

TEXAS GUIDEBOOK WITH LOCAL TIPS!
With 71 pages of helpful travel tips and the "best of" Texas lists, this is your ad-free key to your Texas trip.
How to get around Texas
If you're visiting and need to rent a car, we highly recommend Discover Cars where they find you the best car rental deals from all of the competitors (has saved us so much money!).
1. Eisenhower State Park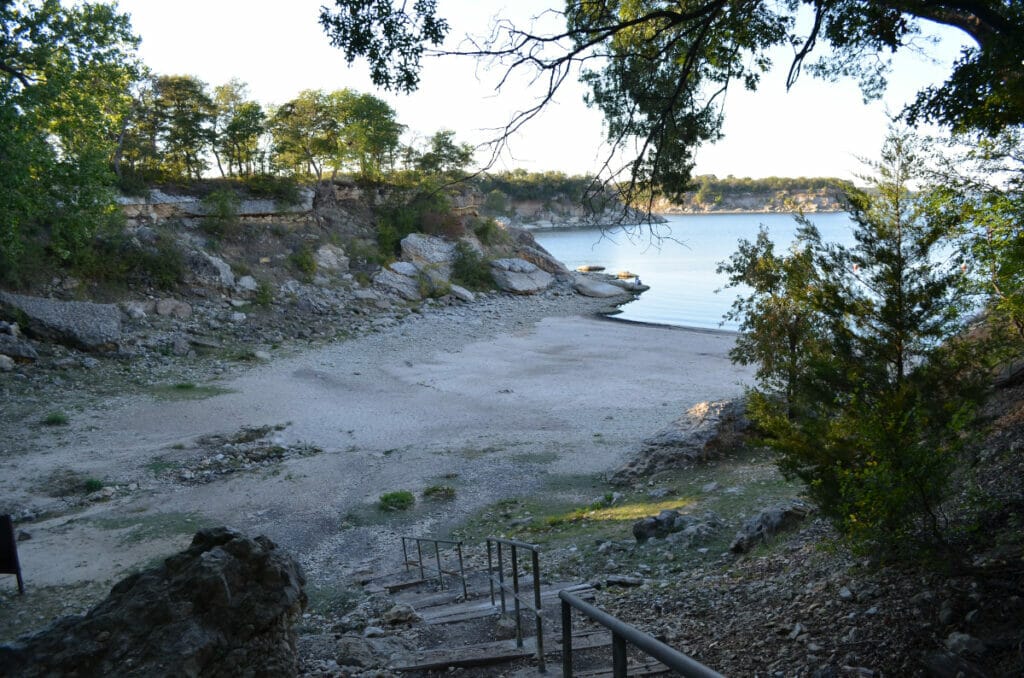 Just 60 minutes north of Dallas on Lake Texoma sits an out of the way gem in Denison.
Eisenhower State Park is a picturesque day trip location with scenic views that let you feel like you're in the clouds.
Pick a spot along the rocky bluffs to camp for the day while you swim, fish, or take your boat out for a spin.
Hours are 8 to 8 Sunday-Thursday, 8 to 10 on Friday, and 8 to 9 on Saturday beginning in June.
At just $5 per car, this is a great day trip with lots of options to bask in the great outdoors.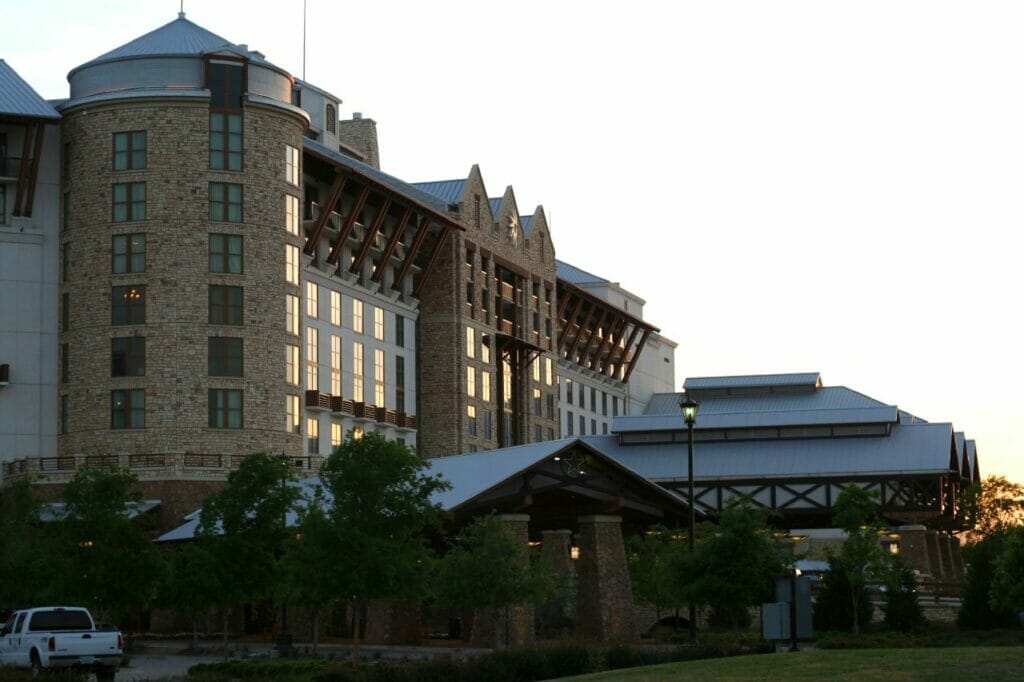 Gaylord Texan Resort & Conference Center in Dallas is next on the list.
I know what you're thinking: why include a conference center as a day trip idea?
Because this one has amazing amenities you can book even if you're planning on sleeping at home that night.
The property offers Vegas quality entertainment for adults and families, affordable enough you can stay for dinner and drinks after.
Book something fun for the kids like an onsite scavenger hunt or escape room adventure, while you relax in luxury at Relâche Spa.
Guests enjoy the food and fun atmosphere at the Glass Cactus, located on Lake Grapevine.
Live music most nights to get you up and dancing before you head on home.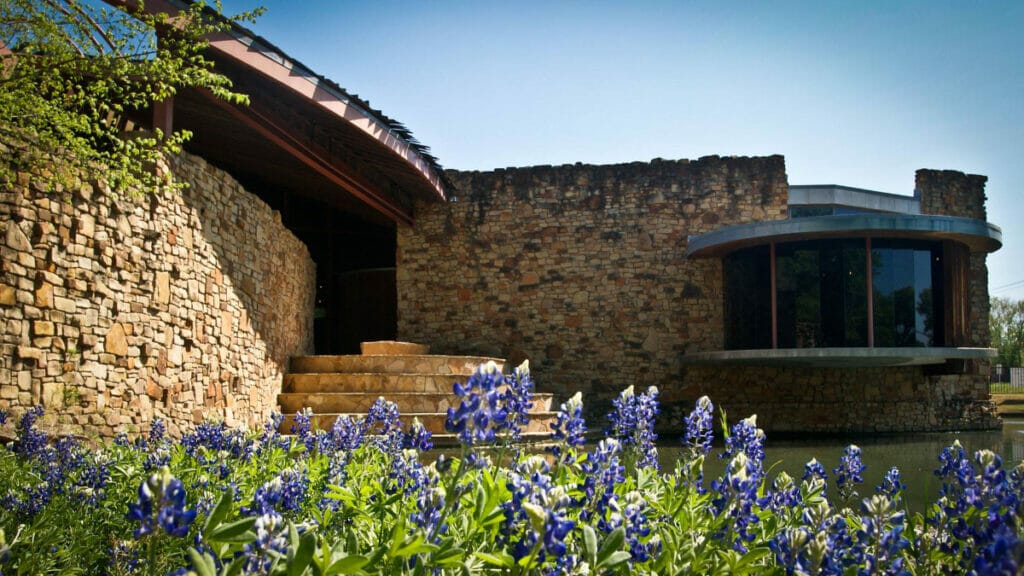 Looking for a taste of the outdoors?
The River Legacy Nature Center in Arlington is an outdoor learning environment, with an indoor Discovery Room on the property for an extension of learning through technology tools and interactive exhibits such as aquariums and terrariums.
Outside, enjoy a hiking path, animal and insect watching, camp site, and a popular bike trail.
Use the natural ecosystems app to unlock extras like activity trails or request a guide for a VIP experience.
Lots of special activities to plan around include trail clean-ups, radical reptile and owl story times, night hikes, and bird and nest sessions.
Don't miss either the Earth Day festival in April or the annual Great Backyard Bird Count.
Avoid going on bad weather days as trails will likely be closed.
Also consider peak times like school breaks and summer when visitor numbers make your visit less intimate.
Check out their Facebook profile for helpful fun facts ahead of your trip, like a recent post about the state's beloved Bluebonnets.
Make sure to say hello to visitor favorite Dr. Ellen while you're there.
4. Cleburne Railroad Museum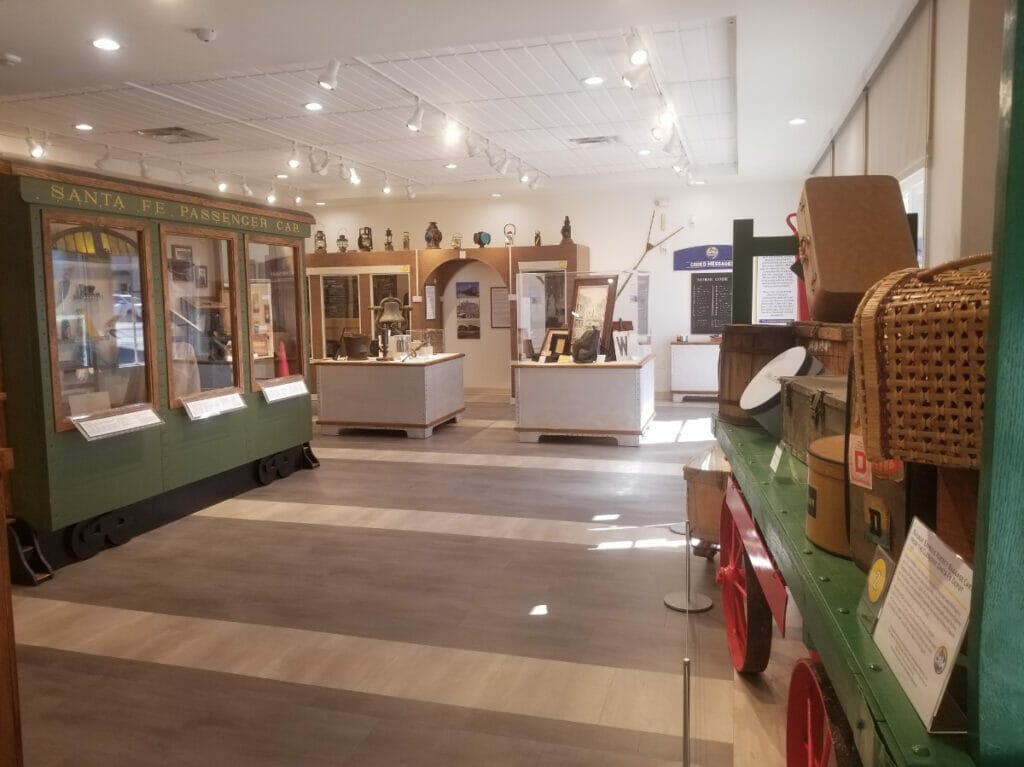 Cleburne is part of the small Texas towns trail built up during construction of the transcontinental railway, as it pushed through Texas to progress Westward in the late 1800's.
The Cleburne Railroad Museum reopened in March 2022, after a community funded renovation.
This sweet museum in Texas preserves the history of these small railway towns by telling the story of the men and women who built it.
For kids and adults who count trains as a hobby, this is a not to be missed stop on your day trip agenda.
You'll see railroad and conductor artifacts alongside some of the most complex model train tracks running around the length of the space.
Try to catch story time, movie night, the spring picnic, or register for a community class where you can learn about model train scenery making, floral arranging, and more.
Visit the museum in May for National Train Day event with family-friendly activities and everyone's favorite – conductor Bob!
The museum is open Tuesday through Saturday, 11-4 and it's free entry.
All aboard!
5. Big Rocks Park in Glen Rose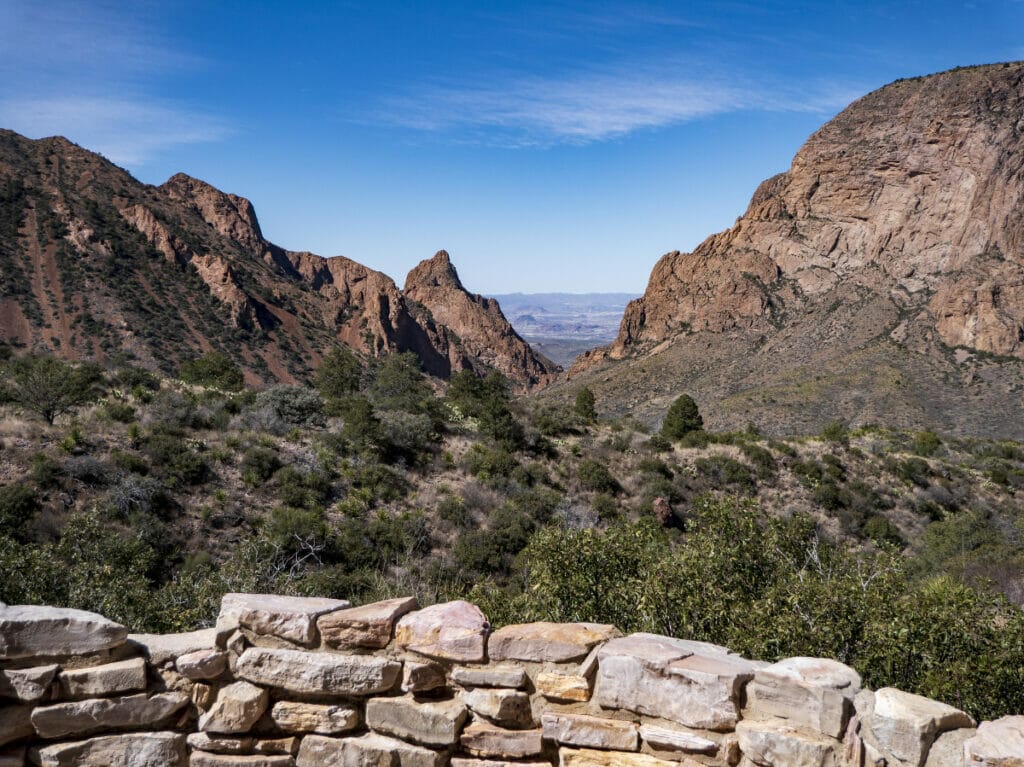 Big Rocks Park in Glen Rose features big boulder formations with a stream running through to make this spot the perfect place for young kids to climb and wade in the shallow water to cool off after a car ride (making it one of the best road trips in Texas).
There's also picnic tables for a leisurely pit stop, but better chance of nabbing a parking spot if you avoid peak mealtimes.
No alcohol is permitted, but you can bring your dog if it's on a lead.
6. Dinosaur Valley State Park in Glen Rose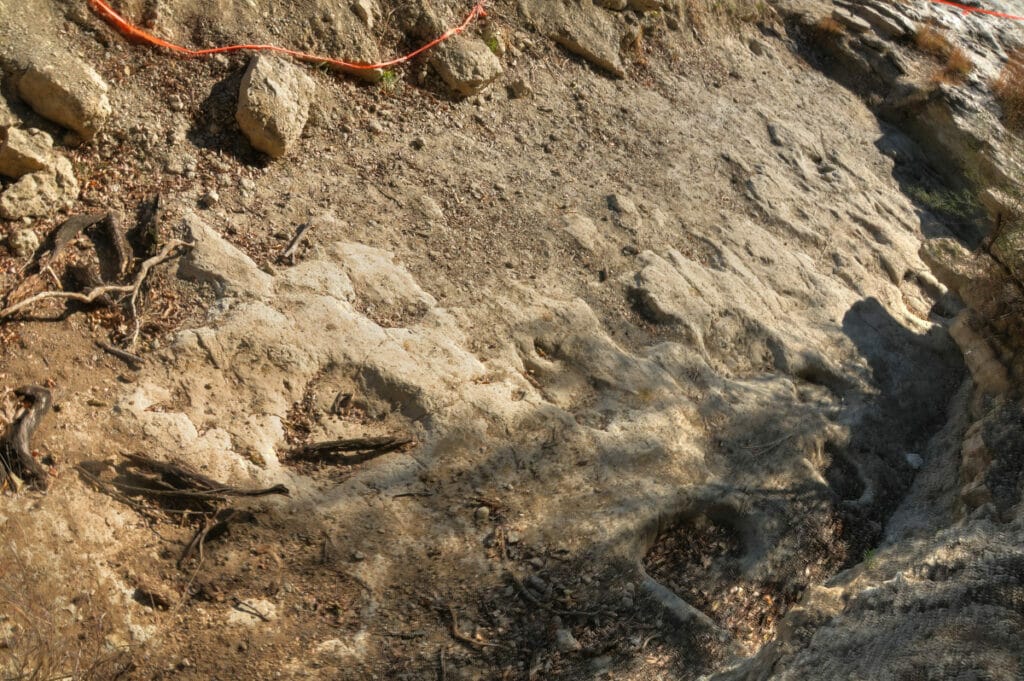 Did you know dinosaurs once roamed the wild west?
Check out prehistoric paw prints from Texas' first residents at the Dinosaur Valley State Park in Glen Rose.
One of the best day trips in North Texas is this state park in the middle of a beautiful natural setting, where you can see dinosaur tracks and learn about the history of the area from expert rangers.
Check the website or Facebook page for daily updates, as tracks are visible when water is low, and trails are open.
But this park isn't just for dino-enthusiasts.
Nature lovers love it for kayaking, canoeing, mountain biking, swimming, hiking, camping, fishing, horse back riding, and geocaching.
So much to do to fill your day!
Make a reservation to avoid being turned away on crowded days.
7. Fossil Rim Wildlife Center in Glen Rose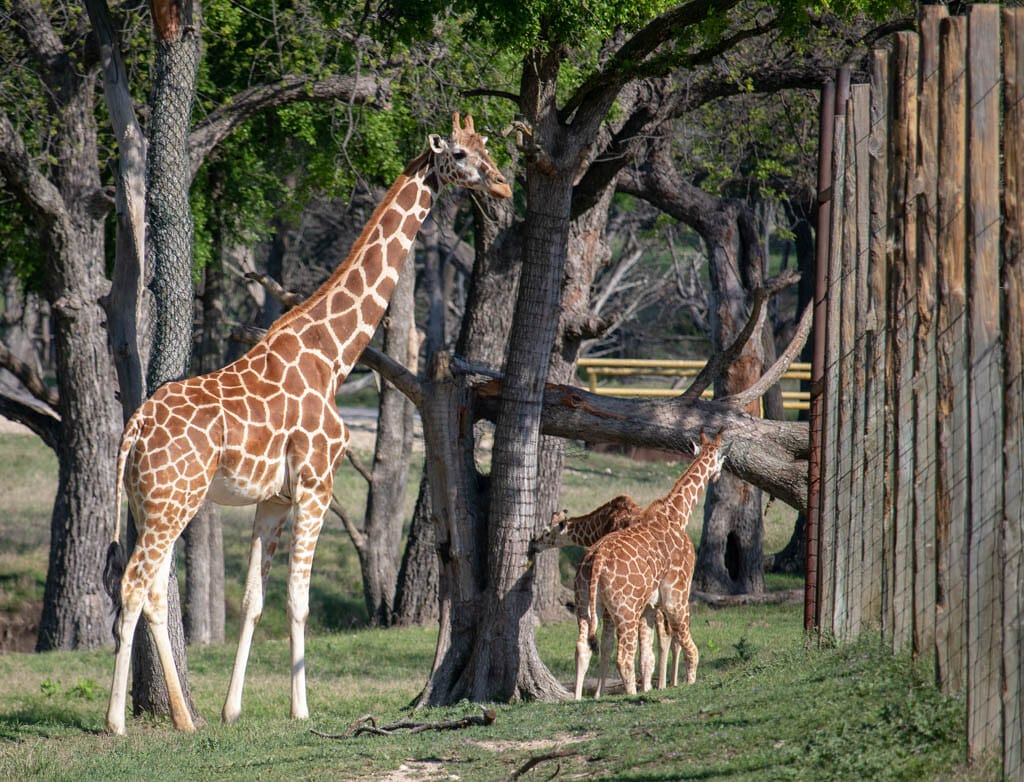 Interested in exotic animals instead of dinosaurs?
Then Fossil Rim Wildlife Center in Glen Rose is the place to see and be seen by many varieties of wild animals roaming in herds, including giraffes, zebras, cheetahs, and more!
Drive your vehicle through the 7.2-mile-long path or for a higher fee, reserve a spot on one of the open top guided driving tours.
Guides are very knowledgeable about each species on the property and educate visitors on the center's mission of conservation, research, and support of species in peril.
There's even a delicious food spot at the halfway point of the trail called the Overlook Café, which visitors say is a good value for what you pay.
Enjoy the safari views while you dine outside.
Add on to either of these dino day trips other things to see and do in Glen Rose, including Texas wildlife trails at Cedar Loop, the grave of Elizabeth Crockett – yes, wife of Texas hero Davy Crockett, and the Comanche Peak Visitors Center for a lesson on nuclear power.
8. Texas Discovery Gardens at Fair Park in Dallas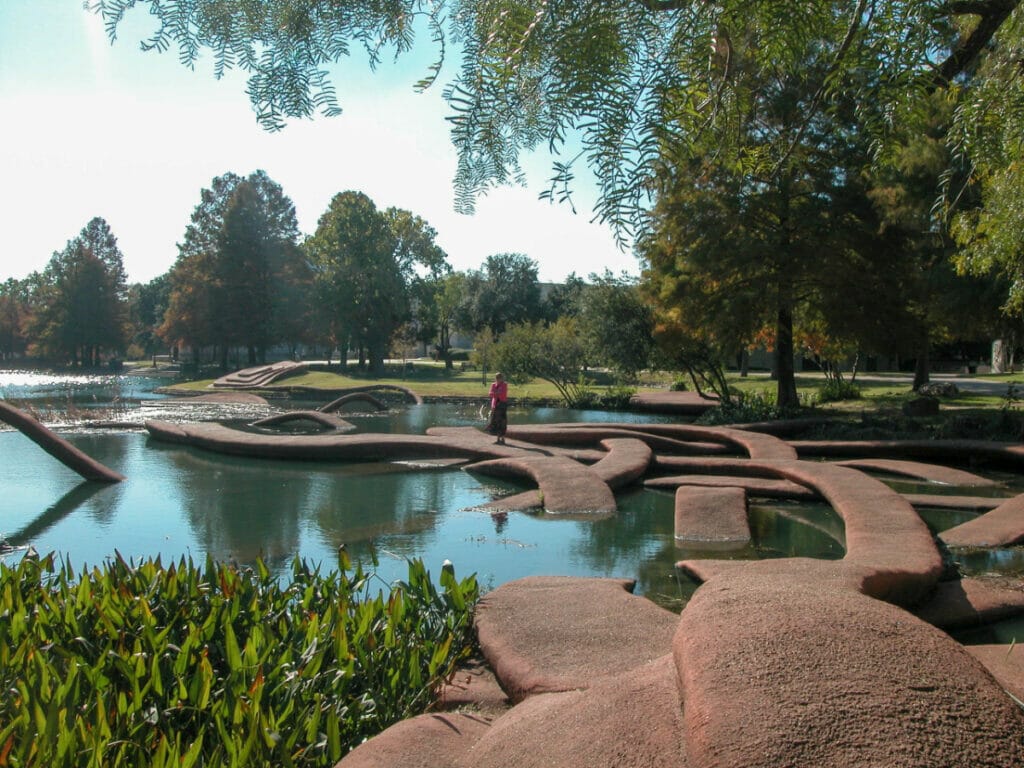 If gardening is more your speed, you'll love a day trip to Texas Discovery Gardens at Fair Park featuring native Texas plants and flowers.
Bring comfortable shoes and count your steps as you to meander through the 7.5 acres of public gardens, finishing at the Snakes of Texas House and two-story Butterfly House.
Bring your cameras along as there are plenty of picturesque places to capture memorable moments of your day trip.
At just $10 for adults and $5 for kids, this day trip is not only peaceful, but affordable too.
The gardens are open Wednesday-Sunday, 10 – 5, with a butterfly release everyday at noon.
9. Granbury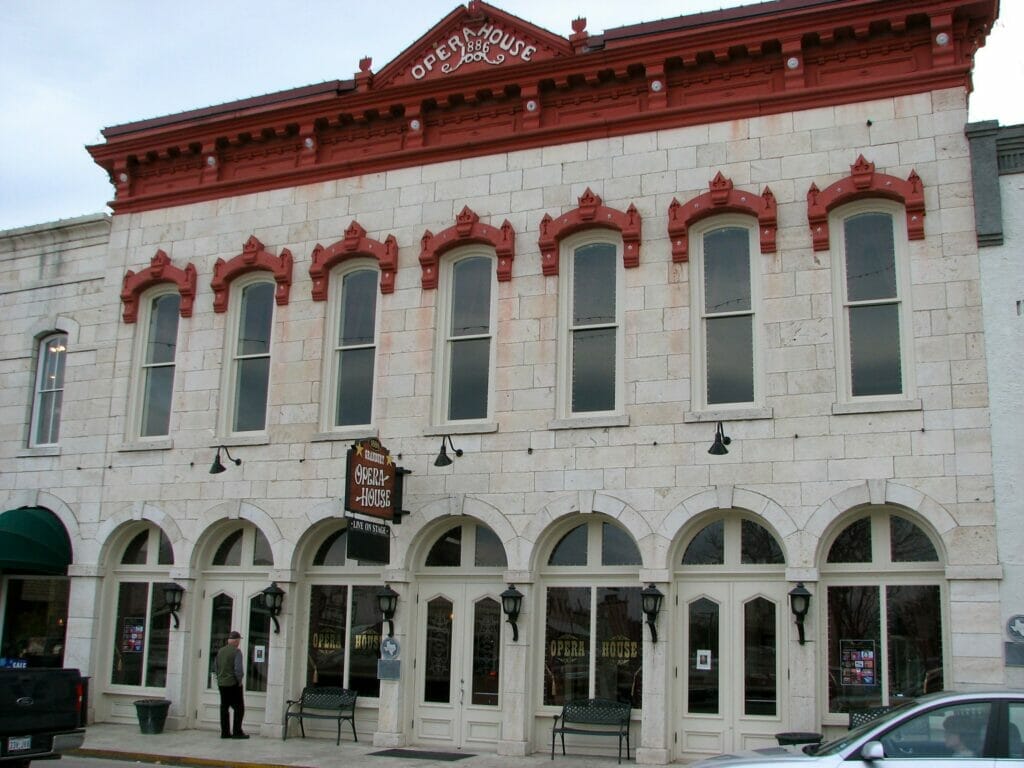 Granbury is another fantastic Texas day trip destination where you'll be transported back in time to the 1800's wild west with its many famous residents.
It's rumored that John Wilkes Booth changed his name and took up residence in Granbury after the assassination of Abraham Lincoln; Elizabeth Crockett settled nearby after the Texas Revolution against Mexico; and finally, Jesse James's grave is just off the town square.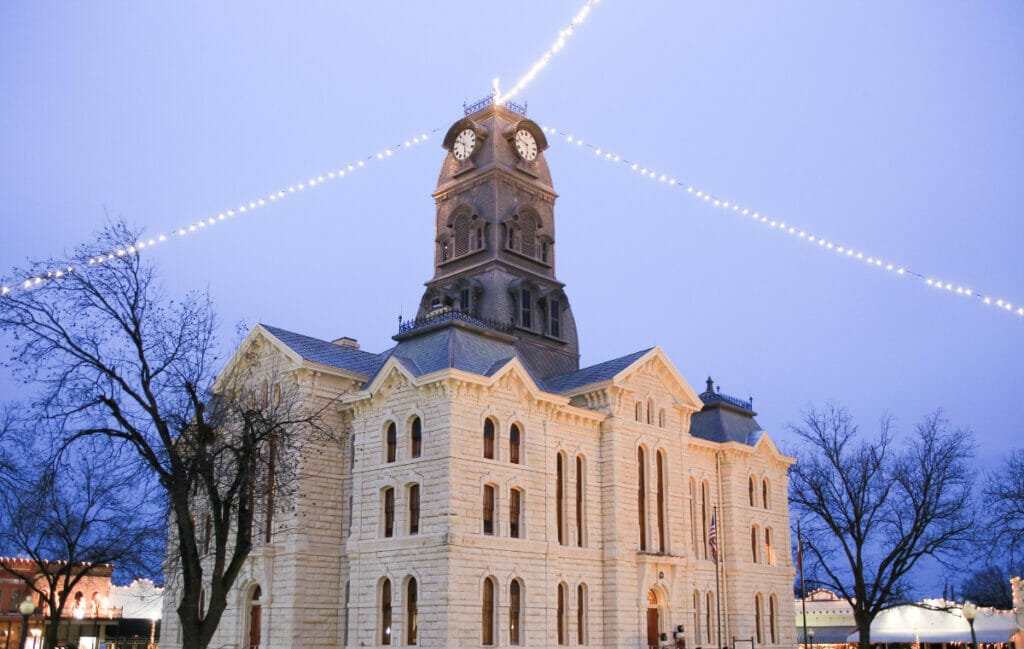 Start your day exploring historic Granbury Square, with antique shopping, old fashioned ice cream parlours with legendary Buttermilk Pie, and vintage clothing stores featuring classic cowboy hats and boots for an authentic Texas look.
Just a few minutes' drive cutting across Brazos Bend takes you to Barking Rocks Vineyard and Winery with tastings curated by the owner, Tiberia (or Ty by the locals).
You can also take one of the fantastic Granbury winery tours!
Flanked by the beautiful Texas countryside on one side and the Brazos River on the other, this is a highly rated winery and must-see day trip destination for those looking to relax with a good glass, or two or three, of wine with true Texan flavors.
So far, I've shared the best day trips in north Texas, but there's equally fun trips further south and west.
Stick around for more fun day trips in Texas.
10. Texarkana, Arkansas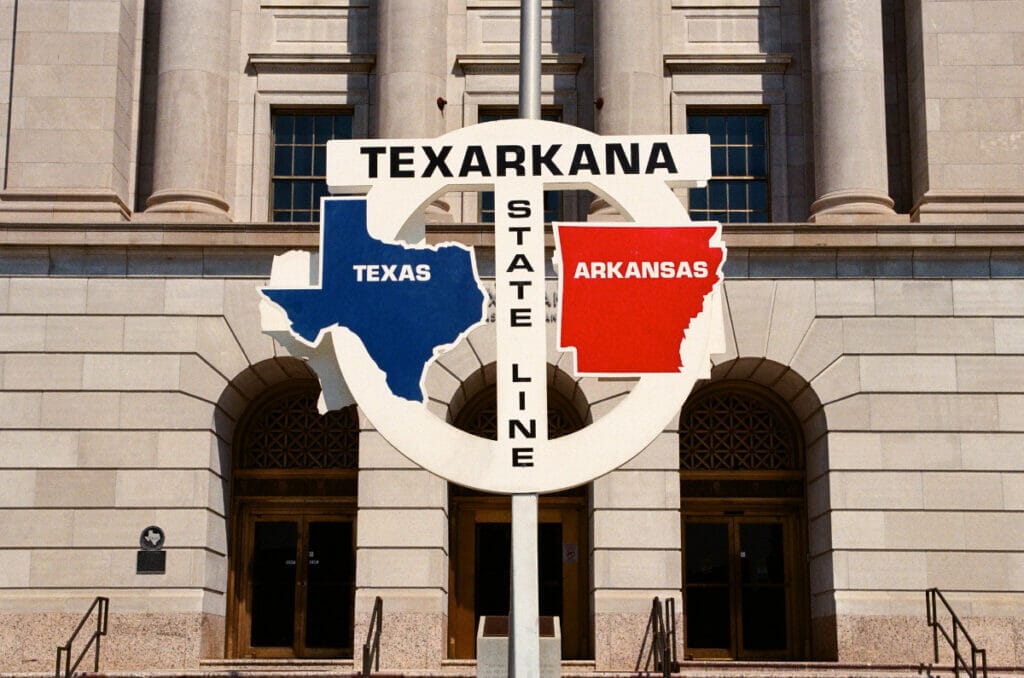 Texarkana, so named because it combines Texas and Arkansas, is a fantastic place to go if you want to be in two states at once.
Downtown Texarkana is walkable and historic, and while you're there you've got to head to the Ace of Clubs House.
This House, built in 1885, is shaped like a playing card club and is a must-see.
There's also other things to do, like the Museum of Regional History and the Four States Auto Museum.
If you're hungry, stop at Zapata's for some incredible guacamole and margaritas or try Pecan Point Gastropub for the burgers that you'll talk about the whole ride home.
Bordering Louisiana but entirely Texan, the city of Beaumont is known as the birthplace of the modern oil industry, with the first major oil discovery happening here in 1901.
Today, the city is home to more than a dozen museums!
One of its most popular is Spindletop-Gladys Boomtown Museum, a recreation of the town depicting life at the start of the oil boom in the early 1900's.
From history, to art, to the outdoors, Beaumont has a little something for everyone!
After you've checked out a few of the city's museums, peruse the town's murals, sculptures, and street art.
Recharge at the free Beaumont Botanical Gardens or traverse the boardwalk at Cattail Marsh wildlife refuge.
Feeding the alligators at Gator Country Adventure Park is a favorite for families!
Plenty of bars, pubs, breweries, restaurants, bakeries, and cafes will satisfy any craving from a long day of exploration!
Don't forget to snap a family selfie of Big Beau, a gigantic roadside gator attraction, on your way in or out of the city!
Day Trips in Central Texas
Waco is equidistant between Dallas and Austin and a few hours drive from San Antonio, making it a day trip locale accessible from most major metro cities in Texas.
12. Magnolia Market at the Silos
Of course, the Magnolia Market at the Silos compound owned by Texas celebrities Joanna and Chip Gaines of HGTV Fixer Upper fame is a main destination for day trippers.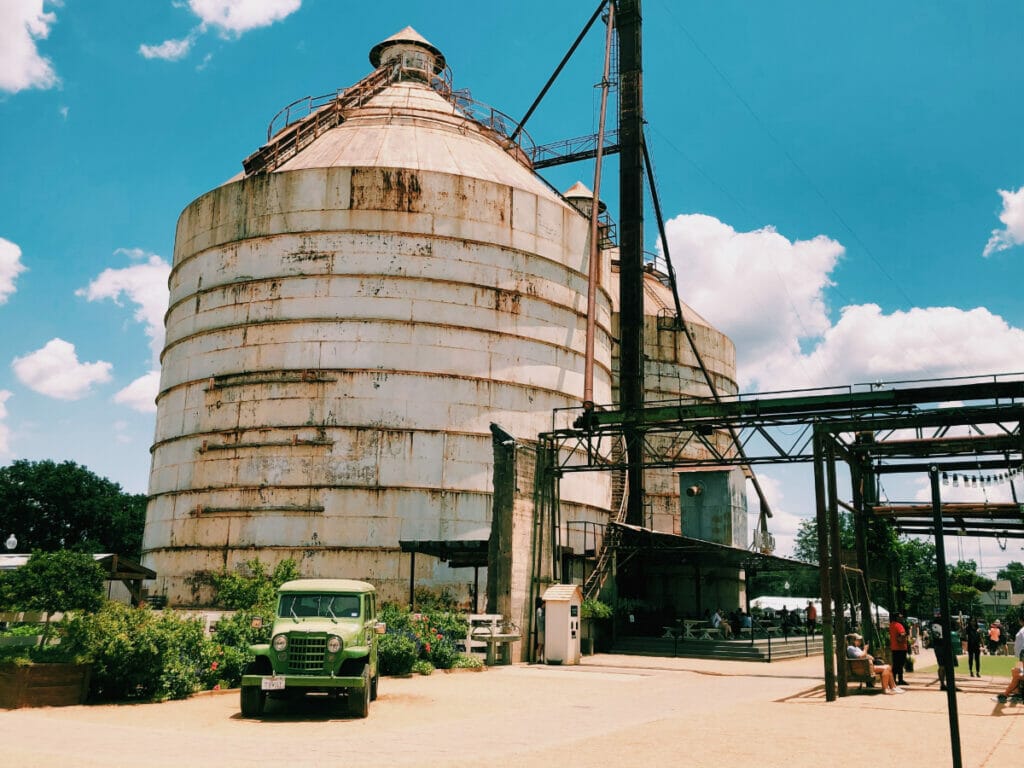 There's the main shop loaded with fashion and home décor inspiration, baby toys, and paper goods galore, along with the bakery featuring Joanna's famous seasonally flavored cupcakes, and the most recent addition of a plant shop managed by Joanna's sister.
You'll have your pick of food trucks offering whatever tastes you are craving.
Families are welcome to enjoy the outside picnicking area with larger than life games and live entertainment to keep it festive.
Once you've had your fill of all things Magnolia, drive around the area spotting homes from the show – don't skip the houseboat on one of the nearby lakes!
You can also take a wonderful Waco Tour that will take you all around the major sites, complete with an expert guide.
Or take this cruise down the Brazos river, or this Waco ghost tour!
13. Dr Pepper Museum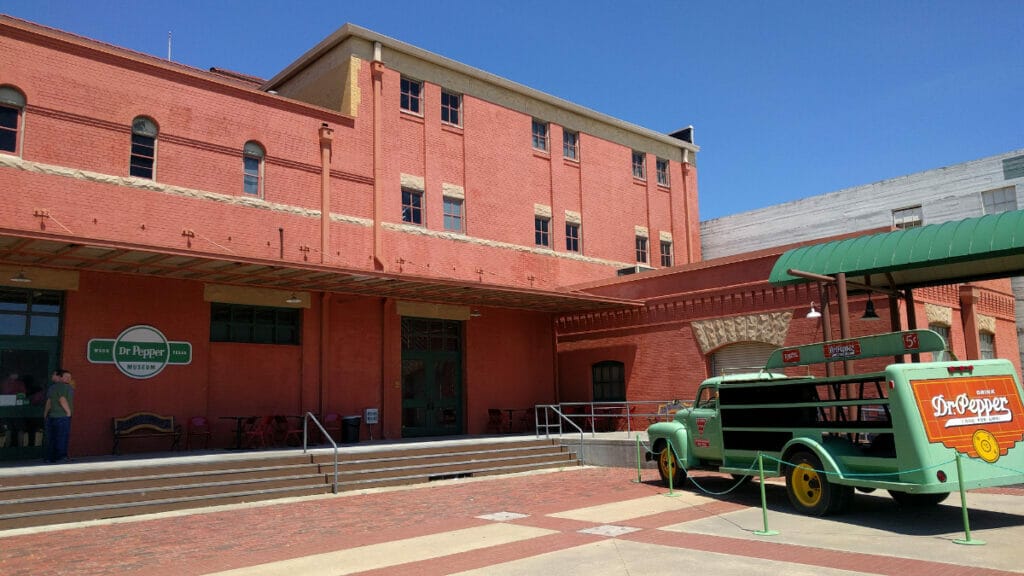 Two blocks away from Magnolia Market is the home of the original soft drink, the Dr Pepper Museum, another popular day trip destination in Waco.
The historic building houses a factory tour where Dr Pepper devotees can learn about the manufacturing process, view their extensive collection of soft drink memorabilia, and end the day with a sweet treat – the Dr Pepper soda float.
There is also an extensive display of advertising collectables, think neon signs and a 1940's delivery truck, as well as a viewing room for Dr Pepper ads, providing a lesson in the evolution of marketing.
Sign up for the Make-A-Soda experience to become soda scientist.
It's worth the additional fee, especially for families.
14. Horseshoe Bay
Almost smack in the middle of the state northeast of Austin is a community known for golf and water sports.
Horseshoe Bay sits at the intersection of the Colorado River and Lake LBJ and offers plenty of options for day trippin' (particularly if you're looking for a day trip from Austin).
Once you've had your fill of water activities, find the Horseshoe Bay Nature Park to hike in a prairie land setting.
Take a picnic lunch and claim a spot under a tree to enjoy the scenic Texas Hill Country or bring your binoculars for some stellar bird watching.
Finish the day with a stop by the quaint but informative Falls on the Colorado Museum in Marble Falls, which displays prehistoric artifacts (remember the dinosaurs) and objects from more recent local events, as well as everything in between.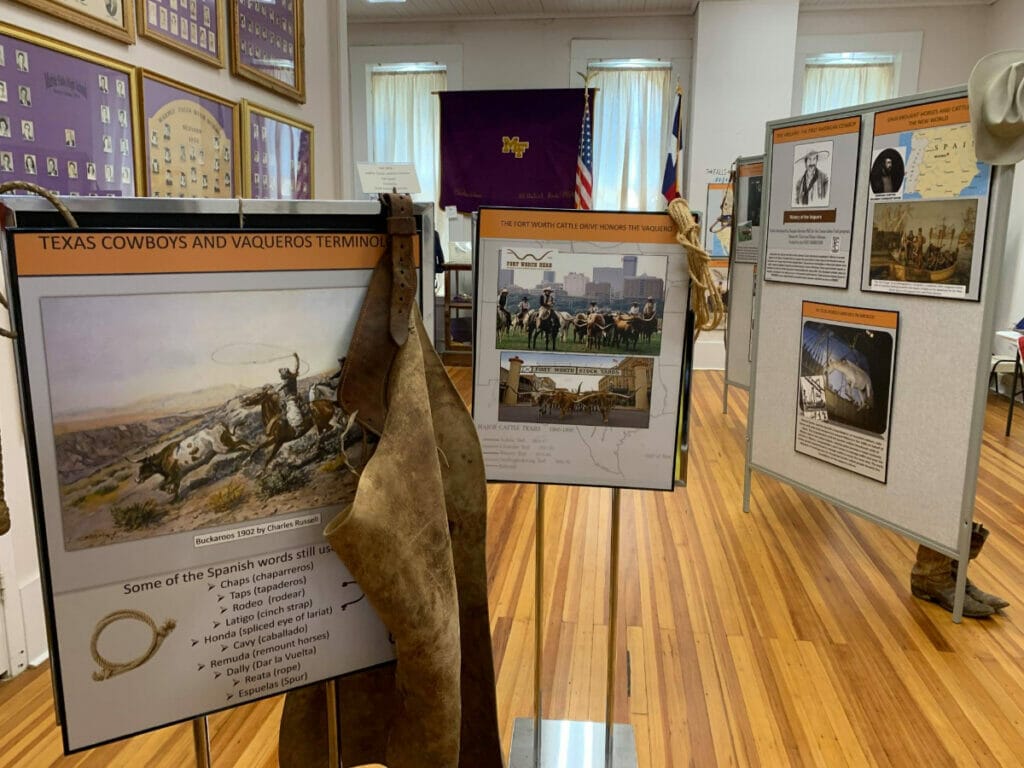 The highlight of the museum is it's turn of the century "no electricity" exhibition, which delights parents in showing kids what life was like without electronics!
The museum is free and open Tuesday through Saturday 10-2, with extended summer hours.
15. College Station, Texas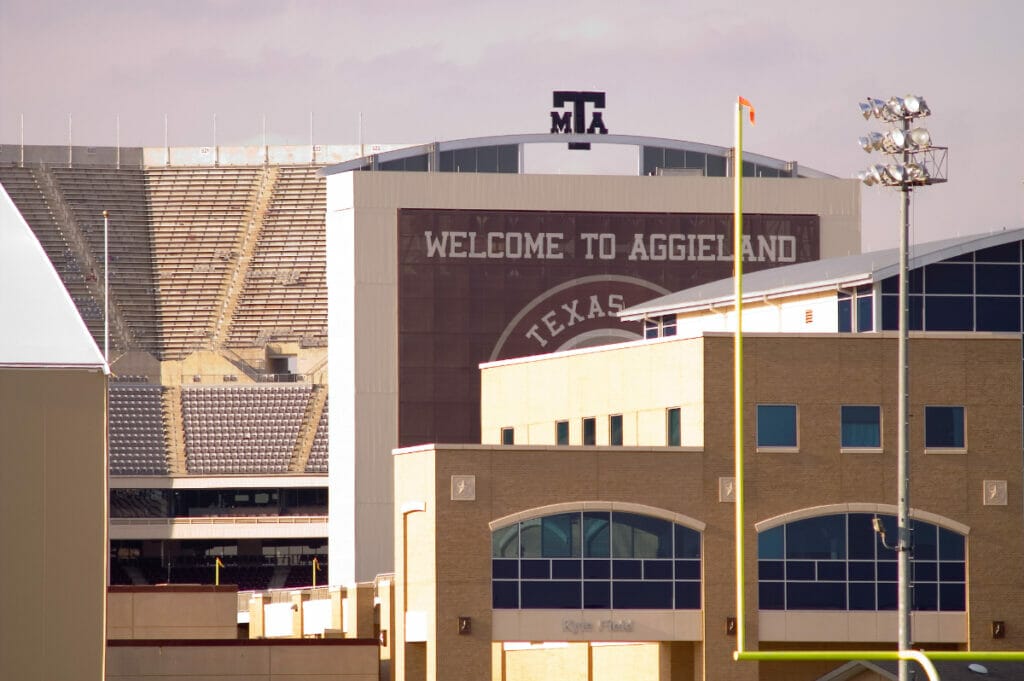 Football fans?
College Station is just the day trip in Texas for you.
College Station is home to Texas A&M, a giant university with a gorgeous campus and equally large stadium that plays home to Aggie football.
Really, College Station and Texas A&M go hand-in-hand, with most residents either being students, alumni, or otherwise related to the university.
Make sure to visit on a game day for the incredible tailgating opportunities (they're super friendly!) or wander around the campus and check out all of the history, the superstitions, and the Aggie culture.
In fact, Kyle Field, where the Aggies play, is actually fifth largest stadium worldwide.
College Station is also home to the George HW Bush Presidential Library, as well as awesome barbecue places like C&J Barbecue.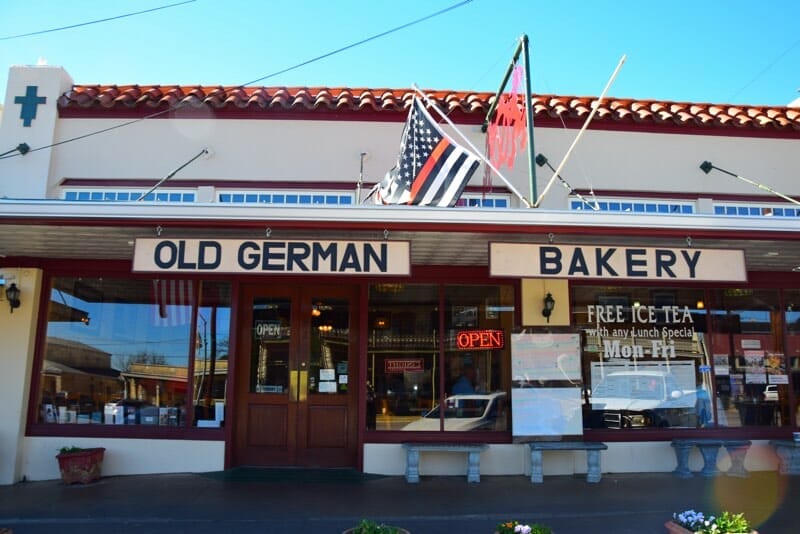 German heritage might be the last thing that comes to mind when you think about Texas!
But that's exactly what you'll find in Fredericksburg, just over an hour west of Austin.
Settled by German immigrants in the 1840s, Fredericksburg has a unique blend of Germanic-Texan heritage visible in both its architecture and cuisine.
Dig into the area's German history at the 3.5-acre Pioneer Museum.
Listen to tales of German settlers as you take a self-guided tour of the recreated 19th century buildings and artifacts, including an old county jailhouse!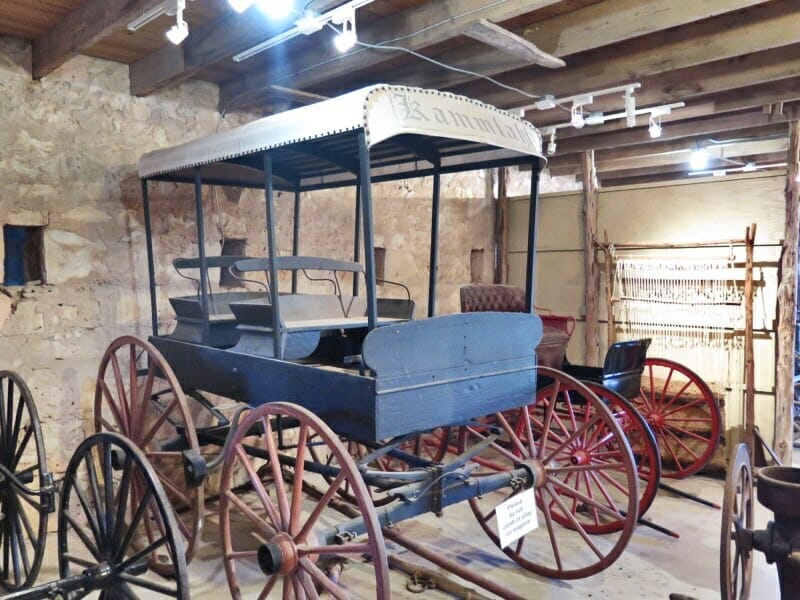 War history enthusiasts will enjoy the National Museum of the Pacific War, and its extension – the Pacific Ocean Combat Zone, just a 5-minute walk from the museum.
You'll feel like you're stepping back in time viewing reenactments, gun fire demonstrations, period dress exhibits, and uniform and artillery displays.
Perhaps the greatest draw to the city is its proximity to wine.
Fredericksburg has 10 wineries and tasting rooms close to its Main Street, with this Fredericksburg winery tour being one of the best!
Located within 30 minutes of most wineries inside Texas Wine Country, and with more than 150 shops, stores and art galleries, Fredericksburg is one of the best Texas day trips for sipping and shopping!
17. New Braunfels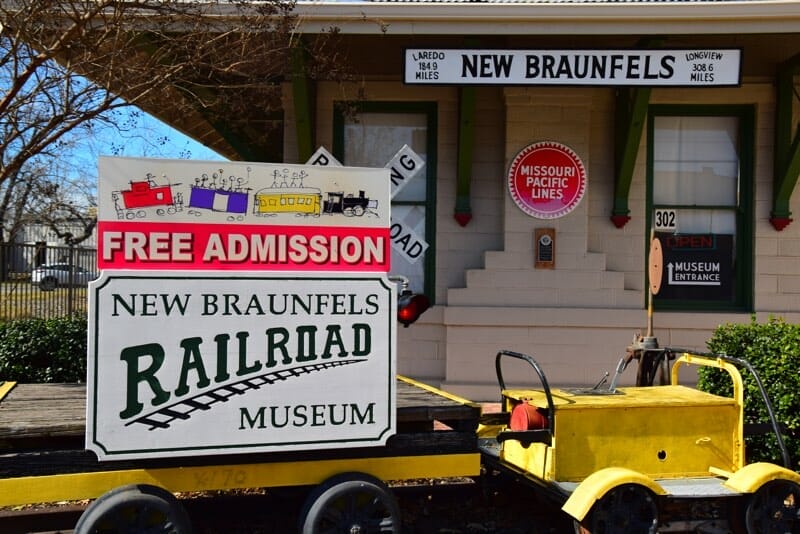 Less than an hour from Austin you'll find New Braunfels, a year-round family friendly getaway popular with the locals.
There's literally something for everyone here.
Splash the day away at Schlitterbahn, one of the most popular water parks in Texas!
Wave pools, lazy rivers, uphill water coasters and speed slides keep the Texas heat at bay!
Venture underground and marvel at the spectacular beauty of the largest cavern in Texas at Natural Bridge Caverns.
Then ascend upward, ziplining through the sky, challenging yourself at the 4-story ropes course, or putting your strength to the test on the climbing walls at Twisted Trails.
Encounter over 40 exotic species at Natural Bridge Wildlife Ranch!
Waterski, wakeboard and play paintball at Texas Ski Ranch!
Tube down Comal River or fly fish in the Guadalupe River.
After a full day of fun in the sun, grab a beer at one of New Braunfels' three breweries and watch the sun set over the Comal River.
If you're more of a land lover, head just past downtown to the historic Gruene district (pronounced Green!) for dining, shopping, live music, and the oldest dance hall in Texas!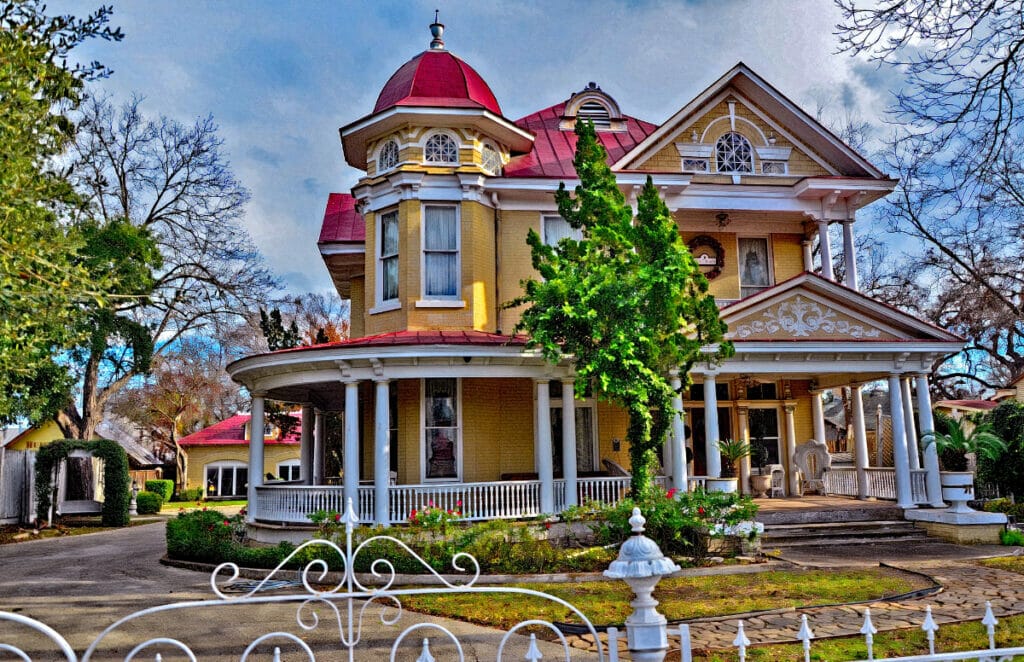 Experience what the Germans call Gemütlich, that warm feeling you get when you're among friends, when you visit New Braunfels.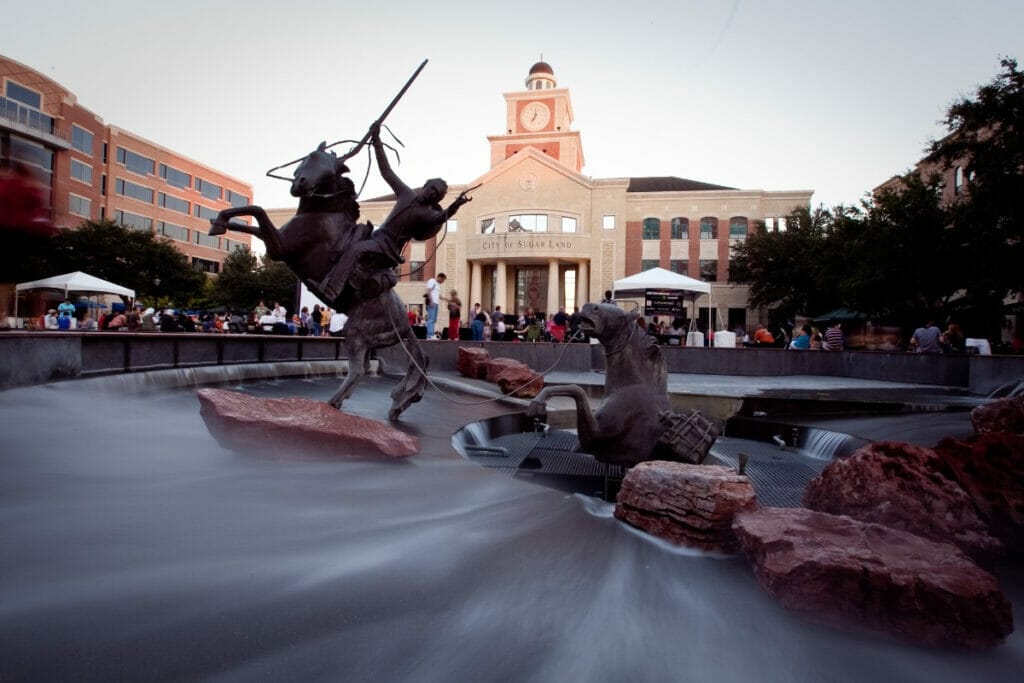 Just twenty minutes from downtown Houston, Sugarland is close to all the big city amenities but friendly like a small town!
Full of family friendly recreation, this is a day trip for making memories!
Explore the outdoors at 750-acre Cullinan Park, drink and dine on amazing food options and enjoy live music at Sugarland Town Square, take in a performance at state-of-the-art Smart Financial Center, catch a ball game at Constellation Field, or take advantage of over 30 shopping areas featuring everything from established retailers to small boutiques!
Children will love the Houston Museum of Natural Science at Sugarland, with its saltwater aquarium education shows in the Digital Dome Theater!
Several golf courses and plenty of parks for hiking and cycling provide outdoor opportunities for any preference!
Art and culture, sports and outdoor recreation, shopping and dining, and attractions of all kinds make Sugarland the ultimate Houston day trip idea.
19. Big Bend Ranch State Park/Big Bend National Park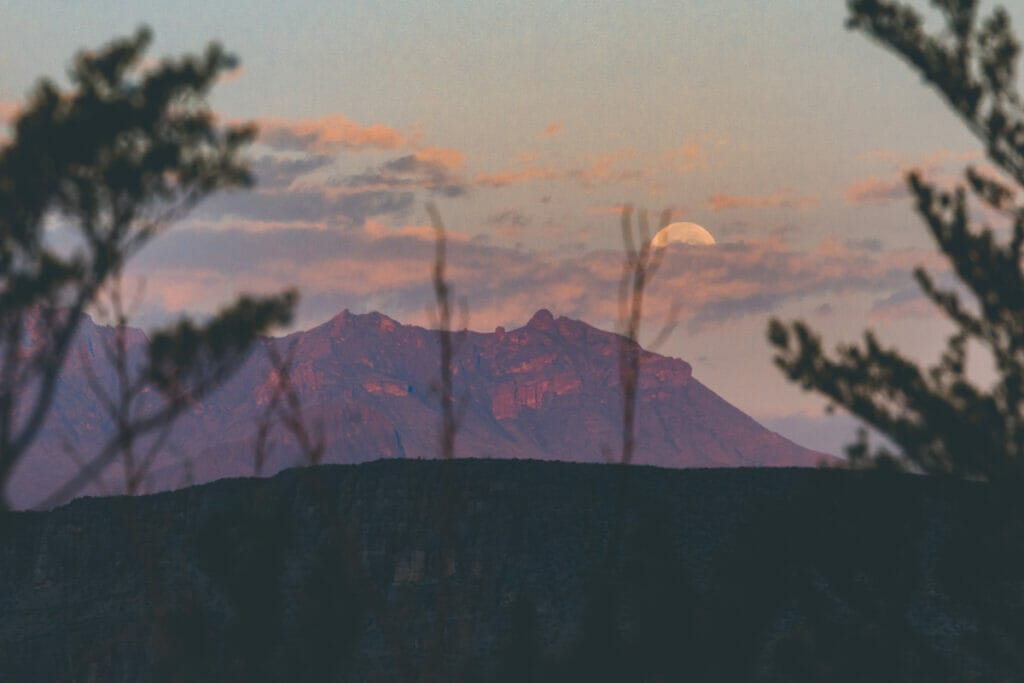 If you're farther west towards Marfa, check out Big Bend Ranch State Park or Big Bend National Park, right next to each other.
Admittedly it's a bit of a drive for a day trip, but doable if you can't stay overnight.
The area is remote and offers breath-taking views of open wilderness.
Roll down the windows and drive through a photographic scene of rugged mountains and the Rio Grande River.
Take hiking shoes for mountain walks, or canoe down the river instead.
Pack for a full day, as you won't find gas or convenience stores easily on this route.
Soak up the sun and unplug for day trip to remember with family and friends.
Day Trips in South Texas
20. Greune Historic District
Placed along the Guadalupe River near New Braunfels is the Greune Historic District, one of the best day trips in South Texas.
With fun for the whole family, this shopping area is a fully restored mid 1800's Texas treasure.
Each shop has its own personality, full of kitsch-y collectibles.
Find your perfect outfit, home goods, paper goods, or gift as you wander through this stylish town.
Taste area wines and beers at The Grapevine, with pioneer style outdoor seating under a canopy of Texas oaks, or grab a banana split with all the toppings at the ice cream parlor.
Catch live entertainment at Greune Hall with some of the best line dancing around!
You can also go tubing down the river if the Texas heat gets to be too much.
21. Natural Bridge Caverns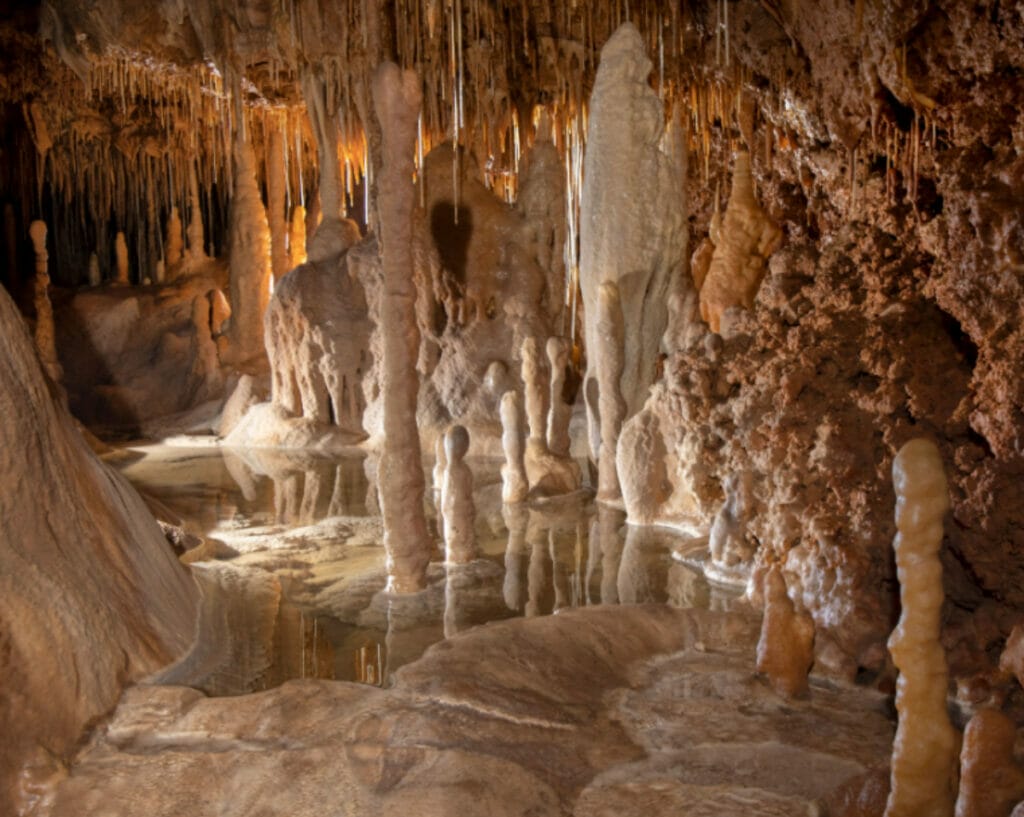 Discover Natural Bridge Caverns, once of the best Texas day trips for families.
Book an underground cavern tour where you'll see some of the most remarkable formations found in America.
The pathway is kept clean and safe, with railings to guide you along the way.
Wear slip resistant shoes to avoid falls in the wetter parts.
Don't miss this extraordinary subterranean experience!
Buy tickets ahead of time to save and consider the Discovery or Hidden passages Tours – or both – for a bit higher price ($33 with just one or $52 for both).
Above ground, there are plenty of other activities to fill the rest of your day like zip lining, ropes courses and a climbing tower.
Book these add-ons with the caverns tickets for reduced rates.
There's also Bracken Cave Reserve nearby, a 3,400-acre protected wild space where bat habitat conservation takes priority.
Outside of San Marcos, surrounding Canyon Lake (known for water sports) are a few places worth stopping by on your day trip.
22. Heritage Museum of Texas Hill Country
Still craving more dinosaurs?
Pull into the Heritage Museum of Texas Hill Country.
Take a docent-led tour history through the Cretaceous Garden and along the aerial walkway.
Count dino tracks and then reset with exhibitions where you can learn about planetology, fossils, Native American artifacts, and even antique farm equipment.
At $5 per person ($4 for little ones), this is a day trip deal!
23. Corpus Christi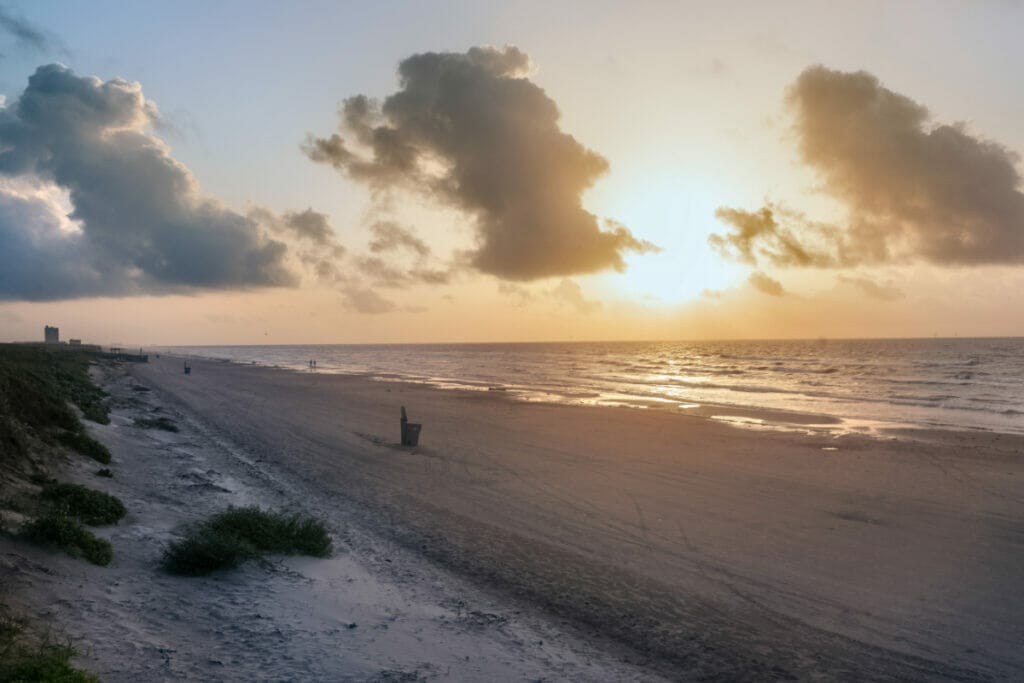 Last, but certainly not least, add Corpus Christi to the list of day trip ideas.
This beach side town has more to offer than a day of sand and sun.
Start at the Texas Aquarium to see loads of sea life, enjoy some splash pad fun, or take a tour to learn more about marine conservation efforts of this family-friendly attraction.
At $39 per adult, you get all-inclusive entertainment.
Fancy something more exciting?
Consider the glowing kayak tours or take in a game at Whataburger Field for a sporty activity alternative.
Even better – see it all with a family scavenger hunt!
Tour companies in the area offer customized scavenger hunts for groups of all sizes ranging from $10-20 per adult, making it the ideal way to getaway for a day.
Happy day trip planning!
24. Boerne
Despite its proximity to nearby San Antonio, Boerne, Texas has kept much of its Old-World charm and German heritage.
A family friendly community with lots to do, people of all types will enjoy a day trip to Boerne!
Culture lovers can begin with a historical walking tour of the city by grabbing a free map at the Visitor's Center.
History buffs will find tons to keep them busy, like the Old Jail Museum, the Kuhlmann-King Historical Complex and the Historic Herff Homestead.
Explorers will love the area's two show caves – Cascade Caverns and Cave Without a Name.
Boerne also hosts many annual events, like the family fishing tournament each June, monthly night hikes, and the weekly Farmer's Market at the Herff.
Plenty of dining options and live music spots make Boerne a great day trip option for kicking back and hanging out!
Don't forget to get your selfie with the Wild Bill statue on South Main Street!
25. Galveston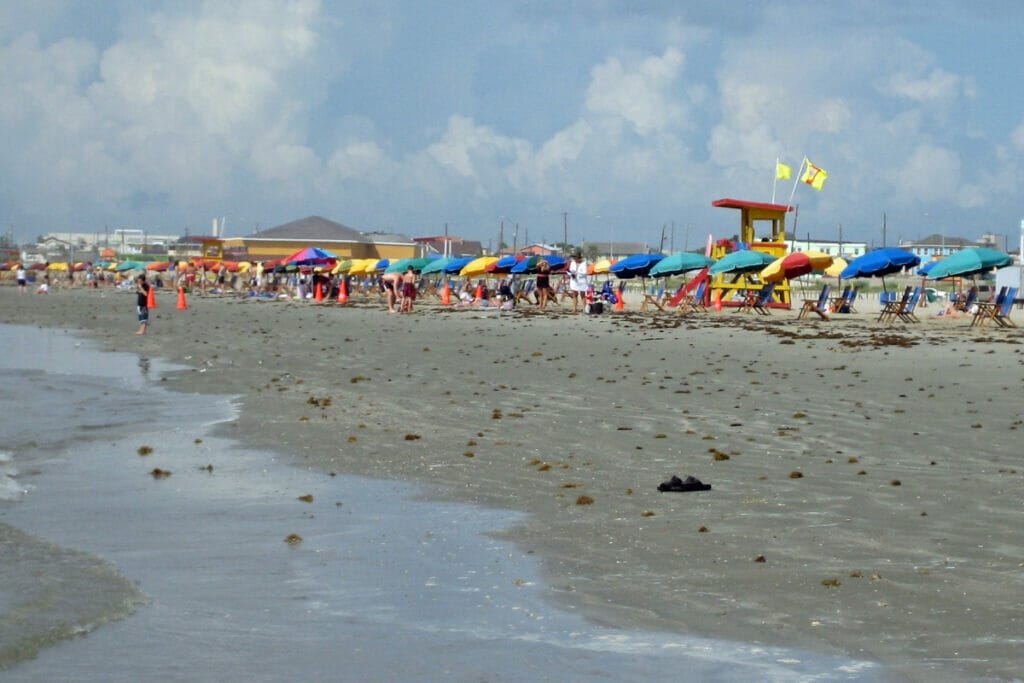 If you want an expertly guided tour with some special friends, check out this Galveston dolphin tour!
Play, dine, golf, and relax at Moody Gardens resort!
Two glass enclosed pyramid buildings house a 1.5-million-gallon aquarium and a rainforest with over 1,700 exotic plants and endangered animals!
Entertain the whole family with the Discovery Museum, 3D and 4D theaters, animal encounters and a 45-minute boat ride on the Colonel Paddlewheel Boat!
Enjoy some adult tee time at Moody Gardens Golf Course, then rejuvenate in the spa!
Fly over water and guests on the pier at Galveston Island Historic Pleasure Pier!
Waterside restaurants, amusement park style rides, family games, live music, and special events draw families year-round!
Hike, kayak, fish, and bird watch at Galveston Island State Park, or enjoy a lazy beach day at Stewart Beach!
Day Trips in East Texas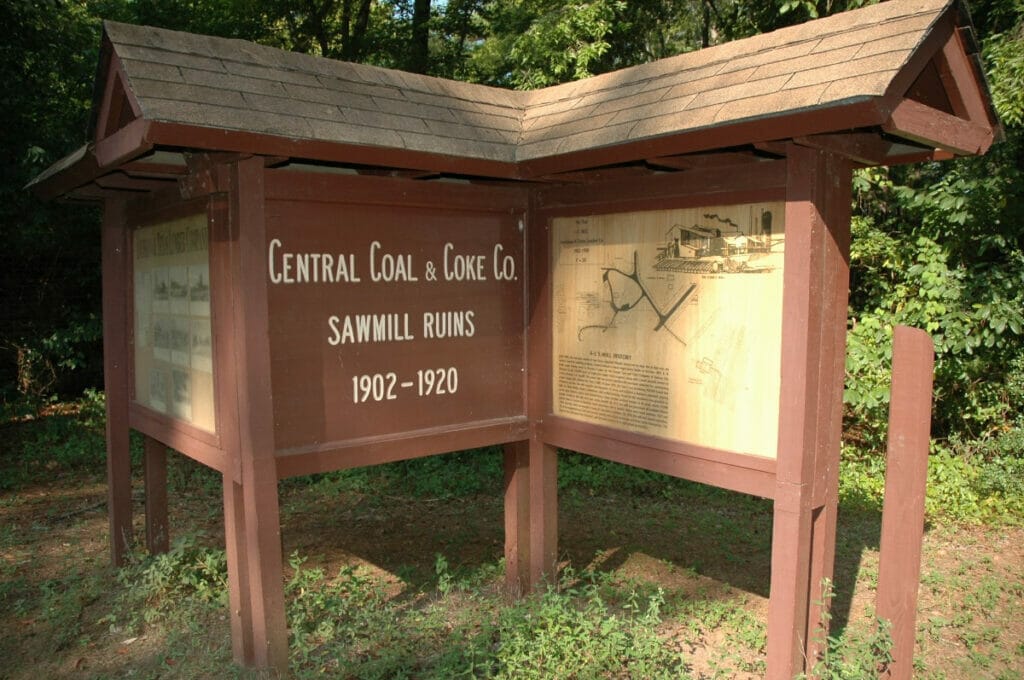 160,000 acres of East Texas woodlands, wildlife habitat, streams and recreation are just waiting to be explored at Davy Crockett National Forest!
Ratcliffe Lake Recreation Area provides areas for picnicking, swimming, boating, fishing and hiking.
Hike the 20-mile-long Four-C National Recreation Trail or horseback ride on the Piney Creek Horse Trail.
Those seeking solitude will love the Big Slough Wilderness Area, free of modern development and the perfect spot for primitive experiences.
Wildlife viewing is abundant here, including the endangered red-cockaded woodpecker which live in a carefully managed habitat within the forest.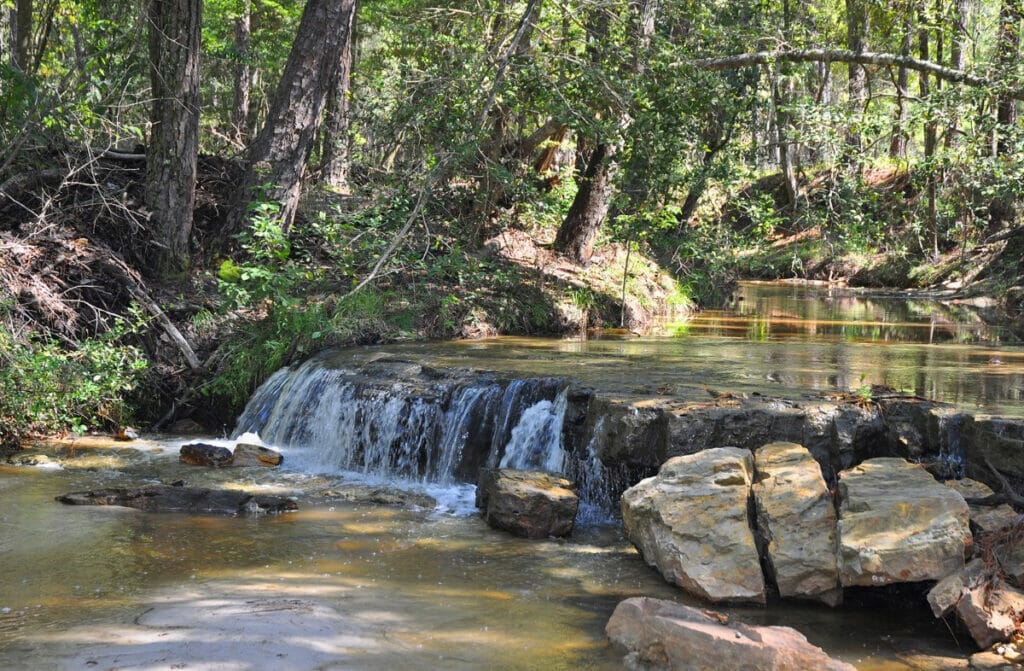 Located in the heart of East Texas, Angelina National Forest is one of four national forests in the state and an absolute utopia for outdoor lovers!
Over 153,000 acres of forest await exploration with mild temperatures that draw visitors year-round.
Fishing, boating, and water sports are popular in Sam Rayburn Reservoir and Bouton Lake.
Two recreation areas, Caney Creek and Sandy Creek, offer places to camp and picnic, and visitors can enjoy the campfire theater at Caney Creek, too!
The 5 ½ mile Sawmill Hiking Trail is the perfect length for recreational hikes.
Wildlife enthusiasts will love exploring the variety of birds, waterfowl, and forest animals in the 20,000 acres of Bannister Wildlife Management Area.
It's the perfect spot to disconnect from the screen and reconnect with nature!
Pin for Later!