Texas is well known for its tourist attractions and destinations, but sometimes you might be looking for something off the beaten path to immerse yourself in!
If quirky or even bizarre is what you're after, Texas has that, too!
When a typical tourist destination just won't do, this list of some of the best hidden gems in Texas will add a bit of the eccentric to your next adventure!
GET A

FREE

TEXAS GUIDEBOOK WITH LOCAL TIPS!
With 71 pages of helpful travel tips and the "best of" Texas lists, this is your ad-free key to your Texas trip.
Hey! Looking for more locally approved Texas guides? Check these out!
How to get around Texas
Everything is bigger in Texas, so having a car will be the easiest way to explore the Lone Star State.
If you're visiting and need to rent a car to get to your Texan activities, we highly recommend Discover Cars where they find you the best car rental deals from all of the competitors (has saved us so much money!).
Click here to check out Discover Cars.
Okay, everyone grab their "Vintage Texas Tees" and let's get going!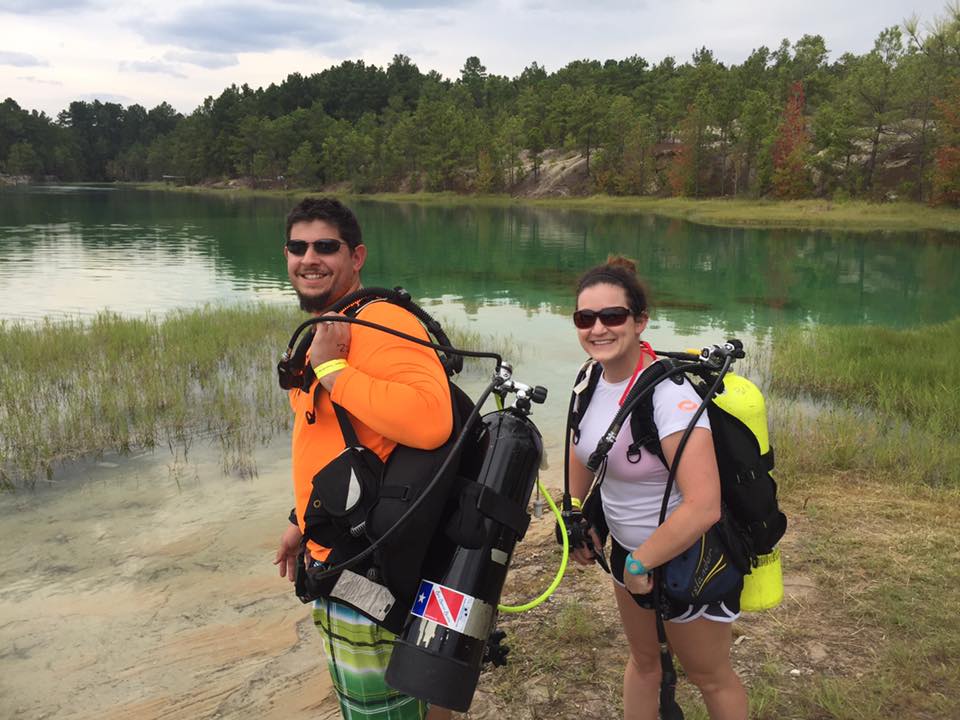 Be transported to a tropical paradise without ever leaving Texas!
The Blue Lagoon, located just 5 miles north of Hunstville, is a secluded swimming hole famous for its clear, bluish-green waters.
Families flock here to enjoy swimming and certified divers can scuba dive here, too, as the waters are quite deep!
Surrounded by natural limestone rock-walls and pine trees, you'll enjoy the serenity of nature in and out of the water!
Friendly staff limit the number of swimmers at any given time which makes for a pleasant experience for all!
But this means you need to show up early, and make sure to have your ID!
At $27 per person, the admission fee is steep.
But you'll get your own picnic table and space to lounge and swim all day!
Shangri La Botanical Garden and Nature Center.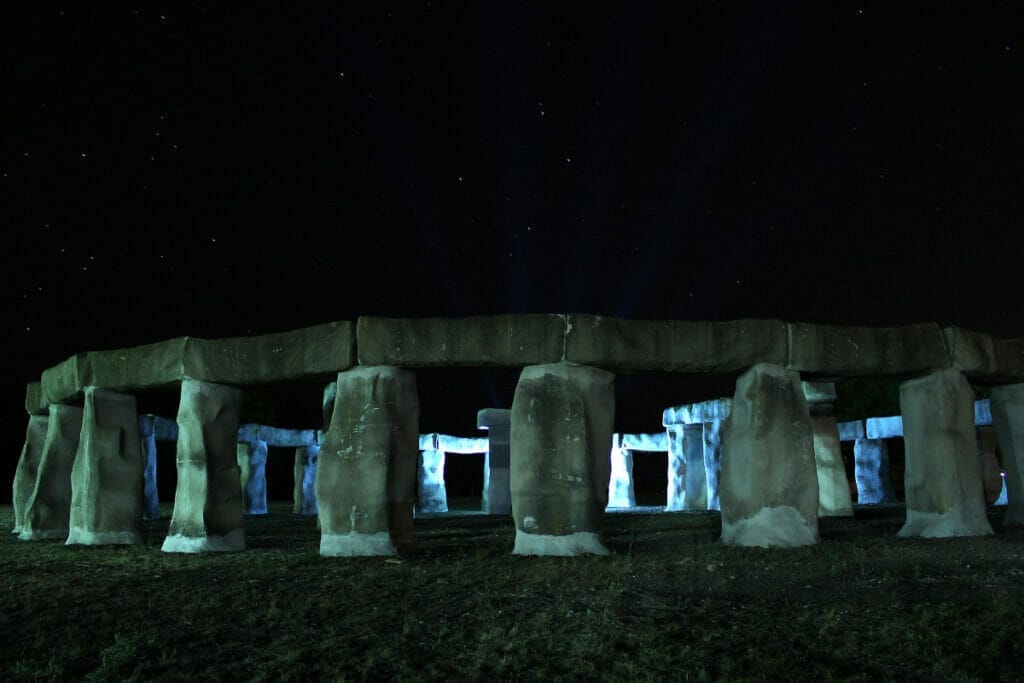 If you can't make it all the way to England to see the original, this smaller-scale reproduction of the famous monolith is worth the drive out to "the middle of nowhere" in Ingram, Texas!
Erected by two friends and now residing on the campus of the Hill Country Arts Foundation, this quirky structure is a selfie seeker's delight!
This is one of the best hidden gems in Texas because it's the perfect road trip destination when you don't have any specific place in mind!
There's a campsite nearby and a café within walking distance, so you can make a day trip or even a weekend of it!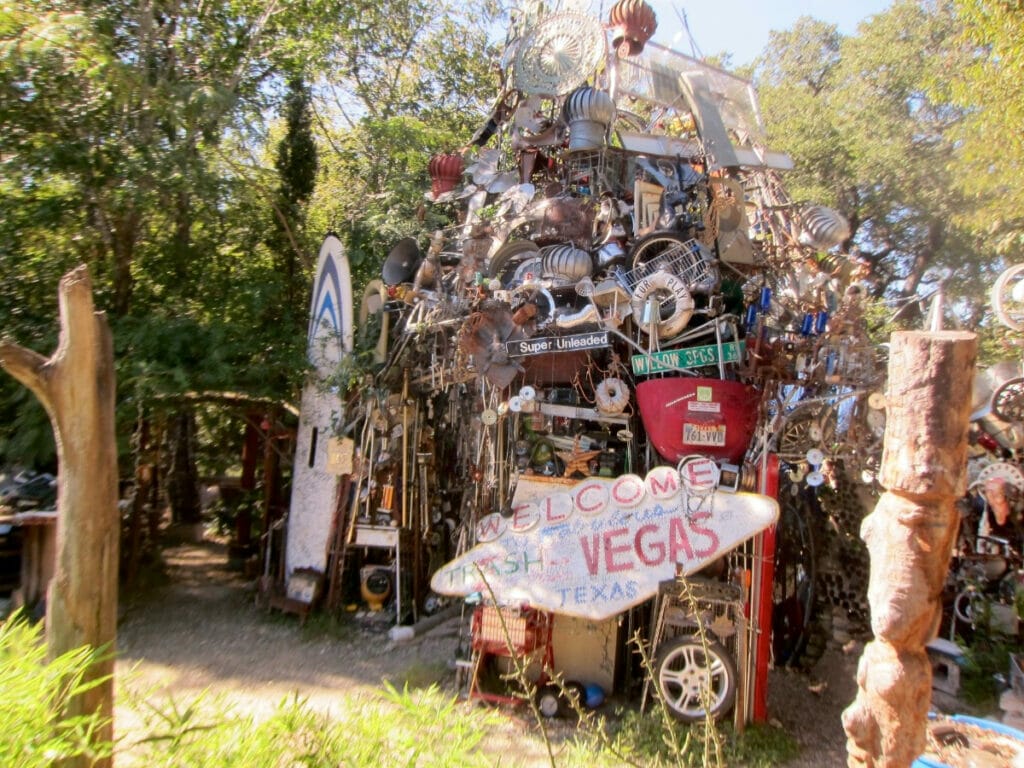 It doesn't get more whimsical and wackier than this multilevel structure made from more than 60 tons of junk!
A unique and memorable backyard experience in an otherwise typical Texas neighborhood, Cathedral of Junk is an unconventional site to be sure!
But there's a method to the madness!
You'll find each item and trinket to be intentionally placed, with a color coordinated main room and even stairs made of tires!
It's an eccentric solution to your thirst for the bizarre!
Just be sure to call ahead to reserve a time to visit!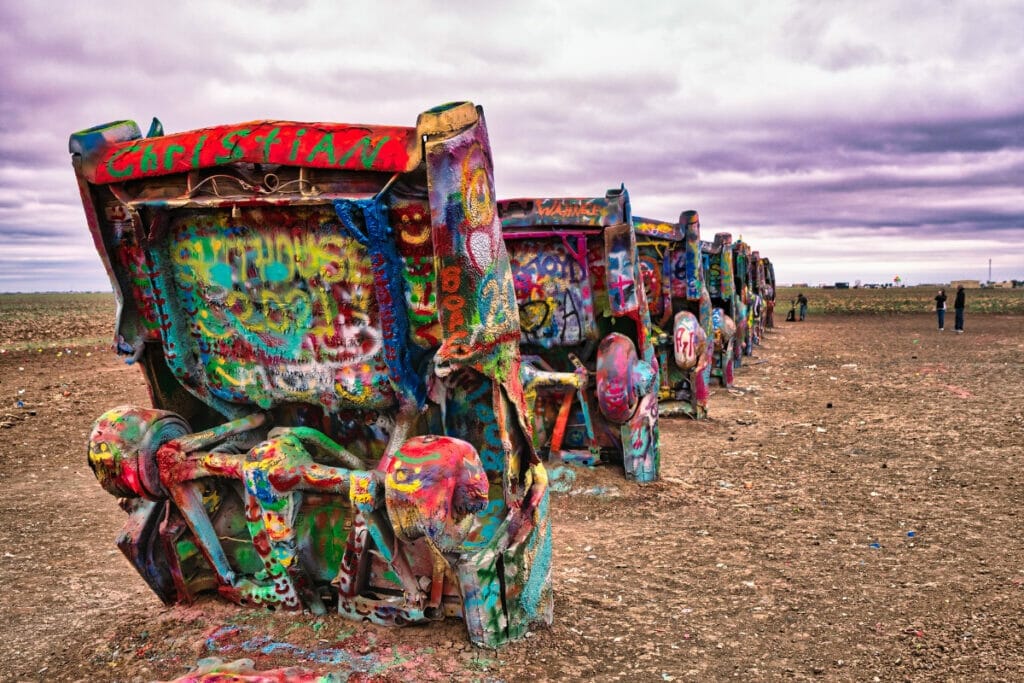 If you ever find yourself driving through Amarillo, Texas, add this public art installation to your list!
A quirky collection of half-buried vintage Cadillacs covered in graffiti is just the thing to brighten up a monotonous drive!
You can even bring spray paint and leave your own mark!
And visiting is free!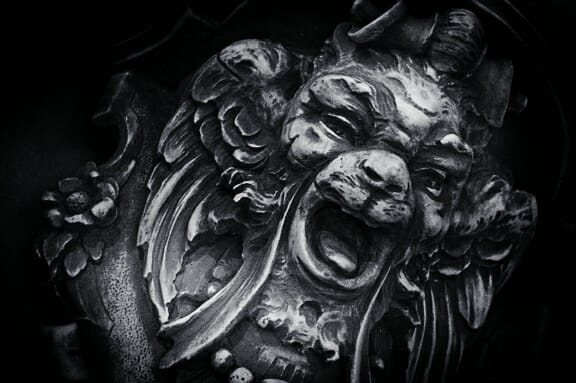 When you're looking for something a little more unorthodox than the typical tourist sites, Museum of the Weird has you covered!
An array of curious oddities laid out over three levels covers everything from Big Foot to Old Hollywood to the paranormal!
If bizarre is what you're searching for, you'll find it in this curio of memorabilia and wax figures!
Don't forget to stop by the gift shop on the first floor!
You'll find some one-of-a-kind souvenirs there!
Looking for more off-beat Austin attractions?
Check out our must-do unique Austin attractions guide!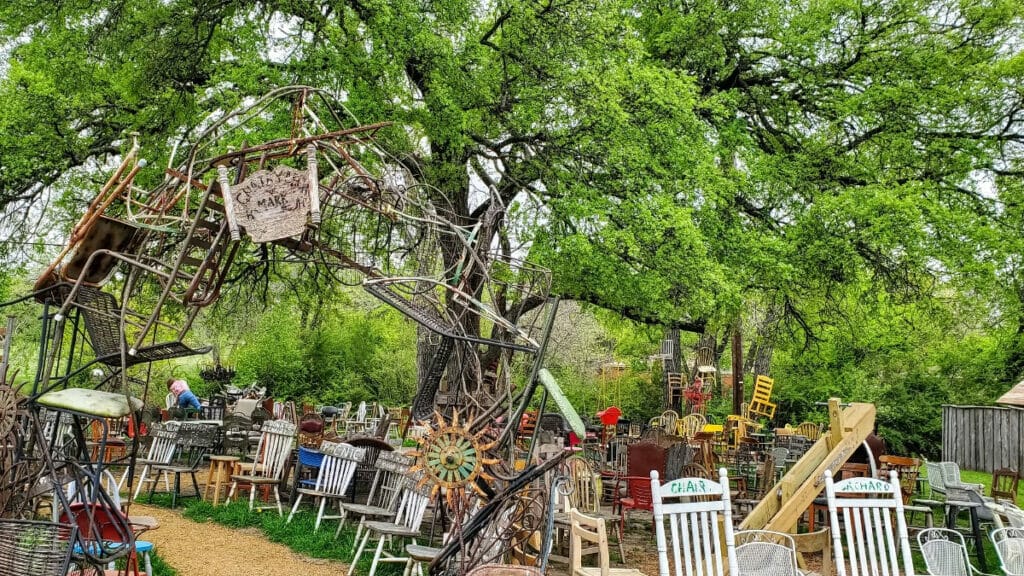 Is it a chair museum?
An art exhibit?
A whimsical display?
Whatever you call it, this eccentric collection of hundreds of chairs is full of fun and puns!
It's a wonderfully weird concept and an amusing quick visit if you're in the area and looking for something just a little different to do!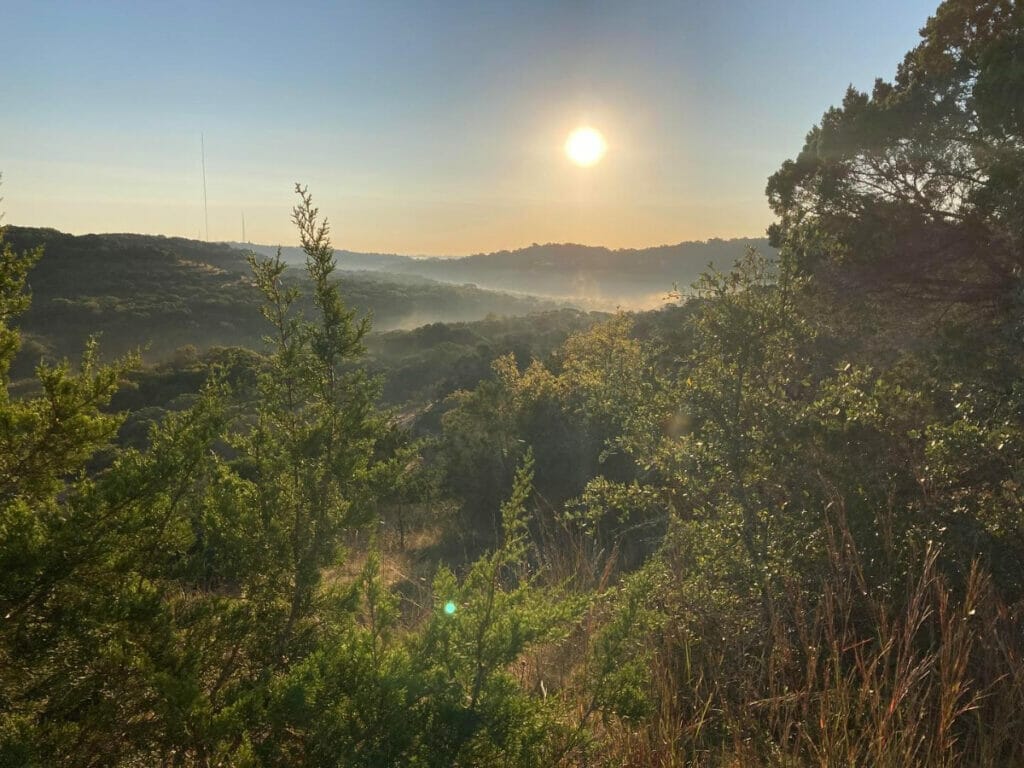 This lesser known, quiet preserve offers shorter trails perfect for families with kids or beginner hikers.
At just about 2 miles, most hikers will find it a relatively easy jaunt, although there are several elevation changes and some steep inclines and declines.
You'll pass limestone hills, creeks and native plants on your way to the small but beautiful waterfall.
Bring your camera as you'll want to capture the stunning scenery at the overlook points!
Admission is free on the weekdays, but there is an admission fee and reservations required on the weekends!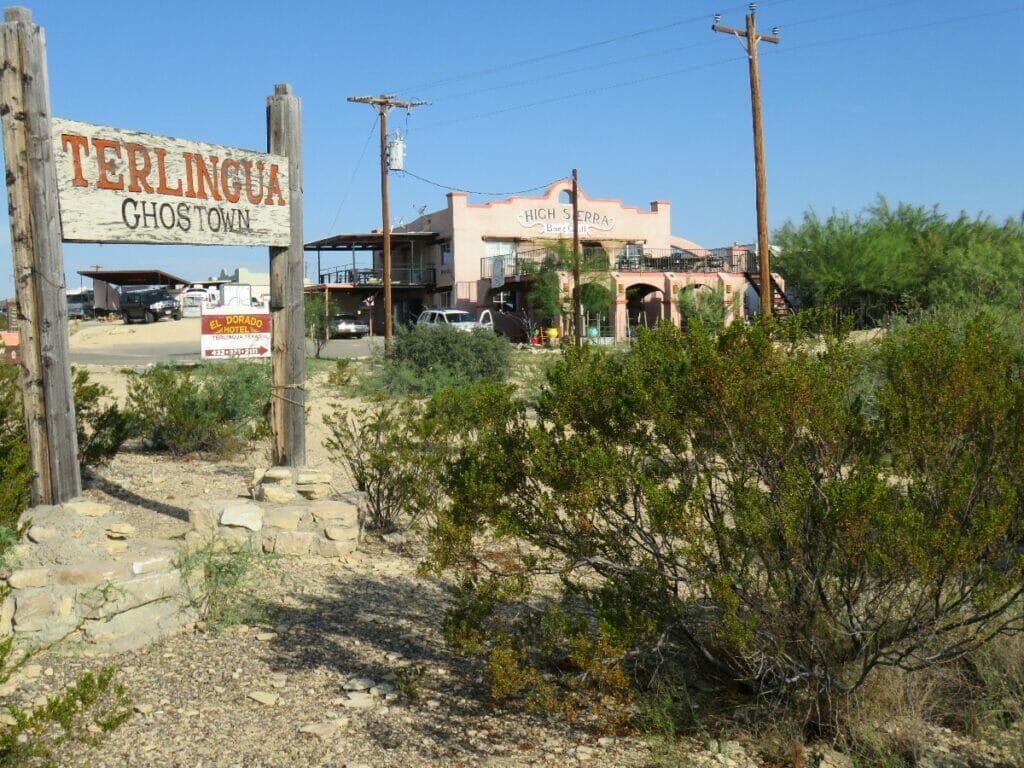 For an eerie adventure, head to the deserted mining town known as Terlingua Ghost Town!
Take a self-guided walking tour through decaying buildings and mine shafts and explore the ruins where a thriving mining operation once stood!
Fit for modern day visitors, there's lodging, a restaurant and even an old-timey theater there now, so you can make a day or weekend of it!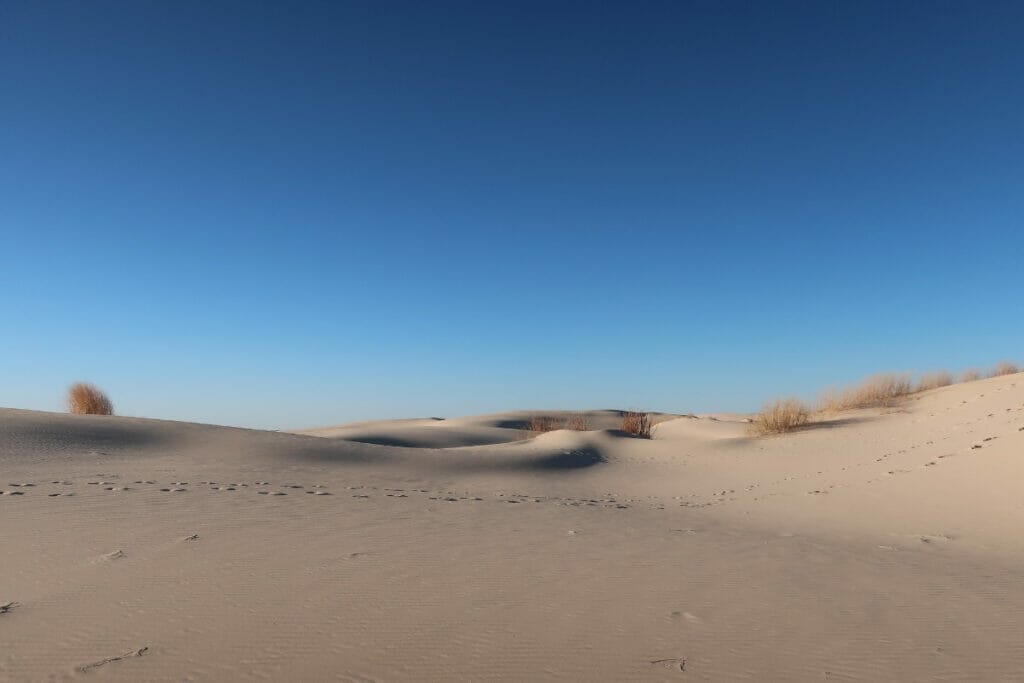 Imagine watching the sunrise standing on a sand dune – just outside Odessa, Texas!
This desert-like state park boasts 3,840 acres of white sand dunes perfect for sand sledding!
A great location for camping, watch for critter tracks in the sand – you never know what kind of animals will come out for a visit at night!
It's a great place for a family day trip and you'll find convenient picnic tables, too.
Just make sure to get there before 4pm when the visitor center closes if you want to rend a sand sled!
A secluded swimming hole in Texas is indeed a hidden gem!
Tonkawa Falls in Crawford, Texas is just that!
Less well known and less visited by tourists, this natural water area offers hiking along the creek and boulders surrounding the water make perfect jump off points!
When the water dries up in the heat of summer, it's still worth a visit to see the rock formations where the river normally flows!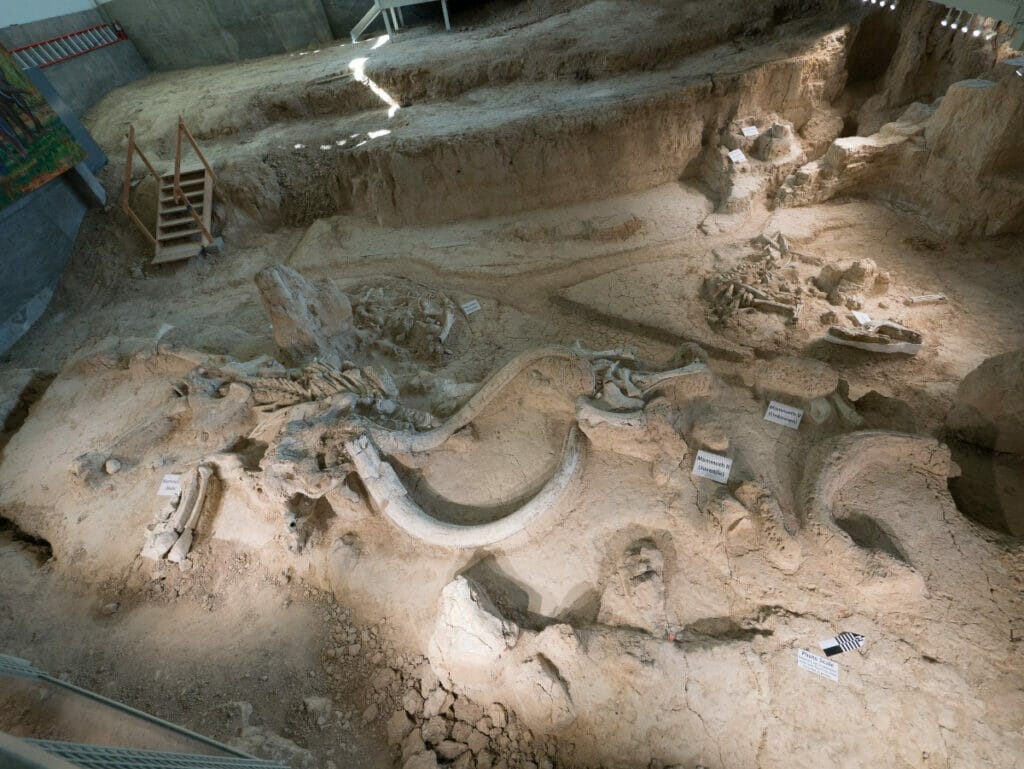 Have an up-close encounter with dinosaur fossils at Waco Mammoth National Monument, a climate-controlled dig site featuring the remains of a herd of Colombian mammoths and other mammals!
Educational and interesting, this one will get the kids excited!
And it's just a short day trip from Dallas/Fort Worth!
You'll see just how big these creatures really were, and little ones can enjoy sandbox digging for their own fossils!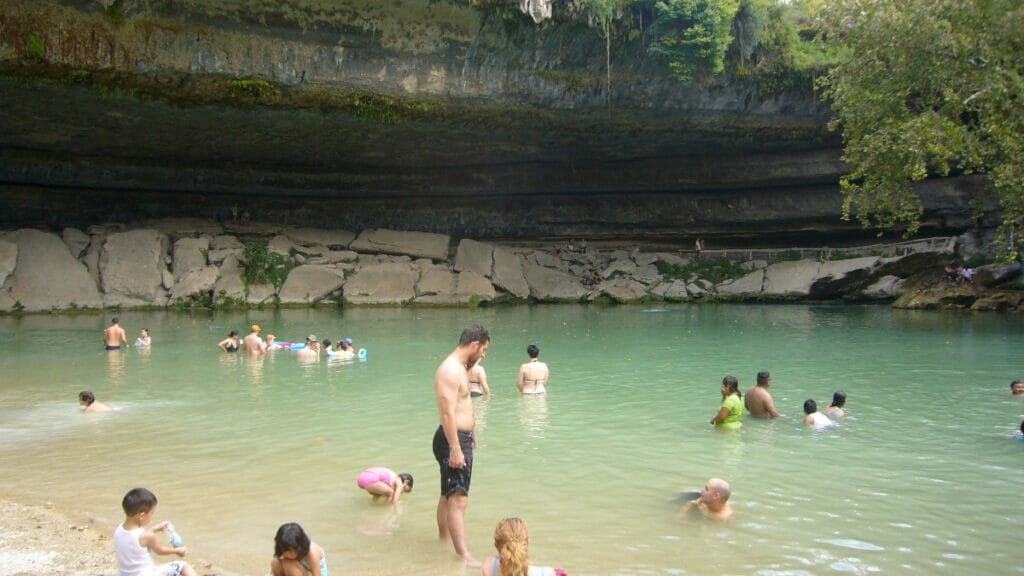 Just an hour outside of Austin you'll find this picturesque nature preserve and waterfall!
Surrounded by trees and just a quick hike through the woods to get there, the setting is magical!
It's a great place to enjoy summertime, and you just might see catfish and snapping turtles in its clear blue-green waters!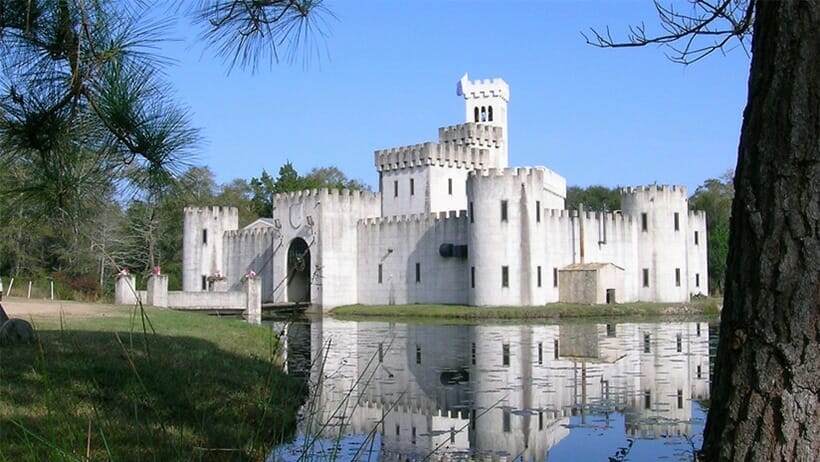 Texas might be the last place you'd think you'd find a castle!
But Newman's Castle in Belville has everything you'd expect, from a working drawbridge you can lift and lower, to the great hall and the bell tower!
There's even a working catapult!
Enjoy an introduction from the castle owner and then free roam on a self-guided tour.
A sack lunch is also included in the price of admission!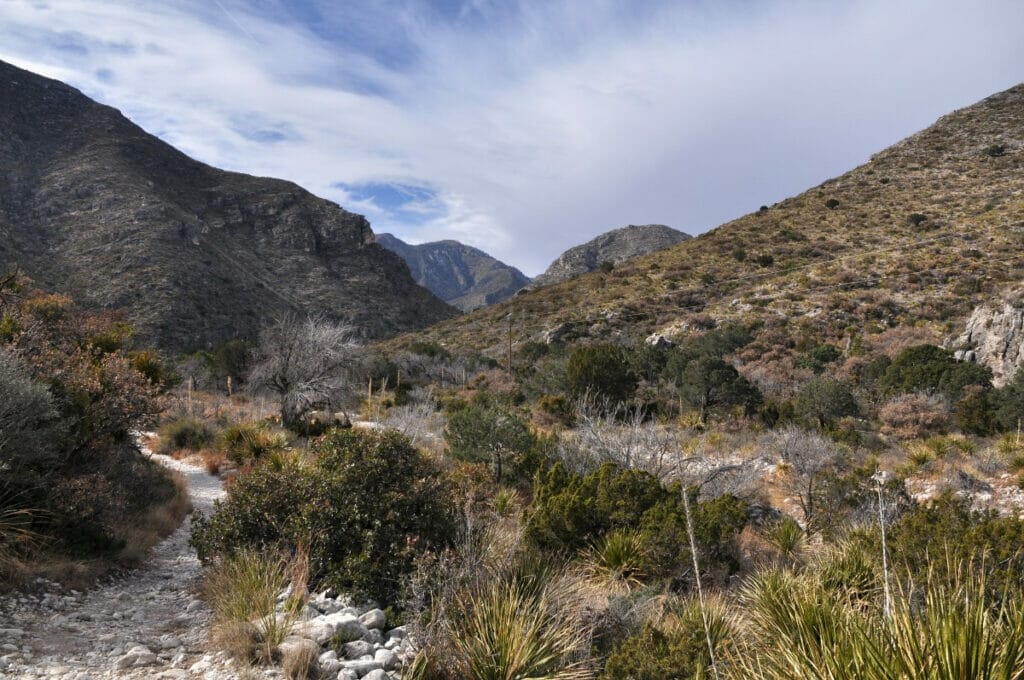 A hidden gem of Texas in Guadalupe Mountains National Park, McKittrick Canyon is a nature lover's dream!
Not touristy like other hiking locations, you'll still find gorgeous canyon views, diverse flora and a great hiking trail!
It's where you go when you want to enjoy the great outdoors unencumbered by crowds!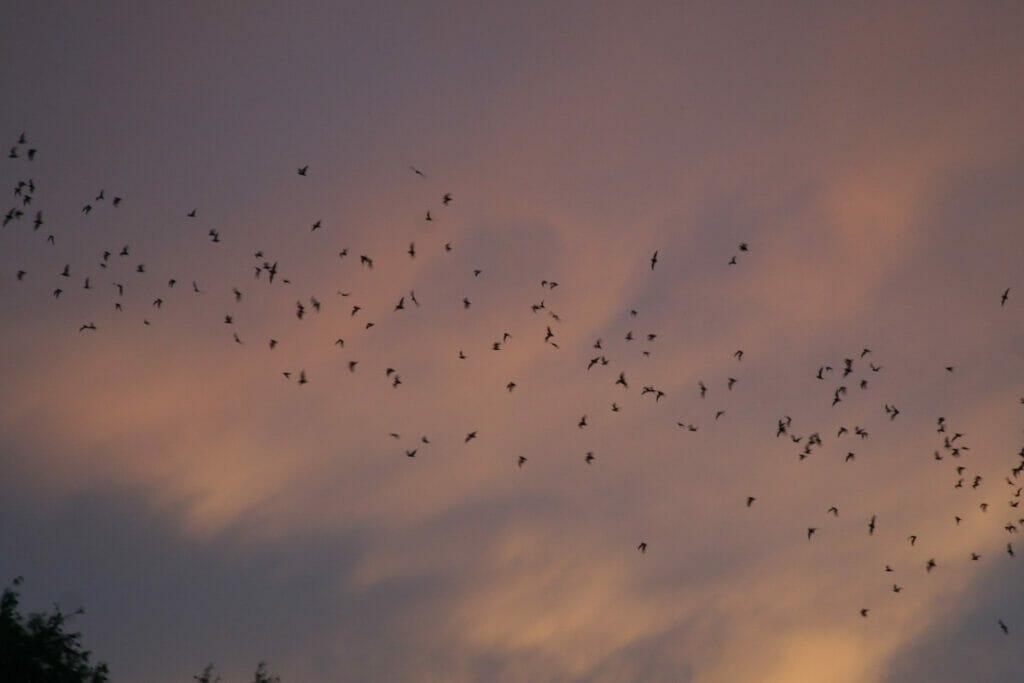 It's not every day that you have the chance to encounter a swarm of bats taking flight!
But nab a spot under or on top of Congress Bridge in Austin in summertime, and that's just what you'll see!
For a more unique perspective, rent a kayak and watch from Lady Bird Lake.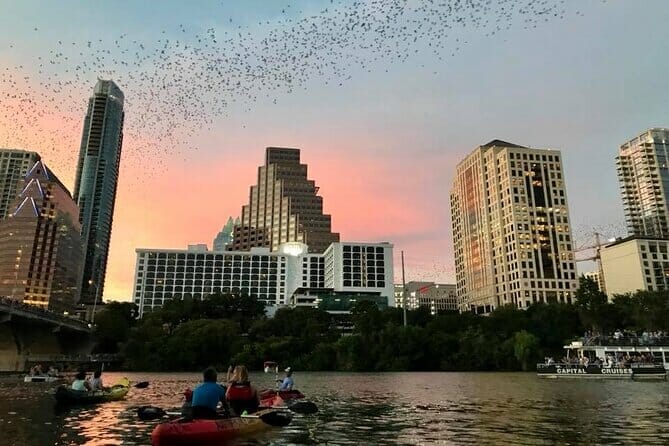 This one of a kind experience is something you'll won't stop talking about!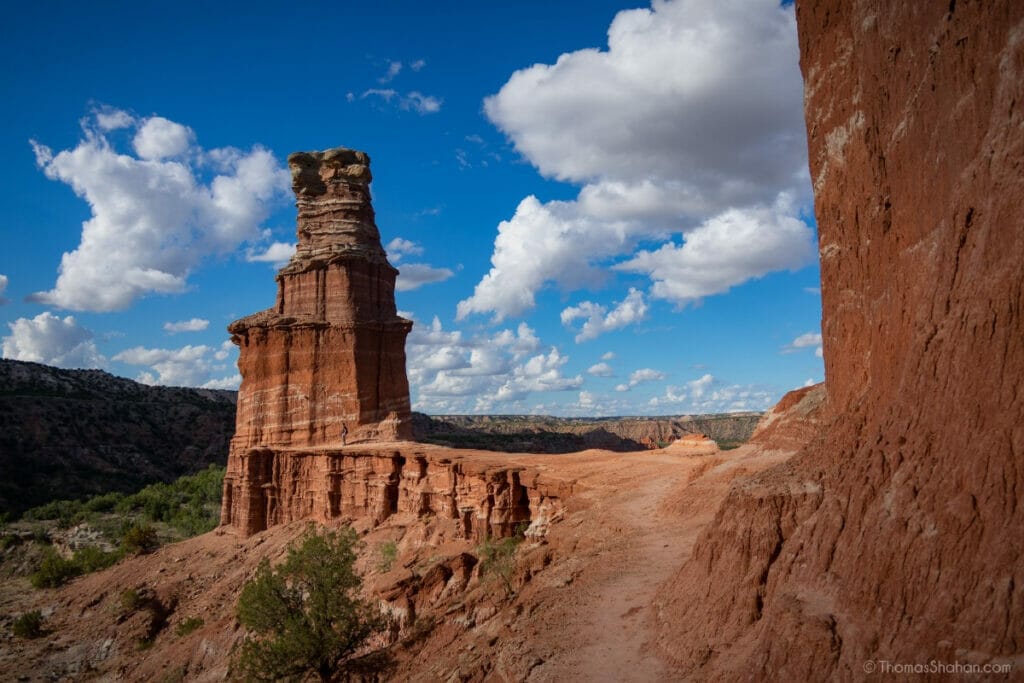 Visit the Grand Canyon – of Texas!
Palo Duro Canyon State Park, located in the Texas Panhandle, is the second largest canyon in the United States with sixty miles of ravine and cliffs that climb 800 feet high!
More than just a hiking, biking and photography spot, there's so much to do here!
Camping, horse trails, ATV tours, ziplining – there's even a musical in the outdoor amphitheater!
You won't be bored at this state park, and that's why it's one of our favorite hidden gems in Texas!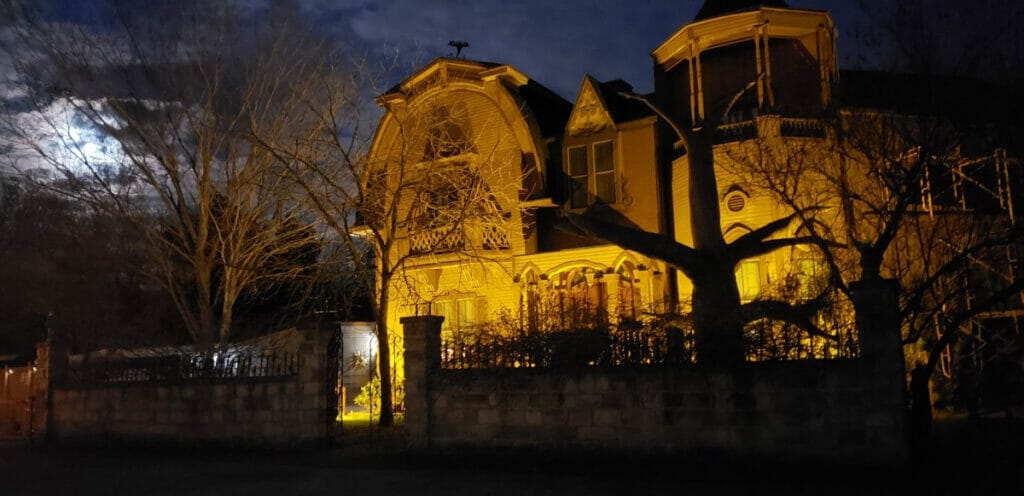 A bonified hidden gem in Texas, the Munster Mansion in Waxahatchie is a must do for fans of the 1960's sitcom The Addams Family!
You'll feel like you've stepped foot on set in this uniquely built replica of the show original!
Open for private tours and even murder mystery dinners, you'll see original pieces from the actual filming set!
Your guide will share lots of history about the show with you, too!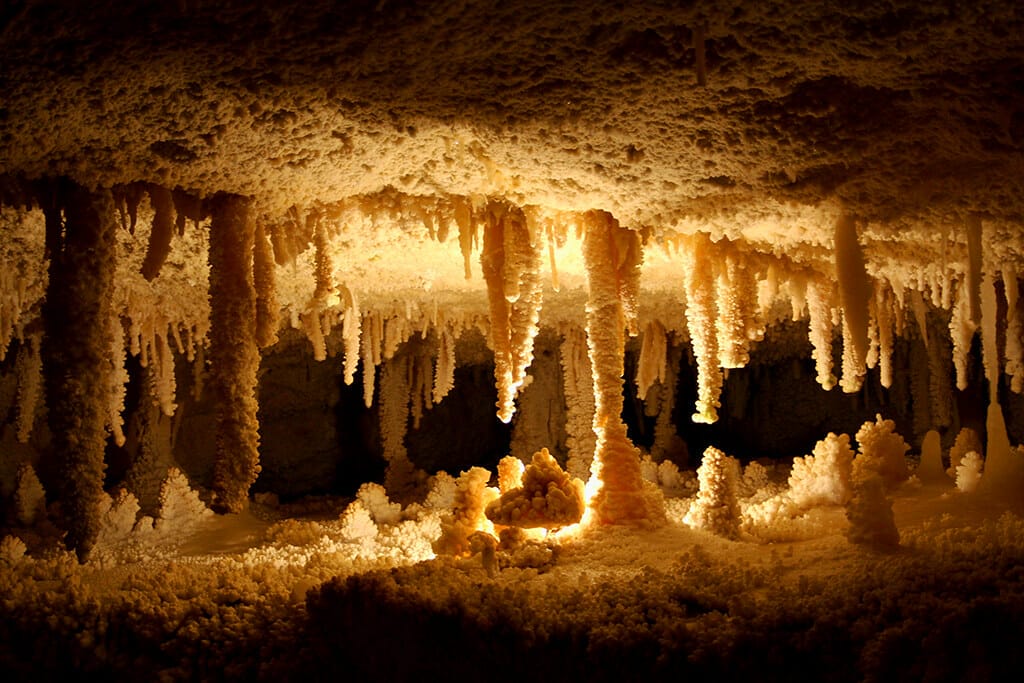 There are lots of options for spelunking in Texas, so why not avoid the crowds and visit this lesser known network of underground caves in Sonora, which is one of the best hidden gems in Texas.
A great day trip from San Antonio or Fort Worth, you'll learn lots of interesting, informative things about the beautiful cave formations from your super friendly tour guide!
These caves bring the wow factor!
You'll want to visit again and again!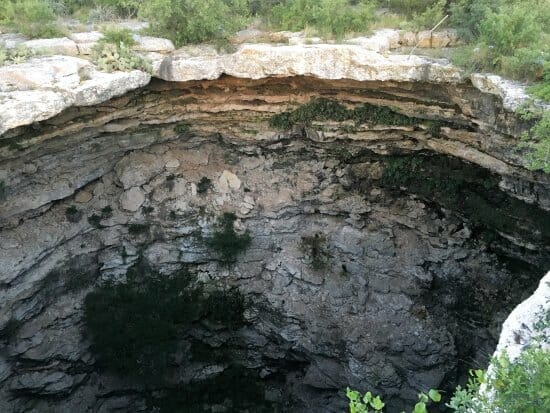 Get away from all the noise in the city and visit one of the largest bat colonies in Texas!
Watch swarms of bats leave their underground home at sunset, preparing for the night's hunt!
Accessible only by guided tour between May 1 – October 31, you'll want to be sure to call ahead and verify tour times before you venture out!
With a name like The Devil's Sinkhole, the experience is bound to be epic!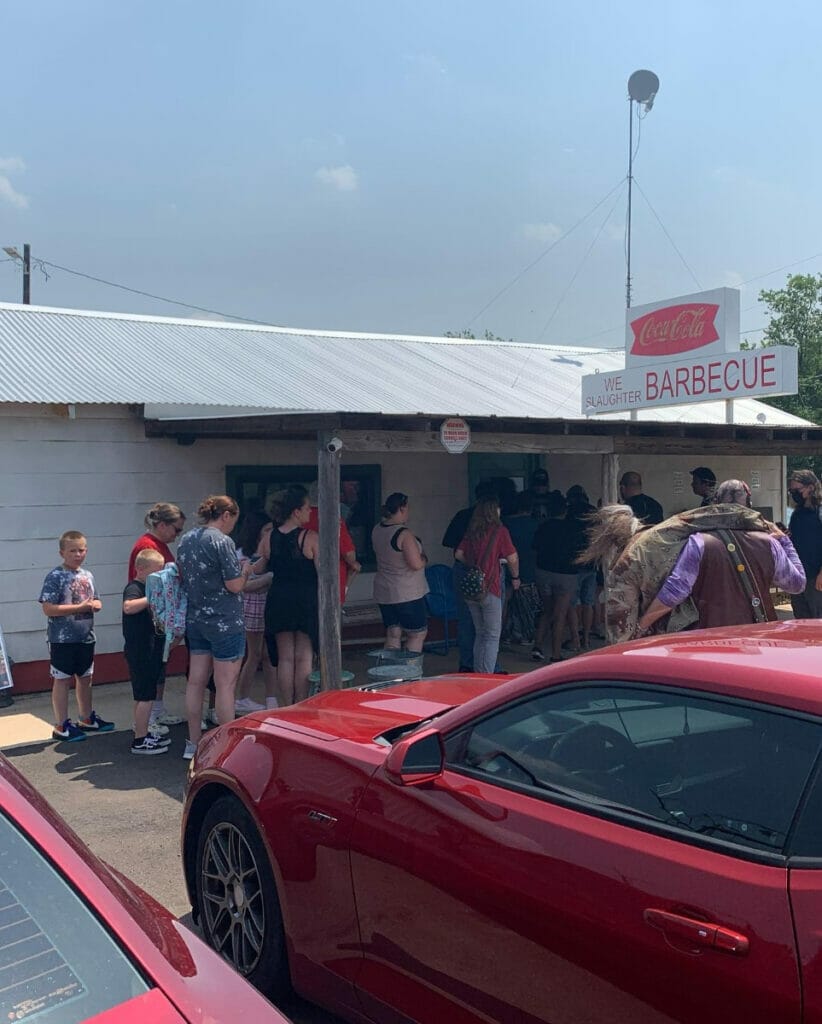 This former horror movie filming location turned barbecue restaurant is a treat for fans of gory movies!
Movie memorabilia from the Texas Chainsaw Massacre is scattered about the restaurant, and the gift shop has horror themed merchandise, too!
But don't worry, the good and food and pleasant ambiance keep it all from feeling creepy!
This attention to detail is what makes The Gas Station one of the best hidden gems in Texas.
Dine at picnic style tables or spend the night in one of the cabins – that is, if you're brave enough!
Tucked away in an Austin neighborhood, Sparky Park is an eccentric junk art public installation originally commissioned to beautify an old electrical substation.
Now home to this whimsical wall made up of shells, glass shards, stone, repurposed hardware and other trinkets, visitors often leave their own treasures in crannies in the wall.
A great place to explore, picnic and relax, it's a must do when visiting Austin!
Unlike Austin's larger public parks, Sparky Park draws far less visitors at any given time, making it a great place to avoid the crowds and find a quiet place in the city!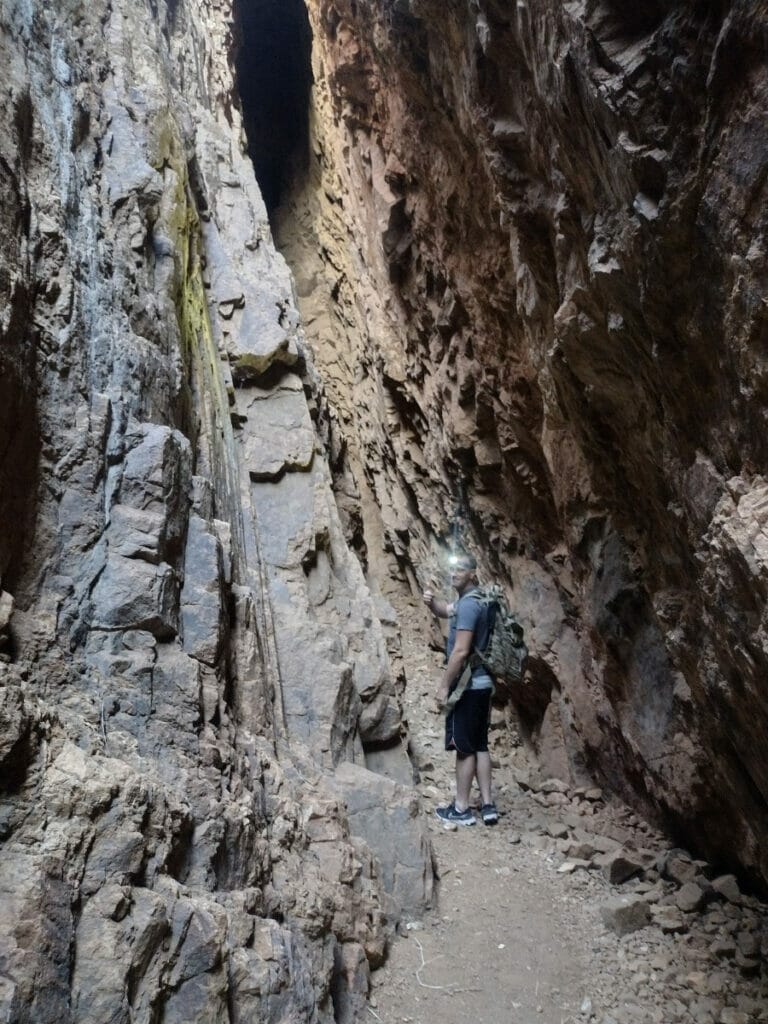 An abandoned tin mine open for exploration is a draw all its own but add in an easy six mile hike to get there and you've got yourself the makings of a great day trip adventure, which makes it one of our favorite hidden gems in Texas.
Hidden away inside the Franklin Mountains State Park, the El Paso tin mines serve up excellent underground exploits!
There's little natural light, so be sure to bring your flashlight!
The hike rewards you with panoramic vistas of the city and state park, so don't forget your camera!
And though the hike to get there is relatively easy, you'll want to have plenty of water on hand, too!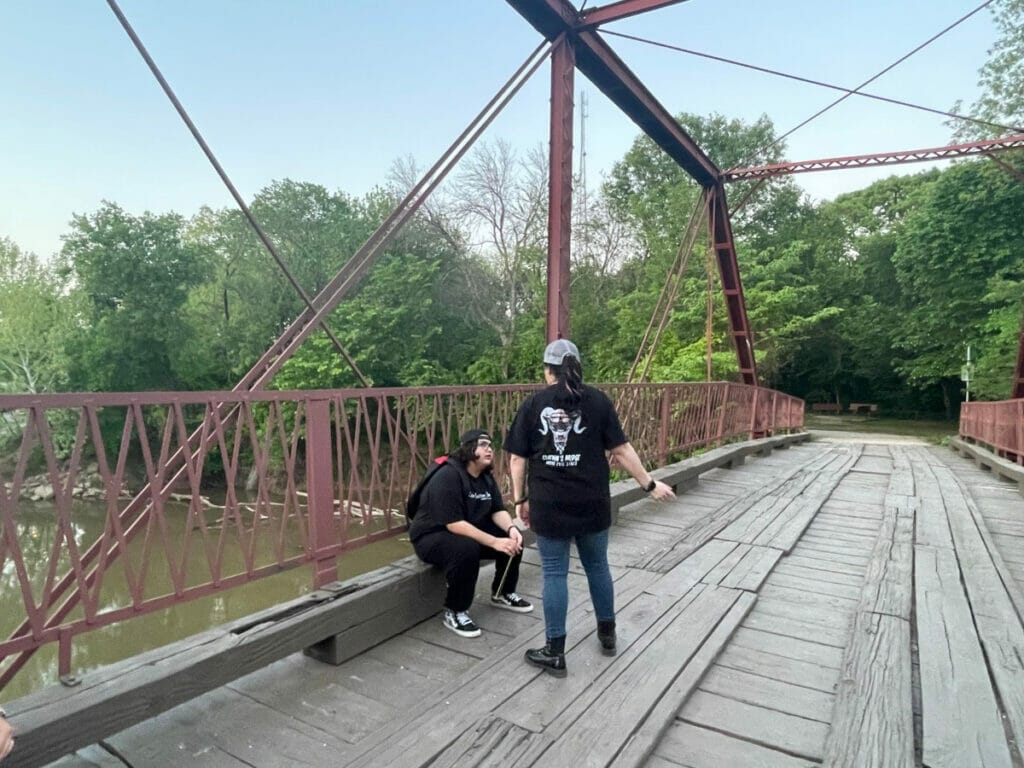 Ghost hunters and lovers of the paranormal with enjoy a visit to this historic bridge!
No longer in use, the old, worn appearance of the bridge heightens the appeal as a site of local ghost lore!
It's a nice walk to get there through Old Alton Bridge Trail, and it's especially spooky at night since there's no lighting on the bridge!
Bring extra steely nerves if you visit after the sun goes down!
Talk about one of the spookiest hidden gems in Texas!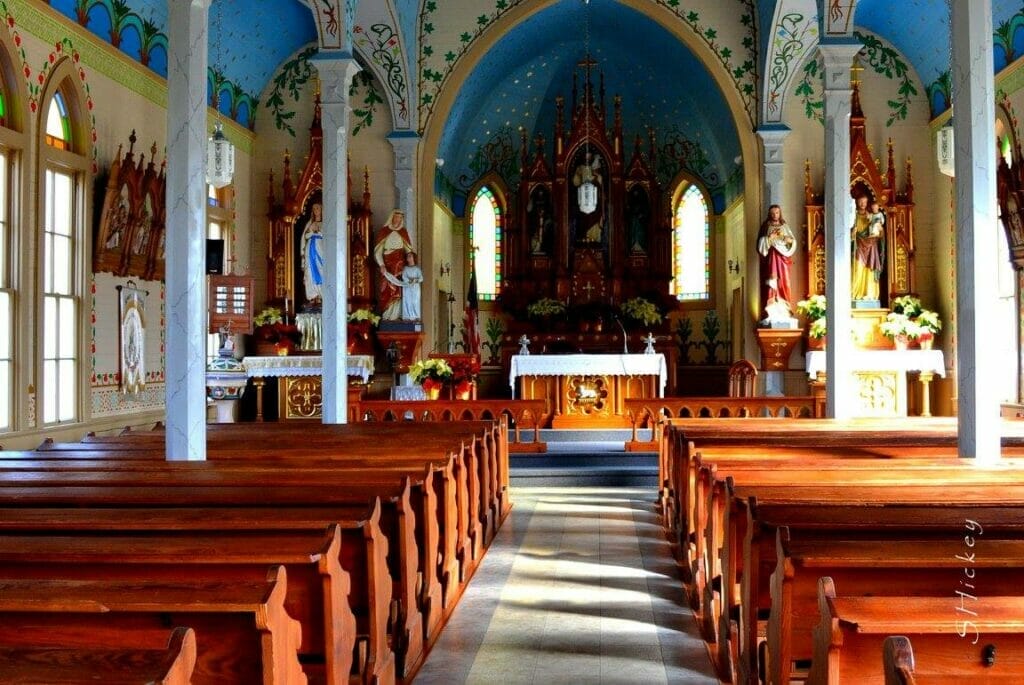 History lovers will enjoy a stroll through the unincorporated communities of Schulenberg, Texas to view the beautiful painted churches of Texas!
Originally built in the Texas Hill Country by German and Czech immigrants in the late 1800's, the churches were decorated like the grand churches of Europe.
About twenty of these painted churches are still standing, and 4 of the most well-known can be found in Schulenberg.
Don't let their ordinary exteriors fool you – beautiful, ornate interiors await you!
And Schulenberg is conveniently located midway between Houston, Austin and San Antonio making it a great option for a day trip!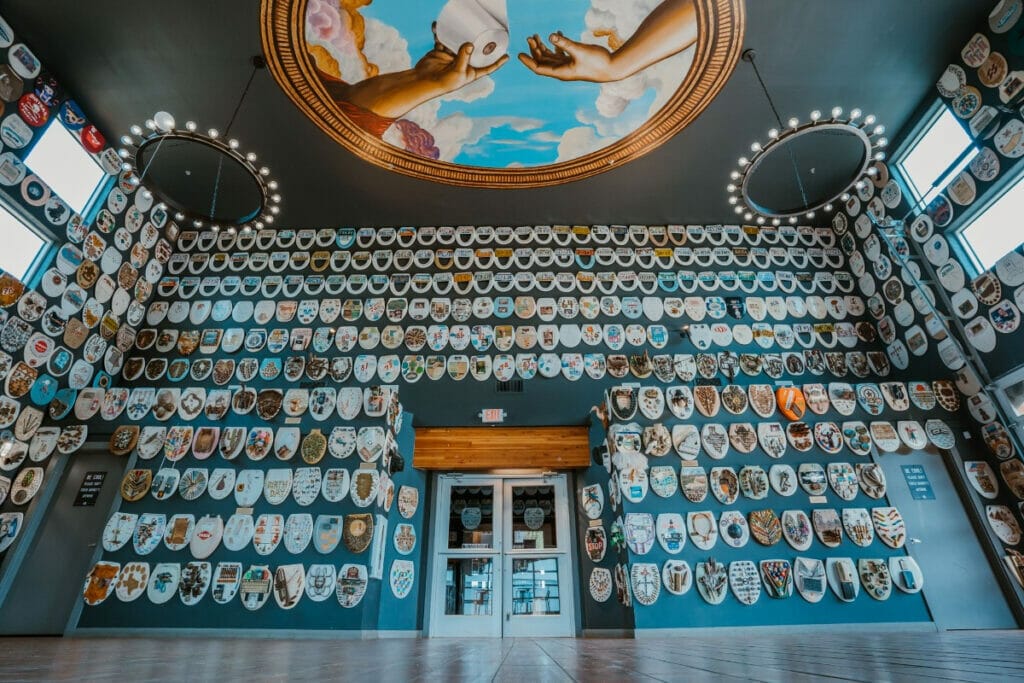 Those with a penchant for the odd and bizarre will love this garage museum of decorated toilet seats!
Certainly something different than your typical tourist attraction, but that's what makes it one of the best hidden gems in Texas!
You can view over 1,000 of Barney Smith's artistic commode covers.
Admission is free but call ahead to make arrangements for a visit.
You can even grab a beer from the bar downstairs and grab lunch at a food truck on your way out!
Pin for Later!