Seeking a luxe royal experience but can't get to Europe to see Medieval castles?
Believe it or not, Texas is a great state-side alternative.
The second largest state in the U.S. has a lot to offer to those curious about history, uncovering mystery, and enjoying a life of splendor like a true royal family member.
Keep reading to learn about Texas's best castles, including palace-like private residences now open to the public, hunting lodges ready for your next party, and even a few castle-inspired surprises for your next majestic getaway or Texas road trip.
Saddle up your steed as you'll be ready to go on a royal tour to palace inspired places across Texas.
Think you'll never be royal?
Think again.
Hey! Want to learn more about the great state of Texas? Check out our other guides:
Love Texas? Love visiting Texas?
Show your support for this great state and get more helpful visiting tips on our Facebook page.
Okay, everyone grab their best vintage Texas tee and let's get going!
1. Bishop's Palace
Let's start in south Texas an hour from Houston in Galveston (one of the best beach towns in Texas), where residential palaces line the streets of the East End Historic District.
Take a walk around this historic neighborhood which sits just a few blocks away from the Gulf of Mexico.
Start at Bishop's Palace, or Gresham House after its original owner.
This Texas sized residence is a stunning famous landmark built in 1887.
The building is now owned and maintained by the Galveston Historical Foundation, representing one of the finest examples of Victorian architecture in the country.
Purchase $15 tickets (under 5 are free) for a self-guided tour of the property.
Join the basement to attic tour on Saturday's, for a VIP view of the gulf from Mrs. Gresham's studio.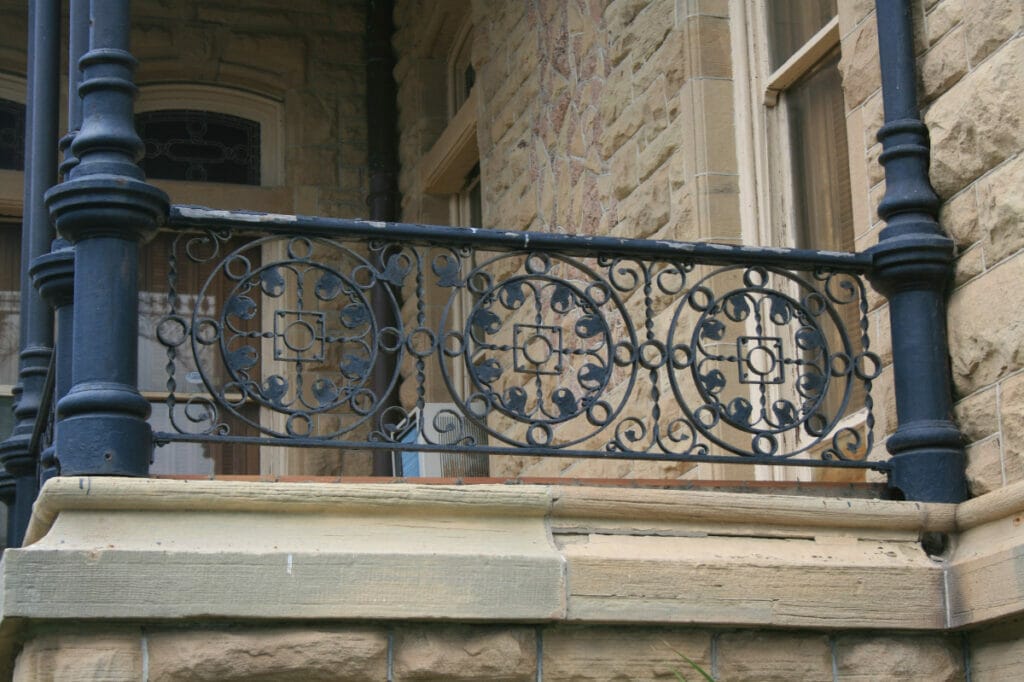 While the building is open daily 10:00 – 5:00, visitors should arrive no later than 4pm.
2. Trube Castle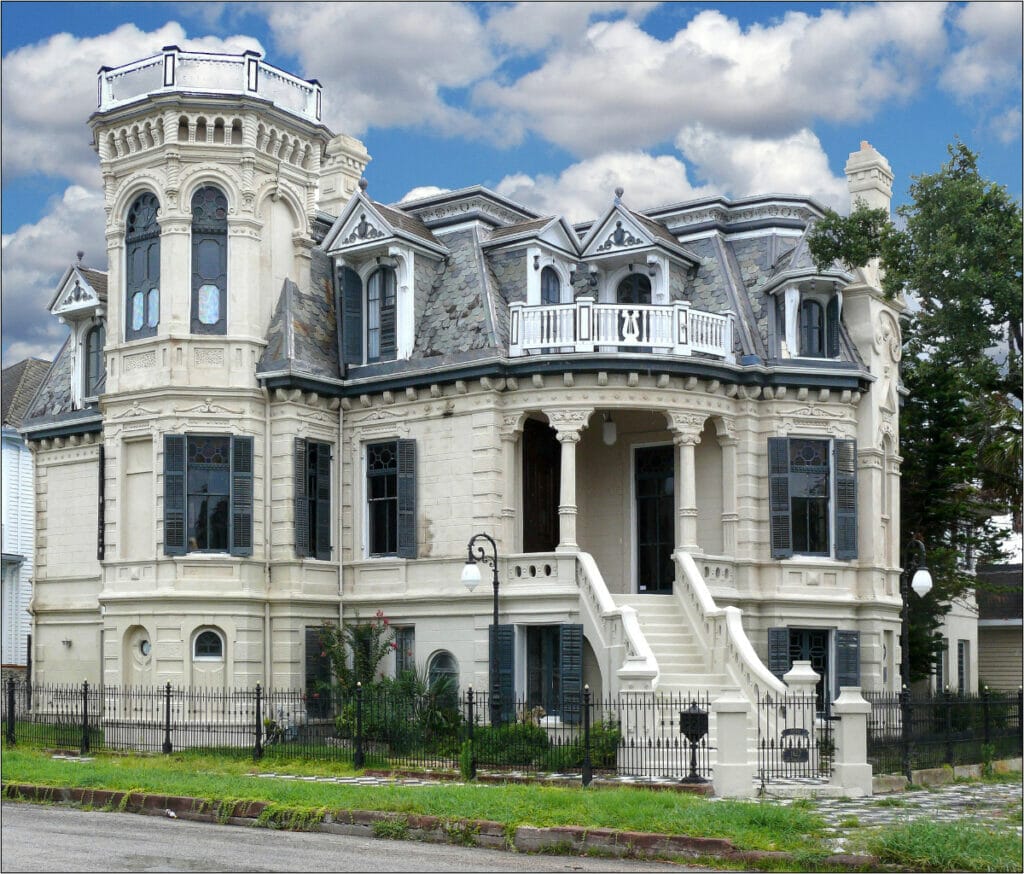 Down the street stands another stately Victorian home called Trube Castle.
Offering a unique glimpse of life in the 1890's, the estate is Danish-inspired, with 32 stained glass windows, 7,000 square feet and 21 rooms – with the best view of the gulf from the observation deck.
Formerly a bed and breakfast but now privately owned, the three-story structure can only be viewed from the outside.
Its original owner was a businessman from Denmark who married a Texas heiress.
This is certainly a home fit for a Danish king and Texas queen.
3. Landes-McDonough House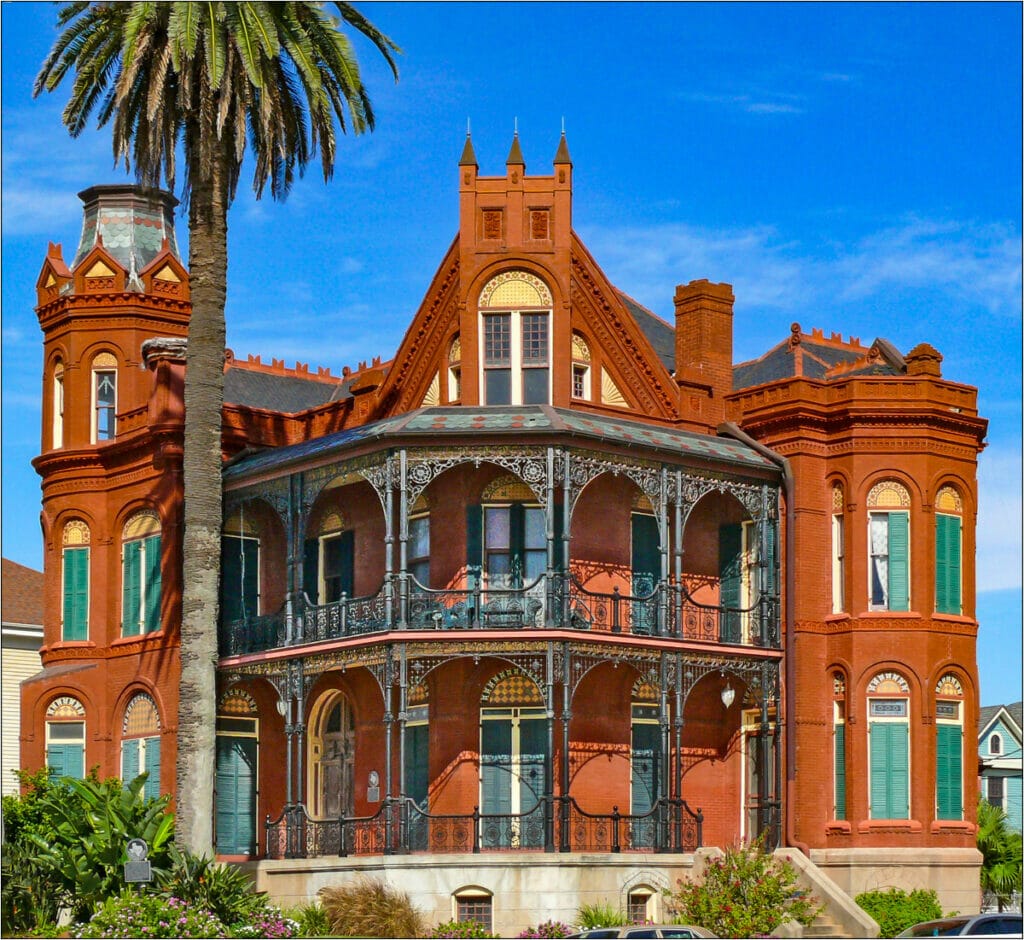 Last, don't skip the Landes-McDonough House, just a short walk away.
You won't miss this stunning castle-like building with its terra cotta brick exterior, ironwork, and Romanesque accents.
Originally constructed in 1888 by a Confederate veteran, it provided a safe house for 200+ people during a destructive hurricane in 1900.
The East End Historic District is full of other Golden Age buildings like these and is definitely worth a stroll to see some of Texas's best castles.
4. Schlitterbahn Water Park & Resort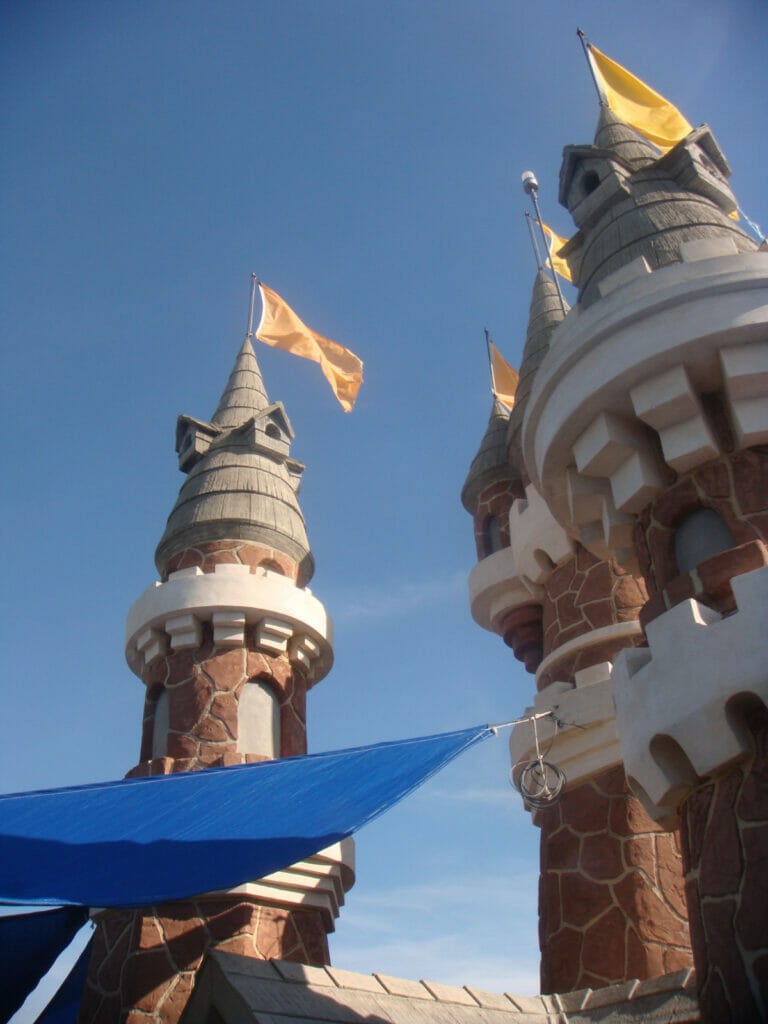 Moving a bit farther north, Schlitterbahn Water Park & Resort in New Braunfels is a summer destination for families with a castle shaped greeting and a fantastic day trip in TX!
Open year round for fun, Schlitterbahn is a must-do destination with river rides, pools, waterslides, and adventures for all ages.
The park is broken up into four sections featuring signature attractions, each with a swim-up bar, not-so lazy river, a children's area and free trams to take you all over the park.
Reference the handy map which explains the unique Ride Rating system, helpful when planning your schedule with people of various thrillseeker levels.
Make the most of your time with a Blast Pass to blast past long lines with a virtual reservation to your favorite rides.
Use the extra time for shopping, enjoying themed food and drinks in your private ca-BAHN-a or planning your evening back at one of the seven onsite luxury accommodations.
5. Capt Charles Schreiner House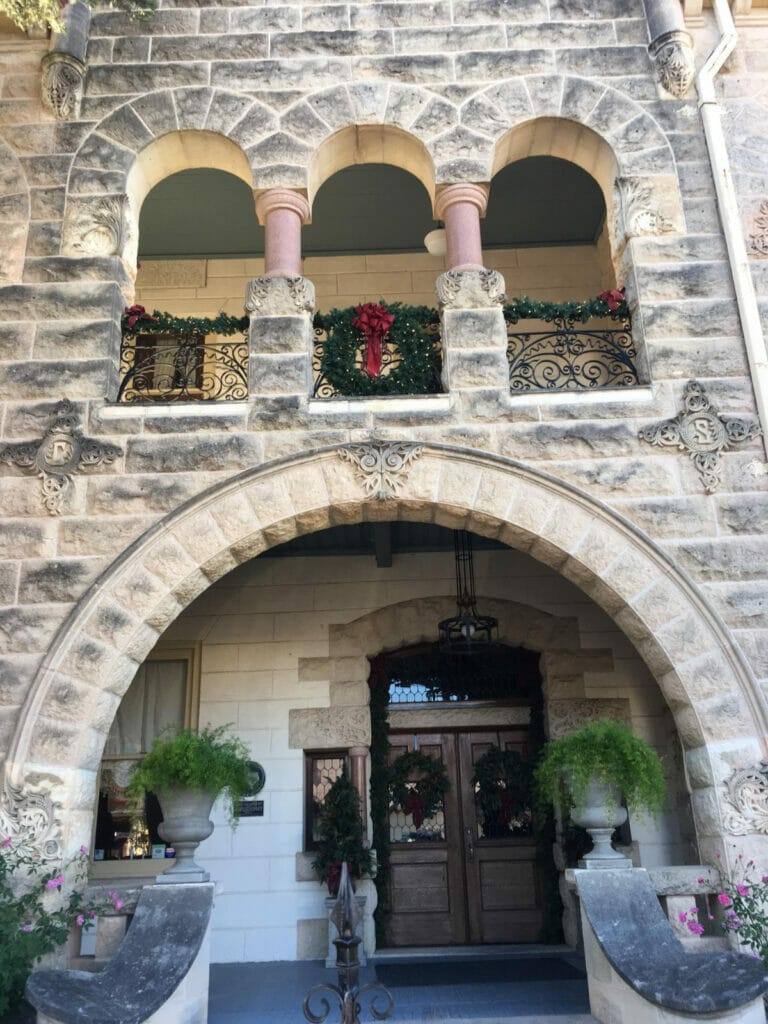 Next, travel to Kerrville for the palatial residence of Capt. Charles Schreiner, a true lone star hero, a descendant of French royalty, who served in the Texas Rangers, then as a Confederate soldier in the Civil War.
Later in life he was a wealthy businessman starting the general store, then expanding into other areas of business including banking, ranching and even opening the first wool and mohair warehouse in the state.
The mansion was built in 1879 with the elaborate wraparound porch added in 1895 to the already distinctive limestone facade, the first in Kerr County.
There are six bedrooms filling two stories, with lots of European elements like arches throughout the facade and pink granite columns imported from Italy.
Today, it is home to the Hill Country Museum, part of Schreiner's University.
It can be rented out for private affairs, or buy a ticket to tour on Tuesdays and Thursdays from 10am – 2pm.
6. Greystone Castle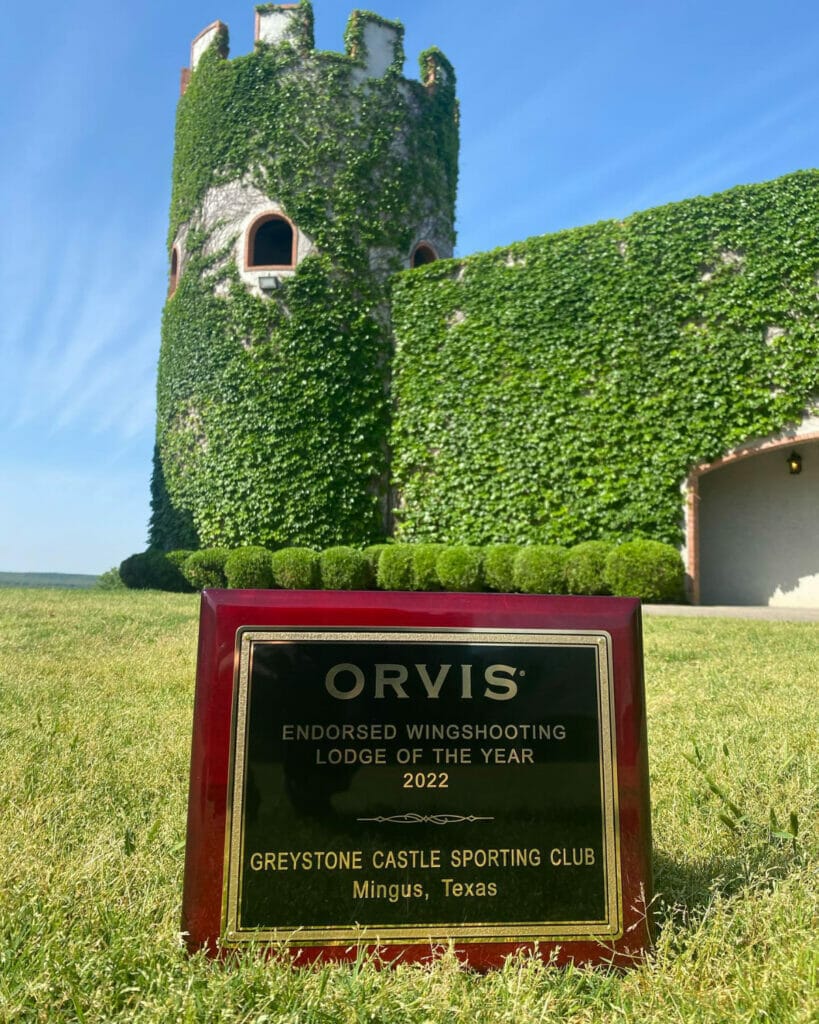 If you enjoy watching the traditional English countryside hunts on shows like Downton Abbey and Bridgerton then you'll love Greystone Castle.
An hour north of Fort Worth, visitors experience a royal retreat in the middle of a sprawling Texas ranch.
It's a true hunter's paradise where guests are out for the day with golf carts instead of horses, following retrievers as they collect game, and return to the castle's dining hall for post-hunt refreshments and cigars next to the oak paneled bar.
For those less experienced you can request a guide and practice safely at onsite practice ranges.
Not into sports?
Take your family, friends ,or colleagues to the site for special events like weddings, bachelor/ette parties, or family reunions.
The facility caters to all groups!
The grounds are most beautiful at dawn or dusk, peering out from the turrets overlooking beautiful grounds where you can see Texas wildlife, even the occasional water buffalo!
7. Spa Castle
Just 25 minutes north of Dallas is the Spa Castle, an all-inclusive alternate destination for those seeking a Las Vegas like experience in the lone star state.
Relax with traditional services like massages, body scrubs, facials, or try something new like an aquabody massage or chromotherapy sauna room that looks like a rainbow lit disco!
Book the wall to ceiling gold infrared sauna room to feel like a princess.
Soak outside in the Mystic Pool grotto, or feel rejuvenated with jets around the indoor and outdoor pools to maximize the Texas sunshine.
Think this is just a destination for your adult friends?
Think again!
Spa Castle has kid friendly pools and the O2 Game Zone with video gaming stations and a theater.
Open all year with packages for special occasions like the holidays, Valentine's Day, Mother's Day and more.
Insiders note the three-drink max rule but give the sushi a regal rating.
8. Elisabet Ney Museum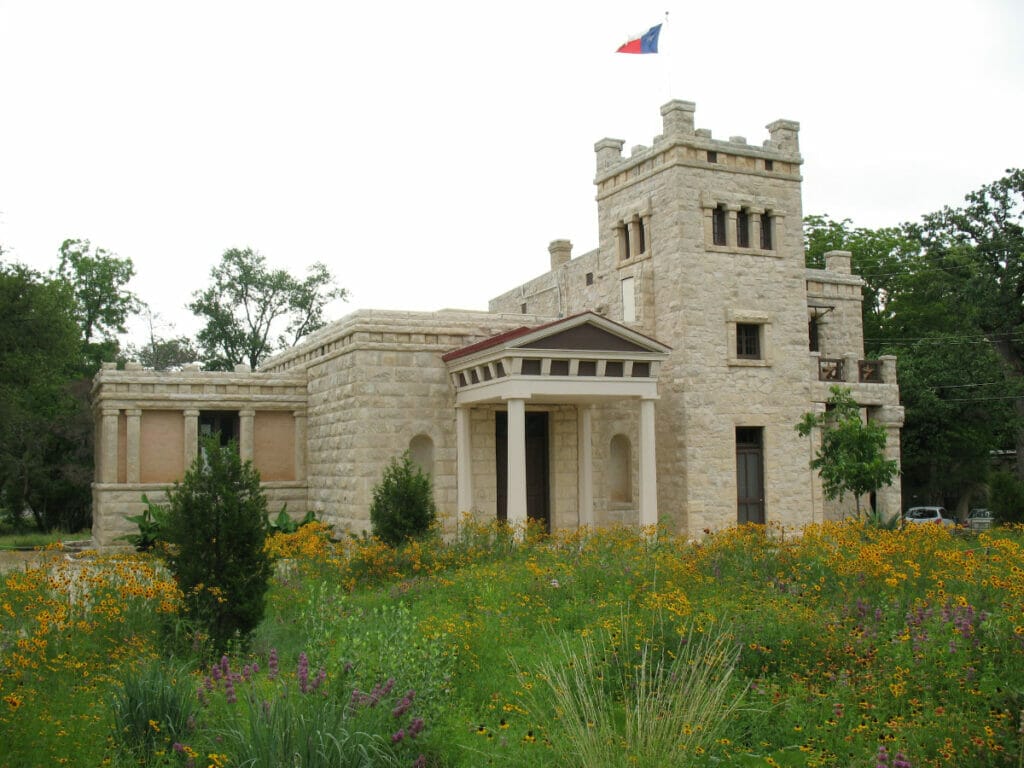 The Elisabet Ney Museum is another castle in Austin (one of the best places to visit in Texas!)
Purchased by the German sculptor Elisabet Ney in 1882, the castle shaped property suited her eclectic style.
Turning it into her art studio, Miss Ney produced sculptures of prominent Texans including Stephen F. Austin and Sam Houston.
She was also a portrait artist known for capturing European royals such as King Ludwig II of Bavaria.
As an early supporter of the women's movement in Texas, and a civil rights, education and arts advocate, her studio became a gathering place known for stimulating conversations in politics and the arts.
Since Ney's passing in 1907, friends preserved the castle and now honor her legacy through a program of engaging public events and exhibitions.
Tour the museum Wednesday – Sunday 12-5pm.
Check the calendar for special community events on weekends.
9. Shelby County Courthouse
The Shelby County Courthouse is one of the best castles in Texas.
Today you can tour it as a visitor center.
It was designed and built by an Irish architect, J.J.E. Gibson, inspired by castles he had seen in Ireland as a child.
Gibson used over 2 million bricks to construct the outside, including the 12 prominent red towers.
Inside there are unique features including ornate fireplaces in the bathrooms and an escape hatch right next to the judge's bench.
Beware of the birds!
Apparently, the building has a history of attacks from winged intruders coming in through the windows, which the architect designed to be shuttered in summertime to keep the inside cooler than the scorching Texas heat.
Notice the outside clock which was non-functioning for several years.
It draws a bit of controversy as the original one-of-a-kind was removed by a judge without permission by the historical society, replaced by the current one with the interesting eagle (some argue buzzard) sculpture.
Don't mess with Texas!
10. Whiting Castle
Now onto a haunted castle best viewed from a distance.
On Lake Worth stands the remnants of the Whiting Castle, abandoned and lying in ruin.
It has a storied past with locals speculating it was a casino with underground tunnels leading to the boat docks.
Then in the 1860's a farmer was due to marry a woman found dead in Lake Worth on their wedding day, with her sister marrying in her place.
Last, in the 1930's a fire and reported suicide of a young man made the castle an even curiouser place.
In happier days, General Dwight Eisenhower and Jimmy Stewart lived onsite while filming Strategic Air Command at a nearby airfield.
As it is now privately owned, you can only view the beautiful remains of the castle from across the lake with its 6,500 square feet and stone farmhouse add-on.
Go on a hike to see this one from a distance.
11. Magic Fun House Castle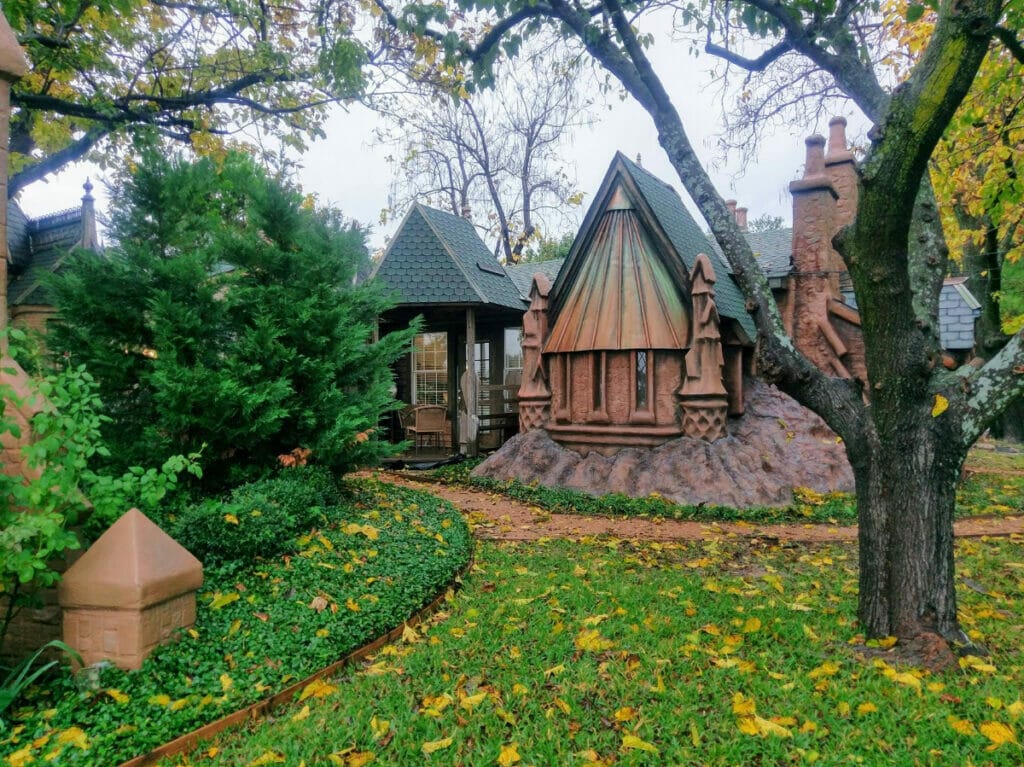 Ending with a fun one, the Magic Fun House Castle!
Plan your visit during Halloween, when the spooktacular activities are at their most enchanting.
Located in Rowlett, the cartoon-esque structure has several buildings and towers with magical displays and artifacts found inside.
One visitor described it as a scaled down version of an enchanting theme park, which sounds like one of the most fun castles in Texas!
Enjoy daily tours, a spooky art gallery, magical musical theater, and a magic store.
Meet the castle's most famous host, Wizard Wayne.
He's quite the character – or is he many characters?
It's a great place for birthday parties and for anyone who appreciates a good magic trick.
Open every day except Monday, there are after hours events for older crowds.
What a way to end your tour of the best castles in Texas!
Pin for Later!