Galveston, a long and narrow island city off the Gulf Coast of Texas, with 32 miles of beaches and about a 45-minute drive from one end to the other, is just 3 miles wide at its widest point and lies parallel to the coast only two miles out.
It's a popular tourist destination for just about every imaginable kind of activity, not only at the beaches (though clearly they are the fabulous draw to the island), it's also considered one of the best small towns to to live in Texas!
It's well known for Moody Gardens towards the center with its glass pyramids, Pleasure Pier on the south shore, Galveston Island State Park with its ideal birding and fishing location and awesome beach on the west, Stewart and East Beaches on the east end, and a myriad of activities and attractions in between!
The Port of Galveston, nicknamed "The Port of Everything" due to their cruise, cargo and commercial business development, is the only home port in Texas and welcomed more than 1 million cruise passengers annually in 2019 and moved more than 4 million tons of cargo.
It's located just north of the busy downtown area, and while they don't offer tours, you'll enjoy good views of the ships during your Galveston sightseeing through Fisherman's Wharf, in the Strand Historic District, or visiting many of the attractions in the area.
Here are 23 popular things to do in Galveston, Texas.
GET A

FREE

TEXAS GUIDEBOOK WITH LOCAL TIPS!
With 71 pages of helpful travel tips and the "best of" Texas lists, this is your ad-free key to your Texas trip.
Hey! Want more expert Texas guides? Check these out!
How to get around Galveston
Like most of Texas, the best way to get around Galveston is to explore on your own by car!
If you're visiting and need to rent a car, we highly recommend Discover Cars where they find you the best car rental deals from all of the competitors (has saved us so much money!).
Don't forget to pack…
For all of your opportunities to hit the beach, don't forget to bring:
Where to stay in Galveston
From renovated VRBOS to boutique hotels, here are the best places to stay in Galveston on every budget!
($) Beachcomber Inn by the Beach – if you want easy beach access without having to splash the cash, the Beachcomber Inn is the place for you! Each room has WiFi, a microwave, and a fridge, and there's an outdoor pool for before and after your beach day. The rooms are clean, in a great location, and great if you want something more simple to save your money for other activities! Click here to check prices and read reviews.
($$) Holiday Inn Express Hotel and Suites – reviewed as the "best 2 star hotel I've ever been to," the Holiday Inn Express Hotel and Suites in Galveston is perfect for families, couples, and anyone looking for a modern hotel at great prices. It's right next to the beach and the location is great for other tourist activities. Rooms are sleek, modern, and well-decorated. Click here to check prices and read reviews.
($$$) Coppersmith Inn B&B – whether you're on a honeymoon or just want a romantic getaway, the Coppersmith Inn B&B in Galveston is absolutely the best place to go. The rooms are dripping with charm, the breakfast is far and above anything you've ever had for a B&B breakfast, and the owners work extra hard to make sure every guest is having the best time in Galveston. Click here to check prices and read reviews.
1. Galveston Island Historic Pleasure Pier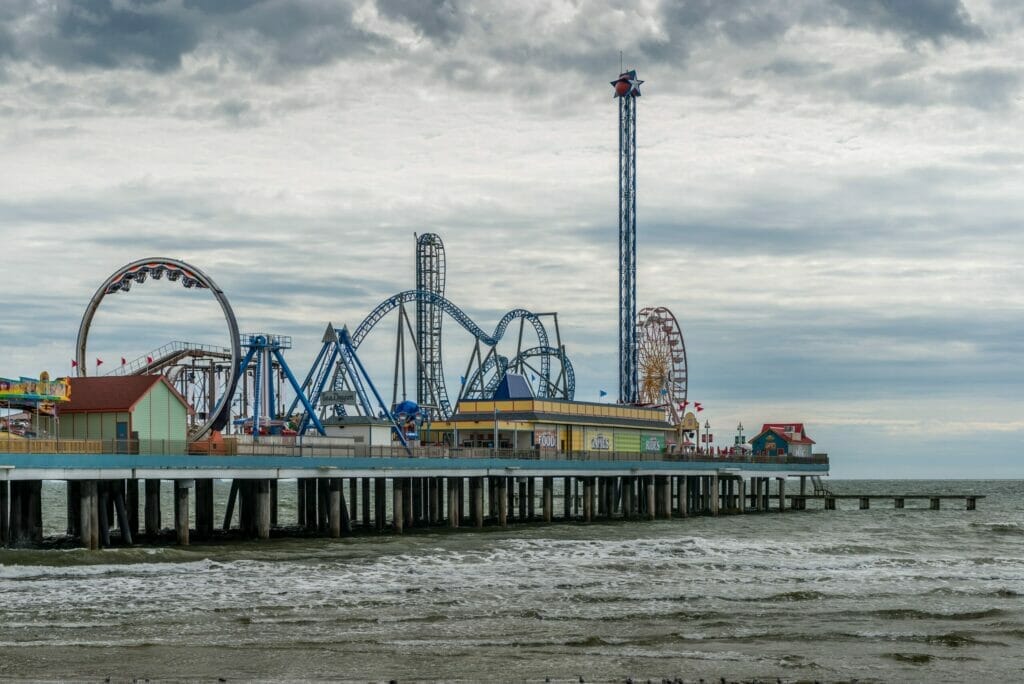 The history, the beautiful seaside views, and the fun attractions jutting out over the water, such as the thrilling roller coaster or watching the sunset from the Ferris wheel are all a nostalgic draw to this fair-like, iconic park.
While its current version opened in 2012, there is a history dating back into the 1940's of its original start, with waterfront fun for all ages, with rides, games, retail shops and food venues, special events throughout the year, and live music.
Set in and around 3 glass pyramids, Moody Gardens has a vast variety of unique attractions and is one of the most popular things to do in Galveston:
Aquarium Pyramid –1.5 million-gallons of water in this aquarium, with close-up views of penguins, sharks, seals, seahorses, tropical fish, ocean exhibits and more.
Rainforest Pyramid – more than 1,700 exotic plant and animal species from the rainforests of Asia, tropical Americas and Africa, with new exhibits, plants and animals, and a visitor center that houses the Garden Restaurant and Dancing Waters Light and fountain Show.
Discovery Pyramid Museum –traveling science exhibits and the interactive theater.
3D IMAX, 4D and Audience Recognition Theaters – special effects as seat buzzers, scent, ocean breezes, leg ticklers, mist, snow and more to see, feel and smell the action!
An Interactive Theater – this interactive Adventure, 20,000 Leagues Under the Sea (currently showing) – allows the audience to participate in decisions, choices and actions as part of the crew in the film.
Colonel Paddlewheel Boat – enjoy lovely views of Offatts Bayou, plus a dinner buffet and cash bar in the dinner cruises.
Dinos Alive, a seasonal Jurassic adventure – get an up-close and personal experience with some of the planet's most feared and amazing creatures, featuring full-size, life-like animatronic dinosaurs.
Ropes Course & Zip Lines – seasonal and weather permitting, the five-tier Sky Trail course is the tallest steel ropes course on the Gulf Coast, and you can take it to another level with a trip on the zip line.
Holiday In the Gardens – seasonally between November and Early January, enjoy amazing attractions in one Venue – Ice Land, Festival of Lights, Ice Skating Rink, Holiday 3D Films, Hotel Packages, Rudolph 4D, Arctic Slide, Train Rides, Star: the Dancing Tree of Light, Cirque Joyeux Holiday Show (Matinee, Evening & Dinner Shows), Pictures with Santa, New Year's Palooza, Holiday Dinners, and Nightly Fireside S'mores
3. Palm Beach
Also part of Moody Gardens, Palm Beach is open seasonally as a popular attraction in summer, with its lazy river, huge pool and massive spa, wave pool, tower slide, spray arches and sand volleyball courts, as well as weekend local musicians to enjoy while floating, eating, or dancing.
Cushy beach chairs and umbrellas available free on a first-come basis to shade you from the sun on the white sand.
With a separate admission fee, discounted to only $1 with a SNAP, WIC or Medicaid card so everyone can play, the Children's Museum's focus is "The Power of Play", filled with entertaining, interactive and fun exhibits and hands-on activities for ages 2-10, and many engage visitors of all ages.
Enjoy a premiere seaside course with a Tropical Feel and nearly 500 palm trees.
Self- or guided tours of a restored 28,000 square-foot, four-story 1895 historic landmark mansion, where 20 rooms are available for visitors.
This is an 1892 historic mansion with public tours – considered one of the most significant Victorian residences in the country and one of the best things to see in Galveston.
8. Birding and more
Due to its plethora of salt marsh wetlands, Galveston is a bird watcher's paradise, with among others, ibis, herons, egrets, gulls, terns, white-tailed Kites and Northern Harriers, Black Rails, and at sunset, Barn Owls.
A large variety of shore birds are here as well, including sandpipers, plovers, herons, ducks, geese, grebes, loons, cormorants, and pelicans, and a few prime locations for viewing.
named one of the 5 "Best Gulf Coast Beaches", the park offers a quiet oasis on the island's West End where visitors can explore the Gulf of Mexico or Galveston Bay.
Birding is just one of the offerings here, where families can enjoy kayak tours, beach and surf explorations, bird walks, nature field trips and fishing clinics at no cost, and beach camping is also allowed.
Along with birding along the Nature Trail, fishing, kayaking and canoeing are popular in the calm waters along the mouth of the lagoon.
This observation platform is located at the corner of Settegast and Stewart Roads and is open to the public.
A water amusement park with outdoor attractions, it features one of the most exciting collection of water rides in Texas, with four thrilling waterslides, wave rivers, and water coasters.
It's totally family-friendly with the Tiki Tikes Kids area as well, so there is something for the little ones as well as the teens and adults.
The world's tallest water coaster is found here with a wave pool, Shipwreck Harbor, and also a swim up bar.
Top Tip: If you have the option to choose the day you'll go, call to check if a private party has part of the park reserved. Prices stay the same, while some of the rides are closed off, leaving the crowds in the remaining areas heavier and lines for the rest of the park will be longer – buying the "skip the line" pass would be especially advantageous!
Dedicated to restoration, re-use and observation of its historic facilities and equipment, where you'll find exhibits and examples of train history.
The museum has 5 acres of trains and rolling stock, such as locomotives, passenger and freight cars, and cabooses.
The 1932 Depot was the headquarters of the Gulf, the Colorado and the Santa Fe Railroad.
A Map room has rotating exhibits, and the depot houses a gift shop, People's Gallery statues, and interactive displays.
Special Events include the Annual Polar Express Train Ride, held in November and December, with live performances from a talented cast, hot cocoa and cookies on the journey, a peek at the North Pole and photo ops with Santa upon return to the train depot.
14. Take this unique transportation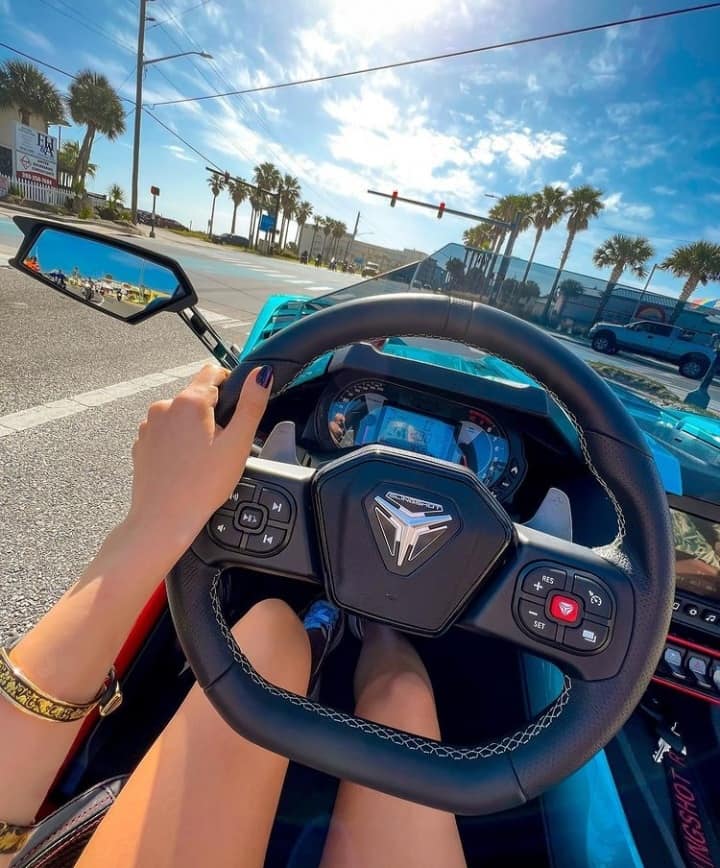 Want fun and unique transportation while on the island?
There are 3 fun options in their offerings – Jeep, Scooter, and the unique 3-wheeler, 2- and 4-seater Slingshot vehicles, with an open-air cockpit and seating a mere 5 inches above the ground – that has the appearance of something like an open air batmobile!
How about instead of a normal golf cart to get around, why not a mini 1908 Model-T Replica to see all of the Galveston attractions in style?
First established in 1891, step back in time and ride the trolley, with a Seawall or Downtown Route.
Hurricane Ike covered most of the island in tidal surge in 2008, where the damaging wind and waves uprooted many trees and led to the demise of thousands of others, losing much of its former lovely tree canopy.
Rather than removing them all, Sculpture Artists have given new life to these trees, by carving sculptures from the oaks that once lined the neighborhoods, and you'll find them in gardens and side yards for the public to enjoy – watch for them in various locations as you make your way around town.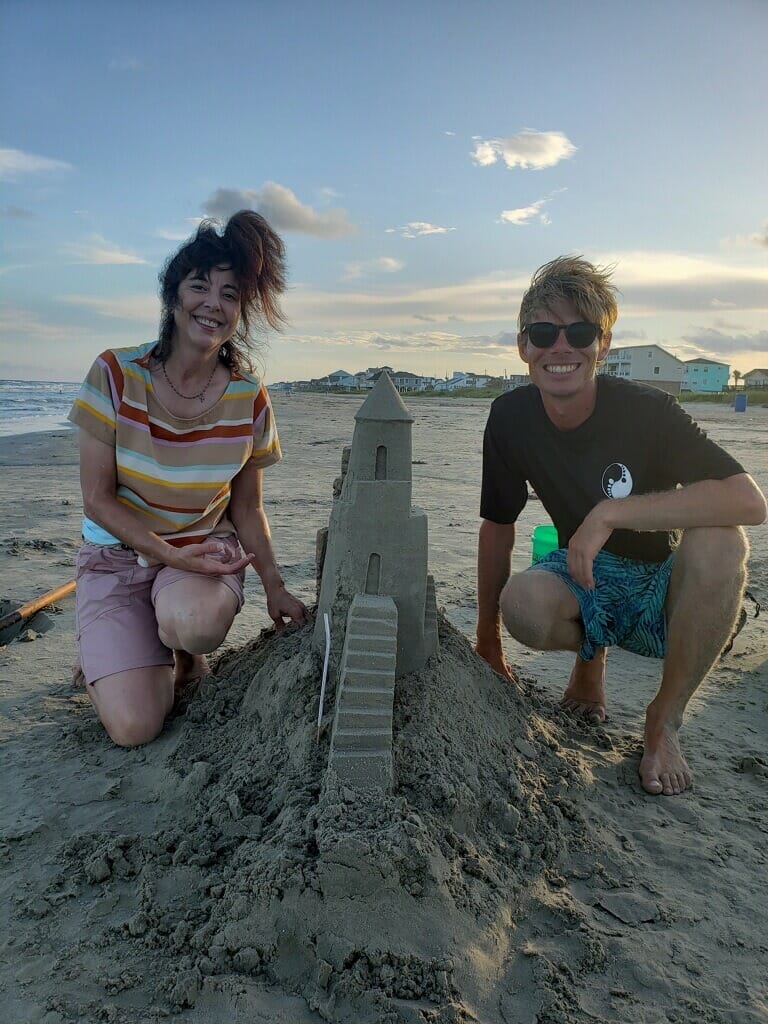 Who knew you could get lessons on professional sand castle building?
Kids and adults will love learning secret skills for creating amazing castles from a patient and talented teacher, and parents rave that even their antsy kiddos were engaged!
Lessons can be purchased online, buckets and tools included, and can be for groups such as birthday parties or family gatherings.
R.A. Apffel East Beach also offers "Sandcastle Days" Free on Saturdays at 11am, 1pm and 3pm during the summer, also with professional instructors.
Bring your own buckets and shovels, located by the water's edge straight down from the East Beach Pavilion.
Free 45-minute Saturday and Sunday tours during summer, with hands-on activities investigating topics including the turbid water, marine debris, Sargassum landings, and more!
Offered at R.A. Apffel East Beach Park, reserve a spot in advance for a group of 15 max and look for a wagon, buckets and your guide in a bright orange shirt!
18. Galveston Island Horse and Pony Rides
Take the opportunity for riding "into the sunset" but even better, riding on the beach – on specially beach-trained horses to give you that bucket-list experience.
Every summer over a two-day stretch, over 60 teams who have planned for months work for 5 hours on the day of the event meticulously sculpting their sand designs.
Building and awards take place on the Saturday of the event, but Sunday is the best day to enjoy these architectural marvels at your own pace, with a bonus of Free sandcastle building lessons!
20. Dockside Fishing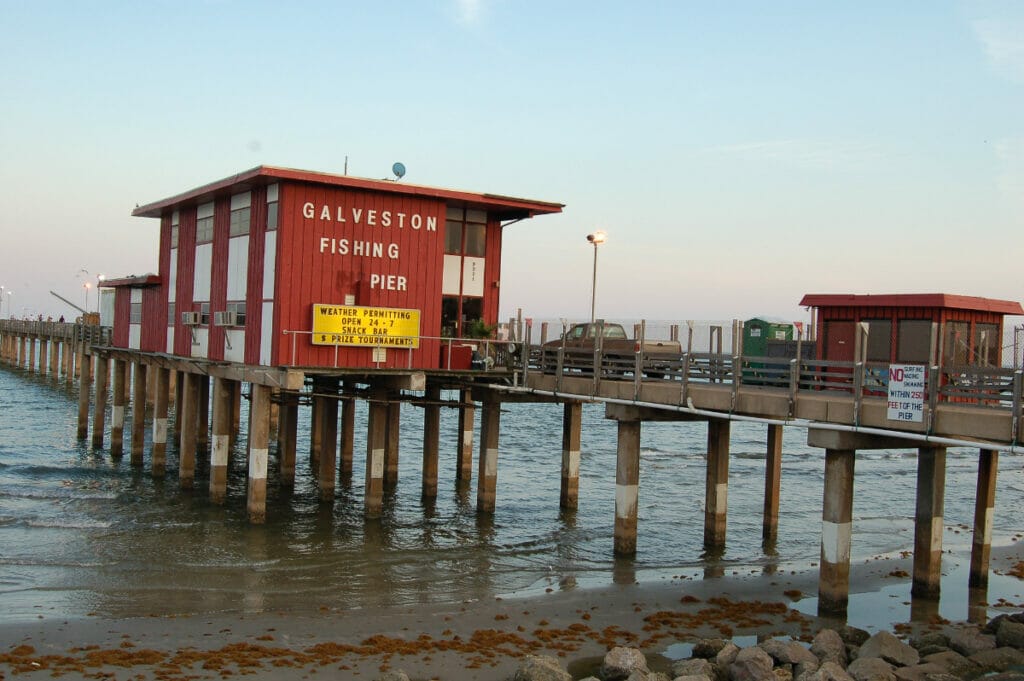 61st Street Pier
Pier Access pass, Rod rentals and bait available.
91st Street Fishing Pier
(otherwise known as the Galveston Fishing Pier) – Coffee Shop, eatery, bike and board rentals, bait shop – Admission fee.
Seawolf Park – Galveston Naval Museum
Located on Galveston's Pelican Island and dedicated to the men of the USS Stewart, the park is a popular fishing pier and picnic site.
This park also features a playground for the kids and plenty of tourist attractions, including the WWII submarine, the USS Cavalla, and one of only three destroyer escorts, the USS Stewart.
The remains of the WWI tanker S.S. Selma, the largest concrete ship constructed, is near the fishing pier.
As a shipping lane, you can watch all the different types pass by, from cruise liners, shrimpers, coast guard cutters, and more, where the vast size of some of these ships is astonishing!
21. Ghost Tours – who Haunts the Strand?
Galveston has a history with dark and gruesome moments.
Tour around town with small groups and either a tour guide or self-guided, with stops at historic buildings and mansions known for paranormal activity, watching for other-worldly guests that might show themselves at any moment!
There are a number of tours focused on the Haunted History of Galveston, from Haunted Cemetery Tours, Self-Guided Walking Tours, Segway Magical History Tours, Sinners & Saints Tour, Historic Galveston or Galveston Island Ghost Tours, Haunted Pub Crawl Tours, or even a self-titled Zombie Guided Ghost and Cemetery Tour.
Apparently, there is quite the history of hauntings here, and some of these tours are potentially scary enough that there is a warning label against anyone participating who has heart or other serious medical conditions, so be warned!
Explore the history of Texas and the American West, where their mission is to bring both to life.
Housed in the old Galveston Orphans Home with 20,000 square feet of exhibit space and beautiful gardens, world class exhibitions and collections, and a focus on artists who lived during the West's Golden Age, their art collection gives guests a personal experience in that period of history.
Share in the adventure of the High Seas at this museum, home to the celebrated 1877 tall ship ELISSA, still fully functioning and continues to sail annually during sea trials where you can explore the decks of this floating National Historic landmark.
Walk around the decks and imagine the sailors who challenged the world's oceans!
With a museum and theater, you can witness the story of ELISSA's rescue and restoration.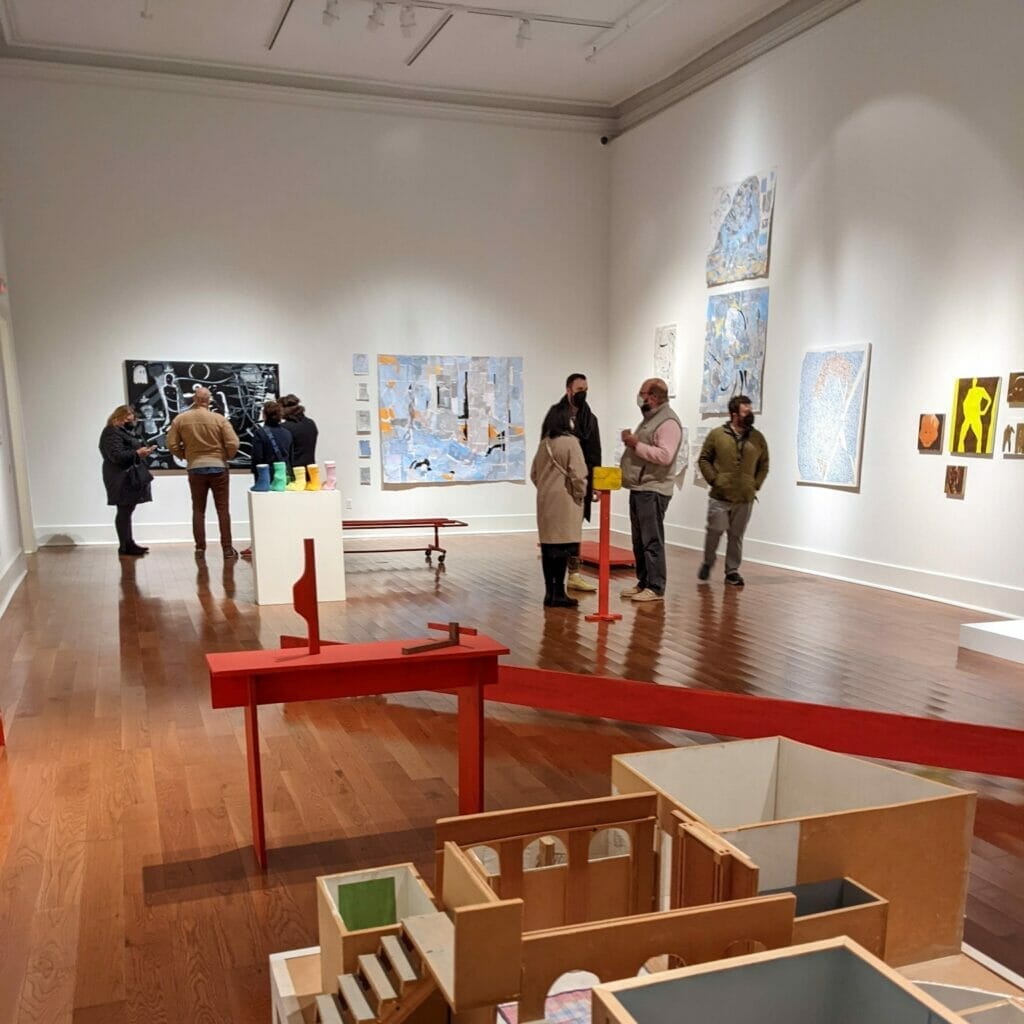 Their focus is on contemporary visual art exhibitions with an Artwalk at various locations throughout the year every 6-8 weeks, and open Wednesdays through Sundays weekly.
Galveston places high value on the Arts, and this is just one of the many galleries located throughout the historic blocks downtown and throughout the island.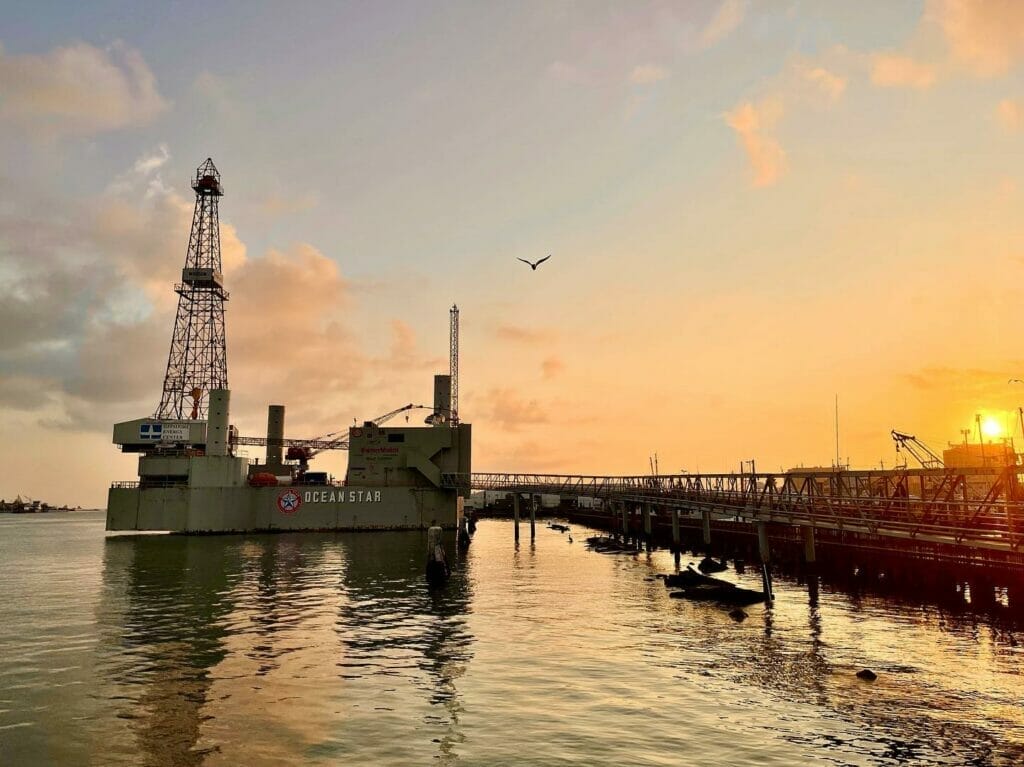 Tour this retired jack-up drilling rig that was operational in the Gulf from 1969-1984, designed as a self-guided facility with videos and interactive exhibits and information.
Catch a performance at one of the few remaining historical theatres of its era restored beautifully to the glamour of its past, where they make it their mission to present high-quality touring artists in theater, music, dance, opera, children's programming, and other performance genres.
With a Pirate ship created inside the building and not just for the kids, come learn the myths, legends, and stories of the last of the Buccaneers, when pirates once roamed the seas and many eventually found their way to the Gulf and Texas, including a most famous pirate named Jean Lafitte who made his home in Galveston for a while.
28. Music and Movie Night on The Strand
Bring a blanket and enjoy a fun evening out!
Seasonally between March and October at Saengerfest Park, you'll find Movies on the first Saturday of the month and Live Music from local top bands performing on the second Saturday, outdoors under the night sky, and free of charge.
28. Eat at some of the best restaurants!
There are several main areas and a few more scattered around the island where the most choices are found for coffee, breakfast, lunch, treats, Happy Hour menus, dinner, and bars/breweries:
The Strand – Galveston's Historic and Downtown District in the center of the island – with classic Victorian architectural buildings over 100 years old dating back to the time of the 1900 hurricane, you'll find a unique mix of boutiques and shops, restaurants, museums, and galleries – it's a charming place for a walk and to wander around before or after a meal.
Pier 21 – The Historic Harbor – near the Strand, with harbor waterfront views
The Seawall – Runs along the Gulf side of the island, with gulf waterfront views
[Note: When it comes to Restaurants, Café's, and all such eateries in Galveston, there are so many delicious options, and such a huge number of top-rated and recommended places that have received kudos from locals and visitors alike that I've (almost) become convinced that the moment you're hungry, just turn right and walk into the nearest offering to you… and you'll be well-fed and happy!]
29. Treat yourself to a coffee
MOD Coffeehouse: In The Strand and voted "Best Coffeehouse", pick up a latte or protein smoothie and a baked good or two, cozy and welcoming in a Victorian building.
Go Nuts and Beans – Located in the old Peanut factory in The Strand, you'll come for the coffee but stay to sample the peanut butters, with unique nut spreads like spiced cocoa, sweet and spicy jalapeno, and sea salt caramel!
Sugar Bean Coffee and Cream – Near Moody Gardens Golf Course, a pretty location and décor popular with locals and students where you can order specialty lattes or any of the house-brewed coffees at this small shop.
Red Light Coffee Roasters – Charming and beautiful location in The Strand, a peaceful option with unique flavors, such as their lavender latte – note it can be busy on Sundays as it's across the street from their Farmer's Market!
Pariah Coffee – Near Jamaica Beach, Single origin coffee from world-wide locations, pour over and bakery treats, wine in the evenings.
30. Enjoy a delicious breakfast
Home Cut Donuts – And breakfast burritos, croissants, and more, with a drive through available for a quick morning run!
Miller's Seawall Grill – Traveler's Choice Award, serves breakfast and brunch as well as lunch and dinner.
Sunflower Bakery & Café – Classic breakfast items in a delicious brunch, with an all-day menu of down-home American meals, as well as vegan, vegetarian, and gluten–free friendly.
Mosquito Café – Voted best breakfast, also offers lunch, casual laid-back counter service, at the end of the Historic District.
ShyKatZ Bakery and Café – A local favorite in Galveston open for breakfast and lunch.
Hotel Galvez Bar & Grill – This upscale Brunch Buffet is offered on Sundays only between 11am-2pm.
31. Eat a sit-down lunch and dinner with family
Mama Teresa's Flying Pizza – Pizza and pastas are on the menu.
The Black Pearl Oyster Bar – Gulf oysters and a variety of seafood options.
Gaido's Seafood Restaurant – A little more upscale, high quality with great service specialties of Gulf fish and farm-raised meats. Reservations are recommended.
Katie's Seafood House (next to Katie's Seafood Market) – Their claim to fame as the only boat-to-table seafood restaurant on the Island, with its own fishing boats as well as purchasing fish from other local fishermen, and a seafood market and kitchen to prepare fresh seafood as soon as it arrives at the dock.
The Spot – American favorite with beachfront dining right on the seawall with waterfront views, fish 'n chips, burgers, shrimp, casual setting.
Shrimp 'N Stuff – Loved by the locals since the 1970s, they have been serving shrimp specials and rotating seafood platters, salads and appetizers with large portions, and they also have a Food Truck near Jamaica Beach!
Shark Shack Beach Bar & Grill – in The Strand, small and cozy, down home operation serving seafood dishes, hearty "pub grub" along with beer, wine and cocktails – specialties include the Cajun Shrimp Fondue Appetizer and their Shrimp and Blue Crab Salad.
Fisherman's Wharf – Fresh seafood and harbor views, happy hour menu specials, famous for their shrimp kisses, lobster tails and grilled redfish… and if you've got room for dessert, try their root beer pudding!
Rudy & Paco Restaurant and Bar – Upscale restaurant with a dress code, Central & South American influenced menu of steaks and seafood – romantic, date night vibe, reservations highly recommended.
Original Mexican Café – Since 1916, Tex-Mex classics in this Historic venue with two stories of dining.
Little Daddy's Gumbo Bar – Downtown near The Strand, Cajun taste of Louisiana, with seafood gumbo, po-boys, étouffée, and beignets.
Star Drug Store – Still offering a lunch counter with that awesome vintage feel.
Waterman's Restaurant – Seafood and Steakhouse eatery and bar, where they'll also cook any fish you've caught, and have spectacular sunset views overlooking the bay.
Hearsay On the Strand – Updated American menu & craft cocktails in a lovely historic space.
Fish Tales – Cheery seaside hangout overlooking Paradise Pier Park, the ship channel, and the gulf, with balcony seating and casual American seafood and tropical cocktails.
Grotto Ristorante – Neapolitan-style Italian dishes with fine wines in an upscale, old-world charm setting.
Mario's Seawall Italian & Pizzeria – a casual environment of old-world traditional Italian cuisine and great pizza.
Koop's BBQ Kitchen – A "Daily News Reader's Choice" hidden gem with their brisket specialty cooked to perfection and so popular they can sell out – with all the sides you'd expect.
32. Treat yourself to something sweet
Hey Mikey's – Handmade Ice Cream in more flavors and toppings than you can imagine and more – try two of their specialties – ice cream nachos and panini-pressed donuts!
La King's Confectionery – An old-school candy shop with homemade chocolate, and small-batch ice cream.
PattyCakes Bakery – Cookies, cakes (including custom), breads and more in a sweet, historic building, with coffee and lunch items as well.
33. Let loose at the Galveston bars and breweries
23rd Street Station Piano Bar – Voted Best Live Music Venue, a full-service bar with happy hour until 7pm.
Tremont House Roof Top Bar – Stunning view of downtown and the harbor, with a wonderful ambiance for sunset viewing and great cocktails.
Galveston Island Brewing – fun vibe, tours on Saturdays, live music and fun events, food truck, indoor and outdoor seating.
Yaga's Café & Bar – Traveler's Choice Award for tropical fun with live entertainment and dancing on weekends on the patio – This is also a café that opens in the morning for brunch, then lunch and dinner with healthy options, then later in the day they have happy hour, and a drink menu!
Pin for Later!