"H-Town". "Space City". "Bayou City". "The 713".
No matter what you call it, you won't be short of things to do in Houston.
Every time we visit we find something new to do, another place to eat, more shopping and Houston attractions we didn't expect.
The best things to do in Houston are the ones that capture your interest and imagination.
You'll find there are more than you thought, and more than you have time for on one visit.
GET A

FREE

TEXAS GUIDEBOOK WITH LOCAL TIPS!
With 71 pages of helpful travel tips and the "best of" Texas lists, this is your ad-free key to your Texas trip.
Want more locally approved Texas guides? Check these out!
How to get around Houston
Like most of Texas, the best way to get around Houston is to explore on your own by car!
If you're visiting and need to rent a car, we highly recommend Discover Cars where they find you the best car rental deals from all of the competitors (has saved us so much money!).
Where to stay in Houston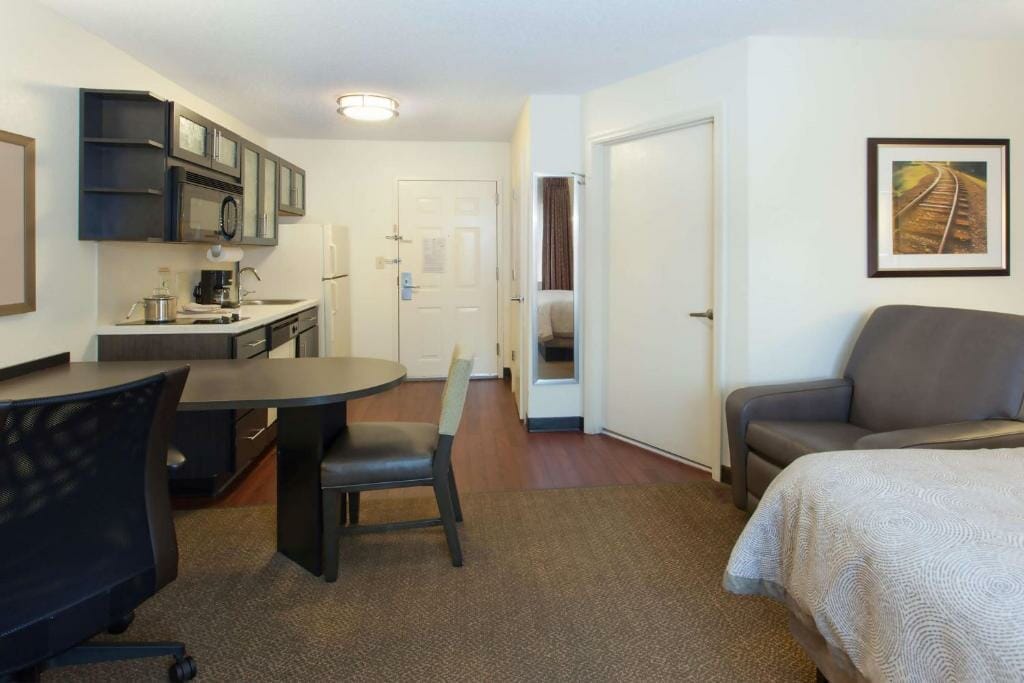 From renovated VRBOS to boutique hotels, here are the best places to stay in Houston on every budget!
($) Sonesta Simply Suites Houston – you'll get a lot of space for your budget at the Sonesta Simply Suites, which each have a kitchen with a microwave and refrigerator in addition to comfy beds. Free WiFi is an added perk, and there are also outdoor grills if you'd rather cook outside! They're only a 5 minute drive from the shops of the Galleria, a great Houston location. Click here to check prices and read reviews.
($$) Cambria Hotel Houston Downtown – if you want an awesome downtown location paired with absolutely stunning rooms and shared spaces, the Cambria Hotel is for you. The rooms are sleek and modern, and the shared lounge gives you a great place to relax at the end of the day. This is a must-stay (and we'd even argue is one of the best hotels we've ever seen on a mid-range budget). Click here to check prices and read reviews.
($$$) Hyatt Regency Houston – if you want to really treat yourself while in Houston, check out the Hyatt Regency, featuring a rotating restaurant on top! Room service is available if you don't feel like getting out of bed, and the breathtaking design will make you feel like you're really living the life of luxury here. And even better, the outdoor pool is heated! Click here to check prices and read reviews.
1. Space Center Houston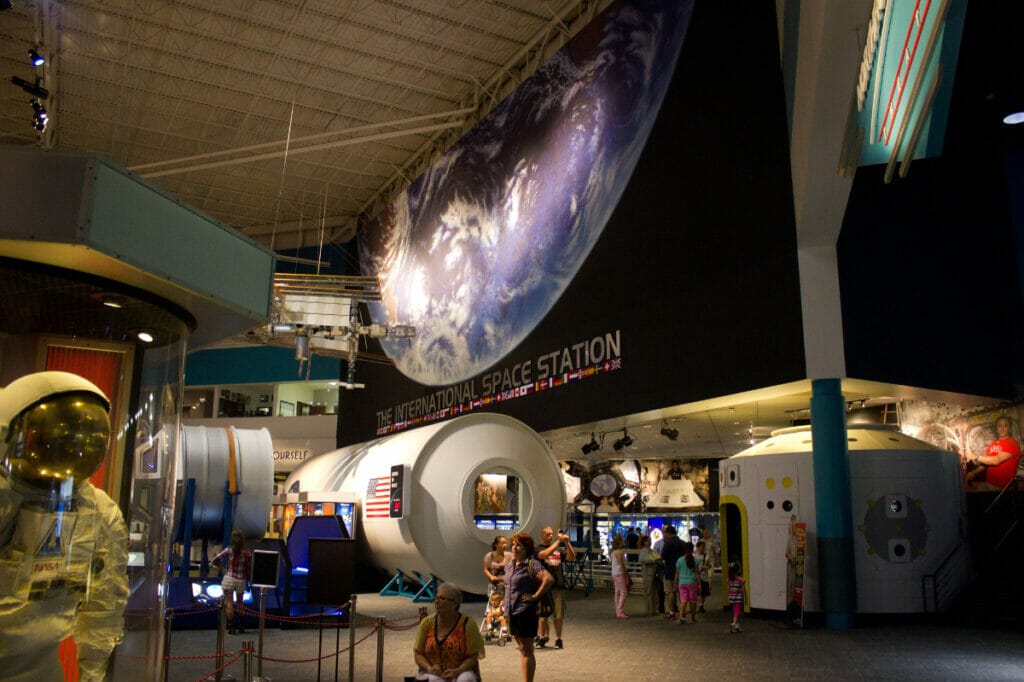 One of the top things to do in Houston is, without doubt, the NASA Johnson Space Center.
See the world's largest collection of moon rocks.
Go behind the scenes.
Engage your heart and your mind with the traveling and permanent exhibits.
The Space Center will entertain, educate, and inspire with a range of displays and experiences that will transport you to the universe of space travel – past, present, and future.
If you're a diehard space fan, you'll definitely want to take the VIP tour with behind-the-scenes access to Mission Control and astronaut training.
Whether you're like us and old enough to remember the first moon landing or young and planning on becoming an astronaut, or anywhere in between, you'll love the Space Center and the dreams of adventure it will inspire.
Before you go: Download the Space Center Houston app with a range of features and audio tours to help you get the best out of your visit.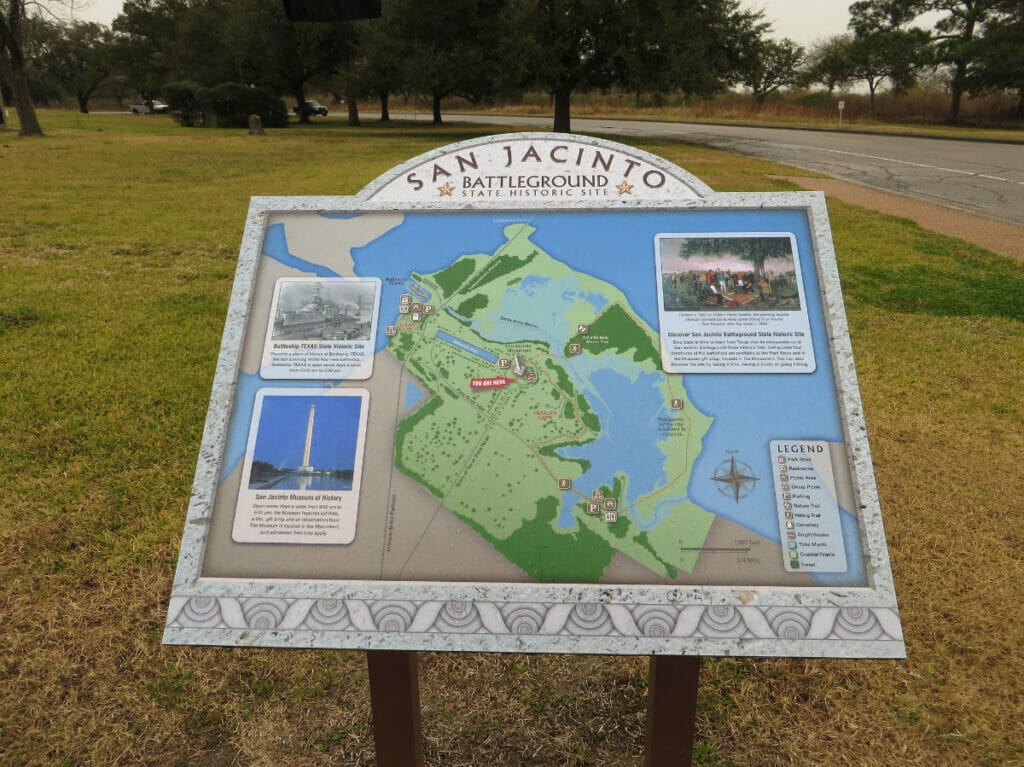 Tour the battleground. Explore the museum. Head to the observation deck of the memorial for a bird's eye view.
Whether you're a local or a visitor, you're sure to appreciate the significance of this piece of Texas history.
Located on the site of the final, decisive battle of the Texas revolution, the memorial commemorates Texas gaining its independence from Mexico.
While you're there, be sure to keep a lookout for some of the more than 200 bird species that call the site home, as well as other wildlife.
But keep your distance.
They may not all be friendly.
Top Tip: If you're there in April, don't miss the annual battle reenactment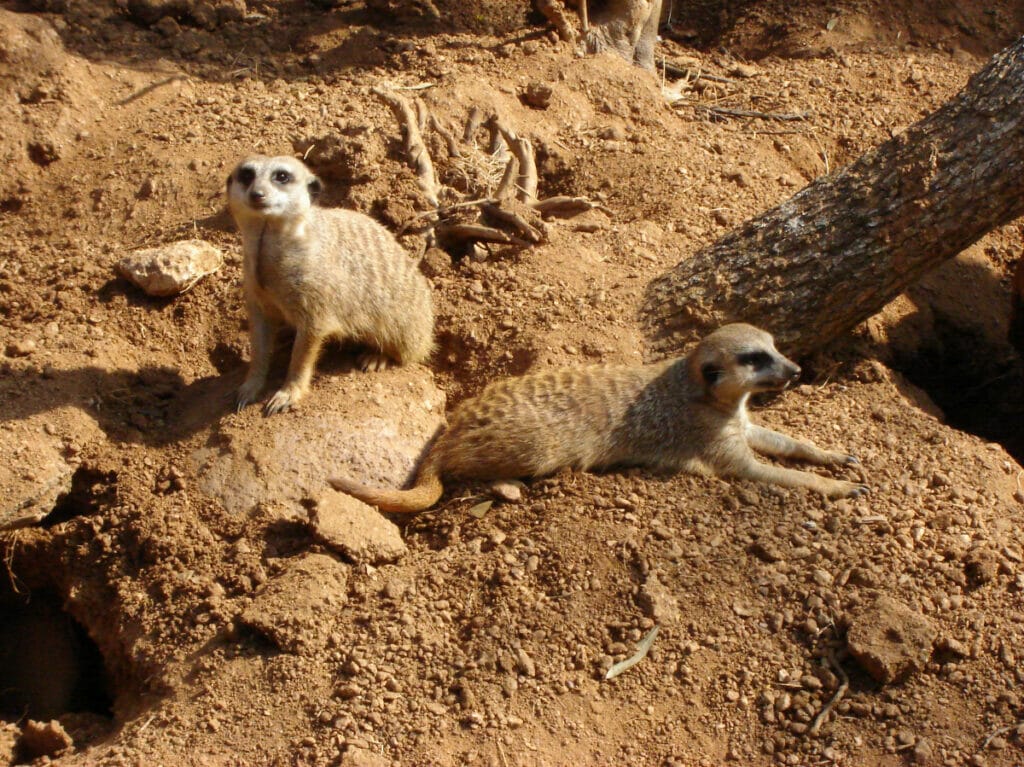 You'll do more than just look at the animals in this exceptional zoo.
Enclosures are large and imitate natural environments, giving both animals and visitors a more realistic experience than many zoos.
Come to see the animals!
Stay and play to help save them.
A portion of your entry fee goes towards one of the many conservation projects supported by the zoo.
Wildlife experiences abound.
Animals are well cared for, and the zoo is easy to navigate.
Kids will love the wildlife carousel.
Check the daily schedule for viewing opportunities included in your ticket price and plan your day around these to make the most of your visit.
Wildlife Encounters give more up close and personal experiences.
Loads of the stuff to do in Houston is for the whole family, and this one is no exception.
Top tip: Go early for easier parking.
You won't want to leave!
There are so many fun things to do in Houston, and this is one of our favourites.
There's even accommodation if you want to stay a little longer.
As well as the rides, which range from gentle to thrill seeker, there are arcade games, a kids' playground and waterplay, and seaside shows daily.
Truly something for everyone.
You won't go hungry while you're there. There are plenty of dining choices.
Come to soak up the atmosphere.
Stay to enjoy everything the boardwalk has to offer.
Top tip: Buy an all-day pass to get unlimited access to most rides.
5. Houston Museum of Natural Science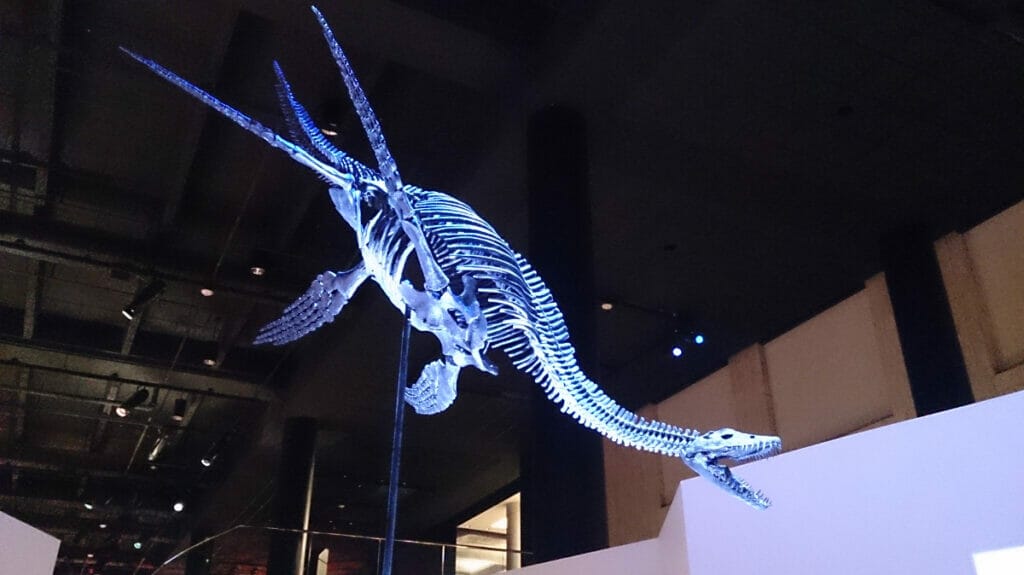 So impressive you'll find it hard to see it all!
The Museum of Natural Science is not just static displays, it's one of the best museums in Texas!
The Cockrell Butterfly Center is a live animal rainforest experience where you get up close and personal with some of nature's most beautiful insects.
Not just for the kids, this is absolutely one of our favorite places to visit in Houston.
Displays and exhibits take you through the history of the earth.
The giant screen theatre's digital 3D shows take you on a realistic journey to some of the earth's most amazing places.
And when you're tired of keeping your feet on the ground, head further afield at the Burke Baker Planetarium.
A great place for all the family to spend a few hours or a few days.
The most fun your kids, and maybe you, will have in Houston!
Dust off your images of museums full of static displays.
Introduce your kids to the joys of learning through play with the interactive exhibits.
Develop your senses; explore the natural world; delve into cyberspace.
Everything is presented in fun ways.
No matter what interests your kids, they will find something to engage them.
Everyone, from babies to adults, will find an entertaining way to explore and learn.
Before you go: Check the website for upcoming special events.
From Broadway shows to piano recitals The Hobby Center for the Performing Arts has promoted performing arts with focus on musical theatre since its opening in 2002,
The Center hosts performances for a diverse audience and prides itself on making the arts accessible to all.
Hungry?
Why not try a burger from Hubcap Grill?
They've been dubbed "Houston's Best Burger" by publications and food shows from around the country.
Whether you choose a classic or one of their unique combinations, their hand-crafted specialty burgers and fresh cut fries combine to make your meal unique and delicious.
If you're in a hurry you can order takeout, and even phone ahead so your order is ready when you arrive.
But why not take the time to dine in and appreciate the quirky, themed décor.
On a fine day, enjoy your meal in the outdoor area.
Houston's best burger?
You be the judge.
9. Festivals and Events
No matter the time of year, there will be festivals and events for you when you're visiting Houston.
Check out the city's events calendar to find something to add to your list of Houston activities.
In spring, enjoy the beauty of the Azalea Trail in the River Oaks district and the Bayou City Arts Festival in Memorial Park.
The Houston Water Festival and the Official July 4th Festival are highlights of the summer calendar.
Fall in love with fall at the Thanksgiving Day Parade and the Uptown Tree Lighting Ceremony.
Round out the seasons in winter with the Mayor's Official Downtown Houston Holiday Celebration and the Christmas Candlelight Tour and, for the sports fans, the Texas Bowl.
10. Galveston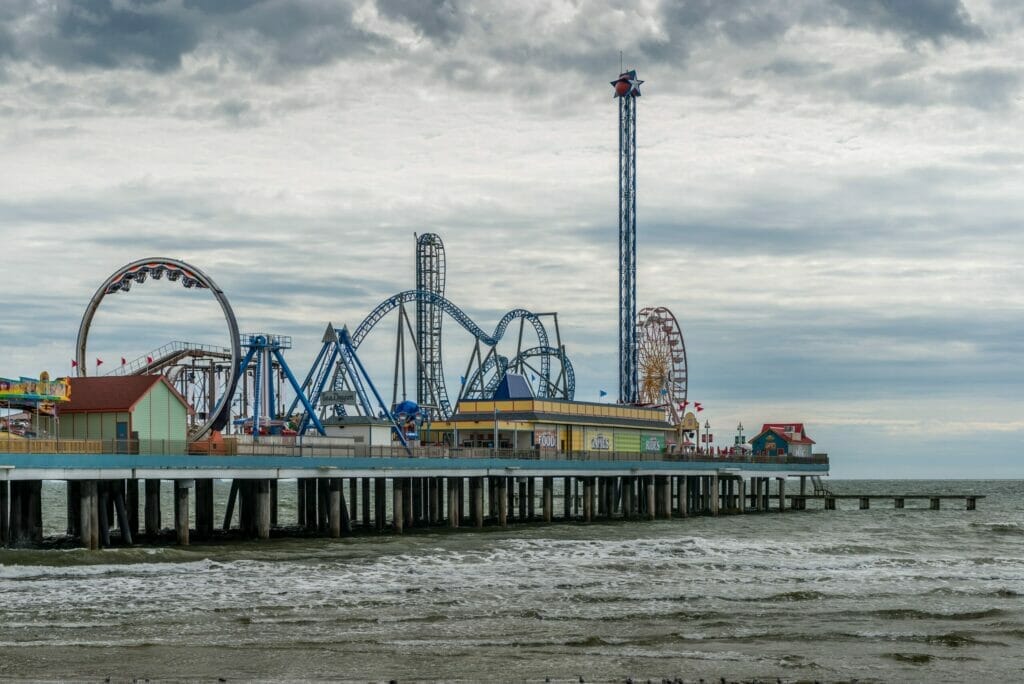 Houston sightseeing can sometimes take you a litter further afield.
Head out of town and grab some island time on Galveston Island.
With 32 miles of beaches, loads of history, and events and activities for all budgets and all ages, your day will be easy to fill.
Whether you want to relax, explore, or shop, or combine all three, you'll be spoilt for choice.
Fisherman will want to bring home the catch of the day from a half or full day fishing charter and claim bragging rights.
Before you go: Check the official calendar of events to find a unique experience on the day you visit.
11. Hermann Park's Japanese Garden
Need a break and some quiet time?
One of the most popular things to do in Houston when you want to relax is to visit Hermann Park's Japanese Garden.
This compact garden combines all the features you'd expect to form a peaceful haven amidst the hustle and bustle of the city.
Relax and refresh as you appreciate the traditionally designed plantings and water features.
Enjoy the surroundings as you stroll along the paths or sit in stillness to recharge before continuing your day.
Commemorate the rich history of African Americans in conflicts from the Revolutionary War to today.
Also known as the Center for African American Military History, this small museum is packed with information.
Along with the well-presented sections, there are live events and visual presentations to bring the history to life.
Top tip: If you live locally, why not buy a one-year membership that will give you unlimited entry?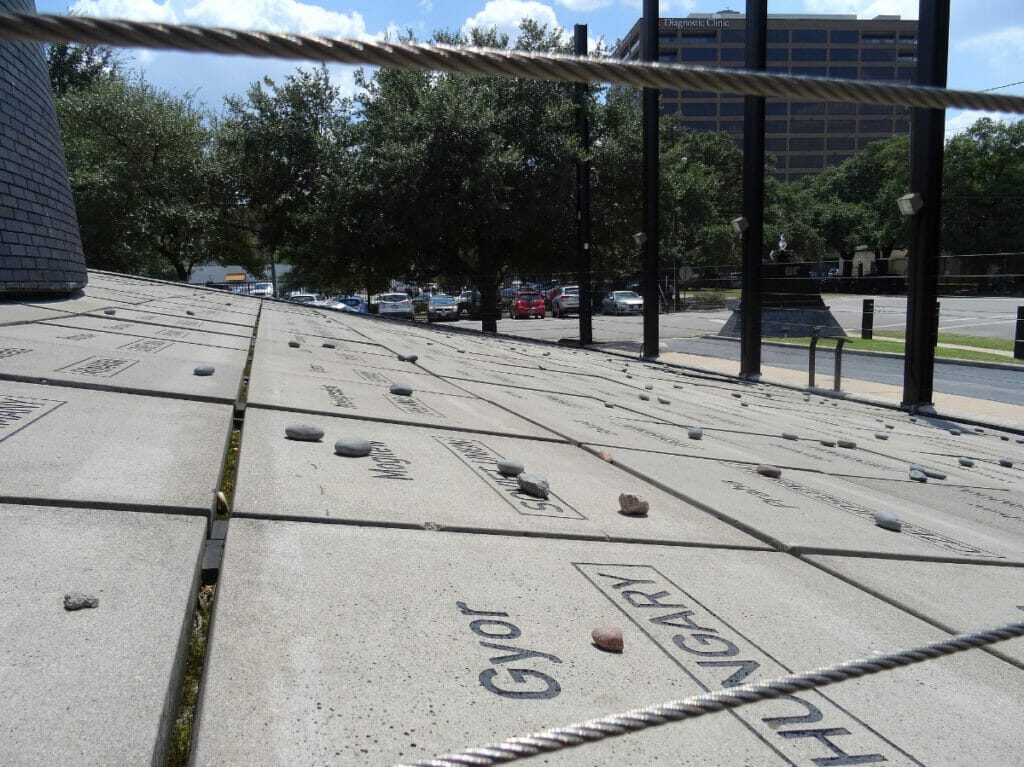 We have always associated the Holocaust with Europe, so this was an unexpected find when we were planning our first visit.
The museum aims to preserve the memory of the 6 million victims of the Holocaust.
It promotes understanding, tolerance, human rights, and social justice for all by telling the story of some of the darkest days in modern history.
As those with firsthand knowledge of this time become fewer and fewer, the Holocaust Museum links the past and the present, playing an important role in ensuring their legacy is not forgotten.
Although this one may not be everyone's idea of a "fun" activity, we found this well-presented museum fascinating and informative. And emotional.
Top tip: Entry is free on some holidays.
14. Downtown Tunnels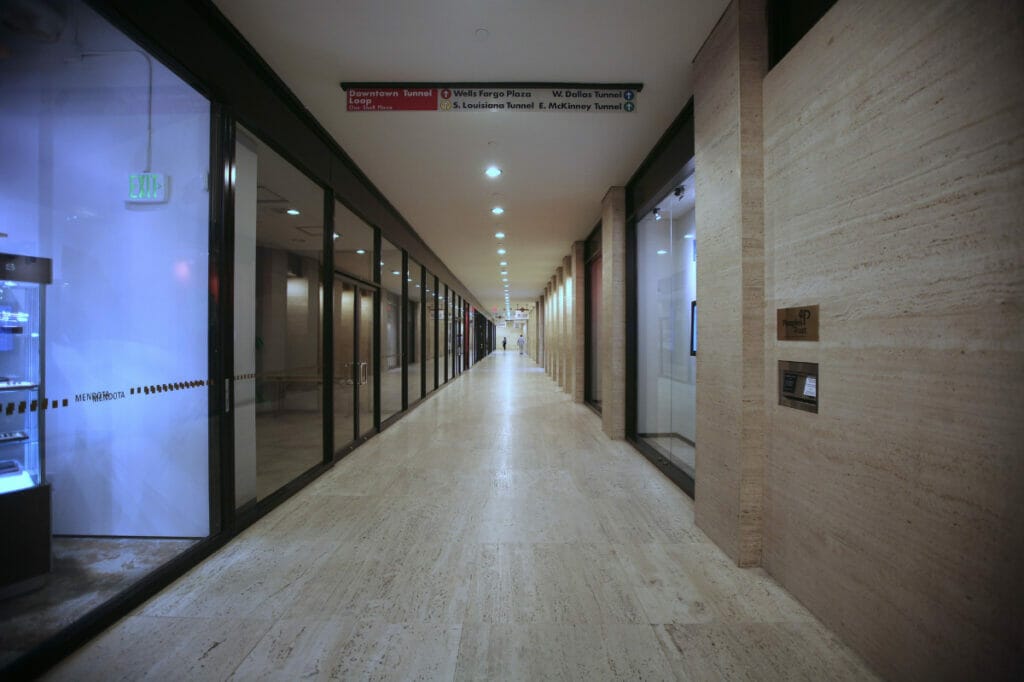 Delve into the city beneath the city.
20 feet below the surface lies a tunnel system originally designed to connect banks, hotels, offices, and businesses in a 95-block area.
Many of the businesses have expanded down into the air-conditioned tunnels so you can enjoy shopping while escaping the heat or the rain.
Before you go: Download a map of the tunnels to help you find your way around.
15. Discovery Green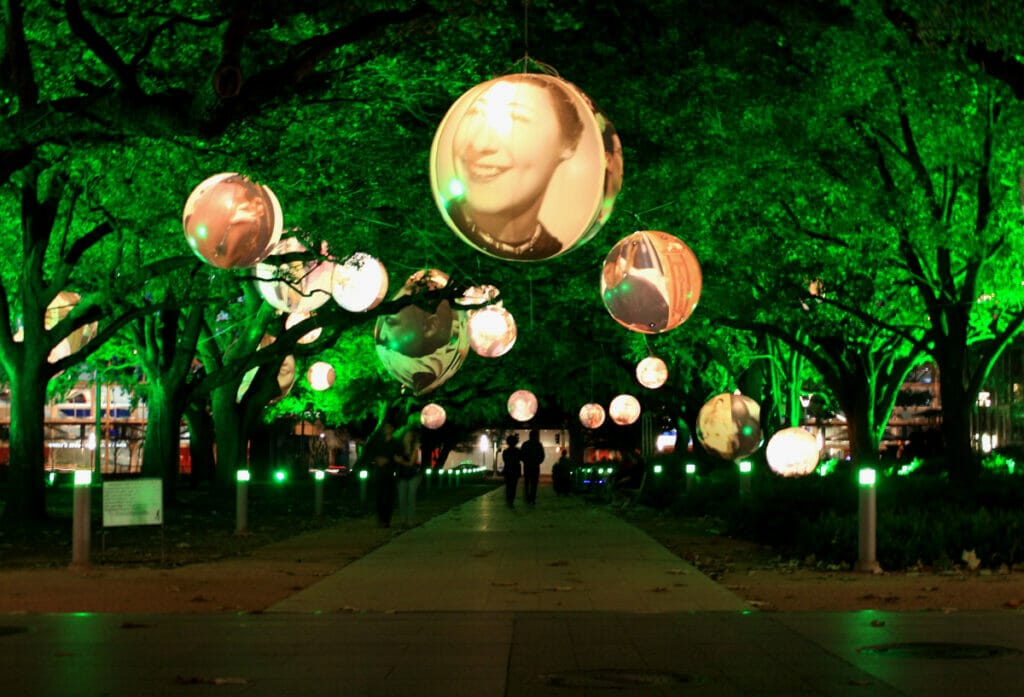 More than just a park!
In the heart of downtown Houston is Discovery Green.
This public space is a day out all on its own.
Relax in the green spaces or the reading rooms.
Get active on the jogging track or on Kinder Lake.
Try your hand at shuffleboard. Cool down in one of the fountains.
Your four-legged friend isn't forgotten either, with dog runs for off-leash time.
This one is always on our list of Houston things to do.
Before you go: Get a sneak peak at the park on the live web cams on their website.
Take yourself out to a ball game!
Experience the thrill and atmosphere of a live game, attend a special event, or take a tour for a look behind the scenes at the Houston Astros' home ground.
Before you go: Download the MLB Ballpark app for digital ticketing, special offers and exclusive content.
Experience aquatic environments from around the world.
Above the surface to beneath the waves, from bayou to rainforest to reef.
Get up close and personal at an animal meet and greet.
For a truly memorable birthday, your child can have a Bottom of the Sea party.
If you're there at mealtime, there are some great dining options where you can watch some amazing sea creatures swimming right by your table.
Top tip: Buy the All Day Adventure Pass for unlimited admission to the Aquarium exhibit, Stingray Reef, and amusement rides.
Leave the kids at home and get yourself a brew pass to enjoy some of Houston's best craft beers.
A 1-day pass lets you choose 4 craft breweries to visit and sample their wares with a tasting flight at each one.
With a 3-day pass you can increase this to 15 breweries.
What better way to take an adults only tour of the city?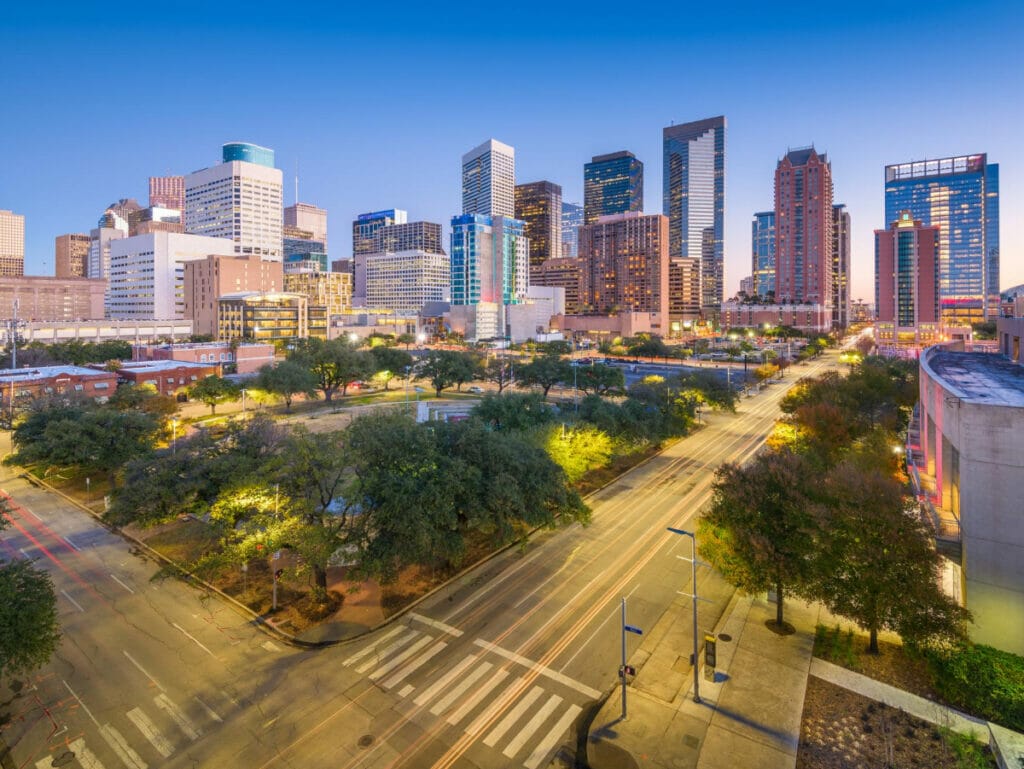 Known simply as Waterwall Park by locals, we think this is one of the most impressive things to see in Houston.
The park is a popular spot for picnics on the grass.
The grassed area in front of the wall is a great spot to relax and enjoy the fountain that is exactly what it says – a wall of water.
The park and waterwall are fabulous spots for photos and have provided filming locations for TV and movies, as well as hosting weddings and other events.
While you're there, make sure to turn around and appreciate the art deco architecture of the Williams Tower that faces the waterwall.
The waterwall's 64-foot height represents the 64 stories of the tower.
Top tip: On a hot day, the park is a great place to cool down in the spray from the fountain.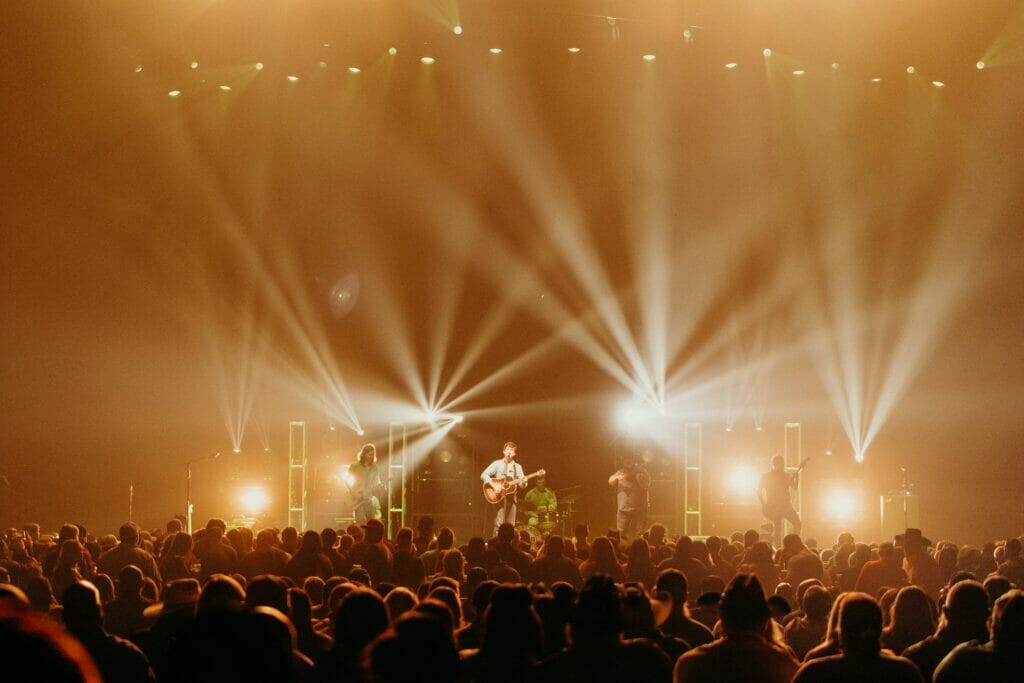 Just north of downtown Houston is White Oak Music Hall, an indoor and outdoor music venue featuring small to medium sized concerts in an electric atmosphere.
It's an incredibly intimate setting without a bad seat in the house, and the bartenders are super quick.
The outside arena is incredible on a good weather's nice, and the indoor venues are a must-visit for feeling like you're having a private sing-a-long with your favorite bands.
Check the event's schedule ahead of time to see who's playing.
21. Memorial Park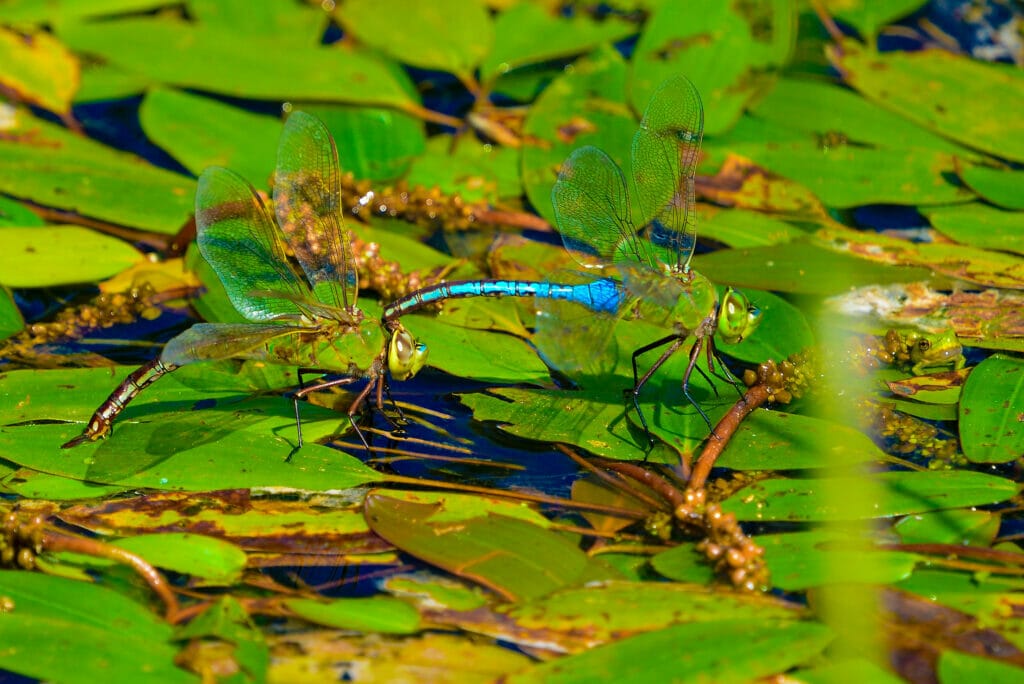 As one of the largest urban parks in the entire US (yes, really), Memorial Park is a must-see in Houston.
Walk the walking trail (exactly 3 miles if you're counting your steps), enjoy the tennis courts with friends, stick on two wheels on the cycle paths or take the kids to the playground.
It's the perfect park for flying kites with lots of green space, as well as lots of tables to enjoy picnics or host family get-togethers or birthday parties.
If you're trying to get in shape, there are workout areas, or look out for wildlife in the pond while watching the world go by.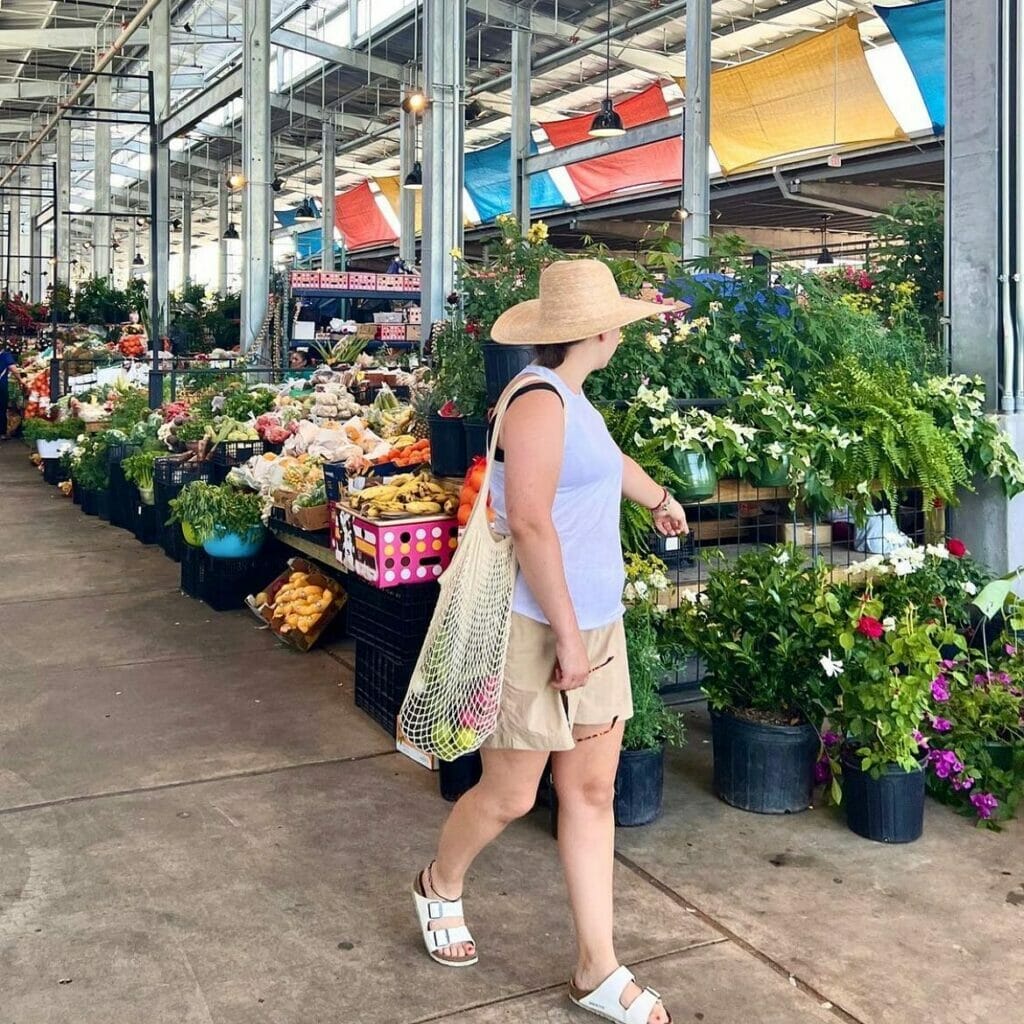 With fruit and vegetables around every turn, the Houston's Farmer's Market is the place to go to do some shopping or check out some ingredients you haven't seen before.
It's a multi-cultural market with plenty of Hispanic influence, and Houston locals that they can constantly be exposed to foods that they haven't seen before.
To get the most competitive pricing, stick to the middle of the market and if you're not in the mood for food, there are also spices, toys, and utensils sold here among other things (check out the tea!).
23. The Original Ninfa's on Navigation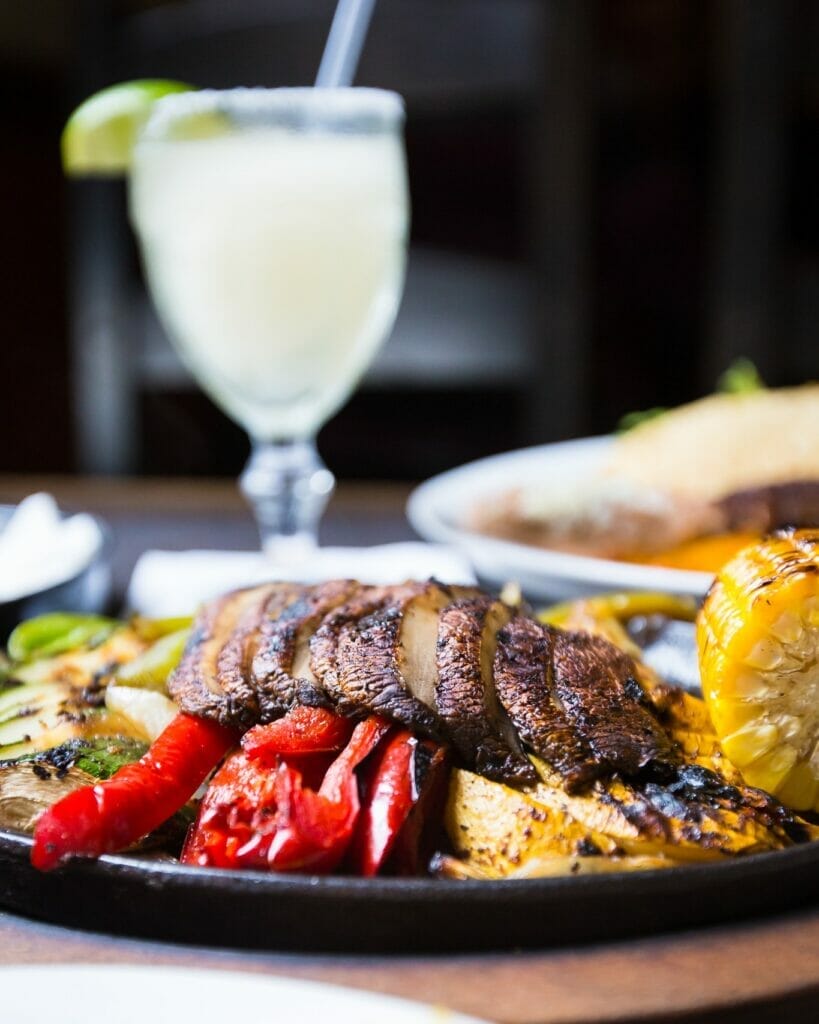 There's nothing like authentic Tex-Mex to make you feel like you're really making the most of Texas, and one of the best Mexican restaurants in Houston is the Original Ninfa's on Navigation.
The hospitality is top notch, and whether you order the enchiladas, fajita burger, or the street tacos, you'll be in foodie heaven.
When it's not too hot, check out the outdoor seating while sipping on your margaritas, or join together around an indoor table with friends and family while sharing some chips and salsa.
There's plenty of free parking and while you might have a bit of a wait occasionally, it's being it's such a good restaurant and worth the time.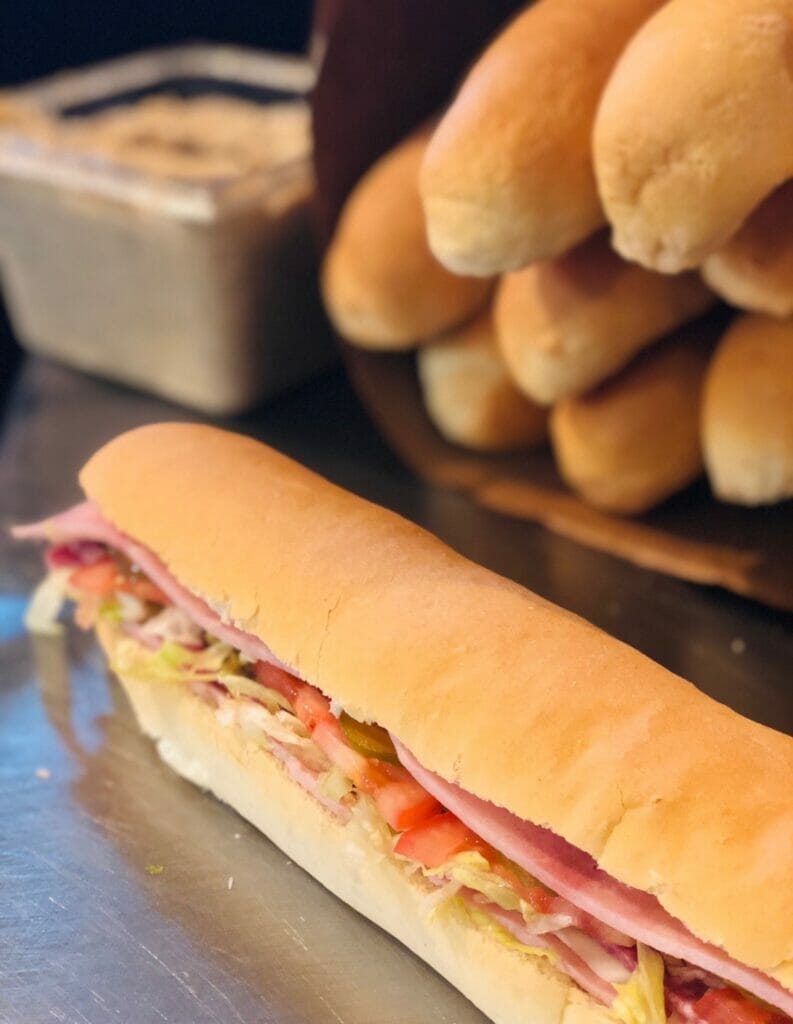 In the room for some family-owned Italian?
That's exactly what Mandola's Deli serves up in Houston!
Try the sandwiches (muffaletta is the favorite!) or dig into some chicken parm. The lasagna and spaghetti and meatballs are well-loved classics, and the serving sizes are definitely enough to feed some hungry sightseers!
Enjoy the friendly and old-school vibe, with classic Italian restaurant touches and friendly staff.
This isn't a chain with a million locations, but a family-owned authentic Italian restaurant that cares about its food, its customers, and its heritage.
25. Momentum Indoor Climbing Silver Street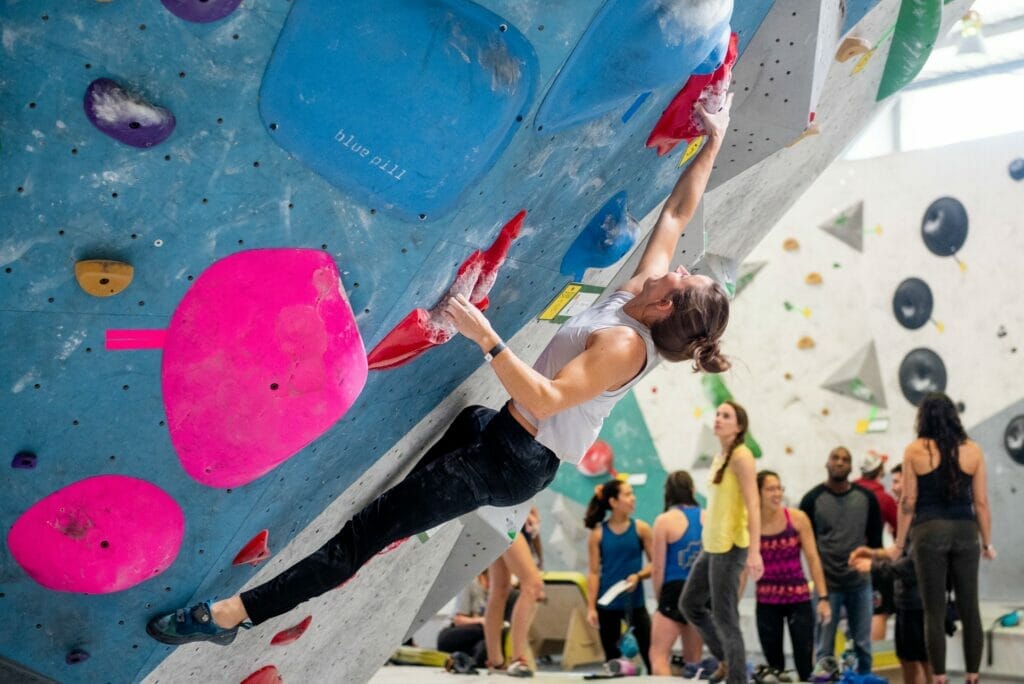 Looking for something to do in Houston when it's raining (or too hot?)
Head indoors to Momentum Indoor Climbing where you can take lessons on how to boulder (or get right to it if you've done it before).
Expert guides will show you how it's done, as well as how to stay safe, and you'll be let loose on the climbing terrain for some really memorable fun.
If you've got kids in tow, don't worry, as there are specific kid's climbing walls for them to join in on the fun.
26. Eleanor Tinsley Park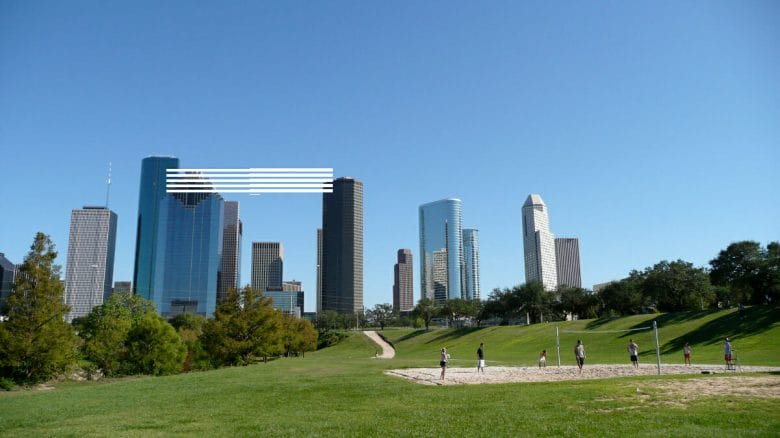 Part of Buffalo Bayou Park, this Houston park is known for being the host to many gatherings, including the Fourth of July in Houston and festivals throughout the year.
When it's not being used to entertain the town, you can entertain yourselves by taking advantage of the volleyball areas, biking and walking trails, and picnic areas.
The trails are smooth enough for rollerblades and skateboards and the views of downtown are a must-see.
For the easiest access, take public transportation or bike or walk there from further away, as the parking nearby can be a little bit of a hassle (but still worth it).
27. Bayou Music Center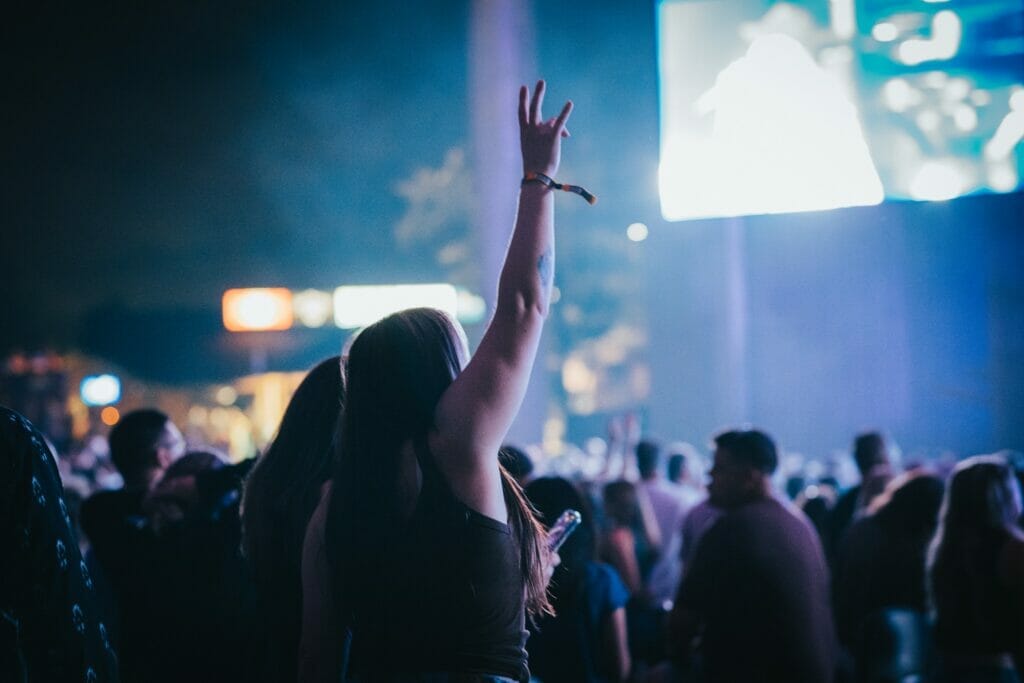 From comedy tours to concerts, the Bayou Music Center hosts some of the cultural activities in Houston.
It's a small, more underground feel rather than the blinding lights of amphitheater, which makes the shows feel special and intimate rather than cookie cutter.
Staff are friendly and parking is convenient with no bad sight lines in the venue so you don't have to stress about your seats.
Relax and enjoy yourself!
28. Texas Tailgate
Want to watch the game or just hang out while sipping on some drinks and indulging in burgers and fries galore?
Texas Tailgate is one of the best sports bars in Houston, loved for its tasty margaritas and sheer amount of TVs!
There's also an outdoor seating area if the weather is good or you need extra space, and the drinks always hit the spot.
It's considered a bit of a Houston hidden treasure by locals and the location in east Downtown is easy to get to and perfect for access via bike or walking from other parts of the city.
29. We Love Houston Sign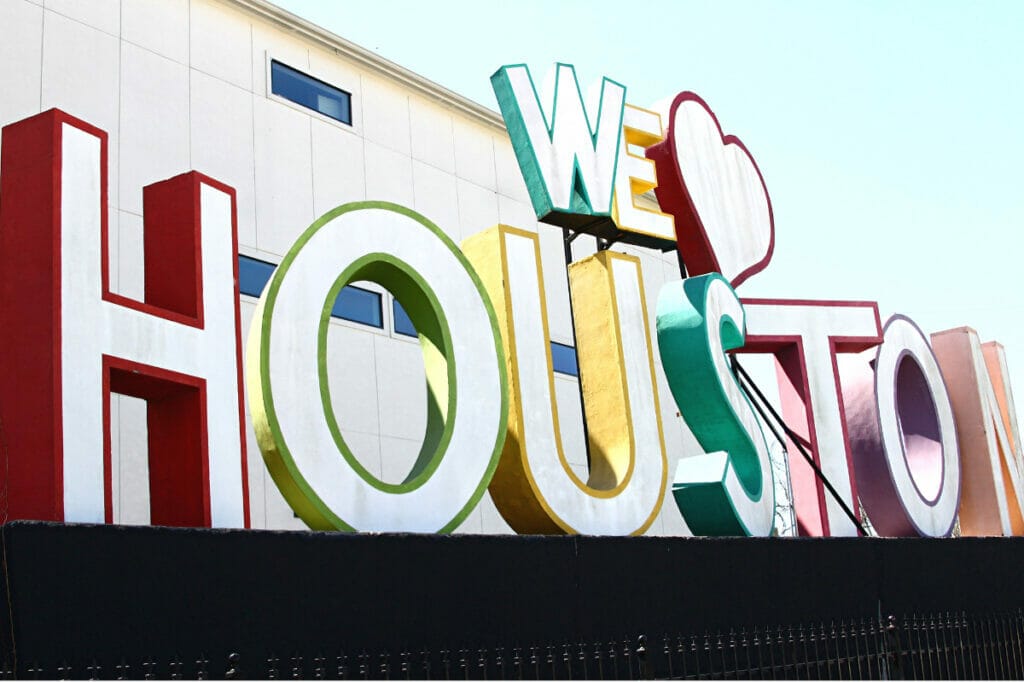 You've got to get a picture with the We Love Houston sign, found in the EaDo neighborhood behind the 8th Wonder Brewery's Beer Garden.
It's a full 28 feet tall, cute and colorful, and makes for a great Houston Instagram snap.
Pin for Later!