If you're traveling on your own, Houston, Texas is a great place to find yourself!
One of the largest metropolitan cities in the state of Texas, Houston has a huge range of attractions to offer the solo traveler.
From great breweries to bracing outdoor spaces to terrific performance venues, Houston will make you feel at home even if you find yourself without travel companions.
Houston is a very welcoming city; you'll have a great time exploring everything the town has to offer.
Don't forget to use these Houston Instagram captions once you snap the perfect pics on your trip!
To make the most of your solo sojourn in Houston, we've assembled a list of some of the city's best attractions!
GET A

FREE

TEXAS GUIDEBOOK WITH LOCAL TIPS!
With 71 pages of helpful travel tips and the "best of" Texas lists, this is your ad-free key to your Texas trip.
Looking for more fabulous Houston travel guides? Head here!
Top Travel Tip for a Houston Solo Trip
Before you head to Houston, save money by getting a Houston CityPass.
You can get a mobile ticket in advance to maximize your time and head straight to Houston's top attractions once you arrive.
The pass gives you free entry to the iconic Space Centre Houston, plus you can choose four of Houston's best attractions!
These include the Museum of Fine Arts, Houston Zoo, an all-day ride pass for the Kemah Boardwalk amusement park, the Downtown Aquarium, and the fascinating Houston Museum of Natural Science!
Book your Houston CityPASS and read the full details here.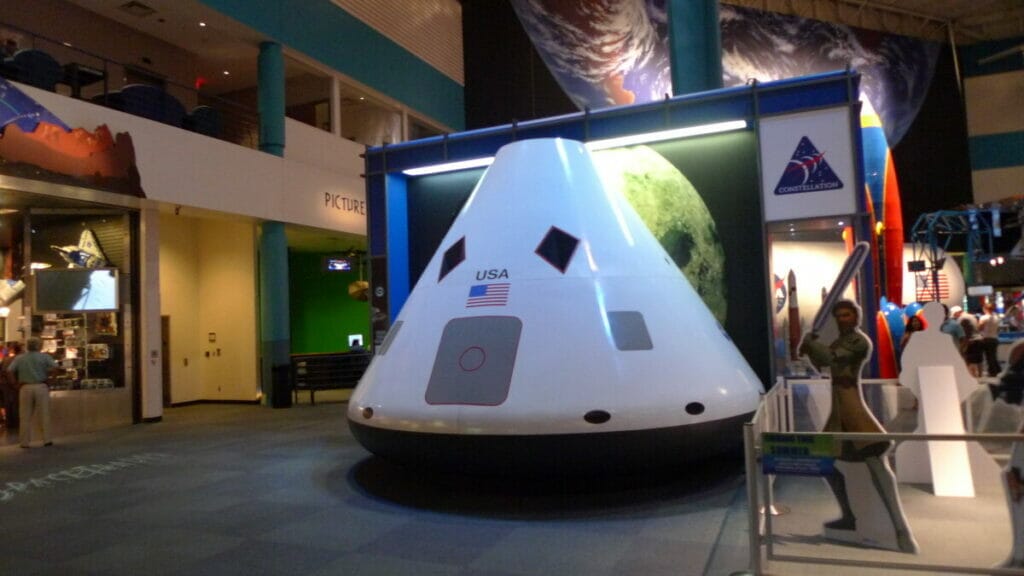 Every large city boasts its share of interesting attractions, but how many can offer you the cosmos?
Besides being a major hub for NASA operations, Space Center Houston is also a fascinating tourist attraction.
Scientific and historical displays abound, making it easy and fun to learn about the universe and mankind's exploration of it.
The Space Center hosts a large number of themed exhibits, many of which are refreshed regularly to reflect the latest developments in the field.
The Center now allows visitors to get a close-up look at SpaceX's Falcon 9 rocket, for instance.
Top tip: Be sure to grab your Space Center Houston tickets in advance so you can blast off to all the exhibits and dioramas!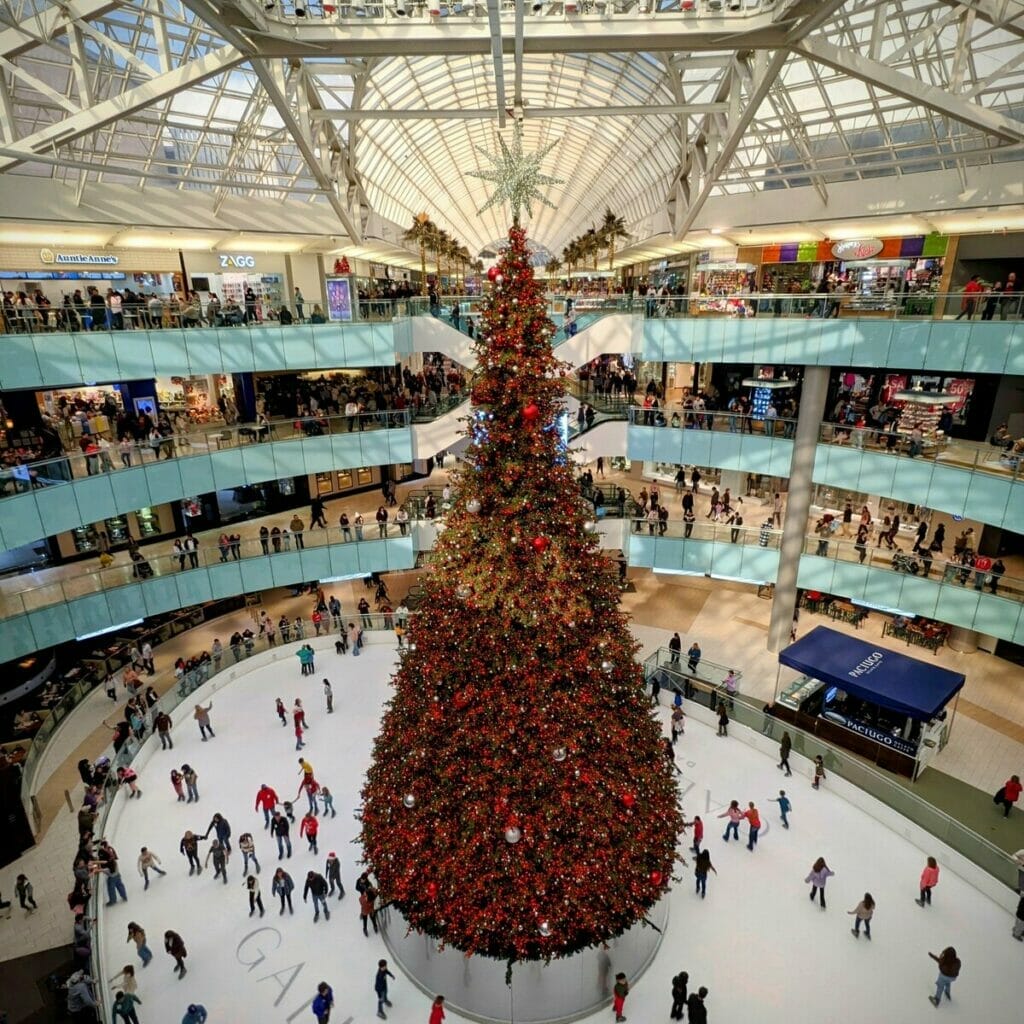 Looking for a signature memory of your trip to Houston?
Strap on a pair of ice skates and glide onto the enormous rink that is the showpiece of the Houston Galleria.
The vast space offers plenty of elbow room for beginners and experts alike.
Once you're done skating, you also happen to be in the perfect place to shop for souvenirs, gifts, and treats.
The Galleria is a world-renowned shopping complex with everything from bargain stores to couture boutiques.
Keep a firm grip on your wallet and try not to empty it completely as you explore the endless retail possibilities!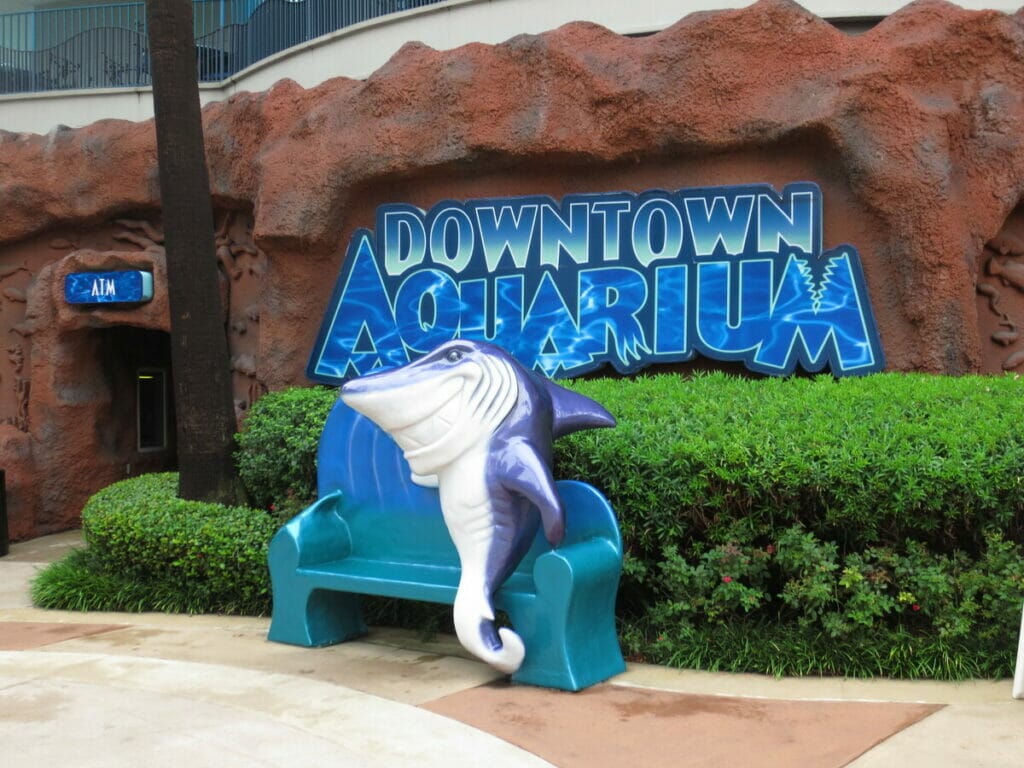 There's a world-class collection of exotic sealife from all around the globe waiting for you at Houston's Downtown Aquarium.
The facility, too, is top-notch: It's far more welcoming than your average aquarium, offering guests exciting displays, informative exhibits, and easy access to the nearby adventure park.
Particularly notable features include the Shark Tank, with one of the world's few Great White shows, an underwater train, and interactive pools that let you touch some of the Aquarium's resident fish.
Part amusement park, part arcade, and all amazing, the Houston Funplex is a massive facility with offerings to delight visitors of all ages.
Far from being a kid-centered venue, the Funplex has plenty for grownups to enjoy.
There's an e-sports center, a spectacular bowling alley, skating rinks, and a go-kart track.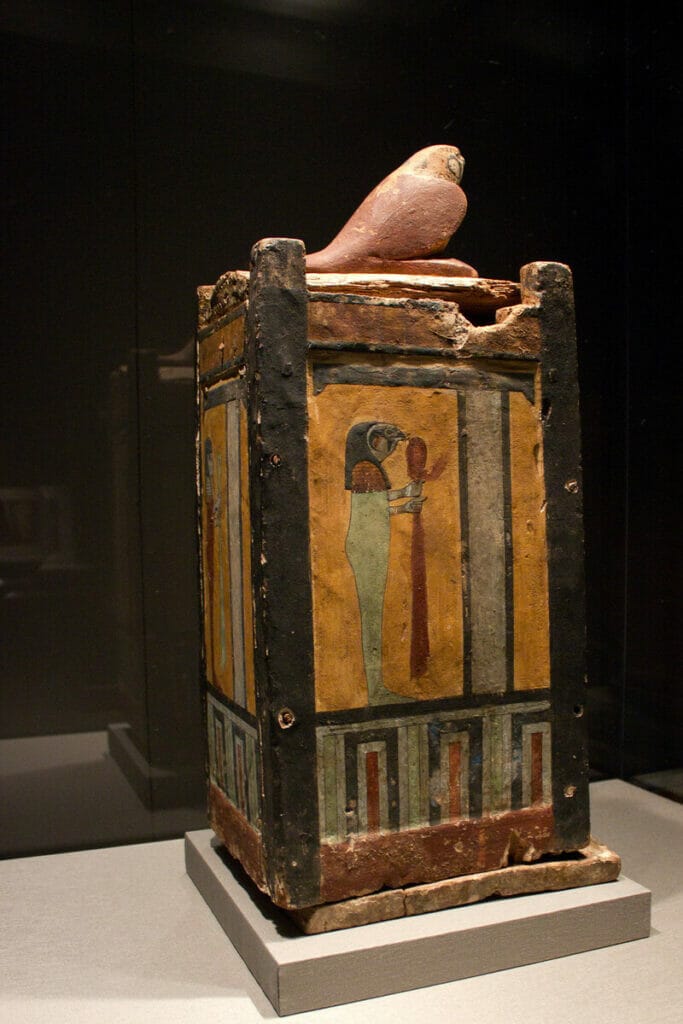 Not all museums are created equal; some are just more interesting than others for out-of-town tourists.
Houston's Museum of Natural Science certainly ranks far toward the "fascinating" end of the scale.
Permanent attractions include a planetarium and observatory, a giant-screen theater, and a beautiful butterfly garden.
In addition, the Houston Museum of Natural Science has many impressive themed presentations that regularly rotate onto public display.
Even if you've visited the Museum of Natural Science before on a previous trip, you're going to find something new every time you come back!
Top tip: Skip the lines and grab your tickets to the Houston Museum of Natural Science in advance so you can enjoy all the displays and exhibits!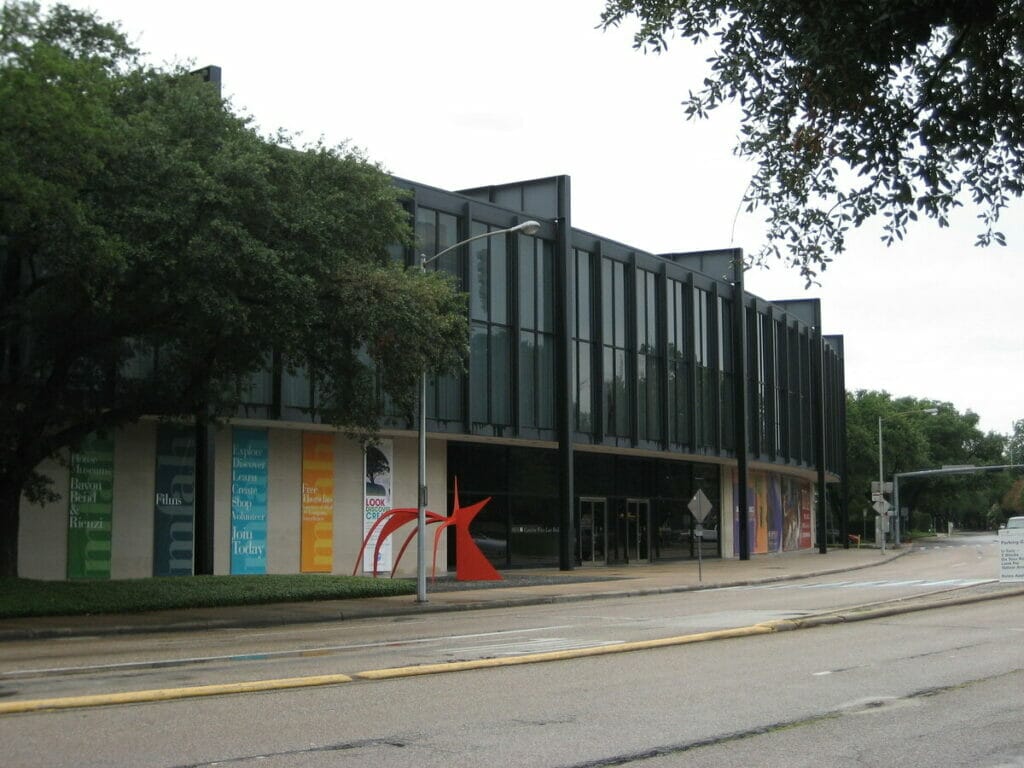 What makes The Museum of Fine Arts particularly remarkable is its commitment to showcasing masterpieces produced across a wide array of different cultural and artistic traditions.
The Museum's collection includes pieces produced by American, French, Italian, Latin, and Islamic artists.
7. Take A Walk On The Wild Side at the Houston Zoo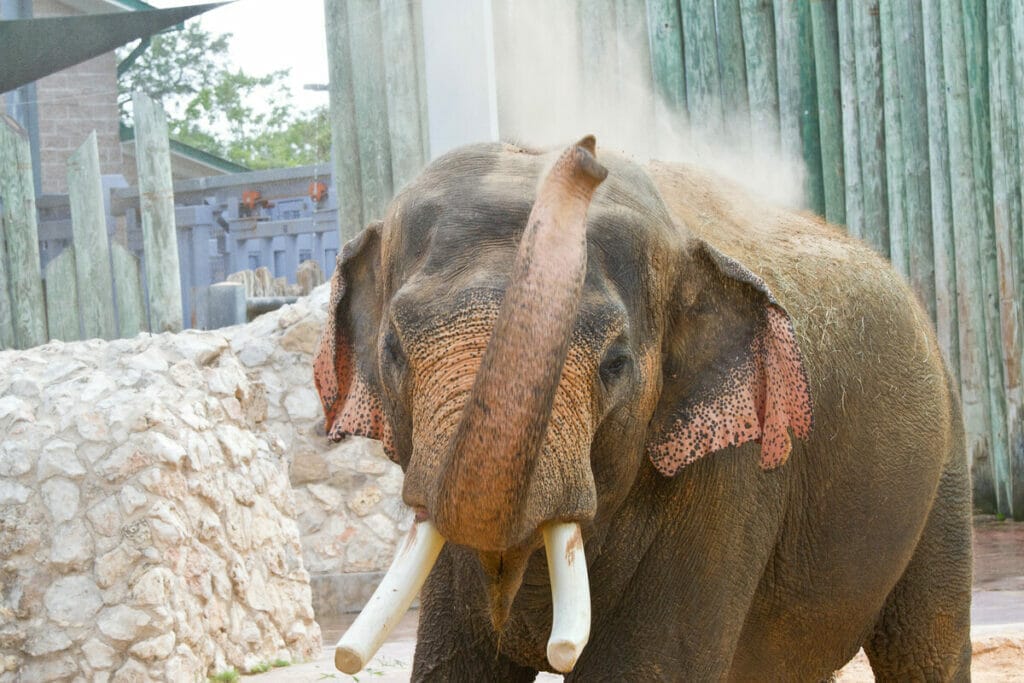 Any animal-lover will appreciate a full-day trip to the Houston Zoo, or even a short drop-in for a few hours.
The Houston Zoo sprawls across 55 acres and collects a range of animals from the common to the exotic.
The zoo's well-appointed enclaves are particularly known for their bears and flamingos.
If you're in the mood for a creepy-crawly adventure, the Houston Zoo also has a renowned Bug House on the premises.
Galveston is a smaller island town located just a few miles south of Houston.
And you can trust Houston natives to tell you some chilling stories about the island's spooky heritage; tragedies and mysteries abound in the history of Galveston.
If you have the courage for it, you have a choice among several different Galveston ghost tours, this tour is one of our favorites, and it's guaranteed to tingle your spine!
If you're looking for chills and thrills while enjoying an adult beverage, check out one of our favorite Galveston Haunted Pub Crawls!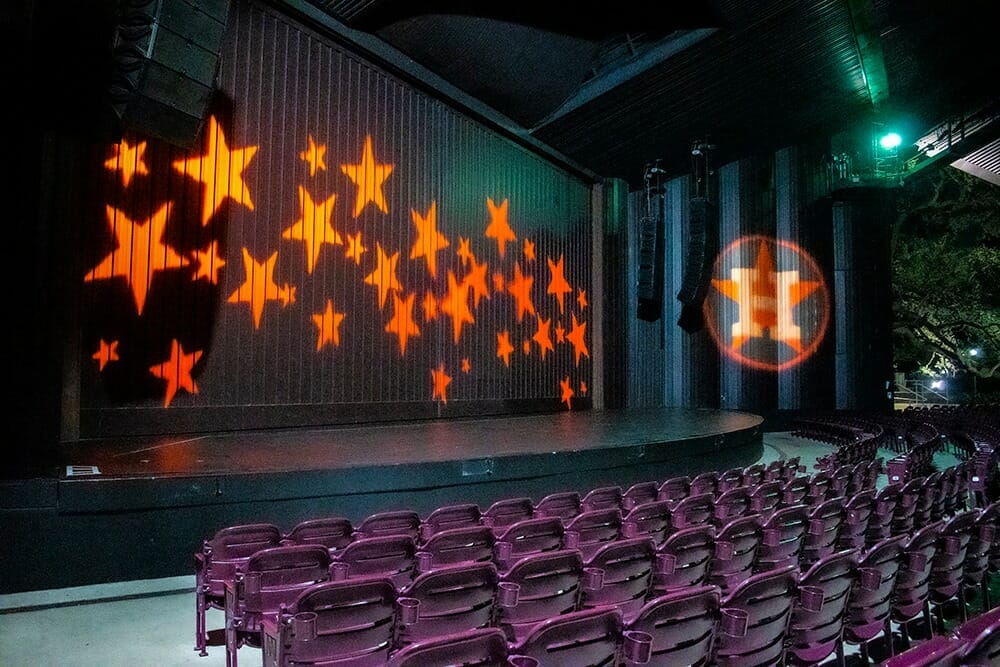 A major center for public entertainment, the Miller Outdoor Theatre is a venue that offers an ever-changing array of performances.
Welcoming both locals and visitors, the Miller Outdoor Theatre is centered around a huge, acoustically-perfect outdoor amphitheater.
The busy schedule includes both musical and dramatic presentations, building its presentations around the needs of the community.
You can catch everything from student plays to major music acts; make sure you check the Miller's schedule when you come to Houston!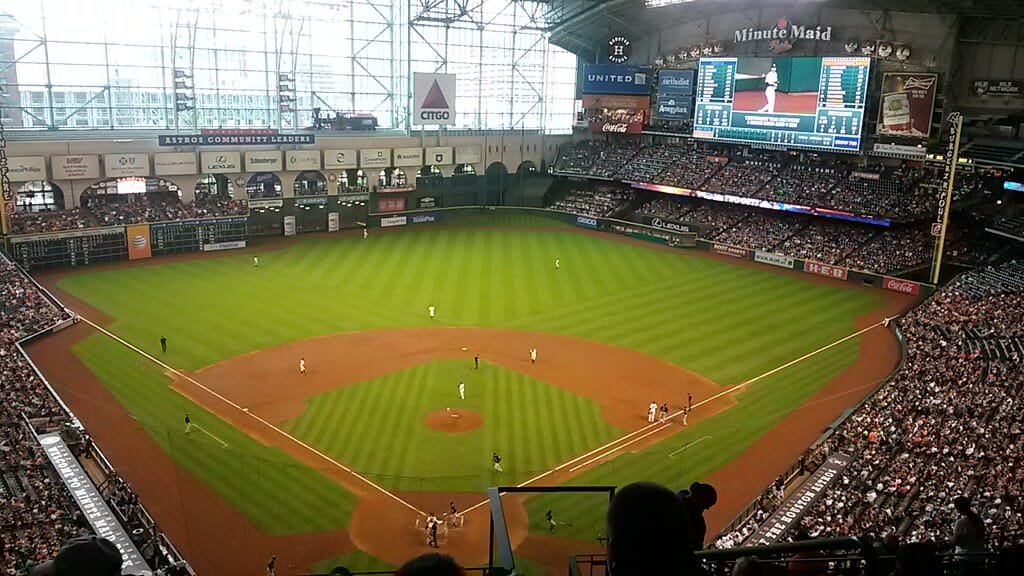 Although this particular stop will mainly be of interest to sports (and particularly baseball) fans, Minute Maid Park is an impressive sight to see.
The stadium is situated in central Houston, and it features a retractable roof that's a marvel of engineering.
Guided tours are available, allowing interested fans to get maximum value out of a visit to this noteworthy field.
11. Bike To Adventure On The Downtown Skyline Sunset Ride
It's easy to see why the Downtown Skyline Sunset Ride might be Houston's most popular path for pedestrians and cyclists: the view is spectacular.
The Skyline Ride winds its way through many scenic parts of downtown Houston, touching on several great tourist attractions as it goes.
Although you can hop onto the Sunset Ride at any point, we recommend starting in the Central District and following the trail all the way to the heart of the city, with its massive skyscrapers.
If you're looking for an expertly-crafted trip along the Skyline, guided bike tours are available.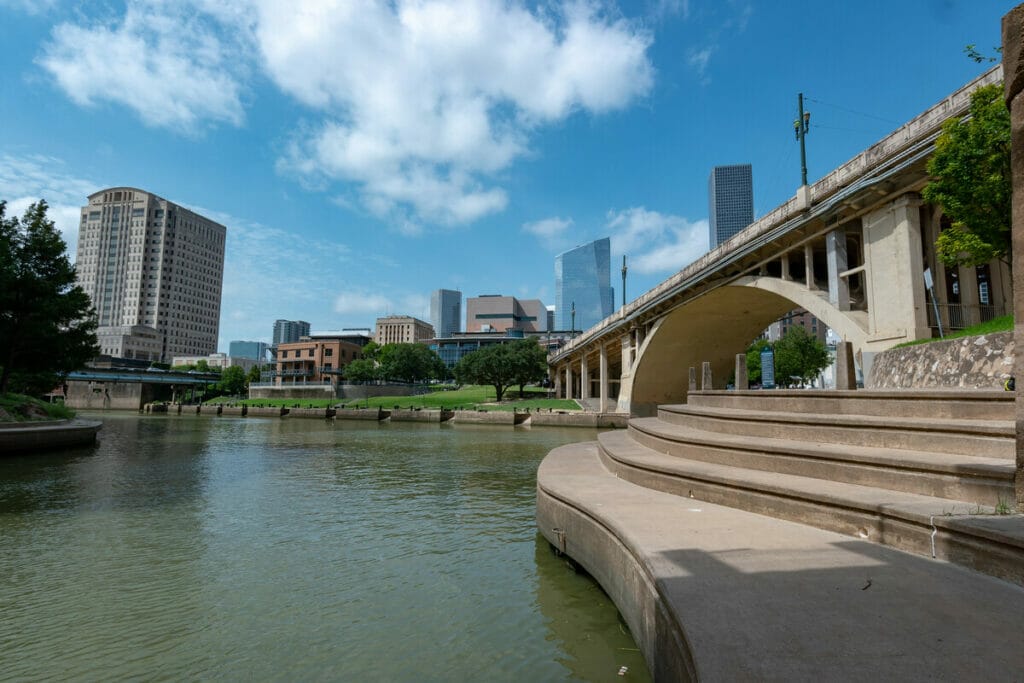 For cities with the right water features, kayak tours are becoming an increasingly popular way for visitors to explore the town.
This opportunity is freely available in Houston thanks to the perfectly-located Buffalo Bayou.
Multiple companies offer a range of different kayak tour packages, including some tailored for the solo tourist.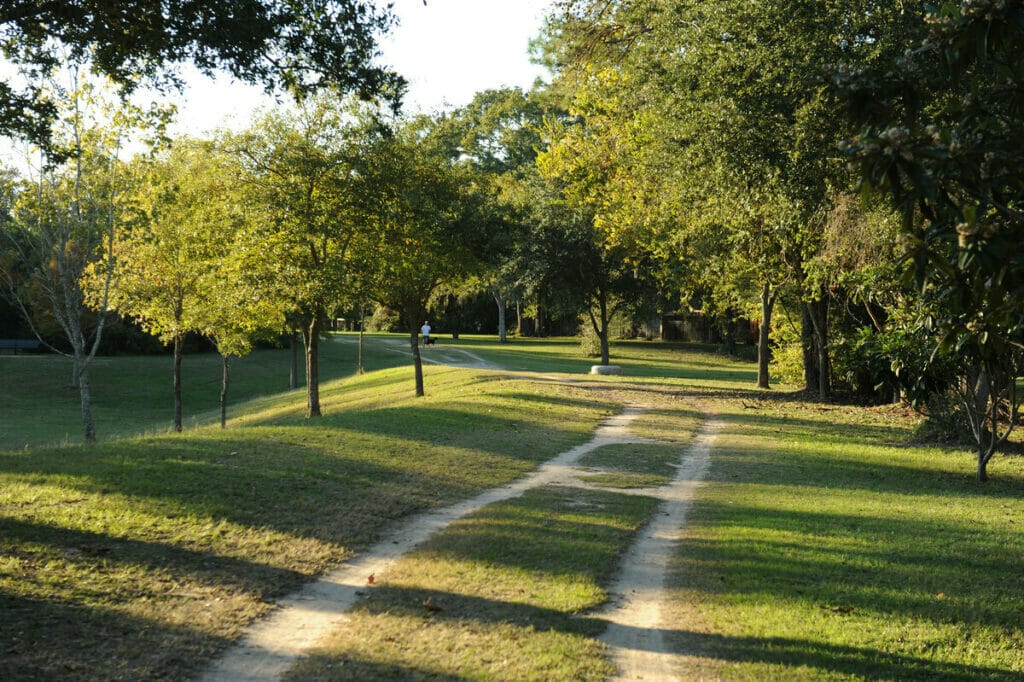 Buffalo Bayou Park is located immediately adjacent to the same-named body of water.
It's a beautiful and well-tended park, but its location gives it just a hint of wilderness.
It's an excellent place to relax and unwind, though there's also a nice selection of food vendors and activities (e.g. skating) available.
Buffalo Bayou Park is also ideally located to be a first or last stop on the way to Houston airport.
The calming environment is perfect for decompressing after a flight or a busy trip through the city.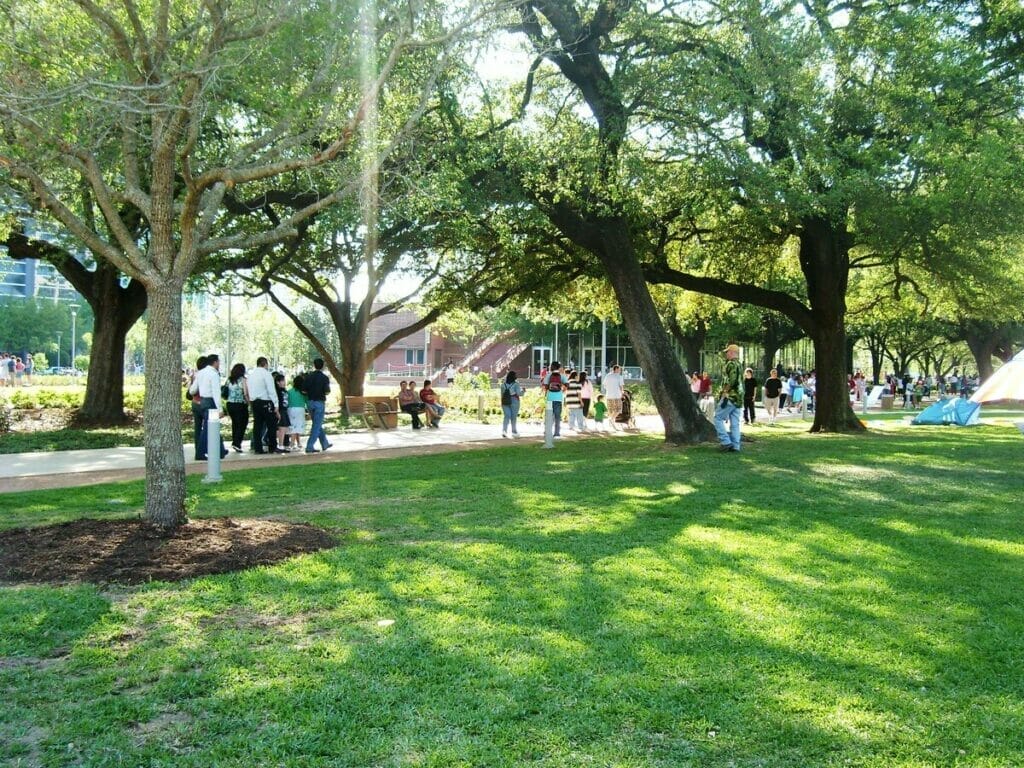 Discovery Green Park is an enormous urban park that offers refreshing views and enriching activities for visitors of all ages.
Discovery Green is always busy but never overcrowded; whenever you visit you're virtually guaranteed to mingle with a rich crowd of natives and out-of-town visitors.
The park offers plenty of walking trails and an intriguing fish pond.
There are also food vendors on hand if you get peckish.
Or, if you'd like to simply decompress, Discovery Green makes a great place to spread out a picnic blanket and while away a sunny afternoon.
15. Learn The Secrets Of Texan Steak
Texas has a cuisine all its own, and sometimes it can get complex.
Sometimes it's as simple as tearing into a perfectly-seared steak, though, and the opportunity to do just that attracts foodies from all over the world.
Why not take it a step further the next time you're in Houston?
Several of the city's finest restaurants offer cooking classes, including some that focus exclusively on learning how to bring the very best out of a top-quality piece of Texas beef.
Impress your friends back home with something longer-lasting than a souvenir: Bring back the knowledge of preparing the perfect steak, Texas style!
16. Try Your Hand At Candle-Crafting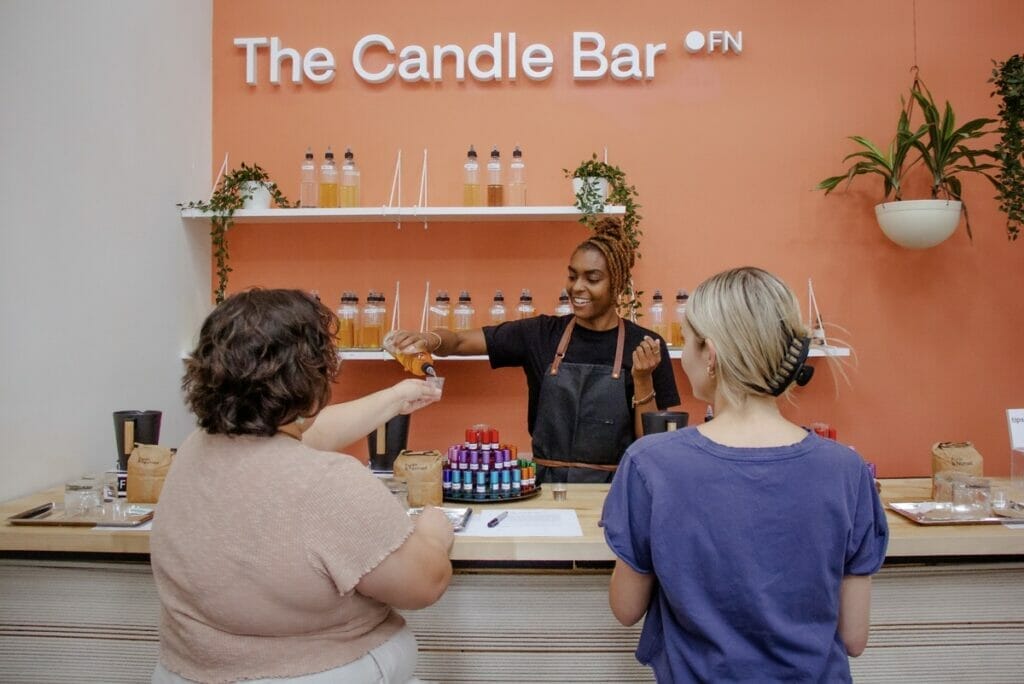 A scented candle can add a nice visual and aromatic tone to any room.
There's certainly no shortage of scented candles being sold in stores, but have you ever considered the appeal of a personalized candle?
Wouldn't it add an air of pride to the feeling of relaxation you get if you're lighting up a scented candle you made yourself?
You can try exactly that at the Candle Bar, a unique retail outlet that offers hands-on candle-making classes.
While some travelers appreciate the structure offered by guided tours, others yearn to chart their own path.
You can do exactly that in downtown Houston!
Although it's a large city, you can easily follow along a self guided audio tour like this one to get a true taste of the city!
All it takes is a city map, some energy, and a little canny preparation.
Pin for Later!