There's nothing better for your soul than getting out into nature, and spending time at one of the best lakes in Texas is one of the easiest ways to enjoy the great outdoors.
Whether you want to have a picnic, do water sports, catch a sunrise or sunset, or lounge around a campfire as you listen to the water lapping along the shore, Texas has you covered with over 7,000 lakes to choose from.
Don't worry, though!
We've narrowed that number down to the top most popular lakes in Texas, and certainly, the most beautiful lakes in Texas.
You'll be out in the fresh air relaxing by the water in no time.
PS – if you are more of a coastal person, check out our guide to the best beach towns in Texas!
Hey! Want more expert tips on Texas? Check out our other guides!
GET A

FREE

TEXAS GUIDEBOOK WITH LOCAL TIPS!
With 71 pages of helpful travel tips and the "best of" Texas lists, this is your ad-free key to your Texas trip.
Okay, everyone grab their best vintage Texas tee and let's get going!
Best Lakes in Texas
1. Lake Amistad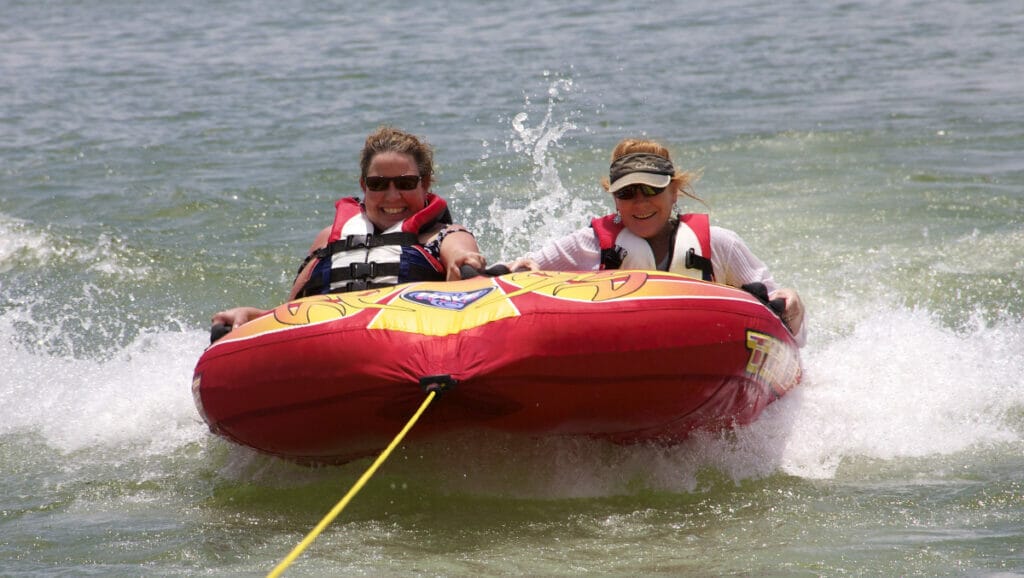 Lake Amistad, with its stunning vistas and limestone cliffs, is a 64,900 acre reservoir on the Rio Grande that straddles the border of Texas and Mexico and is one of the best lakes to visit in Texas.
The American side forms the Amistad National Recreation Area which has 850 miles of shoreline and is located in Val Verde County.
Take a boat tour and view 4,000 year old Native American rock art at Parida Cave or Panther Cave (where you can see a panel that is 100 ft long!)
Hike the trails and see birds, breathtaking views of the lakes, cliffs, and more.
Rent a boat, jet ski, waverunner or other water toys or rent a kayak and spend the day on one of the many paddle trails.
Swim, snorkel, or scuba dive (you may see some underground caves!)
Lake Amistad is famous for its fishing.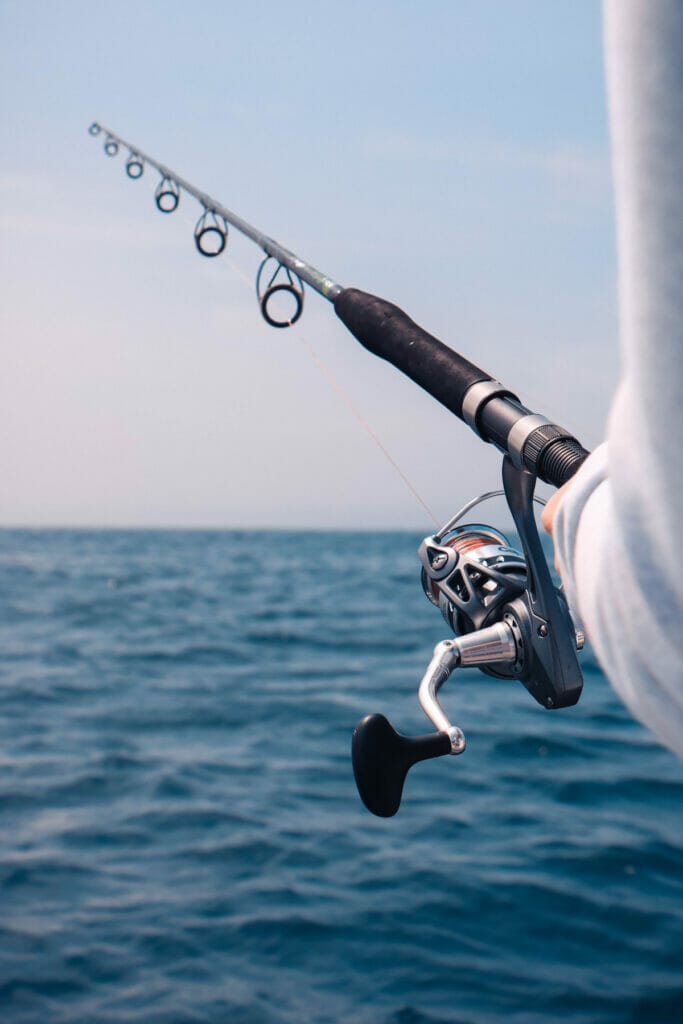 Bowhunting and shotgun hunting are also available at certain times of the year.
2. Caddo Lake
Caddo Lake is a 25,400 acre freshwater lake and bayou on the Texas/Louisiana border.
It's the only natural lake in Texas and features bayous, riverways, and swamps all waiting to be explored.
Traverse 50 miles of paddling trails in a canoe or kayak and take in the scenic views and wildlife.
Enjoy the beauty of the 300-year-old, Spanish moss covered, Bald Cypress trees as you take a boat tour and explore the bayou (watch out for alligators!)
Go hiking or horseback riding on the trails at the National Wildlife Refuge.
Fish for one of the 70 different species found in Caddo Lake.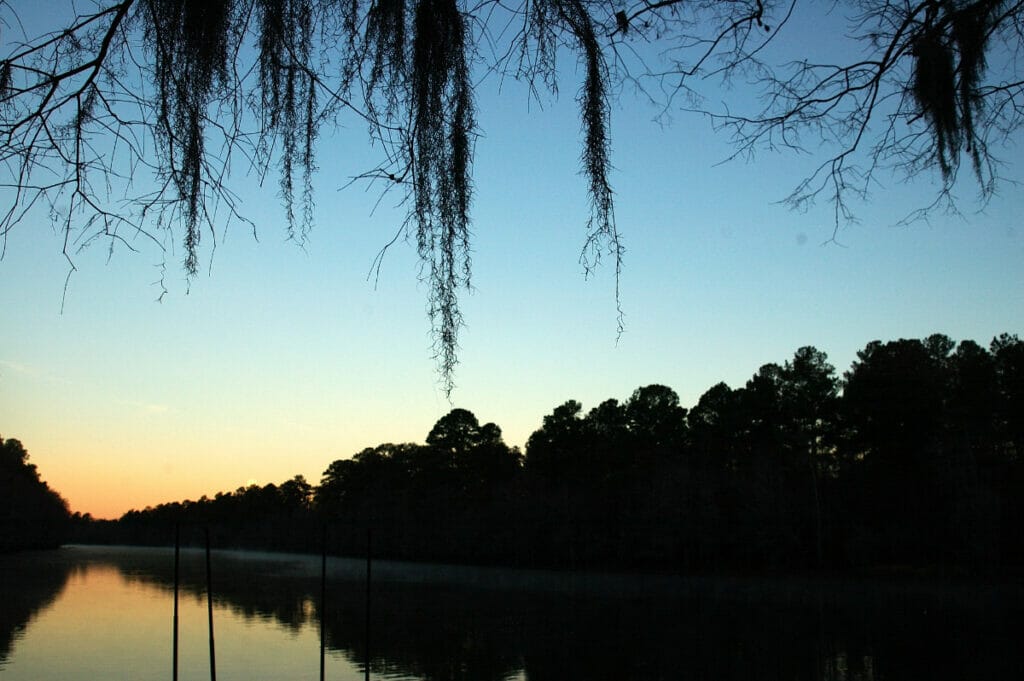 Spend the day birdwatching (there are over 200 species of birds in the area.)
End the day watching a magnificent sunset over the Cypress trees.
3. Lady Bird Lake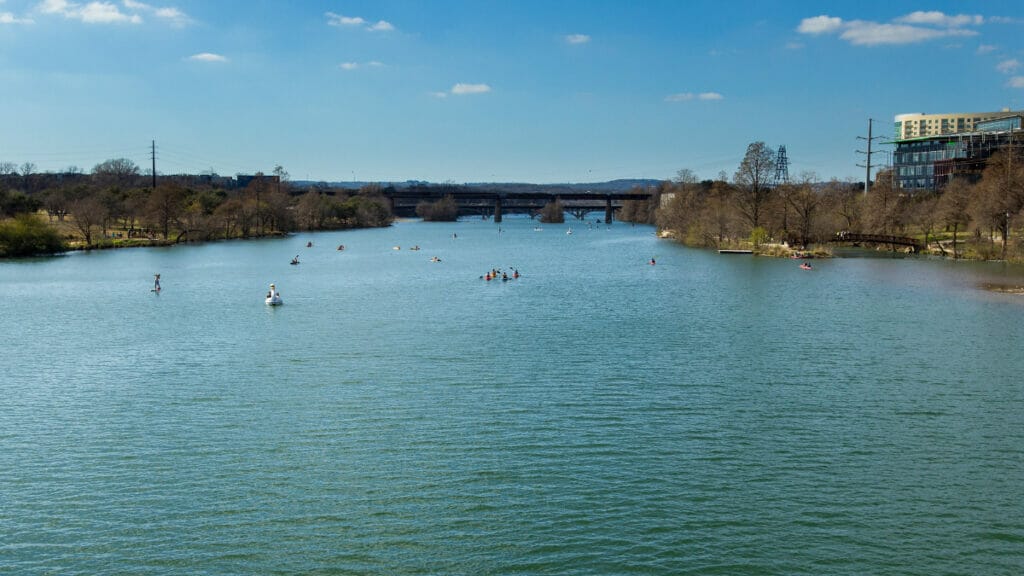 Lady Bird Lake reservoir is a 416 acre lake in beautiful Austin.
Kayak, canoe, row, or paddle board the day away on the paddling trails with the skyline views in the background.
There are three different trails totaling 11 miles.
Enjoy nature as you run, hike or bike on the 10 mile long Ann and Roy Butler Hike and Bike Trail.
Take in an open-air concert or any of the other events that are prevalent throughout the year.
Are you a music fan?
Check out the memorial statue honoring Stevie Ray Vaughan.
Or grab a pole and go fishing for catfish, sunfish, largemouth bass, or carp.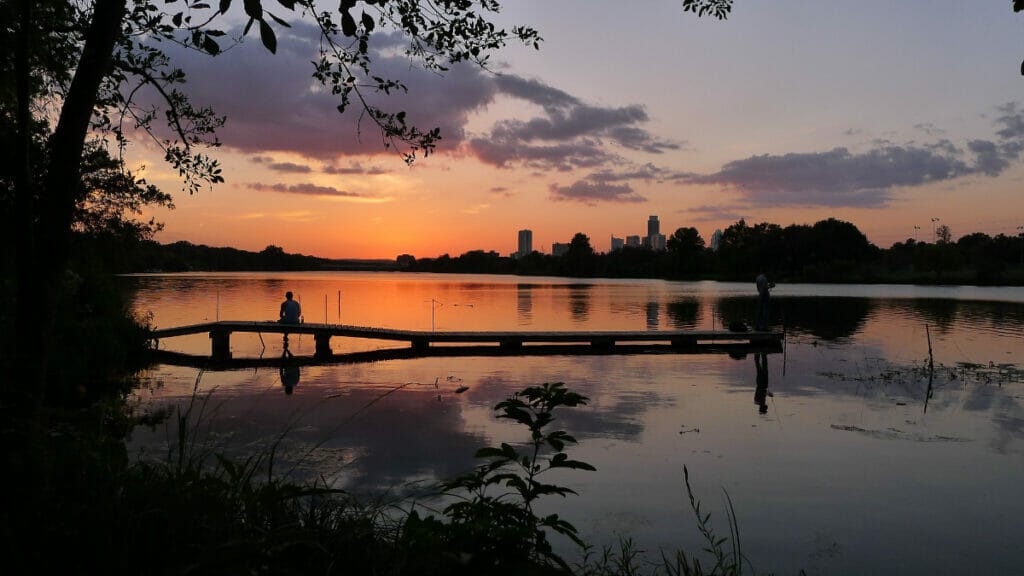 Spend the day at Zilker Park enjoying a picnic, the playground, botanical gardens, and a swim in Barton Springs Pool.
4. Lake Buchanan
Lake Buchanan is a 23,333 acre reservoir on the Colorado River near Burnet in Texas Hill Country.
Rent a kayak or canoe and head to the waterfall.
Wade along portions of Lake Buchanan that have unique, granite-gravel shorelines and swim in the crystal clear water.
Take a fishing tour where you can find the best spots and even have the fish cleaned for you.
Camp at Cedar Point Recreation Area and enjoy the stunning lake views.
Swim at Black Rock Park and then have a picnic and enjoy some miniature golf.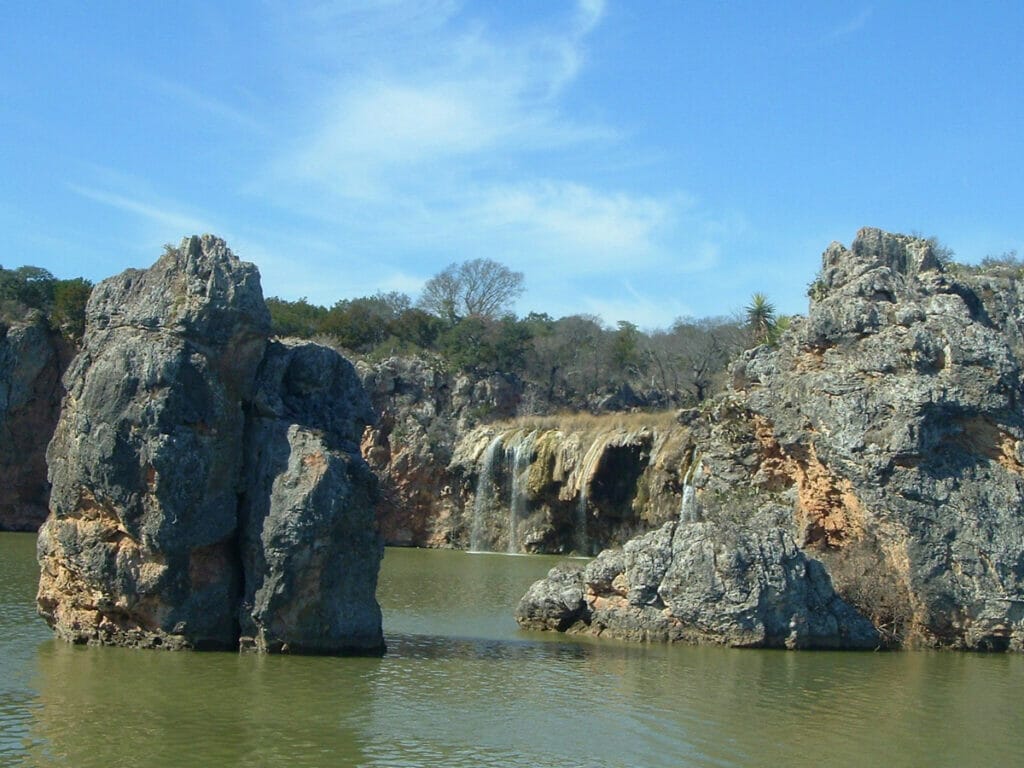 Go on a hike on the guided walks and nature trails at Canyon of the Eagles (you may even see a bald eagle!)
Also, be sure to check out the Eagle Eye Observatory when you are there to view the night sky.
Enjoy a Texas Hill Country wine tour or a wine tasting at the 400-acre Fall Creek Winery.
5. Stillhouse Hollow Lake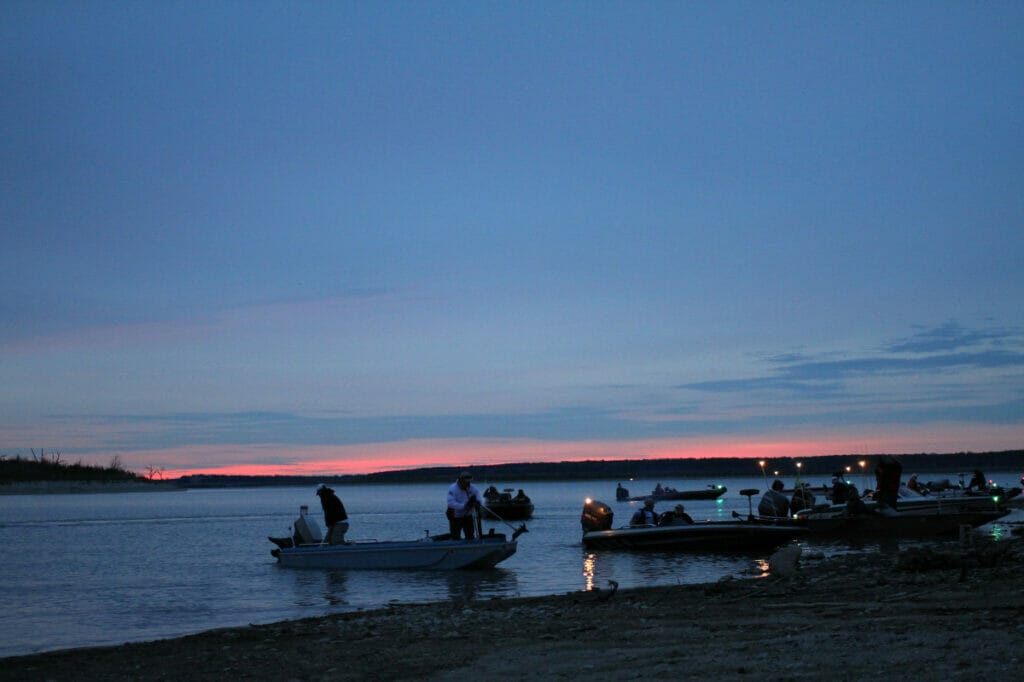 Stillhouse Hollow Lake is a stunning, peaceful 6,429 acre lake on the Lampasas River in the Brazos River Basin.
Fish for catfish, crappie, and white, smallmouth, and largemouth bass.
Get out on the water for swimming, scuba diving, snorkeling, waterskiing, and tubing.
Rent a boat, kayak, or canoe and explore the coves.
Head to Dana Peak Park for camping, swim on the beach, or explore the rocky beaches and sandy bluffs by canoe or kayak.
While there hike, bike, or horseback ride on the trails and enjoy the beautiful scenery and wildlife.
Check out Union Grove Park for camping, water sports, hunting, and fishing.
Top Lakes in Texas
6. Lake Travis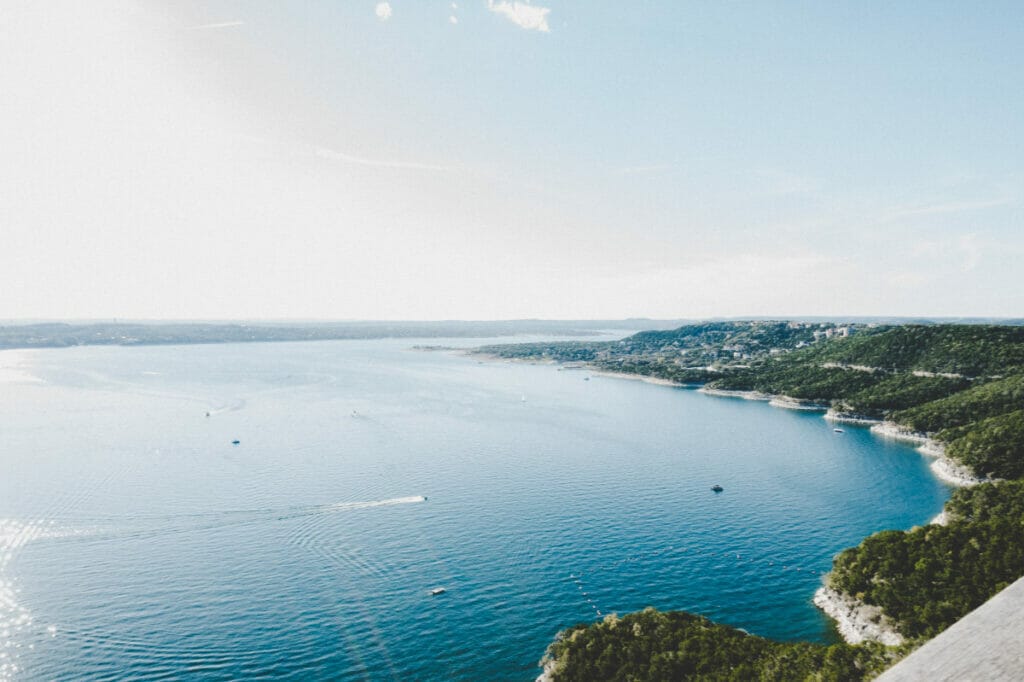 Lake Travis, located in Austin, is an 18,930 acre, limestone-bottomed, freshwater lake with 270 miles of shore.
Go swimming and play in any of the 4 water parks on the lake.
Scuba dive in the blue, crystal-clear water to see the sunfish.
Rent a jet ski, kayak, or a sailboat to explore for the day.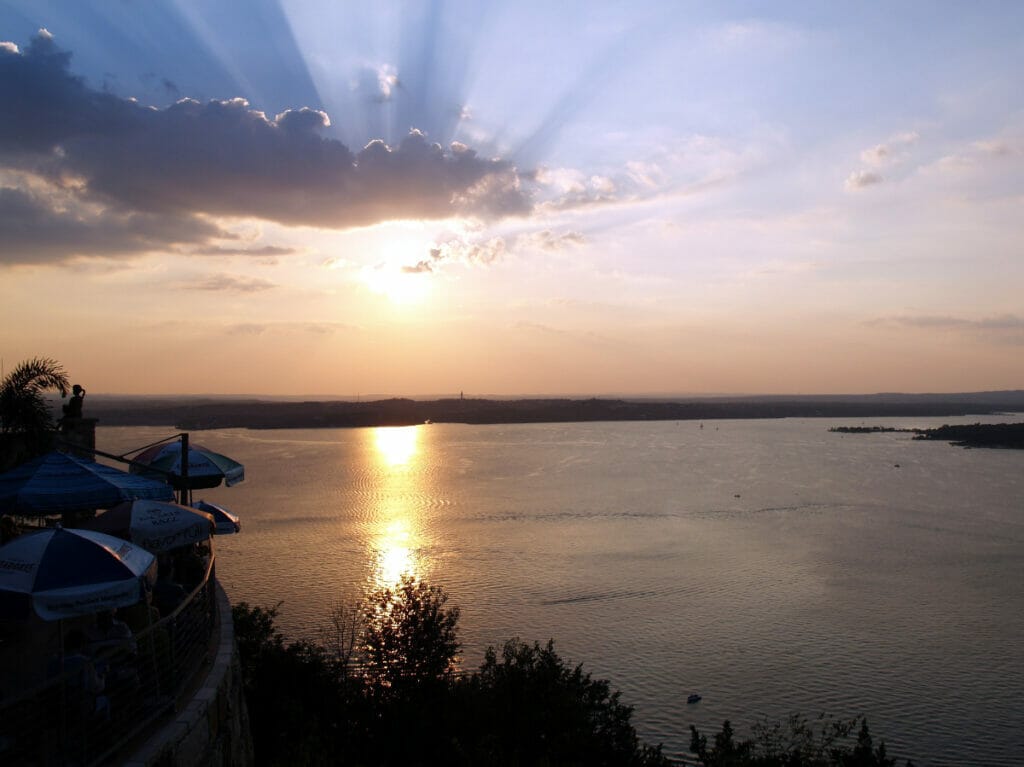 Or rent a houseboat and spend the night in a scenic cove with breathtaking views.
Prefer to enjoy the lake from land?
Spend the morning hiking, have a picnic, then do some ziplining on one of the Lake Travis Zipline Adventures, and end the day with a helicopter tour where you'll see Austin, Lake Travis, and the stunning Texas Hill Country.
The wide variety of things to do makes Lake Travis one of the best lakes in Texas for vacation.
Don't forget the great places to stay near Lake Travis as well, with the nearby Lakewood Resort and Spa being one of the best Texas hotels!
Best Lakes in Texas for Swimming
7. Barton Springs Pool
The three-acre, 1,000 ft. long Barton Springs Pool (fed from nearby natural springs) is a swimming hole located in Zilker Park in Austin.
Barton Springs Pool has a limestone bottom, a depth range of 0-18 ft., a beautiful view of the Austin skyline, and is unlike anything you've ever seen.
Spend the day floating on an inner tube (they have them for rent if you don't have your own) or jump off the diving board.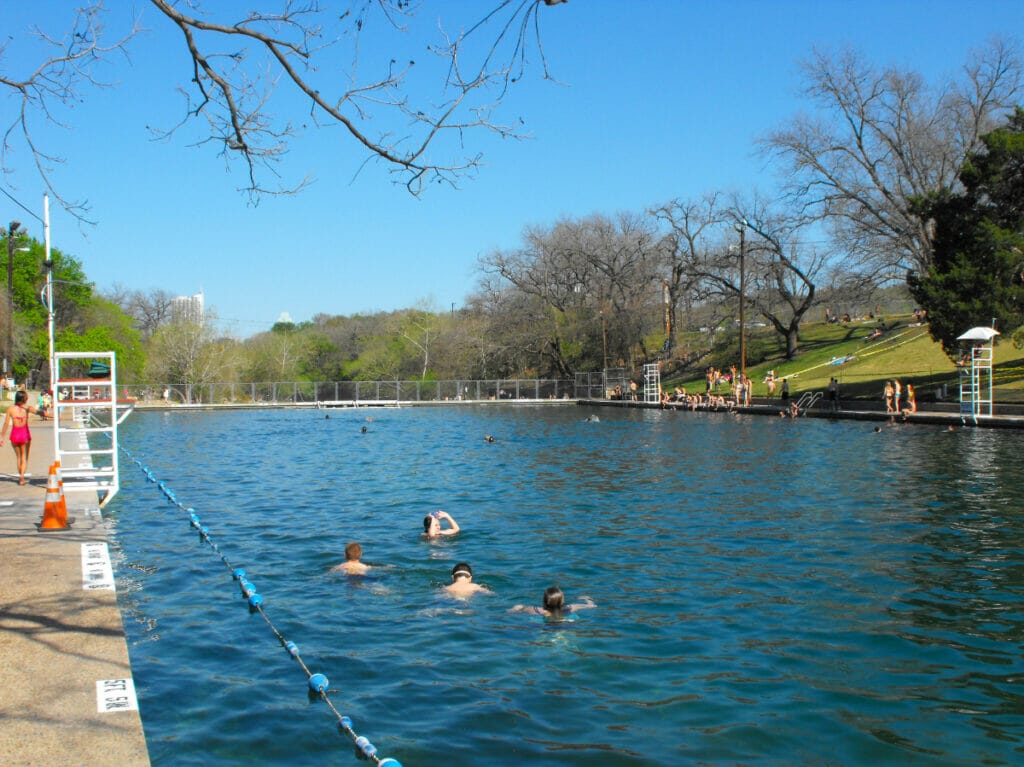 Bring a snorkel and fins and explore below the surface.
Watch for turtles, fish, crawfish and the Barton Springs salamander which can only be found at Barton Springs Pool and is on the endangered species list.
Dry off in the shade or in the sun along the grassy banks.
For peace and tranquility, head to the Upper Springs.
8. Krause Springs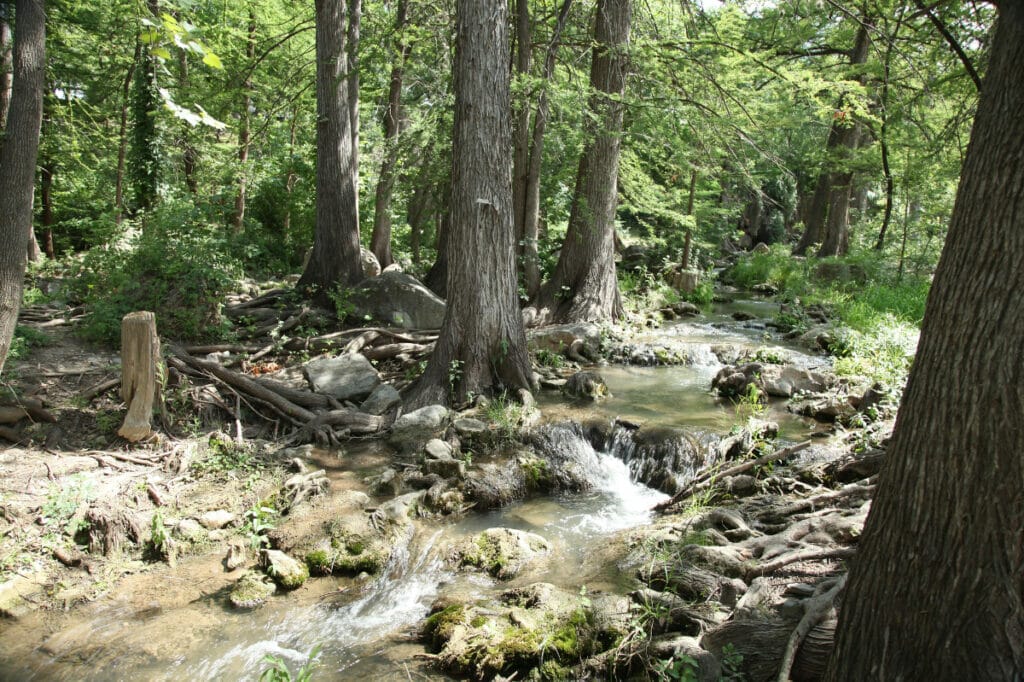 Located in Spicewood, Krause Springs is a 115-acre historical site in Texas Hill Country and a wonderful Texas day trip.
There are 32 natural springs on the property as well as a campground.
Swim in the upper manmade spring-fed pool or head down the stairs to the natural swimming hole and waterfall and feel like you're in a tropical jungle. (don't forget your water shoes!)
Sit on the granite rocks and enjoy the amazing scenery.
Head over to the rope swing, explore the grotto, or jump from the bluff.
Bring an inner tube and float in the water.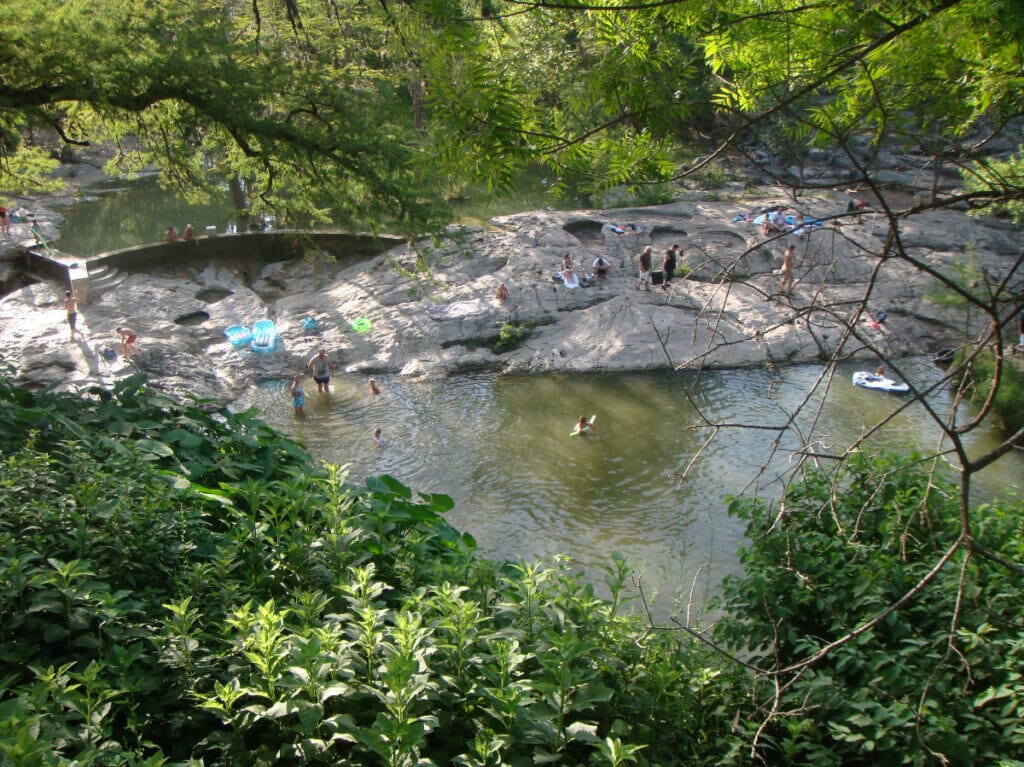 Visit the Butterfly Gardens where you can lay on a hammock if you need a break from the pool.
Listen to the wind chimes, enjoy the beautiful plants, and watch the butterflies flutter around the gardens.
Or hike the paths that wind throughout the property.
9. Burger's Lake
Burger's Lake is a 30-acre park in Fort Worth that will make you feel like you've stepped back into a simpler time.
Swim in the chlorinated, one-acre spring-fed lake.
There are two sandy beaches to build a sandcastle on, sunbathe, or relax and read a book.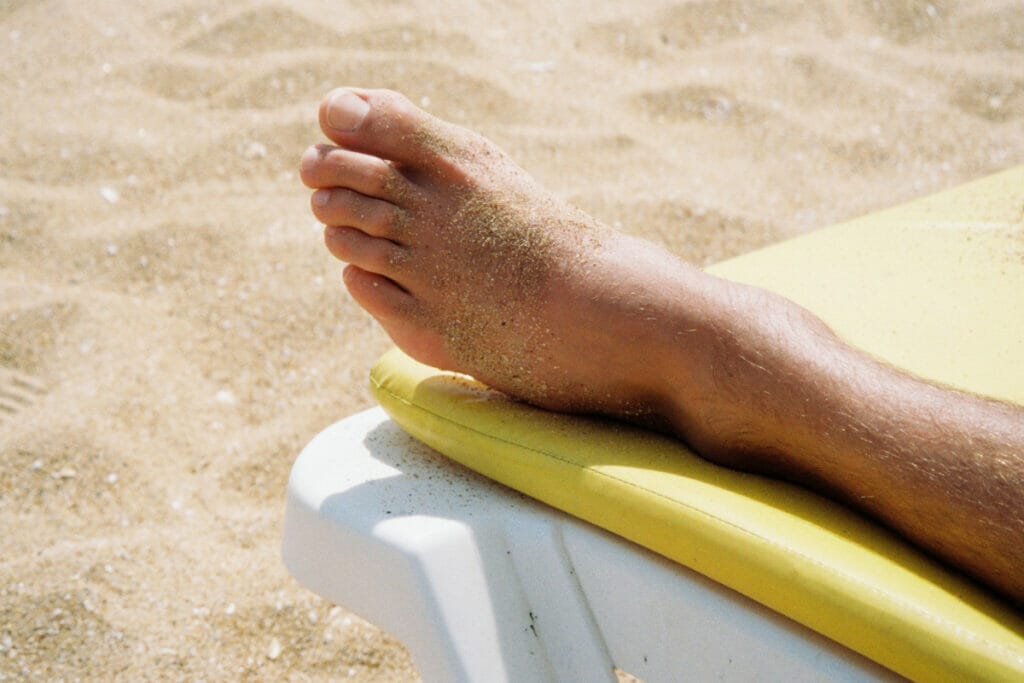 Dive off one of the six diving boards.
Rent an inner tube and float the day away.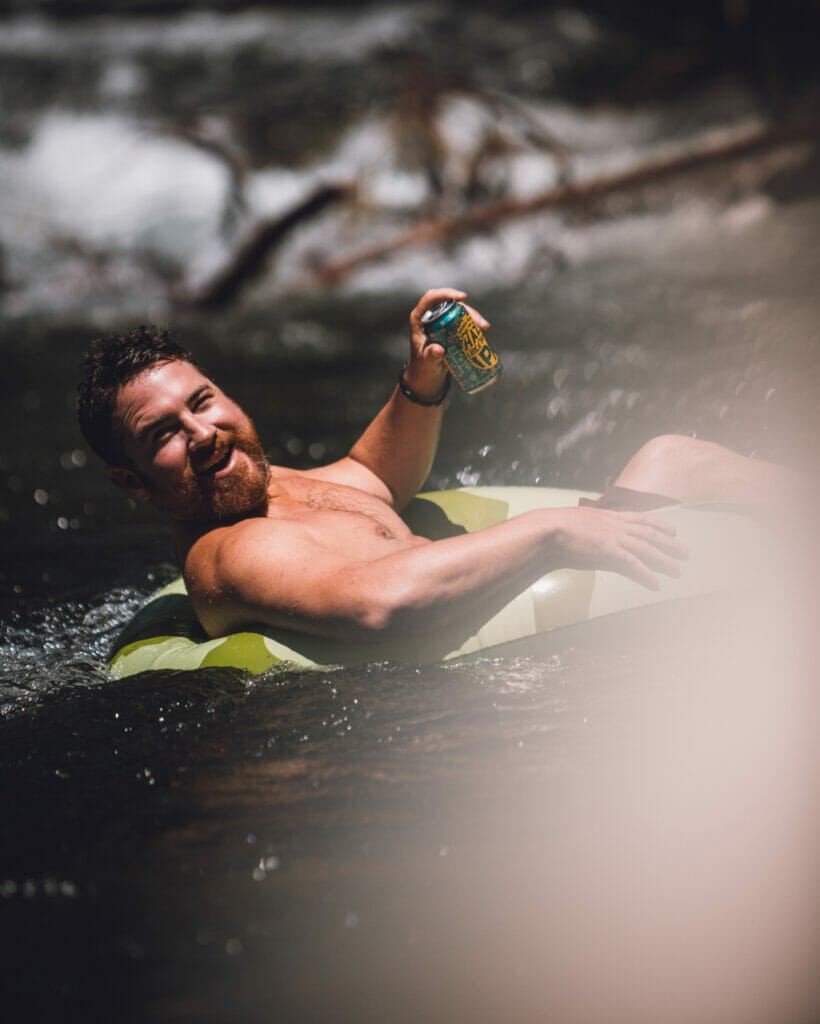 Slide down the 20-ft. slide or swing on the trapeze that swings across the water.
Get a partner and play a game of tetherball.
Have a picnic in the shade (they have picnic tables, but best to bring chairs or blankets, just in case it's crowded.)
10. Ink's Lake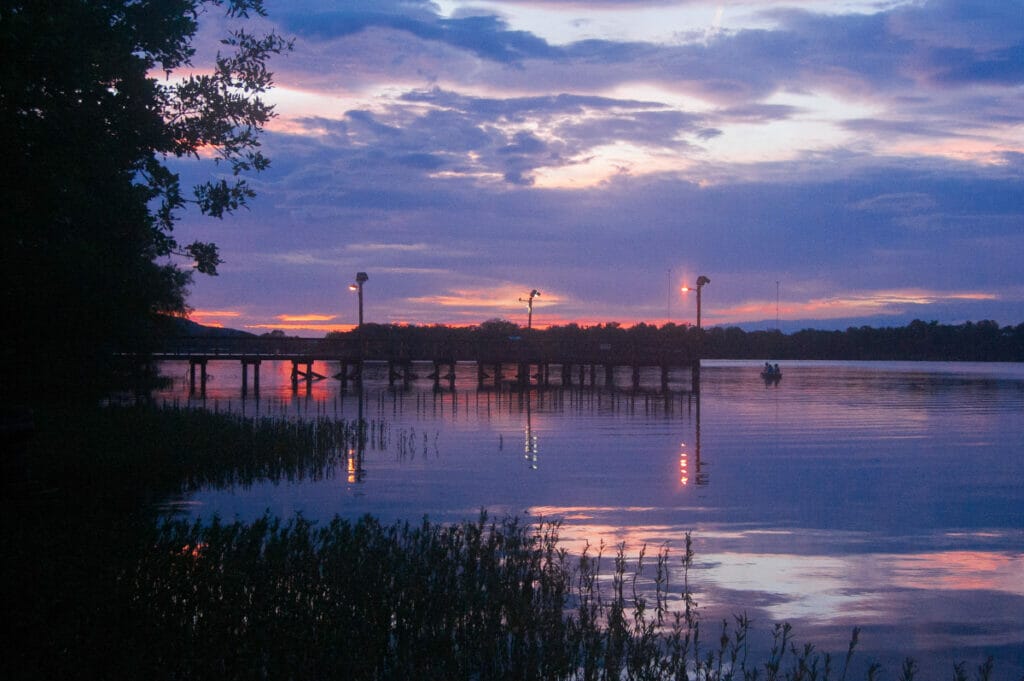 Ink's Lake is a 4.2 mile long, 831-acre reservoir on the Colorado River in Texas Hill Country.
Boat, water ski, swim, or scuba dive in the beautiful, clear-blue water.
Head to Ink's Lake State Park to rent paddle boats, kayaks, canoes to explore the lake and waterfalls.
Fish for sunfish, catfish, and bass (you can rent fishing gear, if you don't have your own.)
Hike the canyon or swim at Devil's Waterhole (you might get lucky and see the cliff divers who frequent the area!)
Traverse miles of hiking trails through rocky hills and forests and see amazing views.
And be sure to check out Devil's Cove where you can hike and swim around the creek.
11. Possum Kingdom Lake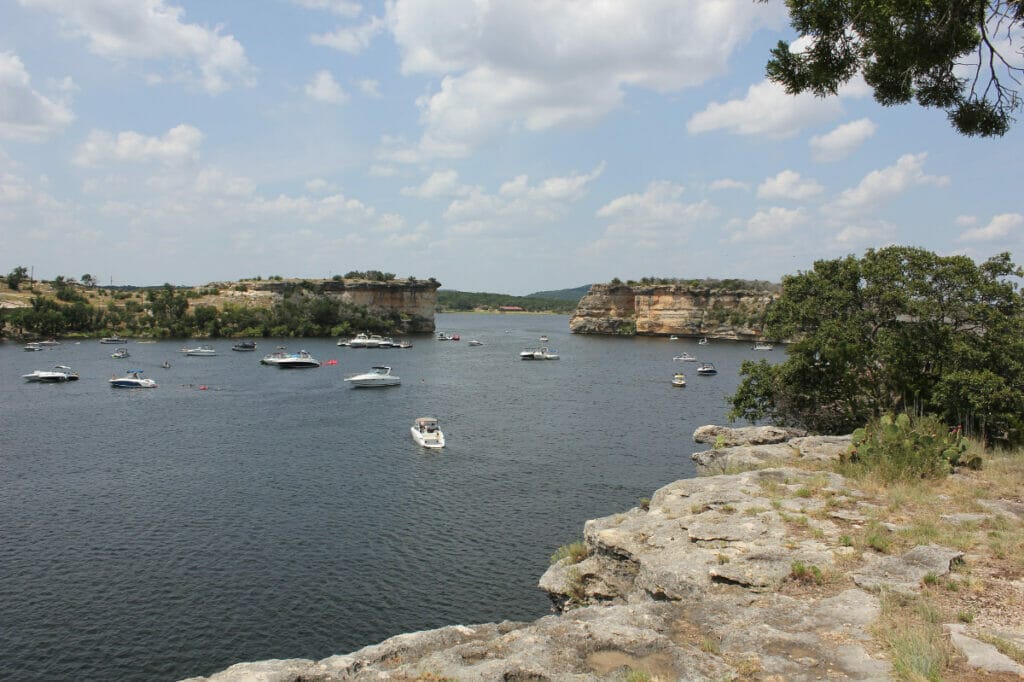 Located in Caddo, Possum Kingdom Lake is a 17,000 acre reservoir on the Brazos River.
With 310 miles of shoreline, scenic coves, and clear blue water Possum Kingdom Lake is one of the nicest lakes in Texas.
Swim in one of the many beaches.
Near the dam, scuba dive as you explore caves and cut-outs with views up to 100 ft.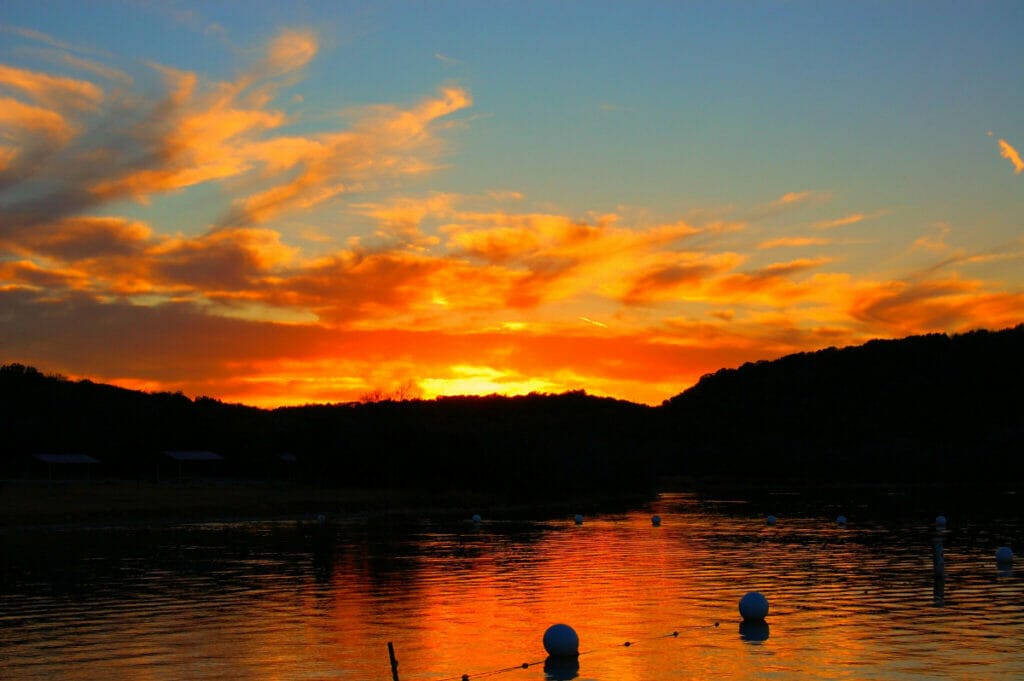 Fish or swim at Hell's Gate between the two 90-ft tall cliffs.
Rent boats to water ski, wakeboard, or go tubing with views of the picturesque cliffs and rocky bluffs at Possum Kingdom Lake State Park.
Hike along trails that wind you up along the rolling hills and limestone canyons and be surrounded by the untouched wilderness (be sure to hike to the top of the 90 ft cliff to see the breathtaking view!)
See how many of the 280 species of birds you can spot.
Clearest Lake in Texas
12. Canyon Lake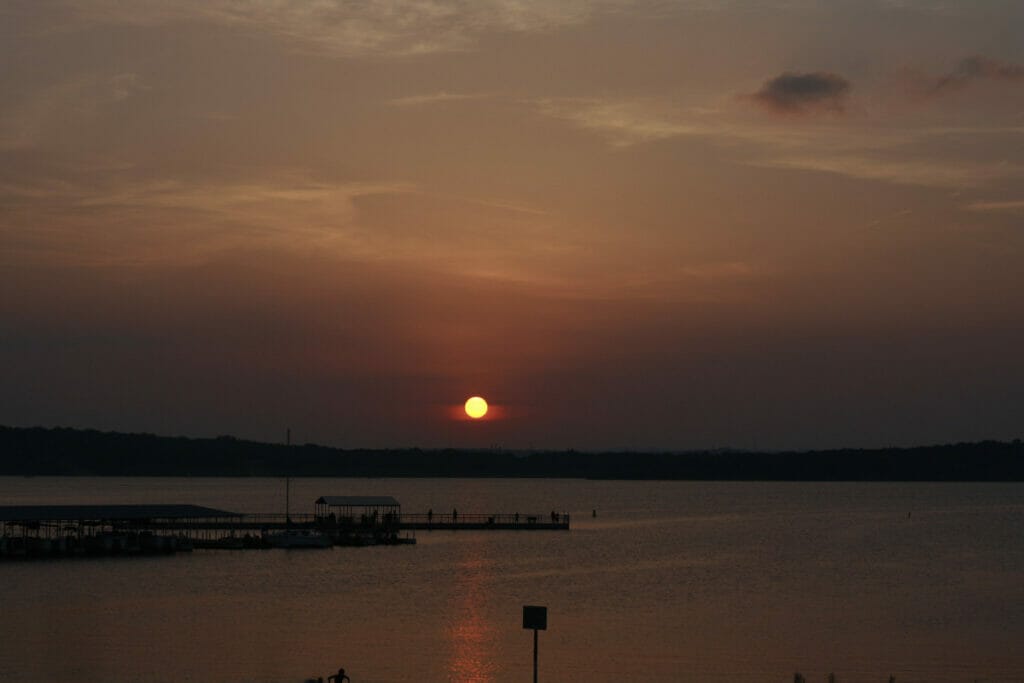 Canyon Lake is an 8,230 acre reservoir that has 80 miles of shoreline and beautiful, blue, crystal-clear water and is one of the cleanest lakes in Texas.
Spend the day boating, fishing, swimming, parasailing, water-skiing, scuba diving, kayaking and so much more.
Take a helicopter tour and see the stunning terrain from high above.
Tour the Canyon Lake Gorge and see where dinosaurs once roamed.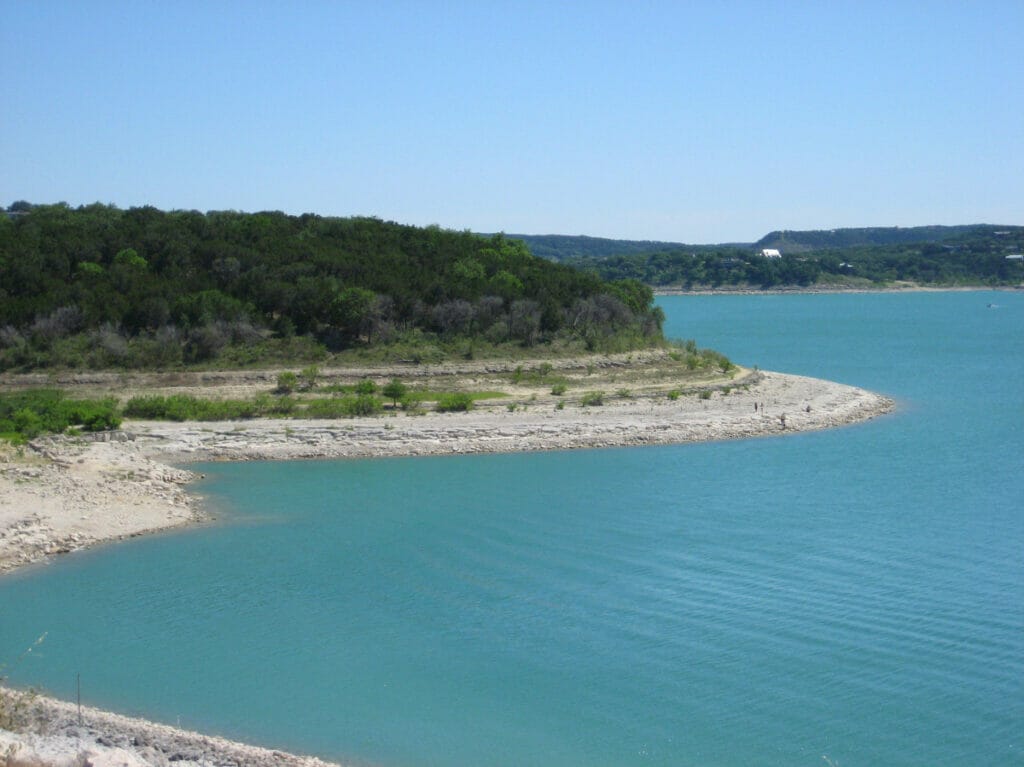 Check out the Heritage Museum and explore fossils, dinosaur tracks, and Native American artifacts.
Discover the wonders of the 8 parks that surround Canyon Lake on a road trip.
Don't miss Canyon Overlook Park where you can hike and walk and take in the breathtaking views of Canyon Lake and the valley.
Prettiest Lakes in Texas
13. Medina Lake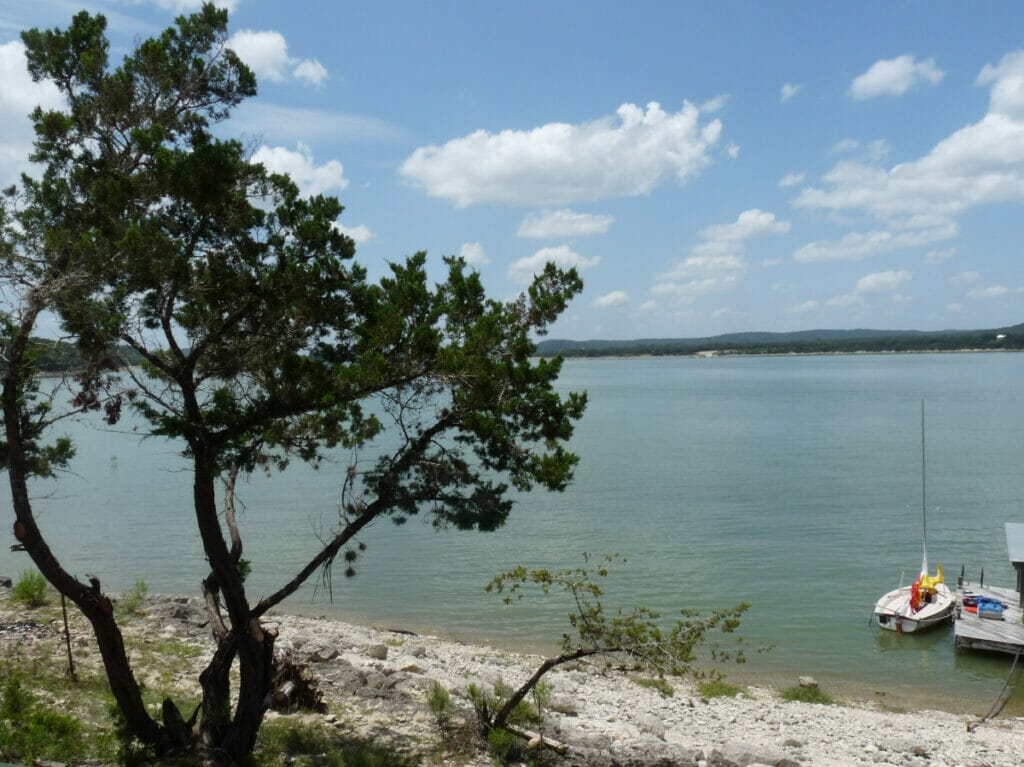 Medina Lake is a 6,060 acre reservoir on the Medina River in Texas Hill Country (one of the must-see places in Texas) with picturesque, limestone bluffs and crystal-clear water.
Access Medina Lake at Bandera County Park.
Explore the beautiful bluffs as you swim in and out of the many coves and inlets.
Fish for large, yellow catfish, largemouth, white, and striped bass, channel, flathead, and blue catfish, and carp.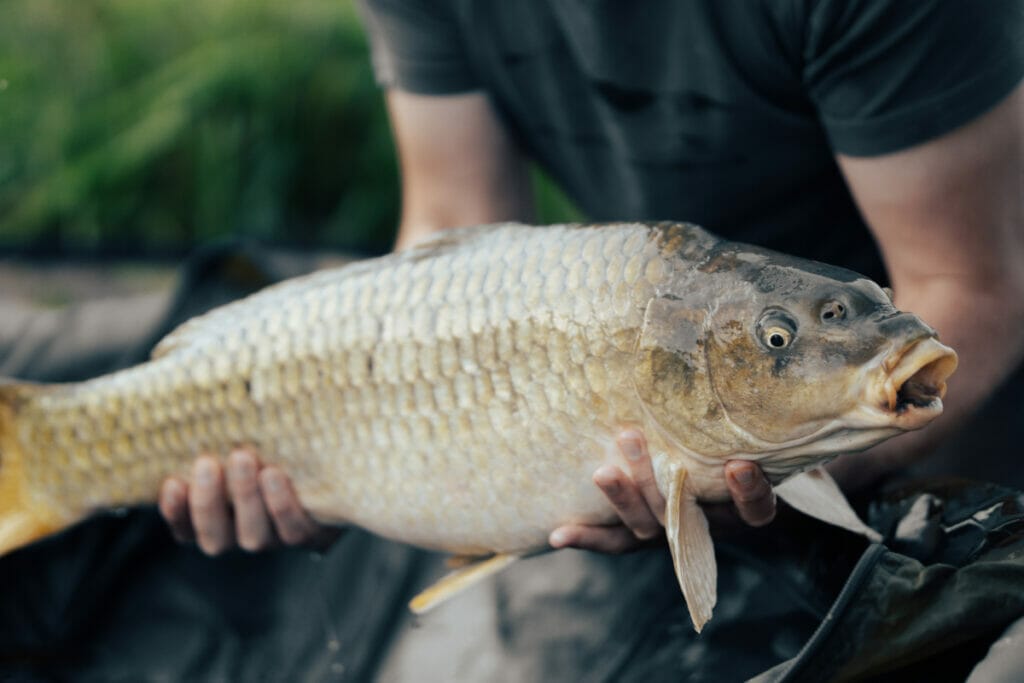 Spend the day boating, paddle boating, kayaking, or canoeing.
Scuba dive in the crystal-clear water and spot the varied sea life that inhabit the lake.
Hike the trails that surround the lake and take in the stunning scenery.
14. Lake Cypress Springs
Lake Cypress Springs is a 3,461 acre reservoir located in northeast Texas with 43 miles of shoreline.
There are 5 public parks that surround Lake Cypress Springs that offer hiking, camping, beaches, marinas, and access to the water.
Swim in the various inlets or in the bay, for a peaceful swim away from the boaters.
Fish in peace and quiet in one of the parts of the lake that are zoned for fishing only.
Water ski, paddle board, kayak, or canoe on the pristine water.
Take a hike and explore the beautiful landscape.
Watch for the abundant variety of birds and wildlife (during the winter, you can even spot eagles!)
15. Sabine Lake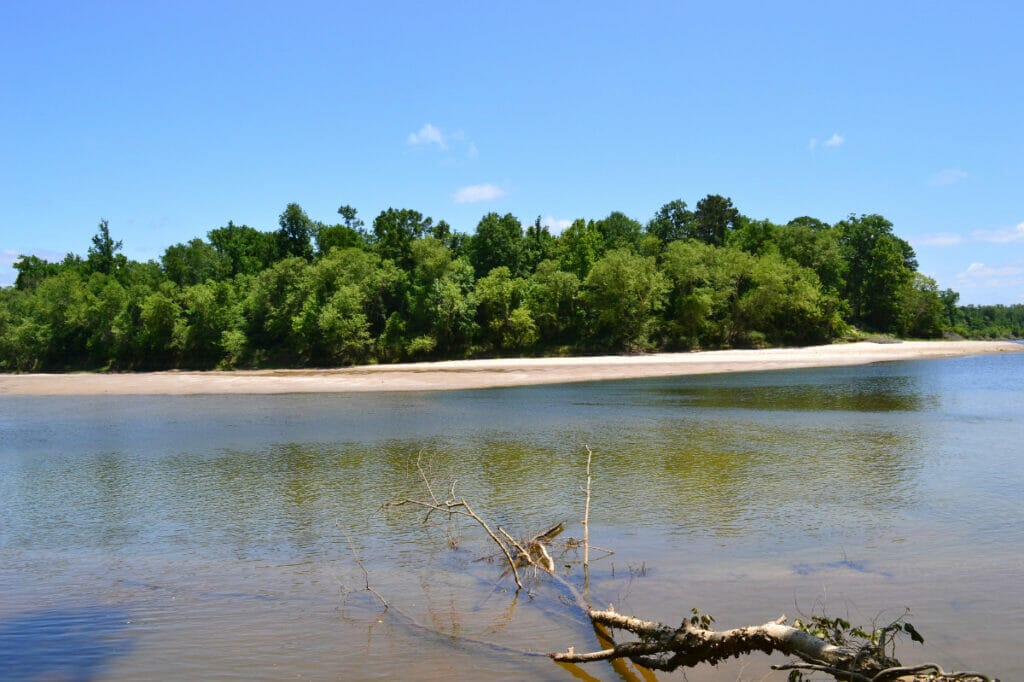 Beautiful Sabine Lake is a 70,000 acre saltwater bay on the Gulf coasts of Texas and Louisiana.
Start your day fishing for redfish, speckled trout, and flounder as you watch the sunrise on the Bessie Heights marshes.
The marshes are also a great place for birding.
Watch for shorebirds and songbirds and you may see osprey or bald eagles or the bright pink roseate spoonbill.
Hire a guide to show you the best fishing spots including Hickory Cove and Blue Elbow Swamp.
Every month of the year offers different fishing opportunities.
Spend the day on Pleasure Island where you will find the best sailing on the gulf coast.
Go crabbing!
Play a round of disc golf or enjoy the hiking and biking trails on the island.
Watch for over 300 species of birds that stop along Sabine Lake on their migratory path.
16. Lake O' the Pines
Located on Big Cypress Bayou, Lake O' the Pines is an 18,680 acre reservoir with rolling hills and soaring pine trees.
Spend your day boat fishing or you can enjoy bank fishing on the shore and under the dam in the Big Cypress Bayou.
Lake O' the Pines is stocked with sunfish, spotted bass, chain pickerel, largemouth bass and is home to the giant catfish.
Rent water toys and play the day away in the calm waters by Johnson Creek Cove or by the dam.
Or swim, sunbathe, or build a sandcastle at one of the many swimming beaches on the lake.
Spend the night on a floating cabin.
Hunt waterfowl, white-tailed deer, and small game on the 4,500 acres of designated hunting land.
Hike the trails through the woods and be sure to check out the view at the Day Use Overlook.
17. Jacob's Well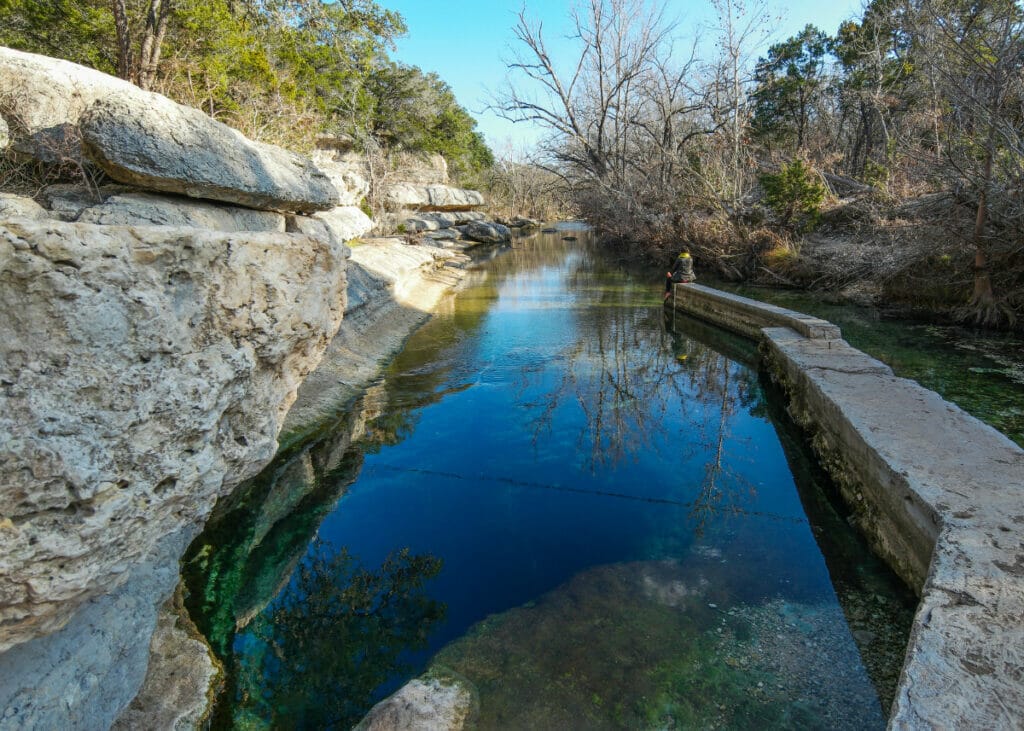 Jacob's Well is an artesian spring that's also a fully submerged cave located in Wimberley.
The well is a hole that is only about 12 ft. in diameter and surrounded by rock.
Swim at your own risk in the crystal clear water (bring water shoes and you must have a reservation.)
Go on a geocache treasure hunt.
Bring a picnic and enjoy the scenery.
Watch for the variety of birds and other wildlife as you hike along the trails and make sure you see the stunning, hill country views from the scenic overlook.
For the kids, there's a sundial, a playground, and a pond.
Walk the labyrinth for a moment of zen.
18. Benbrook Lake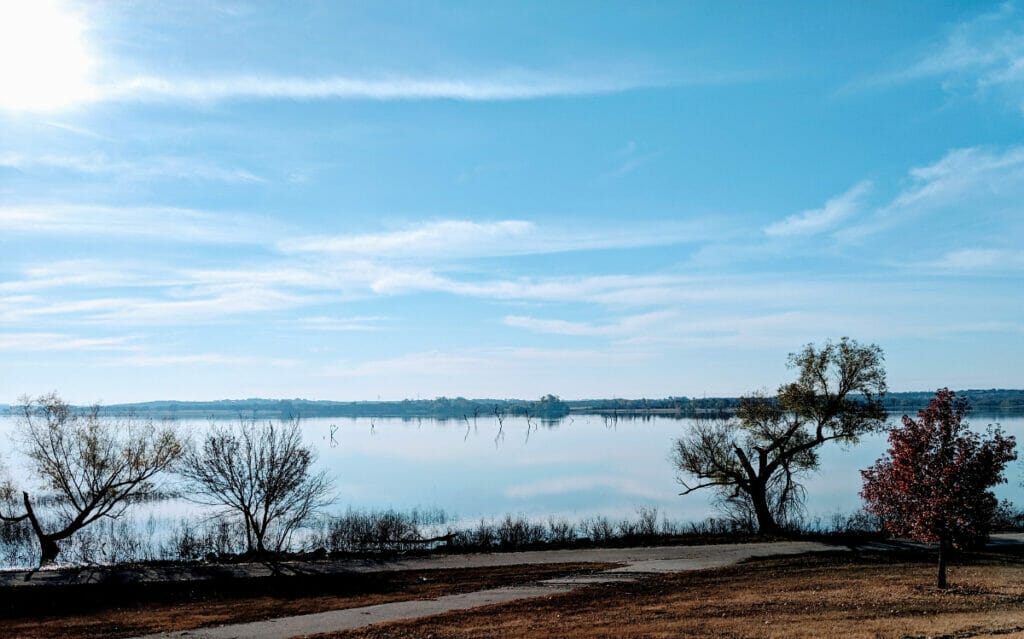 If you've got your own fishing poles, you can head out to Benbrook Lake for a free day of fishing from the shoreline.
This lake is surrounded by stunning countryside, and you'll feel super relaxed as you sit in your chair trying to reel in your catch or enjoy a picnic blanket to sit in the prairie meadows.
Take part in some hiking or bird watching if fishing isn't your thing and enjoy one of the best lakes in Texas.
19. White Rock Lake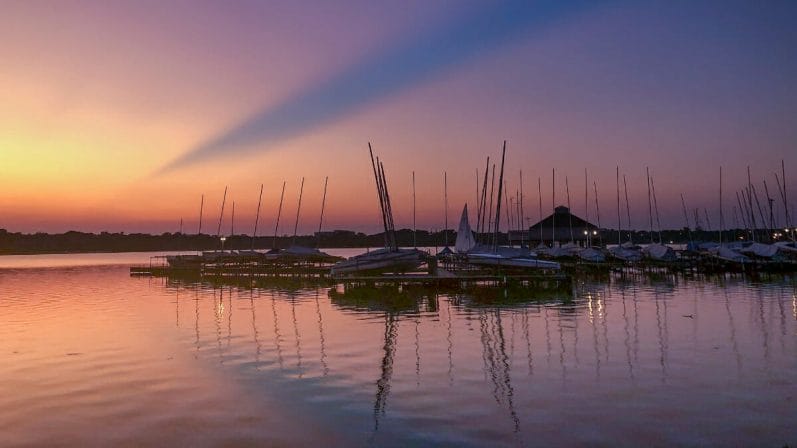 Whether you want to hike, bike, or just take a packed lunch to enjoy, White Rock Lake is a great lake for it.
Enjoy the pretty sunsets, take a boat out and enjoy the ride, or sit on the shore and watch the world go by.
20. Cedar Creek Lake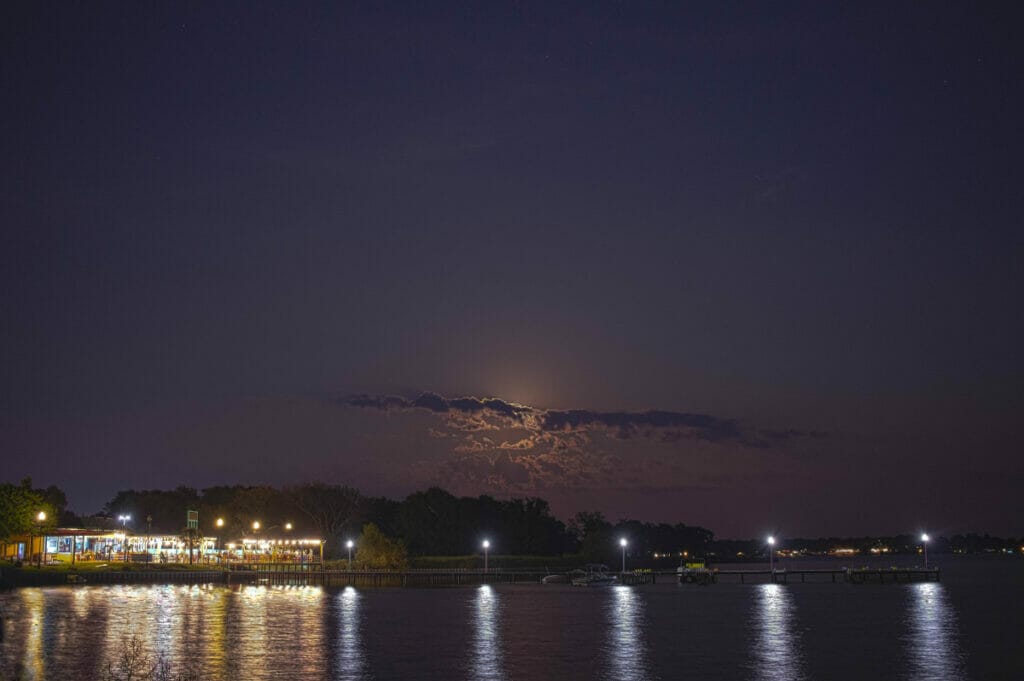 Want to get outdoors and into the fresh air?
Look no further than Cedar Creek Lake, the lake in Texas for anyone looking to soak in the Texas sunshine.
If you do want to hit the water, you'll feel at home here as there are plenty of boating and fishing opportunities as it's the fourth largest lake in Texas.
The lake is usually home to catfish year-round, and bass more in the springtime.
If you want to be on the water without the fishing, you can also go swimming in the coves or rent water equipment like paddle boards, kayaks, and pontoon boats.
If you prefer to stick on the shore, that's fine too, just bring a picnic and watch the world go by.
This is a great way to stretch your legs and leave the city for awhile!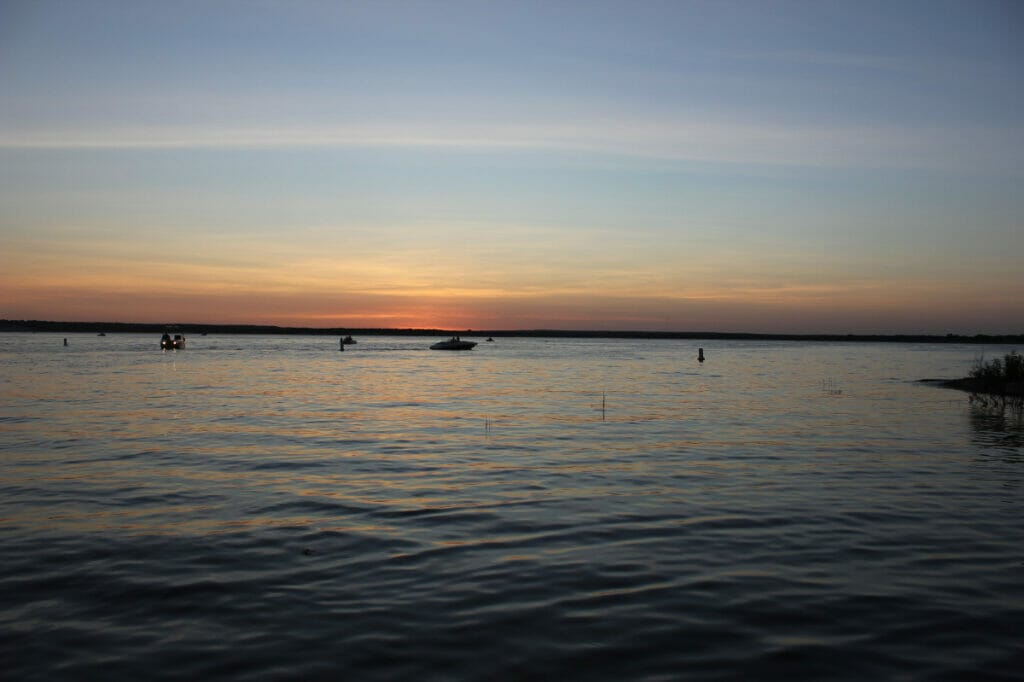 There's nothing better than a day on the lake, and Lake Whitney is one of the best lakes to go!
Go kayaking on the lake for a peaceful, floating, endeavor, or take to the boat ramp and go boating across the lake (tubing, anyone?)
Lake Whitney is fed by the Brazos River, and there's also camping options if you want to take in the campgrounds (for those who want a cabin, you'll find them at McCown Valley Park nearby).
Pack some snacks and spend the whole day on the lake after pushing off at Cedar Creek Park boat ramp.
Make sure to practice water and boating safety for a great day out!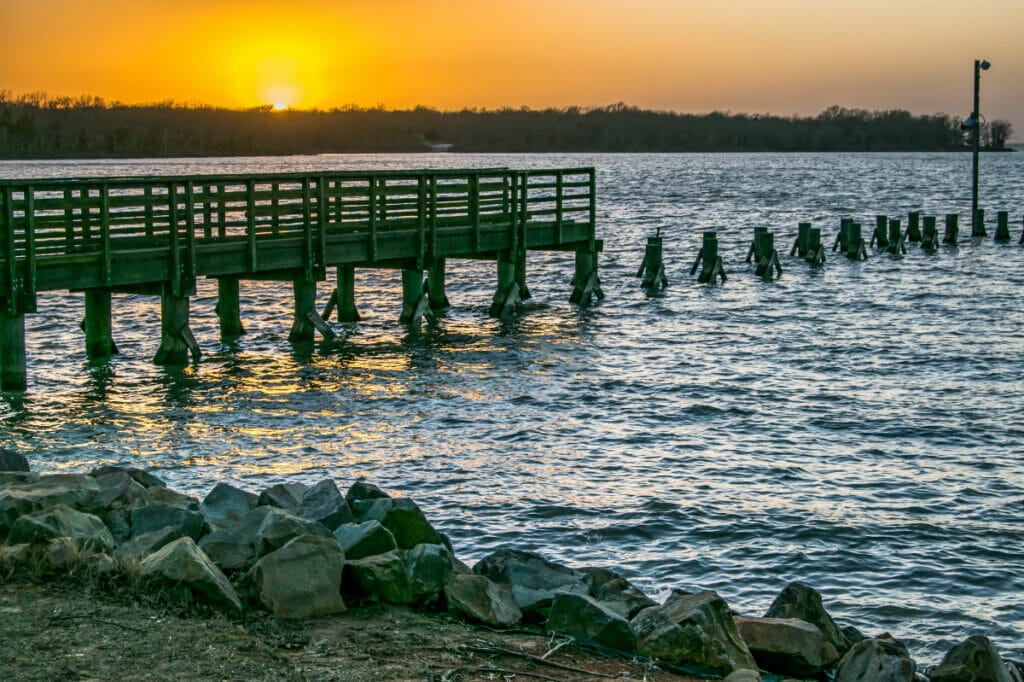 Another pretty lake in Texas is Cooper Lake, located in Cooper Lake State Park.
It's particularly known for its stunning flowers in the springtime, and they also have a great fishing area.
This is more secluded than some of the other state park options, so if you really want to get out in the wilderness and clear your mind, this is the place to go.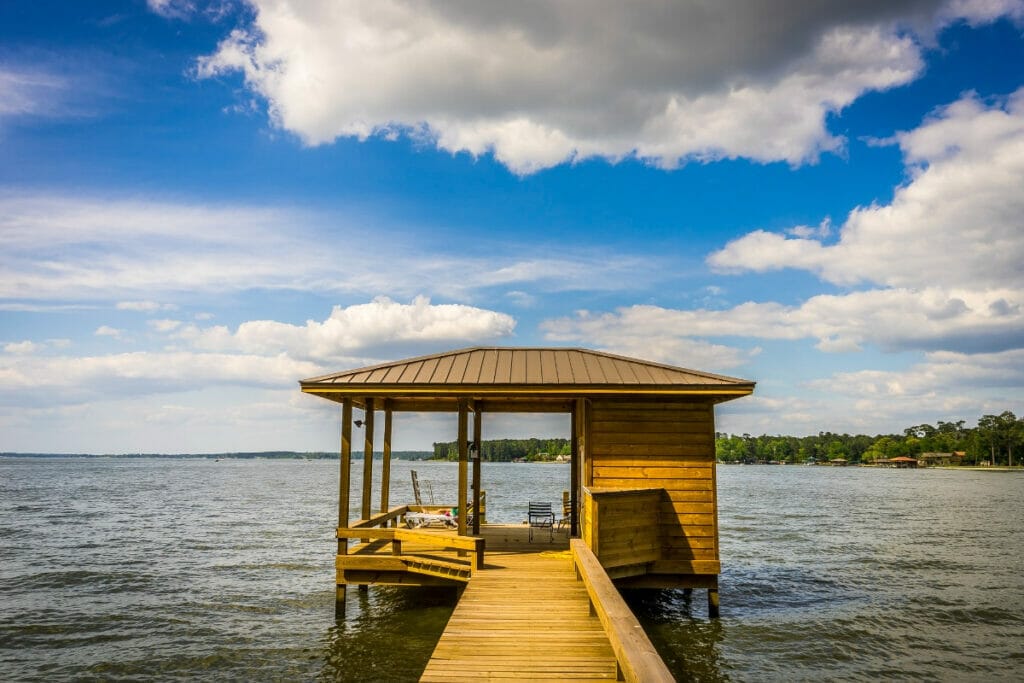 Just 80 miles north of Houston, Lake Livingston is a great place for a lake day trip!
As the second largest lake in Texas and with 450 miles of shoreline, Lake Livingston is never crowded!
Over 5,000 campsites and 100 boating ramps can be found in the parks surrounding the lake.
Numerous nearby dining options will please any palette!
Fish, boat, jet ski, sail, camp and enjoy the abundant wildlife found all around Lake Livingston!
Other Texas Lakes
For a quick Lake trip idea head over to Calvares lake just 30 minutes outside San Antonio.
A popular lake for fishing, you'll find a variety of fish including red drum, bass, and catfish.
Open to the public, Calvares Park offers camping and picnic areas and boat ramps with good shoreline access.
A few RV sites with hookups are also available for rental.
25. Walter E Long Lake
Right outside of Austin, Walter E Long lake is a fantastic place for a day of peace, whether you prefer bass fishing or just want to get in the water.
Camp, swim, picnic, or use the boat ramp to enjoy the lake however you prefer, and the water is clean, fresh, and surrounded by trees.
It's one of the most idyllic lakes close to a city in Texas.
26. Lake Georgetown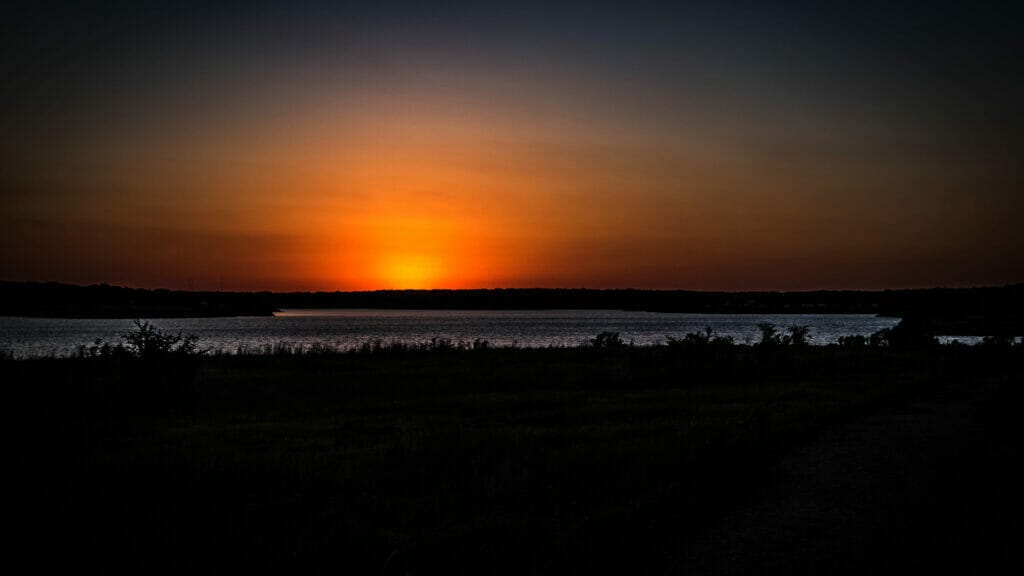 For super blue waters, wonderful paddleboarding, and a secluded lake to play in, check out Lake Georgetown.
It's fed by the North Fork San Gabriel River and offers camping and hiking loops surrounding the lake.
Make sure to bring your water shoes, as there's no traditional "entry" via a beach, but instead it's by sliding a bit over a rock's edge where you might find mussels that can scrape up your feet if you're not prepared.
Nevertheless, it's worth the extra hassle for a visit to this lake, and you'll see why when you experience the stunningly blue water reflecting the gorgeous open Texan sky.
27. Lake Conroe
For an absolutely giant lake that has everything from yachting to incredible lakeside restaurants, Lake Conroe is the place to go.
It's clean, serene, a great fishing lake, and a hub for boating in the area.
If you want to get dressy afterwards, have a fine dining experience at Walden's Lakeview Dining, or enjoy a sunset dinner cruise.
You can find both tranquil and busy parts of the lake depending on what you're looking for, so make sure to add it to your Texas lake bucketlist!
Pin for Later!