You're planning a weekend in Dallas.
But you don't know how to do Dallas in just two days!
Fortunately, it is possible to squeeze all the excitement of Dallas into just a weekend getaway.
Since it is the 9th largest city in the United States, you can find lots of things to do in Dallas.
It's also a foodie's dream city!
Keep reading to learn how to spend a weekend in Dallas!
Hey! Looking for more locally approved Dallas guides? Head here!
GET A

FREE

TEXAS GUIDEBOOK WITH LOCAL TIPS!
With 71 pages of helpful travel tips and the "best of" Texas lists, this is your ad-free key to your Texas trip.
If you're looking for more iconic Texas weekend itineraries check these out!
Tips for Visiting Dallas in 48 Hours
Dallas is a foodie destination.
That means you'll be eating a lot!
There are so many must-visit eateries that we've planned this trip around mealtimes.
If you would rather try tasting tours, there are some options for that.
This allows you to get a little bit of everything for a low price.
You can try the Tex Mex Food and Culture Walking Tour or the Taste of Bishop Arts Food and Historical Walking Tour.
But if you want a more authentic restaurant experience, just make sure not to order too much at any restaurant!
Otherwise, our biggest tip is to prioritize your time wisely.
If you really don't care about the food scene, you can spend more time at the museums.
If you want to spend extra time at one of the attractions, consider skipping another activity that day.
If you're looking for another way to see a lot of Dallas, be sure to check out the Dallas CityPASS!
This CityPASS grants you admissions to the top destinations in Dallas such as the Perot Museum, Reunion Tower, and Dallas Zoo!
When to Visit Dallas
While there isn't much humidity in the summer, it can get very hot.
And while the winters are mild, you still see snow on occasion.
The spring and the fall are the best times of year to visit this Texas city.
The temperatures aren't unbearable, but still warm.
However, you will also see the biggest crowds in the spring and fall.
If you want to visit the Texas State Fair, you should go in September.
This iconic fair is the biggest state fair in the USA.
Winters are pretty slow but can be chilly.
Where to Stay for 2 Days in Dallas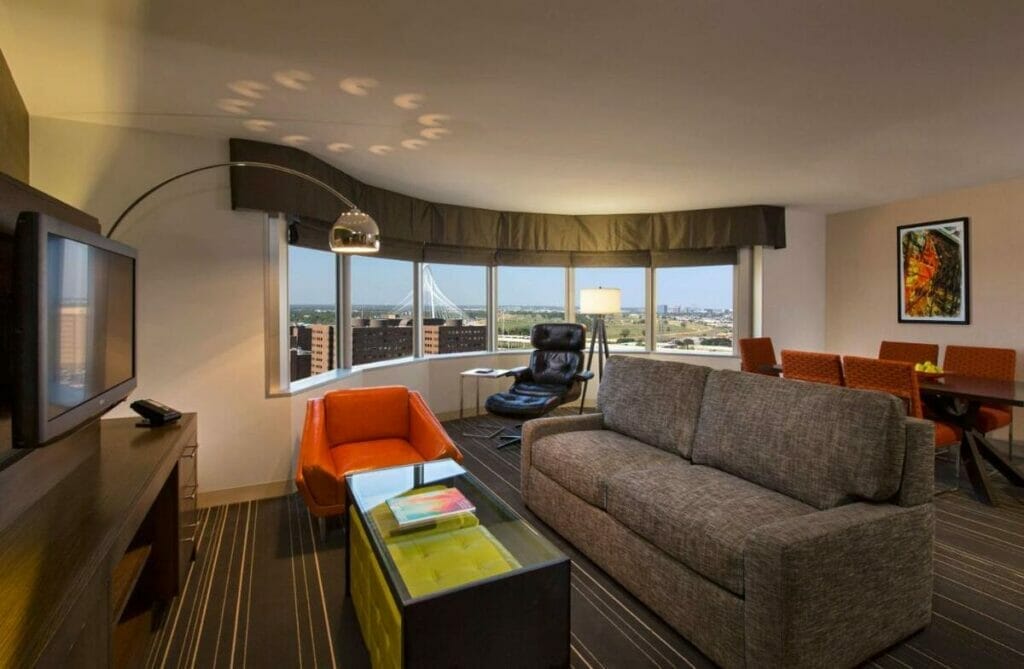 (Hotel) Hyatt Regency Dallas: This hotel is centrally located to all the fun attractions Dallas has to offer. This hotel is perfect for families or couples. Amenities include a pool, hotel bar, and 24 hour gym.
(AirBnB/VRBO) Luxe Apartment: This stylish apartment is the perfect Dallas rental. Located in Downtown Dallas near all the best attractions, bars and restaurants. Plus, after a day spent in the Texas heat, feel free to take a dip in the rooftop pool!
What to Pack for Dallas in 2 Days
You'll want to pack cute and comfy clothes.
Layers are a good idea since you may be in and out of the air conditioning.
We love this lightweight jacket for women, and this one for men.
If you want to dine at an upscale restaurant, you should pack a formal outfit, as well.
This dress is perfect for a formal dinner, and this dress shirt is perfect for men.
Make sure your shoes are pretty comfy, too.
We love these walking shoes for women, and this style for men.
You may not do a ton of walking, but you'll be on your feet a lot.
How to Get Around Dallas in 2 Days
Everything is bigger in Texas, so having a car will be the easiest way to explore the vast city and its surroundings.
If you're visiting and need to rent a car to get to your Dallas activities, we highly recommend Discover Cars where they find you the best car rental deals from all of the competitors (has saved us so much money!).
Click here to check out Discover Cars.
However, Dallas has the DART system, which is a public transport system that will take you to most places.
You can buy a day pass for the DART bus for only $6.
This is an affordable option for a weekend in Dallas.
Both options have their pros and cons.
If you're not used to public transportation, you may feel more comfortable driving yourself around.
If you're not used to city driving, you might want to take the bus!
2-Day Dallas Itinerary: The Full Rundown
This itinerary starts at breakfast time on your first day in Dallas.
If you won't arrive until the evening, then just adjust the schedule as needed.
While we scheduled everything carefully, there is room for flexibility.
After reading this, you'll be ready to plan your weekend getaway in Dallas!
Day 1 in Dallas
Breakfast
Today, we'll grab breakfast at a local coffee shop.
Otto's Coffee and Fine Food is a great place to grab breakfast!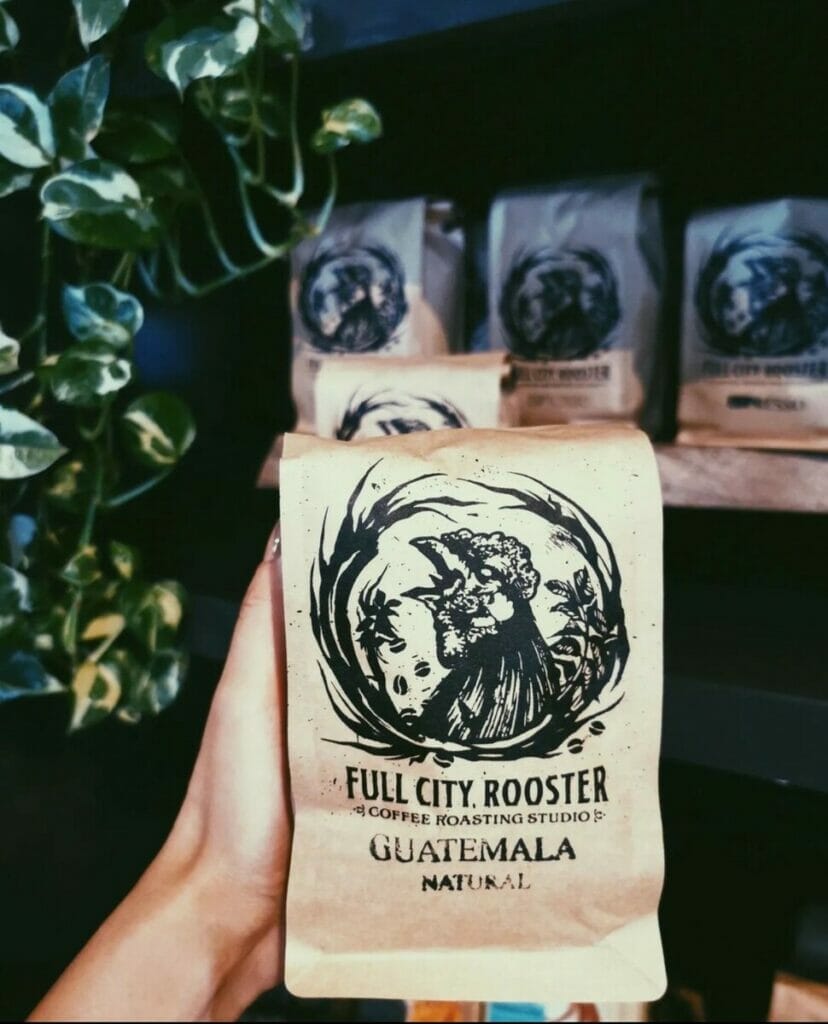 They serve Full City Rooster coffee.
Full City Rooster is a coffee roasting studio with high-quality coffee beans.
They're located close to Otto's.
If you want to buy a bag of coffee beans, you might want to stop at both places!
Even if you don't think you'll enjoy fancy coffee, you'll enjoy breakfast at Otto's.
Whether you want a pastry, a quick bite, or a satisfying breakfast, they've got you covered.
Morning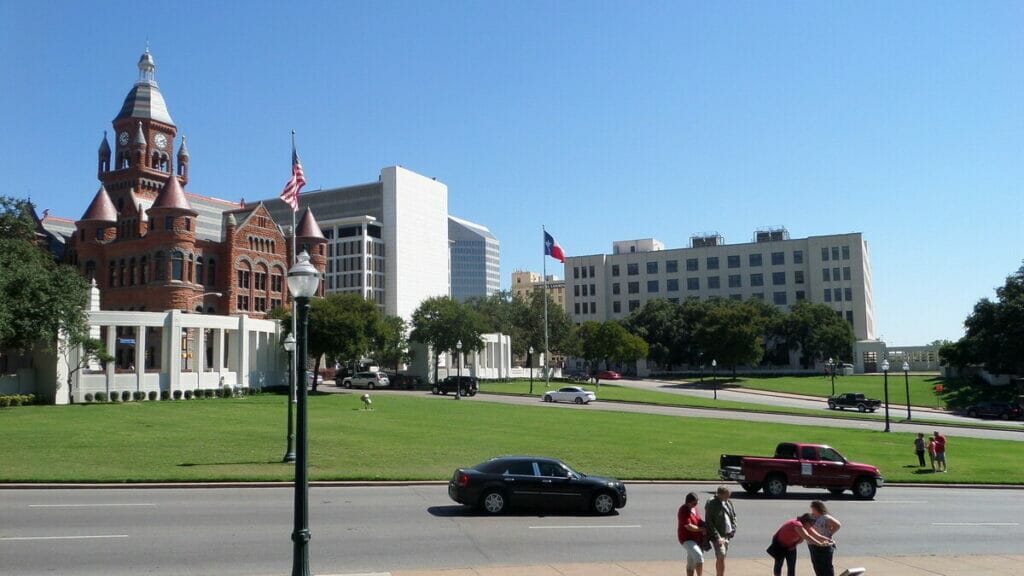 We're going to start the weekend in Dallas itinerary at Dealey Plaza, the "Birthplace of Dallas."
Located in the West End Historic District, it serves as a gateway to Dallas.
Commonly called the "grassy knoll," this was also the place where John F. Kennedy was assassinated.
Visit the Sixth Floor Museum to learn all about that tragic day.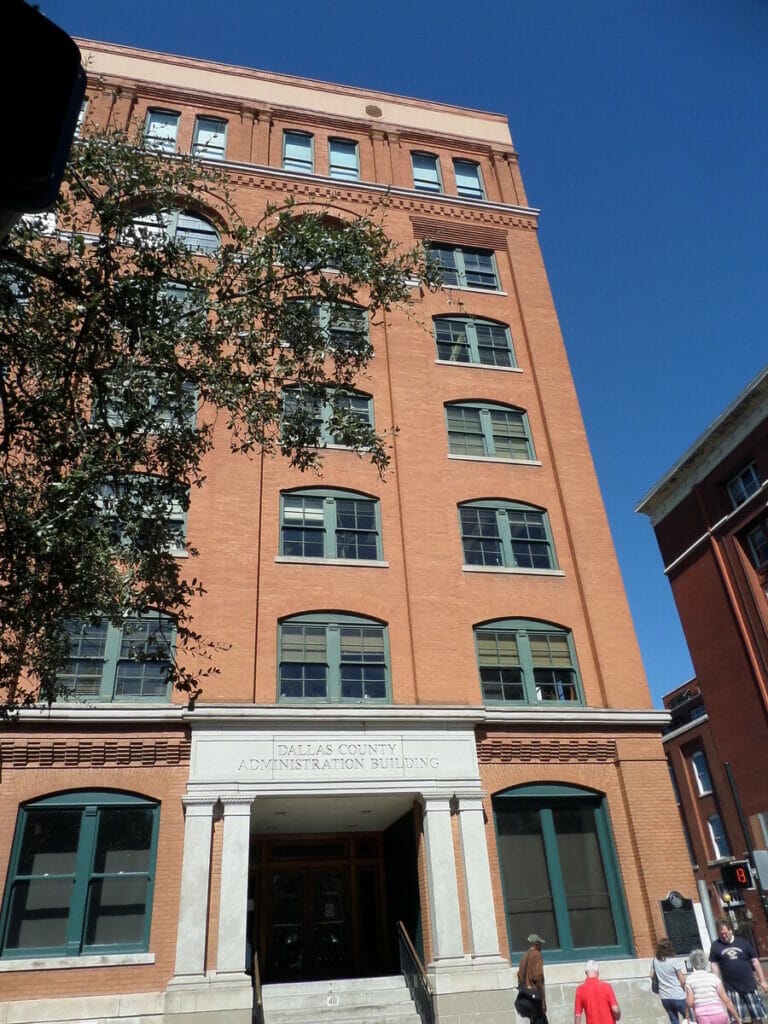 You can expect this self-guided tour to take about 90 minutes.
Or take a private guided tour through the museum.
Be sure to book your tickets in advance as they sell out quickly!
Afterward, walk down the street to visit the John F. Kennedy Memorial Plaza.
Now you can rent a scooter and zoom around downtown.
Make sure to stop by Pioneer Plaza to see sculptures and memorials honoring Texas history.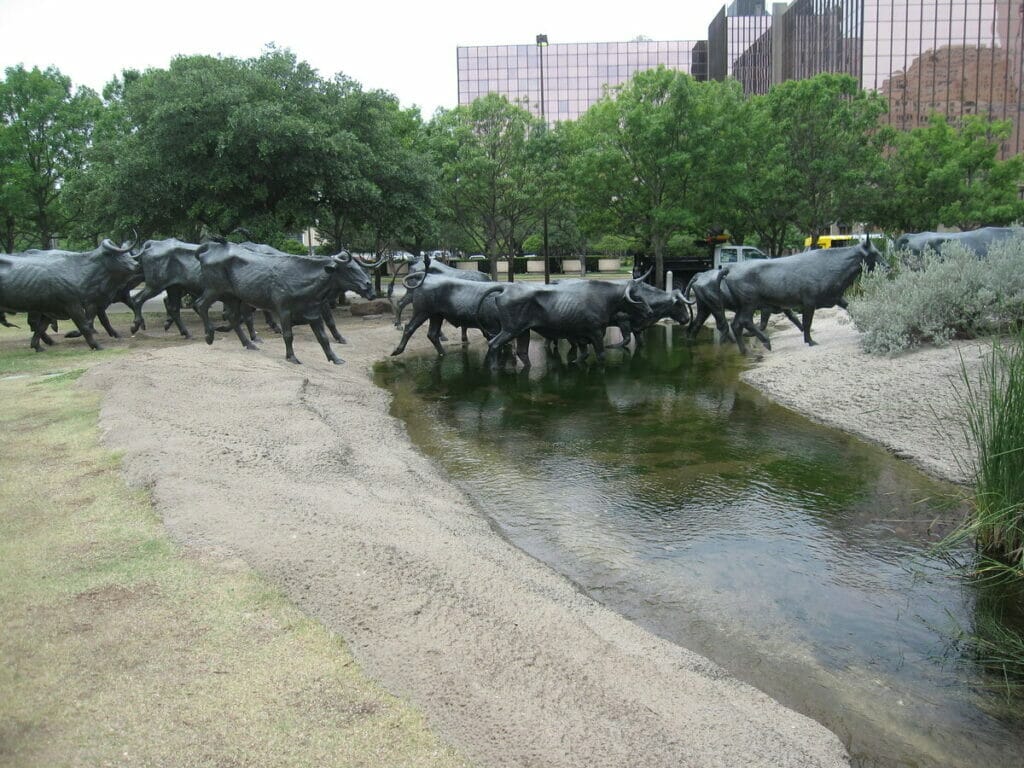 Don't forget to snap a picture of the Giant Eyeball when you pass it!
Lunch
Head towards Deep Ellum.
There are many great restaurants here to choose from!
We have narrowed it down to two on this weekend in Dallas itinerary.
Both of these options will serve an amazing lunch.
Pecan Lodge is a BBQ restaurant that stays busy, and for good reason!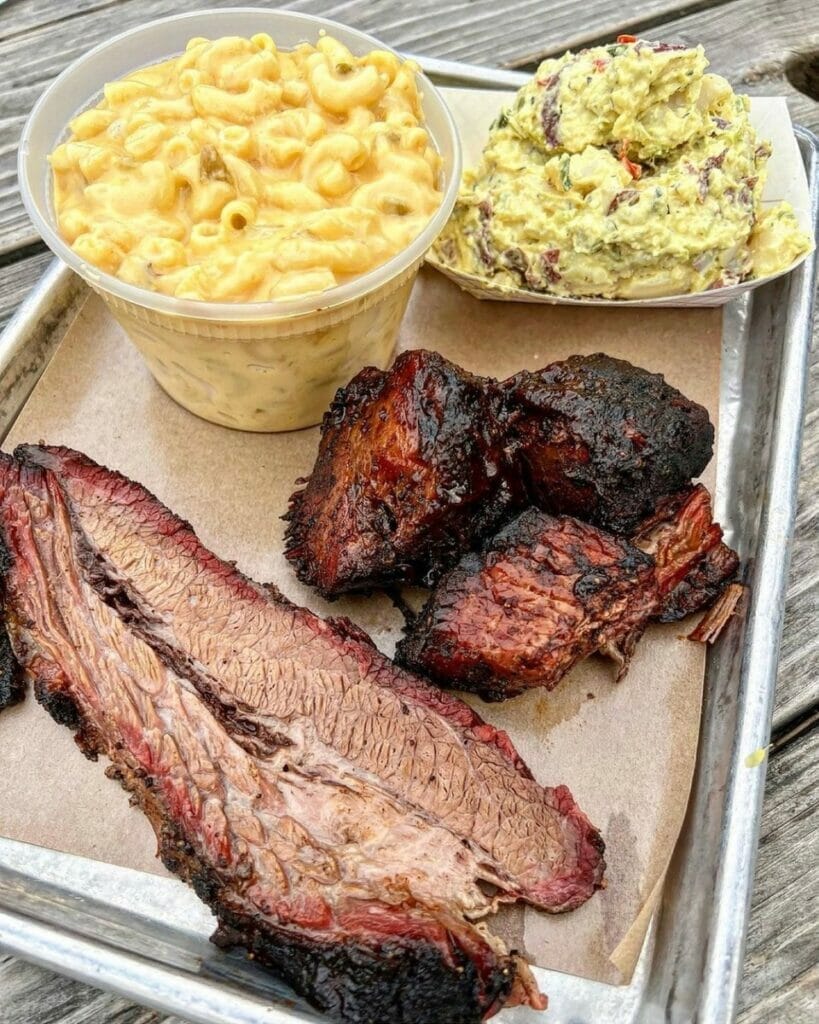 If you haven't had Texas BBQ, this is a great place to visit.
You'll get a good idea of why Texans love their barbecue!
If you want to try some Tex-Mex, another Texas classic, visit Pepe's and Mito's.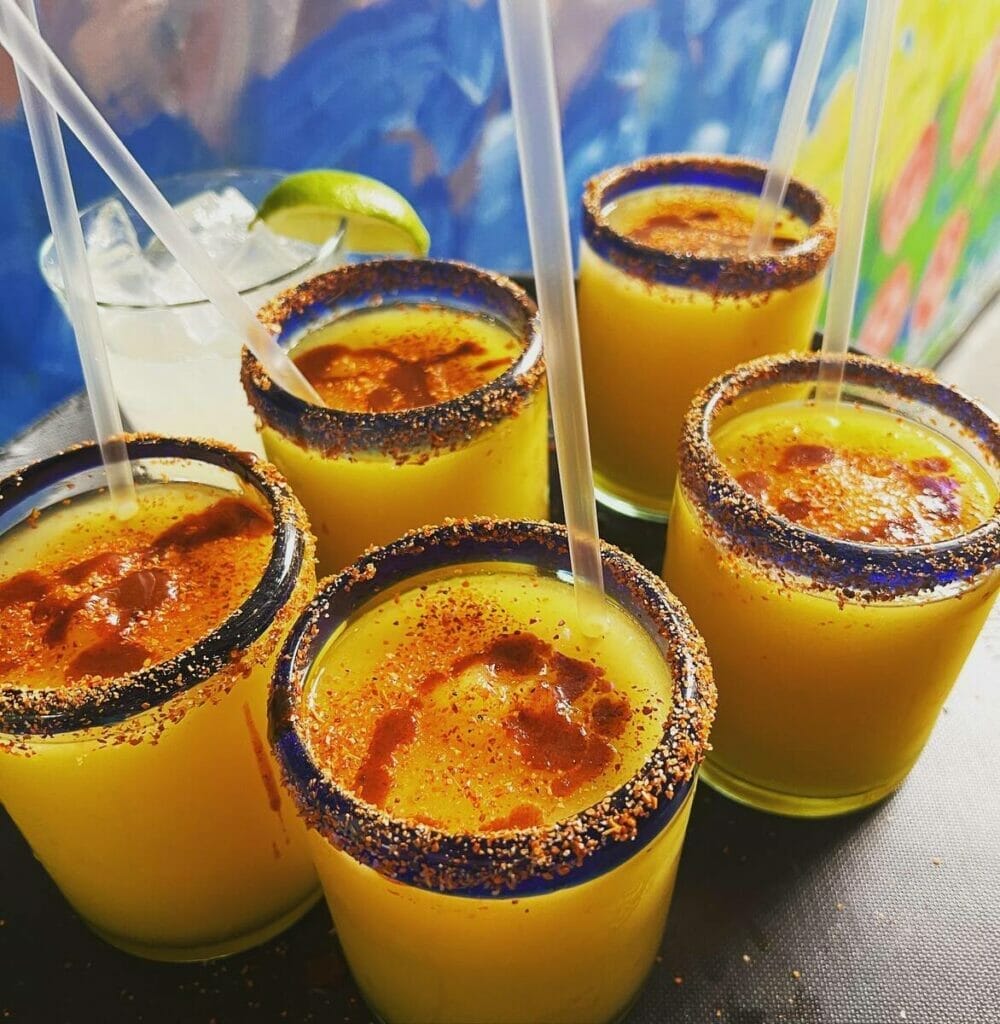 This cantina-style restaurant is a favorite among locals.
And very few tourists visit here without wanting to come back, so remember that when you're making your weekend in Dallas itinerary for the next go around.
You'll also eat dinner here, so you might be able to eat a meal at both of these local restaurants.
Afternoon
Now that you're in Deep Ellum, it's time to stay for a while!
Deep Ellum is a slightly crunchy yet extremely trendy neighborhood.
Its artsy vibe is perfect for anyone who feels at home with hipsters.
There are dozens of murals in this neighborhood.
Get on an electric scooter and find them all.
Be sure to take lots of pictures to share on Instagram and don't forget to use these Dallas captions when you've captured your Kodak moments!
These murals are more than just beautiful paintings.
They celebrate the history and culture of Dallas.
They honor minorities and oppressed people groups who deserve the honor.
Make sure to share a picture of your favorite mural on social media.
This way everyone can appreciate the beauty and meaning of it!
On Saturday afternoons, you can enjoy the Deep Ellum Outdoor Market.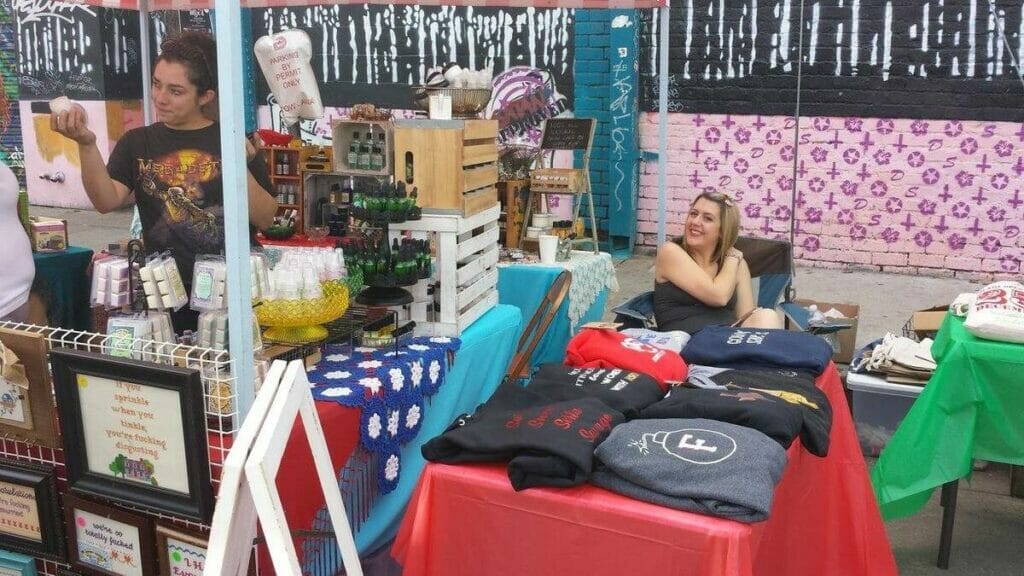 With dozens of local vendors, this market will help you dive right into Dallas culture!
If you arrive on a Friday, you may want to schedule your Deep Ellum visit for the second day.
Otherwise, plan your next visit around this exciting event on your weekend in Dallas itinerary.
There are several cute shops open throughout the neighborhood every day.
Whether you like sneakers, baseball, or art, you'll find a store that calls your name!
Dinner
If you like Japanese food, you'll want to try Niwa Japanese Barbecue.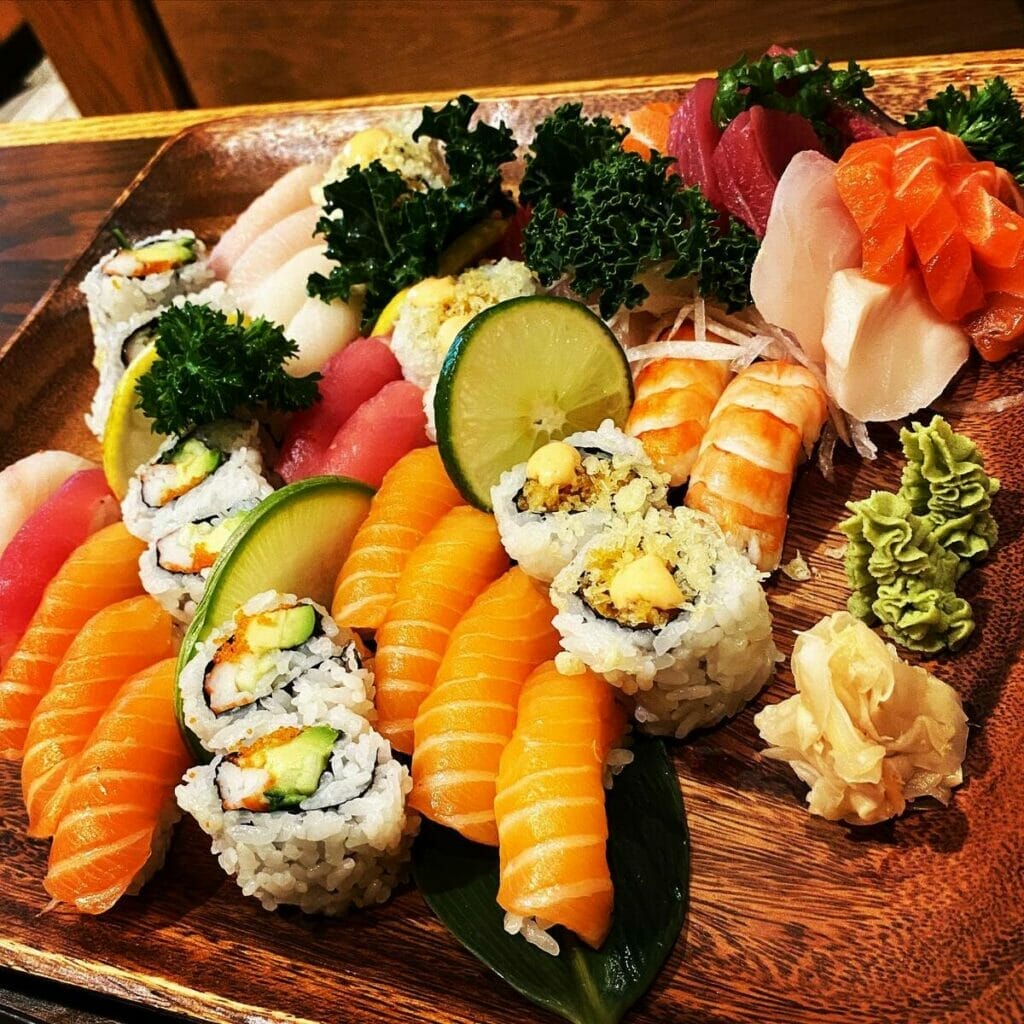 You can cook your food at your own table.
This classy restaurant is a fun experience, for sure!
But if you don't love Japanese food, you really can't go wrong at most of the restaurants nearby.
If they're crowded, that means people love them!
Maybe you had trouble deciding which restaurant to visit for lunch.
You could always go to the other one for dinner!
That's the beauty of this weekend in Dallas itinerary, it's interchangeable and flexible to fit your needs!
After Dinner
Now it's time for the party to start!
If you want to dance at a Texas honky tonk, visit Adair's Saloon.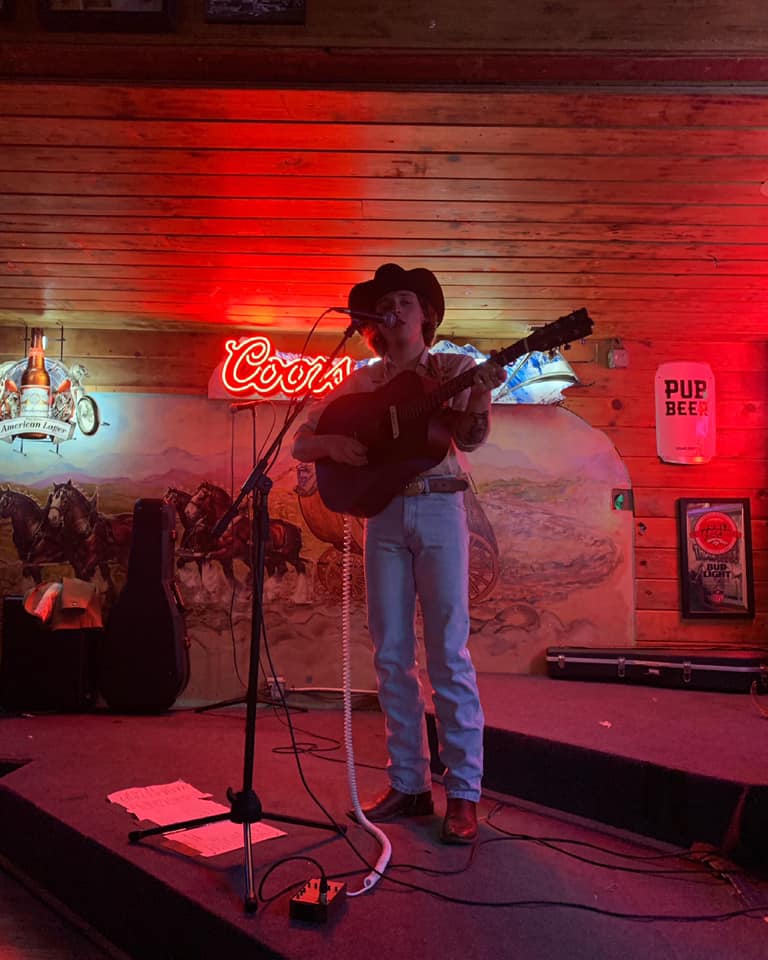 They have live music fairly often.
But even if they don't when you visit, they have a free-play jukebox!
You can always count on the dance floor to be hopping here.
If you'd rather enjoy a cocktail at a hidden bar, go to Cross Faded Barbershop.
Yes, you heard that right.
This 1920s-inspired barber shop is also home to a speakeasy.
How about that to close out your first day on your weekend in Dallas itinerary?
Day 2 in Dallas
Breakfast
Today, we'll eat a light breakfast to save room for a classic Dallas brunch.
There are two places to stop near our first attraction.
Either (or both) of them will be good for a quick breakfast.
Hypnotic Donuts & Biscuits sells photo-worthy donuts and biscuits.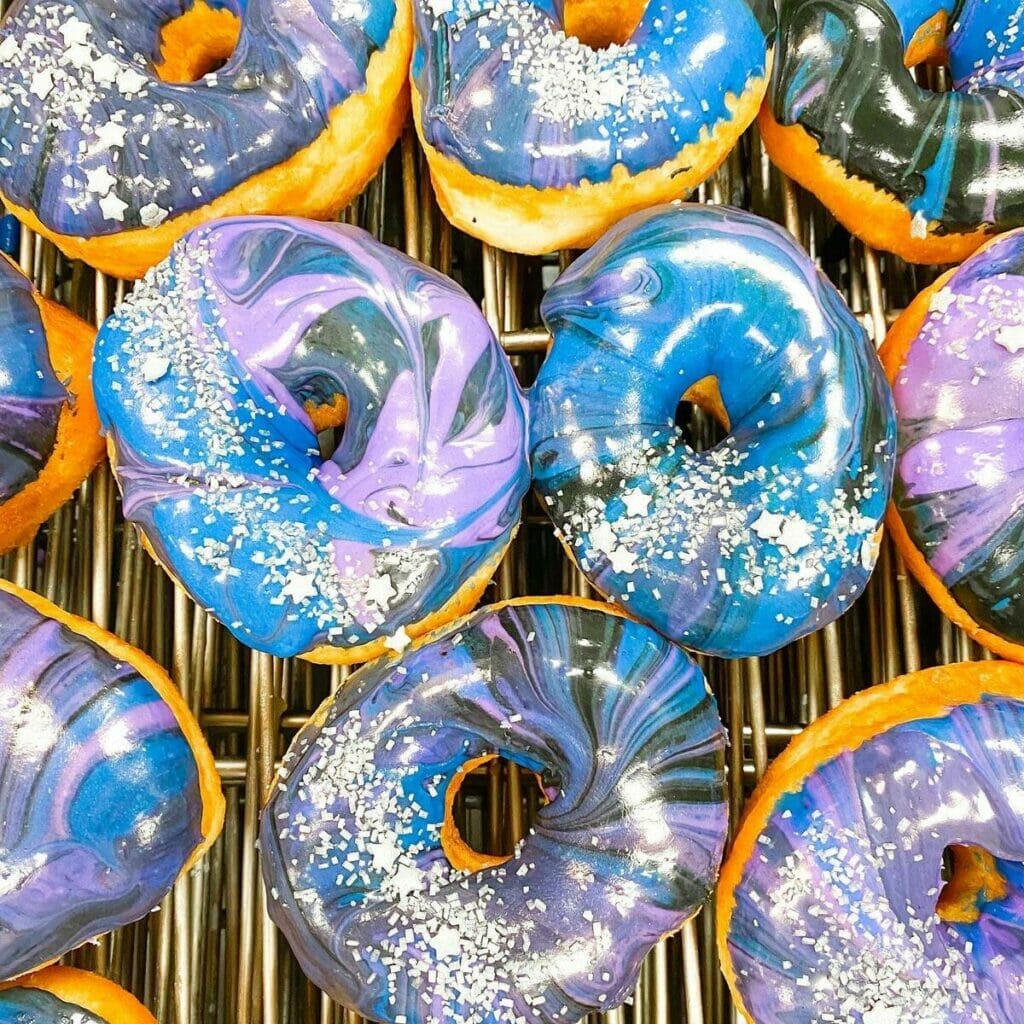 If you love donuts, you'll want to stop here.
However, you might find yourself ordering half the menu.
LDU Coffee To Go is an Australian coffee bar chain in Dallas.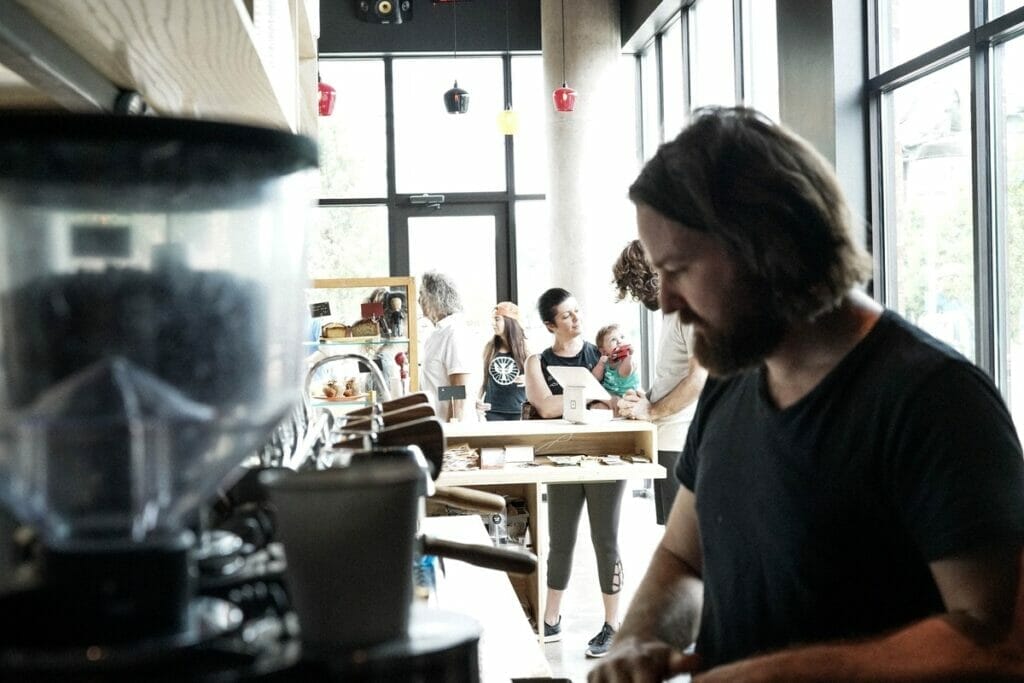 If you can't wait to get your coffee, check to see if there's one near your hotel!
This classy coffee shop has a variety of coffees and some baked goods.
Morning
Our first attraction today is the Dallas Arboretum and Botanical Garden.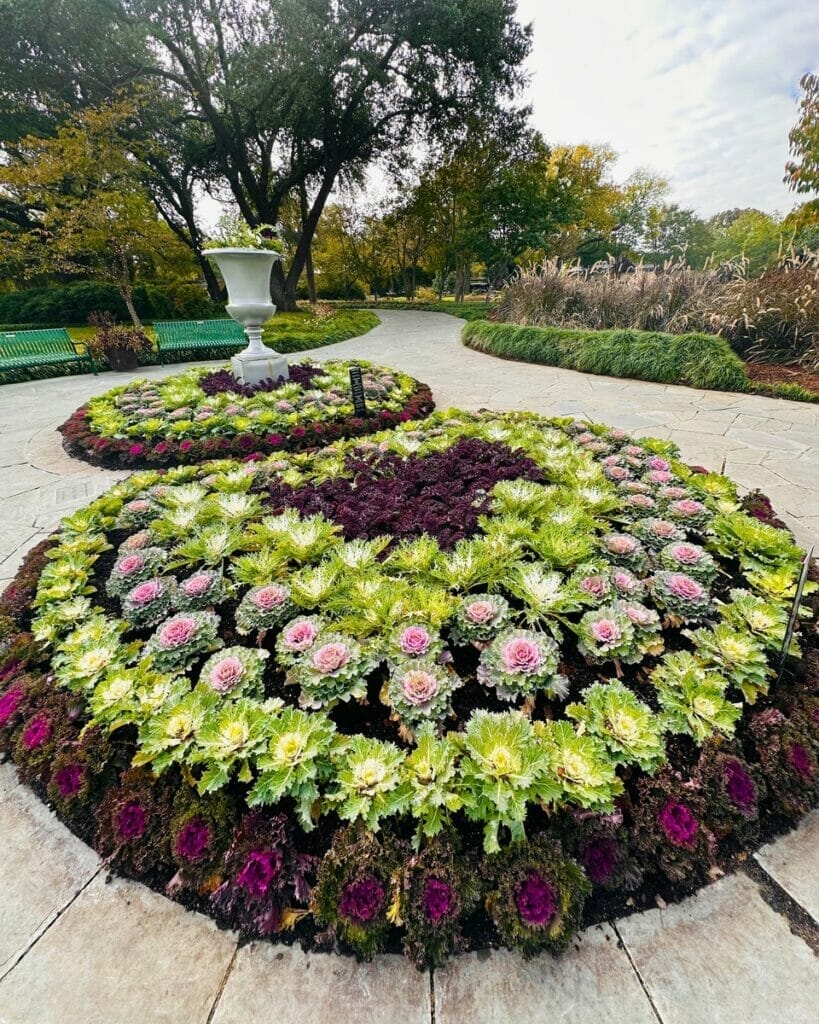 This place has so much to do that most people spend 3 hours there.
With 66 acres, you can explore many small gardens.
The most popular ones are the Jonsson Color Garden and A Woman's Garden.
You'll see many beautiful walkways and sculptures.
Don't forget your camera because you'll want to take tons of pictures!
I normally don't feel the need to go to botanical gardens when visiting new places.
This is because nearly every city has one.
Most of them are equally beautiful.
But people rave about the one in Dallas.
And when people are this passionate about something, I listen.
I hope you will, too!
Brunch
Dallas is known for its brunch.
So today, we'll grab brunch instead of lunch.
The Henry is an upscale brunch spot.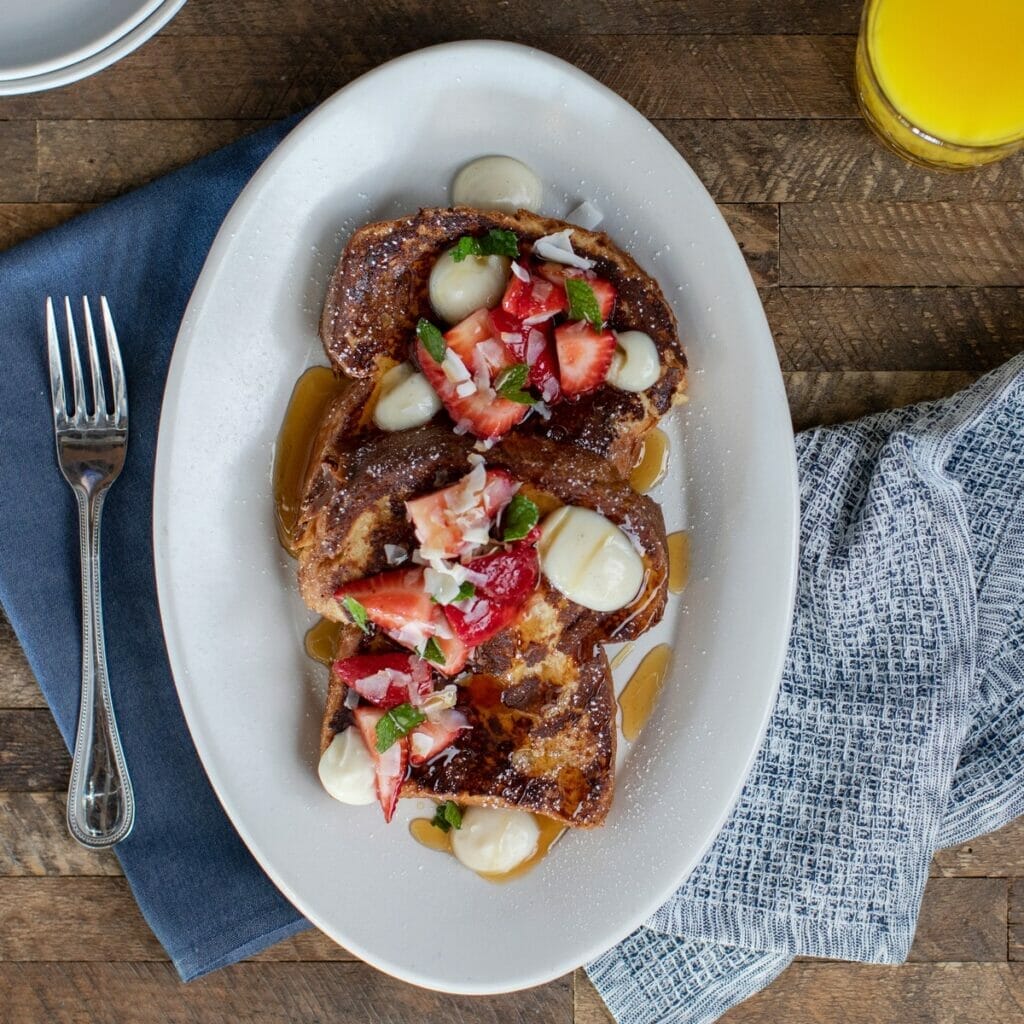 Although its industrial and classic vibe may seem a bit intimidating, they're a very cozy restaurant.
If you prefer a diner-style brunch, go to Overeasy.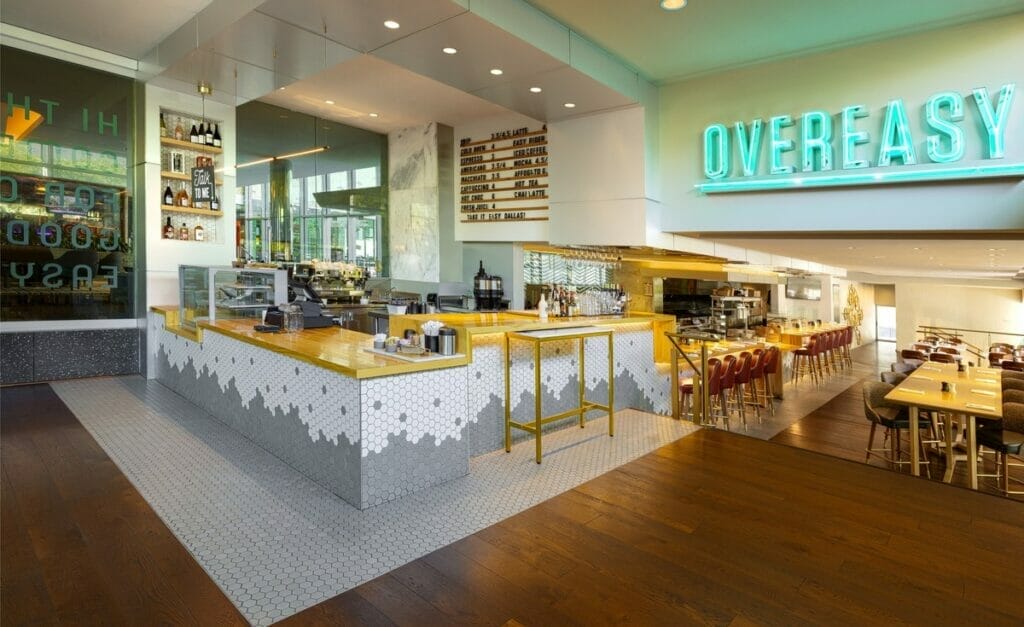 This is a favorite among locals.
Most tourists love it, too!
Afternoon
You're right next to the Dallas Art District, our next stop.
This district is nearly 20 blocks full of culture!
There are many museums and attractions in this district.
Since you only have 2 days in Dallas, you should pick the one that sounds most interesting to you.
Two attractions that we recommend are the Nasher Sculpture Center and the Perot Museum of Nature and Science.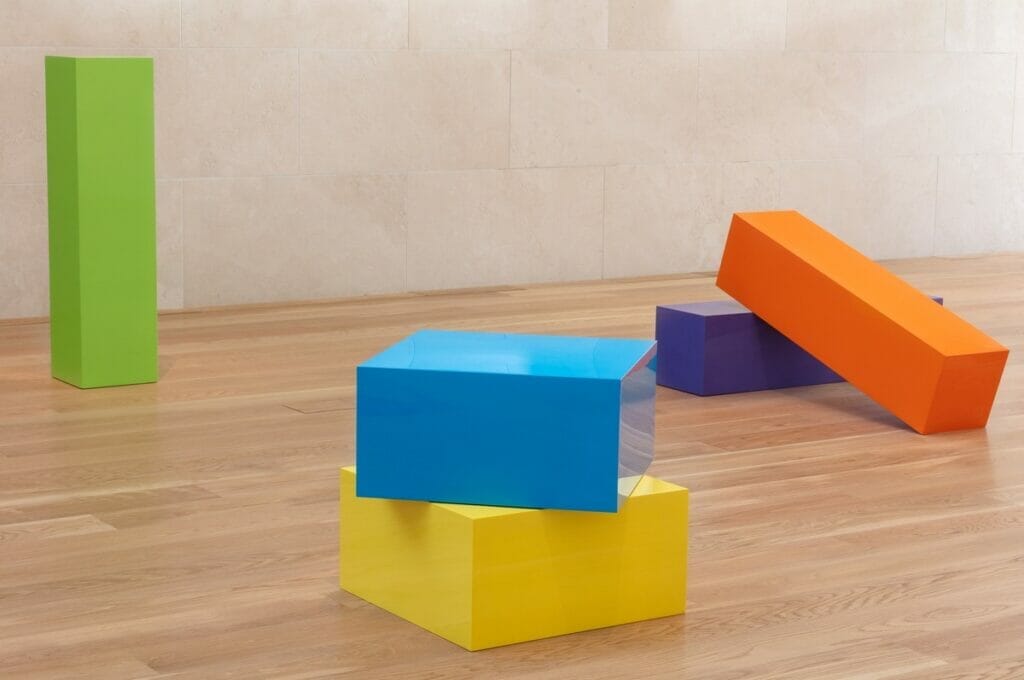 The Nasher Sculpture Center is an affordable museum featuring over 300 sculptural masterpieces.
The Perot Museum is an interactive experience for all ages.
While it would be exciting for children, they have events that adults would love, too!
Which makes it the perfect attraction on any weekend in Dallas itinerary.
Late Afternoon
Head over to Klyde Warren Park.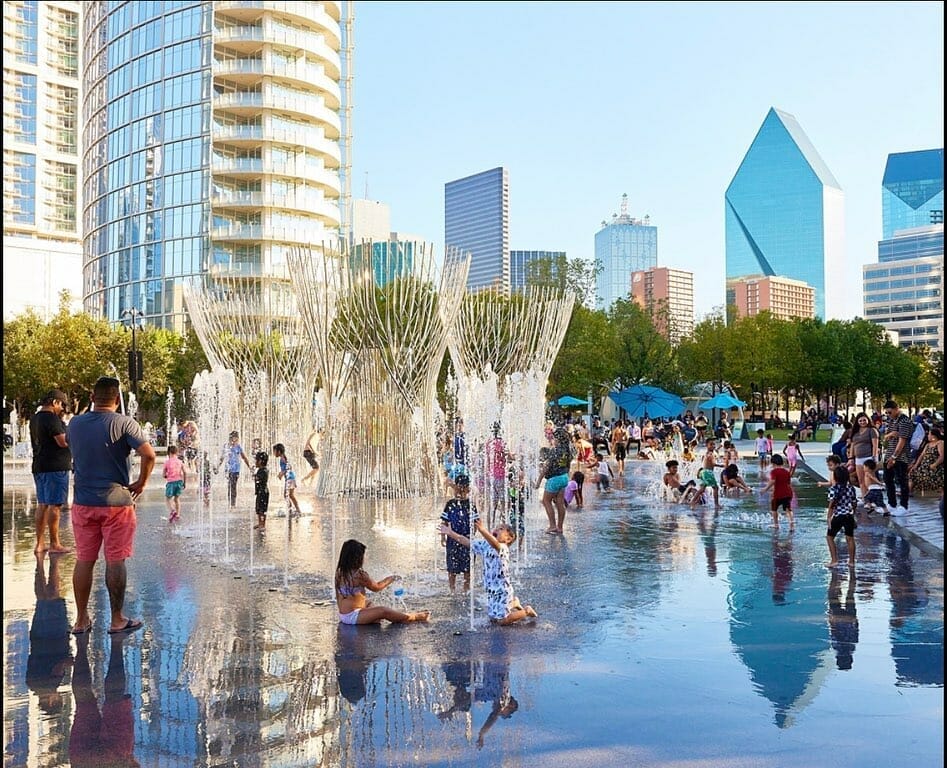 This park was built over the Woodall Rodgers Freeway.
It's a really neat place to visit!
You probably won't be too hungry because you ate a delicious brunch.
But you'll probably want to order a snack from one of the many food trucks that come here every day!
If you're visiting around any holidays, you might even get to experience a holiday celebration here!
Evening
Now it's time to drive around and catch a few more photo ops.
First head to the Margaret Hunt Hill Bridge.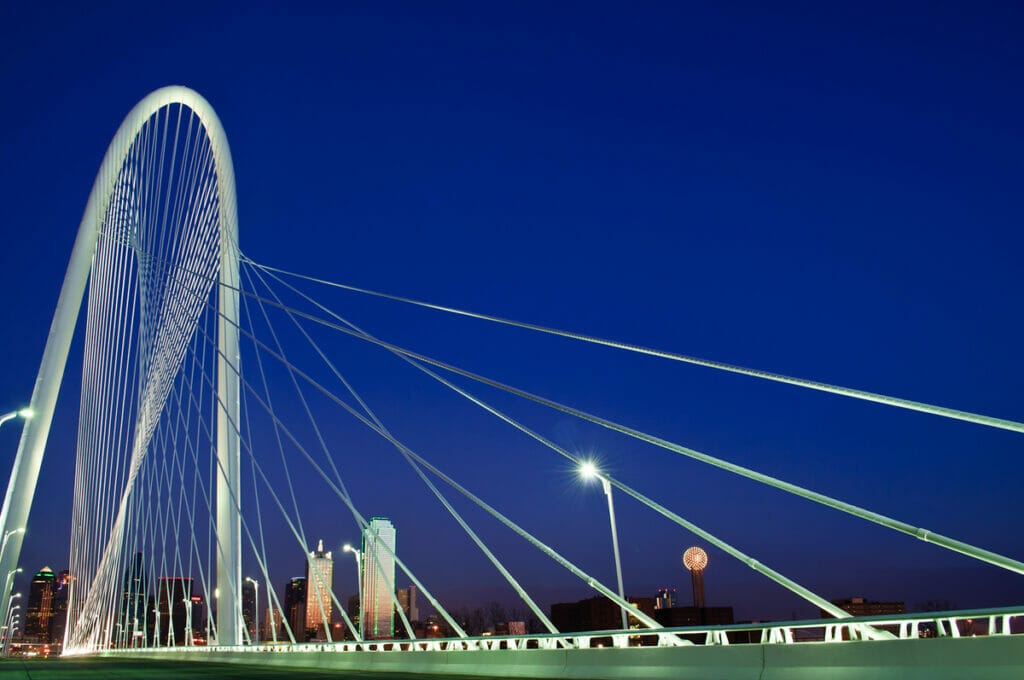 This is to Dallas what the Arch is to St. Louis.
This beautiful bridge is an architectural wonder.
It has also become a beautiful part of the Dallas skyline.
Now head over to the Reunion Tower.
This is another landmark that makes up the Dallas skyline.
At 561 feet tall, it has a wonderful observation deck with interactive features.
At the top, you will have 360° views.
Dinner
If you wanted a romantic dinner above Dallas, you could eat at the Reunion Tower.
But we would recommend eating at the Gallery Rooftop Lounge at the Canvas Hotel instead.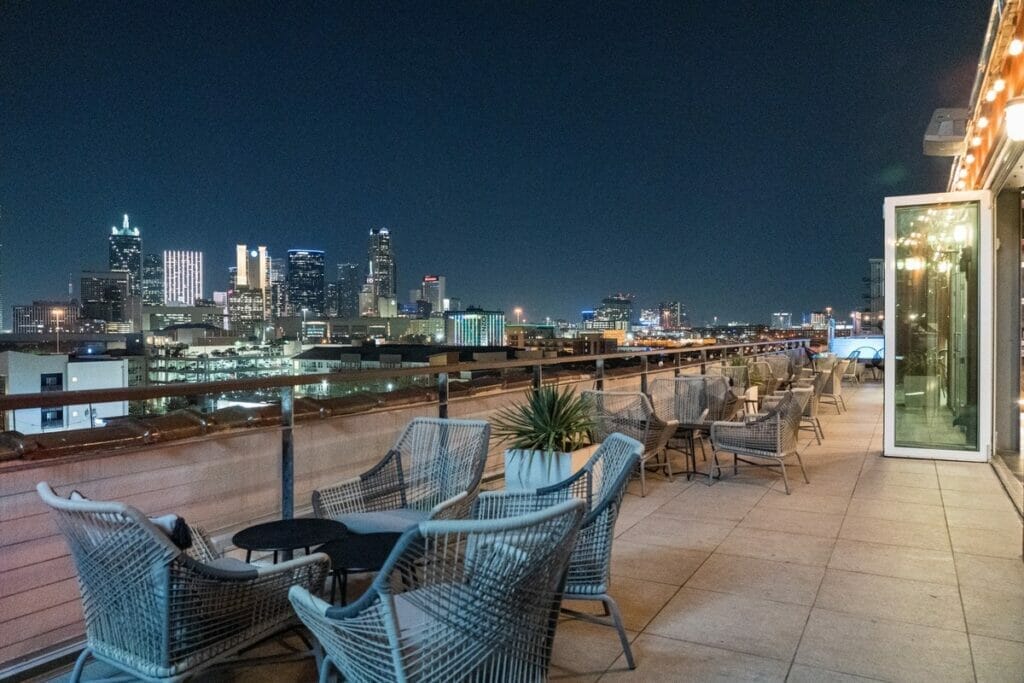 This restaurant has a retro theme that sets the mood for a night of fun.
And you will still get to see the beautiful city of Dallas at nighttime!
If you'd rather have a hearty burger, go to Rodeo Goat.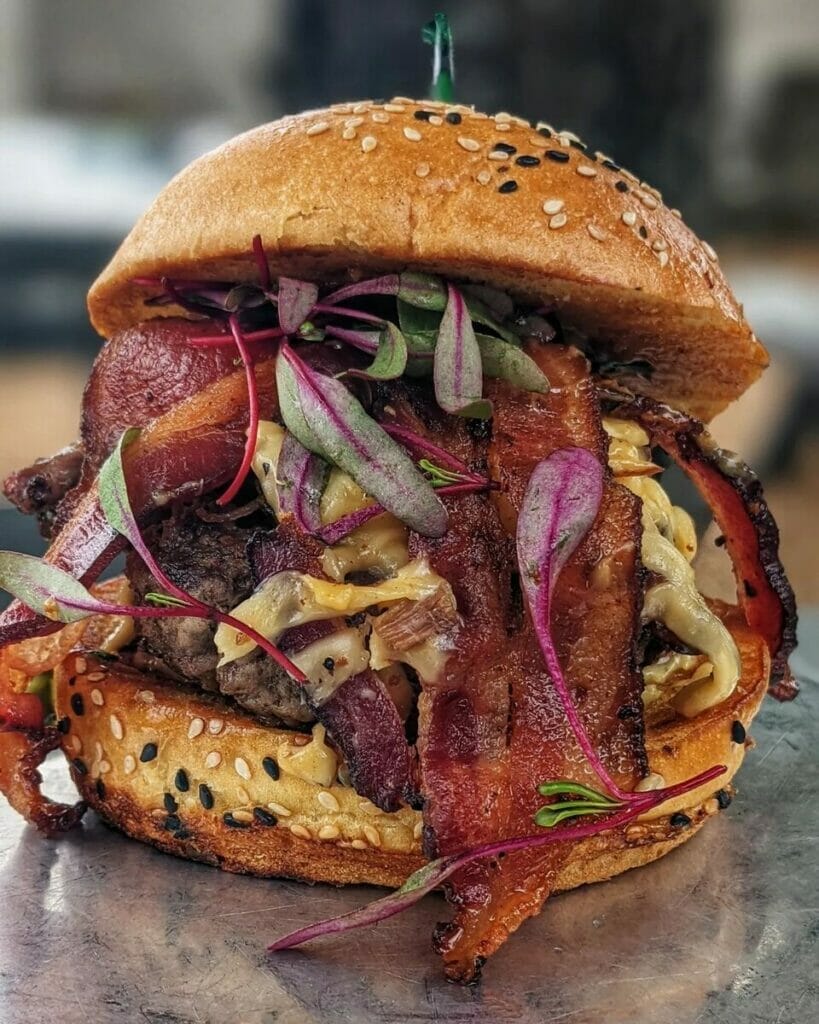 Their burgers are mouthwatering and you'll dream about them for months!
I know we're not making it easy for you to choose a restaurant on this weekend in Dallas itinerary.
The fact of the matter is that you'll never run out of bucket list menu items in Dallas.
For this quick trip, just eat at the restaurants that sound most appealing to you!
After Dinner
You're not quite ready to call it a night.
And there are still so many local restaurants you haven't tried!
There are two places we recommend for late-night snacks and drinks.
This will be the perfect end to your Dallas weekend getaway!
Parliament is a pre-prohibition style bar.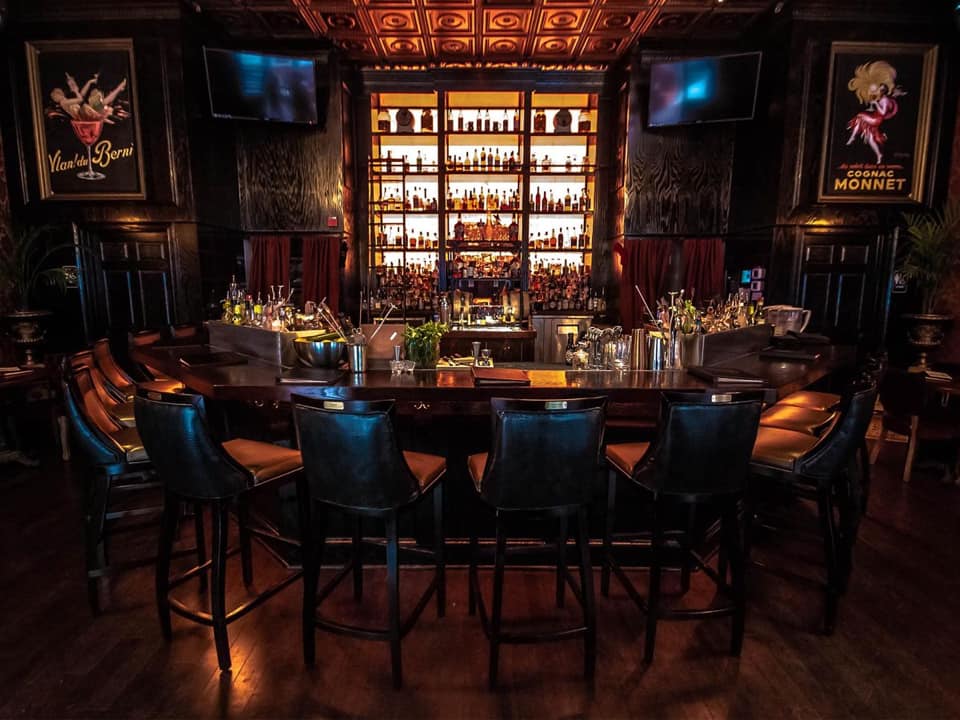 Sit in a cozy lounge while drinking craft cocktails.
With over 100 cocktails on their menu, you'll find one you like!
Happiest Hour is a bit more bustling.
It's actually the largest bar of its kind in Dallas!
With indoor and outdoor seating, you'll find a comfy spot to spend the rest of your evening.
You can sit on the rooftop or find a spot by one of their TVs that will be broadcasting sports.
Pin for Later!