As the scorching summer heat gives way to cooler temperatures and the leaves begin to don their vibrant hues, October brings a delightful change of season to the diverse landscapes of Texas.
From the charming coastal towns to the rolling Hill Country and bustling cities, the Lone Star State offers a plethora of activities and experiences that capture the essence of autumn.
Whether you're a nature enthusiast, a history buff, or a foodie in search of culinary delights, Texas in October has something for everyone.
In this blog post, we invite you to embark on a captivating journey through the best things to do in Texas during the enchanting month of October.
From festive fall festivals and thrilling outdoor adventures to cultural celebrations and scenic drives, this guide will showcase 17 incredible experiences that will make your October in Texas truly unforgettable.
Immerse yourself in the breathtaking beauty of the Texas Hill Country as you witness the changing foliage and explore charming towns steeped in history.
Savor the flavors of the season at local food and wine festivals, where you can indulge in farm-to-table cuisine and sample award-winning wines.
Discover the rich cultural heritage of Texas through lively celebrations that honor Mexican traditions, German Oktoberfest traditions, and more.
Weather in Texas in October
Temperature
October in Texas is generally characterized by mild to warm temperatures, with some regions beginning to experience cooler weather as the month progresses.
The northern parts of Texas, including cities like Amarillo and Lubbock, start to see cooler temperatures.
Average high temperatures range from the 70s to the 80s Fahrenheit (20-30 degrees Celsius), while overnight lows can drop into the 40s to 50s Fahrenheit (4-15 degrees Celsius).
Moving southward, the central regions, including cities like Dallas and Austin, still have mild to warm temperatures in October.
Highs can reach the 70s to 80s Fahrenheit (20-30 degrees Celsius), and lows generally range from the 50s to 60s Fahrenheit (10-20 degrees Celsius).
Coastal areas such as Houston and Corpus Christi continue to have warm temperatures in October.
Highs can be in the 80s to 90s Fahrenheit (25-35 degrees Celsius), with lows typically in the 60s to 70s Fahrenheit (15-25 degrees Celsius).
Rainfall
October is a transitional month in Texas when rainfall amounts can vary.
The northern and western regions, including cities like Amarillo and El Paso, tend to have lower average rainfall amounts ranging from around 0.5 to 1.5 inches (13-38 mm).
Central and eastern parts of Texas, including cities like Dallas, Austin, and Houston, can still receive some rainfall in October.
Average rainfall amounts can range from 1 to 3 inches (25-76 mm) in these regions.
Heat/Humidity
October brings relief from the peak summer heat in Texas.
The humidity levels start to decrease, providing a more comfortable atmosphere.
However, it's important to note that coastal areas, such as Houston, may still have slightly higher humidity levels due to their proximity to the Gulf of Mexico.
Overall, October offers pleasant to warm temperatures and decreasing humidity levels across most of Texas, making it a favorable time for outdoor activities and exploring the state.
GET A

FREE

TEXAS GUIDEBOOK WITH LOCAL TIPS!
With 71 pages of helpful travel tips and the "best of" Texas lists, this is your ad-free key to your Texas trip.
1. State Fair of Texas: fun things to do in Texas in October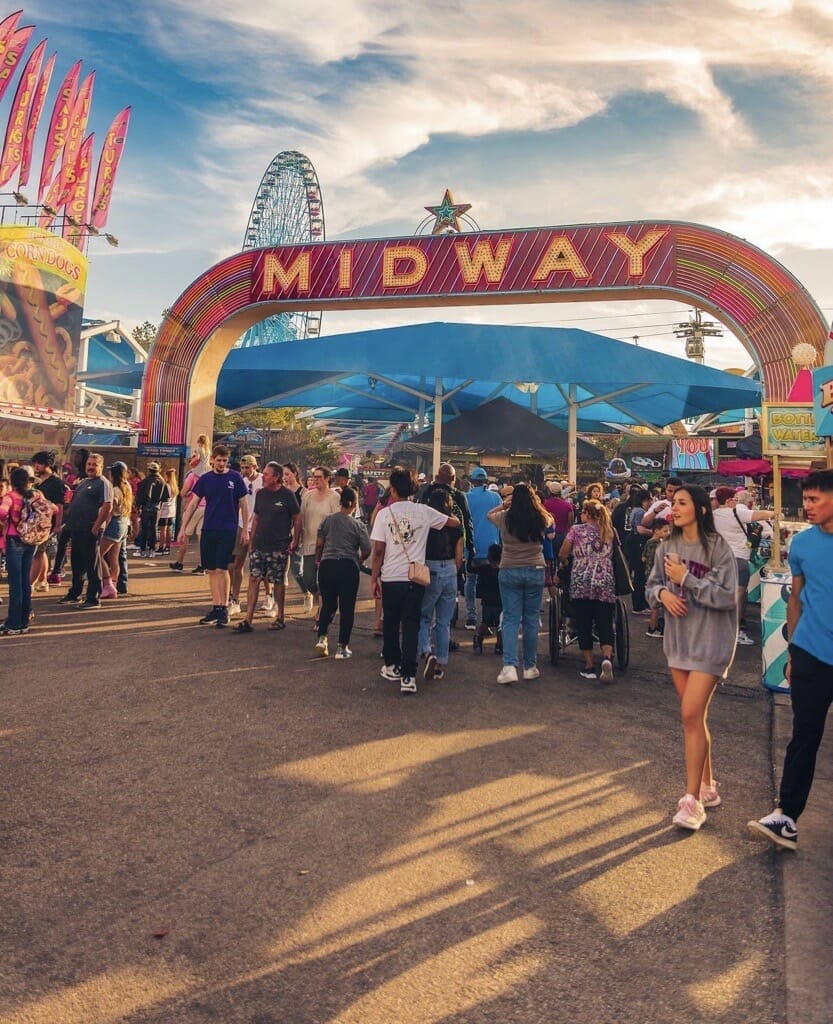 Visit the State Fair of Texas in Dallas and immerse yourself in the vibrant atmosphere of one of the largest and most iconic fairs in the country.
As you step onto the fairgrounds, you'll be greeted by a symphony of sights, sounds, and aromas.
Indulge in classic fair food like corn dogs, funnel cakes, and deep-fried treats that are sure to satisfy any craving.
Take a thrilling ride on the Texas Star Ferris wheel, offering panoramic views of the fairgrounds and the city skyline.
Don't miss the famous auto show, where you can marvel at the latest car models and vintage classics.
Throughout the fair, you'll be entertained by live music performances, from local talents to renowned artists, covering a wide range of genres.
The State Fair of Texas is not just an event; it's an experience that captures the essence of Texas culture, tradition, and entertainment.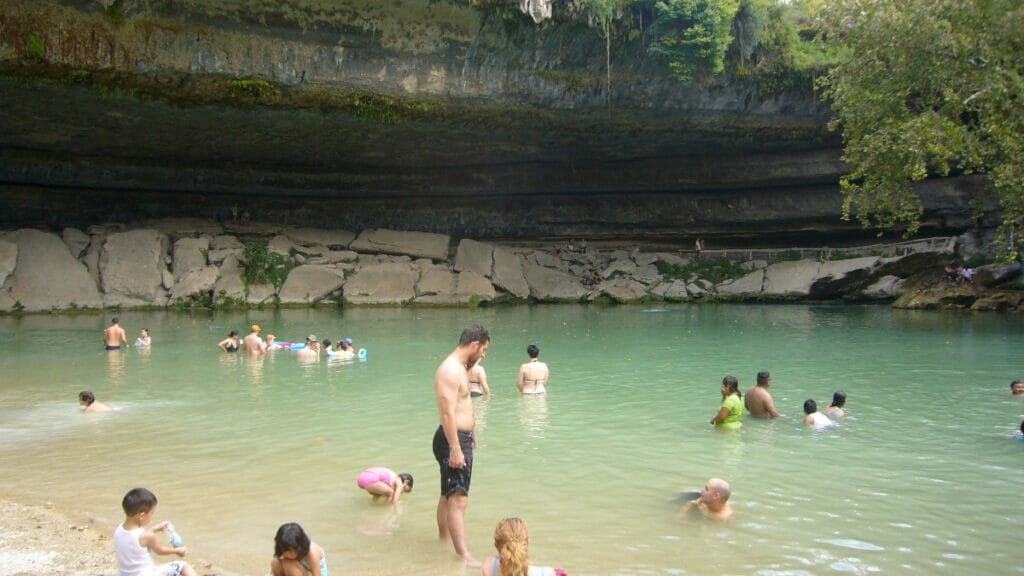 Explore the captivating beauty of the Hamilton Pool Preserve, located just outside Austin.
As you descend into the preserve, you'll be enchanted by the natural wonder that awaits.
The highlight is the Hamilton Pool, a collapsed grotto featuring a picturesque waterfall cascading into a turquoise pool below.
Surrounded by lush vegetation and towering limestone cliffs, it's a paradise-like oasis.
Take a leisurely hike along the trails that wind through the preserve, offering glimpses of diverse plant and animal life.
The preserve also provides opportunities for birdwatching and wildlife spotting.
When the Texas heat becomes too much, cool off with a refreshing swim in the crystal-clear waters of the pool.
Whether you're seeking tranquility, natural beauty, or a unique outdoor experience, the Hamilton Pool Preserve offers a memorable escape into nature's embrace.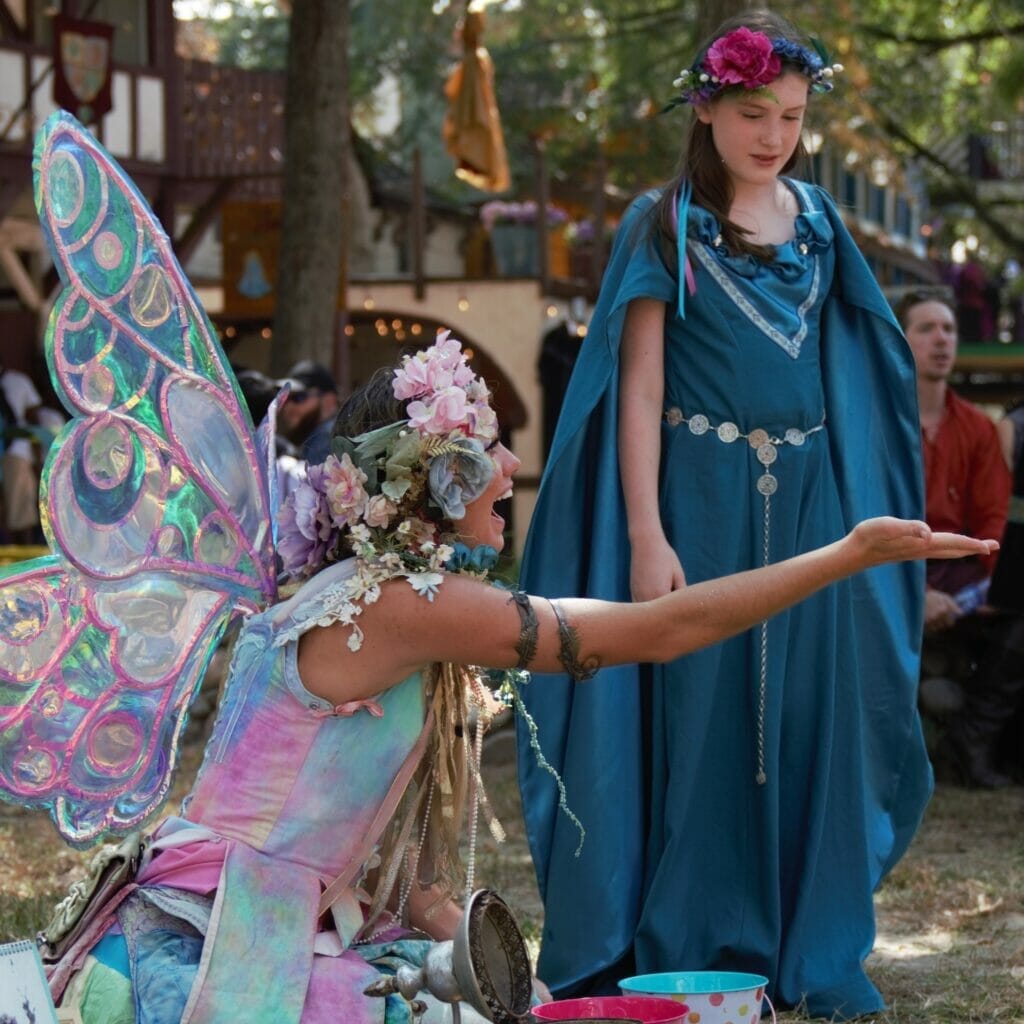 Step back in time and immerse yourself in the enchanting world of the Texas Renaissance Festival in Todd Mission.
This annual event transports visitors to the magical era of knights, maidens, and medieval revelry.
As you enter the festival grounds, you'll find yourself surrounded by a bustling village filled with costumed characters, lively music, and the aroma of delectable food.
Witness thrilling jousting tournaments where armored knights clash in epic displays of chivalry and skill.
Explore artisan stalls and browse through unique crafts, jewelry, and Renaissance-inspired clothing.
Indulge in a variety of mouthwatering food and drink offerings, from giant turkey legs to savory meat pies and sweet mead.
The festival is also home to numerous stages featuring live performances, including comedy shows, acrobatics, and musical acts.
Whether you're a history enthusiast, a fan of fantasy, or simply looking for a day of fun and adventure, the Texas Renaissance Festival promises an unforgettable experience that will transport you to a world of knights, castles, and Renaissance charm.
4. Ghost Tours in Galveston: must do things in Texas in October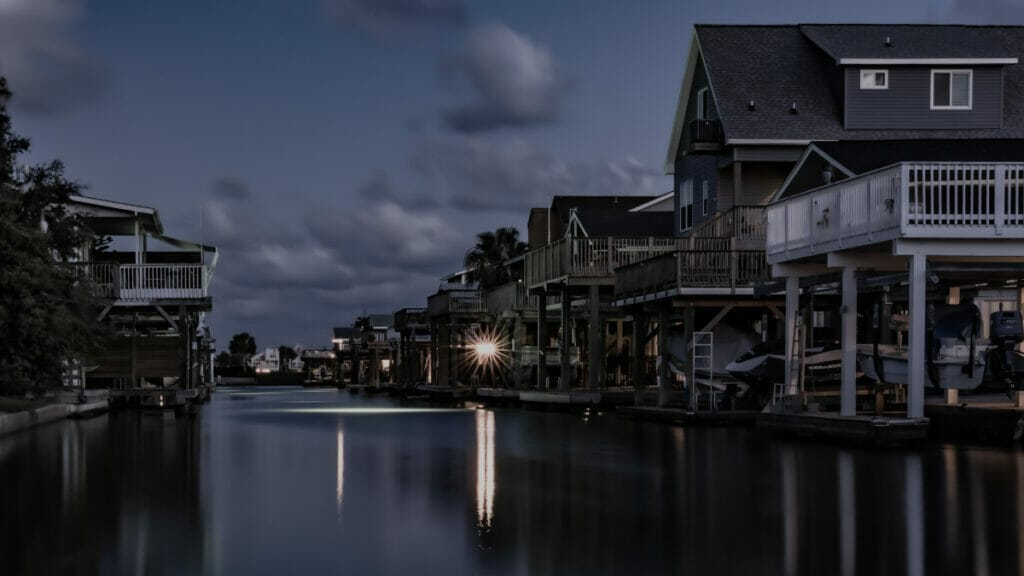 Experience the haunting allure of ghost tours in historic Galveston.
As the sun sets and darkness descends, embark on a guided tour that will take you through the city's storied past and its spectral tales.
Follow your knowledgeable guide as they share spine-tingling stories of haunted locations, unsolved mysteries, and legendary apparitions.
Explore historic buildings like the Moody Mansion and Bishop's Palace, where it is believed that spirits from the past still linger.
Learn about the tragic events and the restless souls said to haunt The Grand 1894 Opera House.
Allow your imagination to roam as you stroll through dimly lit streets, listening to eerie tales of Galveston's haunted history.
Whether you're a believer in the supernatural or simply fascinated by the unknown, the ghost tours of Galveston offer a unique and captivating way to discover the hidden secrets and spectral legends of this coastal city.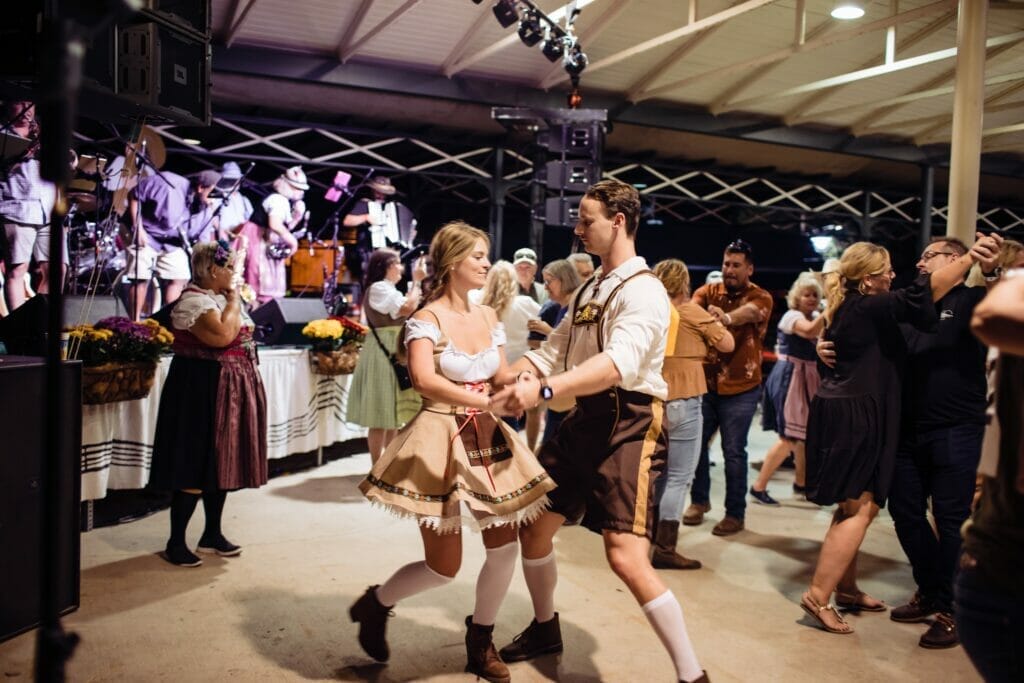 Celebrate German heritage and immerse yourself in the lively atmosphere of Oktoberfest in Fredericksburg.
This annual festival brings together locals and visitors alike to enjoy the best of German culture, music, food, and, of course, beer.
Put on your lederhosen or dirndl and join the festivities as the sound of traditional German music fills the air.
Dance to the lively tunes of polka and waltz, or simply tap your feet and clap along to the infectious rhythms.
Indulge in mouthwatering German cuisine, such as bratwurst, sauerkraut, pretzels, and strudel, while sipping on a variety of authentic German beers.
The festival offers a range of activities and entertainment, including carnival rides, arts and crafts vendors, and live performances.
Raise a glass in a joyful toast, make new friends, and embrace the warm and welcoming spirit of Oktoberfest in Fredericksburg.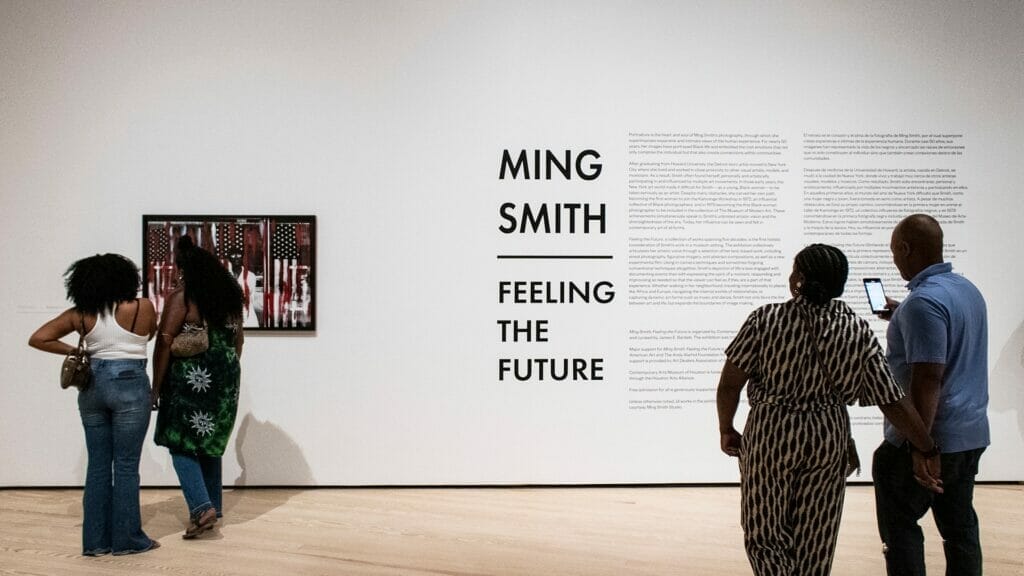 Immerse yourself in the vibrant art scene of Houston by visiting the Contemporary Arts Museum Houston.
This dynamic institution showcases cutting-edge contemporary art from local, national, and international artists.
As you step into the museum, you'll be greeted by thought-provoking exhibitions that challenge traditional notions of art and push the boundaries of creativity.
Explore the diverse range of mediums and styles on display, from paintings and sculptures to video installations and interactive artworks.
Engage with the works through guided tours or take your time to absorb the messages and emotions they evoke.
The museum also hosts artist talks, panel discussions, and educational programs, providing opportunities to deepen your understanding of contemporary art and its relevance to society.
The Contemporary Arts Museum Houston offers a space for dialogue, reflection, and inspiration, inviting visitors to engage with the ever-evolving world of modern art.
7. Drive through Hill Country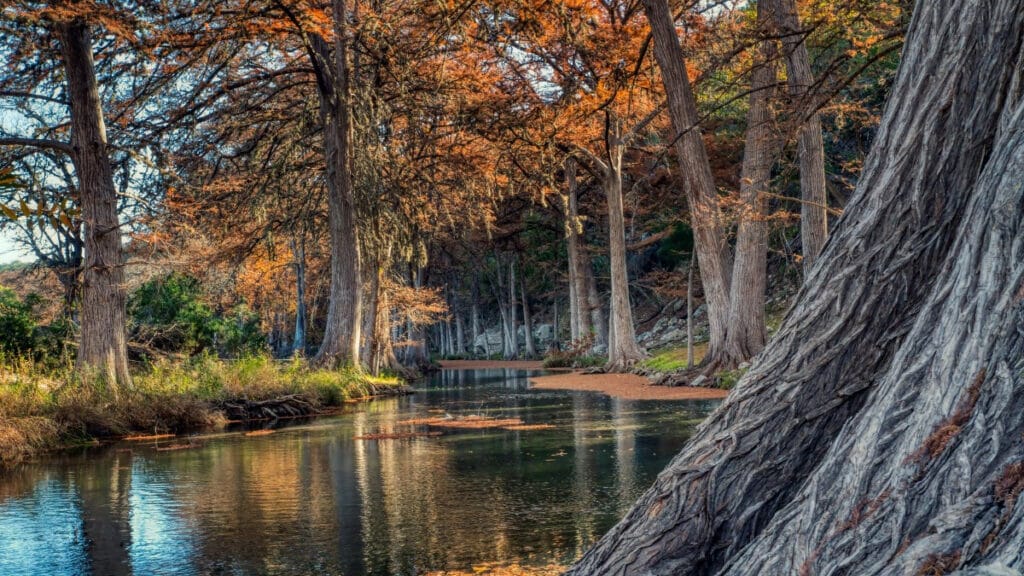 Take a scenic drive through the picturesque Hill Country and immerse yourself in the breathtaking beauty of the fall foliage.
As autumn arrives, the landscapes transform into a vibrant tapestry of reds, oranges, and yellows.
Enjoy the serenity of the open road as you wind your way through rolling hills, passing quaint towns and charming vineyards.
Stop in Fredericksburg, known for its German heritage and inviting atmosphere, where you can explore unique shops, indulge in wine tastings, and savor authentic German cuisine.
Continue your journey to Wimberley, a haven for artists and nature enthusiasts, and be captivated by its natural beauty and laid-back charm.
Take leisurely walks along the Blanco River or browse through art galleries and boutiques showcasing local craftsmanship.
Along the Texas Wine Trail, sample award-winning wines and immerse yourself in the scenic beauty of the vineyards.
Whether you're a nature lover, an adventure seeker, or simply in search of tranquility, a scenic drive through the Hill Country in October offers an unforgettable experience surrounded by the vibrant colors of autumn.
8. Visit the Alamo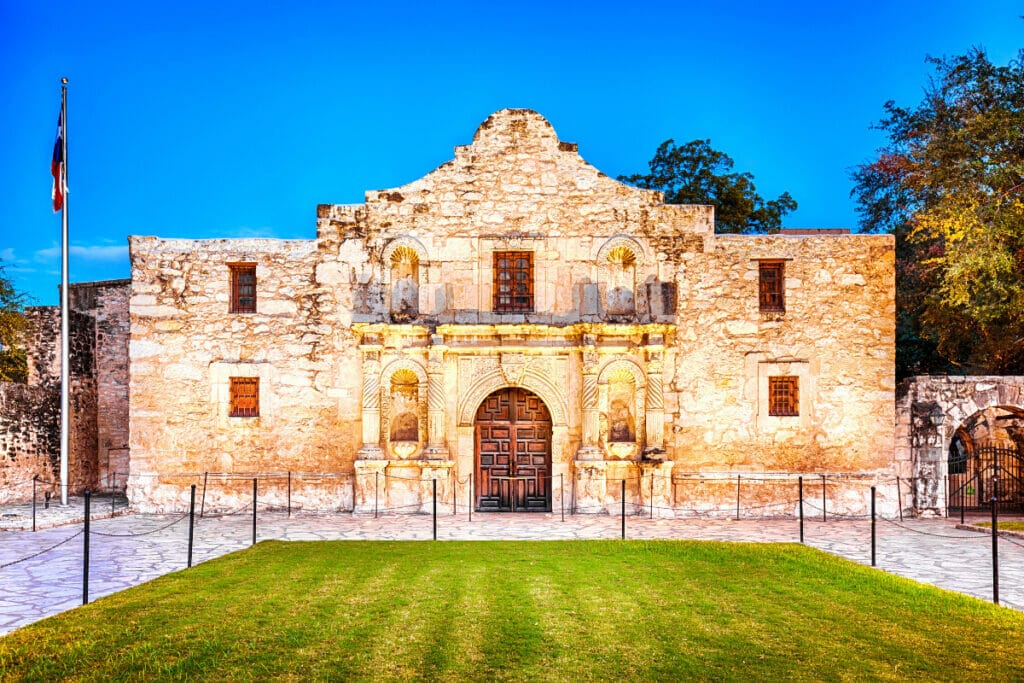 Explore the fascinating history of the Alamo in San Antonio, one of Texas' most iconic landmarks.
Step back in time to the Battle of the Alamo, a pivotal event in the Texas Revolution, and learn about the brave defenders who fought for Texas' independence.
Visit the historic site and immerse yourself in the stories and artifacts that bring this chapter of history to life.
Explore the Alamo's grounds, where you can see the original mission buildings and the iconic chapel.
Inside the Alamo Museum, discover an extensive collection of artifacts, documents, and interactive exhibits that provide insights into the people and events that shaped the Alamo's legacy.
As you walk through the site, reflect on the courage and determination of those who fought for freedom.
The Alamo is a symbol of Texas' resilience and serves as a powerful reminder of the state's rich heritage.
Immerse yourself in the vibrant music scene of Austin at the Austin City Limits Music Festival.
Held over two weekends, this renowned music extravaganza brings together a diverse lineup of artists across multiple stages in Zilker Park.
Experience the thrill of live performances by internationally acclaimed musicians, emerging talents, and local favorites.
From rock and indie to hip-hop and country, the festival offers a wide range of genres to suit every musical taste.
As you move between stages, take in the energetic atmosphere and connect with fellow music enthusiasts.
Explore the festival grounds, where you'll find an array of food vendors serving up delicious eats, as well as art installations and interactive experiences.
The Austin City Limits Music Festival is a celebration of creativity, community, and the power of music, making it a must-attend event for music lovers and festival-goers alike.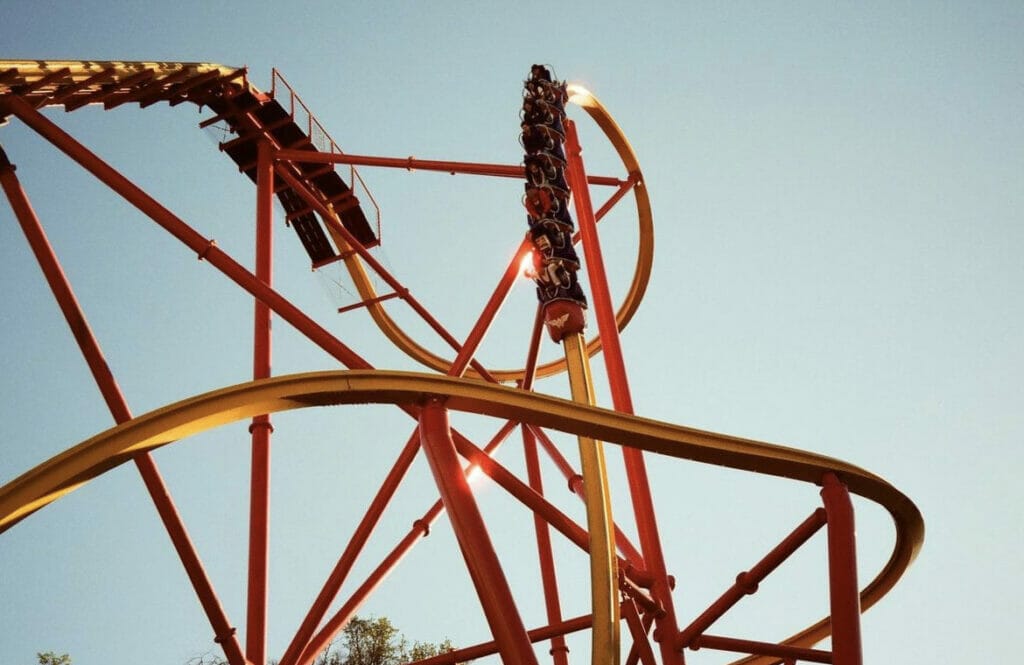 Enjoy a thrilling adventure at Six Flags Fiesta Texas in San Antonio.
This amusement park offers a wide range of exhilarating rides, family-friendly attractions, and live entertainment.
Brace yourself for heart-pounding roller coasters that twist, turn, and soar through the air, providing adrenaline-fueled thrills for daredevils of all ages.
Cool off on water rides that plunge you into refreshing splashes, or take a leisurely ride on a scenic carousel.
For younger visitors, there are dedicated areas with age-appropriate rides and interactive play zones.
Throughout the park, you'll be entertained by live shows featuring talented performers, from high-flying acrobatics to musical extravaganzas.
Indulge in delicious snacks, from cotton candy to funnel cakes, and create lasting memories with family and friends.
Six Flags Fiesta Texas promises a day of non-stop fun and excitement, making it a perfect destination for thrill-seekers and those looking for a memorable amusement park experience.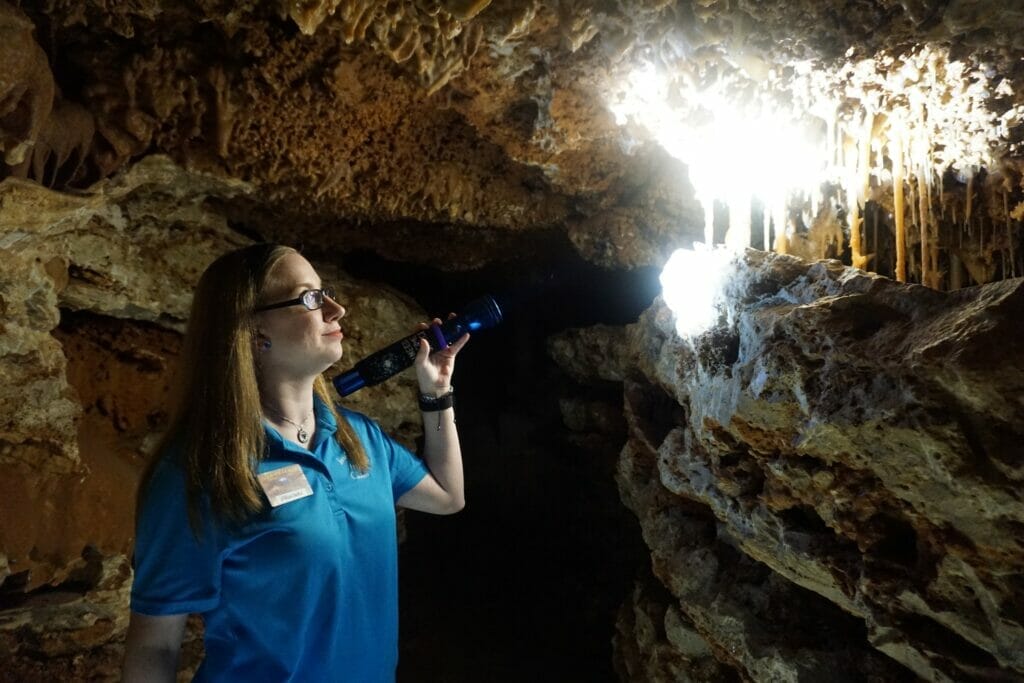 Journey into the captivating depths of the Inner Space Caverns in Georgetown, one of Texas' most remarkable natural wonders.
Descend into the underground world and marvel at the stunning formations that have been shaped over thousands of years.
As you explore the caverns, you'll be guided through narrow passages and vast chambers, each revealing intricate stalactites, stalagmites, and other geological formations.
Learn about the history and discovery of the caverns, as well as the geological processes that continue to shape them.
The guided tours provide insights into the fascinating ecosystem that exists within the caverns, from unique microorganisms to cave-dwelling creatures.
The Inner Space Caverns offer a rare opportunity to witness the hidden beauty of the Earth's subterranean wonders and uncover the mysteries that lie beneath the surface.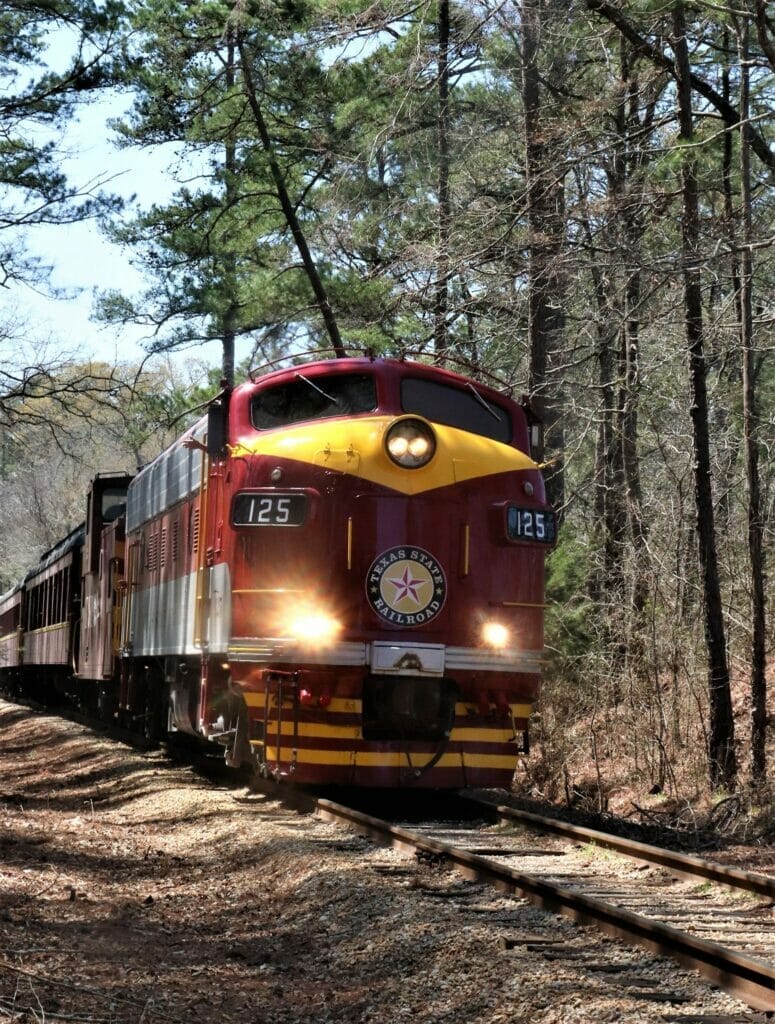 Experience the charm and nostalgia of the Texas State Railroad in Palestine and Rusk.
Climb aboard an authentic steam or diesel locomotive and embark on a scenic journey through the picturesque East Texas piney woods.
As the train chugs along the tracks, enjoy panoramic views of the surrounding countryside, passing through forests, over bridges, and alongside tranquil lakes.
The Texas State Railroad offers a variety of excursions, ranging from shorter trips perfect for families to longer rides that allow you to fully immerse yourself in the beauty of the landscape.
During the journey, you'll have the opportunity to learn about the history of the railroad, the significance of the route, and the role trains played in shaping Texas' development.
Sit back, relax, and enjoy the rhythmic sway of the train as you embark on a nostalgic adventure through the heart of Texas.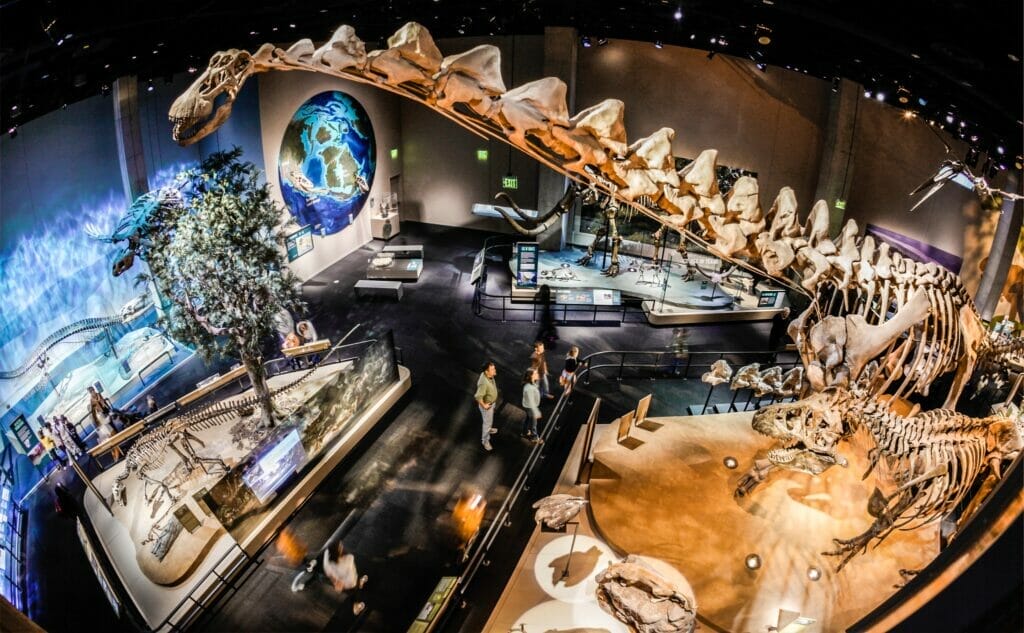 Delve into the wonders of science at the Perot Museum of Nature and Science in Dallas.
This state-of-the-art museum offers a range of interactive exhibits and educational experiences that ignite curiosity and inspire learning.
Explore the museum's various sections, each dedicated to different scientific disciplines.
Marvel at the fossils and dinosaur exhibits, where you can encounter life-size dinosaur skeletons and learn about the prehistoric world.
Engage in hands-on experiments and activities that explore physics, chemistry, and biology.
Discover the wonders of space and astronomy through immersive displays and simulations.
The Perot Museum also features a 3D theater, where you can experience captivating documentaries and educational films.
Whether you're a science enthusiast, a curious learner, or simply seeking a fun and educational experience, the Perot Museum offers a world of discovery and exploration for visitors of all ages.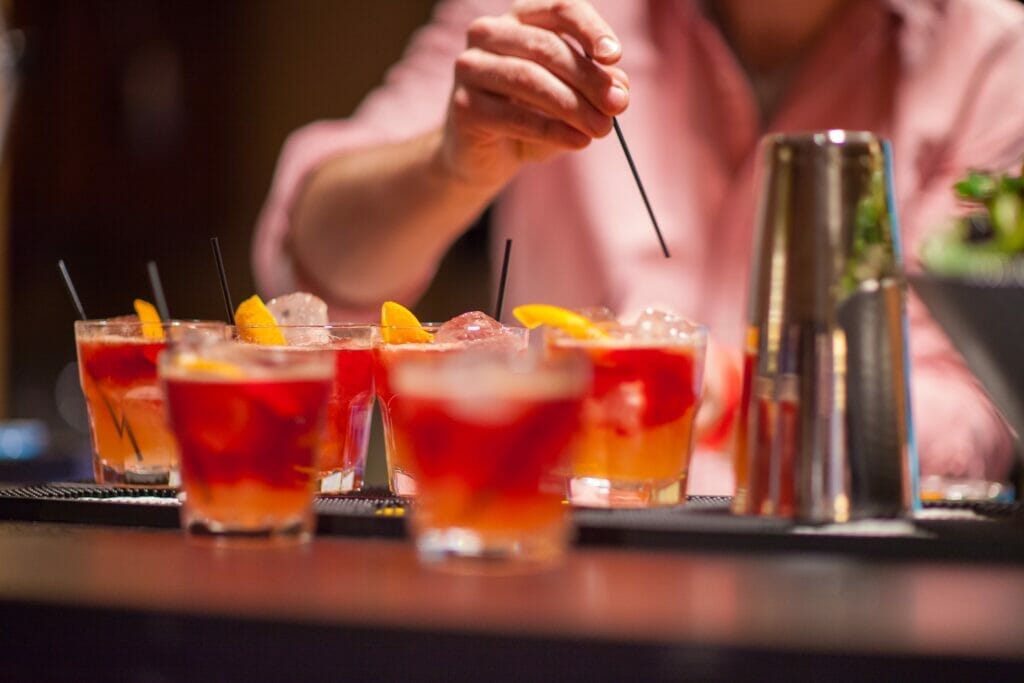 Indulge in a culinary adventure at the San Antonio Cocktail Conference, an annual event that celebrates the art of mixology and cocktail culture.
Join fellow cocktail enthusiasts and professionals as you sip on creative concoctions, crafted by renowned mixologists from around the world.
Attend workshops and seminars to learn about the latest trends in cocktail-making and gain insights into the history and techniques behind your favorite libations.
The conference also offers opportunities to sample a variety of spirits, explore the world of craft beer and wine, and enjoy delectable bites from local chefs and restaurants.
Immerse yourself in the vibrant and dynamic atmosphere of the San Antonio Cocktail Conference, where you can expand your knowledge, refine your palate, and discover new flavors and combinations that will elevate your appreciation for cocktails.
15. Texas football: October things to do in Texas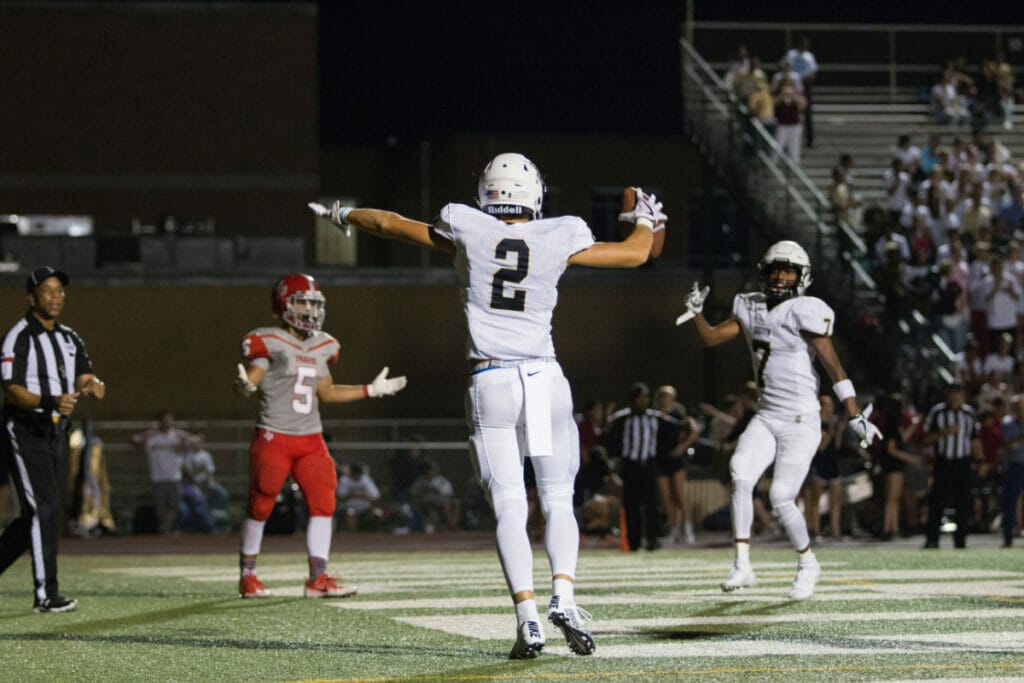 Experience the excitement of a college football game by attending a matchup featuring one of Texas' powerhouse teams.
Whether it's the University of Texas Longhorns or Texas A&M Aggies, the passion and energy that surround Texas football are unmatched.
Join thousands of fans as they fill the stadium, donning their team colors and cheering with fervor.
Feel the thrill of the game as the players take the field, engaging in epic battles and strategic maneuvers.
Immerse yourself in the electric atmosphere as the crowd roars with each touchdown, interception, or remarkable play.
Tailgate before the game and join in the camaraderie of fellow fans, indulging in classic game-day food and drinks.
Attending a college football game in Texas is more than just watching a sport; it's a cultural experience that brings people together and showcases the state's deep-rooted love for the game.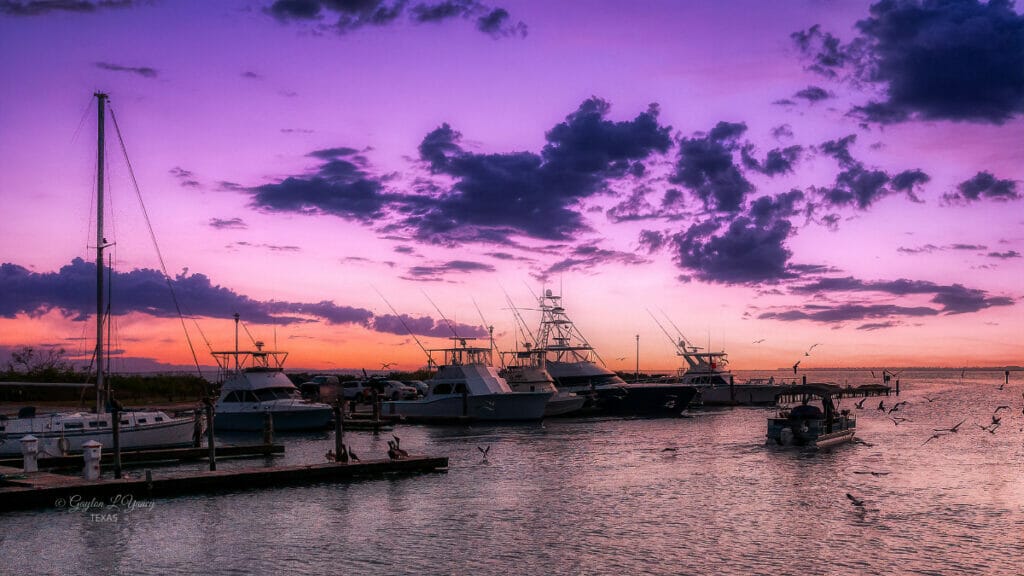 Escape to the peaceful shores of South Padre Island and enjoy a beach getaway in October.
With its pristine beaches, warm Gulf waters, and laid-back atmosphere, the island offers the perfect retreat from the hustle and bustle of everyday life.
Bask in the sun on the soft sand, take refreshing dips in the ocean, or indulge in water sports such as paddleboarding, kayaking, and jet skiing.
Explore the island's natural wonders by visiting the South Padre Island Birding and Nature Center, where you can spot a variety of bird species and witness the beauty of the coastal ecosystem.
Take a dolphin-watching cruise and marvel at these graceful creatures in their natural habitat.
At night, experience the thrill of sea turtle hatchling releases, where you can witness these adorable creatures making their way to the ocean for the first time.
South Padre Island offers a tranquil and idyllic setting to unwind, reconnect with nature, and create lasting memories by the sea.
17. Visit the Menger Hotel in San Antonio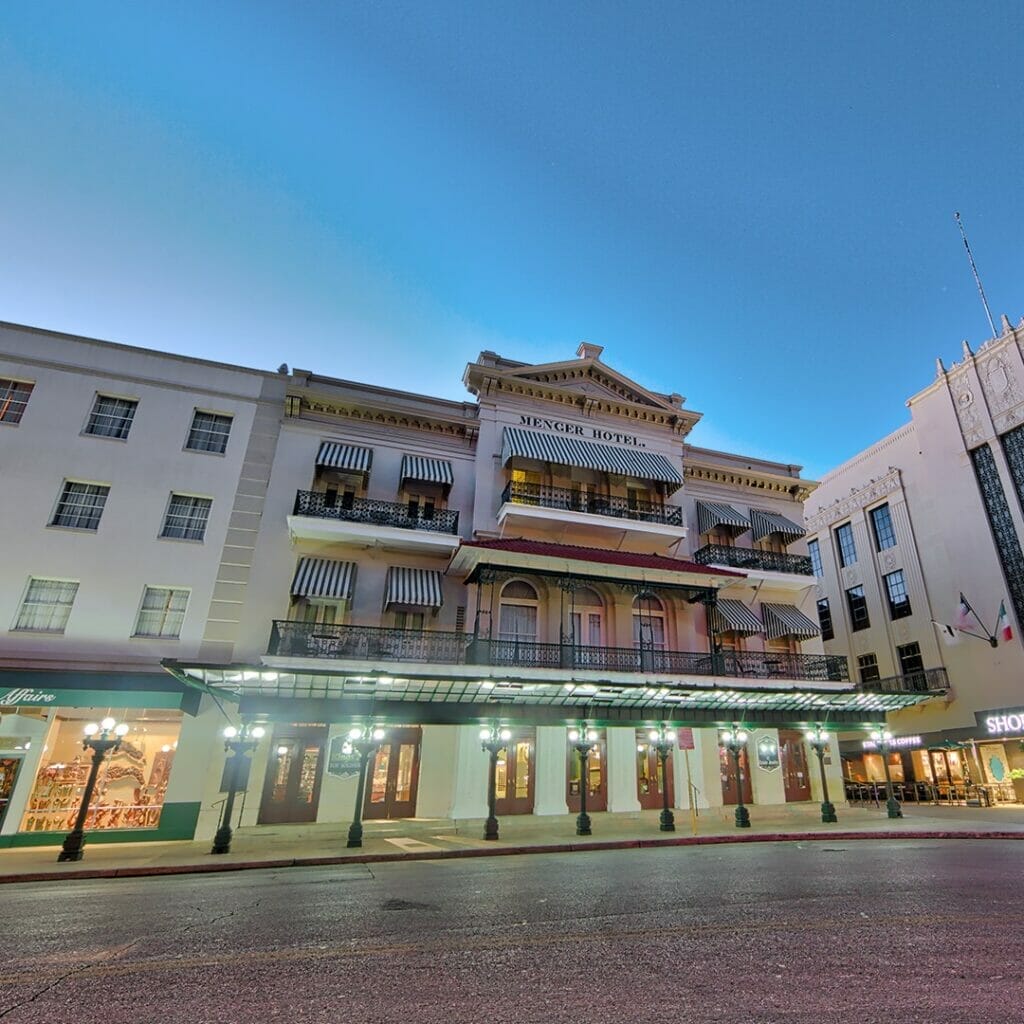 Embark on a spine-chilling adventure as you take a haunted tour of the historic Menger Hotel in San Antonio.
This iconic hotel, known for its rich history and elegant charm, has also gained a reputation for its ghostly encounters and paranormal activities.
Step into the past as you explore the halls and rooms that have been witness to countless stories and legends of the supernatural.
During the tour, knowledgeable guides will regale you with tales of mysterious happenings and eerie encounters reported by both staff and guests.
Learn about the hotel's intriguing past, dating back to its opening in 1859, and the notable figures who have stayed within its walls, including famous names like Teddy Roosevelt.
Discover the legends and stories of the spirits that are said to linger in the hotel, from ghostly apparitions to unexplained noises and inexplicable occurrences.
Looking for more monthly guides on the best things to do in Texas? We've got you covered, partner!