If you plan to spend a weekend in San Antonio, you may be wondering how to make the most of your time.
This Texas city has so much to offer!
You could easily spend a week here without getting bored.
Fortunately, it is possible to see nearly everything in just a weekend.
You'll have to stick to your schedule and avoid the urge to meander, but you shouldn't need to feel rushed.
We have planned the perfect weekend in San Antonio itinerary based on must-see attractions and a limited time frame.
If you're looking to only spend one day in San Antonio, we've also got you covered with the perfect itinerary for that as well!
Keep on reading to make your weekend San Antonio getaway the experience of a lifetime, and once you're finished with your perfect getaway make sure to put your San Antonio Instagram captions to good use!
Hey! Looking for more expert San Antonio guides? Check these out!
GET A

FREE

TEXAS GUIDEBOOK WITH LOCAL TIPS!
With 71 pages of helpful travel tips and the "best of" Texas lists, this is your ad-free key to your Texas trip.
Looking for more iconic Texas weekend getaways? Check these out!
Tips for Visiting San Antonio in 48 Hours
Staying at a hotel in the heart of San Antonio will decrease your travel time.
This will allow you to spend more time sightseeing!
This weekend in San Antonio itinerary schedules your activities so you shouldn't have to spend too much time traveling throughout the day.
It is also important to consider your priorities when visiting San Antonio.
If you want to soak in everything the missions have to offer, you might want to spend less time at shopping centers.
If you don't really care to try the local cuisine, you may consider getting a quick bite to free up time for other activities.
Tips for Planning a Weekend Trip to San Antonio
One of the biggest things to consider when planning your San Antonio weekend getaway is the weather.
Texas is known for its hot temperatures in the summer.
You can expect to see 96°F weather if you visit San Antonio in August.
If you visit in December or January, you'll probably see highs of 64°F.
Many people agree that spring weather is perfect for traveling to San Antonio.
Where to Stay for 2 Days in San Antonio
The River Walk is not only home to many attractions.
It also has several good hotels to choose from!
Many of them have a good location and a rich history.
You'll be able to walk to many places, which is one of the best ways to experience San Antonio.
The Best Western Premier Historic Hotel is great for anyone on a budget.
It also has a great location in the heart of downtown.
You can even walk to the Alamo from this hotel in about six minutes!
The Historic Menger Hotel also has a good location.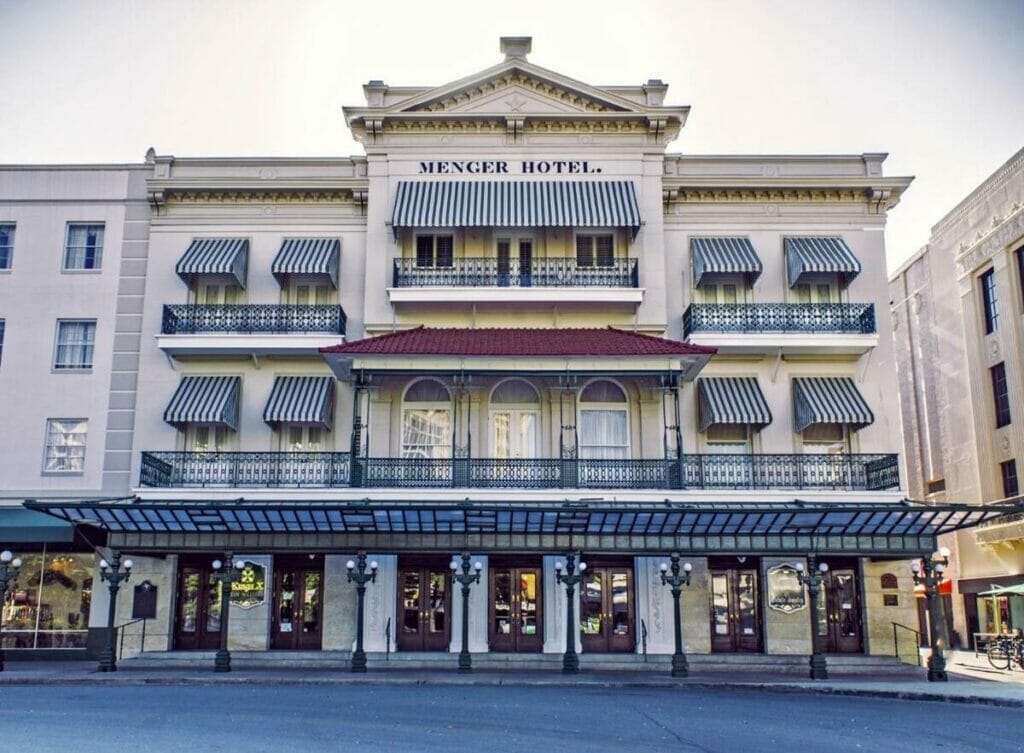 This is the longest-operating hotel west of the Mississippi.
They have a bar, restaurant, pool, and relaxing courtyard.
What to Pack for San Antonio in 2 Days
The most important thing when packing for a weekend in San Antonio is the weather.
You probably want to pack lightweight clothes if you visit in the summer.
You may want to pack one light jacket or sweatshirt because the temperature drops at night.
During the cooler months, layering is key.
It might seem chilly in the morning, but you'll work up a sweat throughout the day as you walk a lot.
You may want to pack a dressy outfit for the weekend.
This is because some of the best restaurants in the city have a classy atmosphere.
Since you can count on walking for miles each day, be sure to bring comfortable walking shoes.
It is also a good idea to bring a bag that allows you to carry your necessities, including a reusable water bottle and sunscreen.
Since you'll spend so much time under the sun, you'll want to protect your skin.
Hydration will also be important as you explore this city!
2-Day San Antonio Itinerary
We start this weekend in San Antonio itinerary in the morning on your first day in San Antonio.
If you arrive in the afternoon, you might want to skip the first morning activities until the next day!
Maybe you won't have exactly 48 hours.
You may want to cut out some activities or consider adding some attractions depending on your schedule.
If you only have 2 days in San Antonio, keep reading for the perfect itinerary!
Day 1 in San Antonio
Breakfast
Before you start your weekend in San Antonio itinerary, fuel up with breakfast.
You wouldn't want to get hangry while visiting San Antonio's attractions.
We would recommend eating at La Panadería Bakery Café.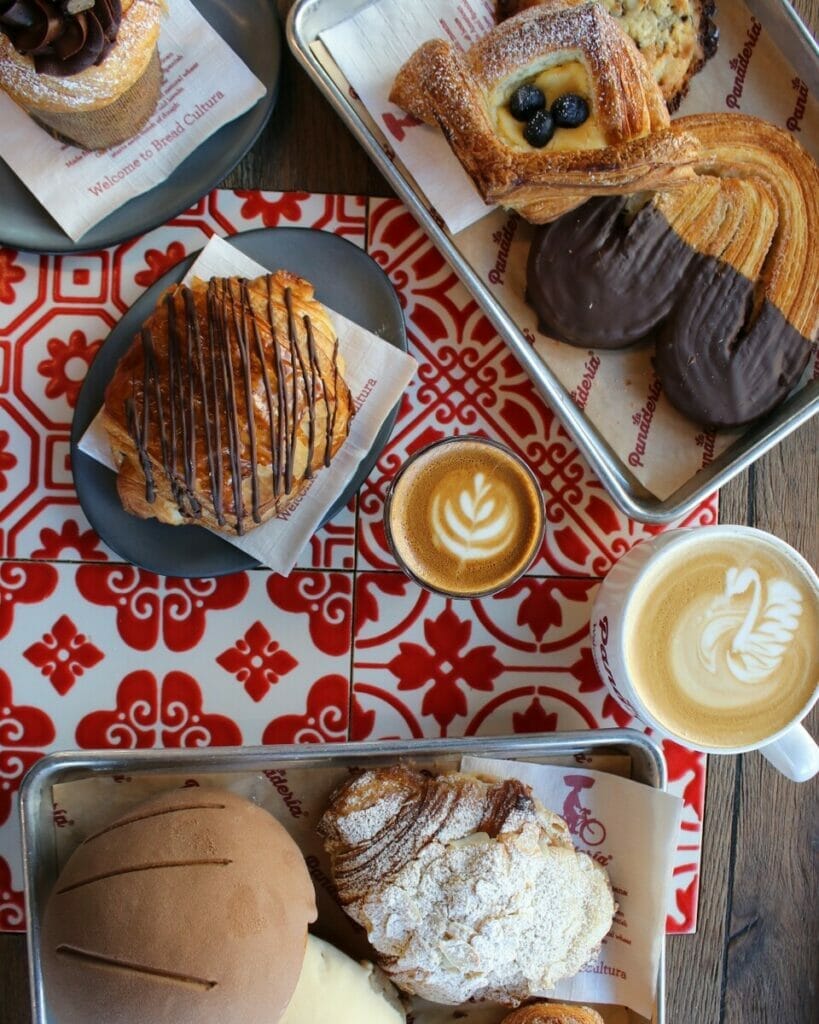 This local bakery has Tex-Mex-inspired baked goods and opens daily at 7.
You probably won't find anything like this back home!
They have a few locations now, but their downtown location on Houston Street is just a short walk from the Alamo.
Morning
You can't start a weekend in San Antonio itinerary without a trip to this iconic destination.
Starting your visit with a trip to the Alamo is a must.
This historic location is probably the reason most people visit San Antonio.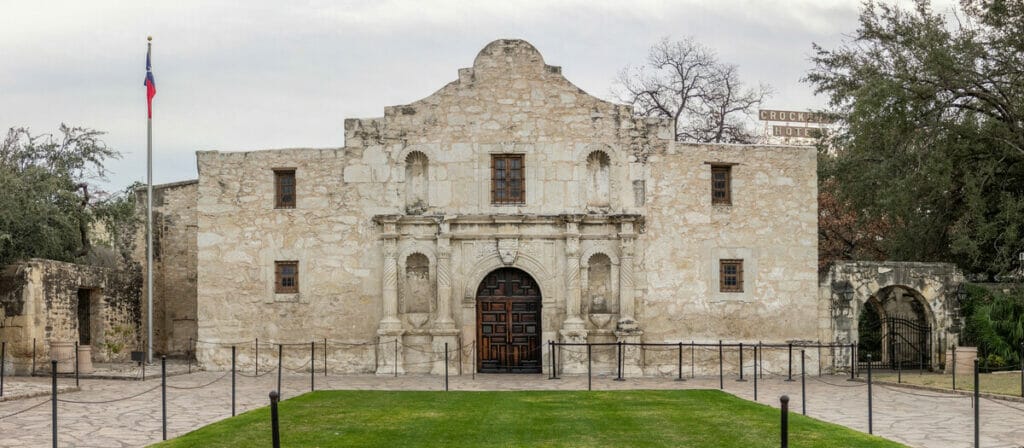 Start your visit at the Alamo to make sure that nothing gets in your way of visiting this iconic landmark.
This should take 1-2 hours, depending on how much you love learning about history.
Get there when they open at 9 to beat the crowds!
Or if you're looking for a guided tour option, this San Antonio Missions Tour will give you a private tour of the Alamo, King William Historic District and Market Square so you can learn more about the culture and history!
Late Morning
Now it's time to explore the River Walk.
This 15-mile strip goes along the river and has lots to offer.
It is one of the top tourist attractions in Texas for good reason!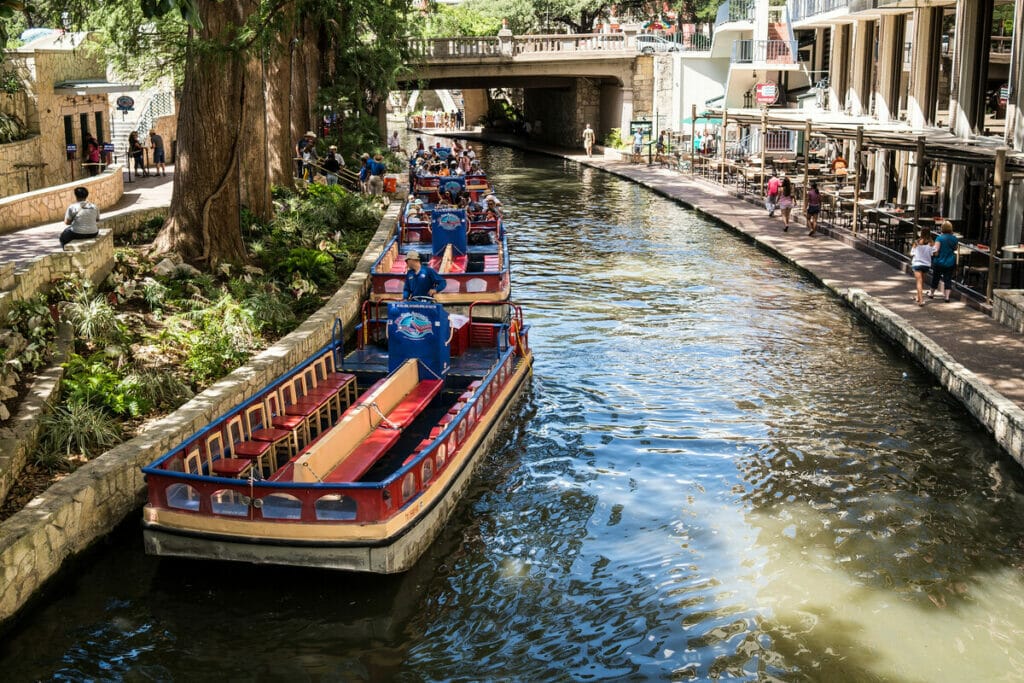 This is a great place to soak in San Antonio culture.
There are many shops and restaurants.
Plus, you will stroll past many photo ops and gorgeous city views!
You can even spend the day exploring by doing this ultimate San Antonio Scavenger Hunt!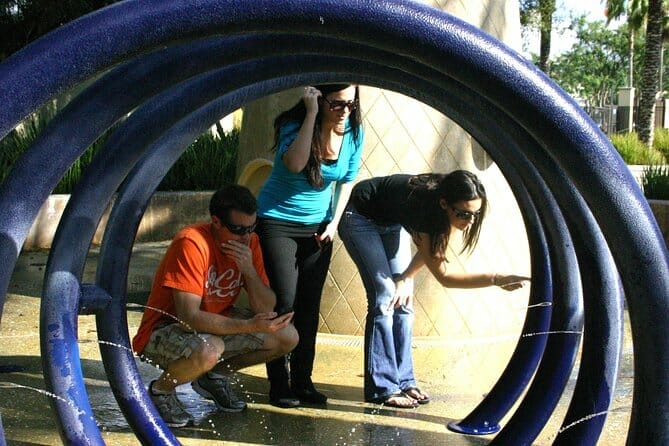 Discover both popular and off the beaten path sites, solving clues and completing challenges all from your smartphone!
Take your time to make sure you take in all the River Walk has to offer!
Walk until you come to the San Fernando Cathedral.
Founded in 1731, this is the oldest cathedral in the United States.
You can go inside during the day.
However, you may want to consider coming back at night to see the Saga.
This is a sound and light show that tells the story of the city.
You'll leave the River Walk to go explore Historic Market Square.
Here, you can listen to live Mariachi music and see Folklorico dance performances on the weekends.
It's also a great place to sample traditional Mexican cuisine and shop for souvenirs.
Lunch
You'll probably be getting hungry for lunch as you walk around Historic Market Square.
There are many good options, but we recommend La Margarita Mexican Restaurant & Oyster Bar.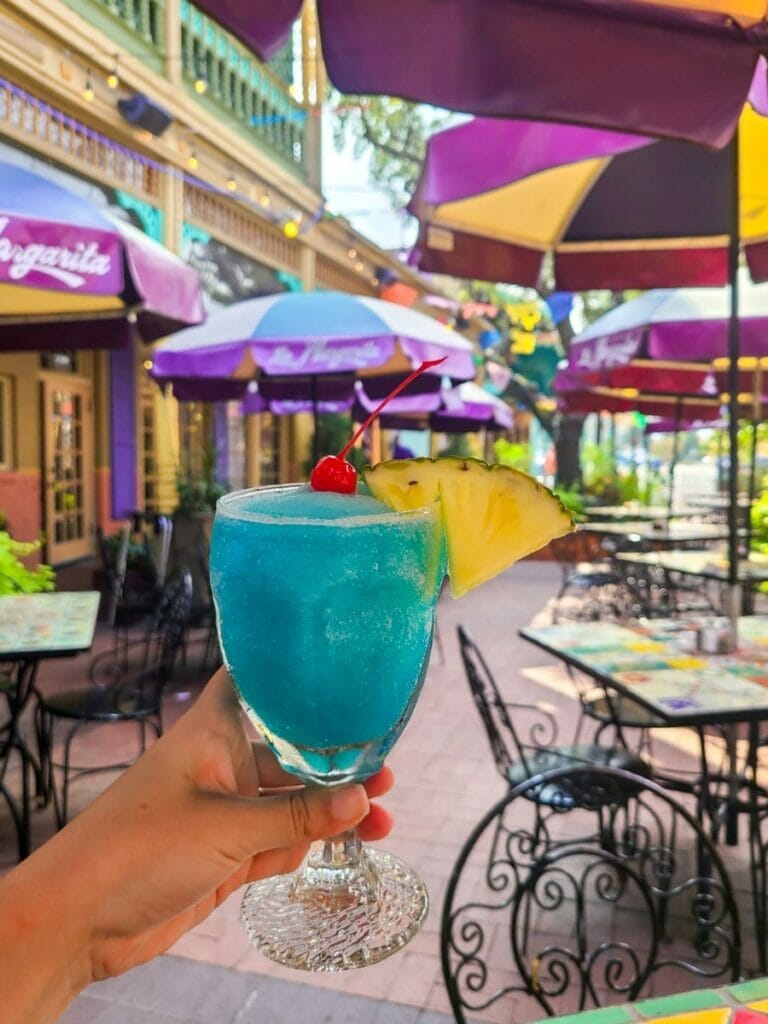 This restaurant has been around for decades and offers amazing Mexican dishes and seafood.
You have to try their fajitas and, obviously, a margarita.
Afternoon
Now you probably want to walk off your full tummy.
That's perfect because next up is walking to the Governor's Palace.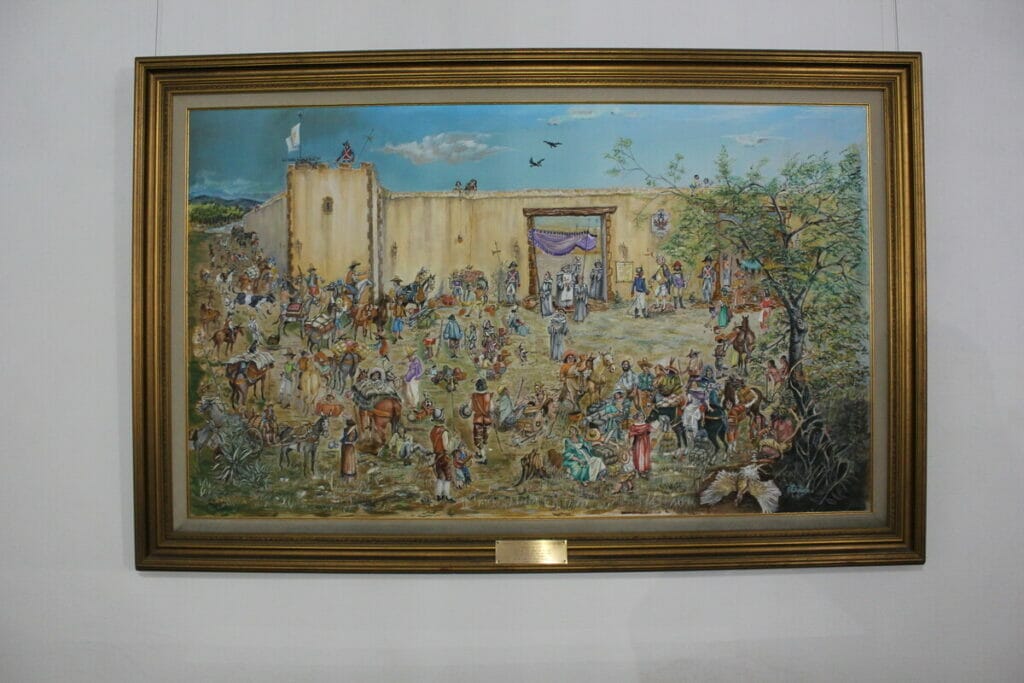 This Spanish Colonial townhouse is the only one that still stands in Texas.
You can discover history by walking through the exhibits.
This will take about an hour.
Then you'll head to La Villita.
La Villita is the oldest neighborhood in the city.
You can see this reflected in the architecture of the buildings.
This area is now a great shopping center for anyone who wants to find souvenirs to bring home.
You can also admire some of the artwork throughout this village.
You won't be too far from the Tower of the Americas, which is another must-see attraction.
Built for the 1968 World's Fair, this 750-foot structure allows you to see San Antonio from above.
You can grab a bite to eat or enjoy a drink at the top of the tower.
Happy hour is at 4:30 if you want to get a discount.
Early evening
The last main attraction to enjoy on your first day in San Antonio is King William Historic District.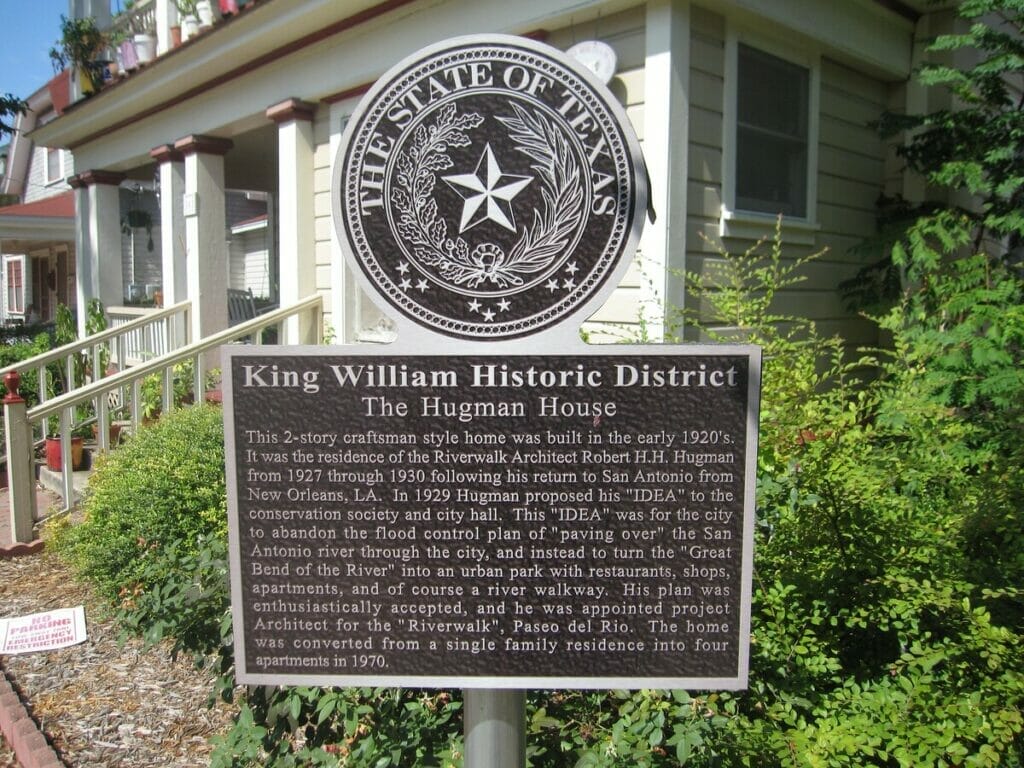 Located a mile away from the Tower of the Americas, is a historic part of the city.
You'll feel like you stepped back to the 19th century as you explore this district.
Enjoy the architecture of old homes that used to belong to prestigious Texans.
Dinner
Now it's time to head back to your hotel at the River Walk to find a good spot for dinner.
While you have many restaurants to choose from, some stand above the rest.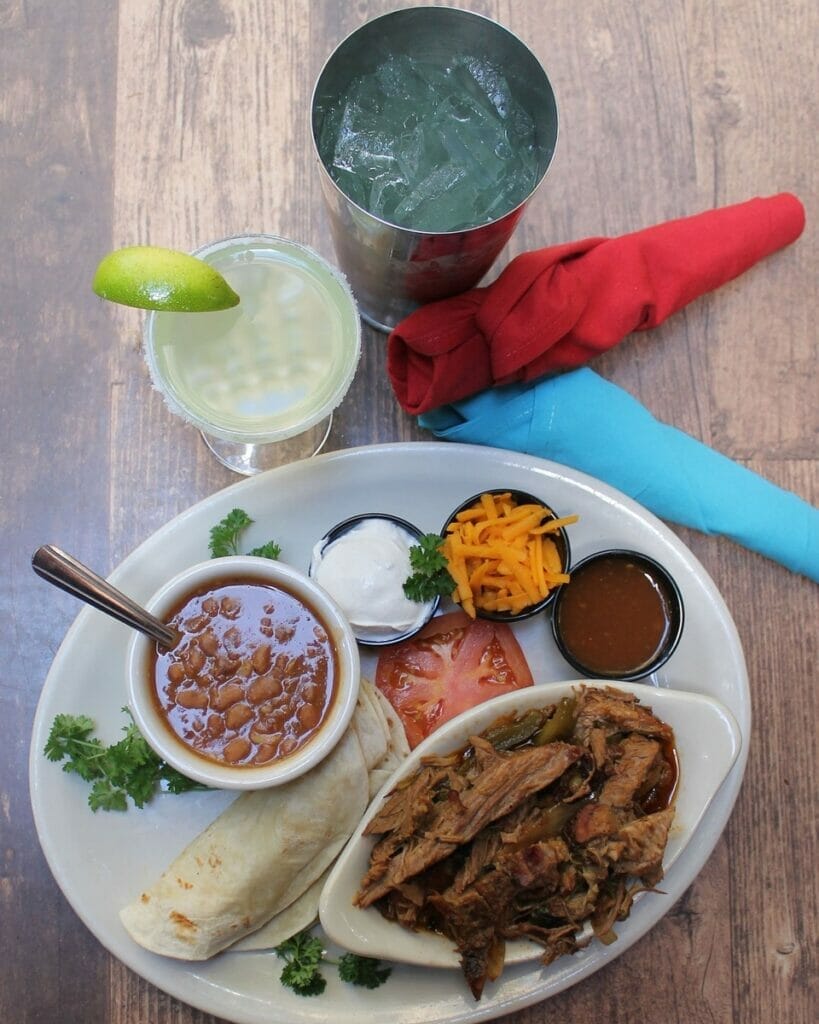 The County Line is a Texas barbecue joint that encompasses the flavor profile of Texas.
They're also known for their margaritas and numerous beer options.
The Esquire Tavern is another San Antonio favorite.
This classy watering hole first opened to celebrate the end of Prohibition and is still going strong!
While not technically a speakeasy, it gives off similar vibes.
After dinner
You should explore the River Walk again now that it's nighttime.
You'll notice a different vibe in the evening.
One of the best ways to do this is by taking a river cruise.
On this San Antonio River Walk Cruise, Hop-On Hop-Off Tour you'll get a crash course in San Antonio history while riding a boat down the river!
If you're looking for more of a spooky thrill, check out this Haunted Ghost Bus Tour.
During this tour you'll get a bone chilling exploration of the city's most famous haunted sites!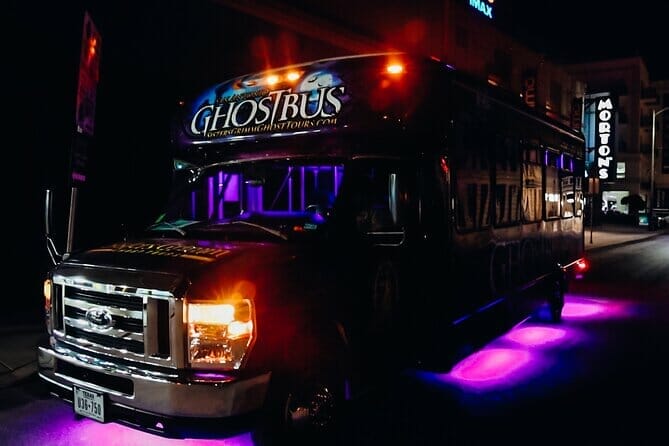 From the Menger Hotel to the former Bexar County Jail, an historic cemetery, and more.
Day 2 in San Antonio
Breakfast
The Guenther House is famous for its Texas-sized breakfast.
About a 5-minute drive from downtown San Antonio, you won't want to miss it!
This ballroom-style restaurant was built in the early 20th century and you can tell.
Not only do they have good food, but they serve it to you in a gorgeous restaurant.
Morning
Now that you've had a hearty breakfast, you're ready for another morning of walking.
Today is the day to visit the San Antonio Missions National Historical Park.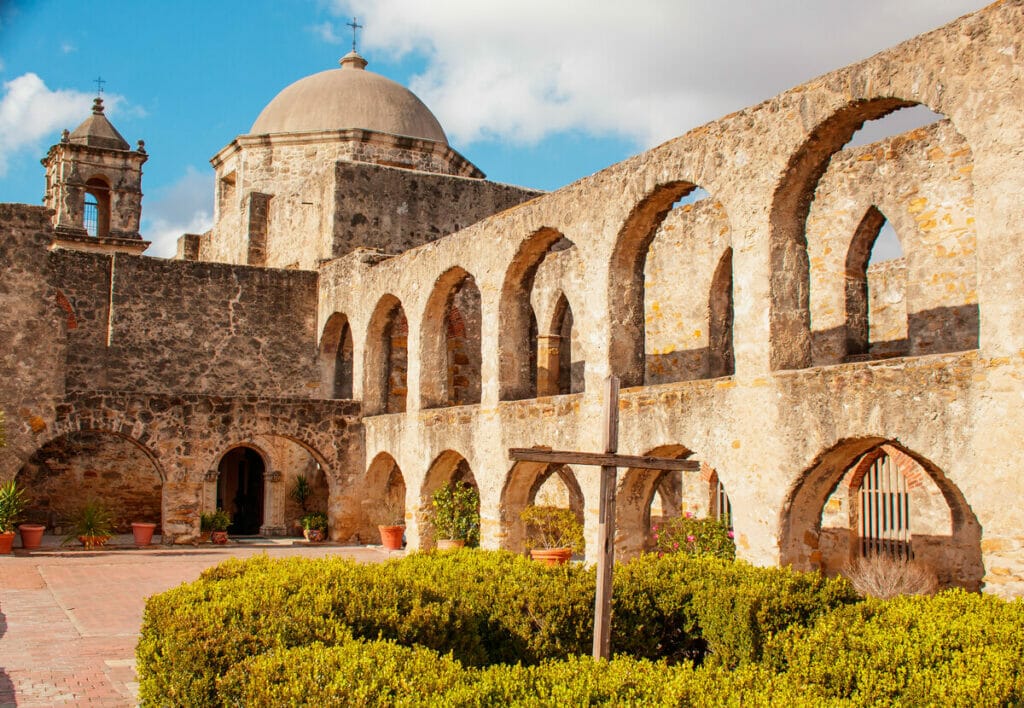 This park has 4 of the 5 famous San Antonio Missions (excluding the Alamo).
The visitor center is a 10-minute drive from the Guenther House and opens at 9.
Mission Concepción, Mission San José, Mission Espada, and Mission San Juan Capistrano span over 15 miles.
Many people will hike this, but we recommend biking instead.
This will allow you to visit all four missions in just a few hours.
Most people spend about 3-4 hours here.
Lunch
Since you have such a busy day, you may want to grab a quick lunch.
The Station Cafe is a popular sandwich joint that locals love.
As long as they're not too busy, you'll be in and out quickly.
That means you'll have plenty of time for your next activity!
Afternoon
Now you may want to visit one of San Antonio's museums.
While there are many to choose from, there are two that stand out from the rest.
The Witte Museum is a museum that covers culture, nature, and science of Texas and beyond.
Visitors rave about it for many reasons, including the dinosaur exhibit!
Most people spend 2-3 hours here.
The Briscoe Western Art Museum is a bit more niche.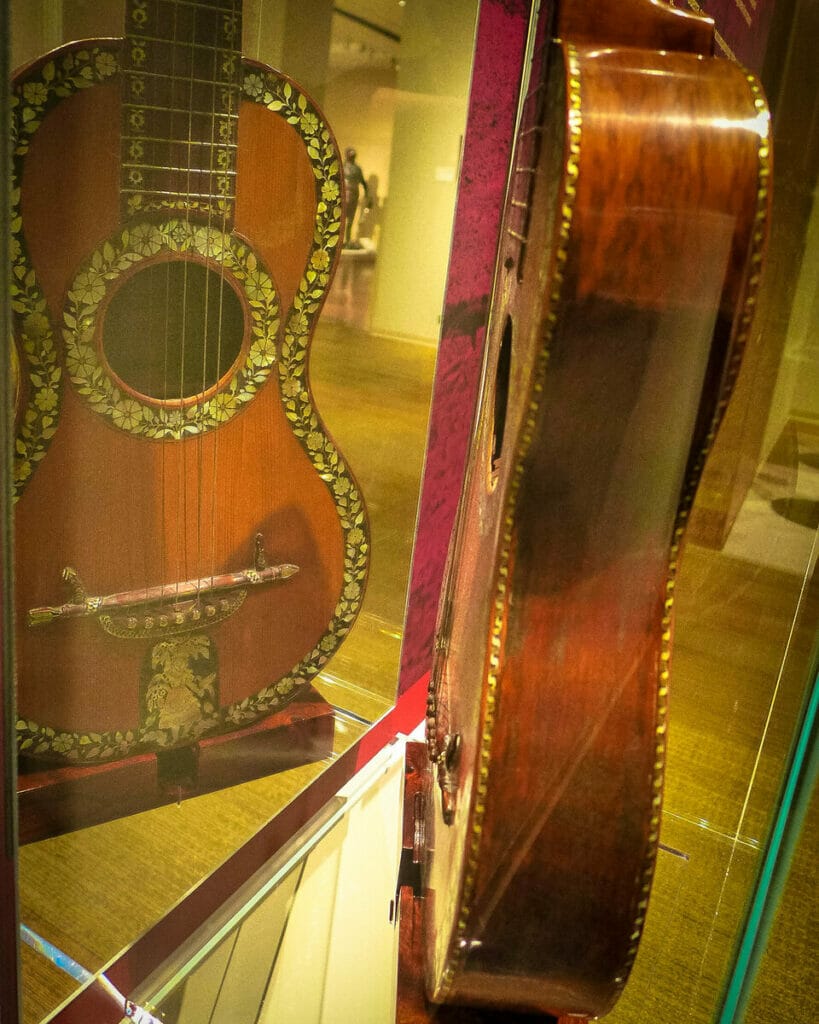 But that doesn't mean it's any less informative!
If you love the Wild West, you'll love this museum.
Most people spend 1-2 hours here.
We also recommend checking out the Japanese Tea Garden if you have time.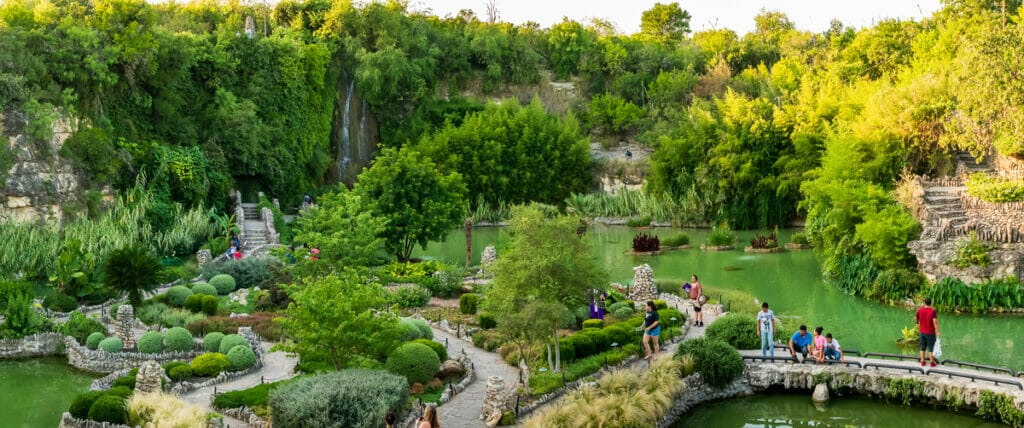 This beautiful park is free to the public.
Most people spend about an hour here.
All three of these attractions close at 5, so you might not be able to visit them all.
It might be possible if you eat a quick and early lunch, though.
Pick whichever one is the best fit for you to ensure that you have time to do what you truly want!
Early evening
Dinner
Boudro's Texas Bistro is an award-winning restaurant on the River Walk.
If you want to treat yourself before you go home, this is the place to go.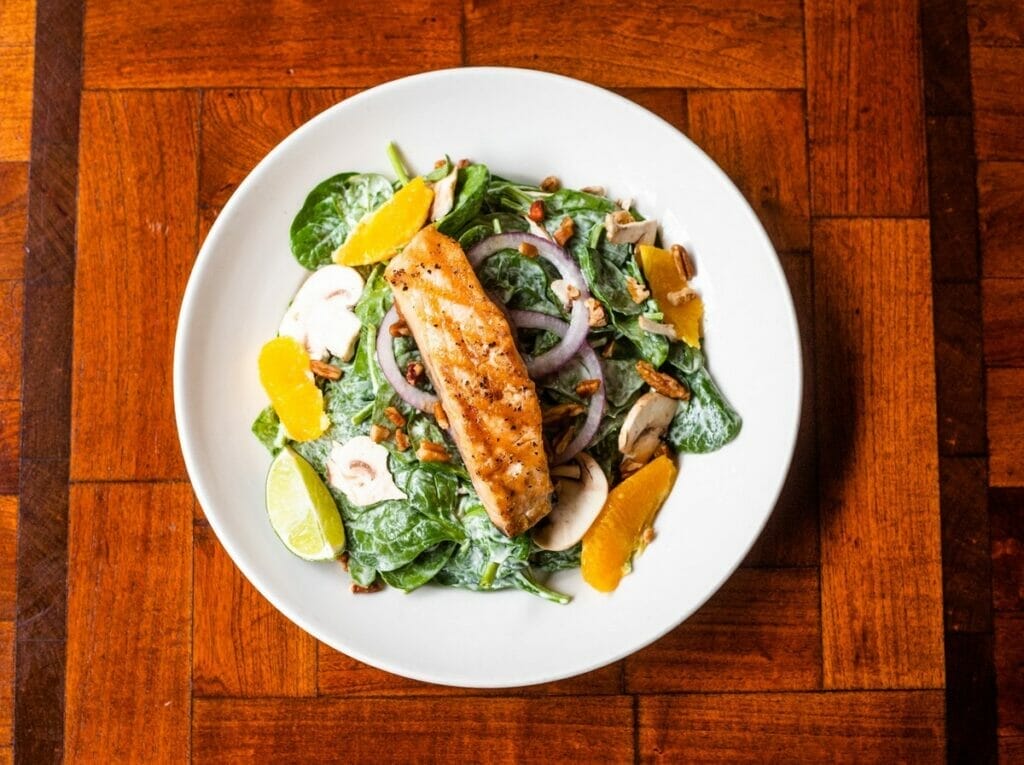 Enjoy a prickly pear margarita with some tableside guac.
Eat a meal that honors South Texas history.
Be fancy for an evening!
If you want to eat here, we recommend making a reservation ahead of time.
After Dinner
It's your last night in San Antonio and you feel like you've seen everything.
Don't forget that some places change after dark.
For instance, you could return to San Fernando Cathedral for the Saga.
You may have to retrace your steps, but it is worth it to see this attraction both during the day and after dark!
The 24-minute light show starts at 9, 9:30, and 10.
How to Get Around San Antonio in 2 Days
After taking notes from our weekend in San Antonio itinerary, you might be wondering about the best way to get around.
You'll spend most of your time walking.
For a few excursions, you won't be able to walk.
Like most of Texas, the best way to get around San Antonio is to explore by car!
If you're visiting and need to rent a car, we highly recommend Discover Cars where they find you the best car rental deals from all of the competitors (has saved us so much money!).
Parking isn't generally difficult at many of the popular tourist attractions.
If you didn't bring or rent a car and want to try biking, that's a solid option.
BCycle has over 65 stations if you want to rent a bike.
Electric bikes don't require too much energy and can quickly get you where you're going.
Pin for Later!