San Antonio is a vibrant and historic city located in south-central Texas.
Known for its historic elements, stunning riverside setting, and rich culture, a day trip to San Antonio is sure to quench your thirst for adventure.
You'll never be bored when you visit this gem of a city.
If you're looking for the perfect itinerary for a day trip to San Antonio, you've come to the right place!
Or if you're looking for the perfect weekend San Antonio itinerary, we've got you covered as well.
In this day trip to San Antonio itinerary, we've packed in an entire day's worth of exciting activities that you won't want to miss out on.
Continue reading to uncover your must-use guide to taking a day trip to San Antonio.
Once you're done with your unforgettable trip, be sure to put these clever San Antonio Instagram captions to good use!
GET A

FREE

TEXAS GUIDEBOOK WITH LOCAL TIPS!
With 71 pages of helpful travel tips and the "best of" Texas lists, this is your ad-free key to your Texas trip.
Hey! Want more awesome San Antonio guides? Check these out!
Looking for more one day itineraries in your favorite Texas cities? Check these out!
Why Should You Take a Day Trip to San Antonio?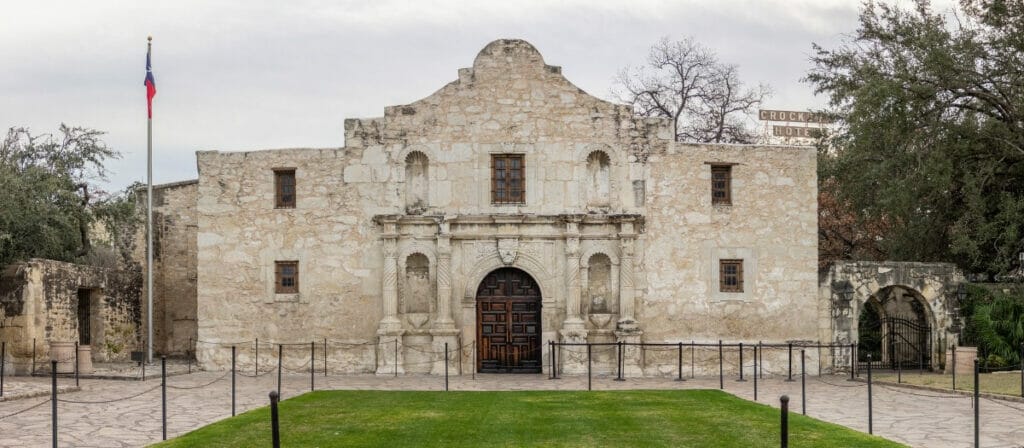 San Antonio is the seventh-largest city in the United States.
This unique city is bursting at the seams with cultural influence and historic attractions that pull in thousands of visitors each year.
The Alamo is of particular interest to history buffs, but you won't want to miss the Riverwalk or the stunning cultural elements that you will find around the area.
The city, which is popular with tourists due to its mild climate and abundance of sunshine, also has a burgeoning bar and restaurant scene.
When is The Best Time of Year to Take a Day Trip to San Antonio?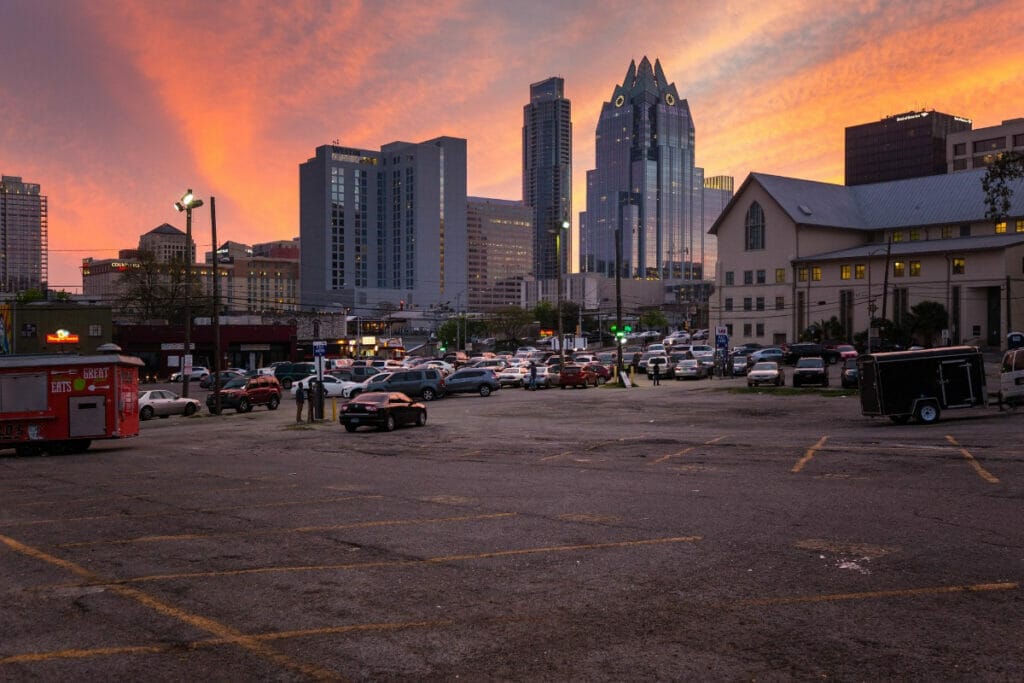 While a day trip to San Antonio is a great idea any time of year, the best time of year to visit San Antonio is undoubtedly in the fall!
Whether you're planning a trip to San Antonio for business or pleasure, September and October are ideal months for a day trip to the city.
Remember that temperatures can get quite hot as early as March, so keep an eye on the weather before you wallow in all of San Antonio's attractions.
Transportation Around San Antonio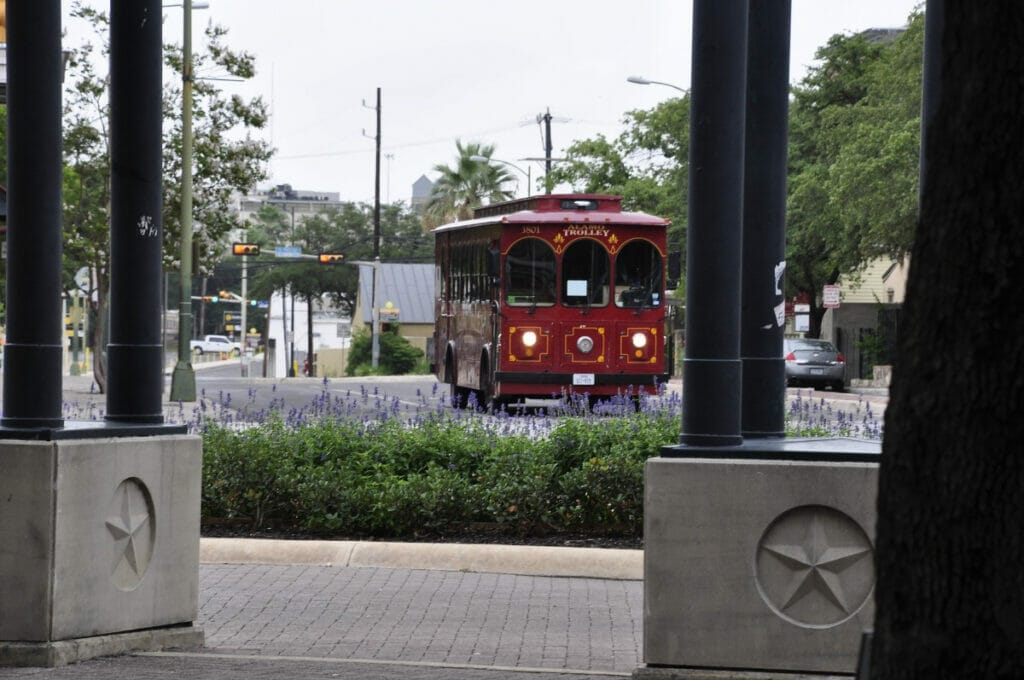 It's easy to get around San Antonio by bus, trolley, bike, or foot. Many of the city's most popular destinations are walkable from downtown.
The San Antonio Trolley's 12 lines cover 108 miles of track and 150 bus stops, transporting more than 23 million passengers annually.
Since the late '90s, San Antonio has been recognized as a Bicycle Friendly Community, with more than 150 miles of bike-friendly shared-use paths.
To put the cherry on top, the city is getting smarter about mobility with a $20 million Smart Corridor pilot project along downtown streets.
San Antonio is a great city for biking.
Since the city is so flat and you're never too far from a bike rack, you can conveniently bike to many attractions and points of interest around town.
The city's neighborhoods, downtown, and parks are connected by a network of bike trails and greenways.
With that said, some places in San Antonio will require that you travel by car.
If you're visiting and need to rent a car, we highly recommend Discover Cars where they find you the best car rental deals from all of the competitors (has saved us so much money!).
What To Pack for a San Antonio Day Trip
Packing for a trip to San Antonio depends on how long you plan to be in the city.
If it's for the day, you should pack the essentials: sunscreen, sunglasses, comfortable shoes, and a positive attitude.
Start with these items, and you'll be ready for anything!
Even in the summer, the morning and evening can be cool or even cold.
To be comfortable, bring layers.
An umbrella is also probably a good idea – it's possible rain may hit you even in the summer!
If you're embarking on a day trip to San Antonio, you will also need some shoes with good traction like these ones.
San Antonio is a walking city, and you'll be doing plenty of it.
San Antonio Tour Ideas for 1 Day
If you'd prefer to have someone else show you around, check out these San Antonio tours that you could go on, or continue reading our itinerary that you can follow yourself!
Morning Itinerary in San Antonio
There is nothing quite like waking up to the sound of the soothing bustle of San Antonio.
Although this is one of the largest cities in the nation, many people will find that it has a peaceful aroma with plenty of natural settings to enjoy during your trip.
To start your morning in San Antonio off the right way, here are a few activities for you to enjoy.
Fuel up with some breakfast before you embark on a day packed full of exciting Texas-style adventures.
La Panadería Bakery & Café serves up hot breakfast all day long.
Here you will find flavors that encompass the mezcla of cultures that is present in San Antonio Texas.
This restaurant specializes in fresh bread from scratch.
However, you will also find some other iconic breakfast favorites on their menu.
Here, you can get a taste of modern takes on classic favorites such as their tequila almond croissant, flavored sweet bread, breakfast tortas, and more!
They also provide a variety of lunch favorites including salads, Cuban sandwiches, and savory stuffed croissants.
You can sit down to eat your breakfast inside their charming café or order your food to go and dine in the peaceful setting of a nearby park.
With such a variety of menu items, there is sure to be something for everyone at La Panadería Bakery & Café.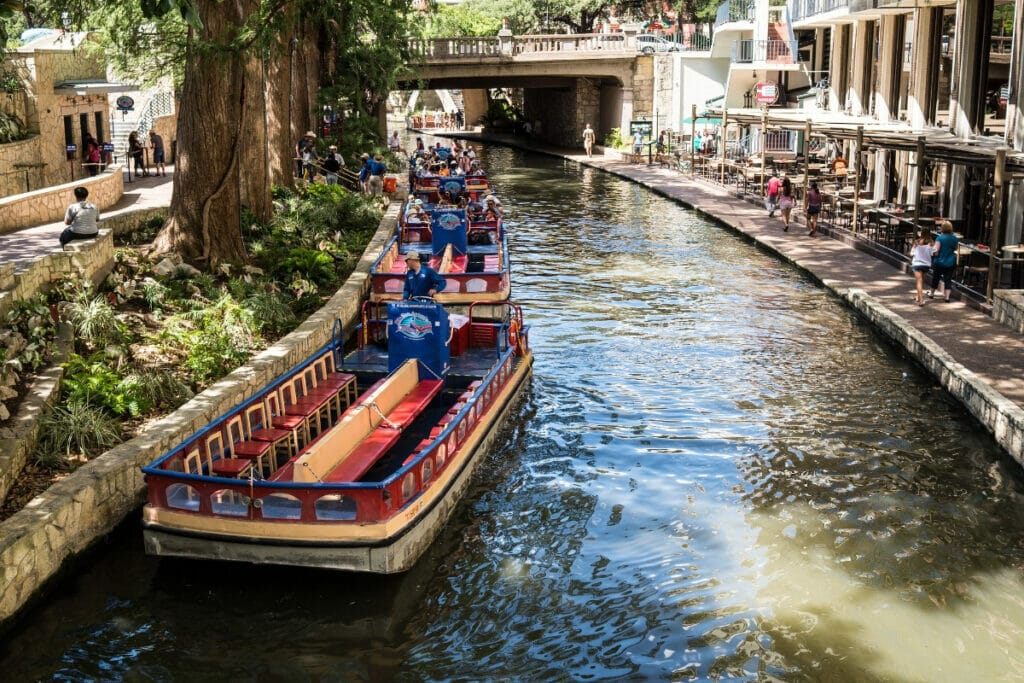 One of the most iconic attractions in San Antonio, Texas is its stunning river walk.
This beautiful stretch of riverfront property boasts a wide breadth of diverse attractions that are sure to delight you.
There are so many things to do in San Antonio, Texas, and the Riverwalk is an excellent place to start.
Designed to give the city a more picturesque feel, the system of bridges, walkways, and waterways has had a tremendous impact on the city's economy and tourism with over 14 million visitors each year!
The San Antonio River Walk begins near the Spanish Governor's Palace in downtown San Antonio and runs parallel to the river for over 10 miles.
It is lined with over 50 restaurants, shops, cafes, and hotels that provide a wonderful experience for both visitors and locals alike.
Check out the Alamo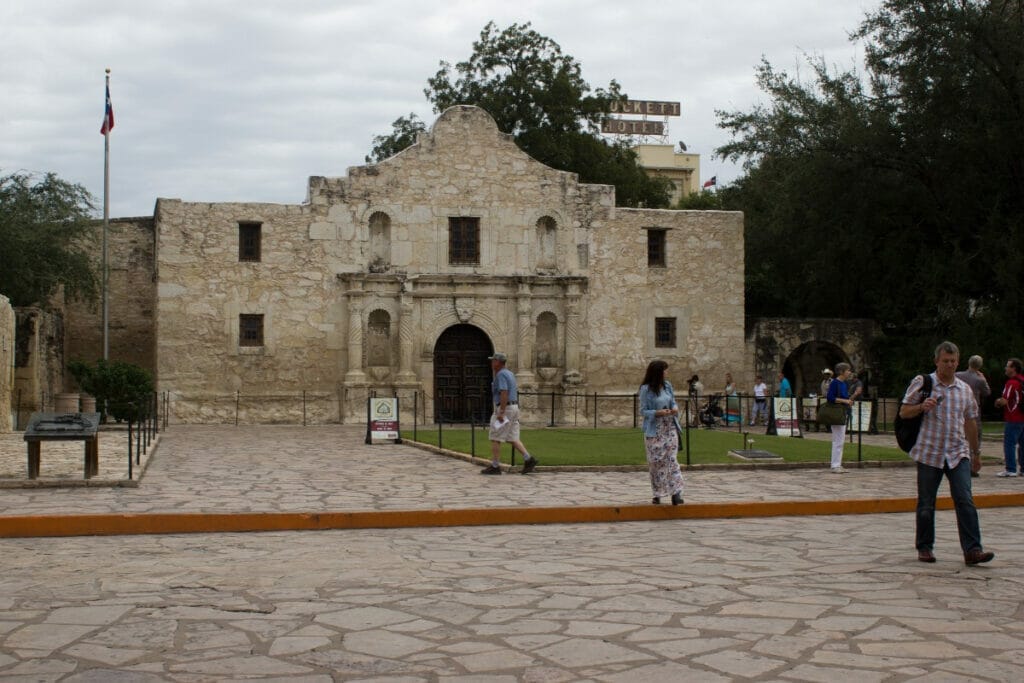 An iconic landmark in the city of San Antonio, Texas is the Alamo.
This large stone mission is a revered site that has been visited by millions of people over the last several years.
The site is best known for the Battle of the Alamo which occurred in 1836.
The Alamo is free to visit and open every day, giving you plenty of options as to when you can go.
If you're in town, be sure to stop by.
The mission is open daily from 9 am to 5 pm and is located on Alamo Plaza at the corner of Market Street and South Alamo Street.
Regardless of if you're a history buff or not, you will be mesmerized by the powerful beauty of the Alamo.
Afternoon Itinerary in San Antonio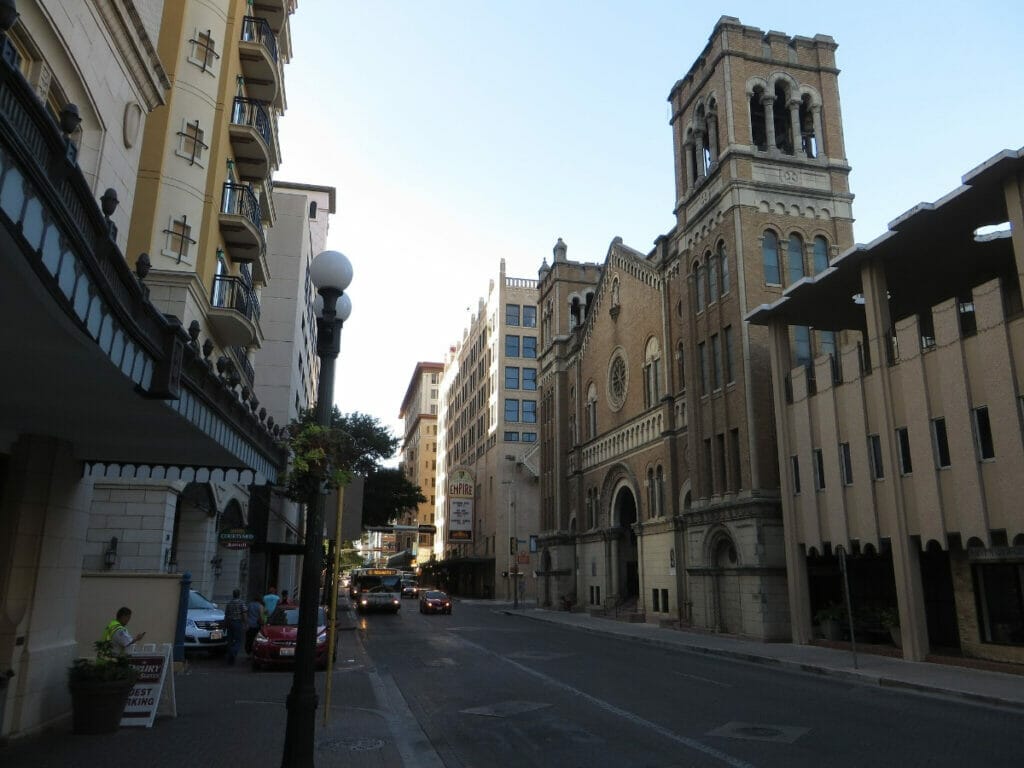 Afternoons in San Antonio are known to be warm and sunny.
This is when the sun is at its peak.
For that reason, it is a good idea to find a shaded area to enjoy a nice frozen treat or cool off with a dip in a nearby body of water.
With that said, the city is also prone to rainy afternoons, so it is a good idea to have some indoor activities planned, just in case.
Regardless of what the weather is like during your visit, here are some unique afternoon experiences that you will only find in San Antonio, Texas.
Cool Off with Ice Cream from Kilwins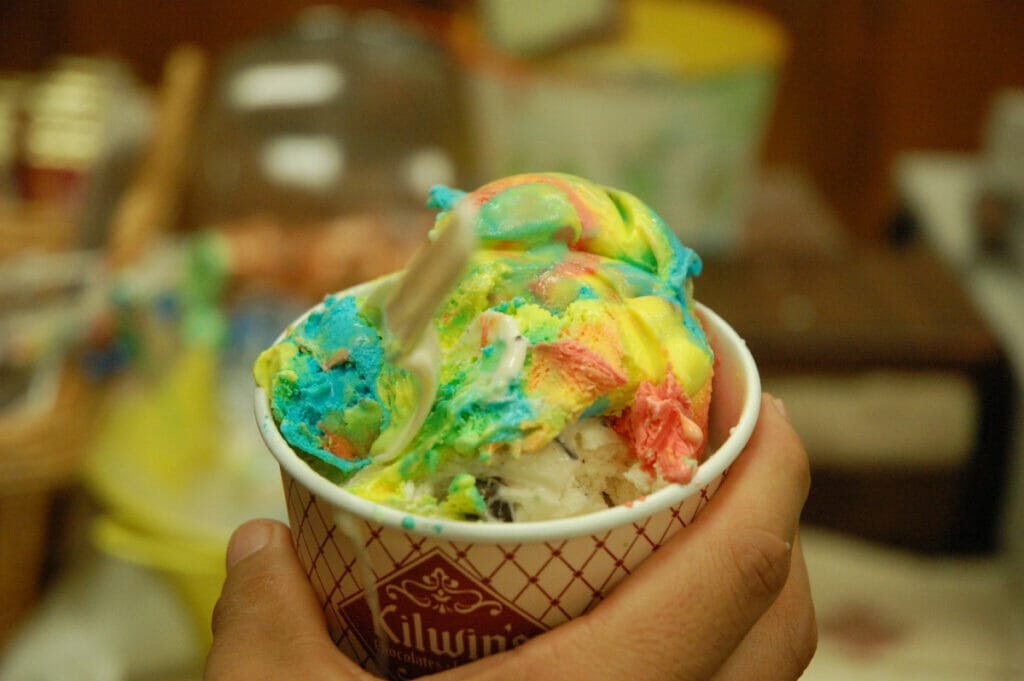 Located just steps away from the Alamo awaits a hidden gem of a chocolate shop.
Here you will find a plethora of sweet treats including freshly made fudge, hand-scooped ice cream, sea-salt caramels, and more!
You will recognize this old-fashioned candy shop by the giant moose mascot that can often be found standing outside to greet the guests.
When you step inside the doors, you will be greeted by an endless array of delectable goodies that will leave your mouth watering.
Their display features hundreds of unique treats that rotate on a seasonal basis.
However, you will be able to order your favorite classic recipes all year round.
Stop in to try their delicious ice cream favorites or order a selection of your favorite chocolates and caramels to save for later.
The choice is yours!
If you love to explore flea markets and grow your collection of handcrafted goods, you will adore taking a trip to San Antonio's Historic Market Square.
With a strong Mexican influence, this is the perfect location to get familiar with the rich culture of San Antonio.
Here you will find a full presentation of over 100 shops with their finest goods on display.
You can even gather up a selection of fresh produce in their farmer's market building.
With so much to explore, this is one of the largest Mexican markets that is north of the border.
In addition to the pop-up shops, you can find a variety of Mexican-owned restaurants and businesses scattered throughout the Historic Market square.
This is the perfect place to stop for a bite to eat, enjoy live music, or shop for some vibrant, hand-crafted goods.
Another must-see location in San Antonio is the Japanese Tea Gardens.
These serene gardens are the perfect location for relaxing after a busy day exploring San Antonio.
Within the breathtaking gardens, you will uncover incredible plant life, mellow walking trails, lily ponds, and more.
The cobblestone bridges and whimsical paths look as though they were pulled directly out of a storybook.
This area definitely boasts a different aura than the rest of downtown San Antonio with its soothing, East Asian aesthetic.
The park is free and open daily, so anyone can enjoy its serene beauty.
Evening Itinerary in San Antonio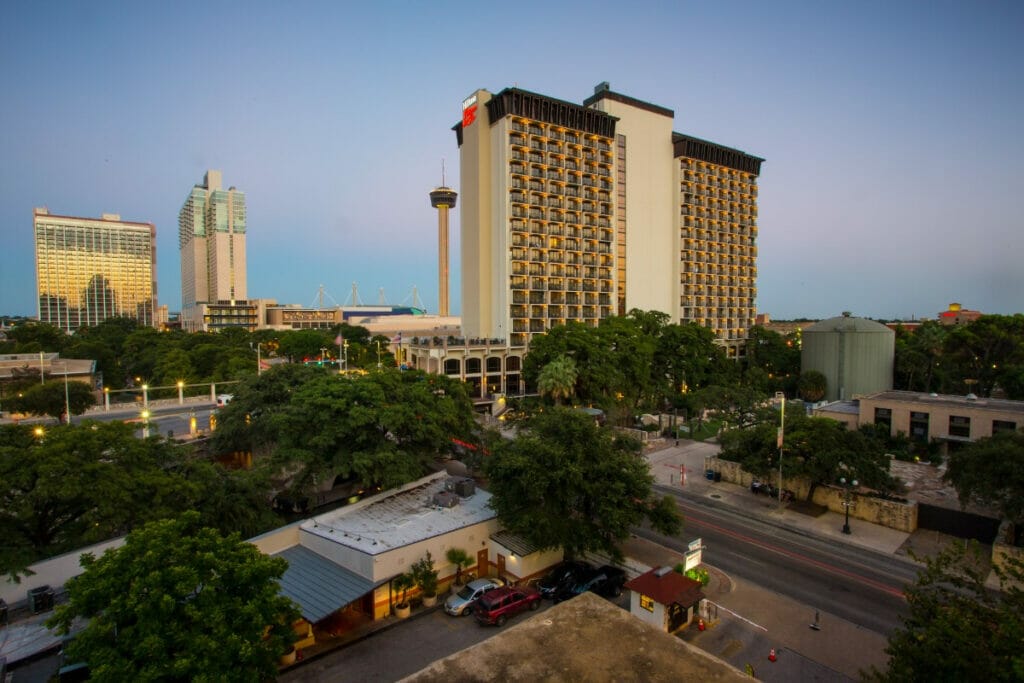 Evenings in San Antonio are known for their exciting nightlife scenes and fine dining experiences.
There is also plenty of live music to enjoy.
No matter what sorts of activities you're looking for, we've got you covered!
Here is your evening itinerary for a day trip in San Antonio, Texas.
The Hopscotch Immersive Art Gallery puts a modern twist on traditional versions of art.
Here you will have the chance to interact with art and become part of the exhibit yourself.
Featuring exhibits from more than 40 of the top artists from all over the world, there is sure to be something that stands out to you in this unique museum.
The goal of the gallery is to prompt joy and awe in all of their guests, which they accomplish quite seamlessly.
Within the immersive art gallery, you will gain access to a bar and lounge area where you can kick back and enjoy an evening of drinks and live music with your friends.
There's even a food truck on their patio where you can purchase local favorites.
The Hopscotch Immersive Art Gallery is one experience in San Antonio that you won't want to miss!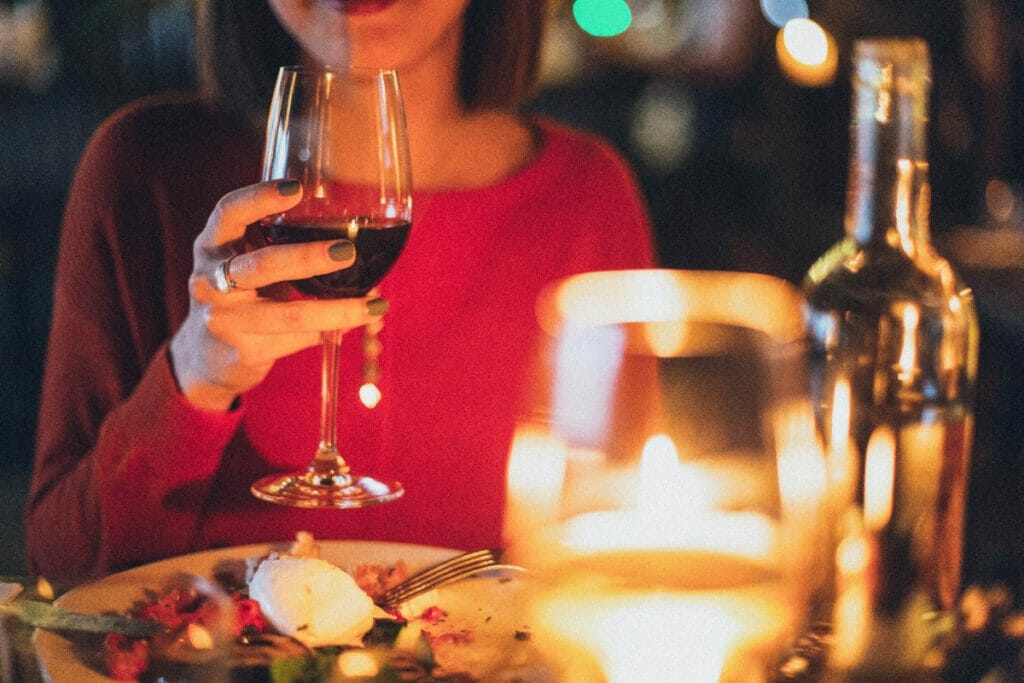 If you're looking for a one-of-a-kind fine dining experience in San Antonio, look no further than Biga on The Banks.
This top-of-the-line establishment brings you creative dishes from top chef and owner, Bruce Auden.
With dishes influenced by a variety of cultures throughout the world, this dining experience is sure to bring you a unique blend of flavors unlike any other.
Their menu rotates daily, so you will want to check what is cooking on the day of your visit ahead of time.
Their menu typically features Texas favorites with an international twist.
Keep in mind that you will need to make a reservation through their website in order to ensure your dining experience at Biga on the Banks.
Pin for Later!