One of the most exciting cities in Texas is its state capital, Austin!
This destination stands out for its incredible live music, stunning parks and lakes, and southern hospitality.
Austin is a beautiful city, surrounded by gorgeous rolling hills and lakes.
The natural beauty of this city is exquisite, full of lush forests and waterfalls.
If you're looking for a fun day trip destination, look no further than Austin, Texas!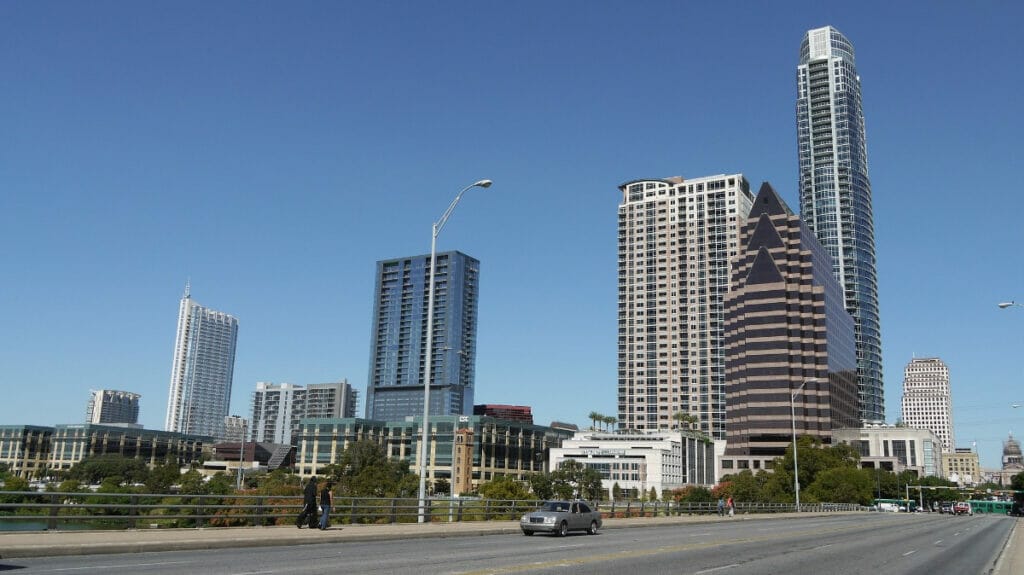 This vibrant city is home to plenty of attractions and activities that will keep you entertained all day long.
In this article, I will walk you through a day's worth of exciting activities for you to enjoy during a day trip to Austin, Texas. Let's get into it!
Looking for more fun Austin guides? Check these out!
…looking for more One Day Itineraries? Head on over to one of these guides!
GET A

FREE

TEXAS GUIDEBOOK WITH LOCAL TIPS!
With 71 pages of helpful travel tips and the "best of" Texas lists, this is your ad-free key to your Texas trip.
Why Should You Take a Day Trip to Austin, Texas?
There are plenty of features and attractions that make Austin, Texas stand out as the ideal destination for a day trip.
The city is a short distance away from San Antonio and Houston which are both exciting destinations.
Which means that you have three destinations in one.
This means that you have the option to spend a day in one or all of these complimentary cities, depending on your preferences.
When traveling to Austin, you can also seek out the surrounding areas such as Bastrop State Park and the Colorado River which are just as beautiful and offer the same types of activities.
When is The Best Time of Year to Visit Austin, Texas?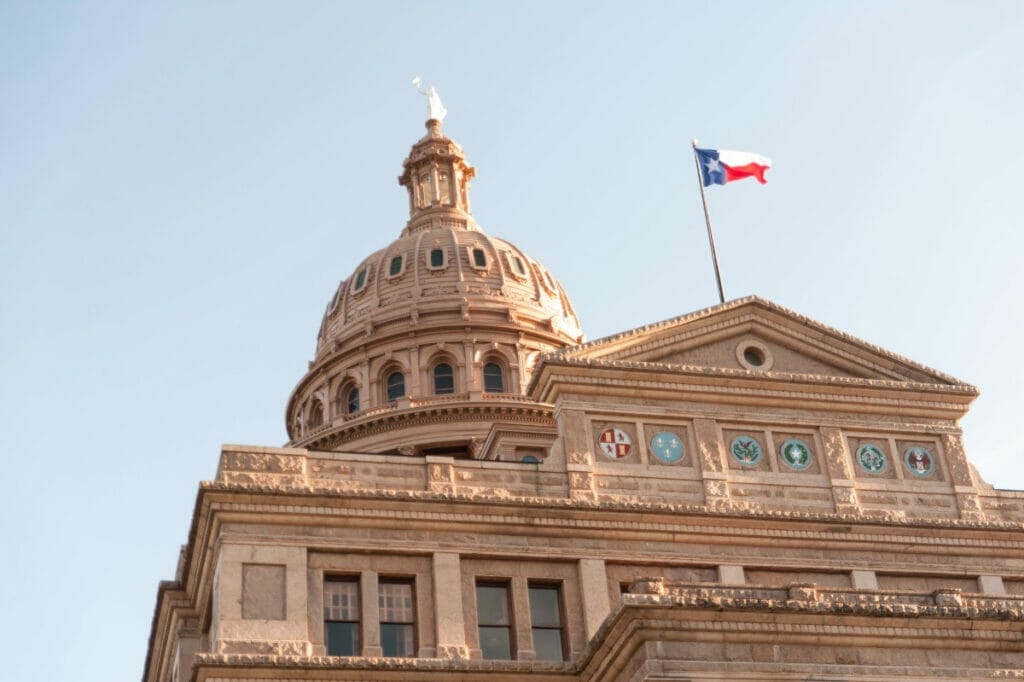 Thanks to the warm weather that lasts all year round, there is no bad time to visit Austin, Texas.
Austin has a temperate semi-arid climate and is characterized by very hot summers, mild and dry winters, and spring and fall are warm and pleasant.
This region sees most of its rain in the spring and early summer, but precipitation is generally spread throughout the year.
For that reason, it's not rare to get hit by a thunderstorm any time of year.
Transportation in Austin, Texas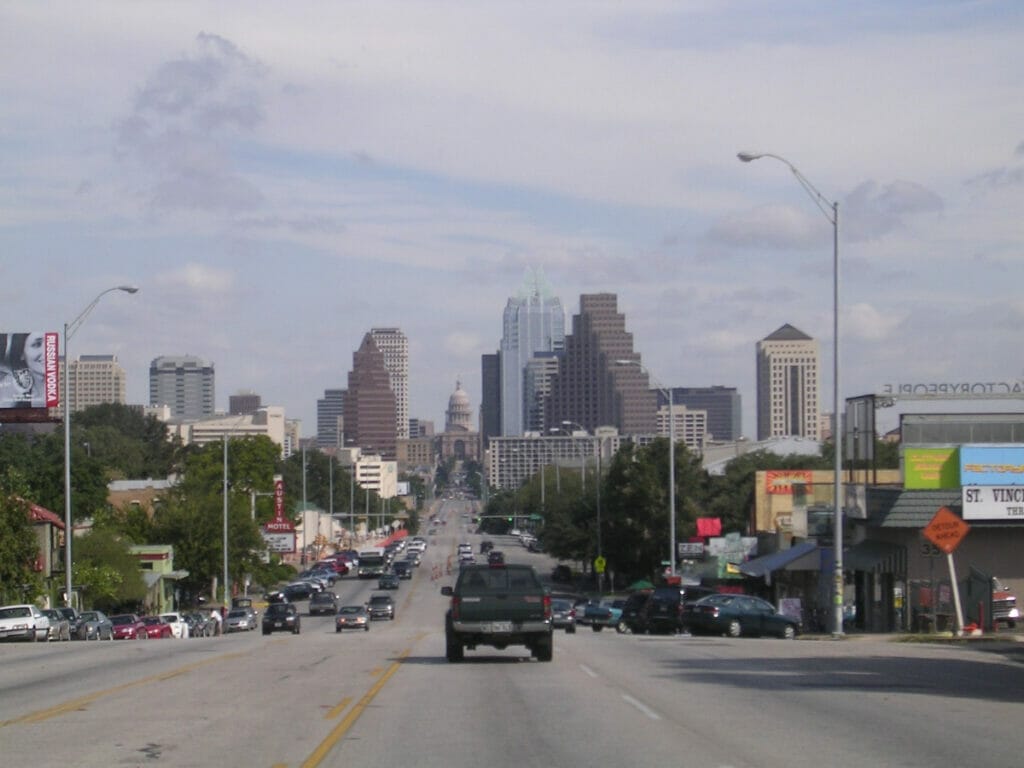 Everything is bigger in Texas, so having a car will be the easiest way to explore Austin and its surroundings.
If you're visiting and need to rent a car to get to your Austin activities, we highly recommend Discover Cars where they find you the best car rental deals from all of the competitors (has saved us so much money!).
Click here to check out Discover Cars.
Though, Austin is a very pedestrian-friendly city and as such, walking is also a viable option!
However, if you would rather take another method of transportation, there are options for you as well.
The city also boasts an integrated high-speed rail system known as the Capital MetroRail, which connects the city with surrounding areas.
When you visit Austin, Texas, one of the first things you will notice is how bike-friendly it is.
You don't even need to bring your bicycle along to participate in the fun!
Just rent a bike through their Metrobike program.
There are plenty of locations to rent and return bikes throughout the city, so you can make the most of your membership.
What to Pack for a Day Trip to Austin, Texas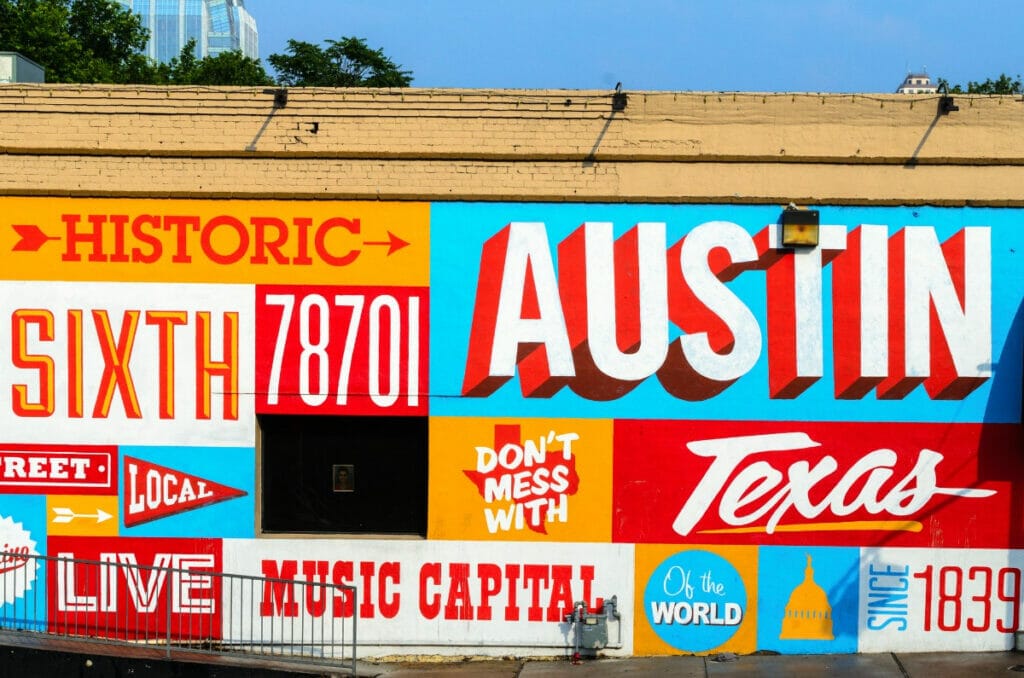 When it comes to packing for a day trip to Austin, Texas, there are only a few things that you will need to remember to bring along, depending on the weather.
Here are a few things we recommend you pack:
Remember, summer days in Austin can reach temperatures of up to 100 degrees Fahrenheit.
For that reason, it is best to leave your winter gear behind.
You will also want to make sure you bring along your bathing suit and a beach towel.
As there are plenty of places to go for a swim in Austin, Texas.
Locals and tourists alike can be spotted lounging in and around the various lakes and pools throughout the city.
If it rains during your day trip to Austin, there is no need to worry!
The great thing about Austin, Texas is that there are plenty of activities to enjoy regardless of the weather.
However, your day trip packing list might be a little different.
Instead of shorts and swimsuits, you will want to bring your raincoat and an umbrella.
Austin Tour Ideas for 1 Day
If you'd prefer to have someone else show you around, check out these Austin tours that you could go on, or continue reading our itinerary that you can follow yourself!
Morning Itinerary for Austin, Texas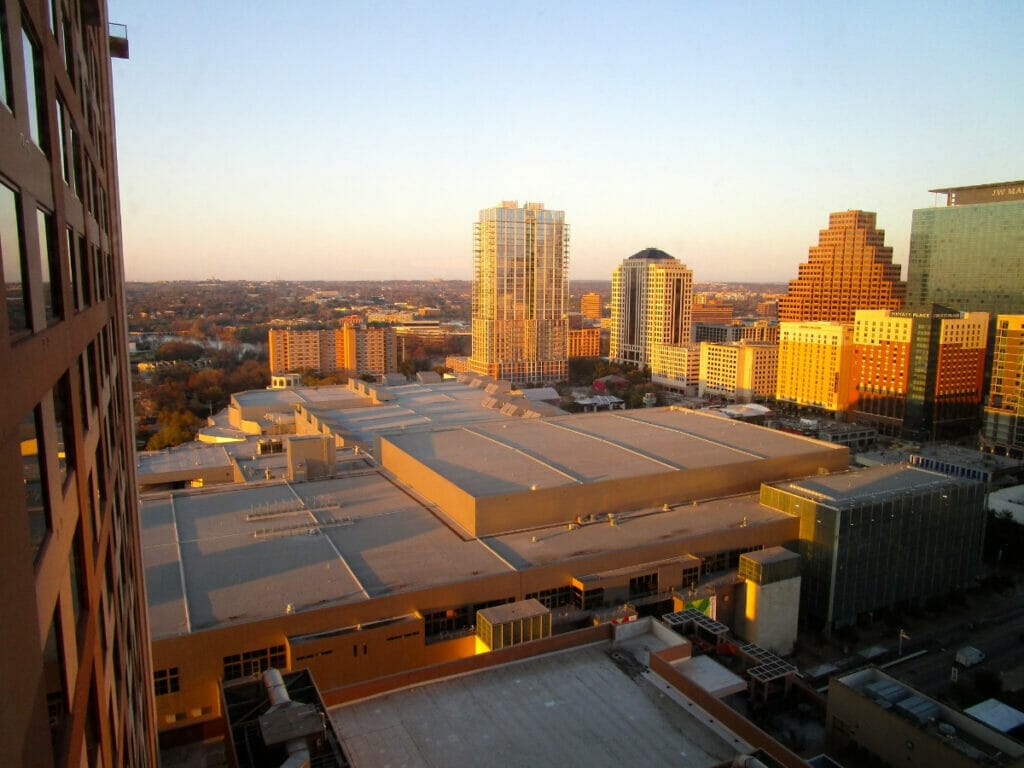 Austin, Texas is a city that is known for its late nights, but that doesn't mean there is a lack of early morning things to do!
Here are our top recommendations for how to spend the perfect morning in Austin, Texas.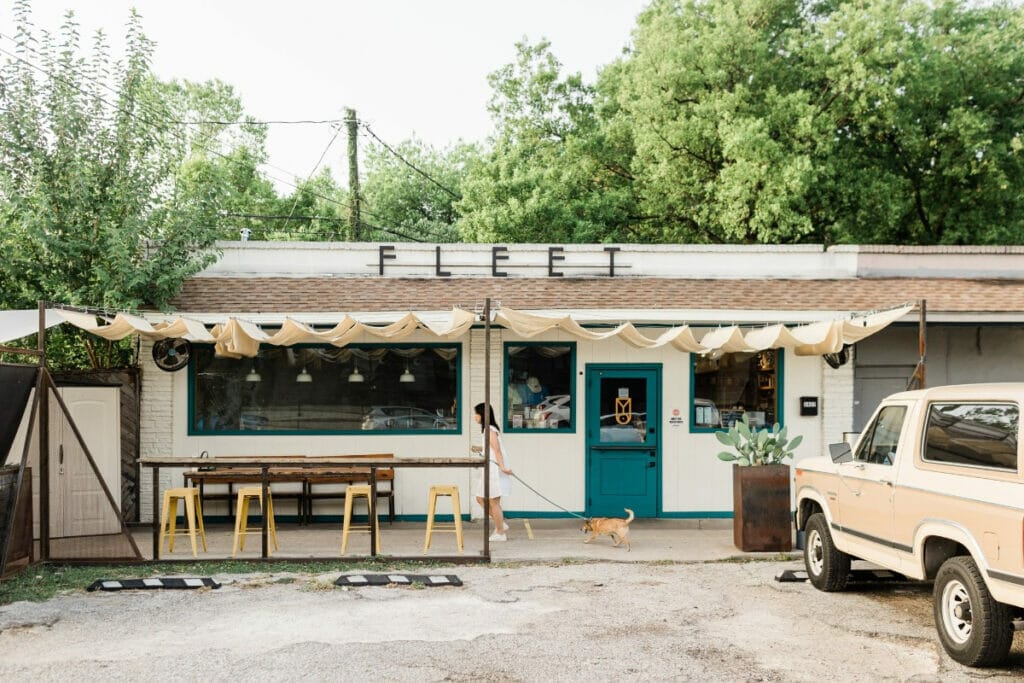 With multiple locations throughout Austin, Texas the chances are high that you're never too far from a Fleet Coffee Co.
Here you'll find a friendly, laid-back coffee house that serves up some of the boldest flavors in Austin, Texas.
Choose from a variety of your coffee favorites such as iced macchiatos and foamy lattes.
There is even an assortment of freshly baked pastries to choose from so you can fuel up first thing in the morning.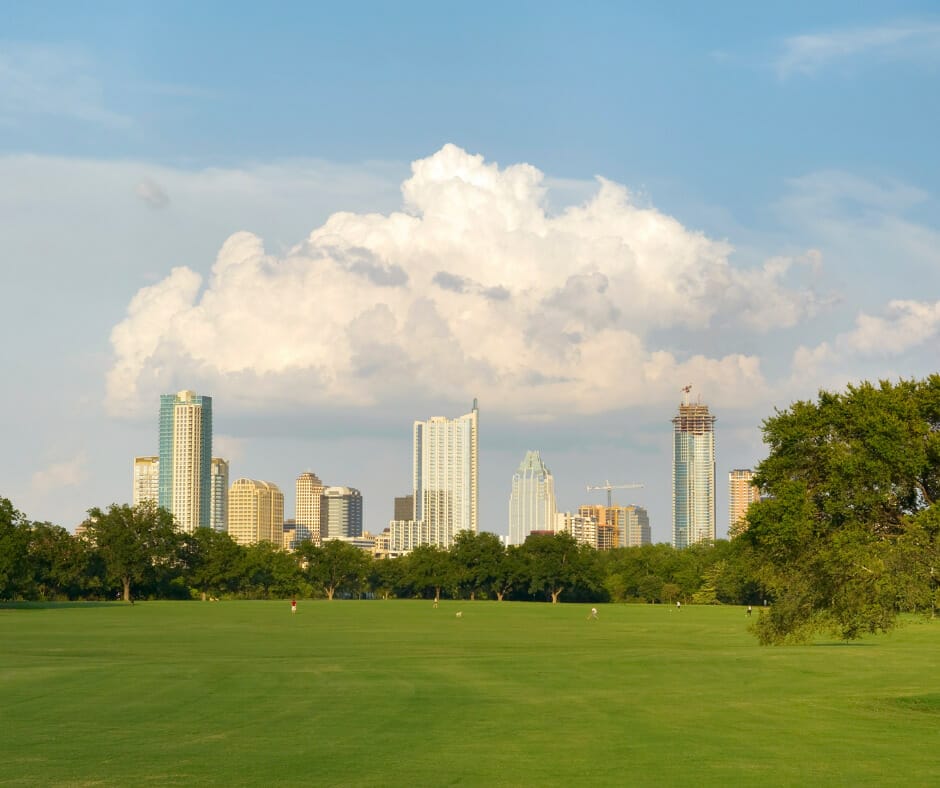 Since Texas is known for its intense heat in the summertime, it's best to get your nature walks out of the way in the morning, before the sun reaches its peak.
With that said, Zilker Metropolitan Park is a stunning place to visit any time of day.
Here you can enjoy the sights and sounds of nature as you walk along Barton Creek and the Colorado River, which collide right in the center of the park.
This park has been a hub for sports and recreational activities in Austin since it was developed in the 1930s.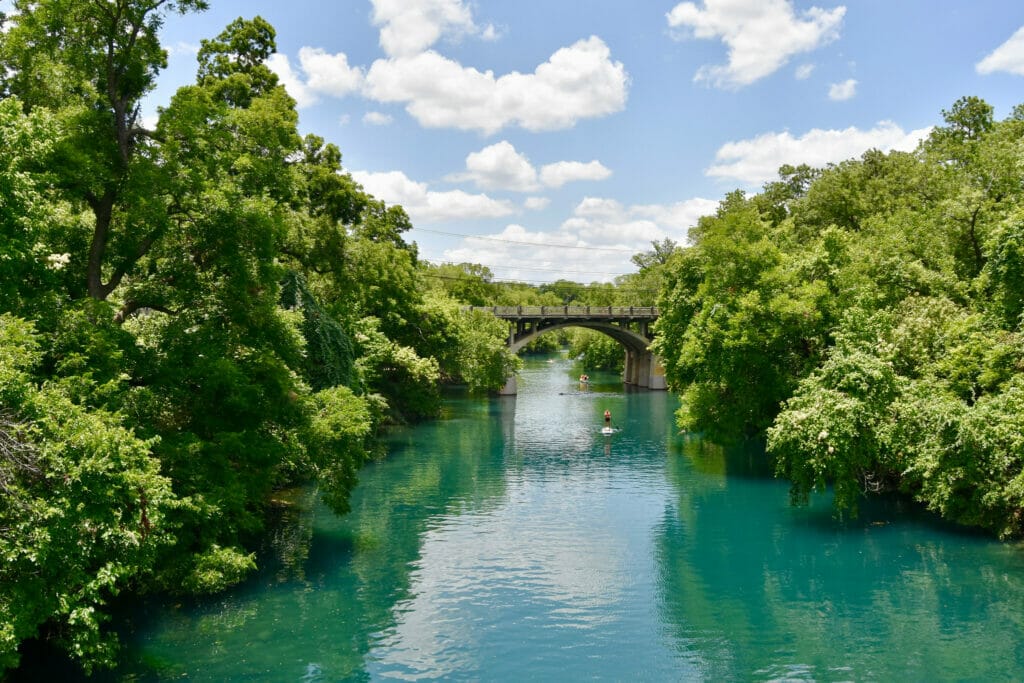 You can even hike or ride your bike along the trails that circle the locally famous Lady Bird Lake.
There are also several festivals held within Zilker Park throughout the year, including the Austin City Limits Music Festival.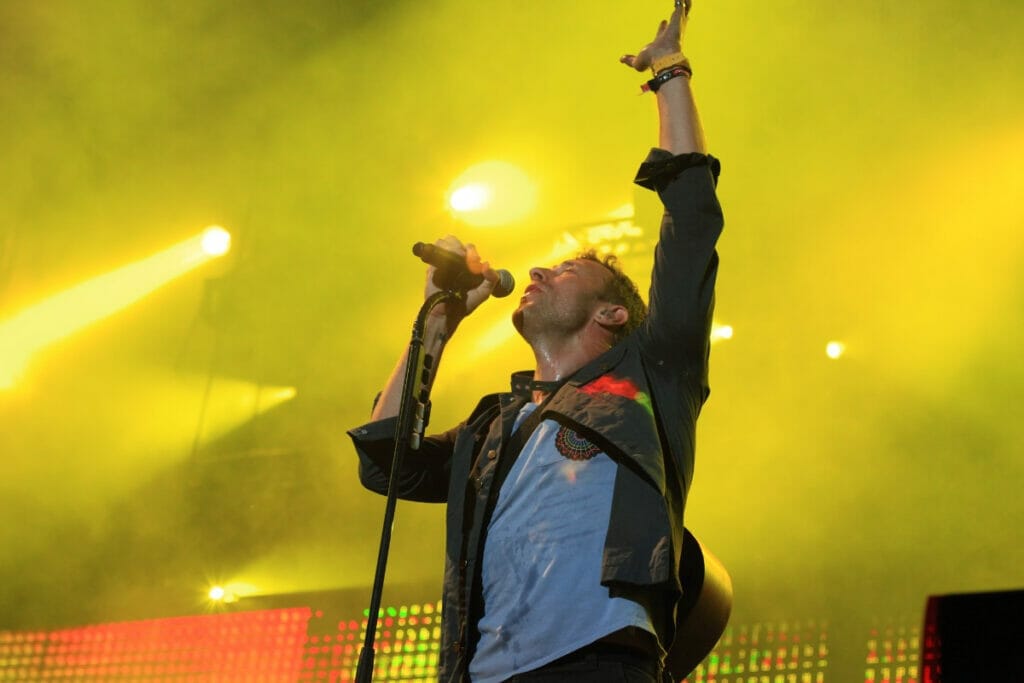 This is one location that you won't want to miss in Austin, Texas!
Afternoon Itinerary for Austin, Texas
Afternoons in Austin tend to bring on that Texas heat.
Thankfully there are plenty of activities to enjoy that are perfect for cooling you down.
Here's how we recommend spending your afternoon in Austin, Texas.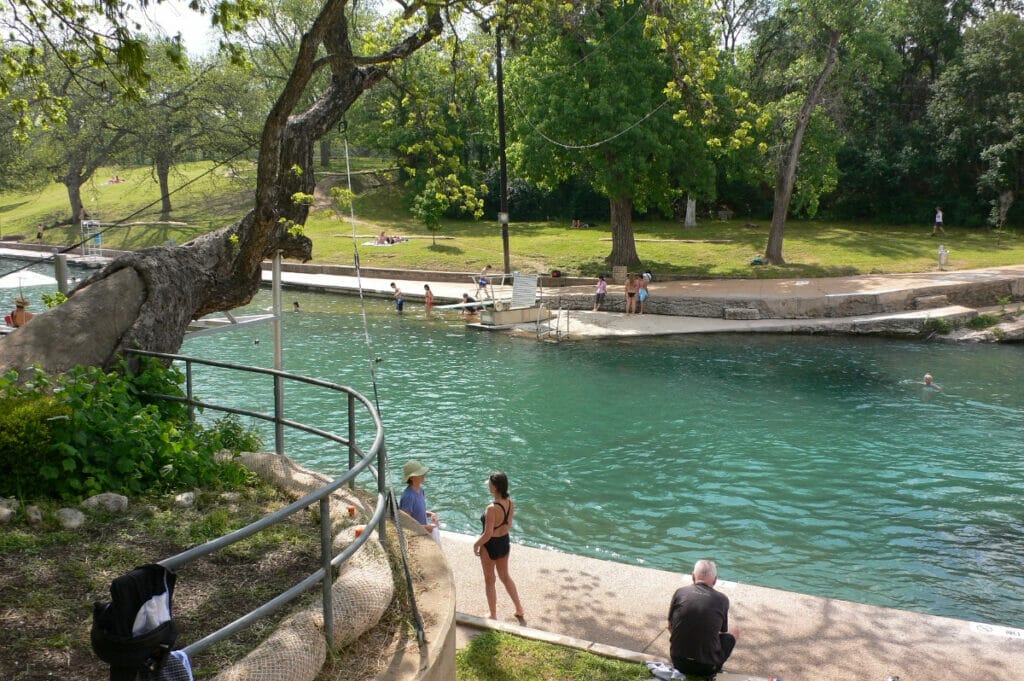 This isn't your average swimming pool, it's way better! Barton Springs Municipal Pool encompasses over 3 acres of Zilker Park in Austin, Texas.
This massive pool is filled to the brim with natural spring water from nearby sources including the Main Barton Spring, which is the fourth largest natural spring in Texas.
This isn't just a summer activity, either! People flock to Barton Springs Municipal Pool all year round to enjoy its soothing temperatures, which average about 68 to 74 degrees Fahrenheit throughout the seasons.
Head Over to June's for Lunch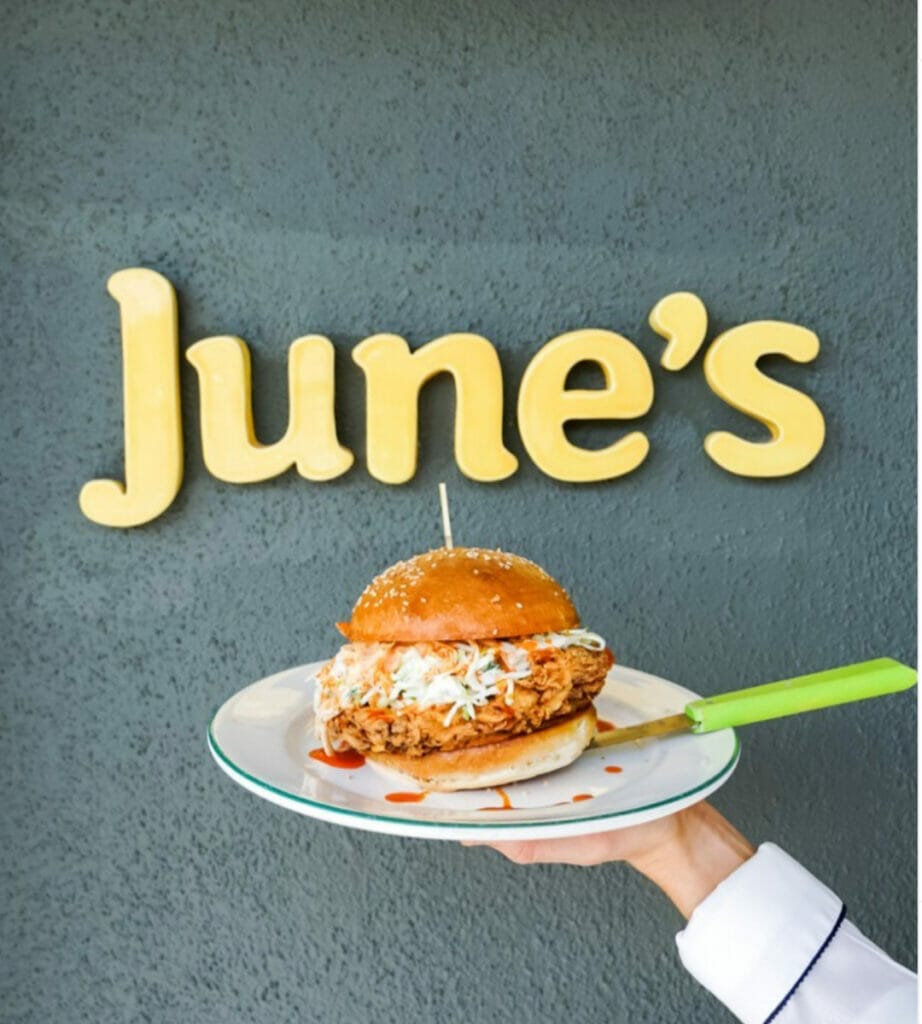 One of the best parts about June's is that they are open all day long, so you can drop in for a bite to eat whenever you decide you're hungry.
Their menu features classic favorites, appetizers, and even some delectable bakery items. You can even enjoy breakfast all day long from 11 am to 3 pm.
June's is a café that is known for its friendly staff, delicious food, and impressive wine list.
You won't want to miss the opportunity to check this place out while you are in Austin, Texas!
Evening Itinerary for Austin, Texas
This is the perfect time to settle in for a Texas-sized meal and make memories with the ones you love.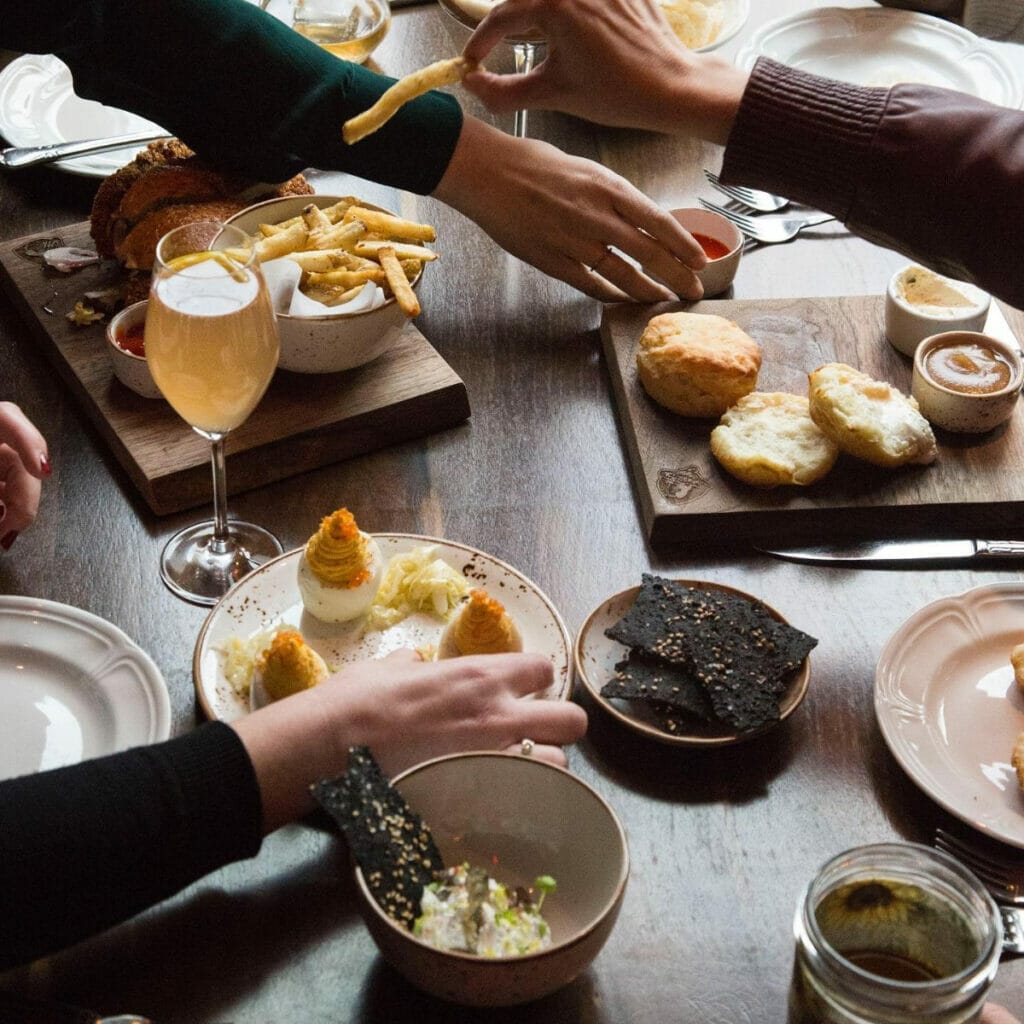 If you're looking for some authentic Southern food, Fixe Southern House is a must-visit location.
Here you will find classic southern favorites like fried chicken, crawfish pot pie, and some hearty cuts of meat that are prepared to perfection.
This is not the place to skip out on appetizers for the table either.
You can choose from a variety of Texas favorites like sweet corn hushpuppies and shrimp & grits.
Perhaps one of the best parts about Fixe Southern House is their extended happy hour special, which runs from 3 pm to 6 pm.
Catch a Live Show at the Moody Center
Music lovers rejoice!
Austin, Texas is one of the best places to catch a live show in the entire United States.
Part of this is thanks to their array of unique concert venues that host thousands of people, such as the Moody Center.
This venue officially opened its doors to the public in 2022, debuting as a state-of-the-art facility for performances from world-famous performers.
If you have a chance to catch a live show at the Moody Center, you won't want to miss it!
Late Night Itinerary for Austin, Texas
Austin draws people in for its Southern hospitality, but its vivacious nightlife is what keeps visitors coming back for more.
Here is the perfect itinerary for making the most of a late night in Austin, Texas.
If you're looking for a superior nightlife experience that is uniquely Austin, Texas, look no further than the bars and restaurants on Sixth Street.
Here you will find a delightful array of upbeat and vivacious locations where you can dance the night away with all of your closest travel companions.
Some of Sixth Street's most famous locations include the Driskill Bar, Midnight Cowboy, and Maggie Mae's rooftop lounge.
No matter what sort of nightlife scenes you are looking for, Sixth Street has something that everyone can enjoy!
Corner Kitchen in Austin, Texas will provide you with a dining experience unlike any other. This isn't your average late night restaurant.
Instead of ordering your food from a person, you will actually order from a machine.
That's right!
All you have to do is select your preferred hot dish and the machine will prepare it for you fresh!
The machine is restocked daily with locally sourced ingredients to provide you with all of your favorite late night munchies.
It only takes about two minutes to prepare each dish.
The best part about this machine is that it is open 24 hours a day!
Order your food and dine in or take it to go!
The options are endless with Corner Kitchen.
Enjoy Your Day Trip to Austin, Texas!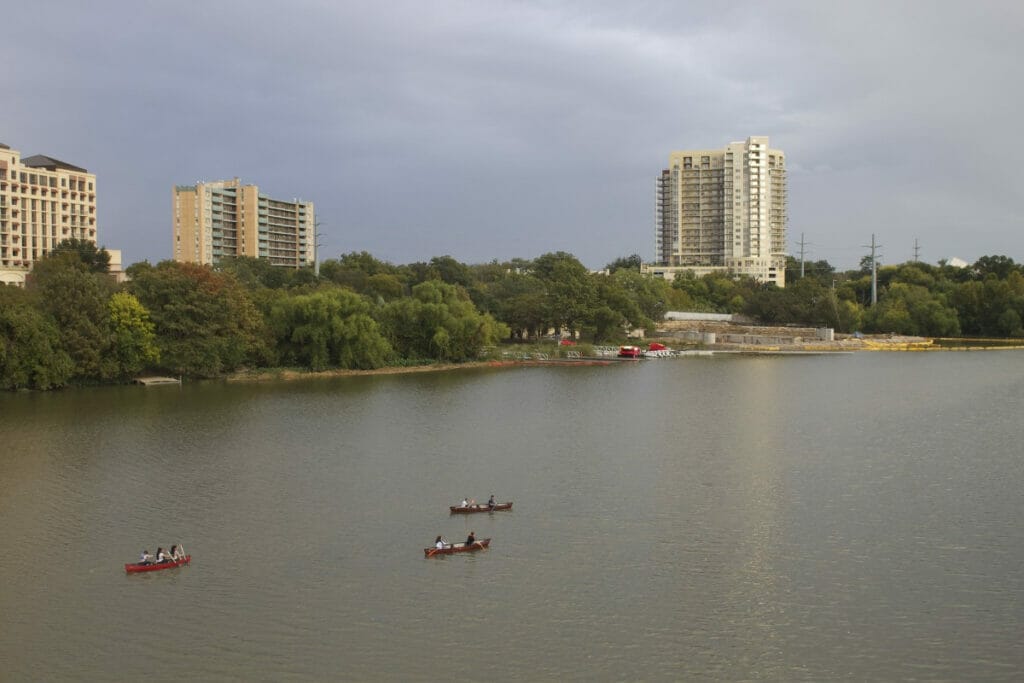 As you can see, there are plenty of exciting adventures waiting for you in Austin, Texas.
Whether you're looking for some fun in the sun or want to catch a live performance from your favorite musician, Austin has the perfect opportunities for you.
Texas's state capital is known for its stunning scenery, vivacious nightlife, and delicious Southern-style cuisine.
Regardless of if you're just visiting for the day or planning on staying longer, our one-day guide to Austin, Texas has all the tips you need to make the most out of your excursion to America's southern region!
Pin for Later!