Gorgeous botanic gardens. Historic museums. Cultural Texas icons.
The sheer number of free things to do in Dallas, Texas, is staggering, as there is so much to see here without ever opening your wallet.
Spend the day at art museums featuring African-American influences, or check out a large collection of samurai armor (seriously).
Get outdoors and check out the stuff to do in Dallas for free in the Texas sunshine at places like Benbrook Lake, or take the kids to the best free playgrounds in Dallas.
Figuring out what to do near Dallas for free can be overwhelming, but this guide will make sure you have enough to plan an entire trip basically for nothing!
Love Texas? Love visiting Texas?
Show your support for this great state and get more helpful visiting tips on our Facebook page.
Want more locally approved Texas content? Check these out!
How to get around Dallas
Like most of Texas, the best way to get around Dallas is to explore on your own by car!
If you're visiting and need to rent a car, we highly recommend Discover Cars where they find you the best car rental deals from all of the competitors (has saved us so much money!).
Okay, everyone put on your favorite Dallas shirt and let's get going!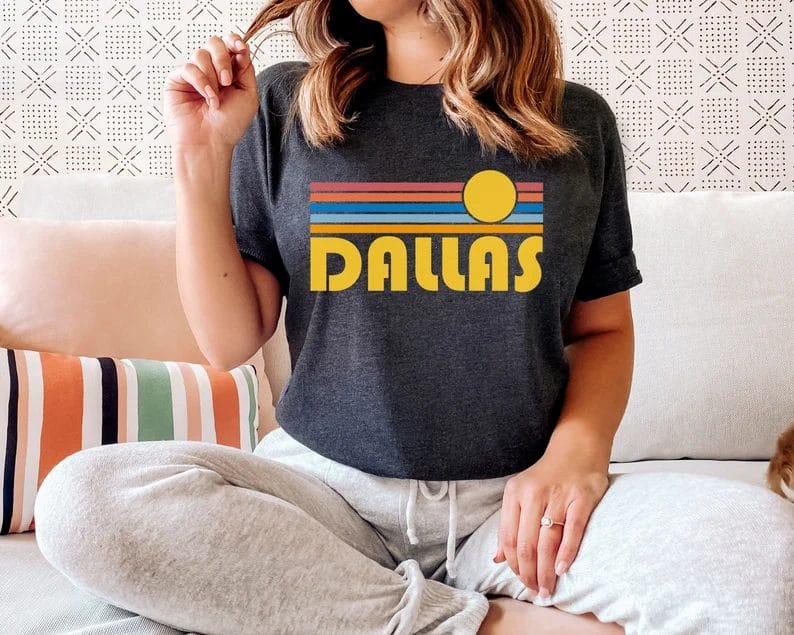 1. Visit the Amon Carter Museum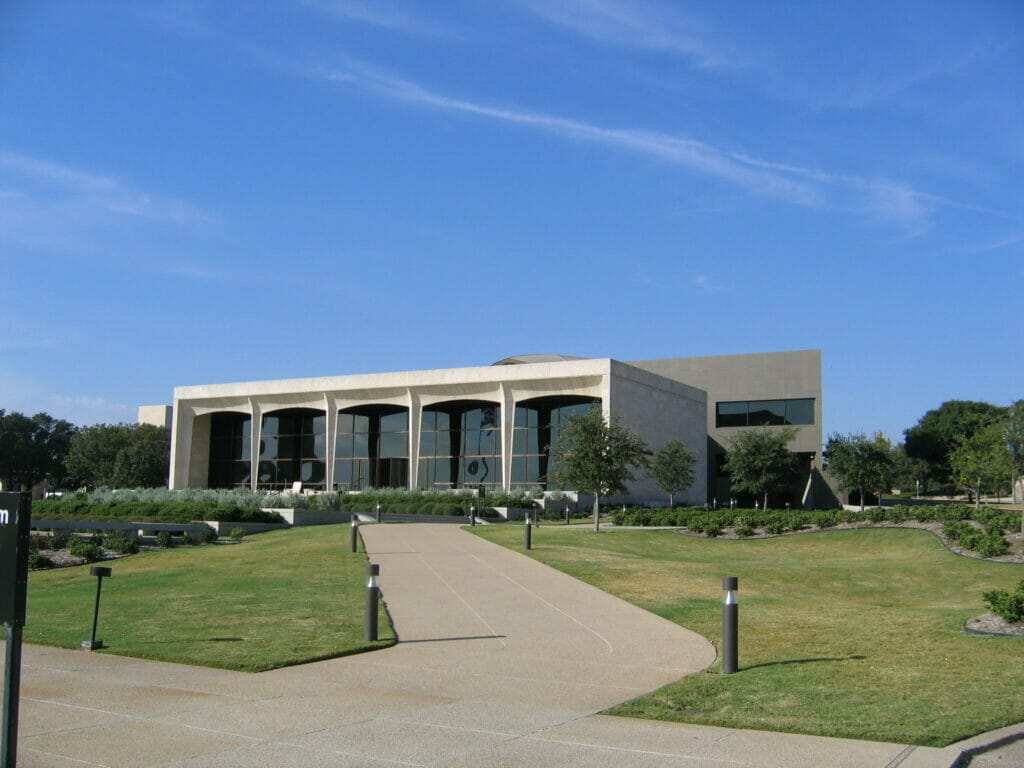 If you like free art (and who doesn't?), the Amon Carter Museum of American art is the place to go for free things in Dallas!
This fantastic museum is focused on art that deals with the topic of the Old West, ranging from prints to paintings to photograph.
Marvel at the pieces depicting the settlement of North America, from Native American history all the way through to European exploration.
In fact, the art here, many done by Charles M. Russell and Frederic Remington, have really helped influence American ideas of what the frontier experience was like.
So dive into the Old West through art!
The museum is open most days of the week, but usually closes on a Monday, so while it is free, check the schedule in advance.
2. Listen to the Dallas Fine Arts Chamber Players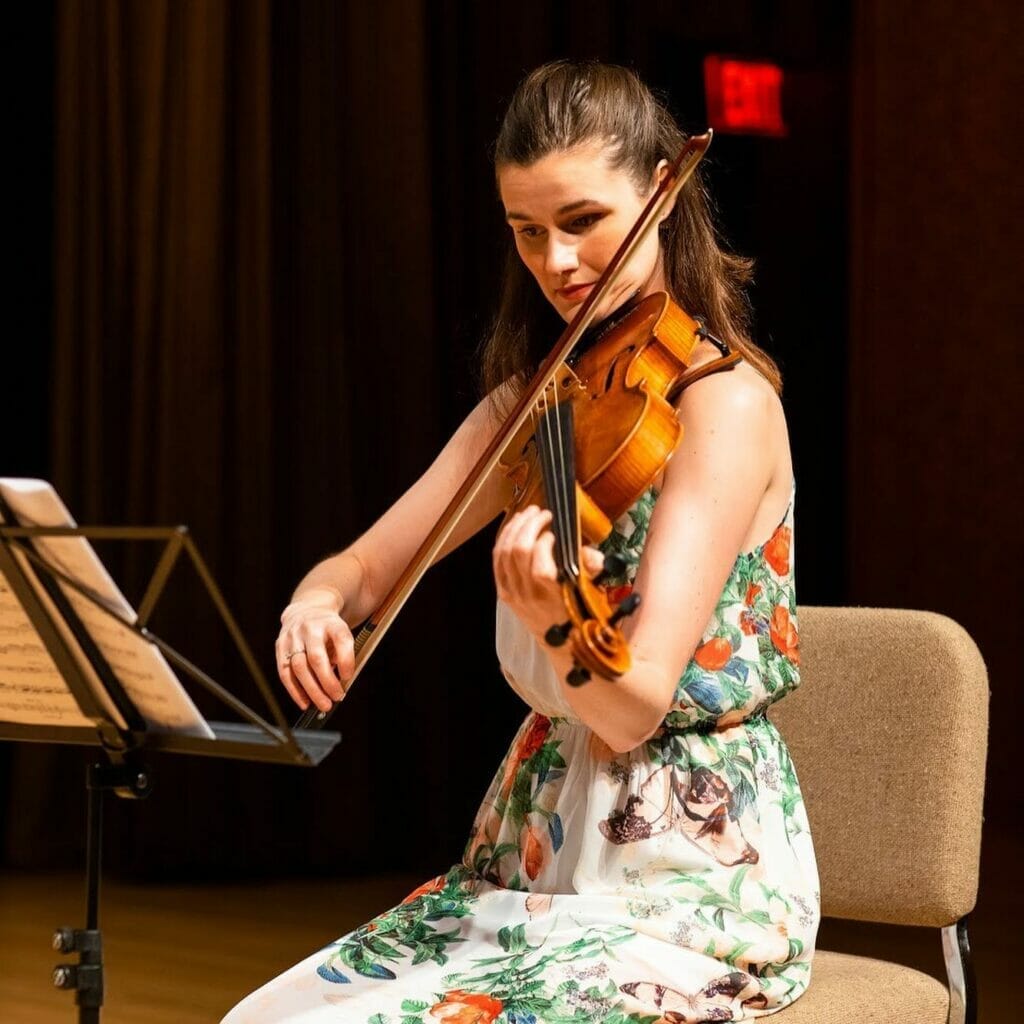 If you're into live music, let the Dallas Fine Arts Chamber Players help you take it up a notch with a free concert.
You'll want to check their schedule ahead of time, but they are typically putting on free concerts somewhere in Dallas to help new generations and people fall in love with classical music.
Dallas is a hub for music, art, and culture, and the free nature of many of the Fine Arts Chamber Players concerts make it easily accessible to everyone.
3. Explore the Meadows Museum
Got an afternoon to head to Southern Methodist University?
Here, you'll find one of the most surprising art collections: one of the largest collections of Spanish art outside of Spain at the Meadows museum!
From Picassos to Grecos to Goya, the collection here is stunning and ranges from the 10th to the 21st centuries so you can really understand how the art movements developed as did the history of Spain.
Pause and take in the oil sketches or marvel at the wood sculptures and canvases.
And why is all of this Spanish art here in Dallas?
The museum began with a gift to the university from a man named Algur Meadows, who often visited Spain and collected art.
Now you can enjoy for free!
4. Visit the African American Museum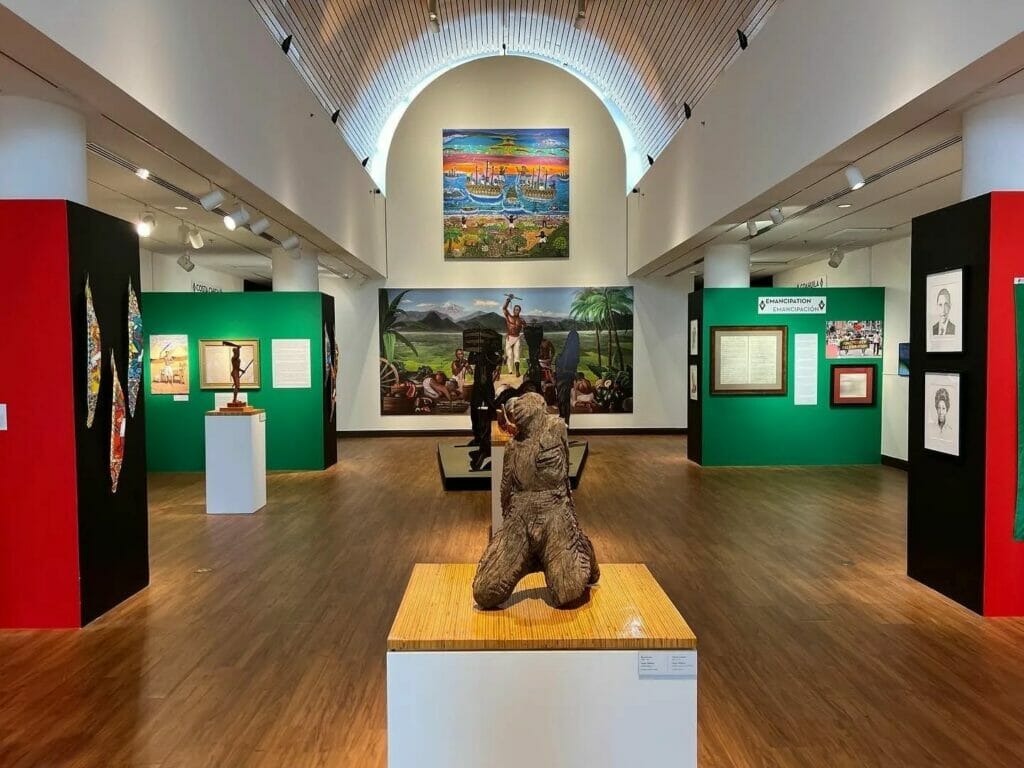 African-American history is American history, and there's no better place in the Southwest of the US to check out African-American history and art than the African American Museum.
The museum is completely free and it holds one of the largest collections of African American folk art in the US.
You'll find it in Fair Park, and the riches of this museum don't just stop with art, as there are also libraries and an on-site theatre with classrooms for regular events.
You might notice some big names featured as artists in the museum, including Benny Andrews and Jacob Lawrence.
This is a must-do in Texas for free so you can see for yourself a wonderful museum that aims to bring a meaningful experience to people who don't usually visit art museums.
5. Experience the The Ann & Gabriel Barbier-Mueller Museum
For one of the most fascinating free things to do in Dallas, head to the Ann & Gabriel Barbier-Mueller Museum.
This collection of helmets, masks, and armor from the Japanese Samurai is certaintly something that you don't usually see in Dallas!
How did the museum get there?
Well, it opened in 2012 as a means to house the personal collection of the family who had been collecting these kinds of artifacts for over 20 years, dating back to about the 12th to 19th century in the Japanese Edo period.
It's fun, it's unique, and it's totally free!
6. Wander the Trinity River Audubon Center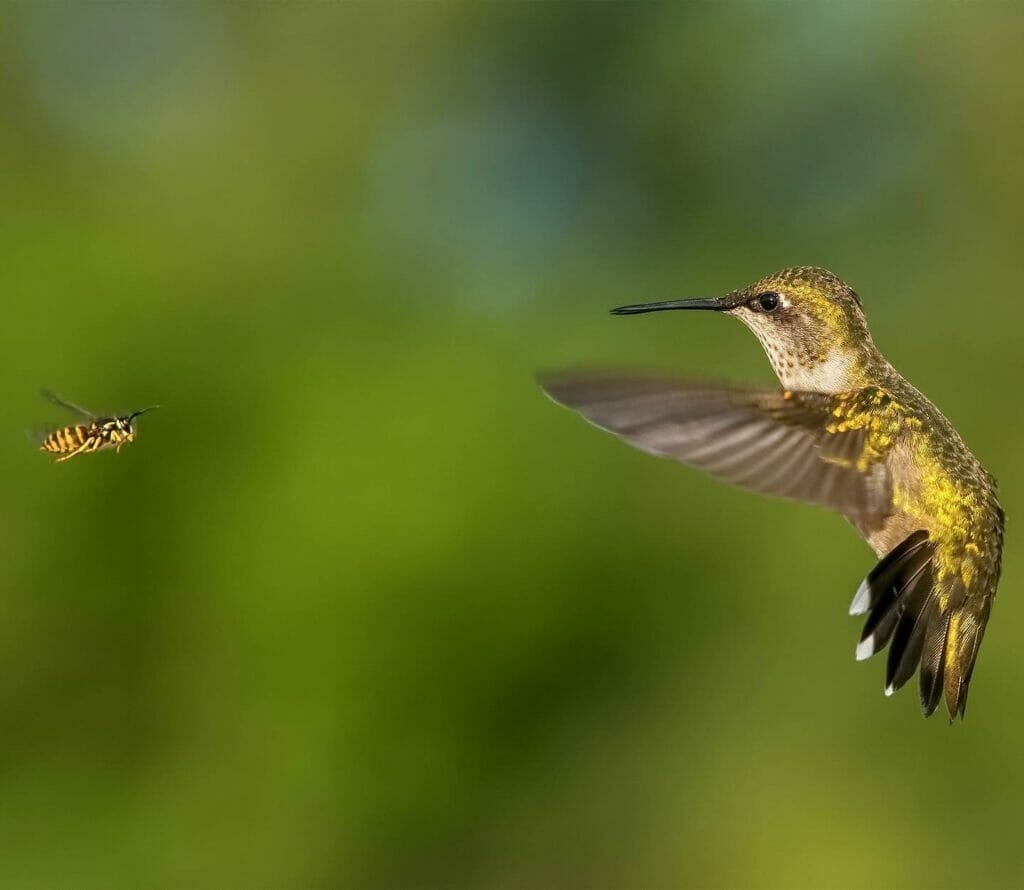 Get outside and spend time in the Trinity River Audubon Center, one of the largest urban hardwood forests in the US.
You can find it ten miles south of Dallas, so make sure you have a car, and then spend your day exploring the 6,000 acres (okay, you won't get to them all) and doing some excellent bird and animal watching.
It's completely free to enter, and you'll feel so many miles away from the hustle and bustle of the city.
And, even better, part of the center was an old dump site now transformed into a wildlife refuge, which is a fantastic initiative for the environment and the thriving wildlife that now call it home.
7. Try the Bureau of Engraving and Printing
Nearby in Fort Worth, those interested in the money-making process can visit one of the best free things to do near Dallas: the Bureau of Engraving and Printing.
It's run by the US Department of the Treasury and yes, they print real dollars here: billions of them!
Take a free self-guided tour around the viewing areas where you can see the process on the production floor in action, and then stop by the permanent exhibits featuring the history of money in the US.
There's also a fun gift shop where you can buy shredded money and other money-themed gifts to commemorate your trip.
It does close on government holidays and weekends, so make sure to check the opening hours before you go and visit during the week.
8. Visit the Perot Museum of Nature and Science Grounds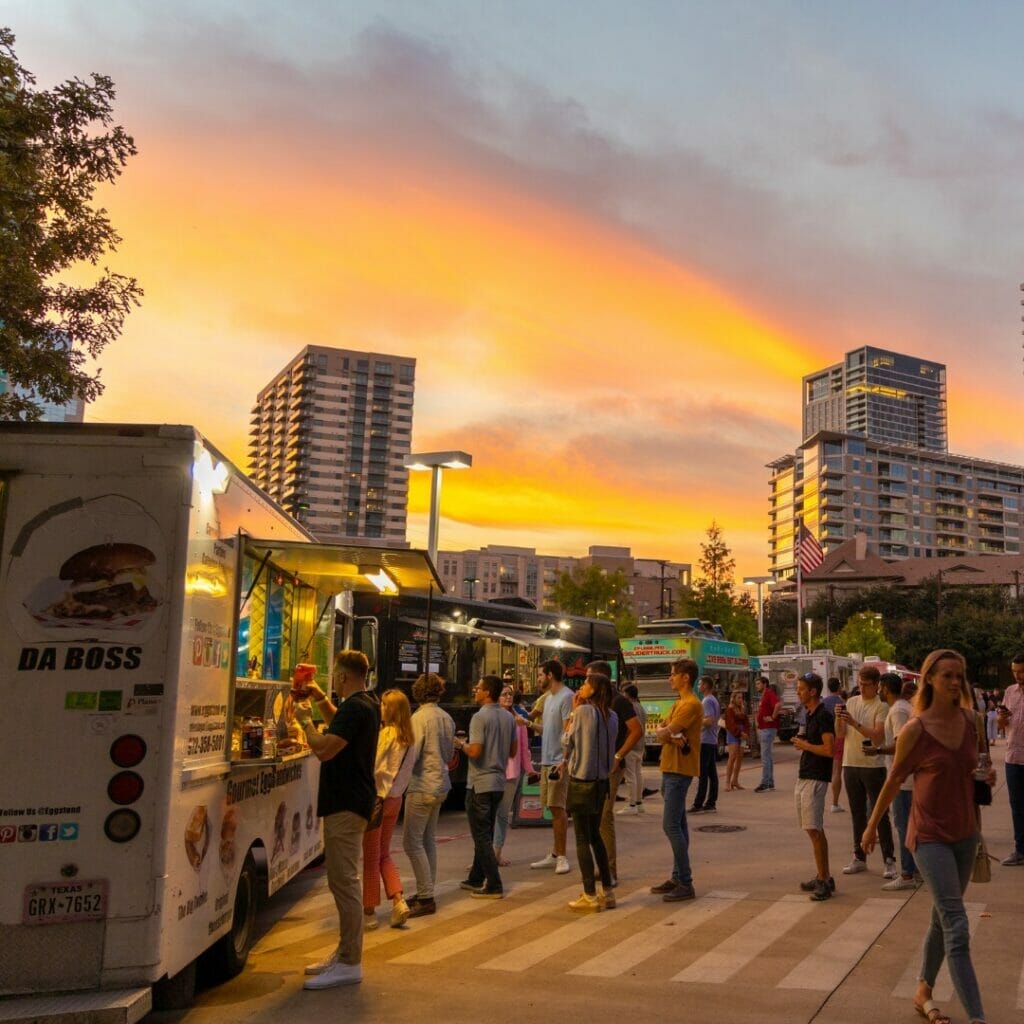 Looking for something to do with kids in Dallas for free?
Head to the Perot Museum of Nature and Science – the museum itself isn't free, but there's an outdoor plaza that spans about an acre that is a must-do with kids in good weather.
There are water features to splash around in, as well as musical instruments and other fun kid-friendly activities to take part in.
Bring your own picnic blanket and just enjoy the views and the day here.
9. Look around Billy Bob's Texas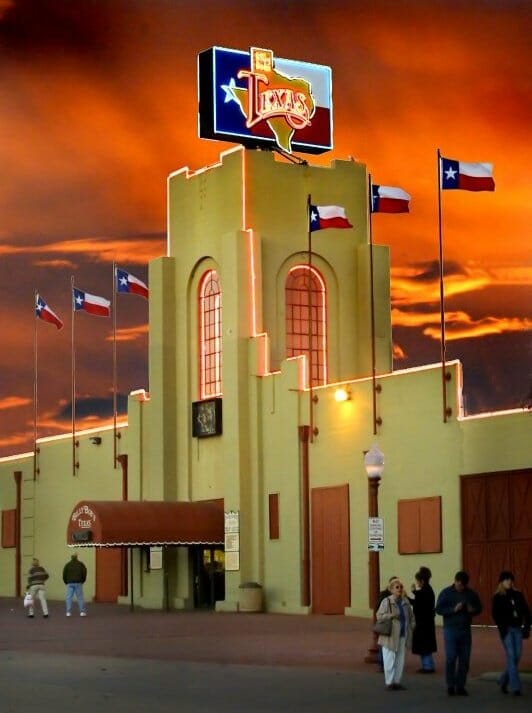 Billy Bob's Texas is an absolutely iconic piece of Dallas history, where typical events include rodeos and line-dancing.
While you will have to pay a fee for events, you can usually get in for a very small price or free if you just want to have a look around.
There are lots of things to see, including plaques on the wall about Texas history and a fun gift shop.
10. Play in the Fort Worth Water Gardens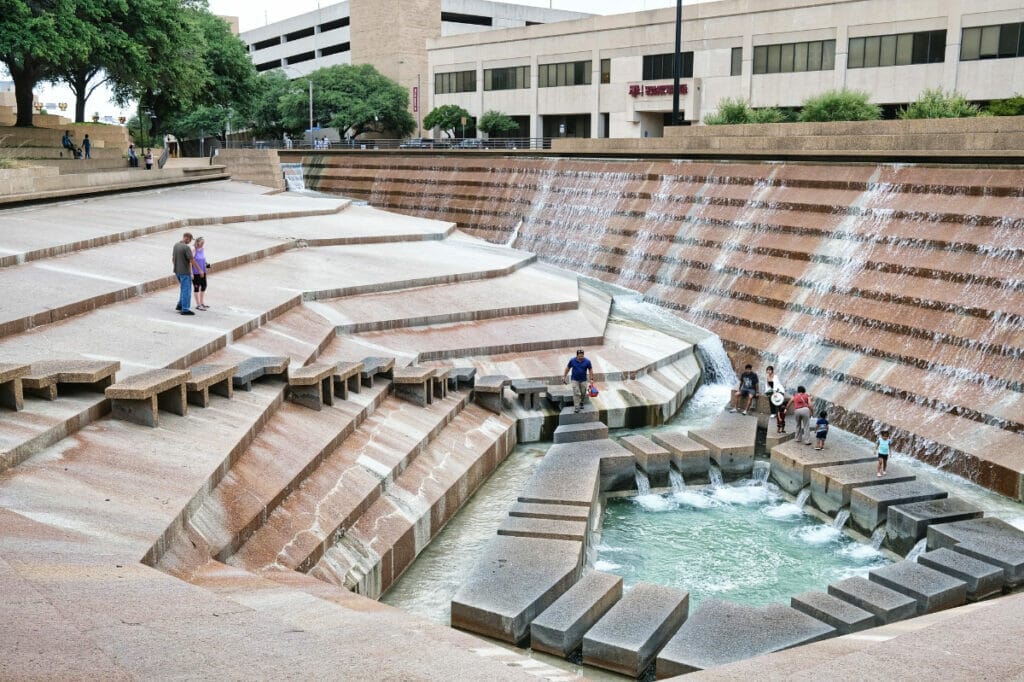 There's nothing better than water fountains to play in on a hot day, and you'll find the best thing to do near Dallas with kids for free in the sun: the Fort Worth Water Gardens!
Instead of real "gardens," the water gardens are actually water fountains and pools of water that make for a great place to cool off.
You can't swim in them, but can splash around in them and sit in their mists.
This example of modernist architecture dates back to 1974 and is a beloved part of the local area (especially when it's scorching) these days.
11. Go fishing in Benbrook Lake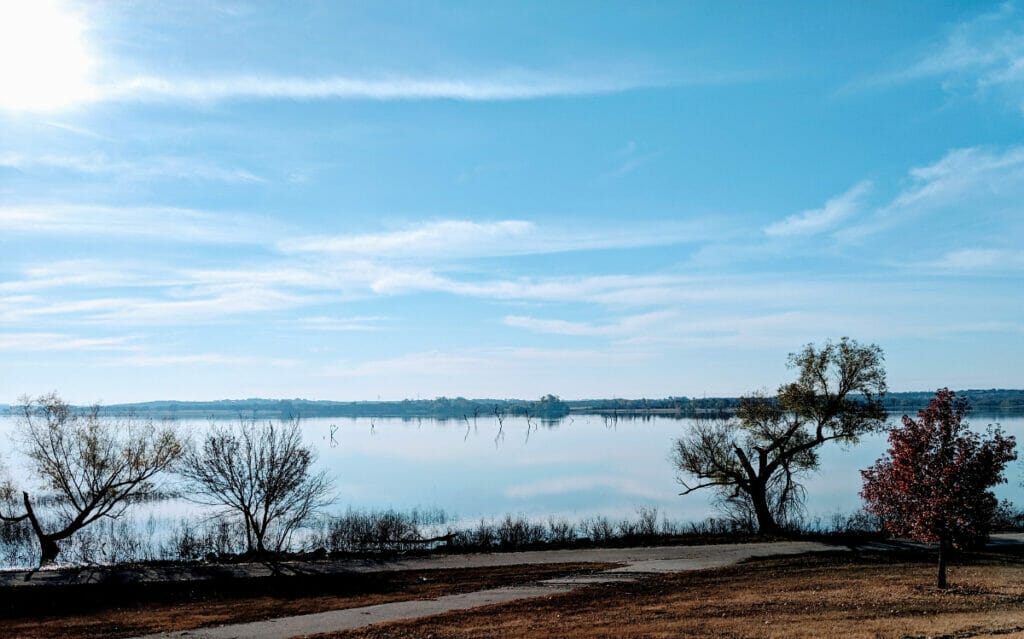 If you've got your own fishing poles, you can head out to Benbrook Lake for a free day of fishing from the shoreline.
This lake is surrounded by stunning countryside, and you'll feel super relaxed as you sit in your chair trying to reel in your catch or enjoy a picnic blanket to sit in the prairie meadows.
Take part in some hiking or bird watching if fishing isn't your thing and enjoy the best free outdoor thing to do near Dallas!
12. See Lake Worth Castle
One of the best Texas castles is free to see near Dallas.
It's called the Lake Worth Castle, and while you can't go in, it's free to drive-by on the shores of Lake Worth.
It dates back to the 1920s and of course has a history of wealthy residents.
It's a great free photo op!
13. Shop at Dallas Farmer's Market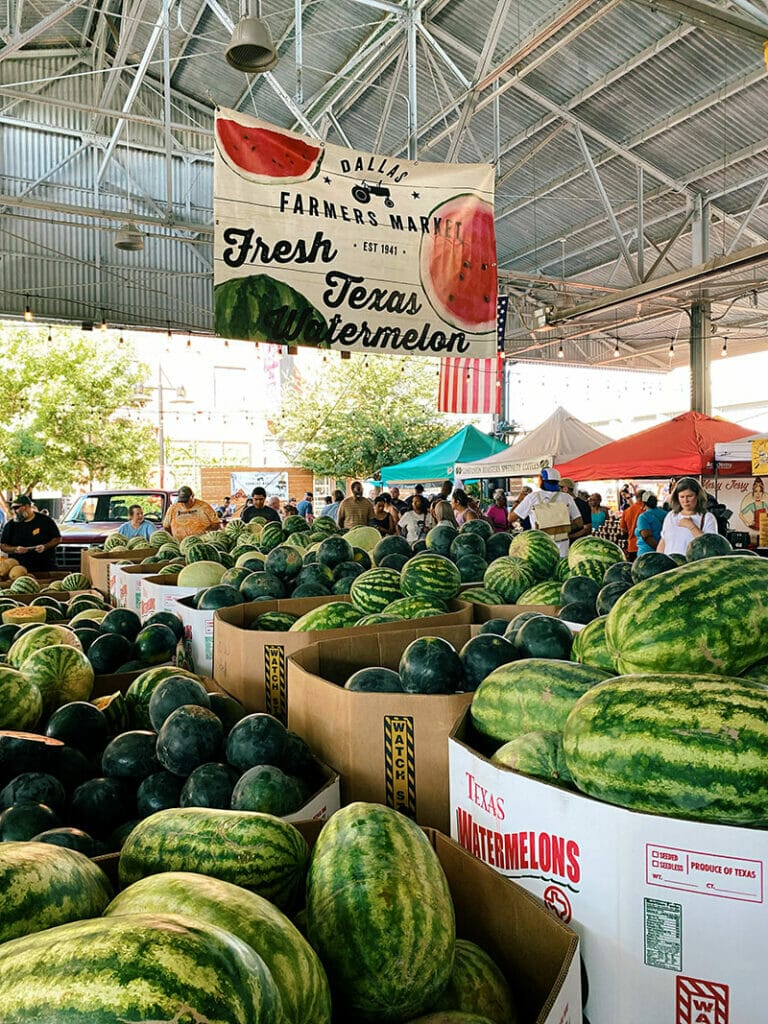 It's totally free to visit the Dallas Farmer's Market, located Downtown, and while you will need some cash if you want to buy anything, you can take in the atmosphere completely for free.
There's a strong history in Dallas for this market, dating back to 1941, and it's a fun place to meet locals and see what's going on in town.
14. Gather at Pegasus Plaza
Meet friends or family at a free meeting point in Dallas, Pegasus Plaza.
You'll find it on the corner of Akard and Main Street in downtown Dallas, and it's a fabulous stretch of green space that is often used for festivals.
There are also fountains to sit around, and benches to enjoy.
The plaza was built in 1994 to help encourage more residents and visitors to come to Downtown Dallas.
15.Get fresh air at River Legacy Park
Not too far from Dallas is River Legacy Park in Arlington, which is free to visit and features everything from forests to wetlands.
You can bring your own mountain bikes for some thrilling outdoor fun, or you can keep it tamer and just walk on the paved trails that last for miles.
Bring your own picnic to enjoy the picnic benches and really take your time here, meditating or reading or just talking as you sit in spots overlooking the river.
If you've got the little ones in tow, you'll love the playground that's available for them to use for free.
A great way to get outdoors and burn off some steam!
16. Experience the Mary Kay Cosmetics Museum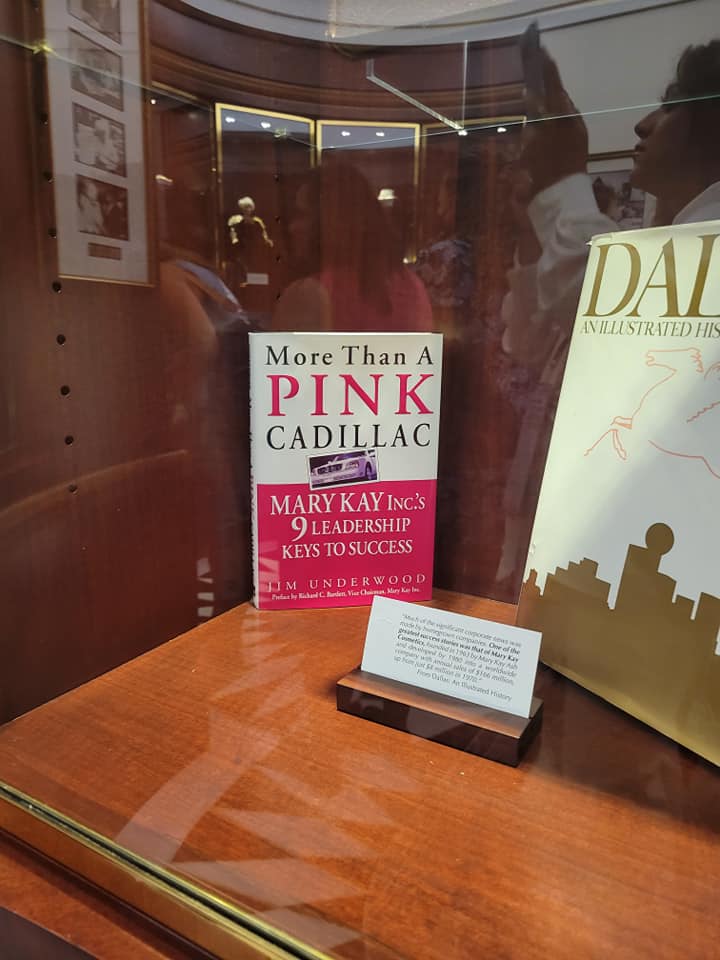 There's no doubt you've heard of Mary Kay Cosmetics, but did you know that its headquarters is actually in Dallas?
The Mary Kay Cosmetics Museum is completely free to enter, as it's located within the lobby at the headquarters, and here you'll find out about the history of the brand, Mary Kay herself, and how it's spread across the US.
Tours are self-guided, and you'll also find tributes to some of the brand's top sellers as well as inspirational speeches.
17. Play at Fantasy Landing at Kiest Park
Take the kids right now and head straight to Fantasy Landing.
Seriously, this playground is one of the best in Texas and it's completely free to visit.
Designed with a fantasy-themed play area and incredibly colorful equipment, they'll play for hours here at no cost to you at all.
It's also specifically designed for accessibility, allowing children of all physical abilities to play together.
Seriously, what are you waiting for?
18. Get sun at Reverchon Park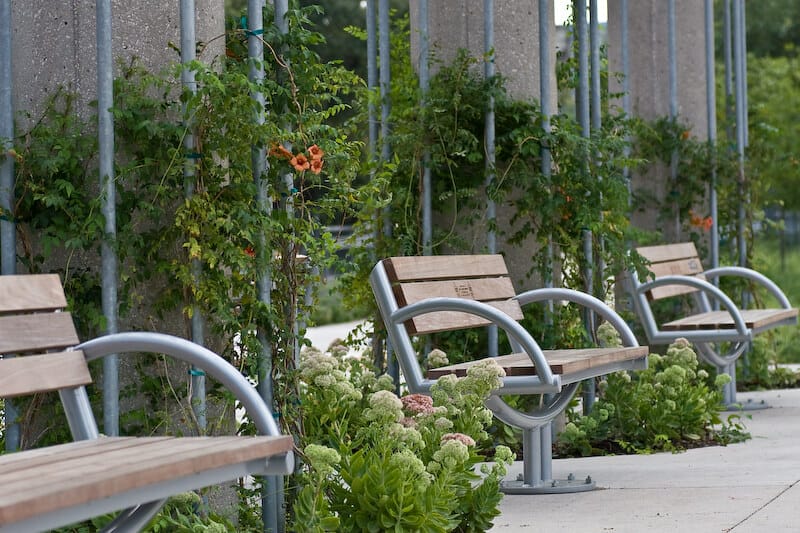 In the Texas sunshine, sometimes the best thing to do for free is to head to one of the parks.
Reverchon Park is a fantastic choice if you're in the area as it has picnic tables to sit back and relax at, as well as marked trails for jogging or walking, and even basketball courts and baseball fields if you've brought your own sports equipment.
It's been a sanctuary for Dallas visitors and residents since 1914 and has plenty of garden areas, as well as grills if you want to cook your food there.
19. Go walking at Klyde Warren Park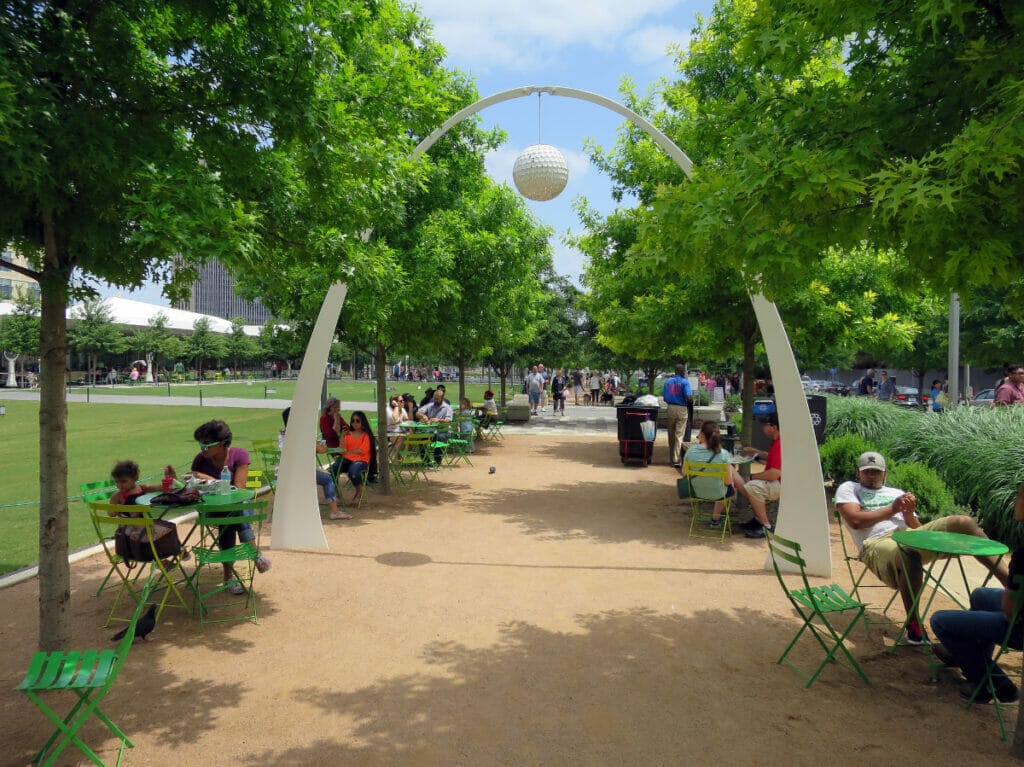 Get your steps in for free at Klyde Warren Park, where you can do laps on the walking paths or take part in exercise classes that are often held here.
There's a ton of space to spread out, as well as playgrounds and sometimes children's activities.
Get involved in the local community by stopping by when the food trucks are there, or stop by in the afternoon for a few hours of quiet or play.
20. Experience the vibe at Southern Methodist University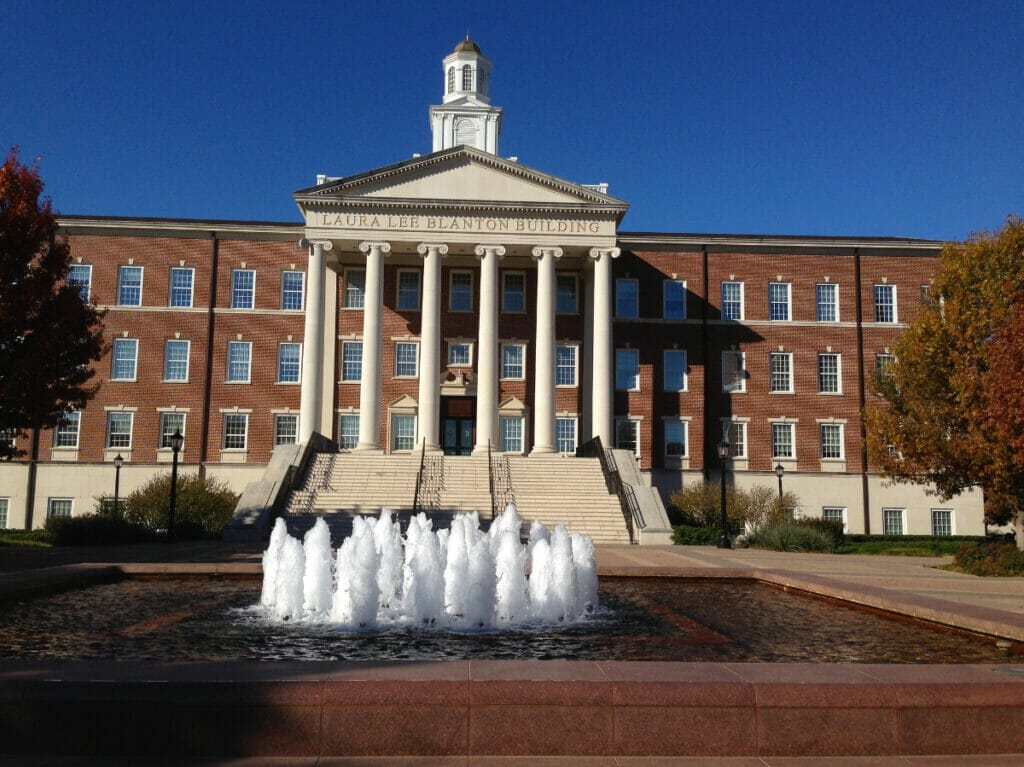 There's something about experiencing new cities that always leads me to the universities in the area, and one of the more unique ones in Dallas is Southern Methodist University.
It's free to wander along the tree-lined pathways and just soak in the university atmosphere.
Bring a snack and sit on a bench and observe true "local life."
21. Find your inner cowboy at Fort Worth Stockyards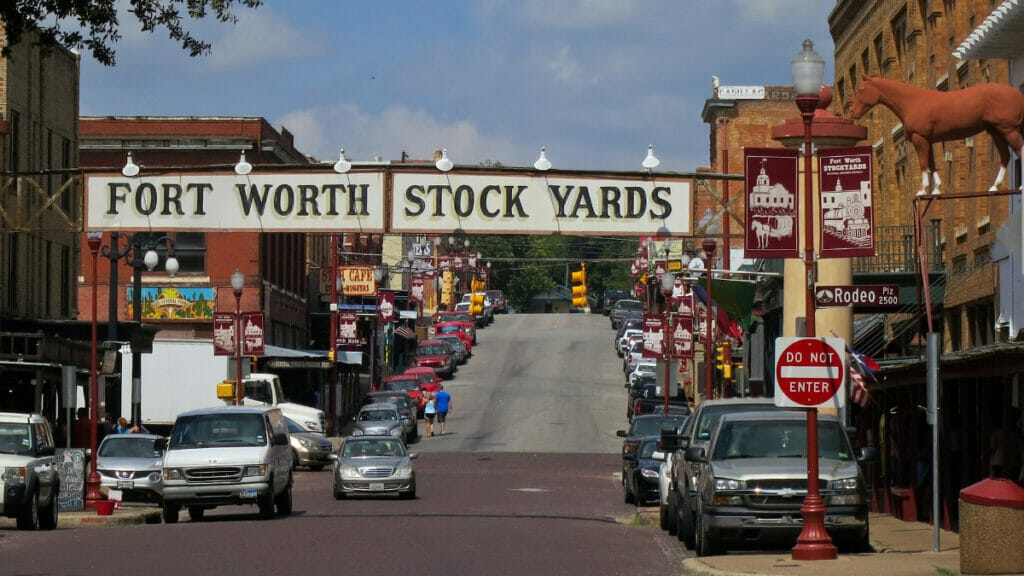 One of the best attractions near Dallas, full-stop, also just happens to be free!
The Fort Worth Stockyards will make you feel like you're a cowboy in no time as you walk past the saloon doors, see the daily cattle walk, and see more cowboy hats than you've seen in your life time.
You'll step right into the Old West as you explore the historic stockyards.
They were used during the cattle trade in the area between 1866 and 1890 and is the reason it's called "Cowtown."
You can see the stockyards themselves or stop by in the gift shops or take some fun self-guided walks through the area (sometimes there's even free musical events!).
22. See Thanks-Giving Square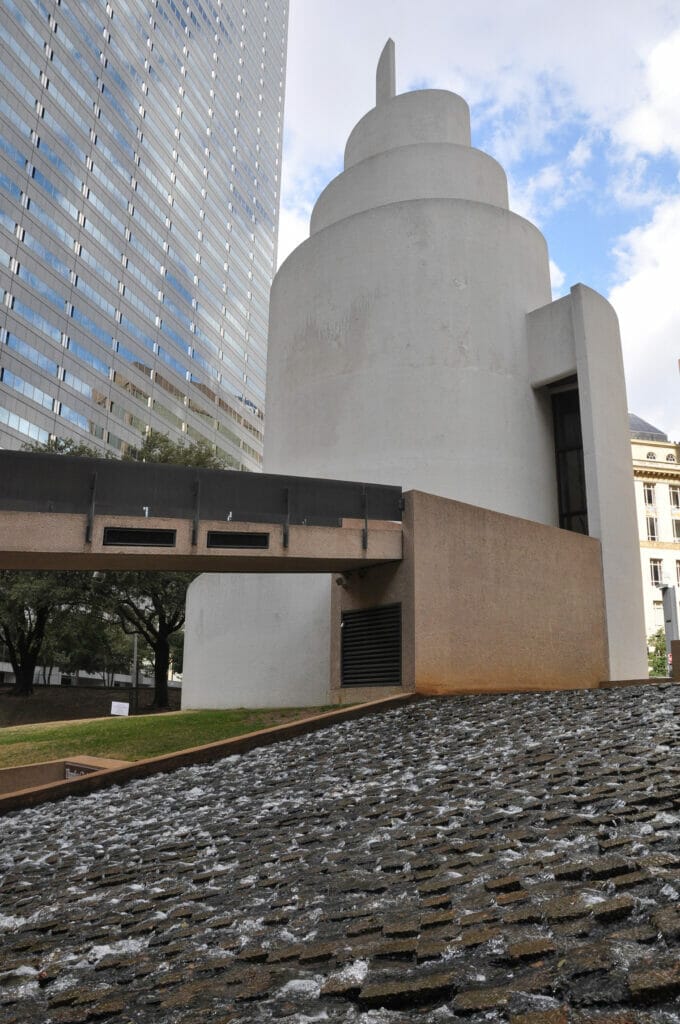 If you need some moments of contemplation, seek out Thanks-Giving Square, which is an art installation in Dallas that seeks to help inspire the spirit of thanksgiving and gratitute for what we have.
There's a meditation garden and chapel, and it's been well-used and loved since it was designed in 1976.
The chapel has gorgeous stained glass and is open to all people, and you can visit daily for free.
23. Go biking at Oak Cliffe Nature Preserve
Hop on your two wheels and head to Oak Cliffe Nature Preserve for an afternoon of cycling.
There are fantastic biking trails here that take you past rolling hills and meadows, or you can walk and observe the native wild flowers that make it feel like a scene out of a fairytale.
Get healthy, get active, and keep that wallet put away while you explore the great outdoors in Dallas.
24. Walk the dog at Main Street Garden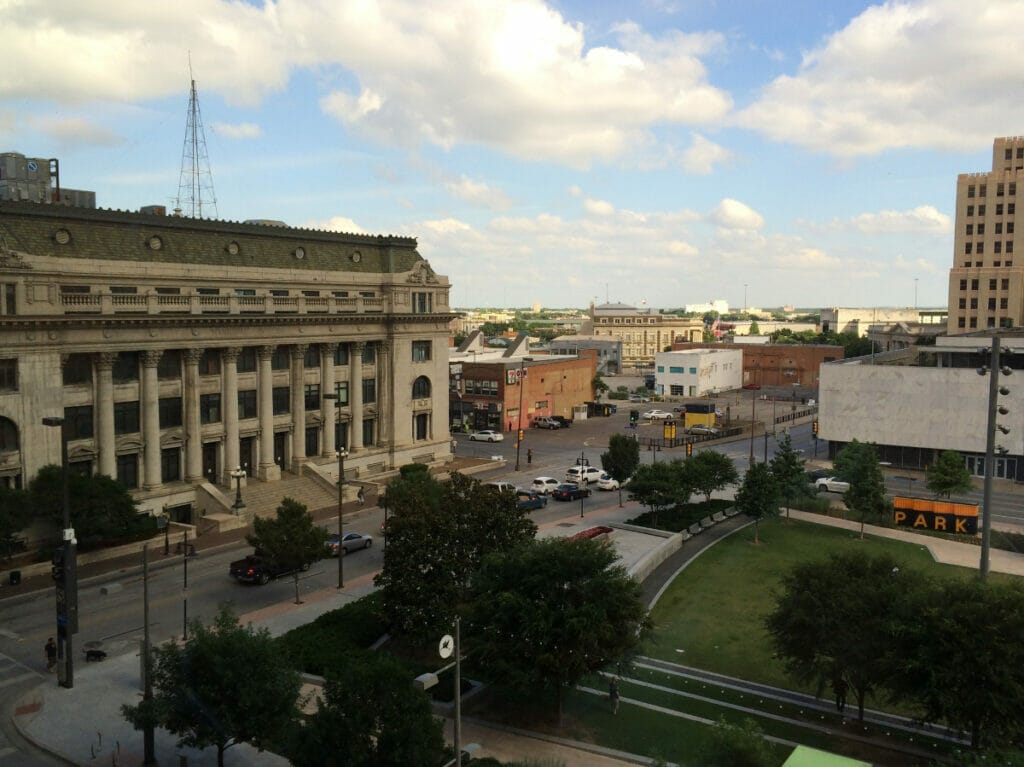 Another Downtown Dallas gem for free is Main Street Garden, a unique park and gathering place.
They've got WiFi in case you need to sit down and get connected, and there's also a public art installation.
If you've got Fido with you, you can take him to the doggy area, and there's also a small children's play area for the little ones.
You'll be surrounded by skyscrapers while sitting in a patch of green grass, which makes for some great pictures and a moment of peace within the noise.
25. Fair Park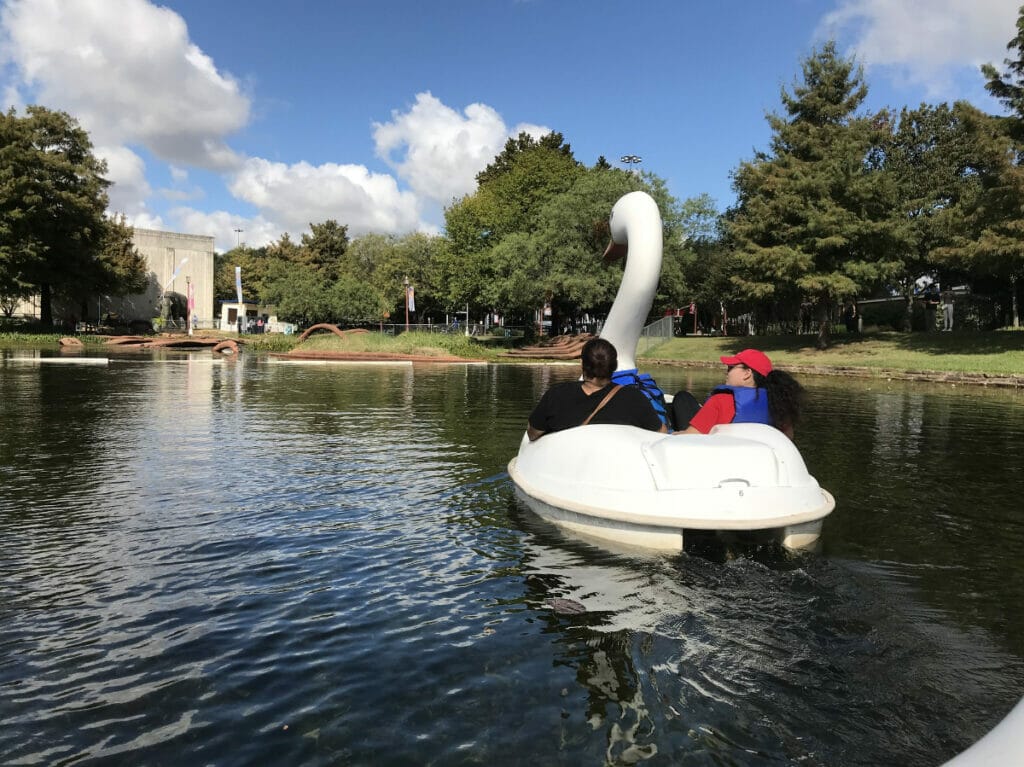 Fair Park is free to visit in Dallas and is so large that you'll find other Dallas attractions in it like the African American Museum.
The entire area has a history to it, as the buildings were actually built in an art deco style for the Texas Centennial Exposition in 1936.
It's a National Historic Landmark that now plays host to large festivals like the State Fair of Texas, and as you walk around you'll also notice some interesting sculptures.
The sculptures were created by Robert Summer and represent the cattle drive along the Shawnee Trail.
26. Take the McKinney Avenue Trolley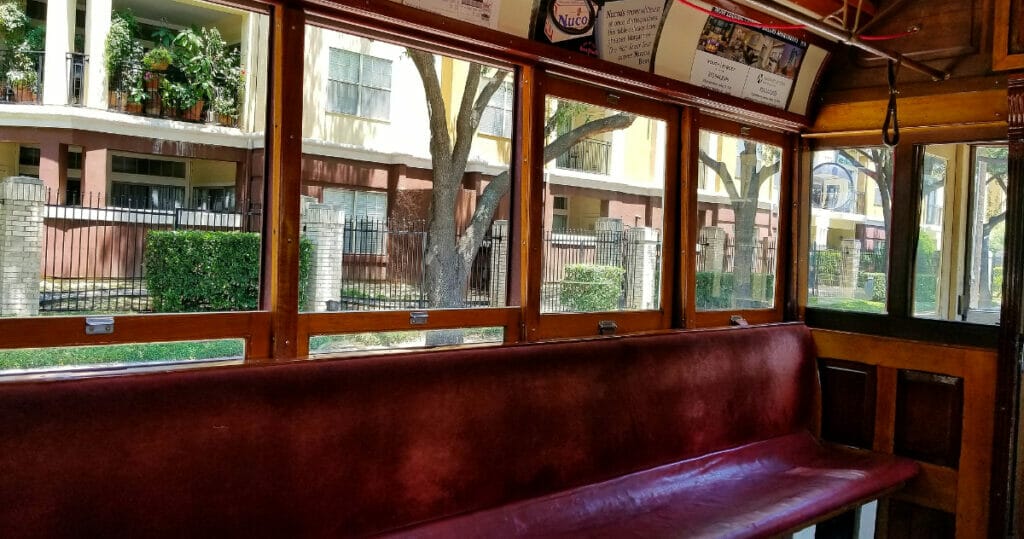 Hop on board the McKinney Avenue Trolley for some free views of Dallas from a vintage trolley!
You'll get to see parts of downtown Dallas that you might not have gone to on your own, as well as learning the history of the trolley cars that were an important part of Dallas history.
27. Walk around White Rock Lake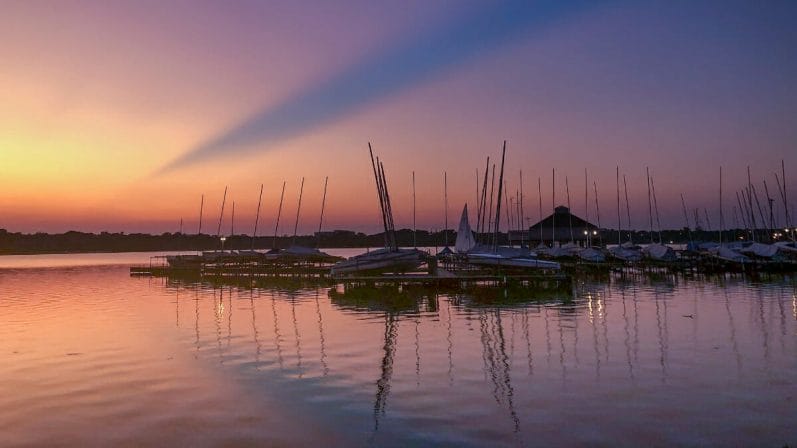 Whether you want to hike, bike, or just take a packed lunch to enjoy, White Rock Lake is the place to do it in Dallas.
It's one of the most popular parks in Dallas and spreads over 1,000 acres, even including the Dallas Arboretum as part of the park!
Bring your dog to play in the dog parks with his furry friends or explore the wetlands (don't forget your walking shoes!).
28. Pioneer Plaza Cattle Driving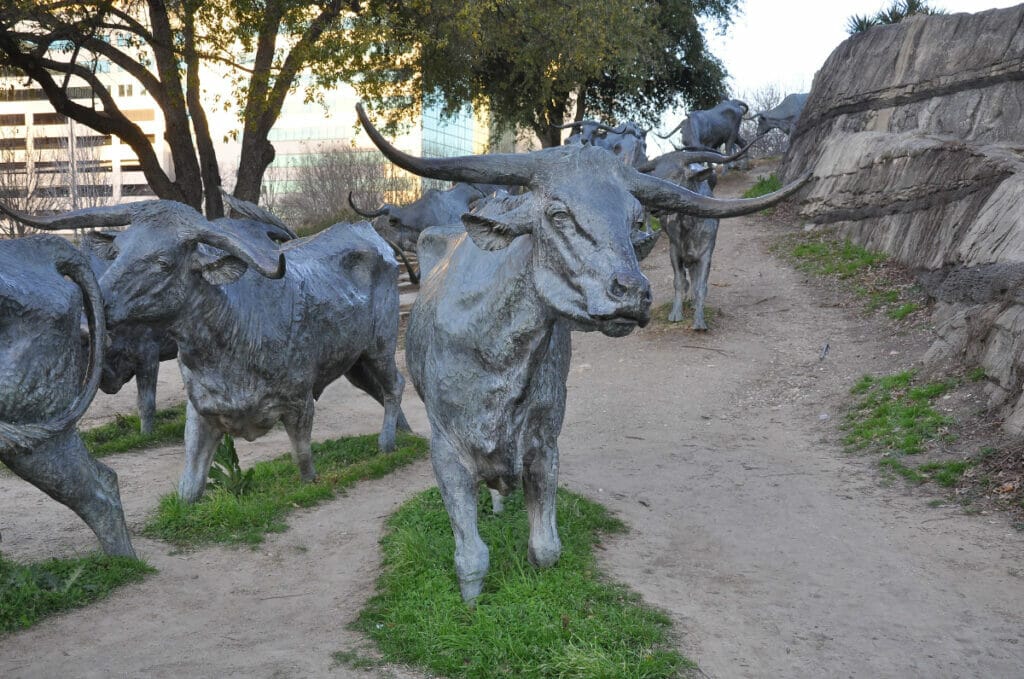 Looking for a unique thing to do in Dallas for free?
Visit Pioneer Plaza, a giant public open space with the cattle drive sculpture commemorating Dallas's history and culture.
29. Discover Deep Ellum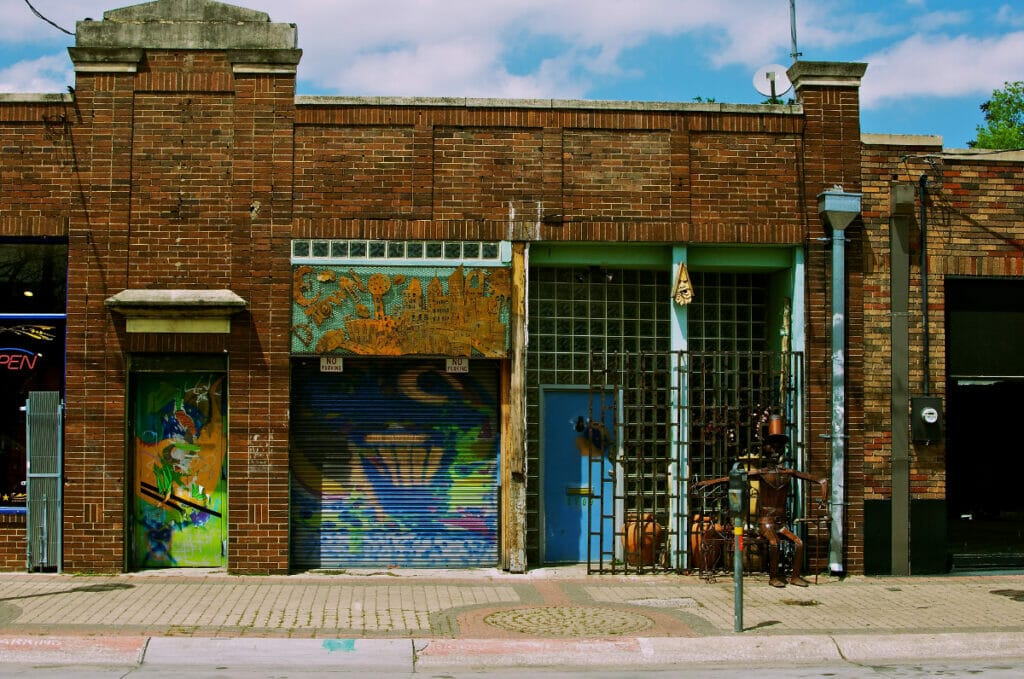 If you want to really experience the vibe of Dallas in the evening, head to Deep Ellum.
This restaraunt and entertainment district obivously requires some dollars if you want to eat out, but if you are just wandering through, it's free!
You'll see the neighborhood that played home to some of the most important jazz and blues music in Texas, and it's perfectly Instagrammable with some fantastic views, historic buildings, and fun vibes.
There's also some great street art to marvel at.
30. Relax at Fort Worth Botanic Gardens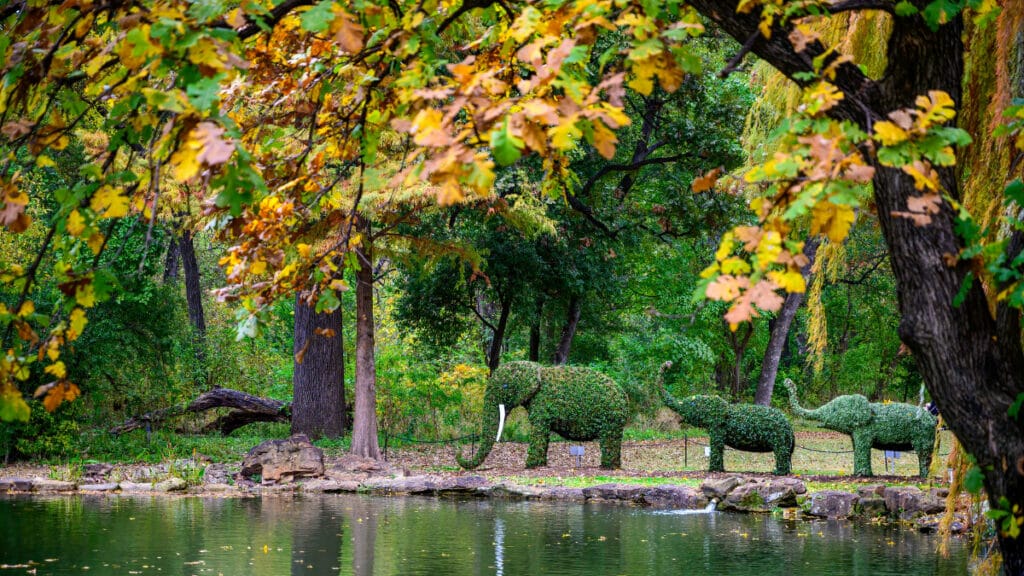 Whether you want to check out the indoor greenhouses with exotic plants from around the world or you just want to walk through the Rose gardens and stop and smell them, the Fort Worth Botanic Gardens are well worth a visit and one of the best things to do near Dallas.
You can spend just a half day here, or really commit and lose yourself here for a full day (there's really a lot to see).
Entrance is for a small fee during regular hours, but there are often free events so check the schedule ahead of time to see if there are any that coincide with your visit!
Pin for Later!