Whether you want beautiful national forests or quirky small towns, these day trips from Dallas are all wonderful options to spend a day away from the hustle and bustle.
Take the boat out on Whitney Lake or spend time browsing the antique shops in Waco.
Discover the history streets of Granbury, or head to Tyler to learn more than you ever knew you wanted to know about rose cultivation techniques (and seriously, it's fascinating!).
You can choose options that are a bit closer by, like Fort Worth, or you can really venture out to further flung destinations like the Davy Crockett National Forest.
There's a treasure trove of Dallas day trips options waiting for you, whether you want just one or you want options for the future so you can keep exploring the great state of Texas using Dallas as a base.
Let's get going!
Love Texas? Love visiting Texas?
Show your support for this great state and get more helpful visiting tips on our Facebook page.
Hey! Want more incredible Texas content? Check these out!
How to get around Dallas
Like most of Texas, the best way to get around Dallas is to explore on your own by car!
If you're visiting and need to rent a car, we highly recommend Discover Cars where they find you the best car rental deals from all of the competitors (has saved us so much money!).
1. Waco, Texas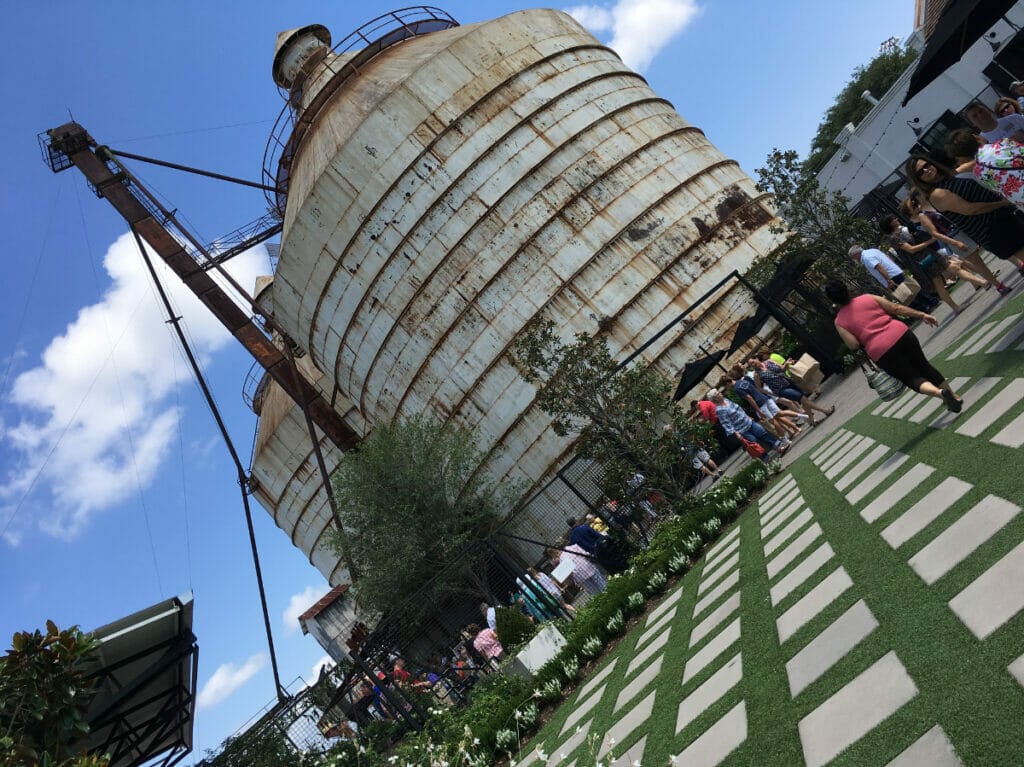 Waco, home to the famous Magnolia Market designed by Chip and Jo Gaines, has a lot more than just Fixer Upper history (though if you're interested in that, this Fixer Upper tour is the best one!)
This bustling Texas town has everything from the esteemed halls of Baylor University to the electric atmosphere of a football game at McLane Stadium to a museum dedicated to the history of American soda!
There's also plenty to do if you like the great outdoors, including walking the Cottonbelt Trail or exploring Brazos Park East.
Got kids with you?
The interactive exhibits at the Mayborn Museum Complex will keep them busy for hours, or you can enjoy the weather at the Cameron Park Zoo.
If you're into shopping, Waco is home to plenty of the best antique shops, as well as Spice Village, an incredibly colorful market selling everything from knick knacks to home decor to Texas T-shirts!
Waco is relatively walkable, filled with culture, and a great place to go on a day trip from Dallas.
Distance from Dallas, in driving minutes: 1 hour, 32 minutes
2. College Station, Texas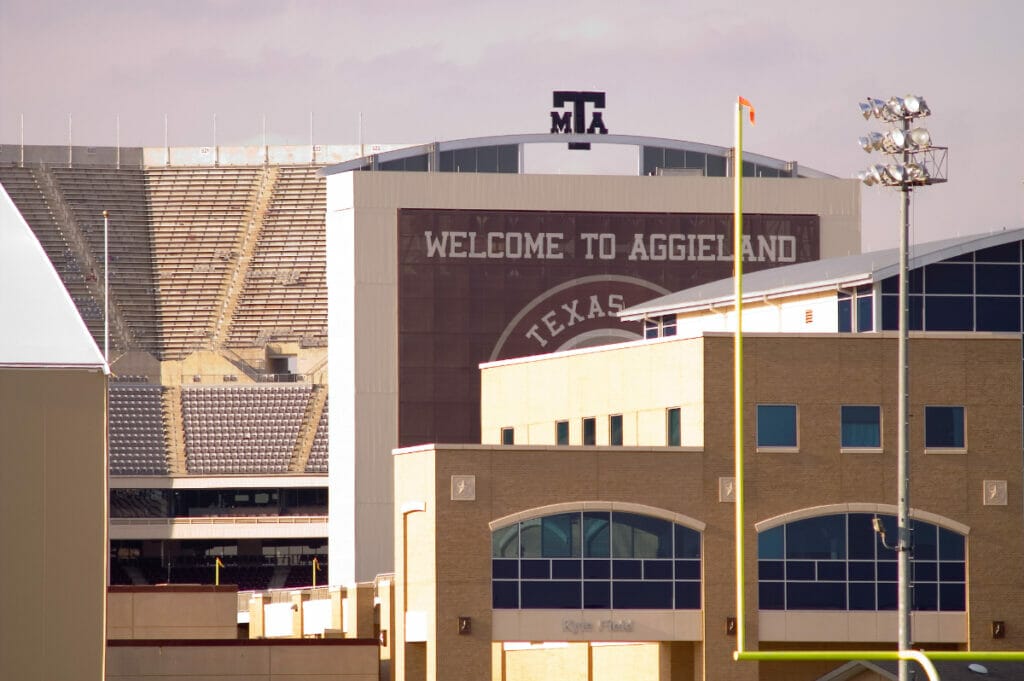 Football fans?
College Station is just the Dallas day trip for you.
College Station is home to Texas A&M, a giant university with a gorgeous campus and equally large stadium that plays home to Aggie football.
Really, College Station and Texas A&M go hand-in-hand, with most residents either being students, alumni, or otherwise related to the university.
Make sure to visit on a game day for the incredible tailgating opportunities (they're super friendly!) or wander around the campus and check out all of the history, the superstitions, and the Aggie culture.
In fact, Kyle Field, where the Aggies play, is actually fifth largest stadium worldwide.
College Station is also home to the George HW Bush Presidential Library, as well as awesome barbecue places like C&J Barbecue.
It's one of the longest day trips from Dallas, so you'll want to get moving early!
Distance from Dallas, in driving minutes: 2 hours, 48 minutes
3. Texarkana, Arkansas (and Texas)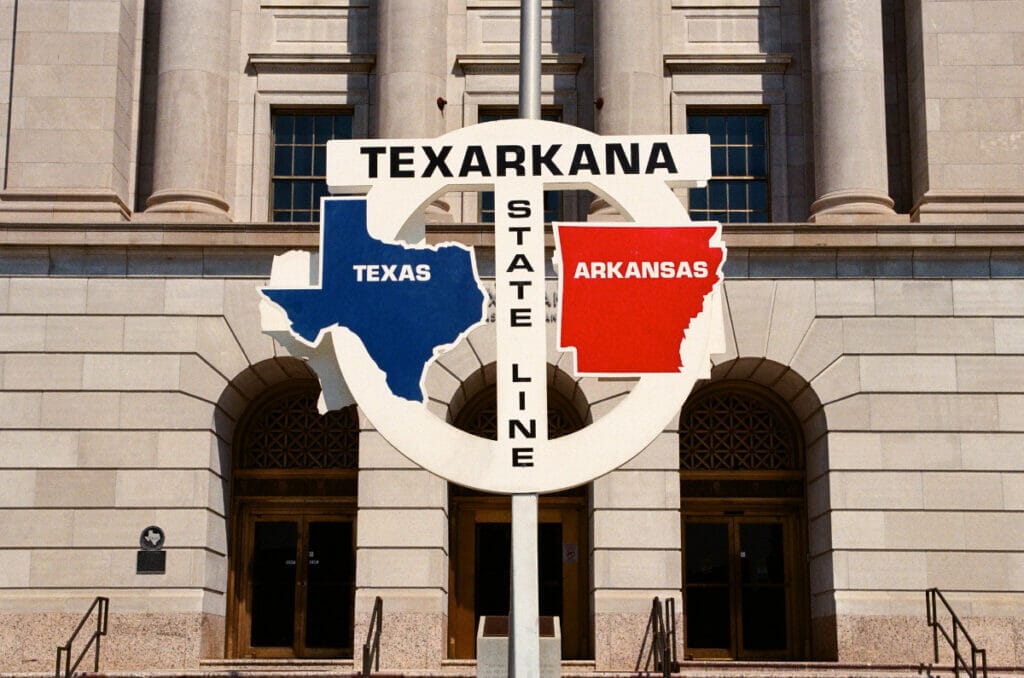 From Dallas, you can actually reach other states in a day trip!
Texarkana, so named because it combines Texas and Arkansas, is a fantastic place to go if you want to be in two states at once.
Downtown Texarkana is walkable and historic, and while you're there you've got to head to the Ace of Clubs House.
This House, built in 1885, is shaped like a playing card club and is a must-see.
There's also other things to do, like the Museum of Regional History and the Four States Auto Museum.
If you're hungry, stop at Zapata's for some incredible guacamole and margaritas or try Pecan Point Gastropub for the burgers that you'll talk about the whole ride home.
Distance from Dallas, in driving minutes: 2 hours, 43 minutes
4. Cedar Creek Lake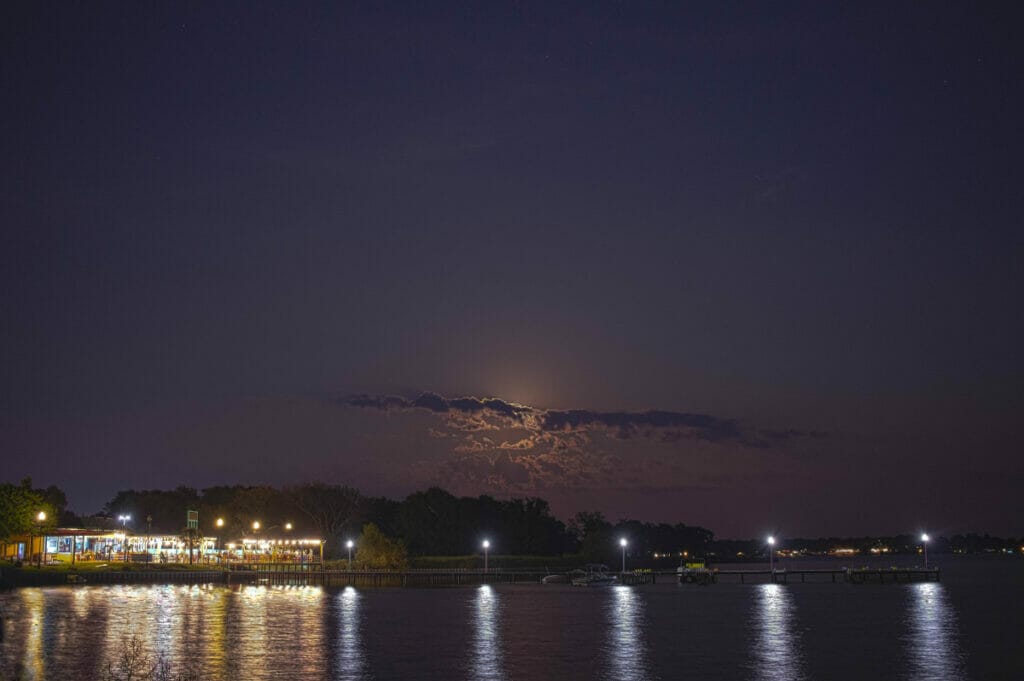 Want to get outdoors and into the fresh air?
Look no further than Cedar Creek Lake, the best day trip from Dallas for anyone looking to soak in the Texas sunshine.
If you do want to hit the water, you'll feel at home here as there are plenty of boating and fishing opportunities as it's the fourth largest lake in Texas.
The lake is usually home to catfish year-round, and bass more in the springtime.
If you want to be on the water without the fishing, you can also go swimming in the coves or rent water equipment like paddle boards, kayaks, and pontoon boats.
If you prefer to stick on the shore, that's fine too, just bring a picnic and watch the world go by.
This is a great way to stretch your legs and leave the city for awhile!
Distance from Dallas, in driving minutes: 1 hour, 7 minutes
5. Fort Worth, Texas
Fort Worth is actually considered part of the Dallas metro area (hence the name "Dallas – Fort Worth" that is often used, but it is it's own city as well!
It's one of the closer Dallas day trips, which makes it super easy for families, and there's one attraction here to rule them all: the Fort Worth Stockyards.
If you want to have a local show you around, this electric bike and BBQ tour is the best one in Fort Worth!
The Stockyards are a popular thing to do as it's free to walk through them and you'll feel the history of the cattle trade in Fort Worth as soon as you get there.
You'll find saloon doors on every corner, lots of stores selling cowboy hats, and even the daily cattle walk through the streets.
Looking for some other options?
The Kimbell Art Museum has a wide European and Asian art collection, while the Fort Worth Botanic Garden is a great outdoor activity in Forth Worth on a nice day, as you can meander around the native plants and ponds.
When you're hungry, stop by Panther City BBQ for some of the best smoked meats around or grab some burritos from Los Vaqueros.
There's also the Fort Worth Zoo if you want to take the kids!
Distance from Dallas, in driving minutes: 33 minutes
6. Wichita Falls, Texas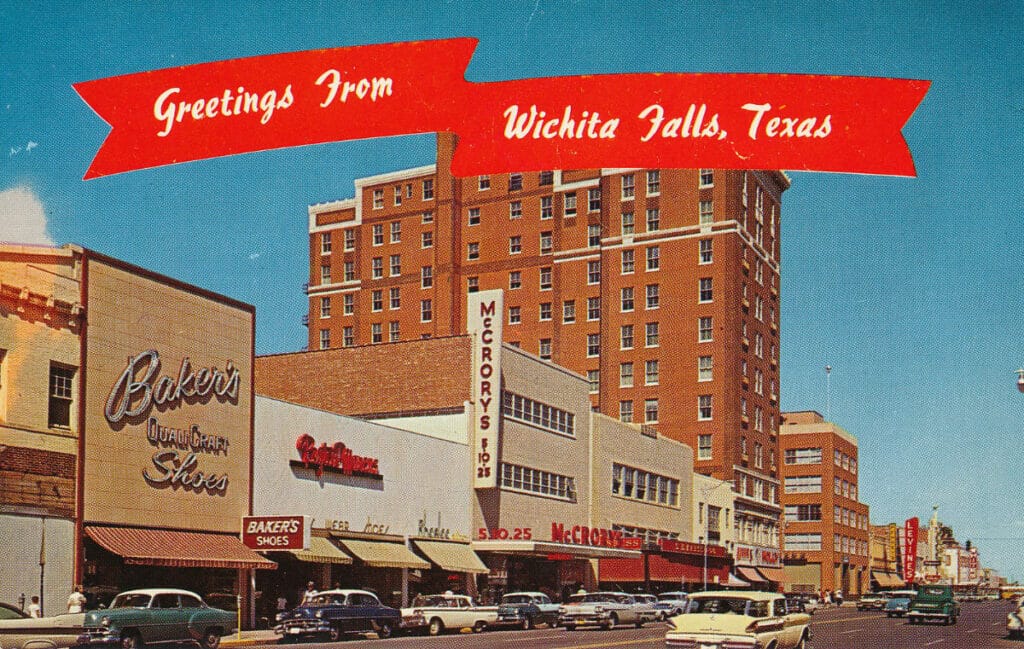 At just about 2 hours from Dallas, Wichita Falls is a fantastic day trip from Texas that makes you feel like you've really embarked on a trip, but it's over before you get too bored in the car!
You might not have heard of Wichita Falls before, but it's a must-see if you like quirky history.
Perhaps the most important attraction is the "World's Littlest Skyscraper."
Yes, you read that right.
The story goes that this "skyscraper", at only 40 feet tall, was actually part of a swindle from the developer who created blueprints for a skycraper 480 inches tall.
When he proposed it to investors, they didn't ask questions and just automatically assumed it was going to be 480 feet.
Not so!
That's the local legend, at least, and today there's an antique shop in the building to check out.
There are also some other things to do in Wichita Falls, including dining at the Highlander Public House or Gypsy Kitchen & Bar (you'll find them downtown).
Stop by the Kell House to explore this historic home that was built in 1909 and still has some original furniture, or visit the Museum of North Texas History which focuses on Native American culture as well as the oil and gas industry within the region.
There's also a dog park and people park at Wichita Lake Park if you want to stretch your legs after getting out of the car.
Distance from Dallas, in driving minutes: 2 hours, 7 minutes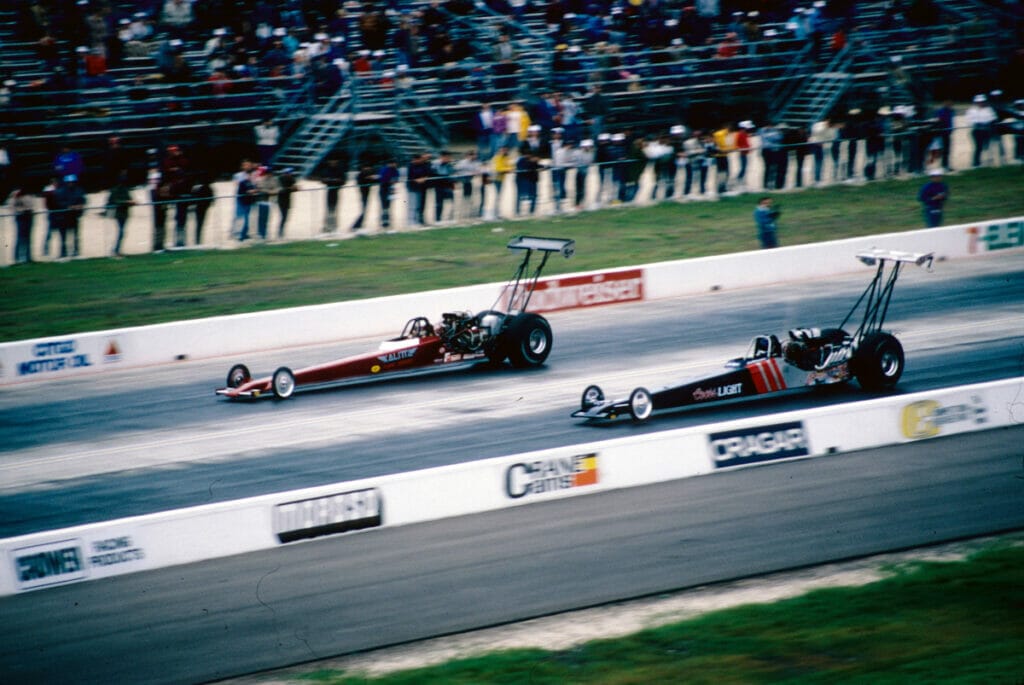 Want to experience the thrill of cars zipping past you?
Drag racing is the name of the game at the Texas Motorplex, and the 1/4 mile strip is known for breaking speed records.
It's an award-winning place with past awards from the National Hot Rod Association and plenty of passionate fans.
You'll find it near Ennis, Texas, and this is a great day trip if you're attending one of the other events like bike racing, rodeos, or concerts that are held here.
There's food and amenities on-site, so you can just pack yourselves in the car and spend time here on a day trip from Texas.
Distance from Dallas, in driving minutes: 39 minutes
8. Granbury, Texas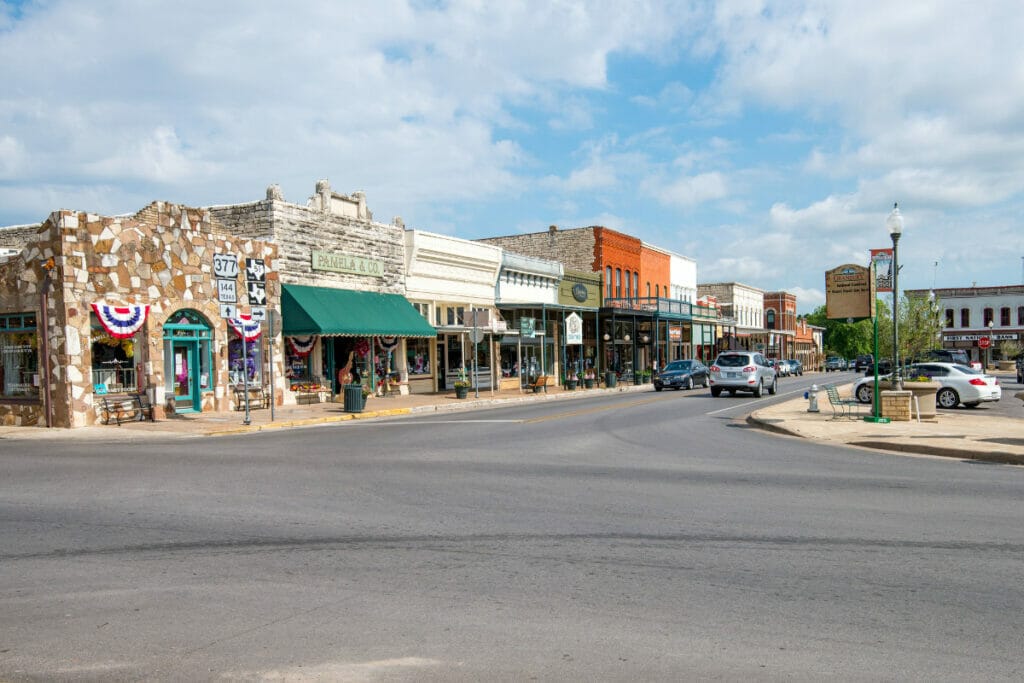 It's all about the history in Granbury, consistently rated as one of the best small towns in Texas.
Spend your time experiencing the incredible museums, meeting new friendly faces, shopping in the boutique stores or marveling at the gorgeous architecture around town.
If you're looking for the heart of the town, you'll find the most social activity and events in the Historic Downtown Square.
Getting hungry?
Stop by the Filling Station downtown for hamburgers and fries that can't be turned down.
Granbury is both historic and casual, where every corner feels like home and there's a real feeling of community.
If you want to class it up a bit, spend the day at the art galleries and wineries, sipping local wines and experiencing the tasting rooms.
You can swim at Granbury City Beach Park along the Brazos River, or you can head indoors to the Bridge Street Historic Museum (focusing on Granbury's history through the lens of a Granbury family) or the Hood County Museum.
Distance from Dallas, in driving minutes: 1 hour, 17 minutes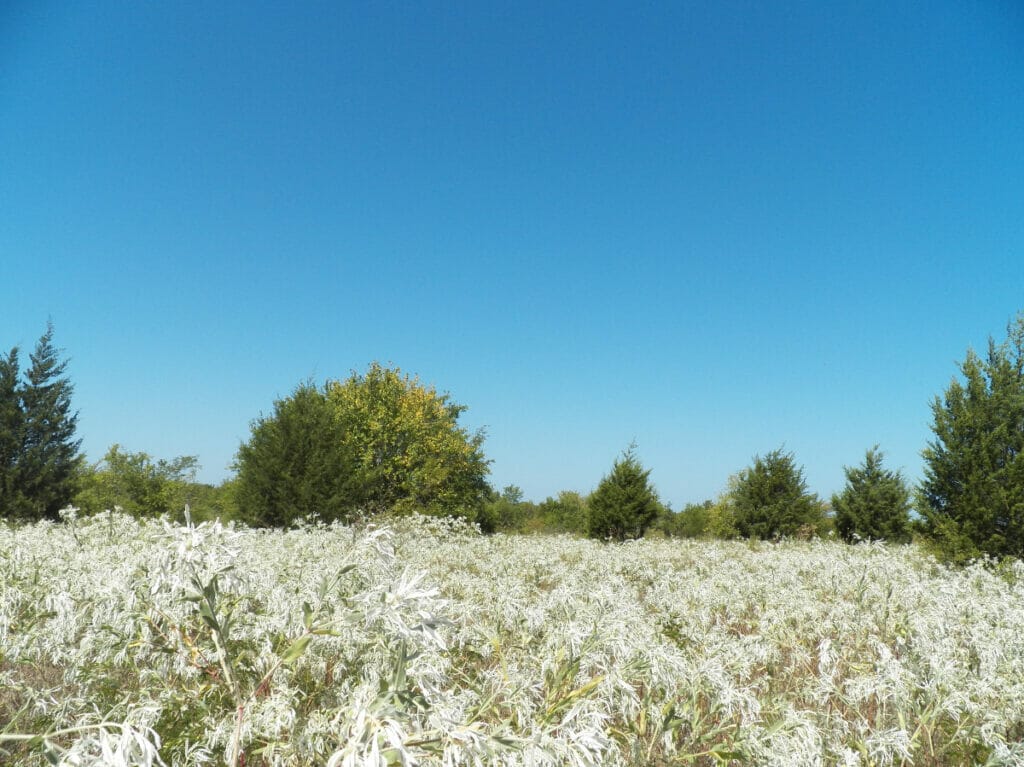 Spend your day in the great outdoors at Caddo National Grassland, one of the most wonderful Dallas day trips if you're interested in getting lots of open space and taking part in outdoor activities.
Go trail riding on horseback, or spend the night camping there to extend your day trip into a weekend trip.
Take part in fishing, hiking, archery, or bird spotting and enjoy the peace and quiet you'll find here.
If you can stay into the night before driving back to Dallas, you'll see so many incredible stars, as the dark skies over the grassland make for a sky perfectly illuminated by stars.
Distance from Dallas, in driving minutes: 1 hour, 47 minutes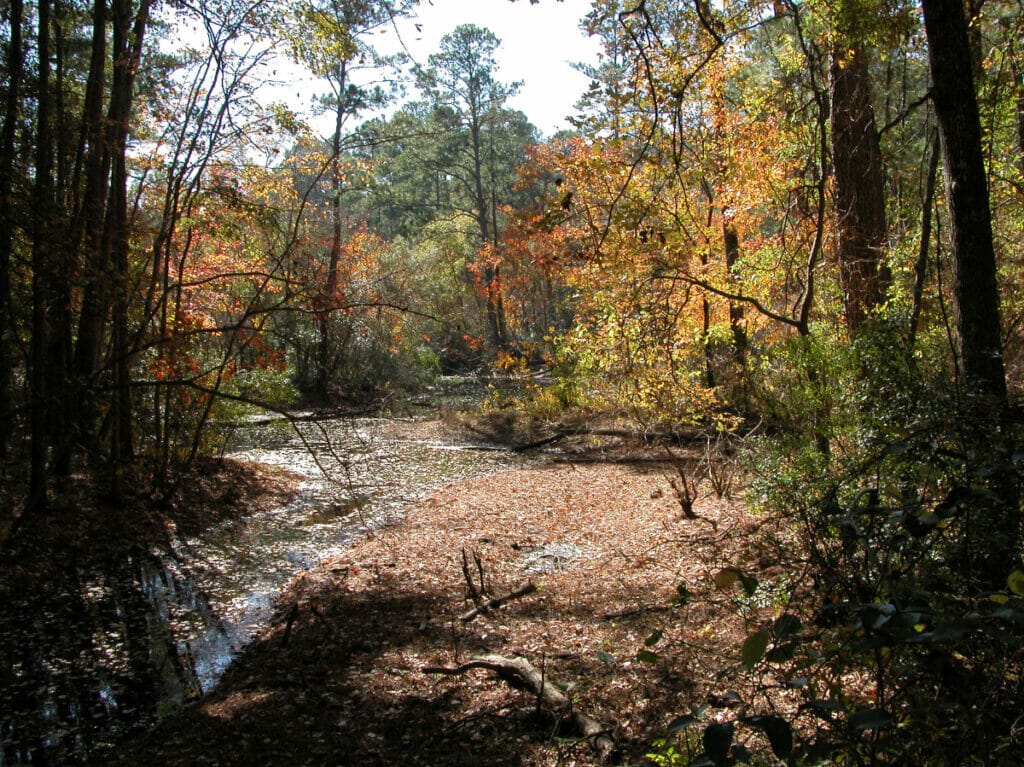 Another day trip for outdoor lovers from Dallas, the Davy Crockett National Forest actually became a National Forest in 1936 and has been providing a family-friendly place to become one with nature ever since.
Put on your hiking boots and walk all around the forest, or go fishing in the lake or enjoy a swim at Ratcliff Lake.
It was named for none other than of course, Davy Crocket, an icon of the "wild frontier" and you can even go primitive camping if you want to really get back to the basics.
Hiking lovers will enjoy the view from the Four C National Recreation Trail, and you can even go horseback riding on Piney Creek Horse Trail.
Keep an eye out for that wildlife, including turkeys, deer, and woodpeckers!
Make sure to "leave no trace" of your visit and take trash with you when you leave.
Distance from Dallas, in driving minutes: 2 hours, 47 minutes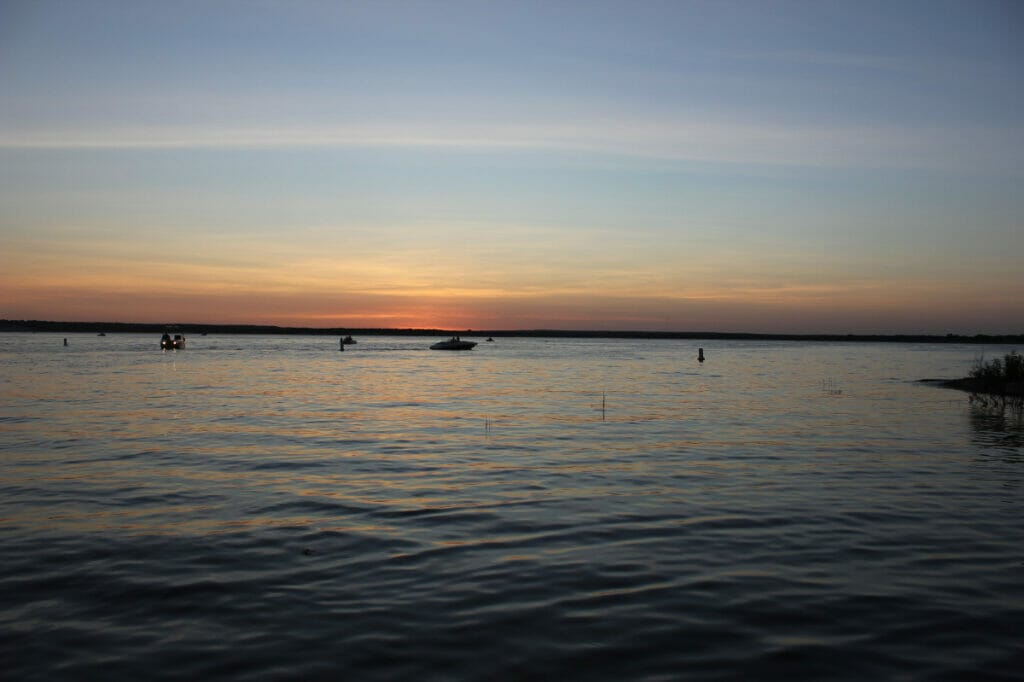 There's nothing better than a day on the lake, and Lake Whitney is one of the best places near Dallas to do that!
Go kayaking on the lake for a peaceful, floating, endeavor, or take to the boat ramp and go boating across the lake (tubing, anyone?)
Lake Whitney is fed by the Brazos River, and there's also camping options if you want to take in the campgrounds (for those who want a cabin, you'll find them at McCown Valley Park nearby).
Pack some snacks and spend the whole day on the lake after pushing off at Cedar Creek Park boat ramp.
If you need any essentials, you'll find them in the town of Whitney as they have grocery stores, an urgent care center, and even a sports bar if you want to catch a game before heading back to Dallas.
Make sure to practice water and boating safety for a great day out!
Distance from Dallas, in driving minutes: 1 hour, 38 minutes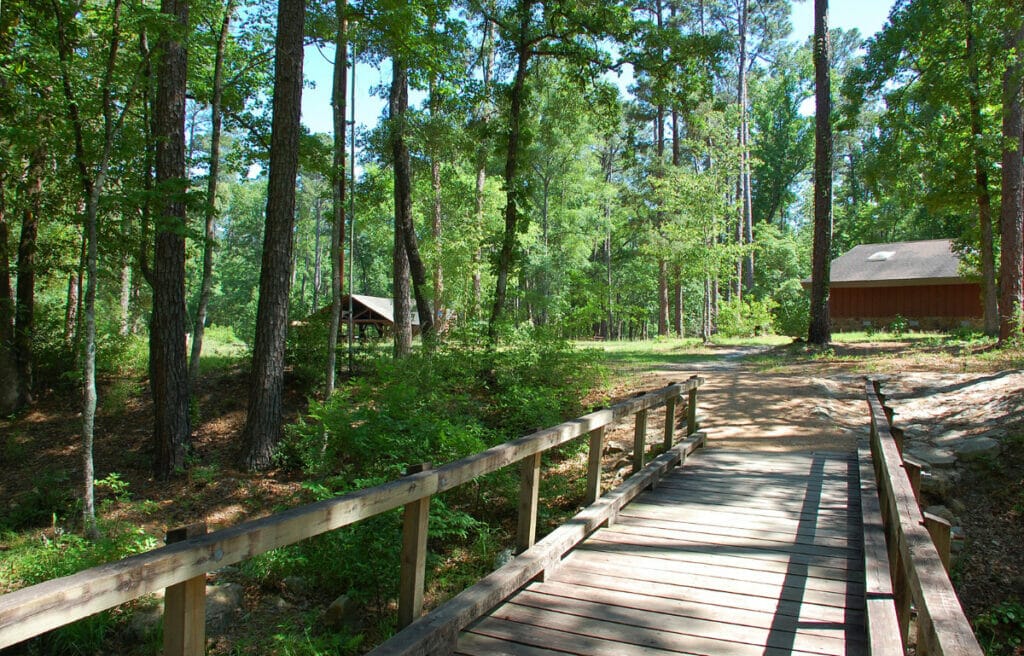 At almost 3 hours, it's definitely a day trip from Dallas you'll want to leave early for, but if you have explored more nearby areas, this is one to check out!
This national forest is where you'll find your inner peace, get your steps in on the hiking trails, or reconnect with nature with over 100,000 acres of recreational areas.
Birdwatchers absolutely love this national forest, and fishermen can check out the incredible lake with lots of things to catch.
There are marked trails for hiking so you can plan out your day, and return to Dallas both happy and ready for a good night's sleep!
Distance from Dallas, in driving minutes: 2 hours, 53 minutes
13. Tyler, Texas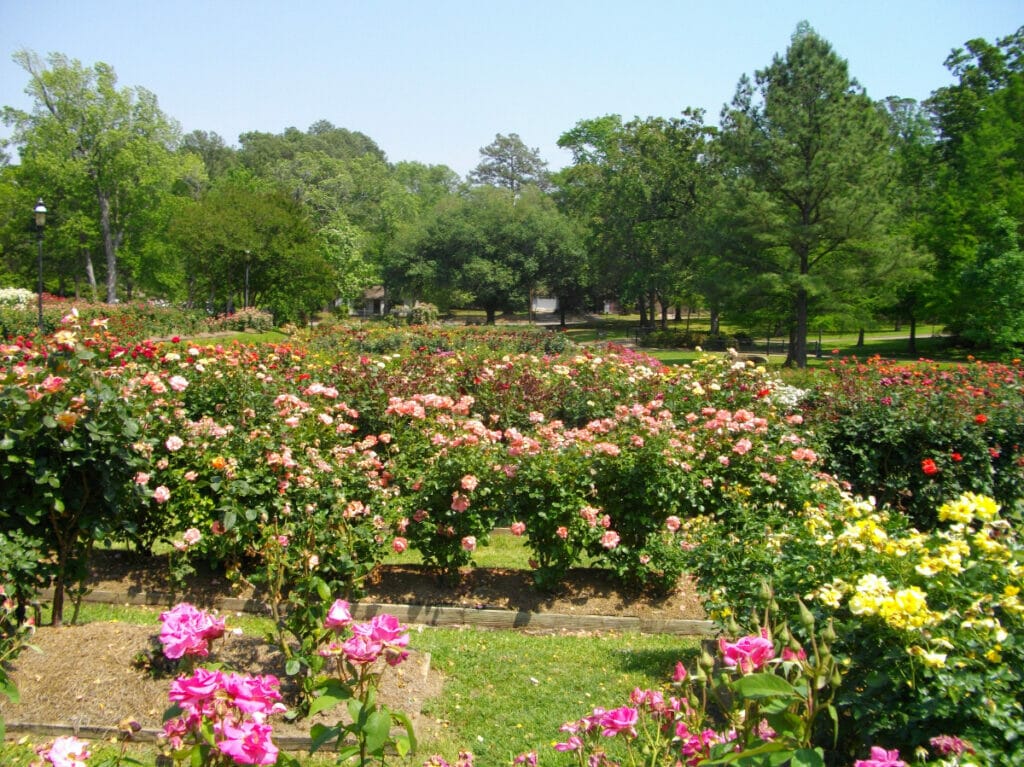 The town of Tyler is fascinating for botanical lovers as well as families with kids!
This town holds the annual Rose Festival (dedicated to the one and only type of flower!) and you can visit the Tyler Rose Museum to learn more about the history of rose cultivation in the city.
There's also the kid-friendly Discovery Science Place where the kids can immerse themselves in incredible exhibits that allow them to play pretend and learn more about the world around them, or you can head to the Cotton Belt Depot Museum which features the history of trailways in the area.
There's also historic architecture, like the Goodman-LeGrand House.
If the weather is good, check out the Caldwell Zoo where you an spend the day seeing the animals and learning more about them from their keepers.
To finish off your day, head to Rick's on the Square with incredible southern seafood that you'll remember forever.
Distance from Dallas, in driving minutes: 1 hour, 35 minutes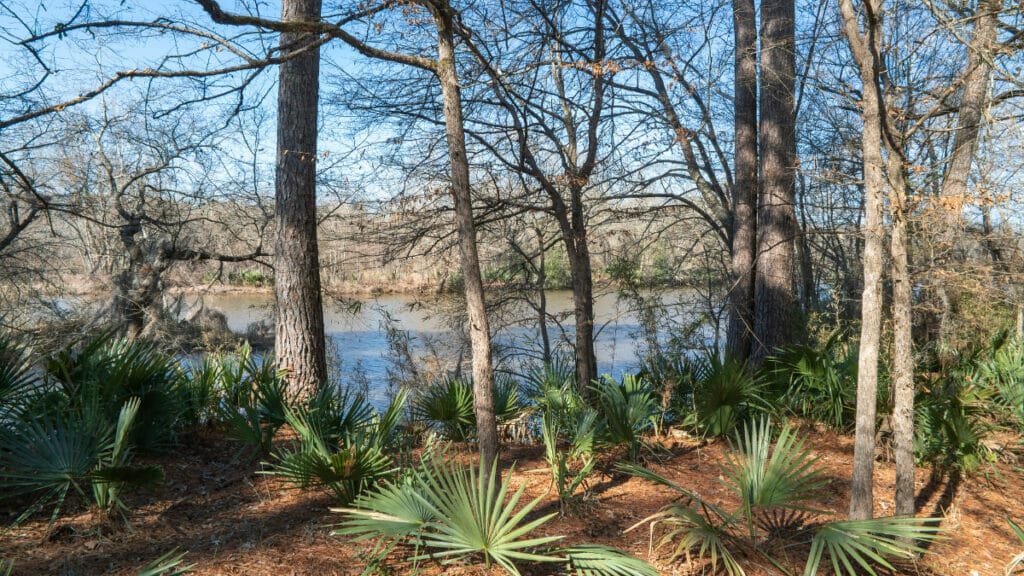 Another national forest near Dallas, the Sam Houston National Forest is great for hiking and biking, and there are marked hiking trails for day hikes if you want to visit on a day trip from Dallas.
Find shady spots under the trees to eat lunch, or get out on the boat as there is a lake with great sunset views if the water is more your thing.
A lot of people don't necessarily associated Texas with forests, but as we've shown, there's a lot more than you would expect!
Distance from Dallas, in driving minutes: 2 hours, 32 minutes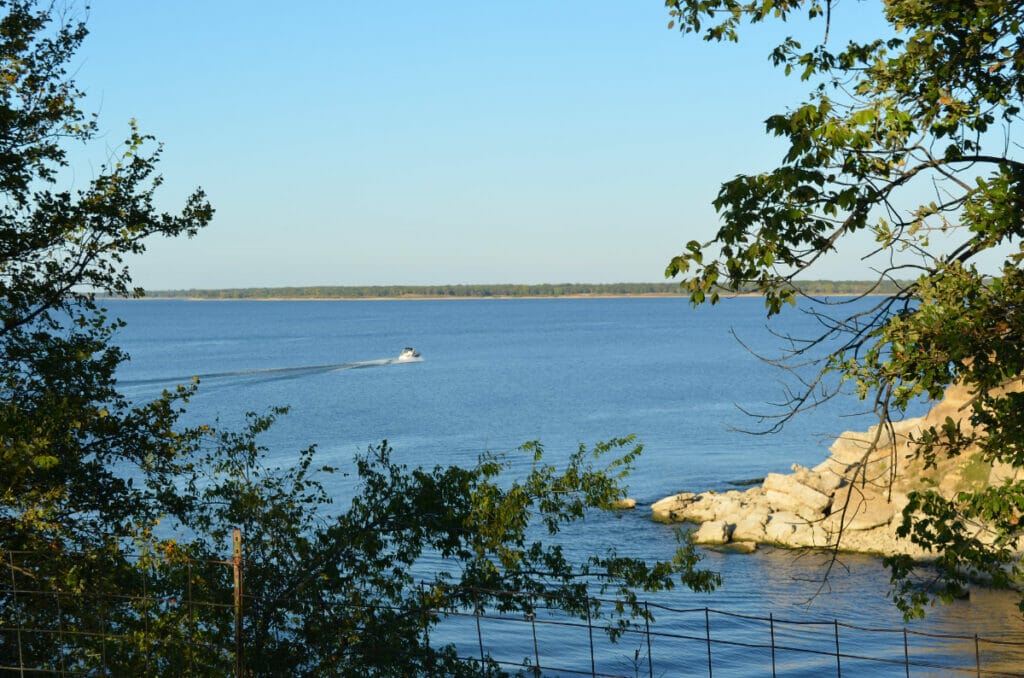 While Eisenhower State Park is on the Texas side of the border, you can see Oklahoma over the water!
This state park has wonderful, well-maintained hiking trails, as well as biking or walking trails that take you around the lake.
You can go swimming in the lake, or rent a boat to take out from the marina.
There's a gift shop with the bare essentials if you need them and some souvenirs, as well as plenty of spaces to eat lunch if you want to camp out at a picnic table.
Distance from Dallas, in driving minutes: 1 hour, 26 minutes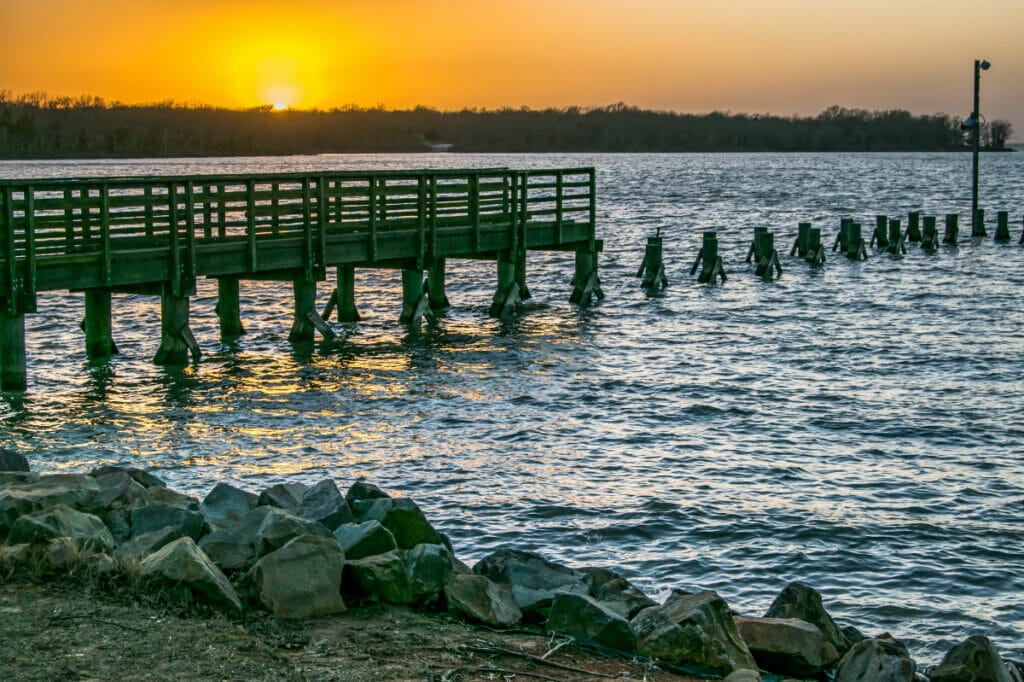 Another state park that you can reach in a day trip from Dallas is Cooper Lake State Park.
It's particularly known for its stunning flowers in the springtime, and they also have a great fishing area.
This is more secluded than some of the other state park options, so if you really want to get out in the wilderness and clear your mind, this is the place to go.
It's also easy driving distance at just under an hour and 30 minutes from Dallas.
Distance from Dallas, in driving minutes: 1 hour, 27 minutes
Some people love going out into nature, but don't need the paved nature trails that you'll find in some state parks.
This area is a great glimpse into rugged Texas life, where you'll find swamps, wetlands, and marshlands for miles.
It's great for birdwatching, as well as other wildlife spotting (keep an eye out for the pigs!)
Distance from Dallas, in driving minutes: 1 hour, 31 minutes
18. Georgetown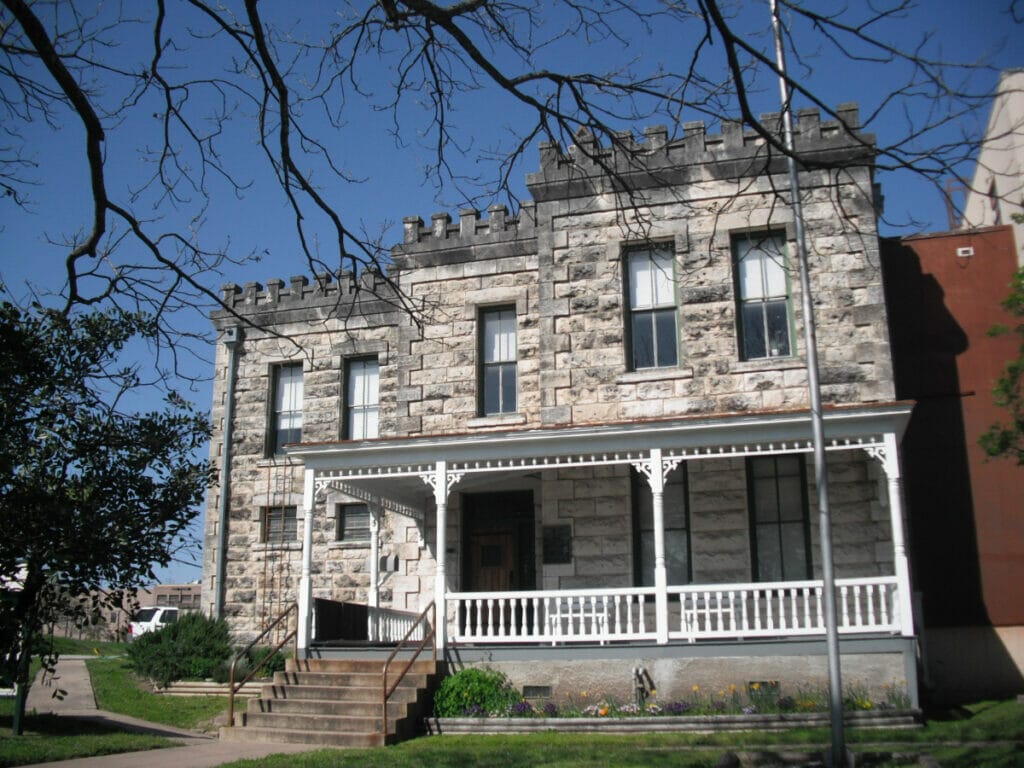 Where can you find "the most beautiful town square in Texas?"
Right here in Georgetown, south of Dallas!
Take a casual stroll through historic downtown and view its Victorian architecture, including the Old Williamson County Jail and the courthouse dating back to 1911.
Get your dose of vitamin D on the waters of Lake Georgetown, a 1200-acre lake known as one of the best fishing areas in the region and a great place for boating, water skiing, fishing, camping, and swimming.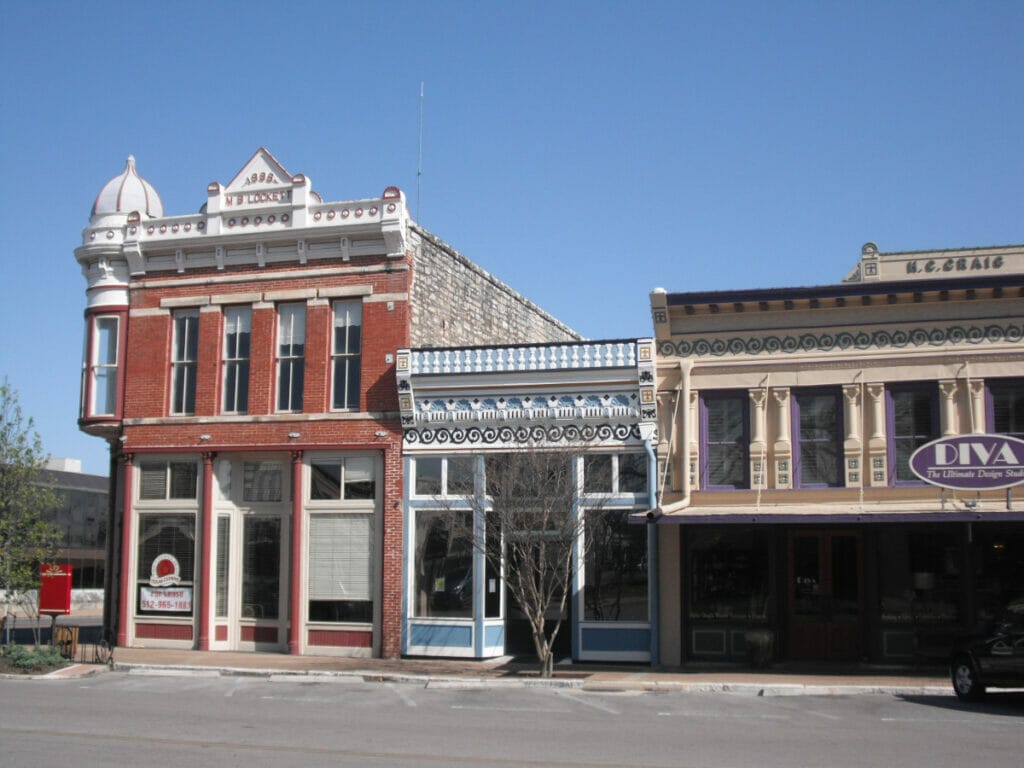 If swimming holes are more your style, make a splash at Blue Hole Park!
Open from 5am – 10pm, this scenic lagoon on the South San Gabriel River is a preferred summer wading spot for locals!
End your day trip with a tour of Inner Space Cavern, a vast "living" cave with hundreds of stalactites and ever-changing formations, and one of the best-preserved caves in Texas!
Driving distance from Dallas: 2 hours and 31 minutes
19. Round Rock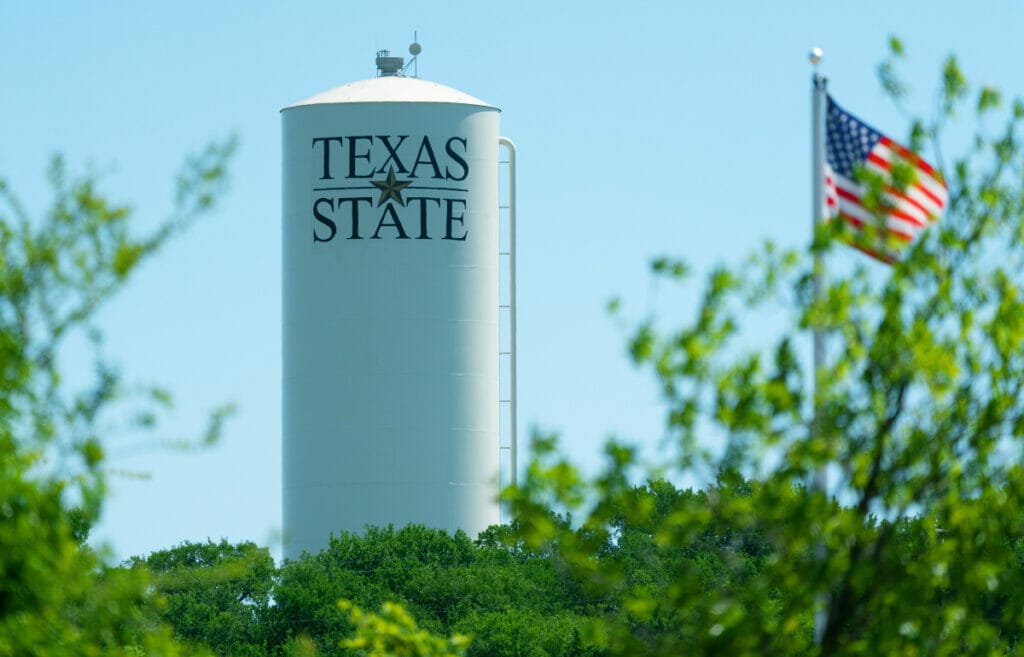 Boasting the largest indoor water park in the country – Kalahari Resorts and conventions – Round Rock, Texas is one of the most fun day trips from Dallas there is!
This 1.5 million square foot resort includes 30 waterslides, 20 pools, restaurants, an indoor adventure park, and artisan style retail outlets.
You could spend an entire day in Round Rock and never have to leave the resort!
But you'd be missing out if you didn't experience the rest of what the city has to offer – like legendary 2lb donuts from Round Rock Donuts, a Round Rock Express baseball game at the 11,000+ capacity Diamond Dell stadium, and the annual downtown festivals!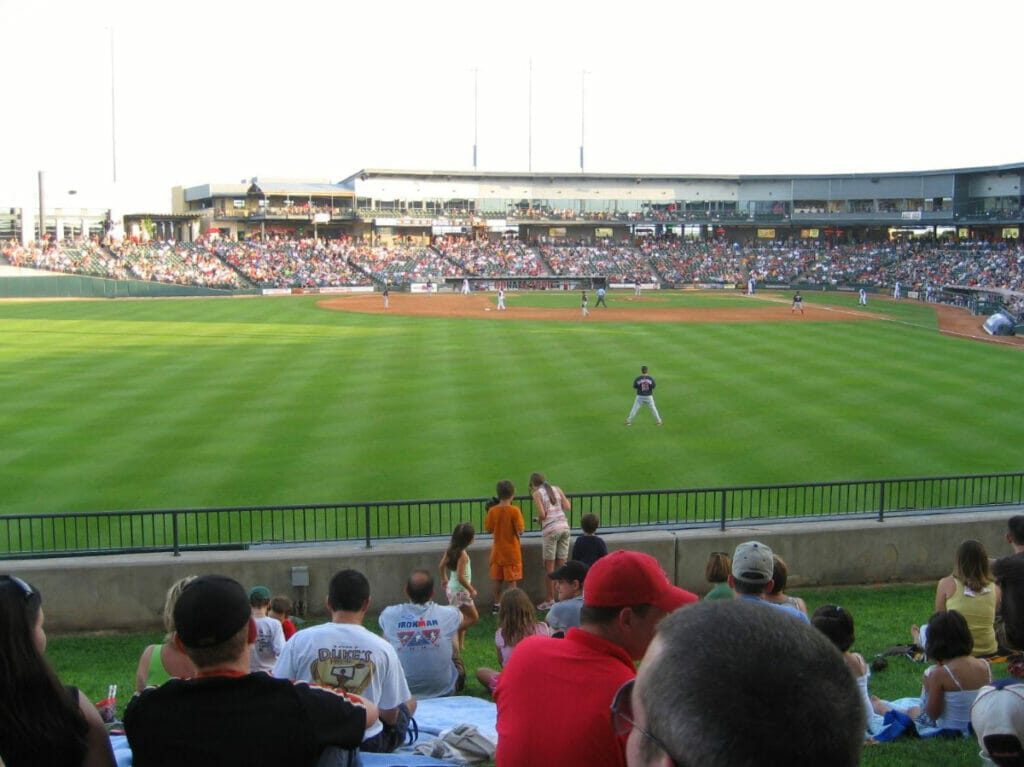 Before you leave, head over to Chisholm Trail Crossing Park to see the city's namesake – a round rock jutting from the waters of Brushy Creek.
This rock indicated a low point in the water where settlers would cross with their wagons.
If you look closely, you can even see the wagon ruts in the rocks!
Driving distance from Dallas: 2 hours and 40 minutes
20. Bend, TX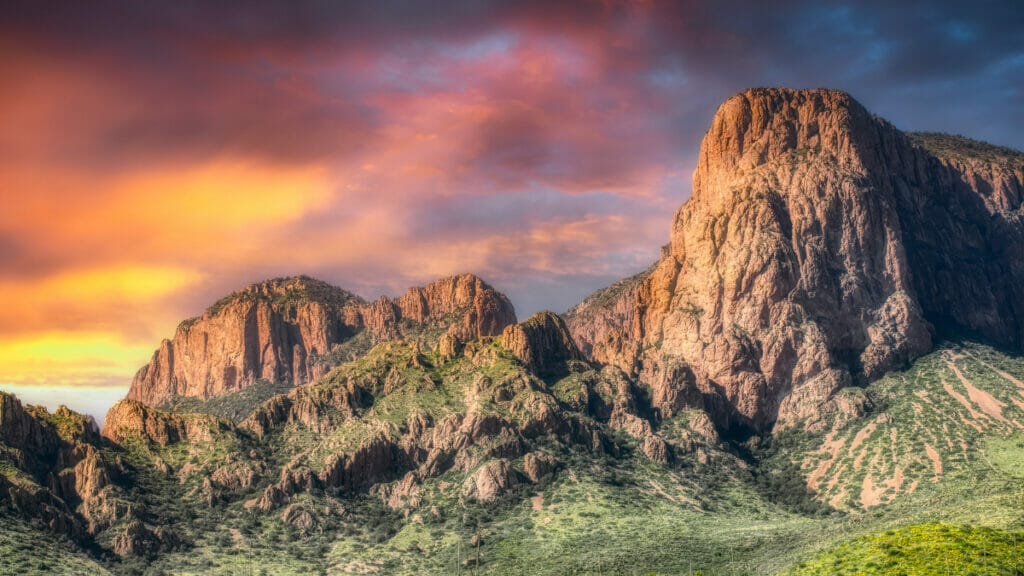 Bend is a great city for enjoying the great outdoors!
Located on the Colorado River, fishing is one of its main attractions.
Take a self-guided tour to Gorman Falls, a 70-foot waterfall (one of the best waterfalls in Texas,) swim in Spicewood Springs, or tour one of the more than 400 caves in Colorado Bend State Park.
(Be prepared for a 3-mile round trip hike over rough, rocky terrain to see the beauty of Gorman Falls!)
Swim, bird watch, play volleyball and canoe at Sulphur Springs Camp!
Driving distance from Dallas: 3 hours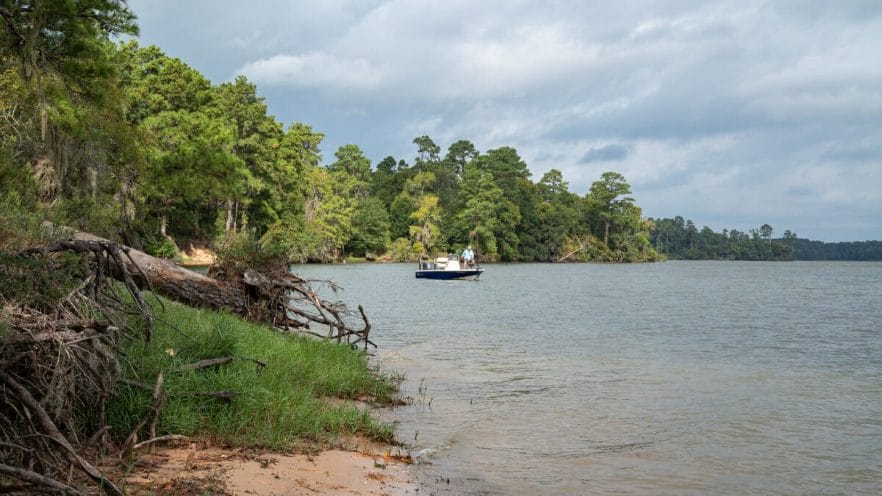 About 2 hours south of Dallas, you'll find Sam Houston National Forest, one of only four national forests in Texas.
The 128-mile long Lone Star Hiking Trail makes this a perfect hiking day trip from Houston.
The area's mild climate means hiking is possible year-round!
Camp in one of three developed campgrounds offering showers and restrooms and proximity to hiking and biking trails and lake recreation.
Rent canoes and paddleboats at Double Lake, a 24-acre lake perfect for swimming, fishing, and picnicking along the shores.
Find convenient boat access at Scott's Ridge Day-Use Area, a public boat ramp on Lake Conroe.
Fishing is plentiful in Lake Livingston, and with the right permit, hunting deer and small game is also an option.
Driving distance from Dallas: 2 hours and 37 minutes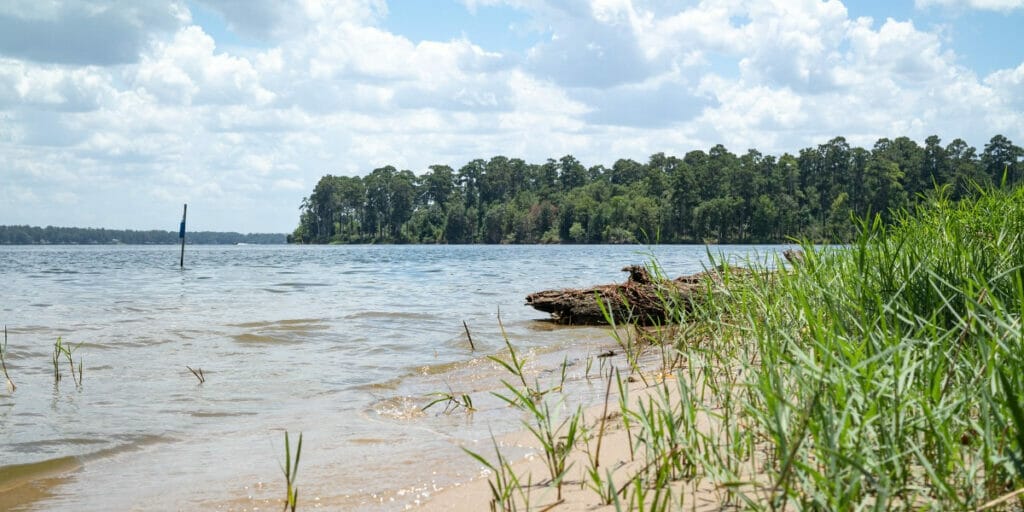 As the fastest growing city in Texas, and bordered by Lake Conroe and state and national parks, Conroe, Texas is one of the best day trips from Dallas to find city life and scenic views all in one spot!
Boating, fishing, and watersports abound in the 22,000 acres of Lake Conroe.
Bring your own boat, hire a guide, or rent a boat from the many options available in the area.
Lakeside dining is plentiful and a great way to end a day trip on the lake.
If you'd rather stay on land, downtown Conroe is the place to be!
Entertainment, restaurants, antique shopping, breweries, theaters, and a unique arts scene bring the community to life!
Plenty of live music has earned the city the designation of Music Friendly Community by the state of Texas!
Driving distance from Dallas: 3 hours, 2 minutes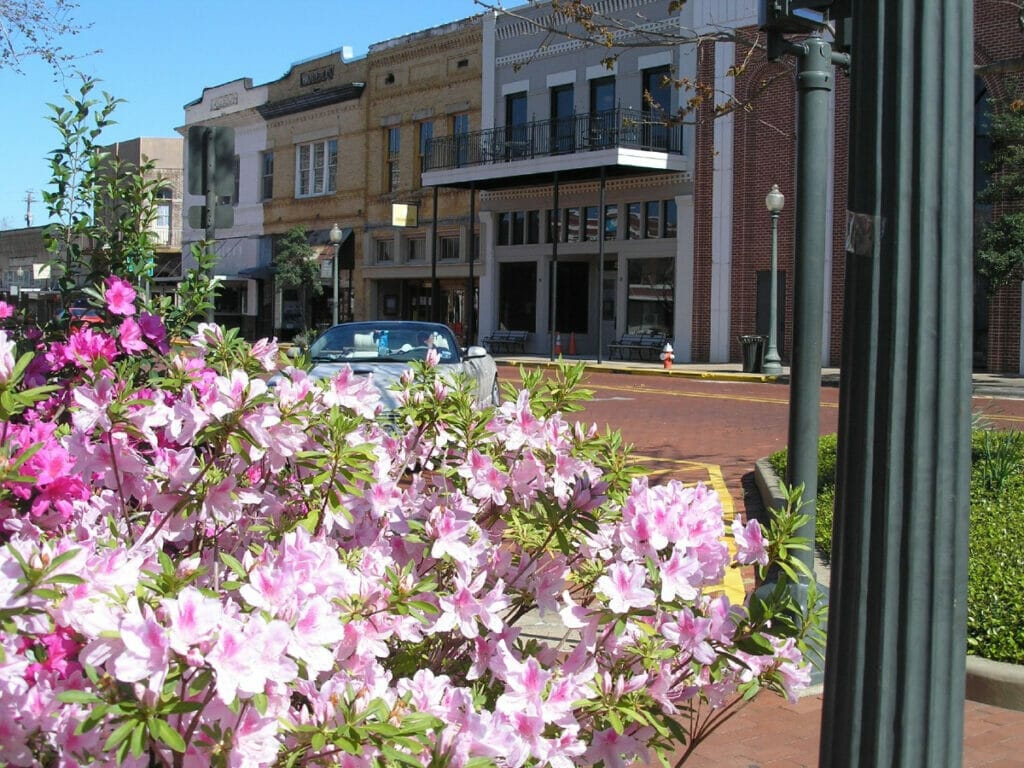 There's no better place for an old-fashioned day trip than Nacogdoches, the oldest town in Texas!
Stroll leisurely through the red brick streets of historic downtown or hike miles of trails that once served as trade routes for Native Americans.
Sip your way through the city on the Wine, Whiskey and Brew tour, antique and dine through downtown at any number of family-owned shops and restaurants, or enjoy the outdoors at various parks, rivers, creeks, lakes, and sports venues.
History lovers will appreciate the historical landmarks and museums that trace the history of Texas and Nacogdoches.
Families can come together at the many family-friendly attractions, like Camp Tonkawa Springs RV Park, Splash Kingdom waterpark and Ellen Trout Zoo.
However you're looking to unwind, you can find it here in Nacogdoches!
From historic houses to storybook character statutes all around town (it is the Storybook Capital, after all!), Abilene is a wonderful day trip from Dallas, Texas.
Attend a concert put on by the Abilene Philharmonic Orchestra, visit the 1910 Swenson House for a history tour, or check out the 12th Armored Division Memorial Museum to learn about the heroism of this World War II divison.
Kids will fall in love with the animals at the Abilene Zoo, art lovers will enjoy the Grace Museum, and everyone will dig into a steak dinner at Lytle Land and Cattle Company to finish off your day.
Driving distance from Dallas: 2 hours, 42 minutes
25. Possum Kingdom Lake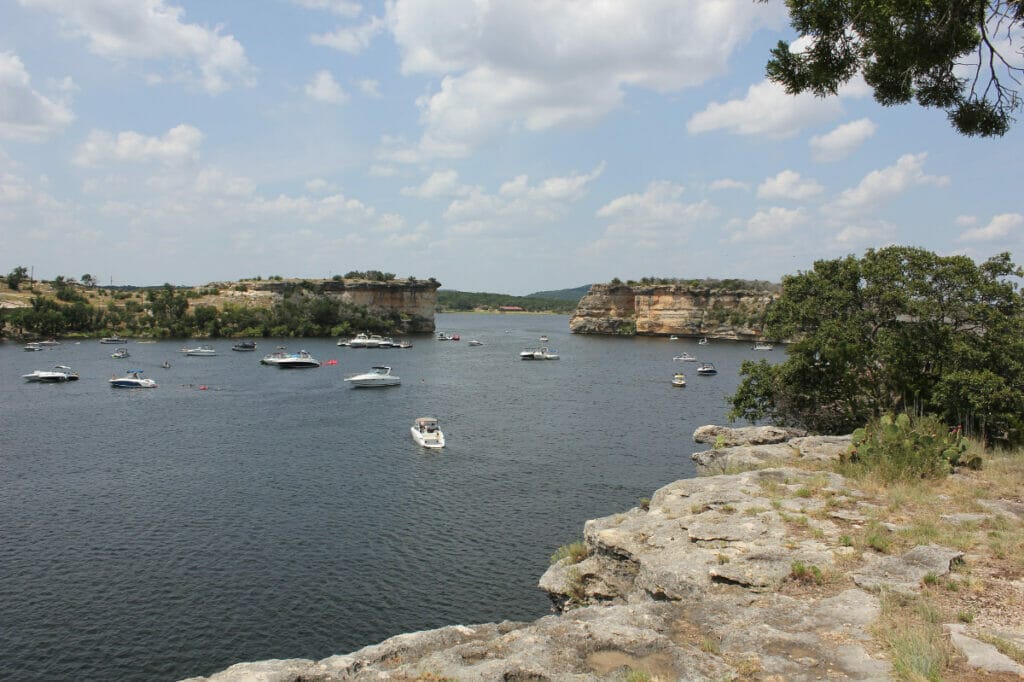 Located in Caddo, Possum Kingdom Lake is a 17,000 acre reservoir on the Brazos River.
With 310 miles of shoreline, scenic coves, and clear blue water Possum Kingdom Lake is one of the nicest lakes in Texas.
Swim in one of the many beaches.
Near the dam, scuba dive as you explore caves and cut-outs with views up to 100 ft.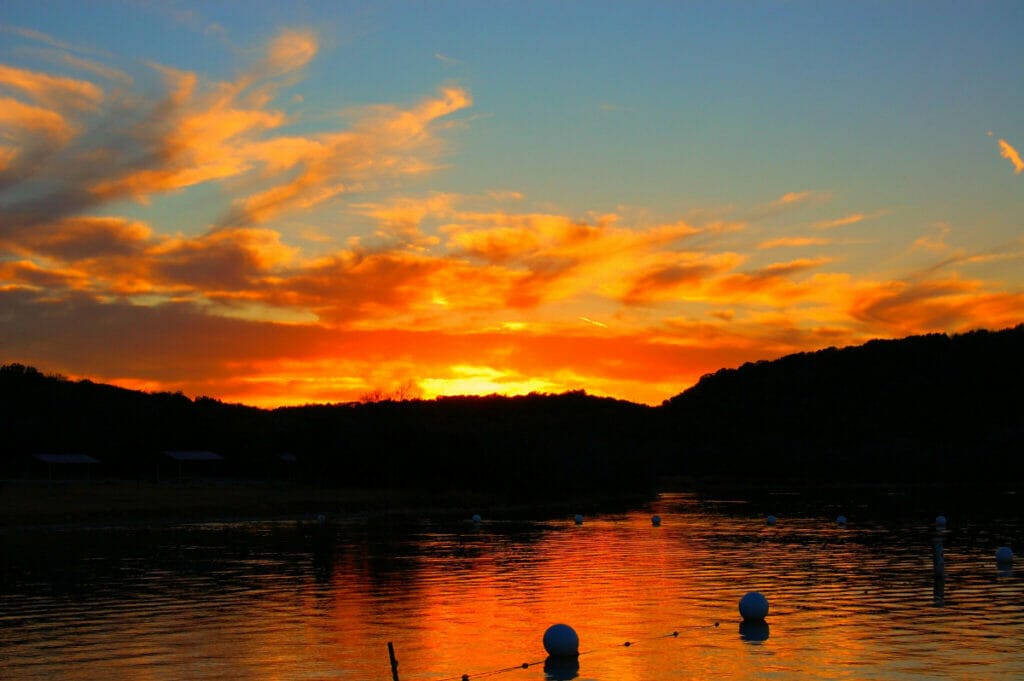 Fish or swim at Hell's Gate between the two 90-ft tall cliffs.
Rent boats to water ski, wakeboard, or go tubing with views of the picturesque cliffs and rocky bluffs at Possum Kingdom Lake State Park.
Hike along trails that wind you up along the rolling hills and limestone canyons and be surrounded by the untouched wilderness (be sure to hike to the top of the 90 ft cliff to see the breathtaking view!)
See how many of the 280 species of birds you can spot.
Driving distance from Dallas: 2 hours, 39 minutes
26. Lewisville Lake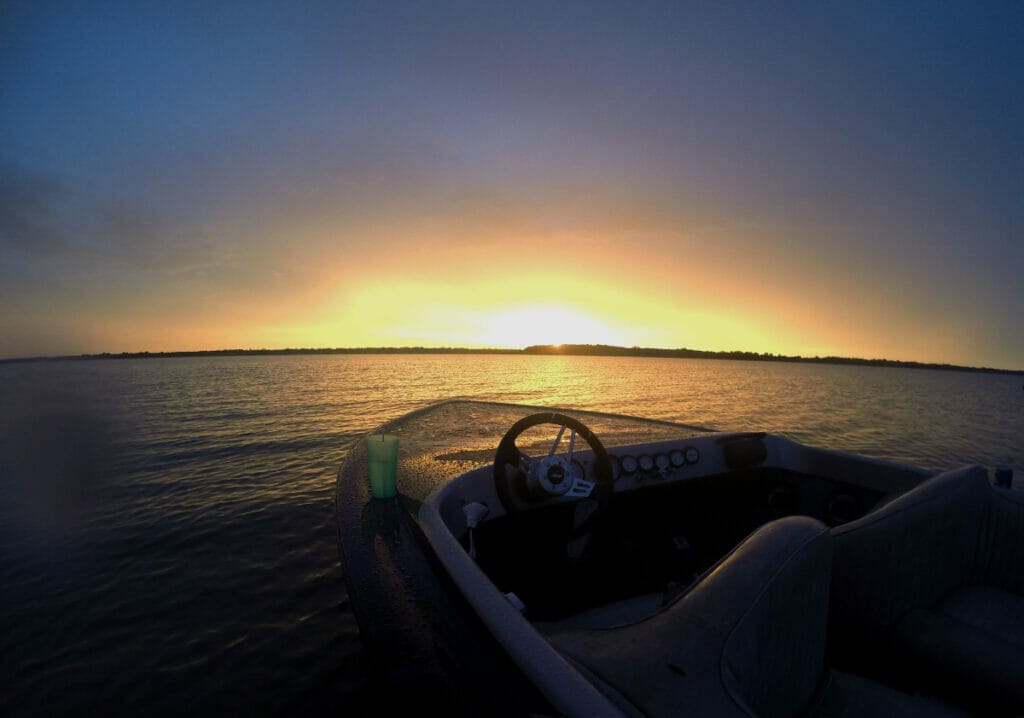 For an idyllic and peaceful retreat, check out Lewisville Lake, just to the north of Dallas.
Visit the Tribute Shoreline Nature Trail, which has wonderful winding pathways through natural scenery right along the lakeshore (it's relatively flat, so an easy path to walk).
Check out the pristine beach shores (bring a picnic to maximize your time out of Dallas), or head to Sneaky Pete's, which is right on the water and features everything from incredible Americana food to volleyball courts.
If you want a golfing day out from Dallas, you can also check out the Stewart Peninsula Golf Course, one of the best in the area.
Driving distance from Dallas: 35 minutes
27. Wichita Falls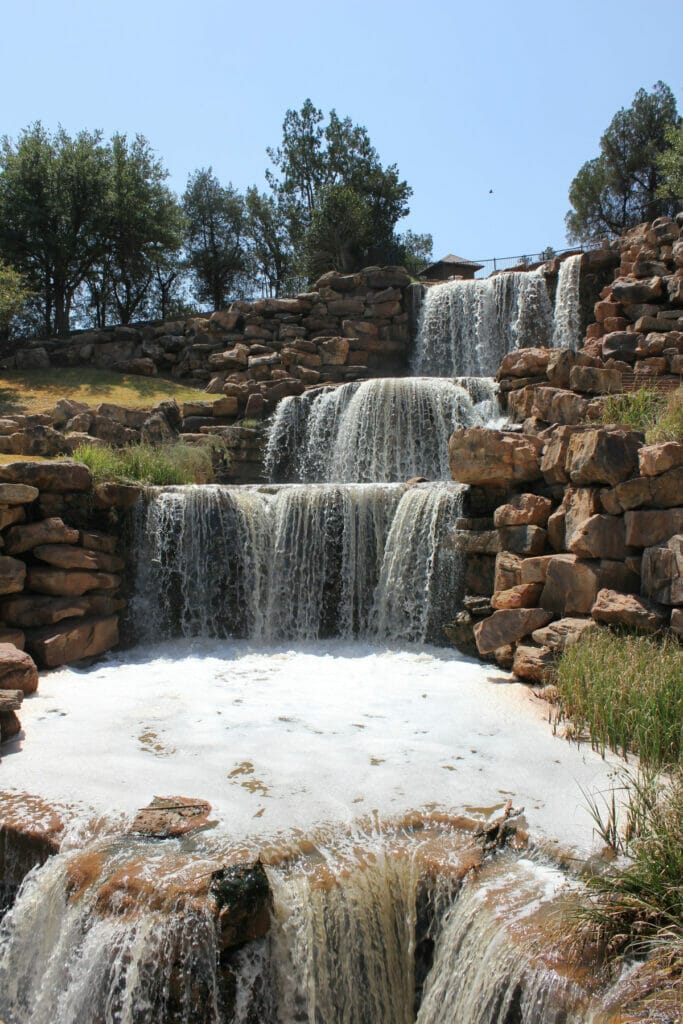 When you find yourself looking for day trips from Dallas, make sure to check out Wichita Falls!
When American settlers arrived in this area in the 1860's this falls were a prominent feature of the landscape and the city itself was named for it but just 10 years later, a massive flood destroyed the water feature.
Have no fear though, just 100 years later, in the 1970's, the waterfall was restored and now stands at 54 ft high and recirculates at 3,500 gallons of water per minute!
The falls themselves are visible to south-bound traffic on Interstate 44 but if you're looking for a more natural experience, make sure to visit the nearby River Bend Nature Center which features nature trails and exhibits all about the surrounding area.
Driving distance from Dallas: 2 hours, 5 minutes
Pin for Later!